Eggnog Sugar Cookies
These Eggnog Sugar Cookies are soft, tender, and lightly spiced with cinnamon and nutmeg for an unabashedly holiday-themed treat. With a sweep of whipped eggnog frosting and cheerful sprinkles, these are sure to be a family favorite year after year.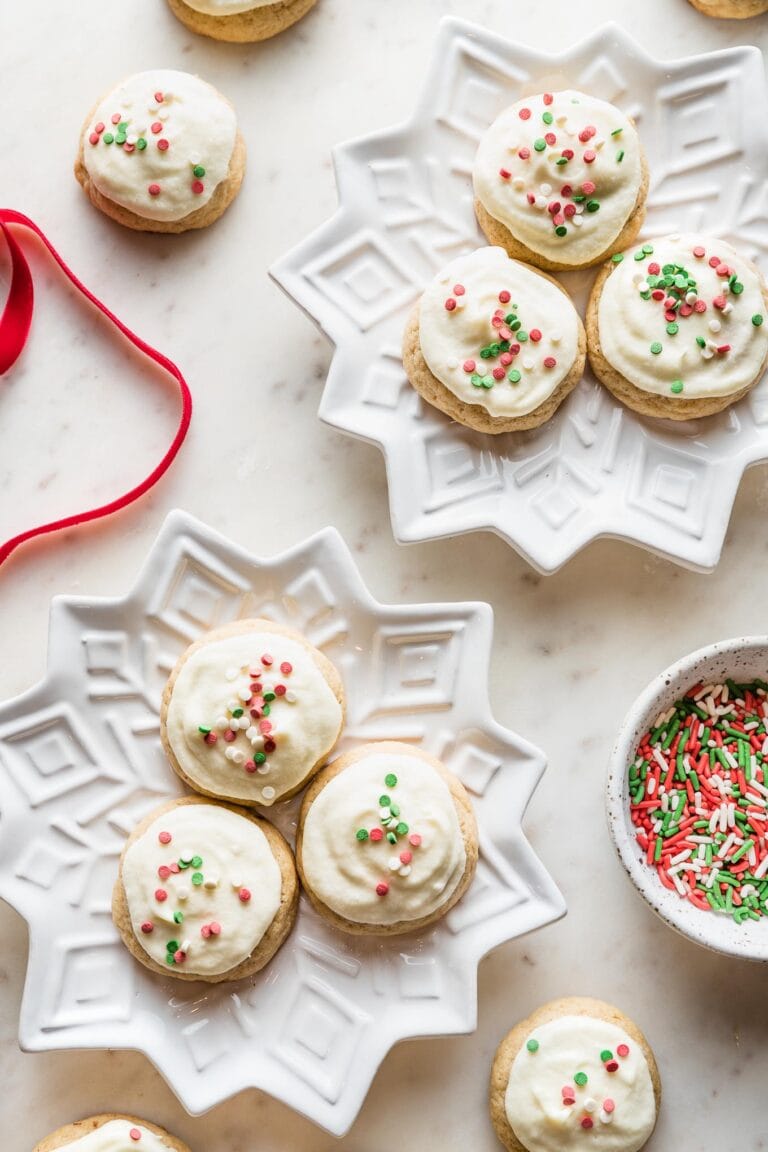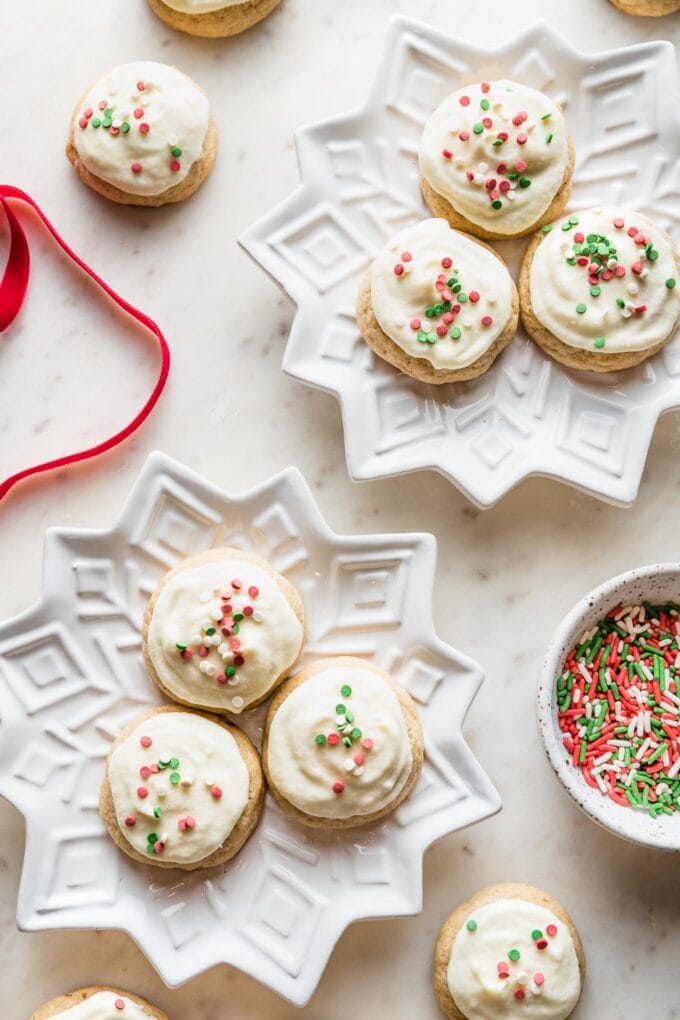 OK, be honest. Are you an eggnog lover or hater?
Most years I buy a small pint of it, imagining a relaxed and peaceful scene where I sip on a bit of it after Thanksgiving dinner as a way of formally welcoming the holiday season.
That has never actually happened. Instead, after Thanksgiving dinner/eating/hosting/cleaning, I'm ready to collapse, and do just that. And usually I forget all about the eggnog until we're knee deep in December and I need to use it up ASAP.
That's where these cookies originally came into play, but now I purchase eggnog specifically in order to bake these. They are one of my absolute favorite holiday cookies, and feel special, since eggnog is really only available at that time of year.
Eggnog for Baking
In many ways, baking with eggnog is much like baking with cream or with buttermilk. In fact, it has a similar consistency to buttermilk, as well as its signature tang.
Low-fat vs. full-fat eggnog for baking?
I have tested multiple batches of these eggnog sugar cookies with both full-fat and low-fat eggnog; both work very well. Purchase whichever you like.
What flavors to add to eggnog?
A common addition to eggnog in baking is rum extract, but since I don't usually keep that on hand, and hate to buy an ingredient for just one recipe, I prefer adding a tiny splash of bourbon to these cookies. It goes beautifully with the spiced, sugary flavor of these cookies.
What other flavors are in here?
Nutmeg
Cinnamon
Brown sugar – more flavor and chewy texture than white!
Vanilla extract
All good things. Add them up, put them in a soft sugar cookie, and your holiday baking just got better.
How To Make Sugar Cookies with Eggnog
This is a beautifully simple drop cookie, without any fuss or complicated steps. One more reason to love them during the busiest time of the year!
Whisk dry ingredients in a medium bowl.
Beat butter and sugar together in a large bowl — your stand mixer works well, or any other large bowl you can use with an electric hand mixer or your own elbow grease. Beat until creamy.
Add wet ingredients and mix well. At this point, the batter will look very wet and lumpy, as shown in the photo on the left below.
Add dry ingredients and mix on low speed just until combined. Now you'll have a very soft but consistent dough as shown on the right.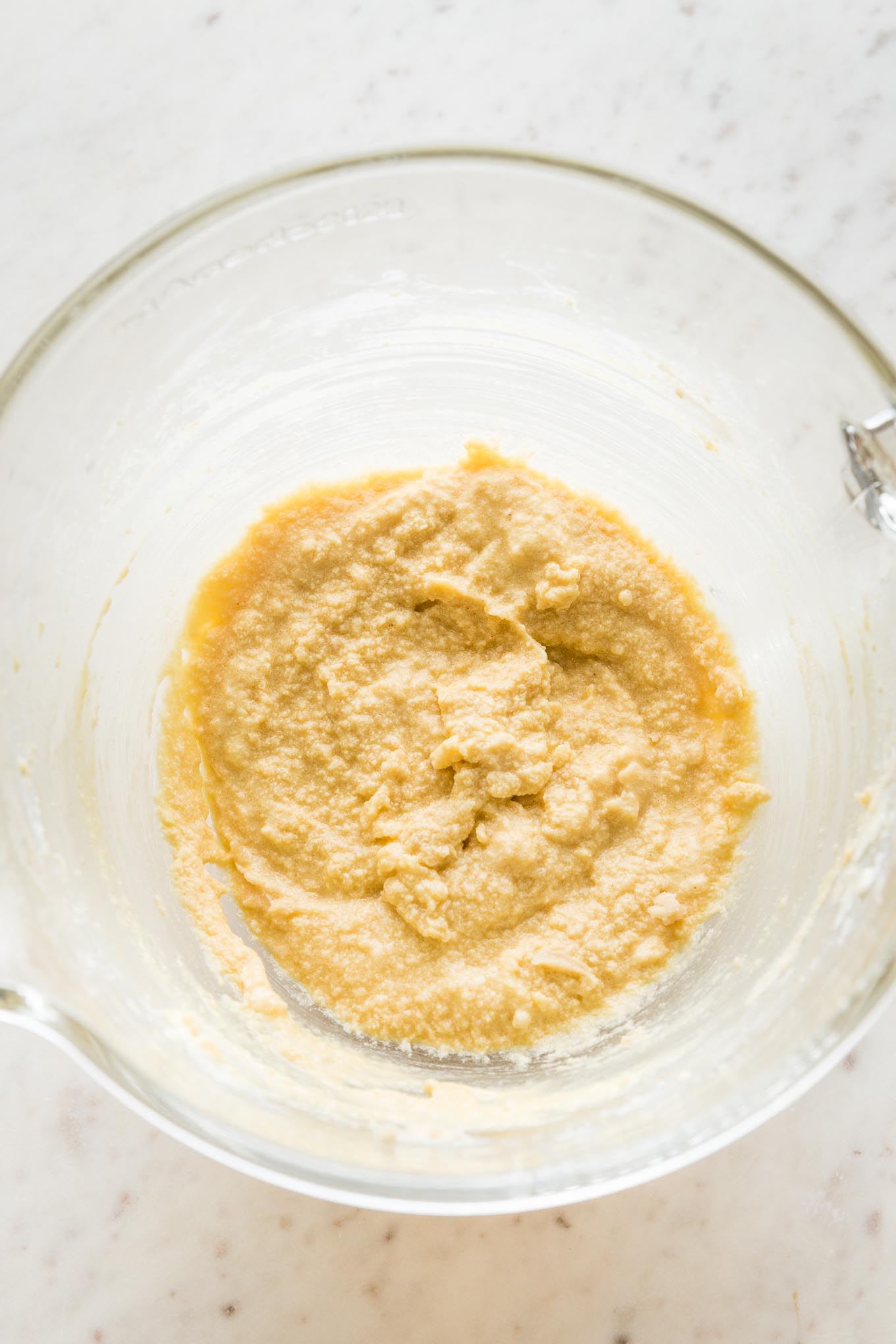 Chill or no chill, it's up to you
You do not need to chill the dough for this recipe — the cookies will spread appropriately and have a nice texture without chilling, as long as you started with room temperature butter.
Important! Take care that the butter is not partially melted or significantly warmer than room temperature in spots when you begin, because that will change the consistency and may cause the cookies to spread out too much, especially if you do not prefer to chill the dough.
If you prefer for any reason, you can chill the dough for 20-30 minutes, then scoop it out. This can make the dough easier to work with and shape, especially if you have any concern that your ingredients were too warm to start with.
If you chill the dough for longer than 30 minutes, leave it out on the counter for 5-10 minutes prior to scooping and rolling.
Dough scoop for the win
Scoop the dough out into heaping tablespoons and roll gently into round spheres. I used a #40 cookie scoop for the cookies shown here. Best investment ever — a dough scoop makes it so quick and easy to shape tons of cookies uniformly.
Space the rolled cookies about two inches apart on a parchment or silicone-lined baking sheet, and bake for approximately 12 minutes at 350 degrees F. They are done when lightly golden on the bottoms and just set in the centers.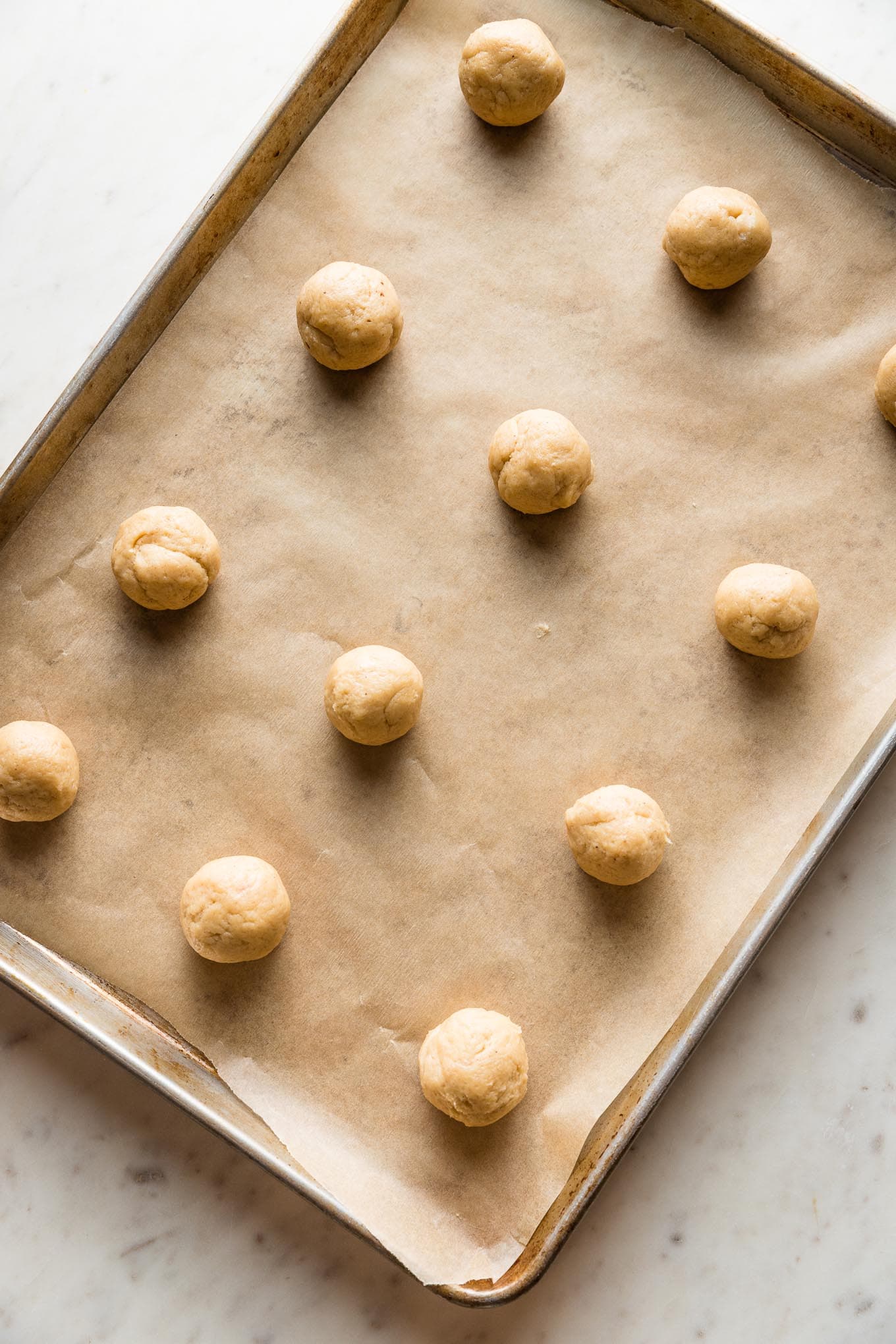 Whipped Eggnog Frosting
These cookies are honestly delicious straight out of the oven, but adding a sweep of frosting makes them even more irresistible. Make a quick, easy frosting with more room temperature butter, powdered sugar, more eggnog, and vanilla extract. For these cookies I spread the frosting on with a simple spatula, but you can of course pipe it on with any frosting tip if you're feeling extra fancy.
Sprinkles are the finishing touch, or top these off with a dusting of freshly-grated nutmeg. You can't go wrong!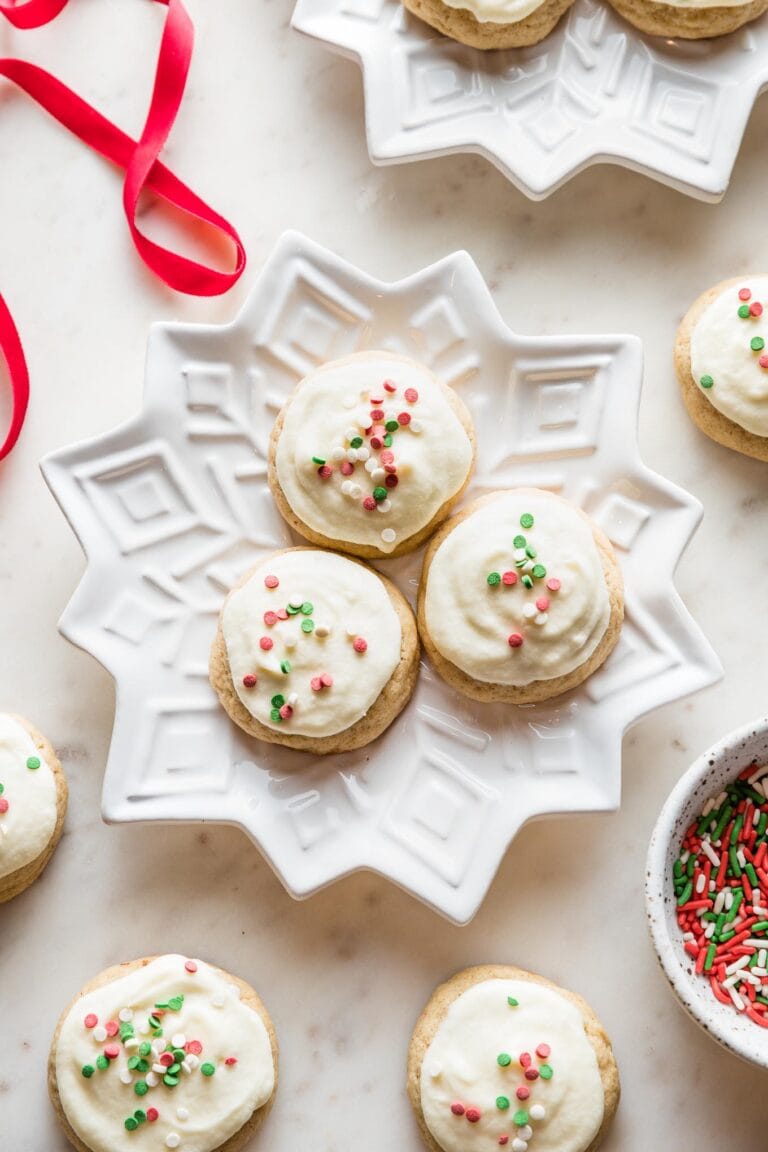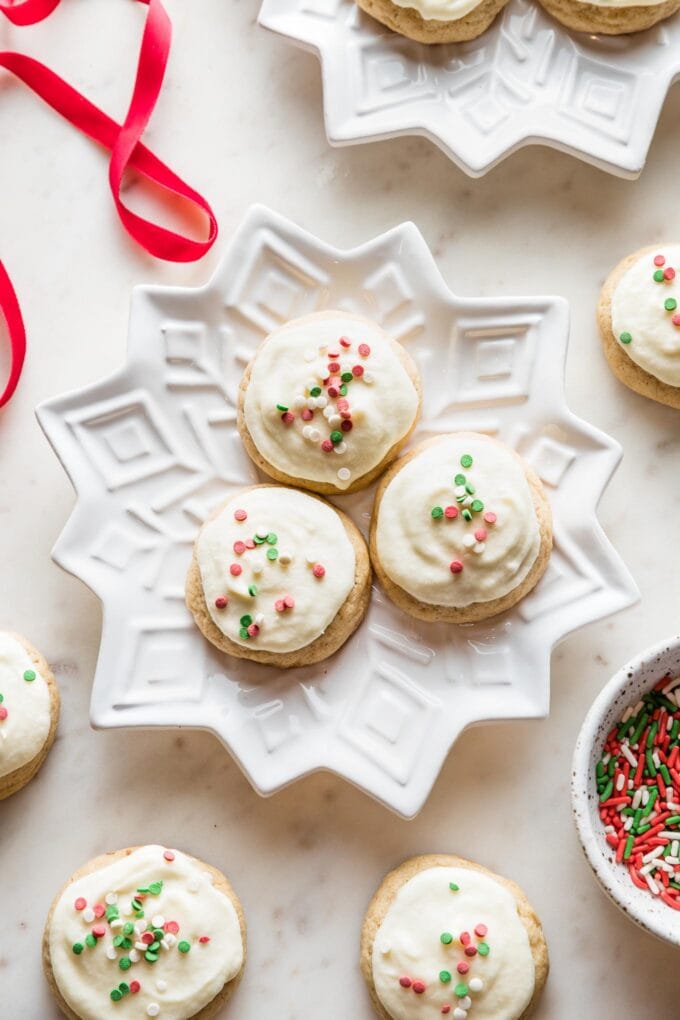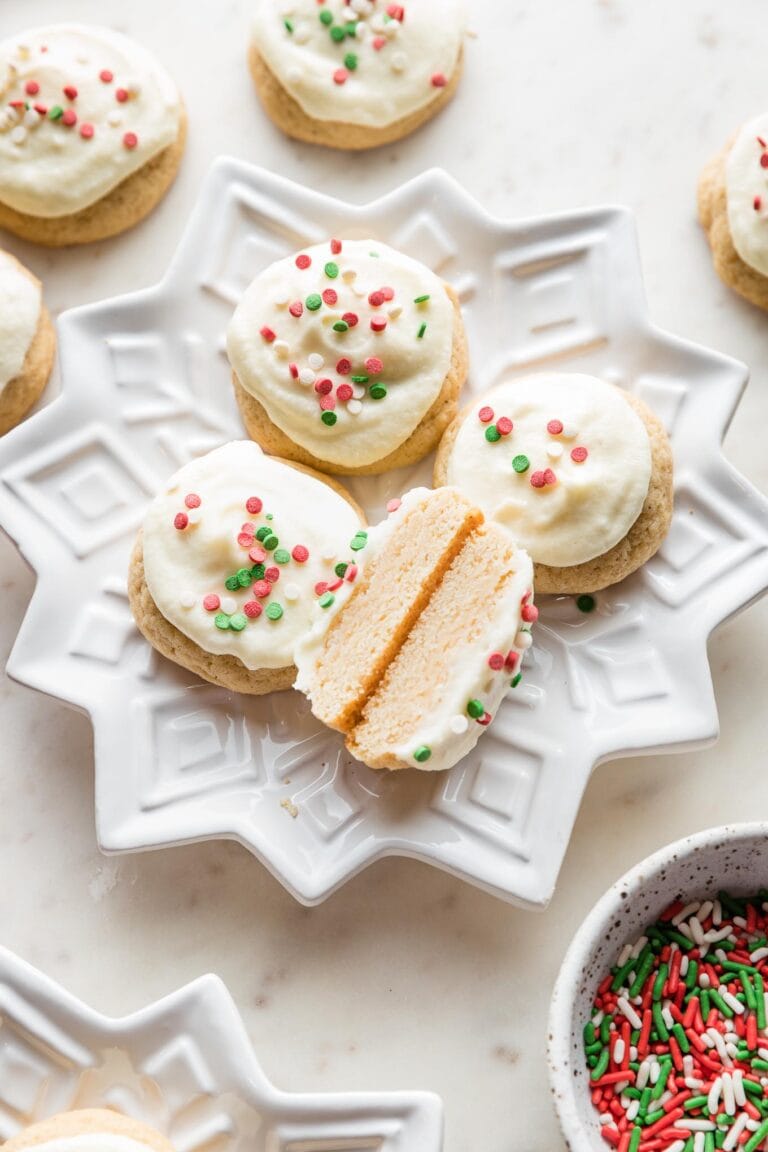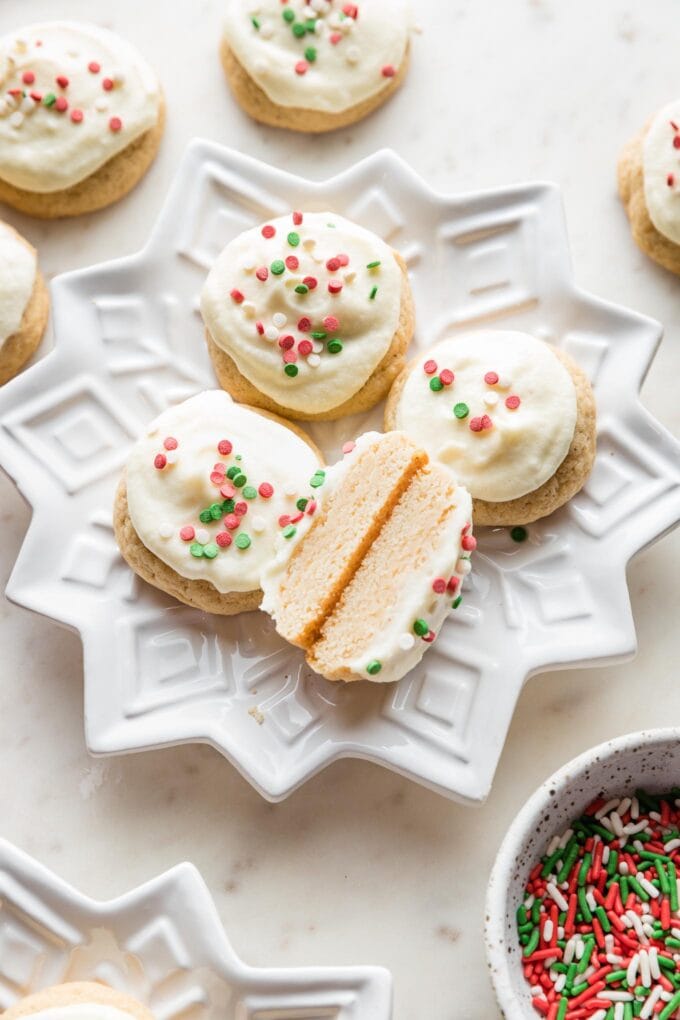 Storage
Frosted cookies keep well in an airtight container in the refrigerator or at room temperature for 3-4 days.
Make Ahead and Freezing Instructions
These cookies are also extremely adaptable!
Baking in batches: If you need to pause and resume baking another day, the dough can be placed in the fridge overnight and simply returned to close to room temperature before shaping and baking.
To freeze before baking (preferred method): Make the dough as directed, scoop mounds onto a parchment-lined baking sheet or plate, smooth into round balls, and place in the freezer, uncovered, for about an hour. After an hour, combine the frozen cookie dough balls in an airtight container or zip-top plastic bag. Freeze for up to 3 months. When ready to bake, remove cookies from the freezer, place directly onto a parchment-lined baking sheet, and bake as directed, adding just 2-3 minutes to the baking time. Frost and decorate as desired.
To freeze after baking: Let baked, unfrosted cookies cool fully, then stack in an airtight container, separating individual cookies with wax paper. Defrost at room temperature as needed. These are still good, for sure, but in my opinion slightly less fresh and less convenient than freezing the balls of raw cookie dough and baking as needed.
More Christmas Cookies You'll Love
If you try these Sugar Cookies with Eggnog, don't forget to rate the recipe and leave a comment below. I love hearing how recipes turn out in your kitchen, and it helps other readers, too.
You can also FOLLOW me on PINTEREST, INSTAGRAM, FACEBOOK, and TWITTER for more great recipes and ideas!
Eggnog Sugar Cookies
Soft eggnog sugar cookies spiced with nutmeg and cinnamon and swept with a lovely, easy to make frosting. Incredibly, irresistibly soft!
Ingredients
For the Cookies
2 and 1/2 cups all-purpose flour
2 teaspoons baking powder
1 teaspoon ground nutmeg
1/2 teaspoon ground cinnamon
1/2 teaspoon salt
3/4 cup (12 tablespoons or 1 and 1/2 sticks) unsalted butter at room temperature
1/2 cup white granulated sugar
1/2 cup light brown sugar lightly packed
2 large egg yolks
1/2 cup eggnog full-fat or light
1 teaspoon vanilla extract
1 teaspoon bourbon optional
For the Frosting
5 tablespoons unsalted butter at room temperature
2 cups powdered sugar
3 Tablespoons eggnog full-fat or light
1/4 teaspoon vanilla extract
sprinkles if desired, see note
Instructions
Preheat oven to 350 degrees F. Line baking sheets with parchment paper or silicone baking mats.

In a medium bowl, whisk together flour, baking powder, nutmeg, cinnamon, and salt. Set aside.

Using an electric mixer, beat butter, white sugar, and brown sugar together until the mixture is pale and fluffy, about 1 minute. Add egg yolks and blend. Add eggnog, vanilla, and bourbon, if using. Mix to combine, scraping the sides of the bowl at least once.

Add dry ingredients and mix just until combined. The dough will be very soft. Scoop it out into heaping tablespoons, roll gently into round spheres, and space them a couple inches apart on the baking sheets. (If you prefer, you can chill the dough for 20-30 minutes, then scoop it out. This is not necessary but does make the dough easier to work with.)

Bake cookies for 11-13 minutes, until lightly golden along the bottom edges and just set in the centers. Allow cookies to cool on the baking sheets for about 10 minutes before transferring to a wire rack to cool completely. (The cookies should spread out while they bake, but if they do not flatten very much, you can press them down slightly with a drinking glass or the back of a measuring cup just after they come out of the oven.)

To make the frosting, using an electric mixer, beat the butter until it's smooth and light, 2-3 minutes. Add powdered sugar and beat until fully incorporated. With the mixer on low speed, add eggnog and vanilla, then increase speed to high and beat until the frosting is light and fluffy.

Frost cookies and add sprinkles, as desired. Enjoy!
Notes
Storage: Frosted cookies keep well in an airtight container in the refrigerator or at room temperature for 3-4 days.
Bourbon: If you prefer, swap 1/2 teaspoon rum extract for the bourbon, or leave it out entirely. Either way, it's a very subtle extra bit of flavor.
Cookie Scoop: I used a #40 cookie scoop for the cookies shown here. Best investment ever!
Recipe: I've adapted this from a recipe I originally found via Allrecipes with additional insights from similar recipes published on Cooking Classy and Mel's Kitchen Cafe.
Nutrition Estimate
Calories: 204 kcal, Carbohydrates: 28 g, Protein: 1 g, Fat: 9 g, Saturated Fat: 5 g, Cholesterol: 43 mg, Sodium: 106 mg, Potassium: 68 mg, Sugar: 19 g, Vitamin A: 305 IU, Vitamin C: 0.1 mg, Calcium: 35 mg, Iron: 0.6 mg
Did you make this recipe?
Leave a review below, then snap a quick picture and tag @nourishandfete on Instagram so I can see it!
This post was originally published on December 19, 2018; it has been updated with new photos and more helpful explanatory text.