Chicken Pesto Pasta Salad
This easy-to-make Chicken Pesto Pasta Salad shines with fresh ingredients and tons of flavor. It's a lovely quick lunch or dinner, and is a terrific go-to for any warm-weather BBQ, potluck, or picnic. Easy to make ahead, and it only gets better with a day in the fridge.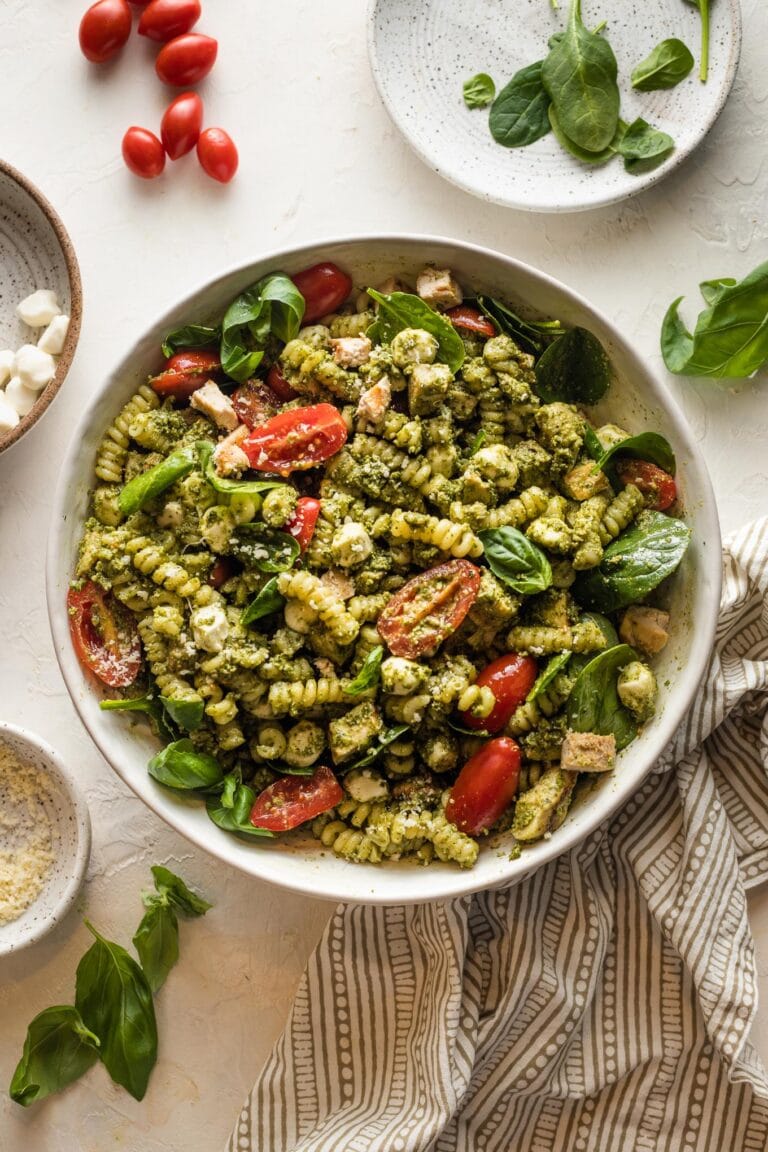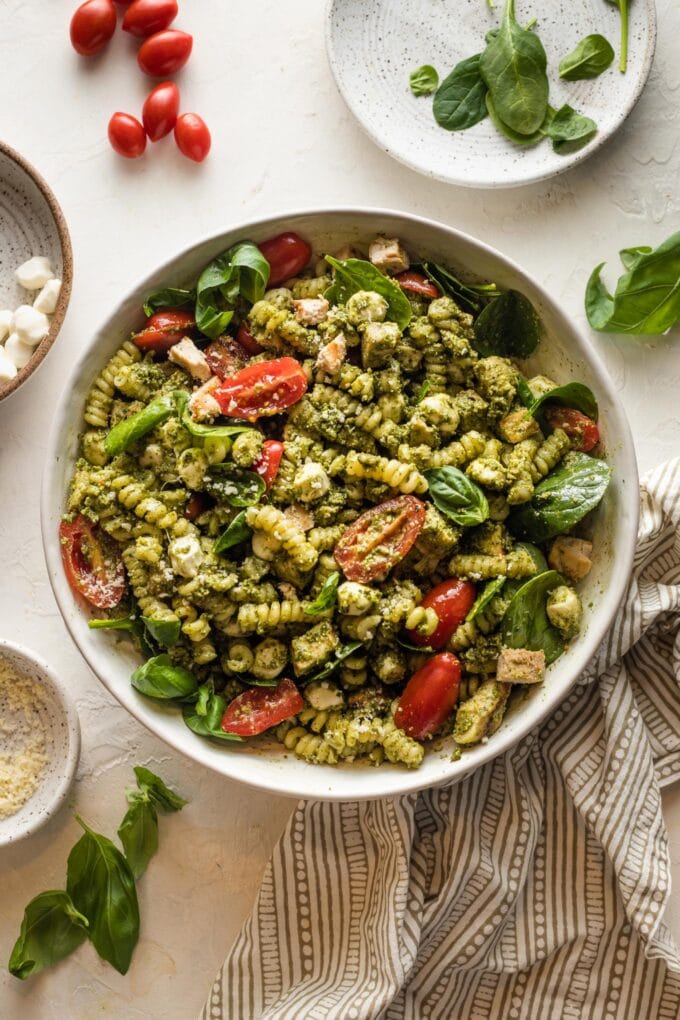 Whether you're actually enjoying warm weather or just wish you were, pasta salad is pretty much the quintessential go-to summer dish. Potluck or BBQ side dish? Quick yet real-food lunch? Easy breezy dinner? It checks every box, and tastes delicious doing it.
Why You'll Love It
You'll love this because it's:
Full of Flavor: Can we emphasize the vibrant, fresh, herby pesto; creamy pearls of mozzarella; and tender garlic-seasoned chicken breasts? Oh yes. This is a classing winning combination for a reason.
Easy to Make: Quick and simple, as every warm-weather meal ought to be.
Flexible: Feeling the "all from scratch" vibe? Grill or sauté your own chicken, and make your pesto from scratch. It's still quick. In more of a hurry? Grab a rotisserie chicken and a jar of pesto. There's no wrong way.
Make Ahead Friendly: This only gets more tasty with time in the fridge for the flavors to meld. Hugely helpful whether you just want to get ahead for entertaining or a potluck, or prep a big batch and enjoy for lunch throughout the week.
Ingredients & Common Substitutions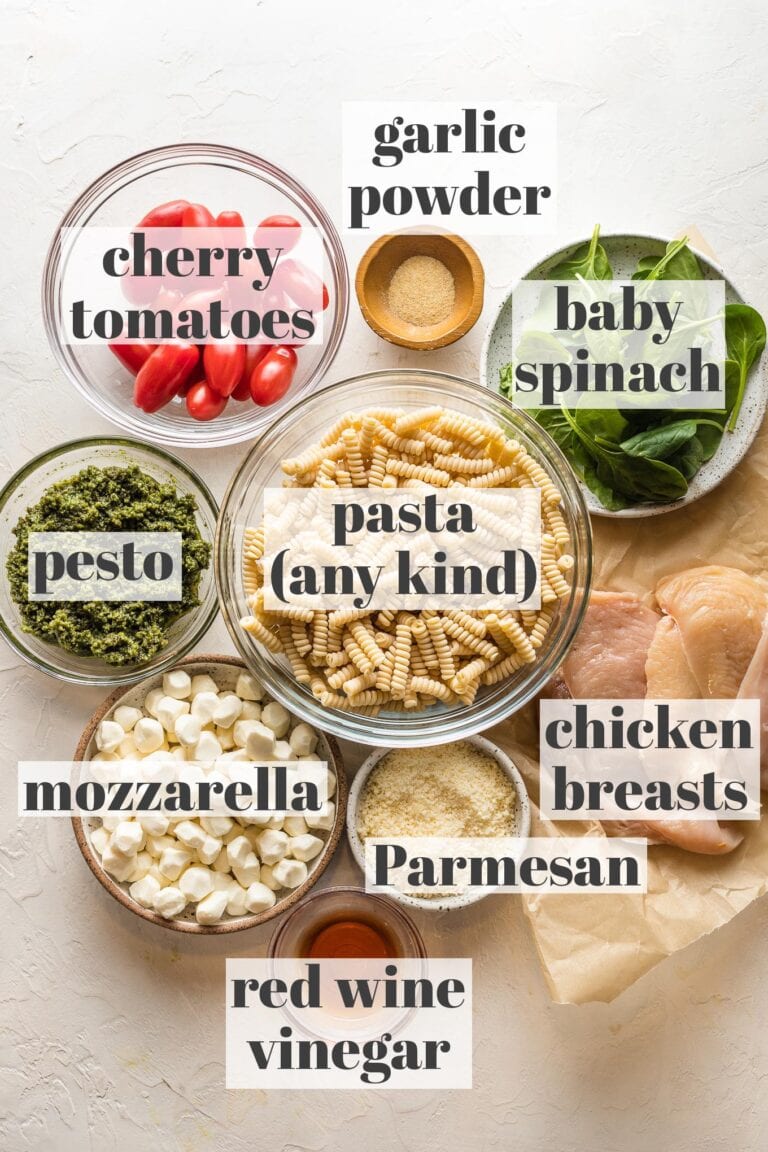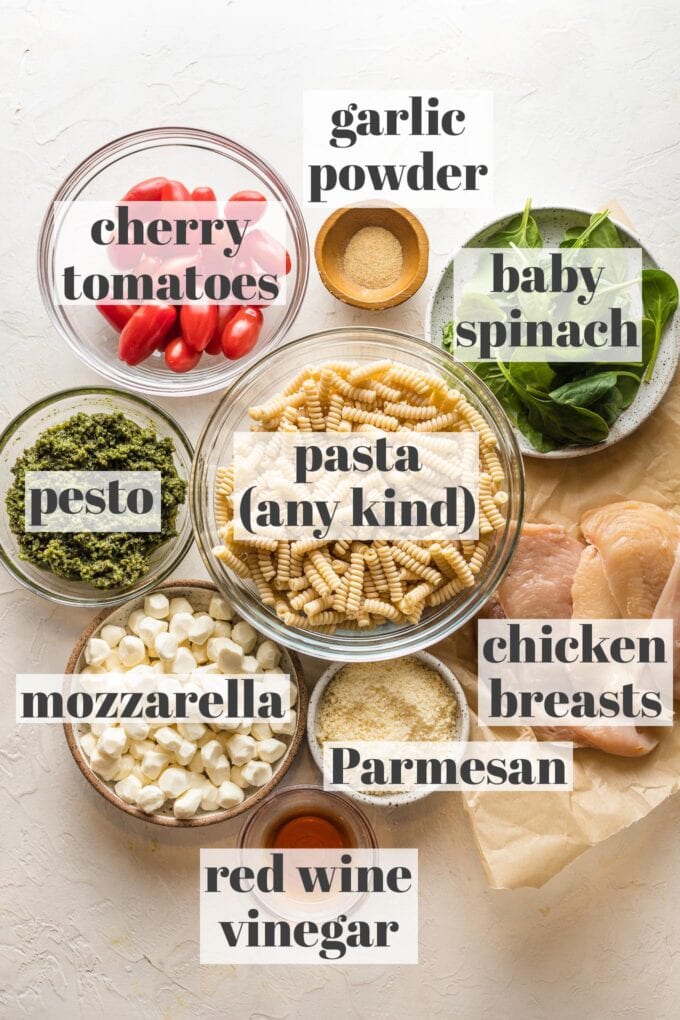 Here are a few notes and shopping tips about the ingredients you'll need to make this chicken pesto pasta salad, as well as possible substitutions.
Pasta. Obviously! The type shown here is bucati. Rotini, fusille, farfalle, cavatappi — any of them work well.
Chicken breasts. This recipe is written for plain chicken breasts that you'll quickly season and cook yourself, but using shredded or diced pieces from a rotisserie chicken also works perfectly well.
Pesto. See notes below for homemade vs. store-bought options.
Mozzarella. Small or medium-sized balls of fresh mozzarella are the perfect touch of creaminess.
Cherry or grape tomatoes. Substitute sun-dried tomatoes if that's more your thing.
Baby spinach. Optional but a nice way to add texture, color, and nutrition.
Parmesan. Pre-grated or pre-shredded will work fine for this recipe.
Red wine vinegar. Mix a smidge of this with your pesto to thin it out slightly and add a subtle tang! You'll thank me later!
Garlic powder, salt, and pepper.
I don't have time to make homemade pesto! What's the best store brand?
We love DeLallo brand basil pesto for a high-quality jarred option. This is not sponsored, just what I know what works.
I am dying to make my own pesto. What's the best recipe?
Highly recommend this homemade basil pesto with lemon zest — the zest is that tiny something that makes it extra fresh and enticing. Another option we adore in the peak of summer is this zucchini pesto — it has a taste every bit as rich as a traditional basil pesto, but with tons of extra nutrition.
How To Make Pasta Salad with Chicken
Begin by cooking the pasta in well-salted water, then draining and setting aside to cool slightly. The salted water adds a subtle layer of flavor directly to the pasta, and allowing it cool slightly means it won't turn your pesto dull when the heat hits it.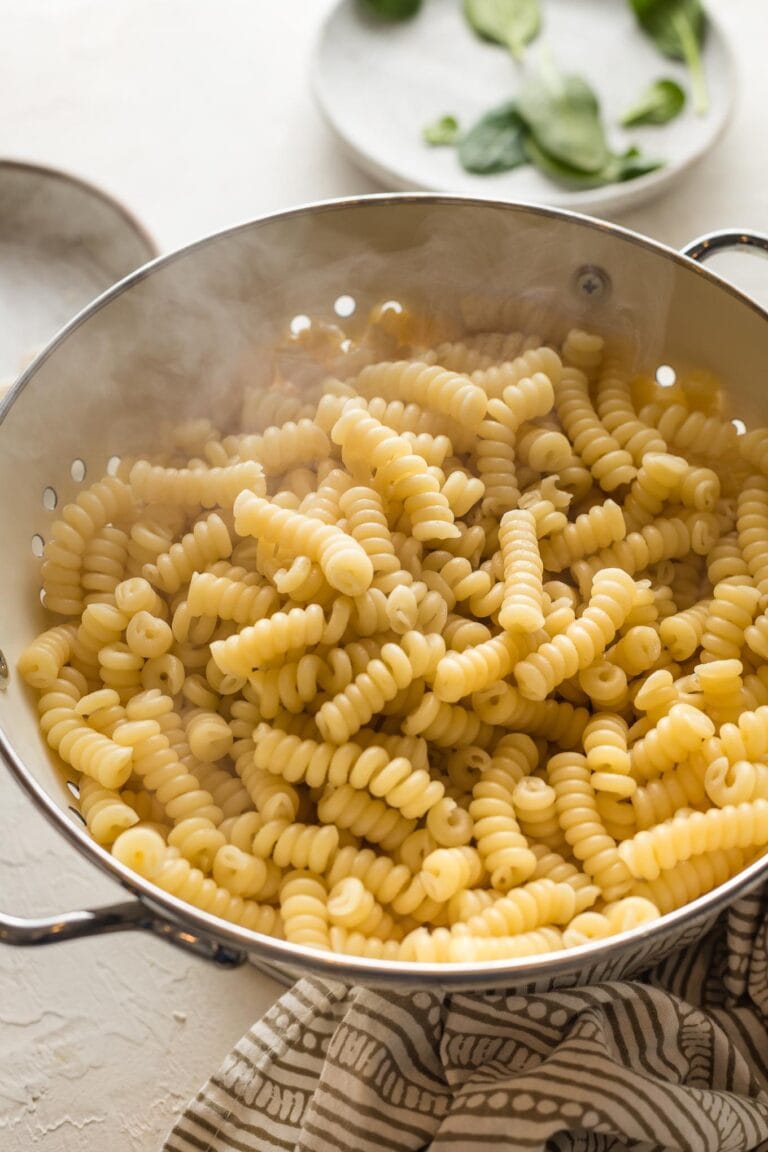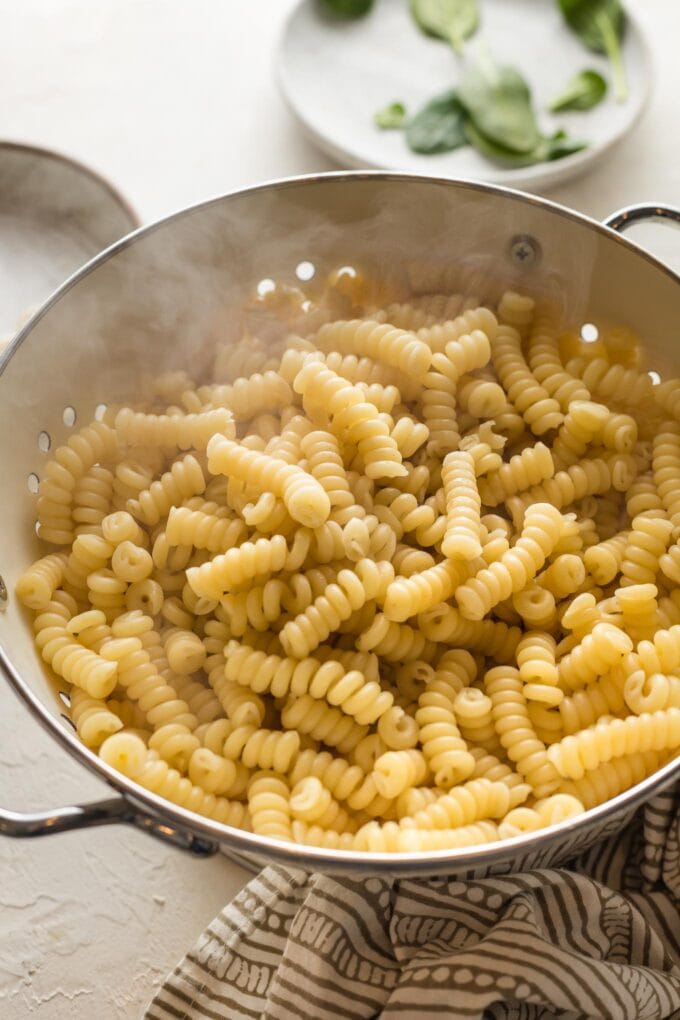 While you wait for the water to boil and cook the pasta, prepare your chicken.
Season your raw chicken breasts with a sprinkle of garlic powder, salt, and pepper on each side, then grill or cook in an oiled skillet over medium-high heat. Remove to a cutting board, let cool slightly, then chop into bite-sized pieces.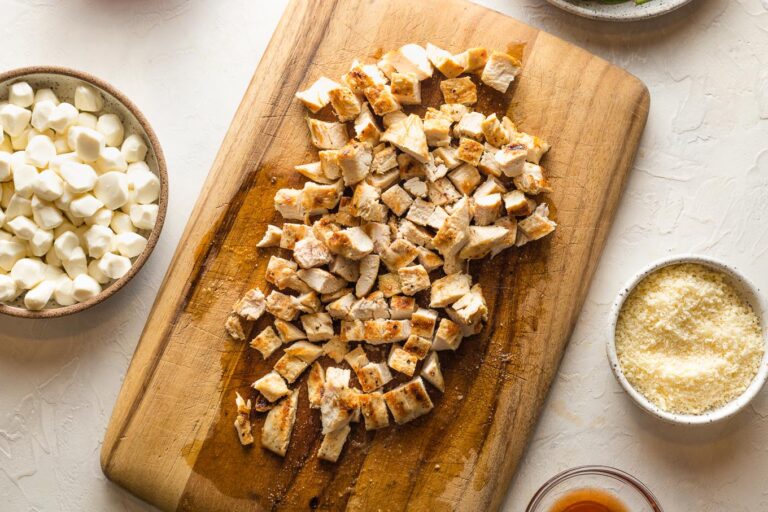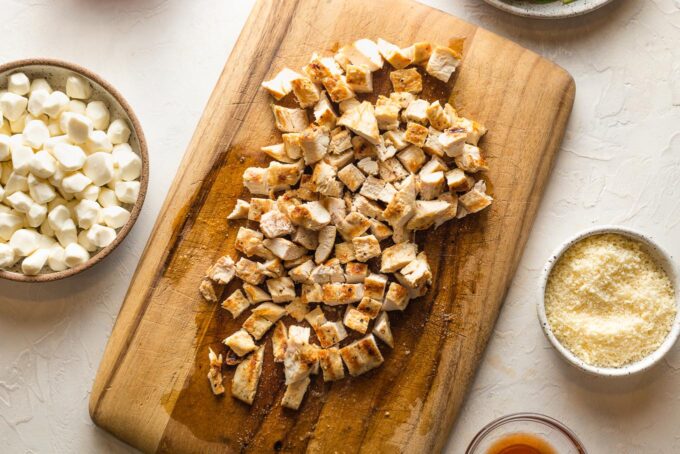 If using a rotisserie or other pre-cooked chicken, just tear or chop it into pieces of the size you would like to eat.
Now it's a simple matter of assembling the salad! Mix the pesto and red wine vinegar together in the bottom of a large bowl. You can do this directly in the bowl in which you intend to serve or store the pasta salad, if you like.
Add spinach, tomatoes, mozzarella, and some of the Parmesan. Stir well.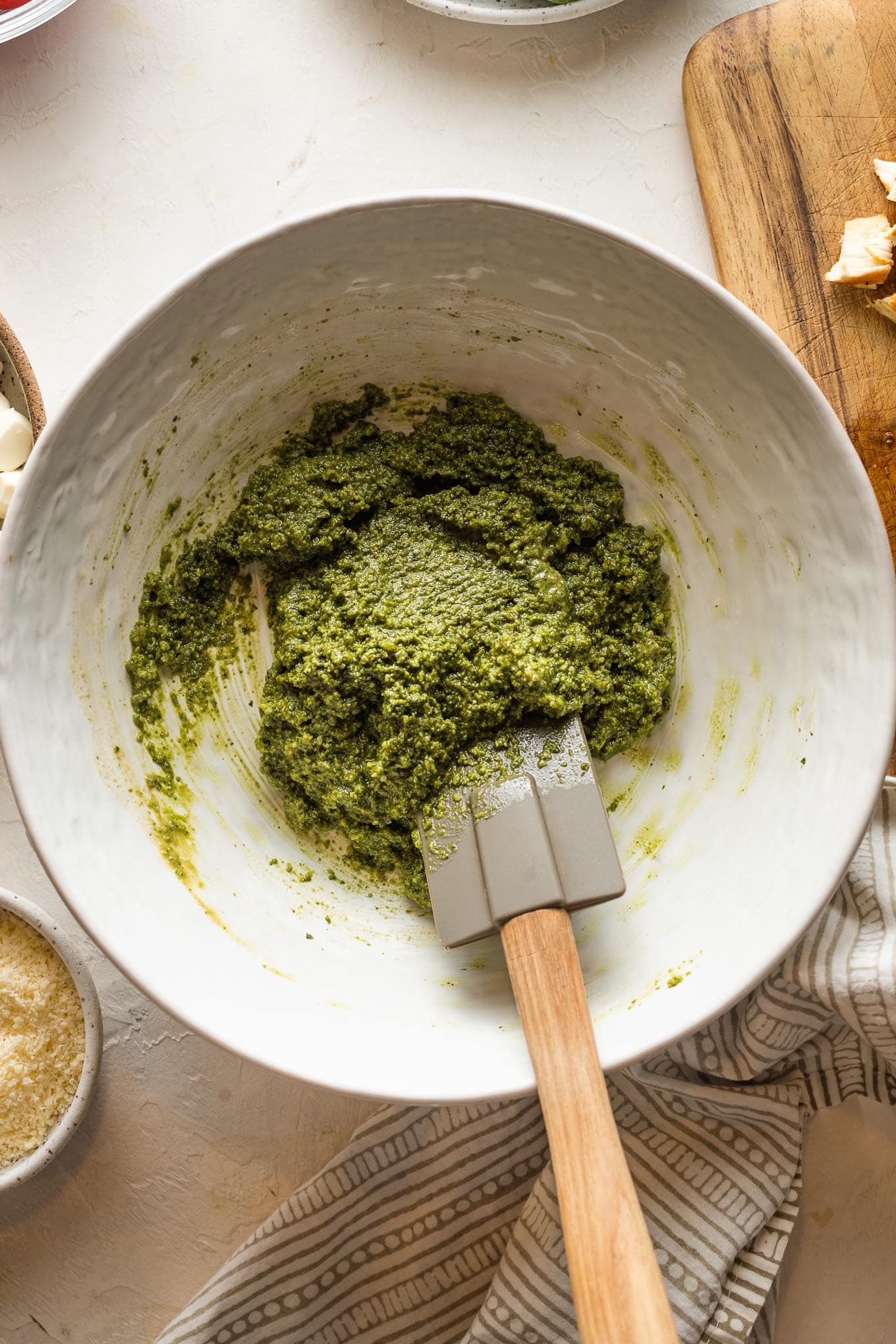 Add the chicken, cooled pasta, and stir well again! Be sure to give it a taste at this point, so you can add additional salt, pepper, pesto, or Parmesan to taste.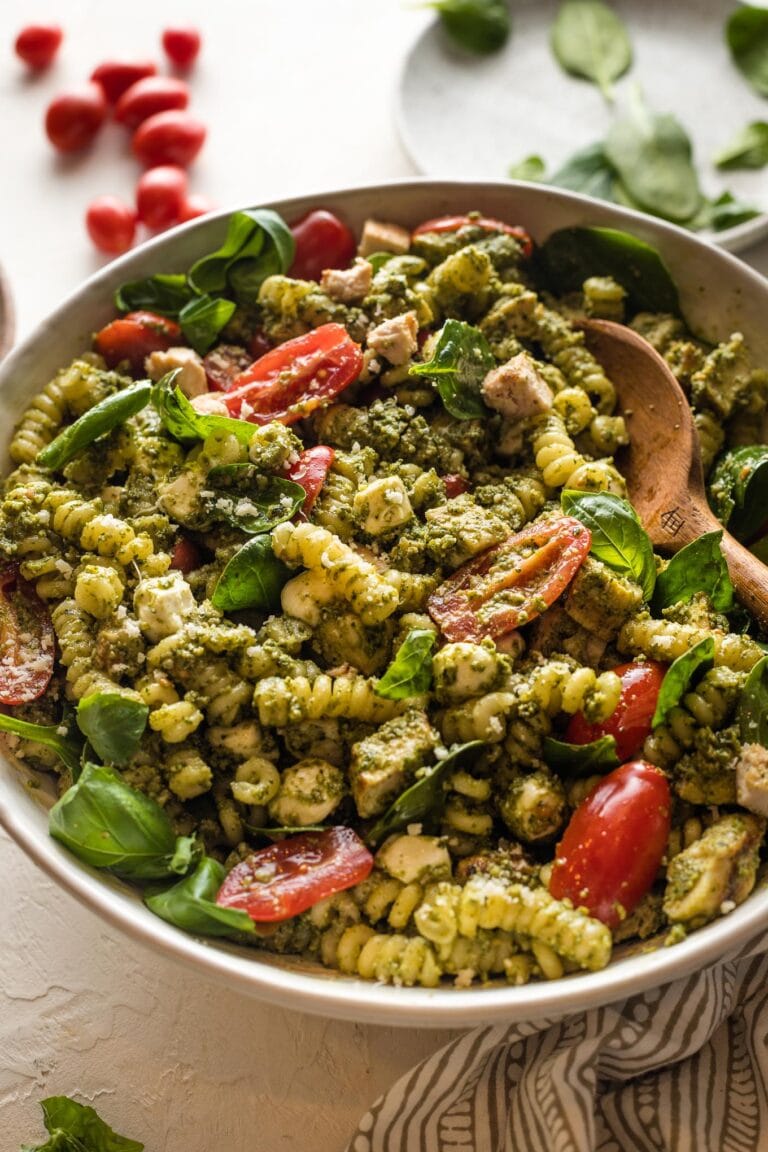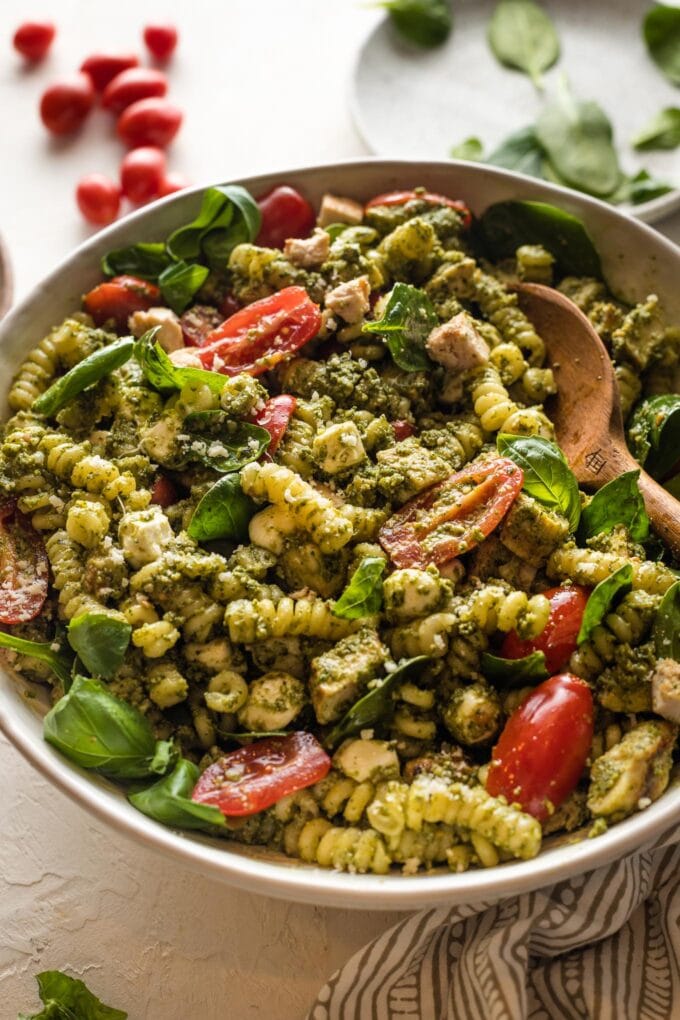 Can you eat pesto pasta cold?
Absolutely – pesto pasta is as delicious and perfect to eat cold from the fridge as it is slightly warm, just after it's assembled with warm pasta. This makes it a terrific to-go option for the lunchbox if you won't have the ability to warm something up!
Can you use pesto straight from a jar?
Yes, store-bought pestos are designed to be used right away, whether that means stirring it into a sauce, spooning it over grilled meats or veggies, or tossing with pasta for a quick meal. That's exactly why a good-quality pesto is a terrific pantry staple–it makes good meals accessible on even the busiest days.
Help! My pasta salad is dry. What's the best way to fix it?
If your pasta salad is dry, of course you'll want to add more moisture to it, but you might wonder if it's best to use oil, sauce, or even a little water. In general, try to add whatever was originally a part of your recipe, so in this case a bit more pesto, possibly thinned out with 1-2 teaspoons of water or an extra 1/2 teaspoon of red wine vinegar. You can also drizzle in a smidge of additional olive oil, but try to do this sparingly, to avoid the finished product being too, well, oily.
Storage
This chicken pesto pasta salad keeps very well in a tightly-sealed container in the refrigerator for 3-4 days. Eat directly from the fridge, or reheat gently in the microwave, using 30-45 seconds interval.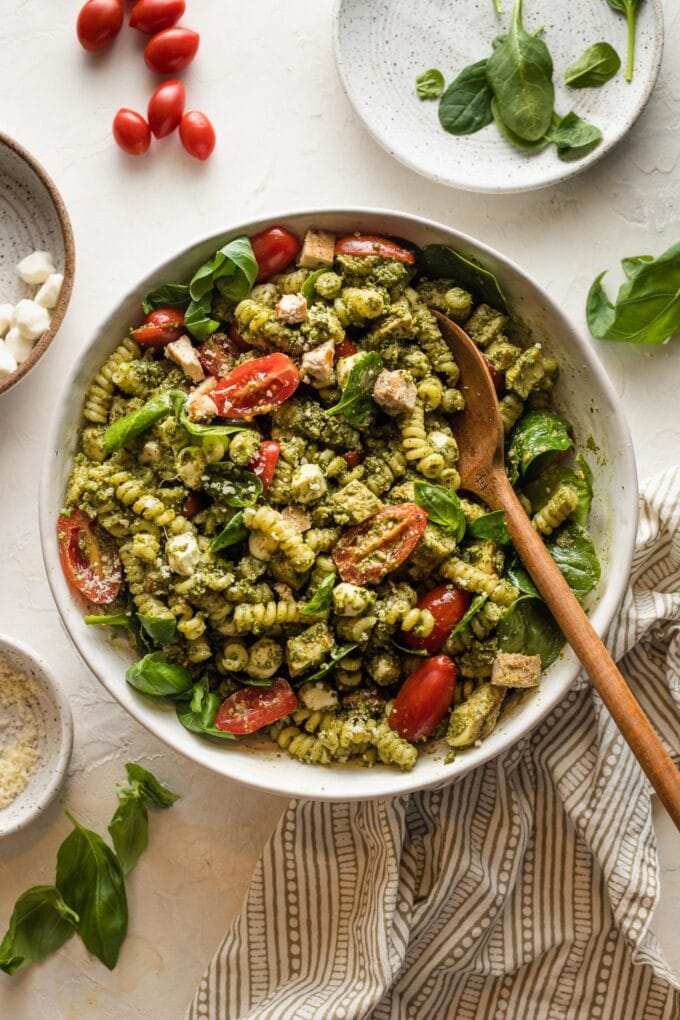 Variations
Extra Flavor: Add pine nuts, sun-dried tomatoes, roasted red peppers, or Kalamata olives for an extra burst of Italian-inspired flavor.
Make it Vegetarian: Leave out the chicken, it will still have tons of flavor. Still want to add a protein? Toss in some chickpeas or cannellini beans, drained and rinsed.
Make it Gluten-Free: Use your favorite gluten-free pasta variety and follow everything else as directed.
More Easy Pasta Salad Recipes
If you love easy pasta salads in the spring and summer, be sure to try my recipes for a cheesy Italian-inspired tortellini pasta salad, lemon orzo salad with cucumber and feta, a hearty chickpea red pepper pasta salad, or this caprese pasta salad with prosciutto next.
If you try this Chicken Pesto Pasta Salad, don't forget to rate the recipe and leave a comment below. I love hearing how recipes turn out in your kitchen, and it helps other readers, too.
You can also FOLLOW me on PINTEREST, INSTAGRAM, FACEBOOK, and TWITTER for more great recipes and ideas!
Chicken Pesto Pasta Salad
A lovely quick lunch or dinner, and a terrific go-to for any warm-weather BBQ, potluck, or picnic. Easy to make ahead, and it only gets better with a day in the fridge.
Ingredients
12 ounces pasta any shape
kosher salt and black pepper
2-3 thinly-sliced chicken breasts
1 teaspoon garlic powder
1 cup basil pesto
1 tablespoon red wine vinegar
1 and 1/2 cups cherry or grape tomatoes halved
8 ounces fresh mozzarella balls or pieces
1 cup baby spinach
1/2 cup grated Parmesan cheese
Instructions
Cook the pasta. Bring a large pot of water to a rapid boil, add a generous pinch of salt, and cook pasta just to al dente, according to package instructions. Drain and set aside to cool.

Prepare the chicken. Sprinkle both sides of the chicken lightly with garlic powder, kosher salt, and a few cracks of black pepper.

Either grill chicken or cook in a lightly-oiled skillet over medium-high heat for 2-3 minutes per side, just until browned on the outside and cooked through to an internal temperature of 165 degrees F.

Remove chicken to a cutting board and set aside. When slightly cooled, cut into bite-sized pieces.

Assemble. In a large bowl, stir together the pesto and red wine vinegar. Add drained pasta, cut chicken, halved tomatoes, mozzarella balls, baby spinach, and Parmesan cheese. Toss well to combine, sample, and add more salt and pepper to taste.

Serve. Serve right away, or keep in the fridge for up to 24 hours. Serve with a few extra leaves of fresh basil, a dollop of pesto, or an extra sprinkle of Parmesan, if desired.
Notes
Rotisserie Chicken: Yes, you can definitely use 1-2 cups of shredded rotisserie chicken or other leftover chicken in place of the grilled and cut chicken breasts.
Nutrition Estimate
Calories: 458 kcal, Carbohydrates: 49 g, Protein: 20 g, Fat: 20 g, Saturated Fat: 4 g, Polyunsaturated Fat: 1 g, Monounsaturated Fat: 1 g, Trans Fat: 1 g, Cholesterol: 35 mg, Sodium: 588 mg, Potassium: 397 mg, Fiber: 3 g, Sugar: 4 g, Vitamin A: 1568 IU, Vitamin C: 10 mg, Calcium: 164 mg, Iron: 2 mg
Did you make this recipe?
Leave a review below, then snap a quick picture and tag @nourishandfete on Instagram so I can see it!