Pasta Salad with Chickpeas & Roasted Red Peppers
This 20-minute Pasta Salad with Chickpeas is perked up with sweet roasted peppers, crunchy fresh cucumber, and a generous dash of Parmesan and fresh herbs. Serve hot, cold, or room temperature–it makes a great lunch, dinner, or side for sharing!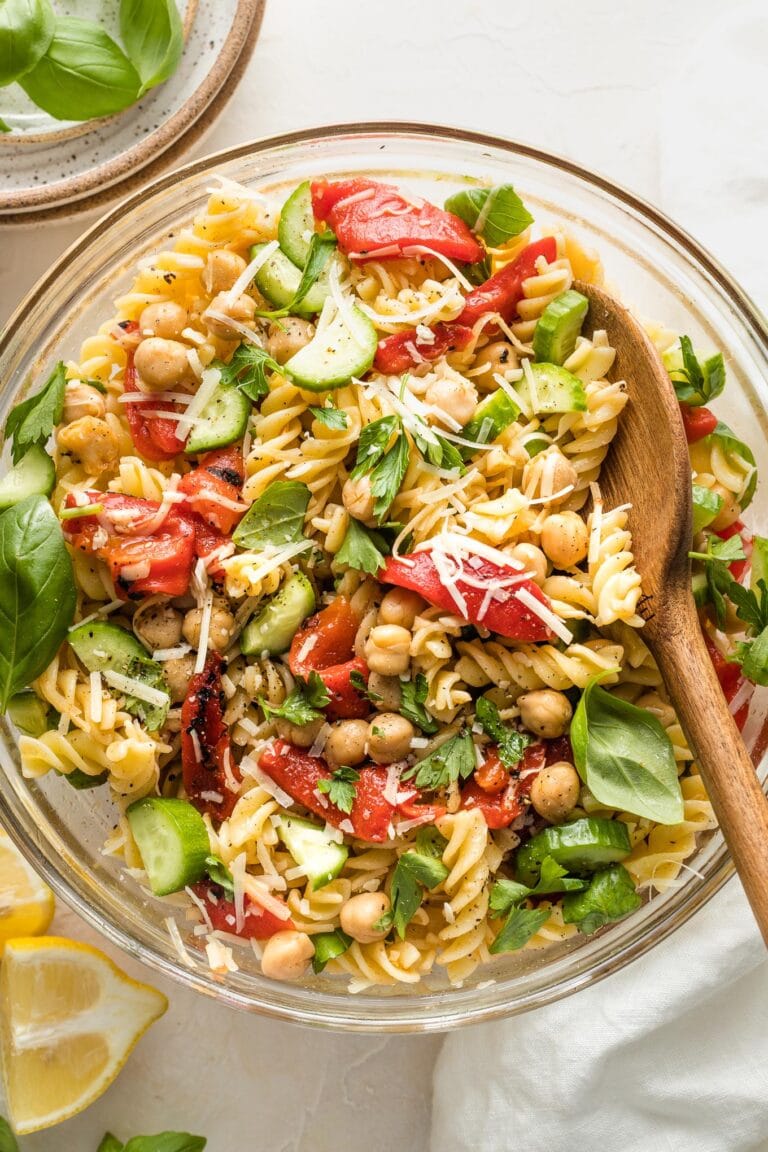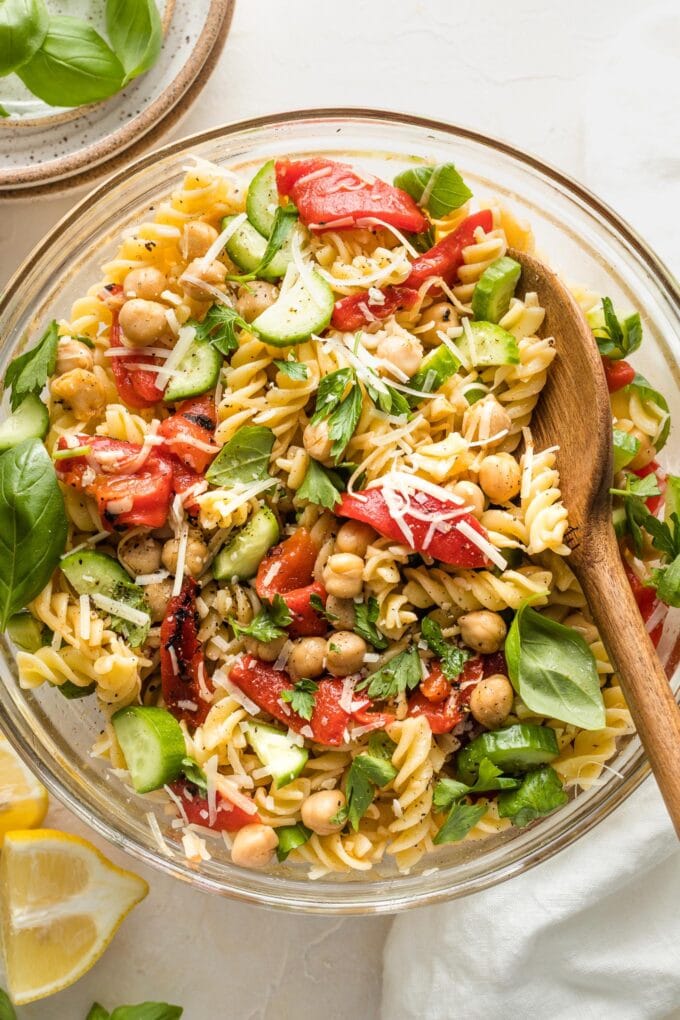 This easy, breezy pasta salad is a major winner in the versatility department, as well as the "maximum reward for minimal effort" department. You get the comforting, crowd-pleasing goodness of pasta, complemented by vibrant veggies, zippy herbs, and everyone's favorite plant-powered protein, chickpeas.
The jumping off point for this combination? A recipe for lemon herb pasta salad with marinated chickpeas published over on Pinch of Yum. It's fresh, healthy, and filling. I've experimented with a couple variations and love this one about as much as summer itself, which is to say a lot. Roasted red peppers add a light sweetness, crisp cucumbers add crunch, and a touch of paprika adds a whiff of smoky heat.
Perfect Pasta Salad with Chickpeas
You'll love this recipe because it is:
Quick and easy. It's a toss together in 20 minutes and call it a day situation.
Filling yet healthy. Pasta, obviously, is quite satisfying in its own right, but the chickpeas and other veggies add a layer of goodness that helps you feel full, not heavy.
Full of flavor and contrasting textures. Toothsome pasta, creamy chickpeas, tender peppers, crunchy cucumber. Lots to love!
Versatile. This makes a great summer lunch, side, or super casual dinner. It travels well and can be served hot, cold, or at room temperature, so tote it along to any potluck, BBQ, or picnic with pride.
Ingredients & Common Substitutions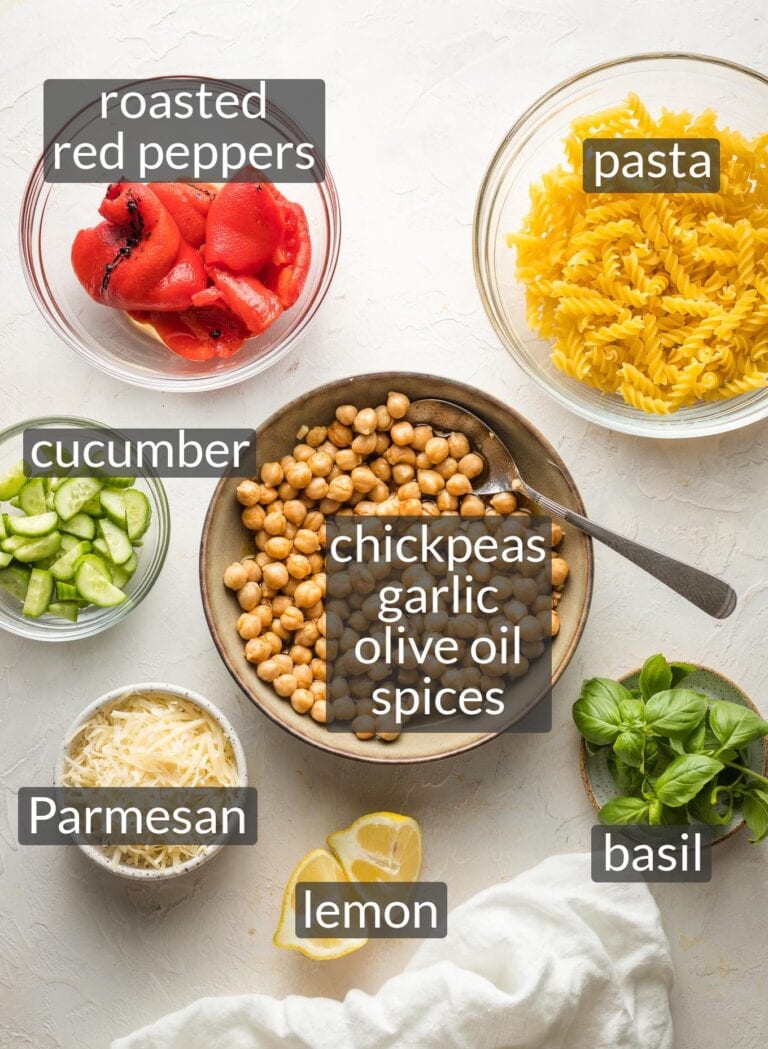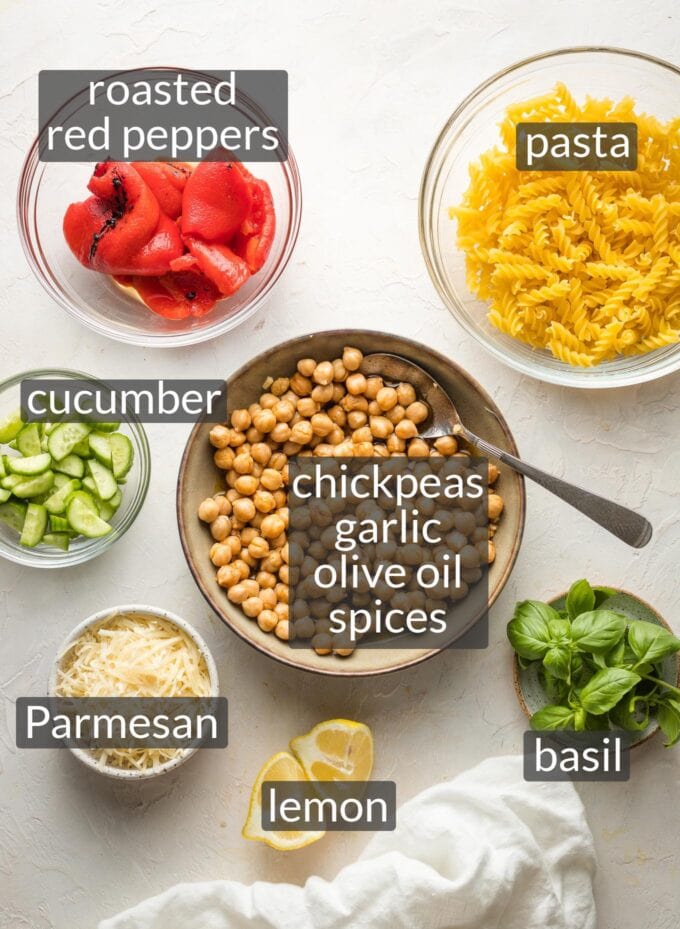 Pasta. Any you love! This also works well with whole wheat, gluten-free, or plant-based pasta if you prefer.
Chickpeas. One can, drained and rinsed.
Cucumber. Highly recommend using an English or Persian variety.
Roasted red pepper. These are sold in jars. If you really want to get ambitious, or have lots of red peppers from a garden or market, here's a guide to roasting them yourself!
Parmesan. Grated or shaved. Pecorino or Asiago cheese would be a fun swap, too.
Fresh herbs: basil and parsley are classic. Oregano or thyme would be lovely, as well.
Lemon. Fresh is best; use bottled if that's what you've got!
Garlic, olive oil, sea salt, and paprika. Sweet or smoky paprika works well, just depending on what you enjoy.
Tips and Tricks for a Great Pasta Salad
OK, yes, anyone can throw together a pasta salad. But it's the little things that take it from "alright" to "let's have that again."
Salt the pasta water well. This is your first opportunity to flavor the pasta itself, which is subtle thing but makes a real difference. Be generous: at least a full tablespoon of salt into the pot of water. Most cooks say it should be salty like the sea!
Choose the cucumber wisely. Purchase an English cucumber (long and skinny) or a few Persian cucumbers (mini, usually sold in packs). Their thin skin and lower water content mean you get crunch without unpleasant chewiness, and avoid excess water making the other ingredients soggy. Already have a regular cucumber? No worries. Just peel if desired, slice lengthwise down the middle, and use a spoon to scoop out the soft middle part with the seeds before slicing it into half moons.
Add olive oil and spices while pasta is still warm… This helps ensure that the "dressing" adheres to the pasta and infuses another layer of flavor.
.. but add Parmesan and crunchy veggies once the pasta cools a bit. Veggies stay crunchy, Parmesan doesn't melt, your salad is perfect!
Sample and adjust. You might want more lemon, more salt, more heat (sprinkle on more paprika), or more herbs. Taste the pasta salad just before serving and adjust to your taste!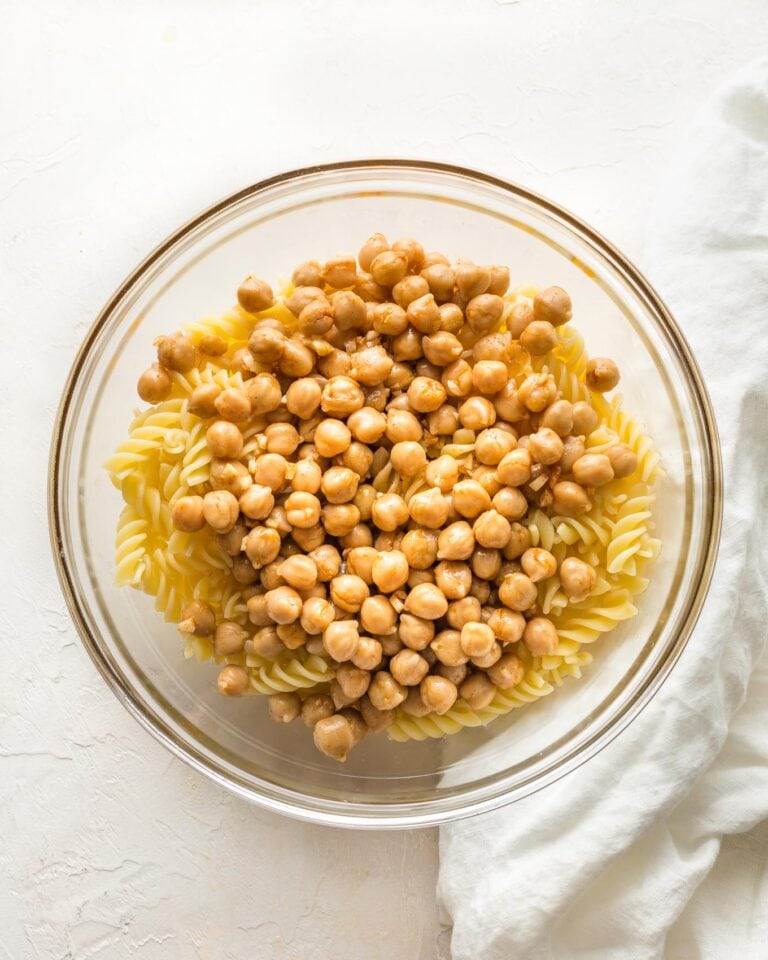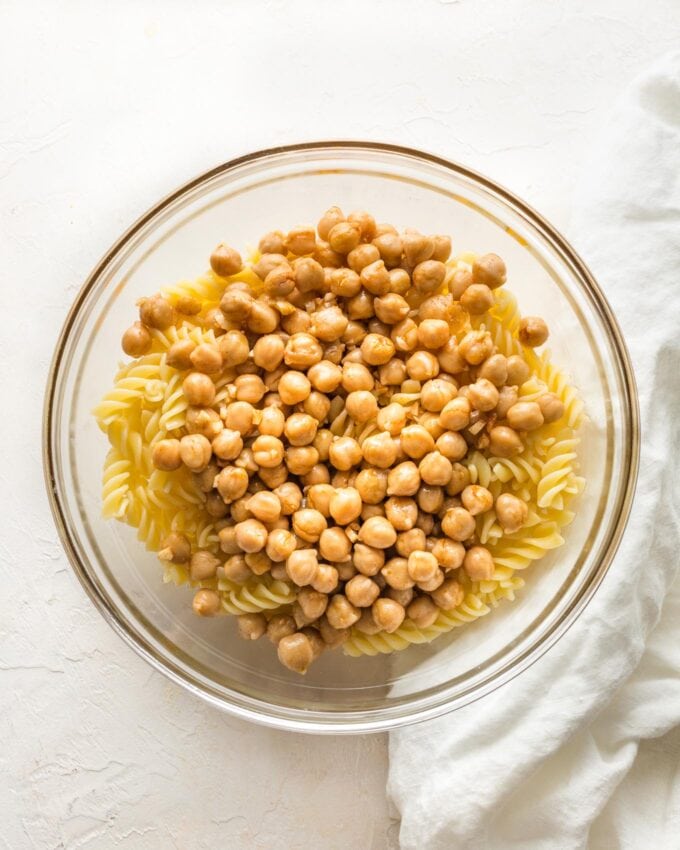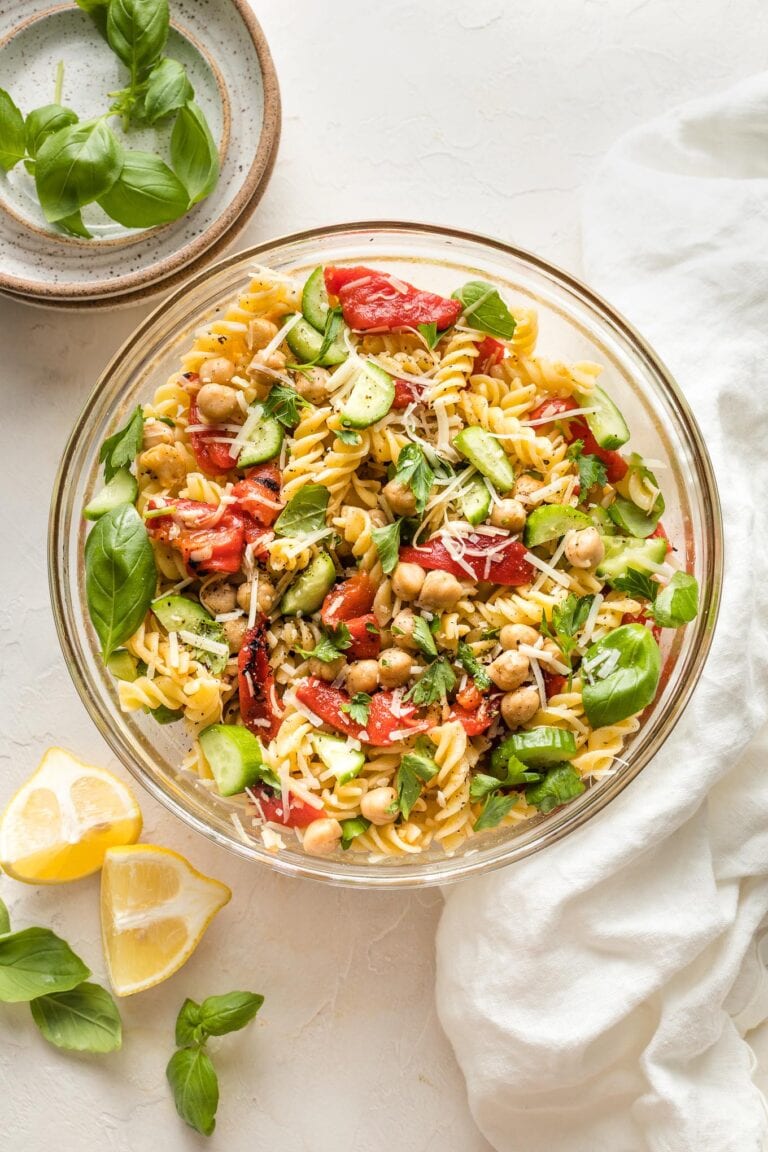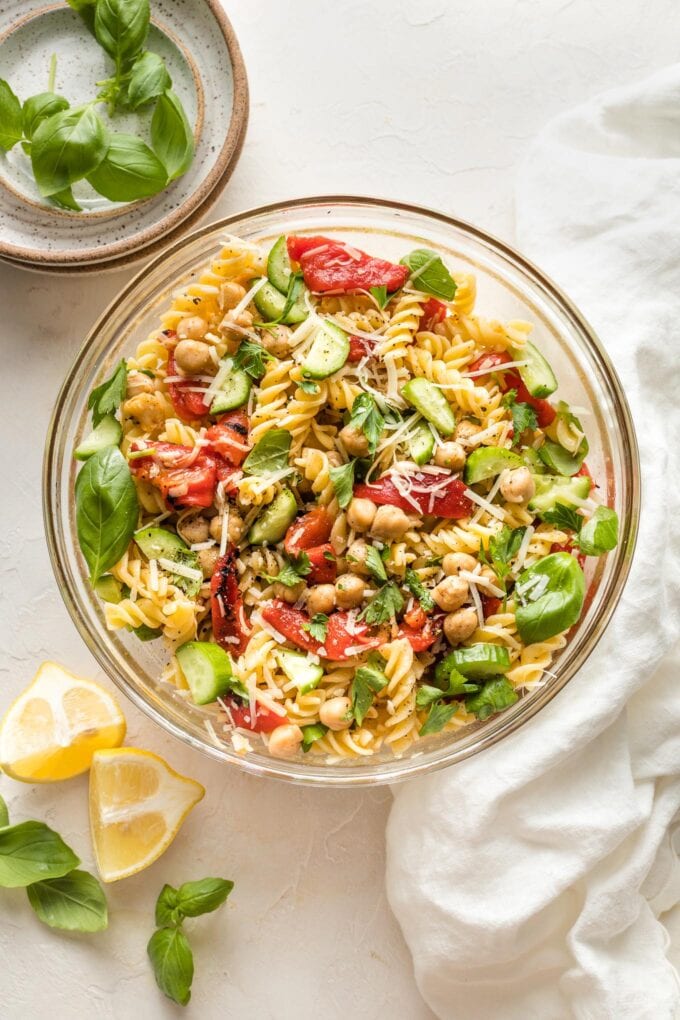 Frequently Asked Questions
How long will this pasta salad last in the fridge?
Any leftovers will stay fresh for 4-5 days stored in an airtight container in the fridge.
Can this be used for meal prep?
Yes, absolutely! Pasta salad with chickpeas makes a fantastic meal prep. Store in any containers you like in the fridge. Consider sprucing up each serving with an extra squeeze of lemon juice and fresh sprinkle of Parmesan and herbs right before eating. SO good.
Where can I find roasted red peppers in the grocery store?
Your best bet is the condiment aisle; most grocery stores sell jars of roasted red peppers near artichoke hearts, capers, jarred olives, and the like. You can also purchase them online, of course.
Serving Suggestions
This makes a beautifully simple lunch, side dish, or super easy dinner, especially if you're feeding family at the beach or pool or otherwise on the go. Serving as a side? Pair it with grilled dry rub chicken, crockpot BBQ chicken, kabobs, or lemon butter fish.
More Pasta Salads You'll Love
Loving that easy breezy pasta salad life? Try these next!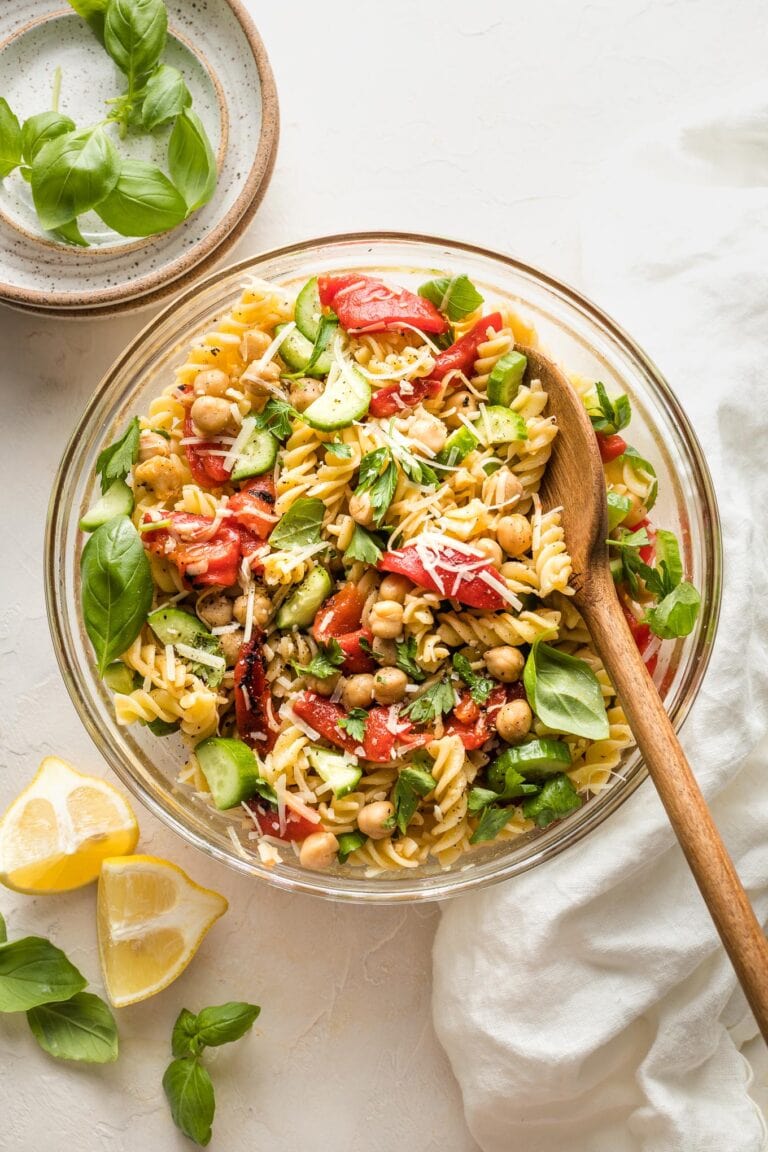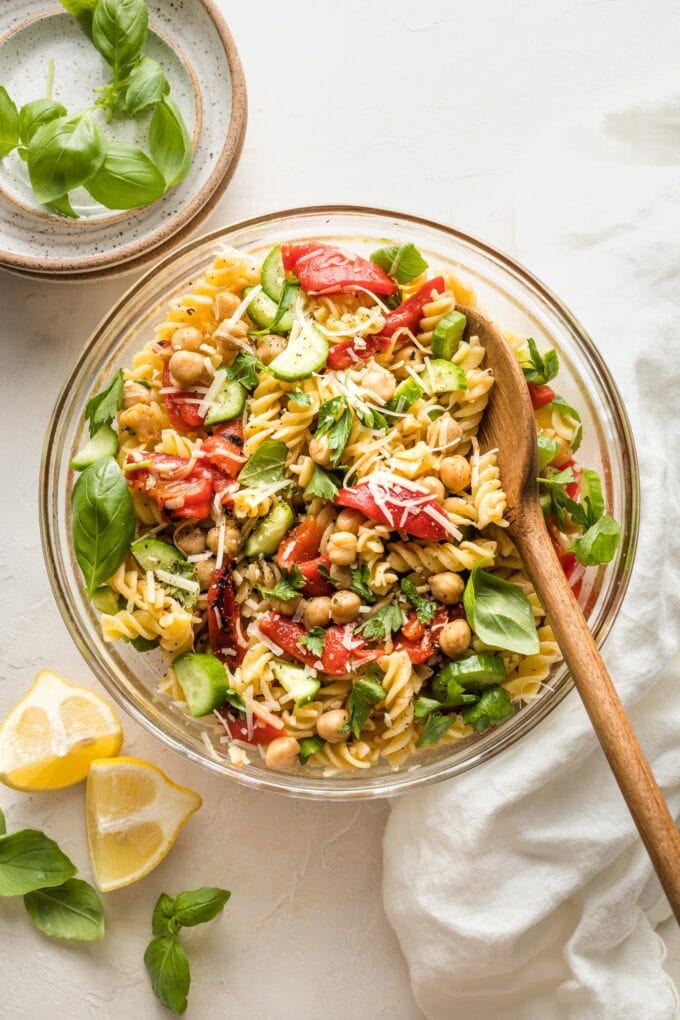 If you try this Pasta Salad with Chickpeas, don't forget to rate the recipe and leave a comment below. I love hearing how recipes turn out in your kitchen, and it helps other readers, too.
You can also FOLLOW me on PINTEREST, INSTAGRAM, FACEBOOK, and TWITTER for more great recipes and ideas!
Pasta Salad with Chickpeas & Roasted Red Peppers
Serve this fun pasta salad hot, cold, or room temperature. It makes a terrific summer lunch, dinner, or side!
Ingredients
1 (15 ounce) can chickpeas drained and rinsed
1/4 cup olive oil
2 cloves garlic minced
2 teaspoons lemon juice
1 teaspoon sea salt
1/2 teaspoon paprika
8 ounces pasta
1 (12 ounce) jar roasted red peppers drained and coarsely chopped
1/2 English cucumber or 2 mini (Persian) cucumbers chopped
1/2 cup grated Parmesan
small handful fresh basil or parsley chopped
Instructions
Combine chickpeas, olive oil, garlic, lemon, salt, and paprika in a small bowl. Stir well and set aside.

Boil a large pot of water, add a generous pinch of salt, and cook pasta just to al dente, according to package directions. Drain, then transfer to a large serving bowl.

Pour chickpea mixture over the warm pasta, scraping the bowl to get all the oil and spices into the pasta. Add red peppers and stir well.

Let cool for 2-3 minutes, then add cucumber, Parmesan, and herbs. Toss gently. Sample and add additional olive oil, lemon juice, salt, and black pepper to taste. Serve and enjoy!
Notes
I find this serves 6-8 as a side dish, or about 4 as a main course.
Recipe adapted from Pinch of Yum's Lemon Herb Pasta Salad.
Nutrition Estimate
Calories: 385 kcal, Carbohydrates: 52 g, Protein: 15 g, Fat: 14 g, Saturated Fat: 3 g, Polyunsaturated Fat: 2 g, Monounsaturated Fat: 8 g, Cholesterol: 6 mg, Sodium: 1306 mg, Potassium: 427 mg, Fiber: 7 g, Sugar: 5 g, Vitamin A: 488 IU, Vitamin C: 29 mg, Calcium: 171 mg, Iron: 3 mg
Did you make this recipe?
Leave a review below, then snap a quick picture and tag @nourishandfete on Instagram so I can see it!