Pearl Couscous Salad with Tomato and Cucumber
A pearl or Israeli couscous salad with cucumber, tomatoes, and feta is a fun, flavorful spring and summer side! Add a simple lemon dressing for an easy, healthy Mediterranean recipe everyone loves. This can be made ahead and served cold or at room temperature.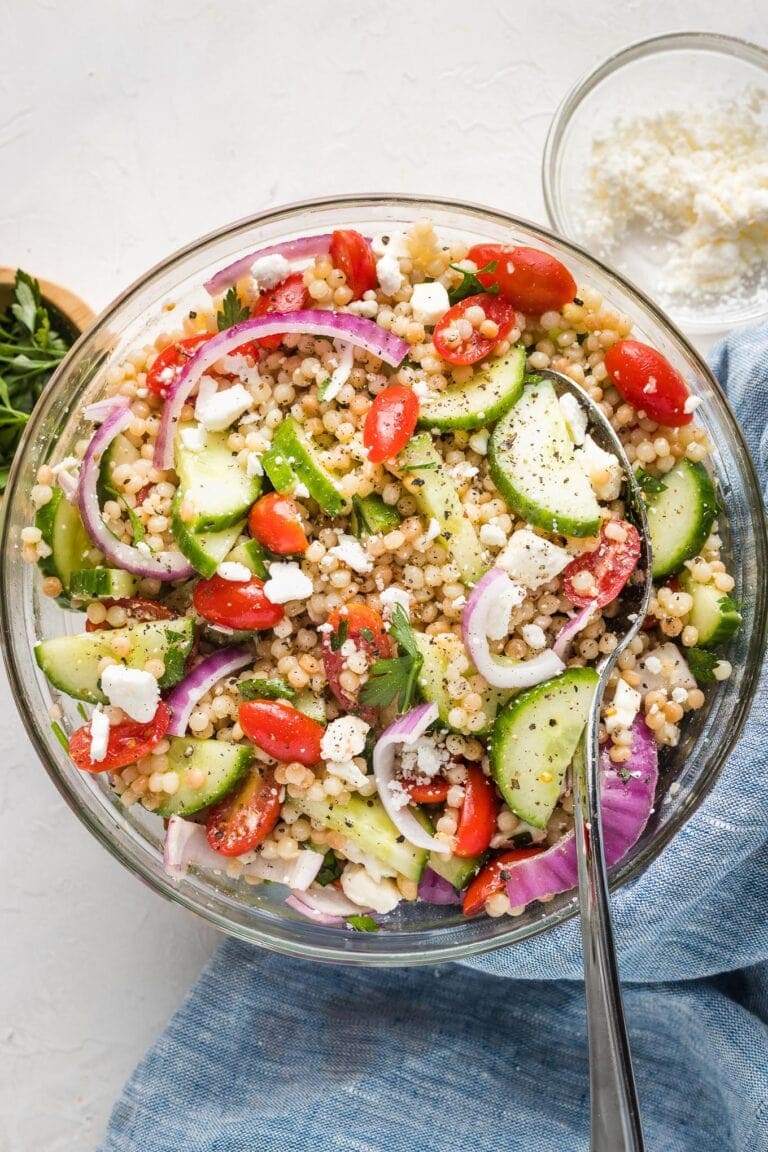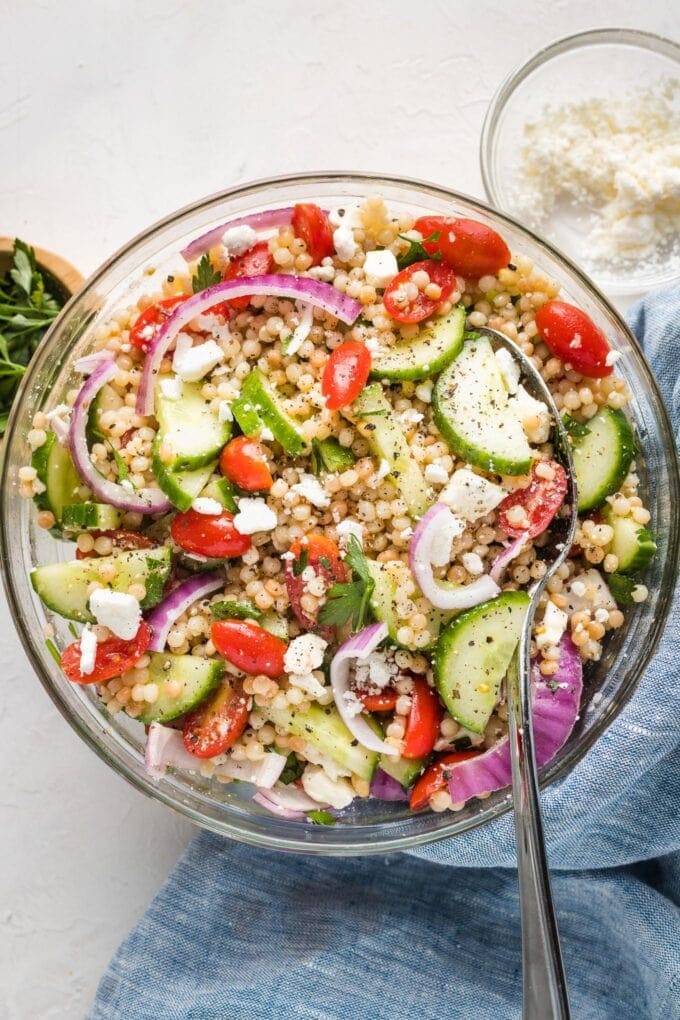 This salad is one we'll definitely have on repeat throughout the spring and summer, and I know you'll enjoy it, as well. It's quick and easy to make, but still feels a little bit elegant, thanks to the pearl couscous and simple but flavorful lemon-herb dressing.
I first made this to change up our frequent routine of a cucumber-tomato salad, since I wanted a dish with a little more bite and had some pearl couscous in the pantry. It was easy to keep adding things until we hit the perfect combination!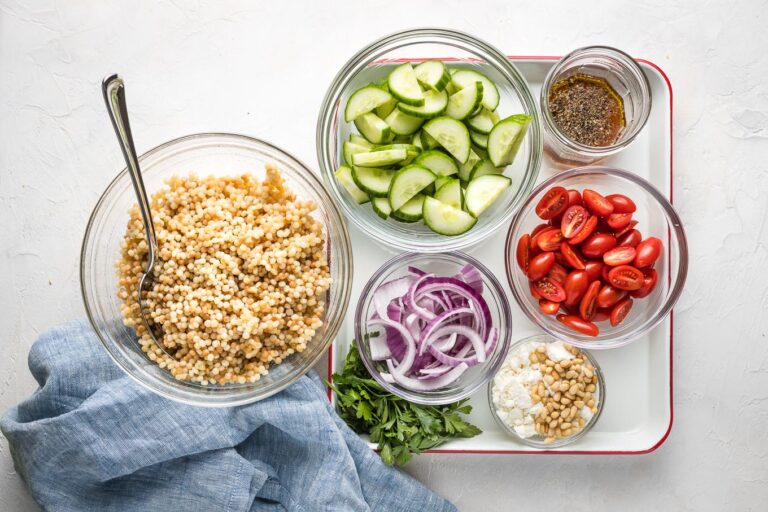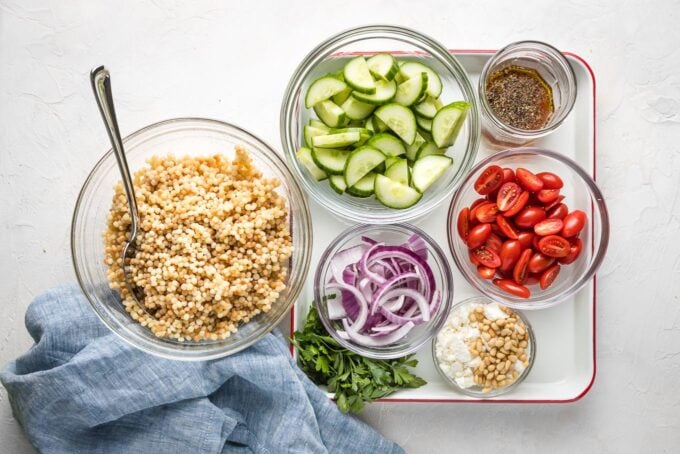 Ingredients and shopping tips
Pearl couscous, also known as Israeli couscous, giant couscous, or ptitim, is a type of small, round pasta made of semolina flour and water. You can typically find it on shelves near the rice and other grains.
As you might expect, it's larger than regular couscous, with a slightly chewy texture. Much like its smaller cousin, pearl couscous cooks quickly in water, but the traditional step of toasting it in a bit of olive oil first adds an irresistible extra layer of flavor.
Here's everything else you will need to make this easy side:
Cucumbers. Buy an English or several small Persian cucumbers if you can; the lower water content in these varieties is well-suited to salads like this, and saves you the trouble of scooping out the seeds.
Tomatoes. I love the ease of using cherry or grape tomatoes, but you can certainly buy larger tomatoes and cut them into quarters or slices.
Red onion. A little goes a long way!
Feta. The creaminess can't be beat! I often buy it pre-crumbled to save time.
Pine nuts. An optional but very nice addition.
Fresh parsley or mint.
For the dressing: garlic, lemon juice, olive oil, red wine vinegar, dried oregano, salt, and pepper.
After cooking the couscous, allow it to cool slightly before adding the veggies. Meanwhile, mix up the dressing in a small jar or liquid measuring cup.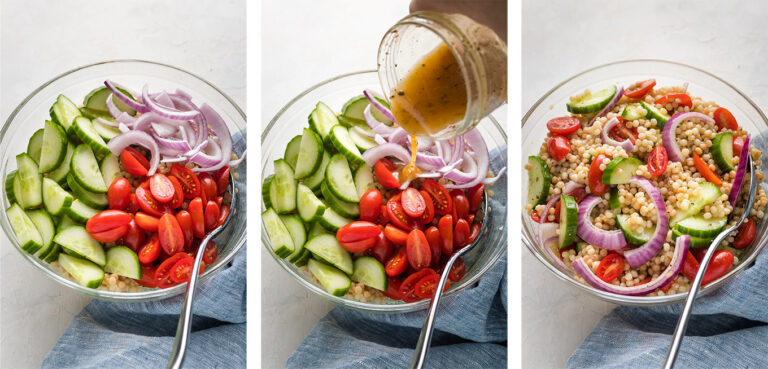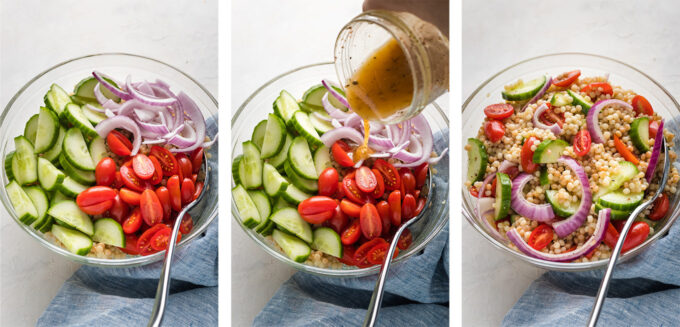 Then it's a simple matter of combining everything, giving it one more toss, and serving it up!
Make ahead tips
If making this ahead of when you plan to eat, you can combine everything except the dressing, which can be set aside in a separate small jar. Then you can shake and pour on the dressing just before serving.
That said, we've eaten and enjoyed "fully-dressed" leftovers as much as two days after the salad was made. It keeps very well in the fridge; I suspect this is because the couscous keeps absorbing a bit of the dressing, so the salad keeps all the flavor, but the veggies aren't soaking in liquid and getting soggy.
No one likes soggy veggies, after all. 😉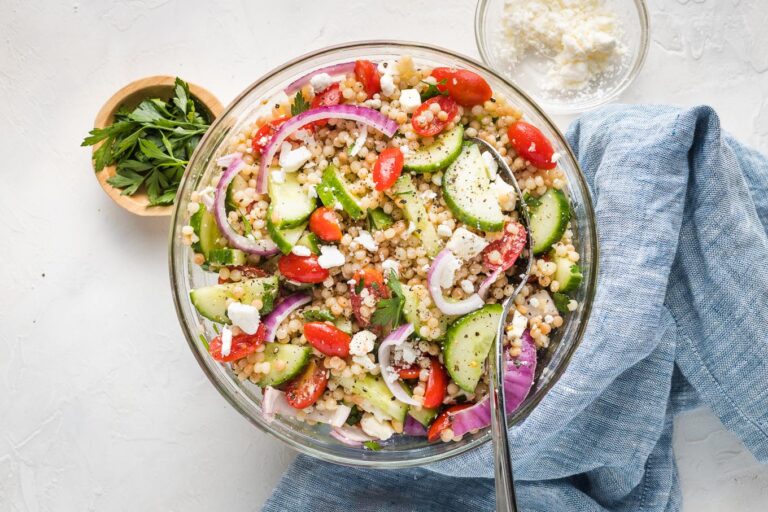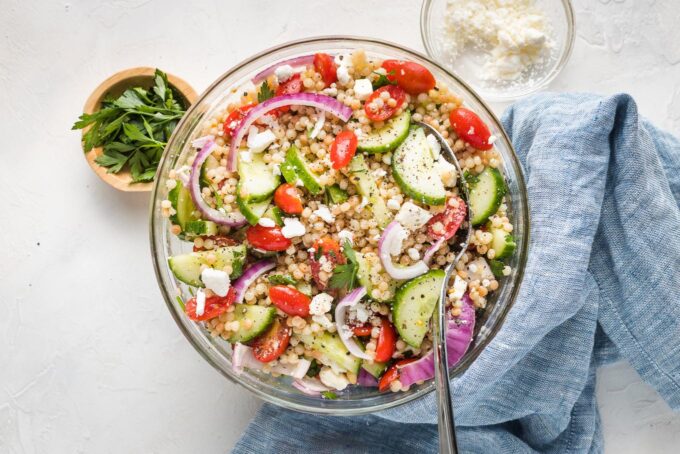 What to serve with it
Serve this alongside grilled dry rub chicken, your favorite kabobs, or garlic lemon shrimp. Or, bring a big bowl to share at a cookout!
More Mediterranean recipes
If you enjoy sides with these fresh flavors, you'll also love these recipes for Greek chickpea salad and a simple Greek salad with homemade dressing.
You can also FOLLOW me on PINTEREST, INSTAGRAM, FACEBOOK, and TWITTER for more great recipes and ideas!
Pearl Couscous Salad with Tomato and Cucumber
A pearl or Israeli couscous salad with cucumber, tomato, and feta is the perfect spring/summer side! Mediterranean flavor everyone loves; can be made ahead!
Ingredients
Couscous:
1 tablespoon olive oil
1 cup dried pearl or Israeli couscous see note
1 and 1/3 cups water
Dressing:
1/4 cup olive oil
2 tablespoons lemon juice
1 tablespoon red wine vinegar
1-2 garlic cloves minced
1/2 teaspoon dried oregano
1/2 teaspoon sea salt
6-8 cranks freshly-ground black pepper
Salad:
1 pint cherry or grape tomatoes halved
1/2 English cucumber or 2 Persian cucumbers cut into coins
1/4 small red onion thinly sliced
1/4 cup crumbled feta cheese
1/4 cup fresh parsley or mint chopped or torn
2 tablespoons pine nuts optional
Instructions
To cook the couscous, warm olive oil in a medium saucepan over medium heat. Add the couscous and cook for 2 minutes, stirring frequently, until lightly toasted and golden brown. Stir in water, then increase heat to high just until it boils, then reduce heat to low and cover the pan. Let cook for 10-12 minutes, just until the couscous is tender and the liquid absorbed. Remove from the heat and set aside to cool for 5-10 minutes.

Meanwhile, to make the dressing, combine olive oil, lemon juice, red wine vinegar, garlic, oregano, sea salt, and pepper in a small jar or measuring cup. Shake or whisk vigorously to blend.

To assemble the salad, combine the cooled couscous, tomatoes, cucumber, and red onion in a serving bowl. Drizzle with dressing and toss to combine. Sprinkle feta, herbs, and pine nuts on top and toss gently once more. Serve at room temperature or chilled. Enjoy!
Notes
This salad keeps very well in the fridge, even after adding the dressing. If intentionally making it ahead, you may prefer to combine everything except the dressing, and add that just before serving. But we've eaten and enjoyed "fully-dressed" leftovers for as much as 2 days.
If you purchase your Israeli couscous from Trader Joe's, as I often do, it will come in a box containing 1 and 1/3 cups dried couscous. In that case, I would personally just use the entire box for this recipe, and add 1 and 3/4 cups water to cook it.
Nutrition Estimate
Calories: 271 kcal, Carbohydrates: 29 g, Protein: 6 g, Fat: 15 g, Saturated Fat: 3 g, Cholesterol: 6 mg, Sodium: 279 mg, Potassium: 296 mg, Fiber: 3 g, Sugar: 3 g, Vitamin A: 438 IU, Vitamin C: 21 mg, Calcium: 57 mg, Iron: 1 mg
Did you make this recipe?
Leave a review below, then snap a quick picture and tag @nourishandfete on Instagram so I can see it!