Strawberry Pomegranate Smoothie
This quick and healthy strawberry pomegranate smoothie is so creamy, you'll be amazed that it contains no dairy! Three ingredients and a minute in the blender are all it takes to make this sweet treat.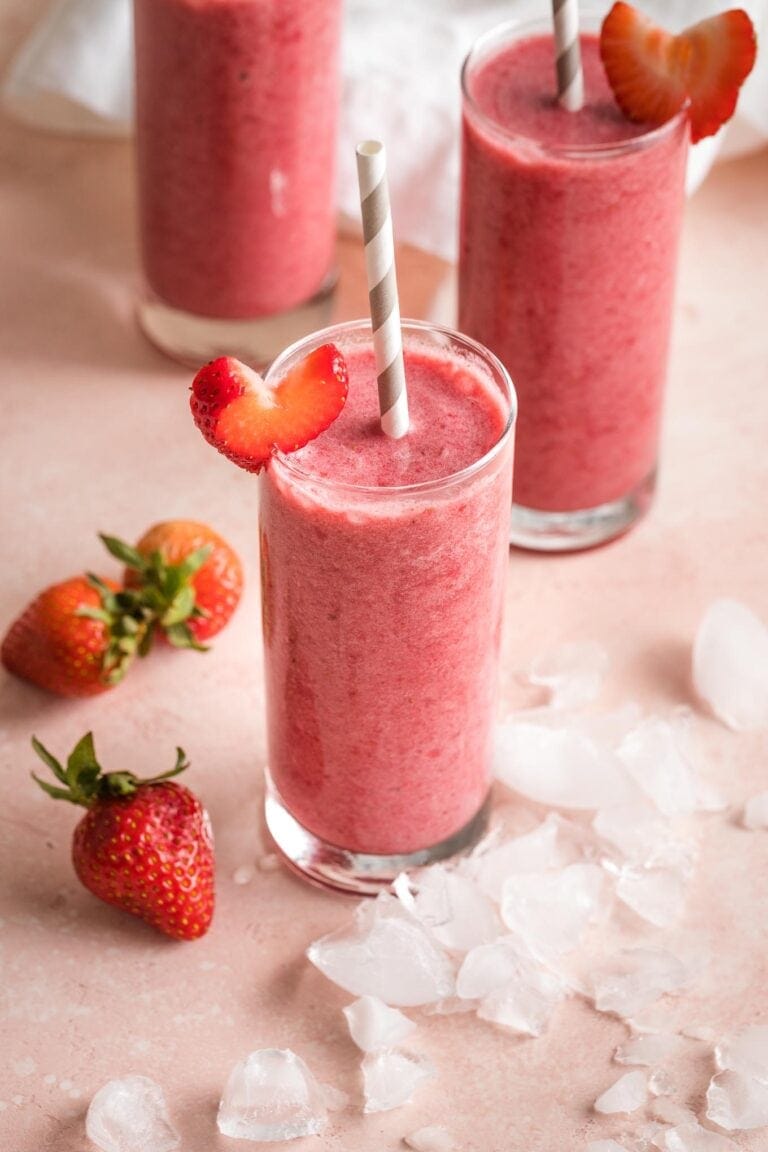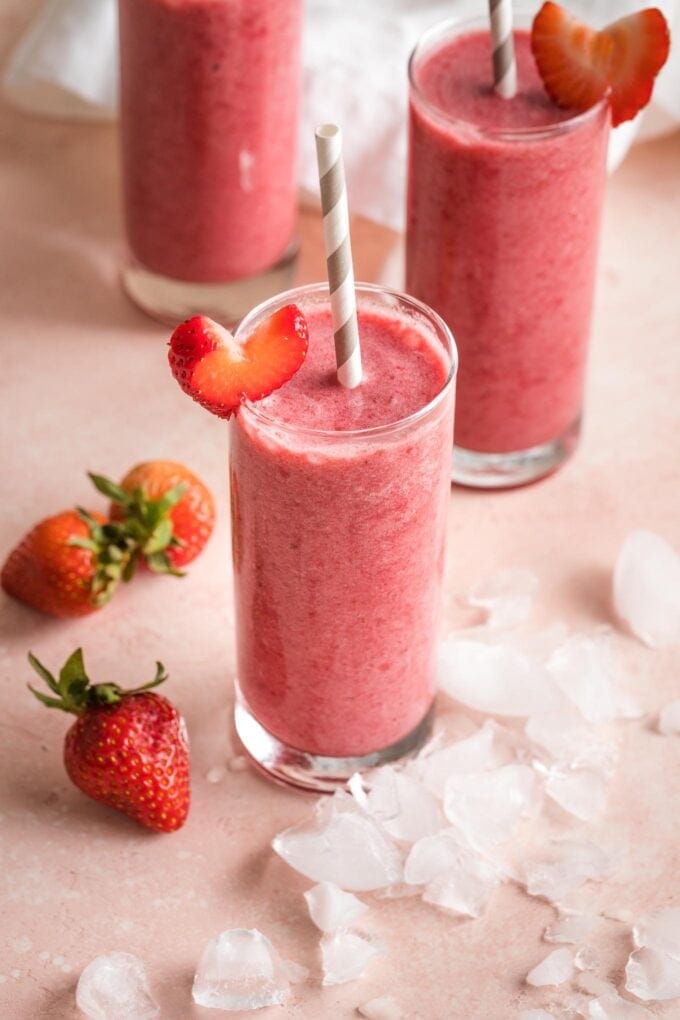 Whether you enjoy smoothies for breakfast or the occasional afternoon treat, the joy is pretty easy to grasp. Why else would smoothie and juice bars exist and be able to charge crazy mark-ups for blends that largely consist of fruit, juice, and ice? 😉
Fortunately, smoothies are one of the most obviously accessible treats to make yourself at home. As long as you have a decent blender, you can make your own on demand, which is way more economical, and gives you total control over the ingredients, taste, and consistency.
Strawberry and pomegranate are a match made in smoothie heaven, so I know you'll adore this simple blend as much as we do. It gets an enthusiastic two thumbs-up from every taste-tester!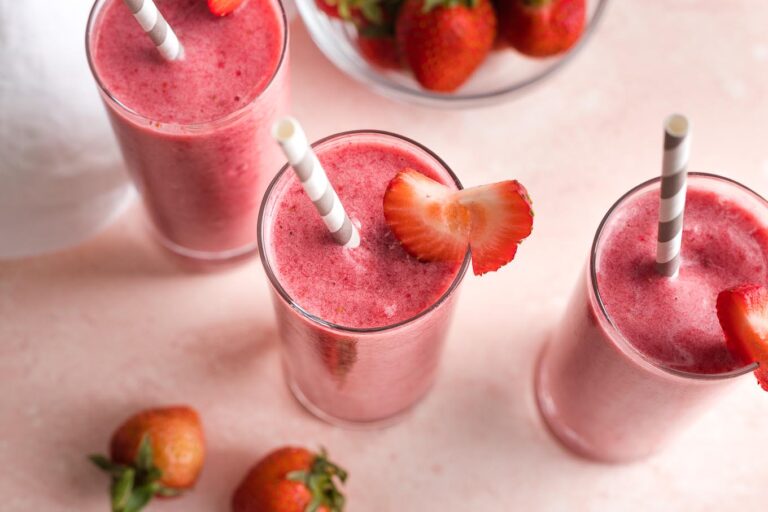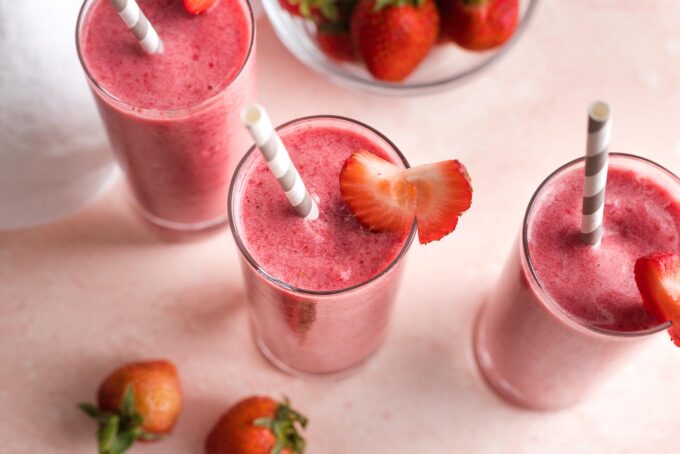 Why you'll love this smoothie
Creamy yet dairy-free
Rich in antioxidants and vitamin C
Simple, easy-to-find ingredients
No added sugar or sweeteners
All fruit = very kid-friendly
Both strawberries and pomegranate juice are very high in vitamin C and antioxidants, in addition to other vitamins and minerals. As an added bonus to those of us just trying to make good choices, these fruits have plenty of all-natural sweetness, meaning there's no need for any extra sugar to make this smoothie delicious.
Can I use fresh fruit?
Using frozen strawberries and banana is important to achieve the creamy, frosty effect without adding yogurt or ice. In a pinch, one fruit or the other can be fresh, just be prepared for the smoothie to be a bit thinner.
Optional add-ins
For added nutrition, try adding one or two teaspoons of fiber-rich chia seeds. You can also throw in a small handful of spinach leaves; it will slightly alter the color, but if your blender is high-powered enough, they will break down and not really change the consistency.
Of course you can swap the pomegranate for another type of juice, and swap the water with almond or any other type of milk for an even more creamy consistency; it will be almost like a milkshake!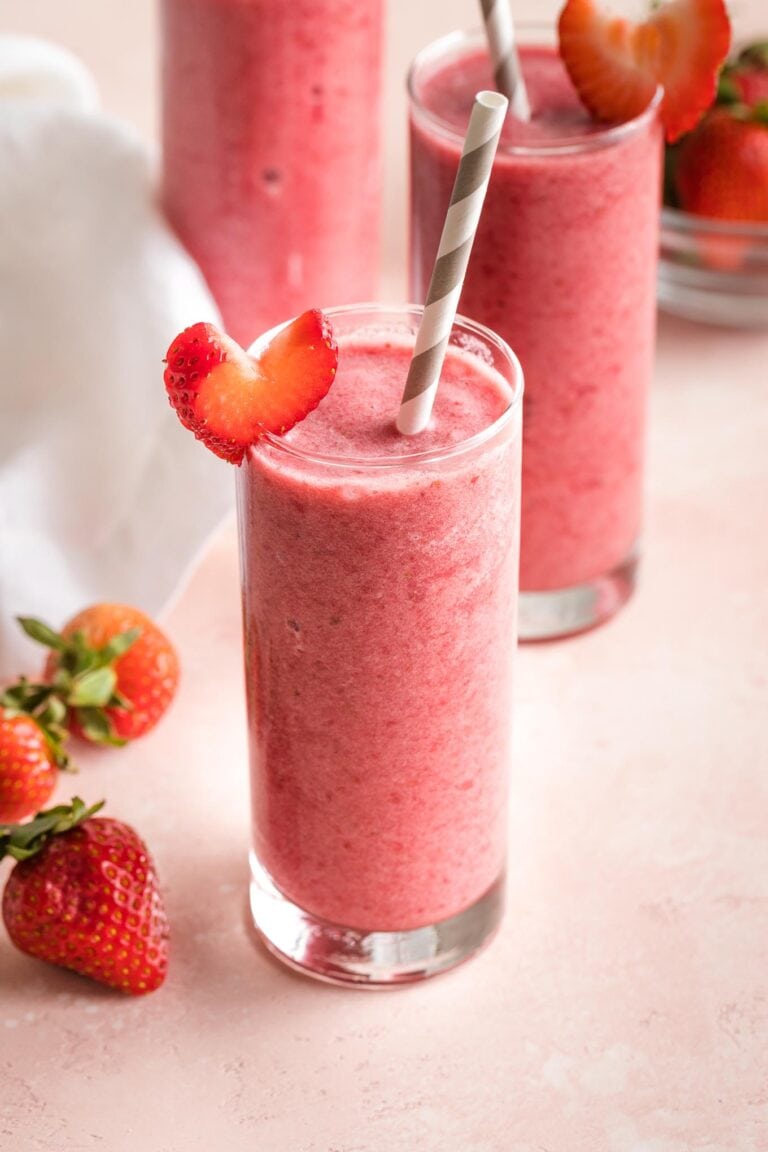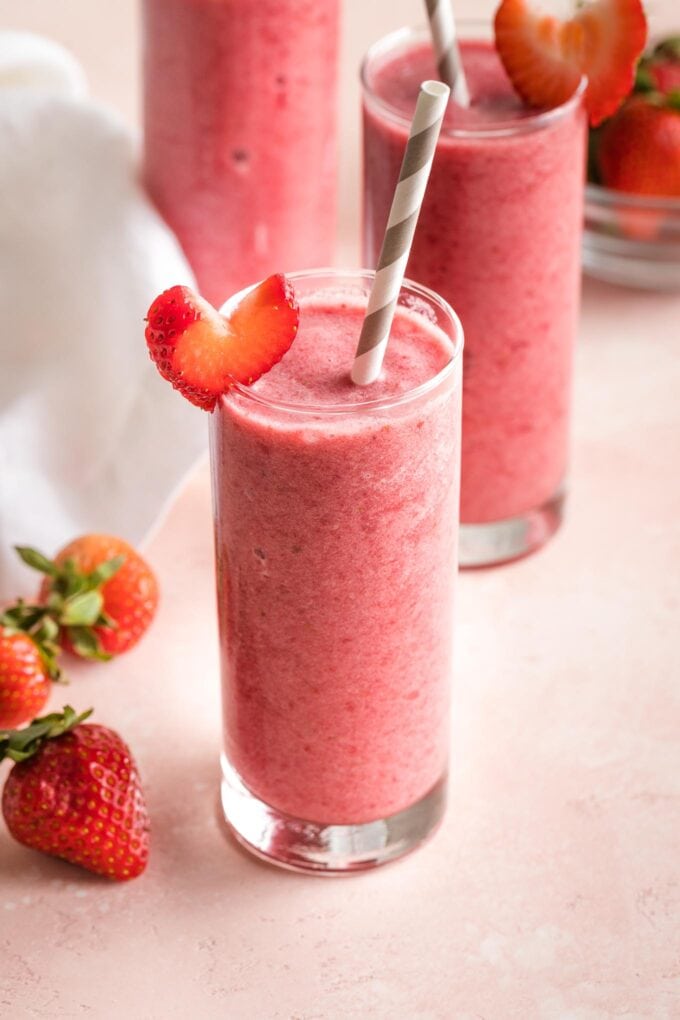 If you love to make smoothies, be sure to also try these flavors: banana almond, blueberry almond, and blood orange banana.
You can also FOLLOW me on PINTEREST, INSTAGRAM, FACEBOOK, and TWITTER for more great recipes and ideas!
Strawberry Pomegranate Smoothie
This quick and healthy strawberry pomegranate smoothie is so creamy, you'll be amazed that it contains no dairy!
Ingredients
1 cup frozen strawberries
1 frozen banana cut into chunks
1/2 cup plus 2 tablespoons unsweetened pomegranate juice
1/4 cup water
Instructions
Add all ingredients to a blender and blitz on high speed until smooth. Enjoy!
Notes
Add 1-2 teaspoons of chia seeds for an extra nutritional boost.
This recipe yields 1 large or 2 small smoothies. It also keeps fairly well in the fridge overnight, if you want to save the second half for breakfast tomorrow. Just stir vigorously to reincorporate any small amount of juice that settles to the bottom.
Nutrition Estimate
Calories: 109 kcal, Carbohydrates: 27 g, Protein: 1 g, Fat: 1 g, Saturated Fat: 1 g, Sodium: 8 mg, Potassium: 455 mg, Fiber: 3 g, Sugar: 19 g, Vitamin A: 38 IU, Vitamin C: 47 mg, Calcium: 18 mg, Iron: 1 mg
Did you make this recipe?
Leave a review below, then snap a quick picture and tag @nourishandfete on Instagram so I can see it!