Blueberry Almond Milk Smoothie
Pack in the protein and antioxidants with this creamy blueberry almond milk smoothie. Perfect for breakfast, lunch, or a snack!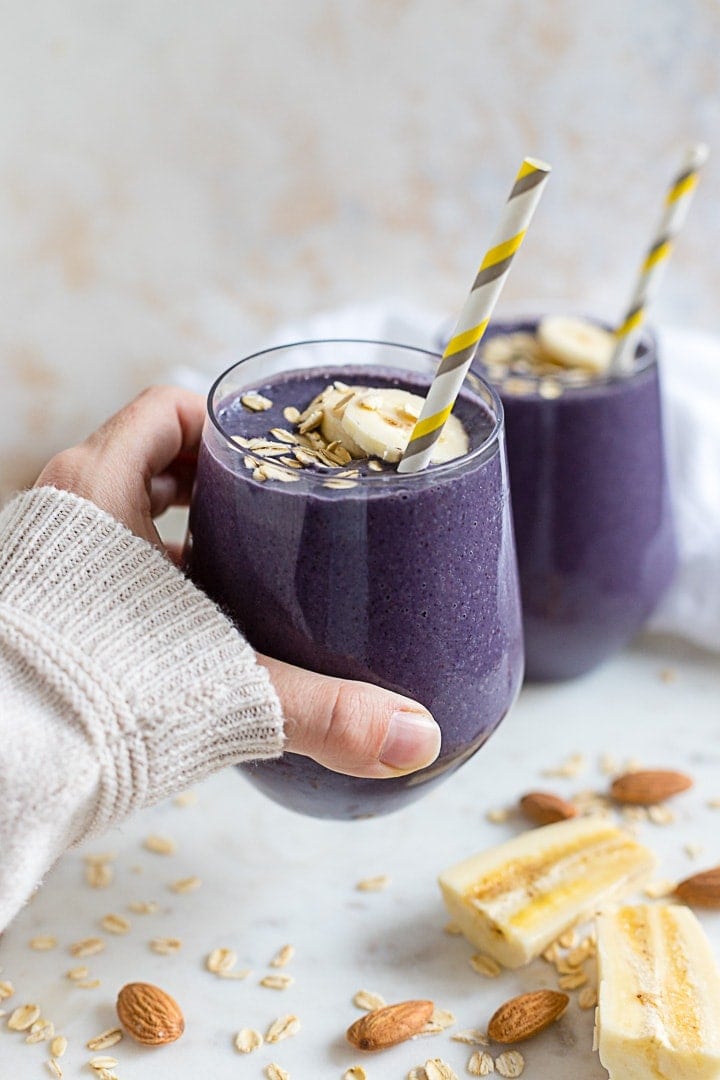 Considering the depths of my love for the banana almond milk smoothie, which has been a semi-obsession ever since a trip many years ago to Puerto Rico, it's kind of surprising I haven't riffed on it more to date.
What can I say, I'm a die-hard creature of habit. I find something I like, and stick with it.
But a mega-sale on frozen wild blueberries awhile back finally gave me the push I needed to stray from our original almond milk smoothie, and my goodness, am I ever glad.
A wholesome, filling almond milk smoothie
This smoothie has just a handful of ingredients, but packs in so much flavor, and also a ton of protein, which helps make it satisfying and filling. Here's what you'll need:
Frozen blueberries (wild if you can find 'em!)
Frozen bananas (freeze in slices!)
Old-fashioned oats
Almond milk
Almond butter
If a smoothie can stick to your ribs, this is the one!
Any almond butter will be great, but I have an especially soft spot for Justin's maple almond butter (affiliate link). This stuff is addictive and absolutely worth every penny!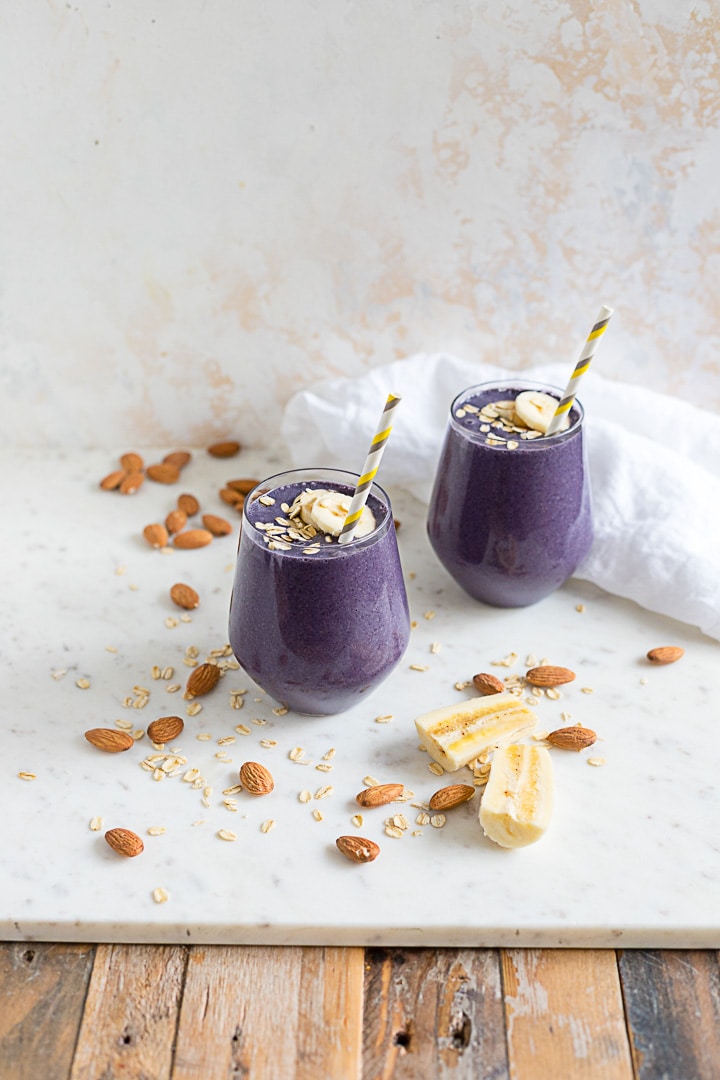 How to make it
You know the answer here, right? Blend and drink. Can't argue with that!
If you're feeling fancy, scatter a few more almonds, oats, or sliced bananas on top. Breakfast/lunch/snack is served!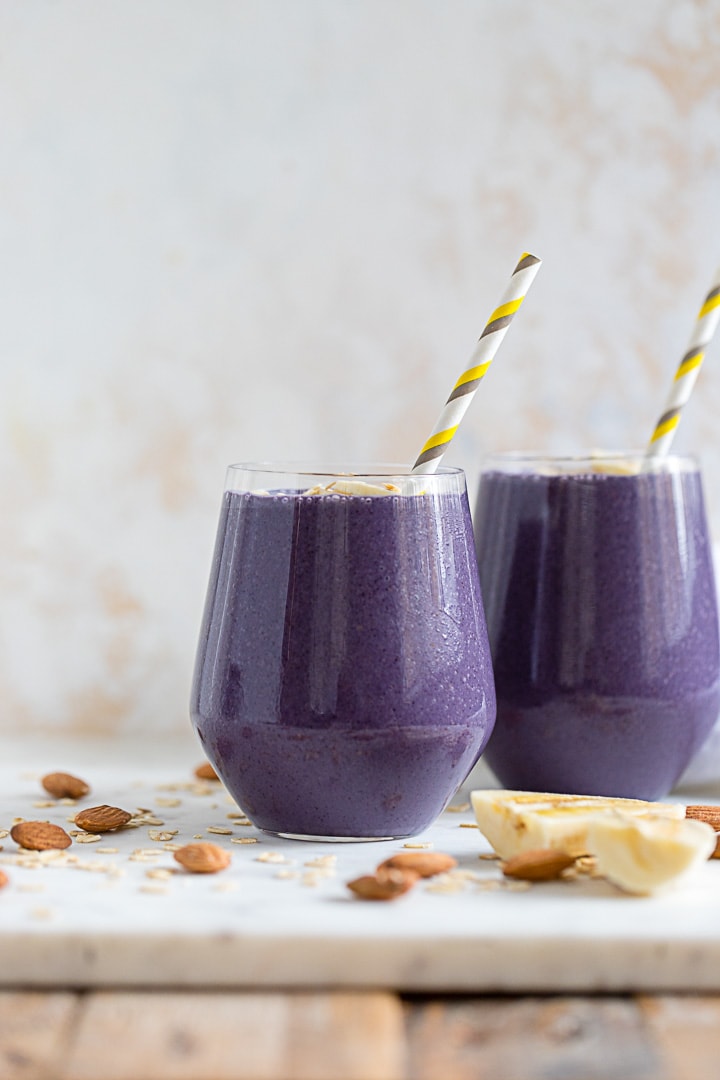 More smoothies you'll love:
You can also FOLLOW me on PINTEREST, INSTAGRAM, FACEBOOK, and TWITTER for more great recipes and ideas!
Blueberry Almond Milk Smoothie
A blueberry almond milk smoothie that's delicious and full of protein and antioxidants!
Ingredients
1 1/2 cups almond milk (I prefer unsweetened here)
1 1/2 cups frozen blueberries
2 frozen bananas (freeze in small slices for best results)
1/4 cup almond butter
1/4 cup old-fashioned oats
Instructions
Combine all ingredients in a blender, and blend on high speed until the mixture is completely smooth. You may need to stop once or twice to scrape down the sides, especially if the almond butter is stuck.

Taste; if you prefer a sweeter smoothie, add a small spoonful of honey or maple syrup. Divide into glasses, and serve immediately!
Notes
My absolute favorite is to make this using Justin's brand maple almond butter. It adds just a touch of sweet maple without overpowering the rest of the flavors!
Adapted from my favorite banana almond milk smoothie.
Nutrition Estimate
Calories: 424 kcal, Carbohydrates: 56 g, Protein: 10 g, Fat: 21 g, Saturated Fat: 1 g, Sodium: 248 mg, Potassium: 778 mg, Fiber: 10 g, Sugar: 27 g, Vitamin A: 135 IU, Vitamin C: 21 mg, Calcium: 351 mg, Iron: 2.1 mg
Did you make this recipe?
Leave a review below, then snap a quick picture and tag @nourishandfete on Instagram so I can see it!