Chocolate Almond Milk Smoothie
This Chocolate Almond Milk Smoothie is rich, creamy, and simple to make from everyday ingredients. Best of all, it works double time as a filling breakfast and a sweet-yet-healthy afternoon treat!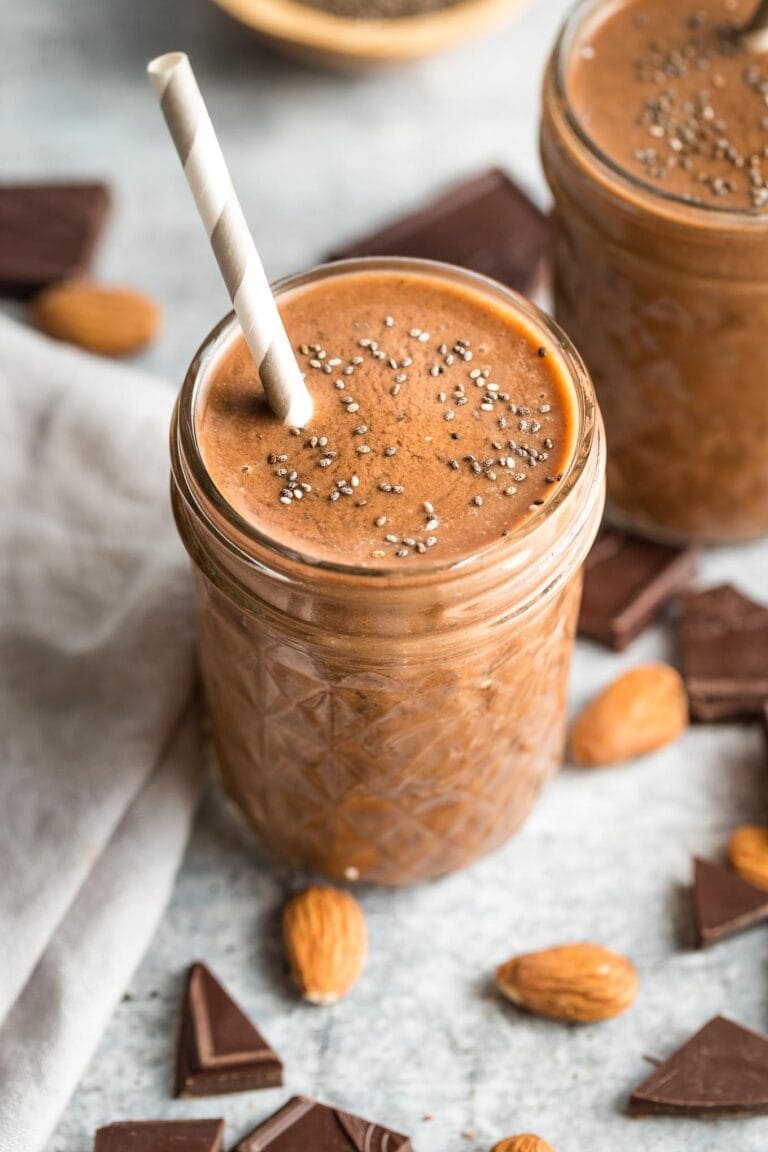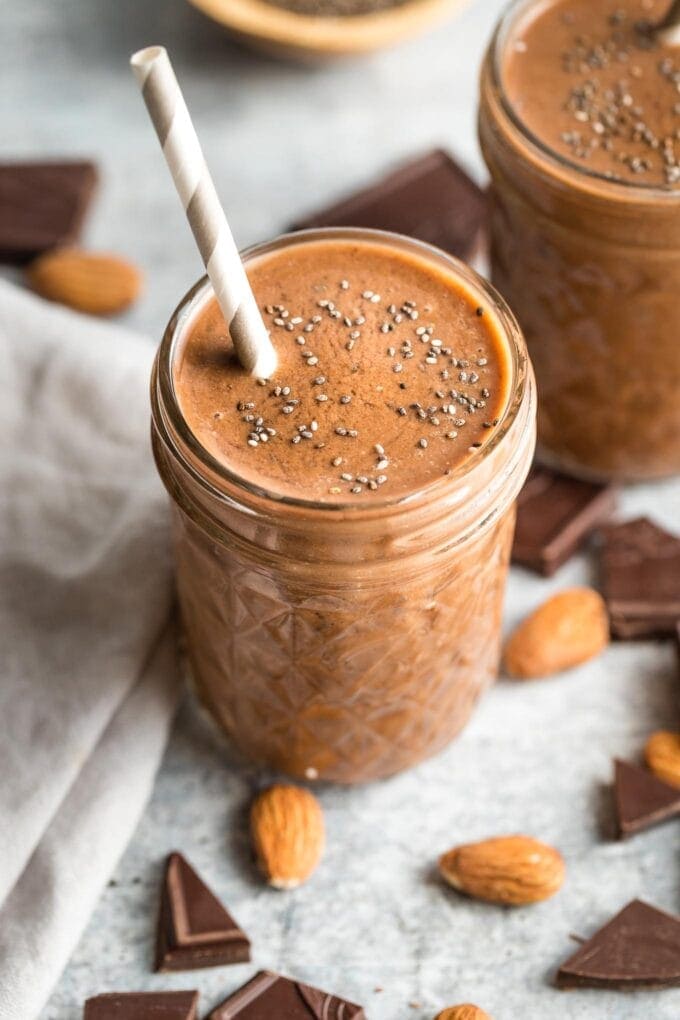 Everyone loves a good smoothie, but a chocolate smoothie? Now we're talking about a real treat!
This particular smoothie is made from simple, natural ingredients, so you can feel good about drinking it, for sure. But my favorite thing is how straightforward it is to make. In our house it's basically a requirement that a smoothie be crazy easy to throw together and use ingredients we normally have on hand, anyway. This checks all those boxes — and gets rave reviews from my whole family, too.
My five-year-old is always excited to have one of these — I think for the simple reason that anything chocolate is assumed to be a treat. 🙂
Chocolate almond milk smoothie: what you'll need
Banana. I know some people are anti-banana in smoothie, but to me there's no better way to get an all-natural creamy and sweet effect. Plus, smoothies (along with banana bread and muffins) are pretty much our only hope of working through the huge number of overripe bananas we seem to acquire constantly.
Almond milk. I prefer using sweetened vanilla almond milk here, but anything variety you enjoy will work well. Start with 1/2 cup milk per 1 frozen banana — you can always add an extra splash to make the smoothie thinner if you prefer.
Cocoa powder. Gotta get that chocolate from somewhere! You can also swap in chocolate-flavored protein powder for an extra nutritional boost.
Optional add-ins: chia seeds, cinnamon, etc. Throw in 1-2 teaspoons of whatever else you like for added nutrition and flavor. Flax seeds or oats also work well, or add a tablespoon of almond butter for a richer, creamier result.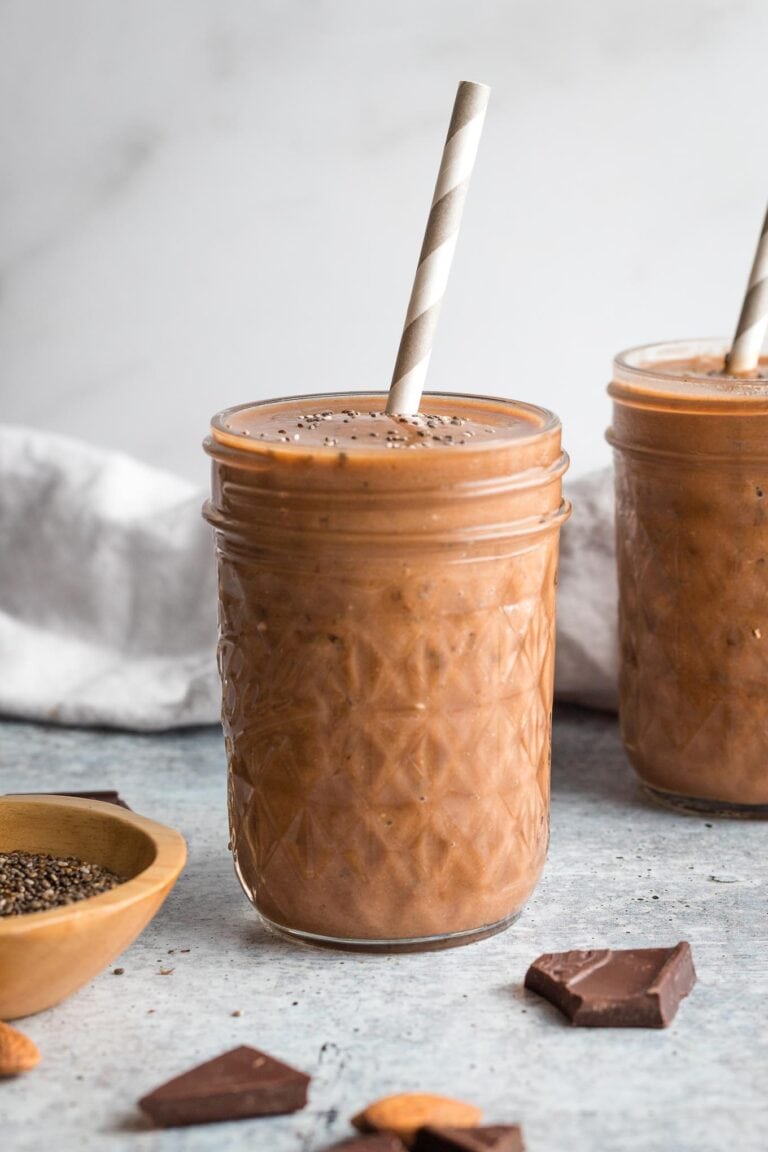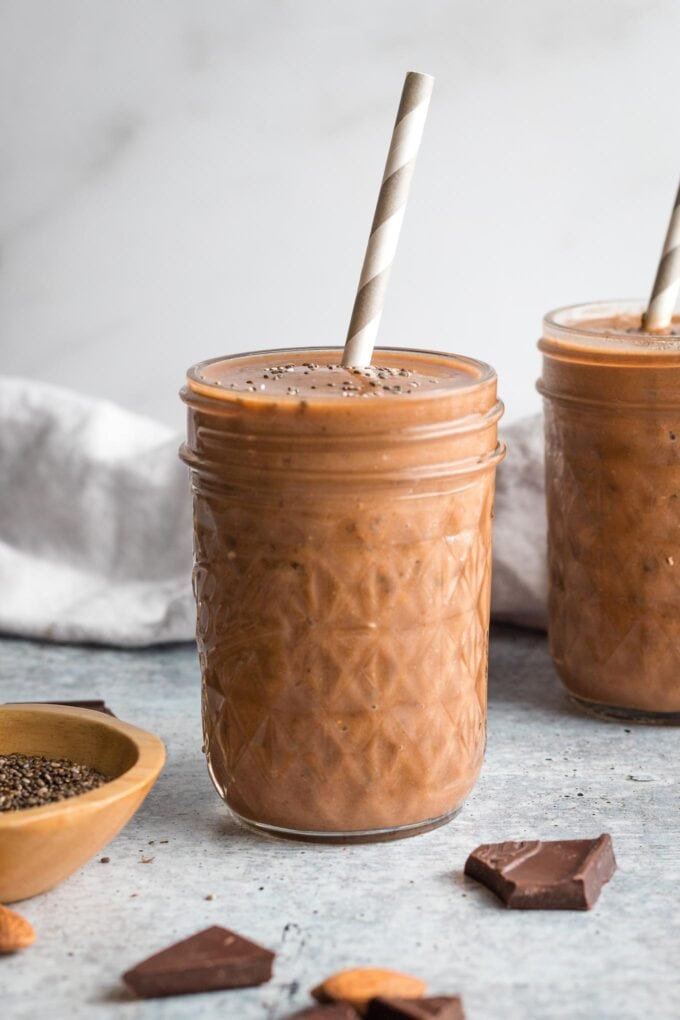 Serving size
As written, with one banana and 1/2 cup of almond milk, this yields what I would consider one medium (meal-sized) or two small (snack-sized) smoothies.
More healthy smoothies
If you try this Chocolate Smoothie, don't forget to rate the recipe and leave a comment below. I love hearing how recipes turn out in your kitchen, and it helps other readers, too.
You can also FOLLOW me on PINTEREST, INSTAGRAM, FACEBOOK, and TWITTER for more great recipes and ideas!
Chocolate Almond Milk Smoothie
Rich, creamy, and easily made from everyday ingredients. Doubles as breakfast and an afternoon treat!
Ingredients
1/2 cup sweetened vanilla almond milk
1 frozen banana cut into chunks
1 tablespoon unsweetened cocoa powder
1-2 teaspoons chia seeds optional
1/4 teaspoon ground cinnamon optional
Instructions
Add all ingredients to a blender and blitz on high speed until smooth. Enjoy!
Nutrition Estimate
Calories: 155 kcal, Carbohydrates: 32 g, Protein: 4 g, Fat: 4 g, Saturated Fat: 1 g, Sodium: 165 mg, Potassium: 499 mg, Fiber: 7 g, Sugar: 15 g, Vitamin A: 76 IU, Vitamin C: 10 mg, Calcium: 175 mg, Iron: 1 mg
Did you make this recipe?
Leave a review below, then snap a quick picture and tag @nourishandfete on Instagram so I can see it!