Greek Chickpea Salad
This easy and versatile chopped Greek Chickpea Salad takes less than 20 minutes to make and is full of vibrant Mediterranean flavor. Loaded with crunchy bell peppers and cucumbers, briny olives, creamy Feta, and a light vinaigrette, you'll love this as a side, lunch, or dish to share.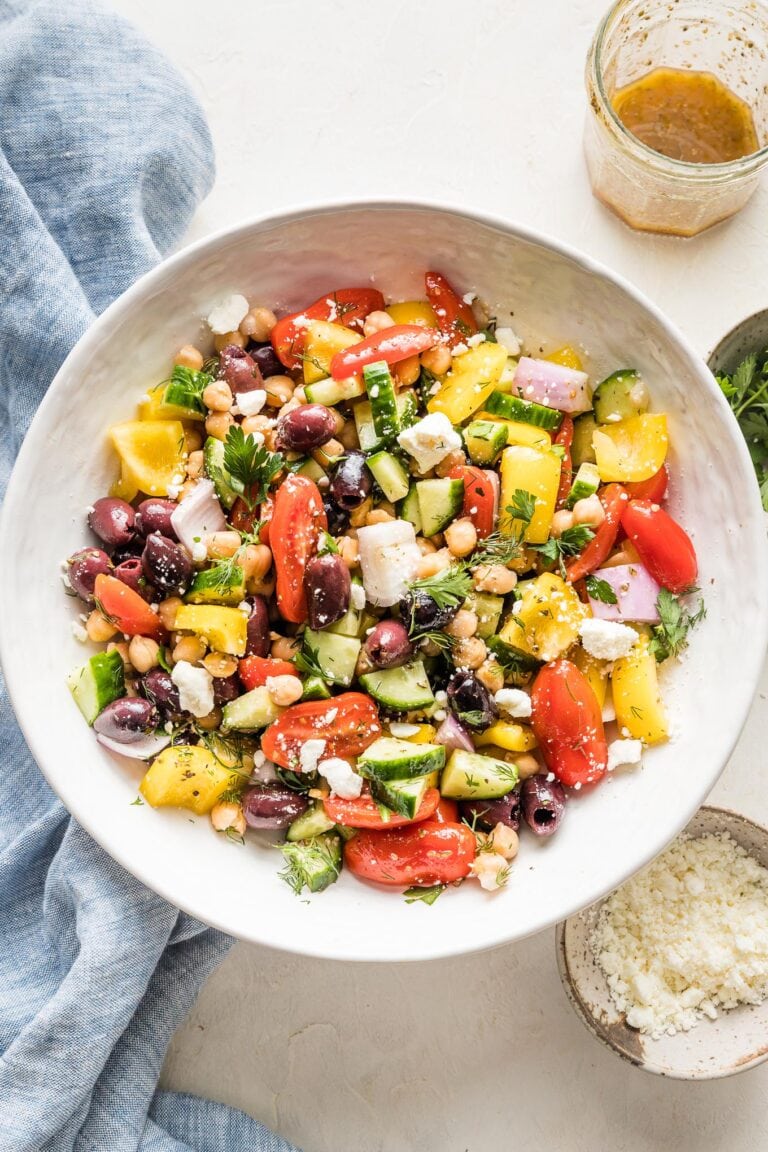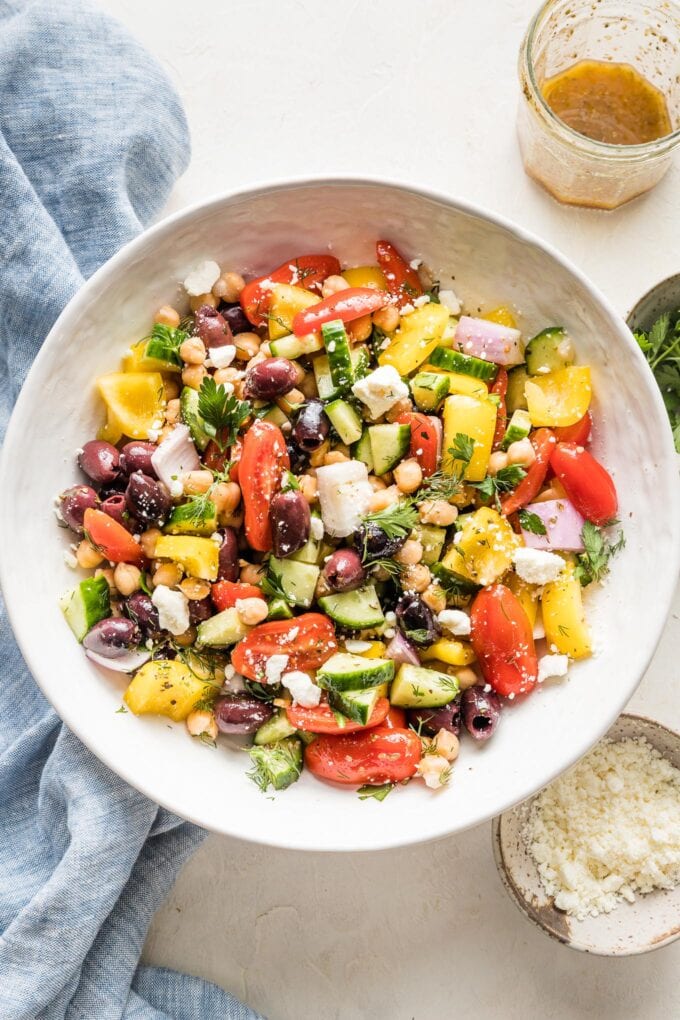 Easy & Satisfying Greek Chickpea Salad
If you enjoy Mediterranean flavors, this is a recipe you absolutely need in your life. It's everything that works about a classic Greek salad, but heartier and more versatile, thanks to the addition of a plant protein pantry staple: chickpeas.
We love lots about this chopped Greek salad:
No cooking required. Strictly a chop and toss situation here.
Filling yet healthy. You'll feel satisfied and fueled, not weighed down.
Packed with fresh vegetables. Always a win.
Super versatile. This is the utility player of summer eating; it does whatever you need it to do.
Headed to a potluck? Having extra guests for dinner? Add this to the menu for a quick, easy, and filling side. Big gathering for a birthday party or another event? Double the recipe, watch it disappear.
This is my favorite more traditional Greek salad, with the ultimate flavorful homemade Greek salad dressing.
Ingredients & Substitutions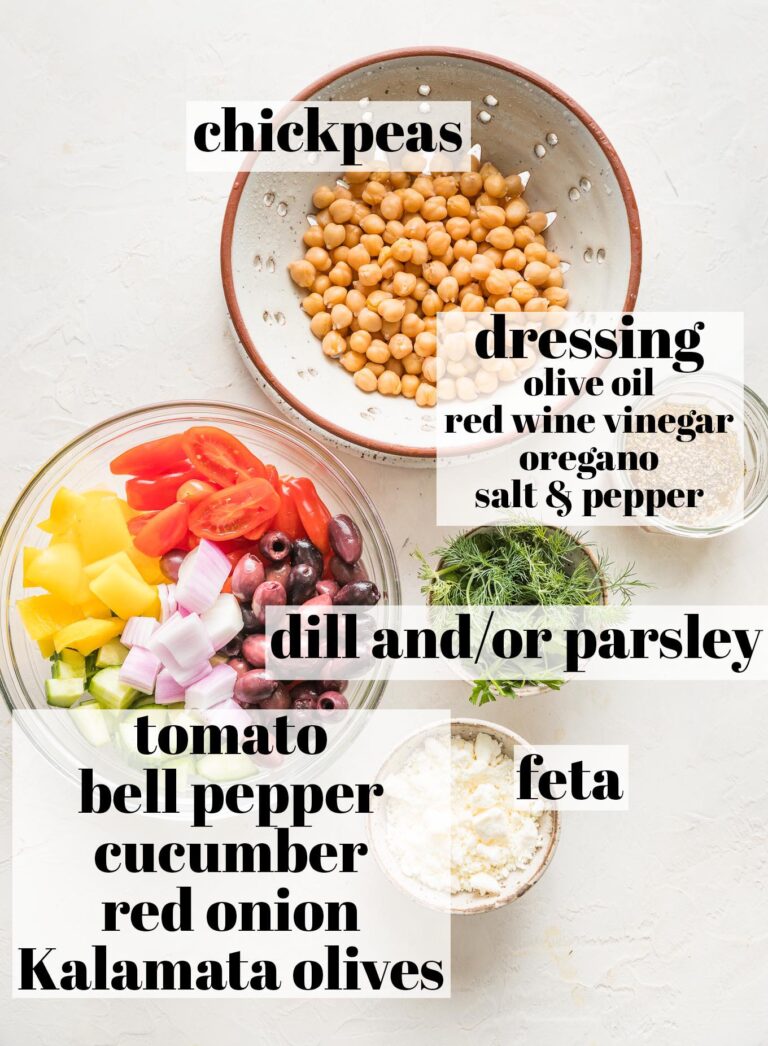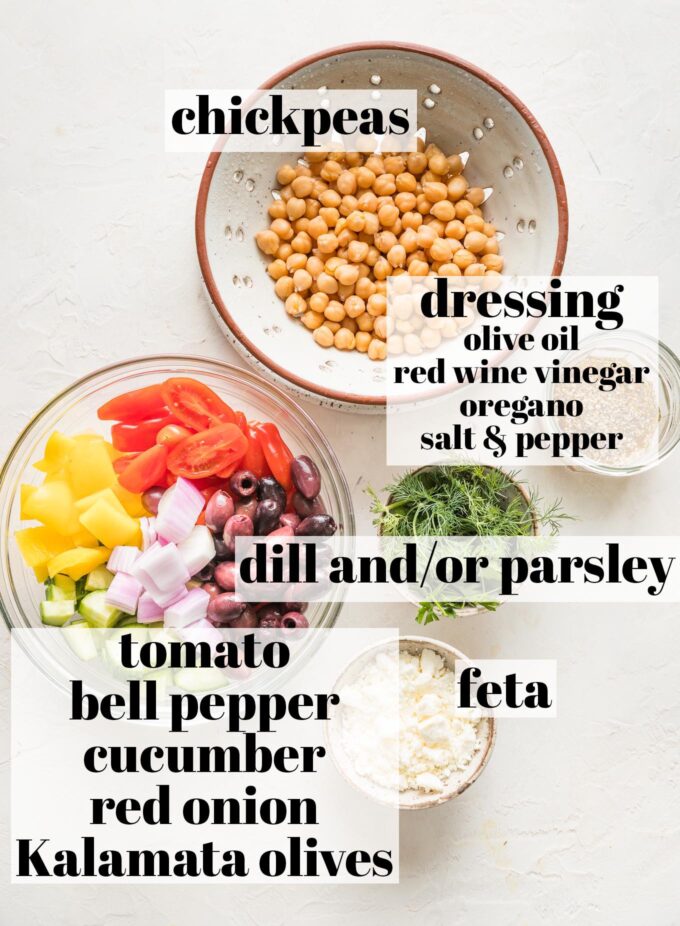 Here are a few notes and shopping tips about the ingredients you'll need to make this, as well as possible substitutions. Full amounts are noted in the print-friendly recipe card below.
Chickpeas, obviously! Also known as garbanzo beans, these pantry MVPs add creamy texture and a mild, nutty flavor. You'll use one 15 ounce can of them, drained and rinsed. See note below for guidance on starting with dried chickpeas, if you like.
Cherry or grape tomatoes. Feel free to substitute quartered Roma or heirloom tomatoes, especially when they're bountiful in mid to late summer.
Cucumber. We find that English cucumber or Persian cucumbers work extra well because they are less watery and have smaller seeds than their standard American cousins, which helps the salad stay crispy and fresh. If using a standard garden cucumber, consider slicing it in half and using a small paring knife or spoon to remove a semi-circle from the center.
Bell pepper. Any color of pepper works well. I like using yellow or orange to get the most variety of color, since there is already red from the tomatoes and green from the cucumber.
Pitted Kalamata olives. If you prefer green olives or black olives, by all means toss them in as a substitute, or if you're simply not an olive fan, leave them out entirely.
Feta cheese. Feta packaged in brine usually has an extra tangy flavor and creamy texture that can hard for its pre-crumbled sister to replicate, but if you need to buy pre-crumbled for a time-saver, I've been there! It's still quite delicious.
Red onion and fresh herbs. An optional but nice touch to add at the end. Fresh dill and/or parsley are my favorite herbs with this combination. Fresh oregano would also be lovely.
For the vinaigrette: extra virgin olive oil, red wine vinegar, dried oregano, salt, and pepper. Feel free to substitute lemon juice for the vinegar, or just add a squeeze of lemon for an extra bit of tang. If you love the punch of garlic, toss in 1 finely minced clove or 1/8 teaspoon of garlic powder.
Can I make this from scratch using dry chickpeas?
You can prepare the chickpeas from scratch. You will need to start with approximately 1/2 cup of dried chickpeas to yield the same amount as one 15 ounce can of chickpeas, drained and rinsed.
How To Make a Greek Chickpea Salad
One beauty of a chickpea salad is how incredibly easy it is to toss together. Here are the steps and a quick visual overview. You will find full instructions with exact ingredients in the print-friendly recipe card below.
Drain and rinse the chickpeas. Set aside to dry slightly, or rub them briefly with a clean kitchen towel or paper towel.
Chop the veggies. You want the cucumbers, tomatoes, and peppers to be pretty evenly sized. The olives can go in whole or halved. The red onion should have a finer chop.
Toss it all together! At this point you can refrigerate the mixture for a few hours if you're working ahead.
Make the dressing. This is a 30-second red wine vinaigrette situation that you can shake together in a jar. Don't skip the oregano—it makes the other flavors sing!
Pour on the dressing, add feta and herbs, and serve.
You can place the dressed salad in the refrigerator to marinate for 1-2 hours, but you do not need to.
Pro Tip: An easy way to test homemade salad dressing is to dip one lettuce leaf, or in this case, a cucumber or bell pepper piece, into the dressing, then taste. You'll know right away if you want to add more salt, pepper, or anything else. This guarantees the dressing tastes good before you commit by pouring it over your salad. 🙂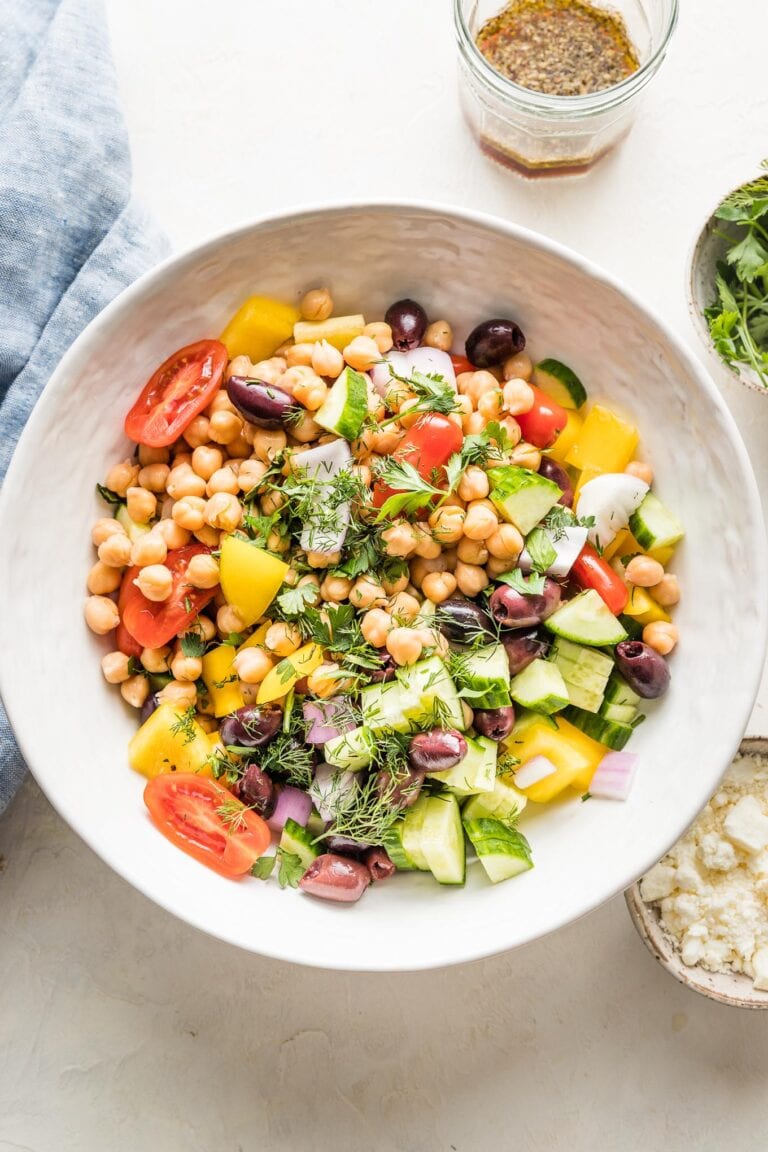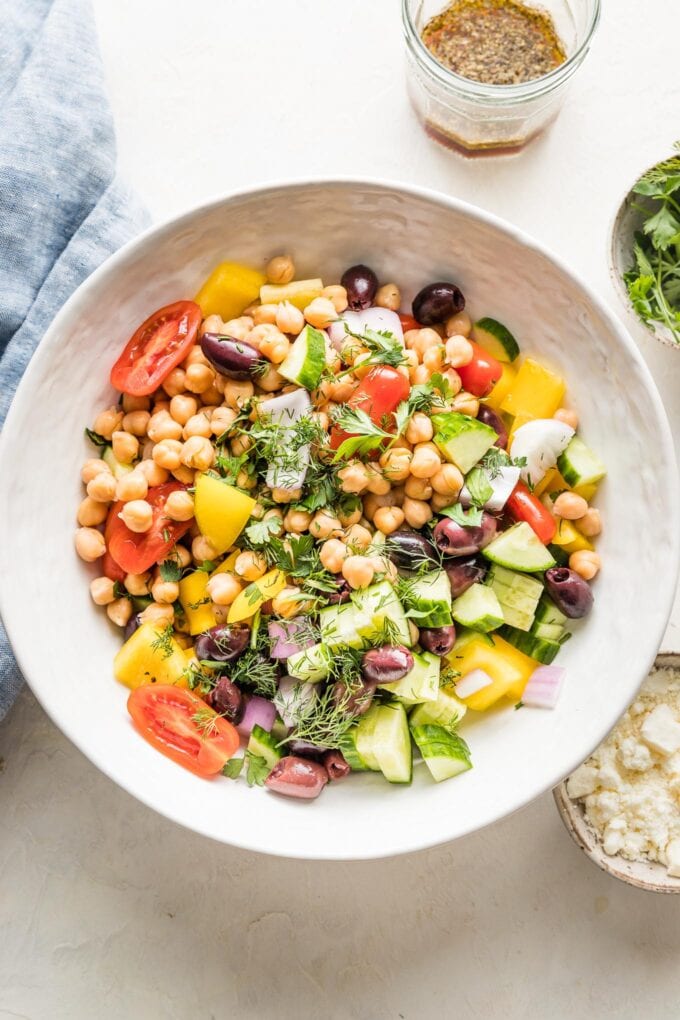 Serving Suggestions
A chickpea salad is also a great recipe idea to have in your arsenal because it's so versatile. Here are a few of my favorite ways to enjoy or serve this:
Variations
As with most salad recipes, there are few rules. Add what you like and what's in your fridge! A few specific ideas:
Add avocado for extra creamy texture and healthy fats.
Make it a quinoa chickpea salad for additional fiber.
Use different or more fresh herbs.
Add zoodles or spiralized sweet potatoes for more texture, flavor, and healthy veg.
Make it vegan or dairy-free simply by using an appropriately vegan feta cheese.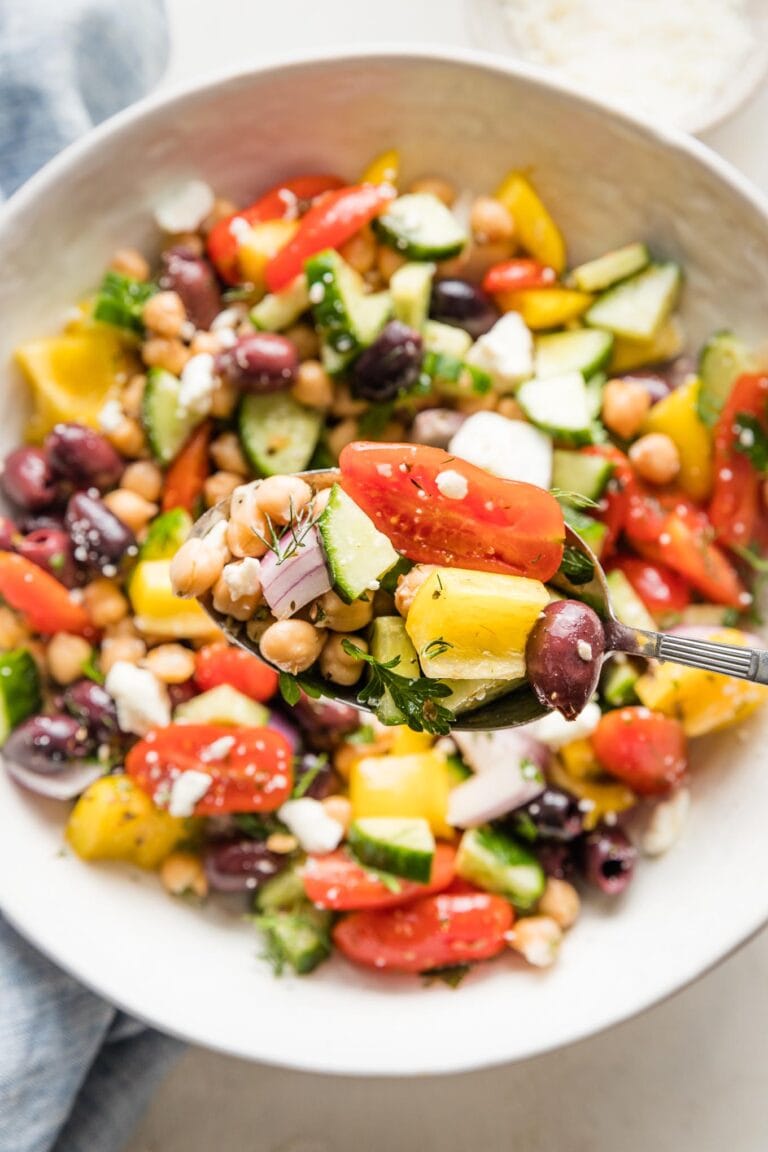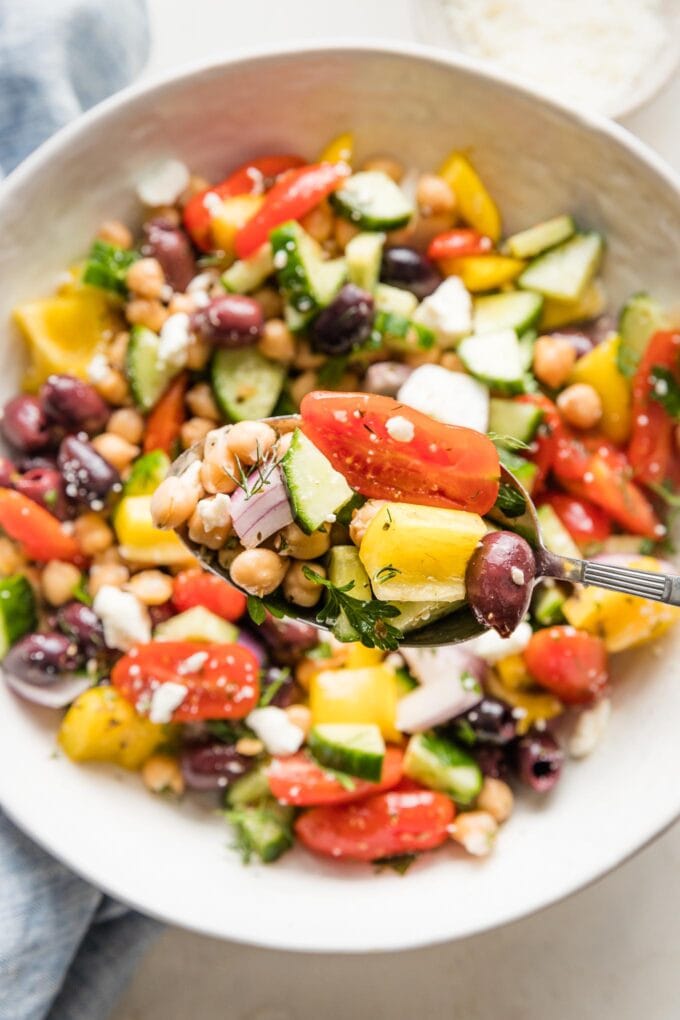 Recipe FAQs and Expert Tips
How long does chickpea salad stay good?
Once the dressing and feta is added, we enjoy this salad most the same day or next day. If you want to enjoy it over the course of several days, I recommend storing the cheese and the dressing separately, and adding to portions as you go.
Can you use chickpea salad as a meal prep?
A Greek-style chickpea salad is a great option for meal prep and make-ahead lunches! My suggestion to keep this as simple and tasty as possible is to grab some large mason jars, pour a bit of dressing in the bottom, then layer in generous handfuls of arugula or other greens, followed by the chickpea-veggie mixture, and finally a sprinkling of feta on top. When ready to eat, give everything a very good shake in the jar, then shake out into a bowl and toss well.
Related Recipes
Can't get enough chickpeas? Try my Italian chickpea soup, Tuscan chickpea stew, pasta salad with chickpeas and roasted red peppers, or Instant Pot chickpea curry next.
If you enjoy Mediterranean flavors, you'll also love this meal-worthy chicken gyro salad with a creamy dill dressing, one-skillet Greek chicken with olives, and a delightful pearl couscous salad with cucumbers and tomatoes.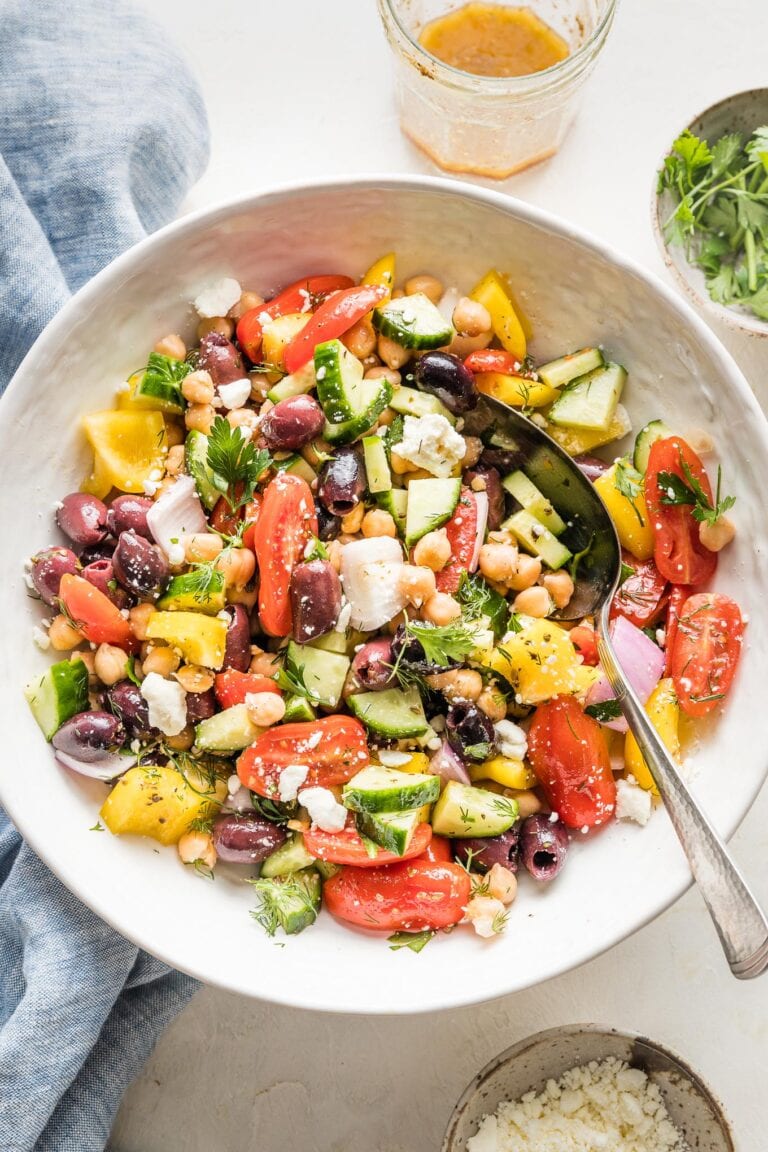 If you try this Greek Chickpea Salad Recipe, don't forget to rate it and leave a comment below. I love hearing how recipes turn out in your kitchen, and it helps other readers, too.
You can also FOLLOW me on PINTEREST, INSTAGRAM, FACEBOOK, and TWITTER for more great recipes and ideas!
Greek Chickpea Salad
An easy, filling, and flavorful salad or side dish that is perfect for summer dinners, potlucks, and easy lunches.
Ingredients
Salad
1 (15 oz) can chickpeas
1 medium cucumber English or Persian preferred
1 bell pepper any color
1 pint cherry tomatoes halved
1/2 cup kalamata olives
1/4 cup red onion chopped
1/4 cup feta cheese crumbled
1 tablespoon fresh parsley or dill chopped
Dressing
1/4 cup red wine vinegar
2 Tablespoons olive oil
1 teaspoon dried oregano
kosher salt and black pepper to taste, see note
Instructions
Drain and rinse chickpeas. Set aside to dry slightly.

Chop cucumber, pepper, tomatoes, olives, and red onion. Add to a large bowl together with the chickpeas, and toss to combine.

In a small jar or liquid measuring cup, shake or whisk together the dressing ingredients.

When ready to serve, pour dressing over the salad and toss again. Sprinkle feta and fresh herbs on top and serve.
Notes
I usually start with adding a heaping 1/4 teaspoon of salt and 10-12 cranks of fresh-ground black pepper to the dressing. An easy way to test salad dressing is to dip one cucumber or bell pepper piece into the dressing, then taste. You'll know right away if you want to add more salt, pepper, or anything else.
English or Persian cucumbers are best, especially if you plan to eat this over the course of several days.
Feel free to swap halved or quartered tomatoes — Roma, on-the-vine, or heirloom tomatoes would all work great.
Feta that comes in a block packaged in brine usually has the best texture and flavor, but pre-crumbled is delicious in this, as well.
Fully dressed, this is best eaten the same day, but if you leave off the dressing and feta it keeps well several days in the fridge.
Nutrition Estimate
Calories: 126 kcal, Carbohydrates: 10 g, Protein: 4 g, Fat: 8 g, Saturated Fat: 2 g, Cholesterol: 8 mg, Sodium: 675 mg, Potassium: 437 mg, Fiber: 3 g, Sugar: 6 g, Vitamin A: 1670 IU, Vitamin C: 68.1 mg, Calcium: 78 mg, Iron: 1.3 mg
Did you make this recipe?
Leave a review below, then snap a quick picture and tag @nourishandfete on Instagram so I can see it!