Whole Wheat Pita Bread
Homemade Whole Wheat Pita Bread blows store-bought versions out of the water! This recipe is easy to follow and produces pita you'll be proud to pull from your own oven, with an unbelievably soft, fluffy texture, a slightly sweet taste, and beautiful pockets.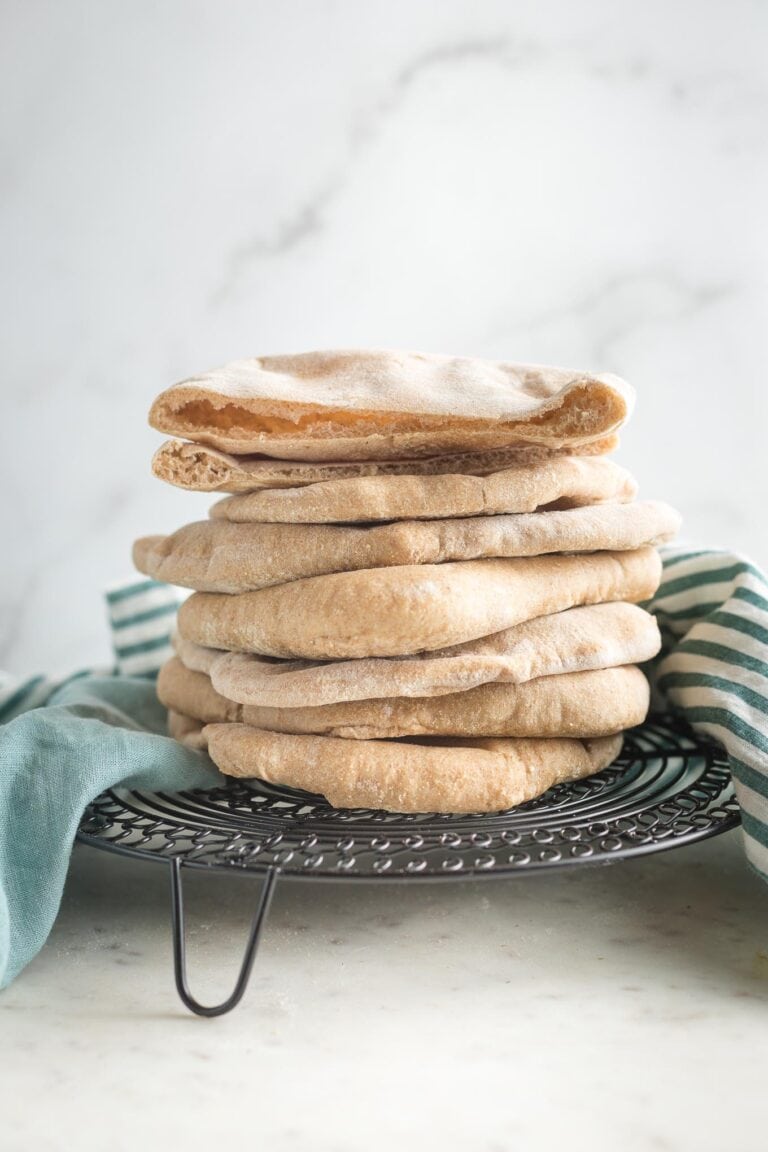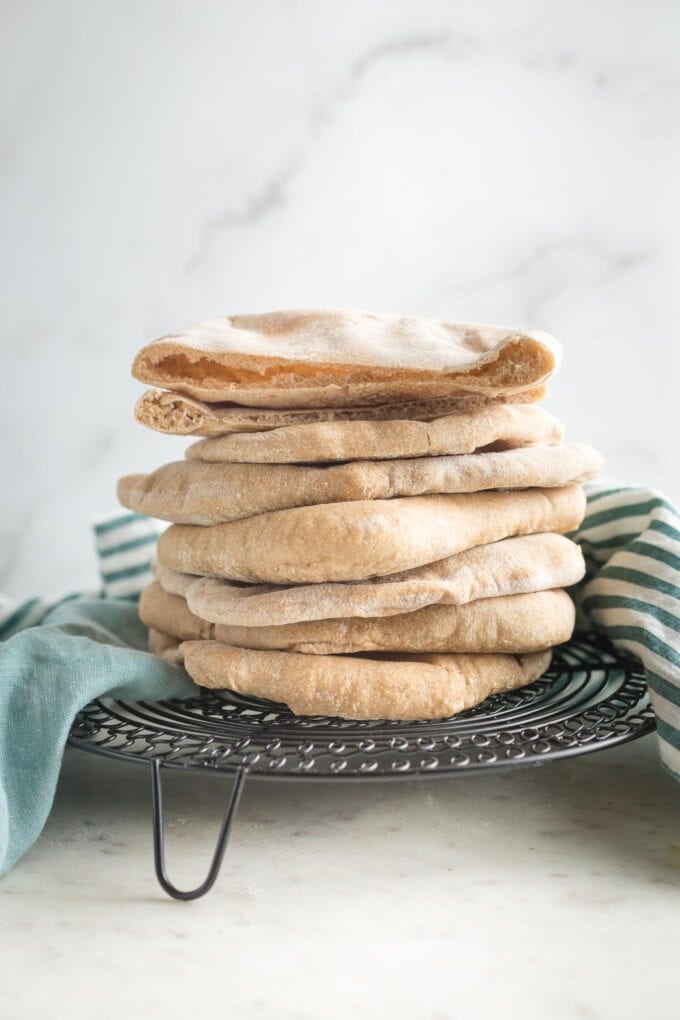 If you've never considered making your own pita, you might be skeptical. How can you conjure fluffy pockets out of mere flour and yeast? But work it does, and once you start making pita this way, you'll be hooked.
Some foods are fun to DIY just as an experiment or an occasional treat. But then there are situations like this, where the chasm between homemade and store-bought is so deep and engulfing, it will make you not even want to bother with store-bought, once you know what you're missing.
This Whole Wheat Pita Recipe is…
Pillowy soft, but sturdy enough to hold your gyro, shawarma, falafel, etc., with an honest-to-goodness pocket just begging to be sliced open and crammed full of deliciousness.
Added to that, pitas are honestly quite fun to make. The dough takes several rises but surprisingly little active time, so it's great for a weekend or any day you'll be mostly home, maybe just popping out for some errands during the second, longer rise.
And it is incredibly rewarding and mesmerizing to see the pitas poof up in the oven and form the signature pocket. I guarantee you will feel a surge of well-deserved pride!
How To Make Whole Wheat Pita
Begin with the right flour. I've experimented with all-purpose, white whole wheat, bread flour, and 100% whole grain whole wheat. For us, a 50-50 blend of bread flour and whole grain whole wheat yields the best flavor and texture.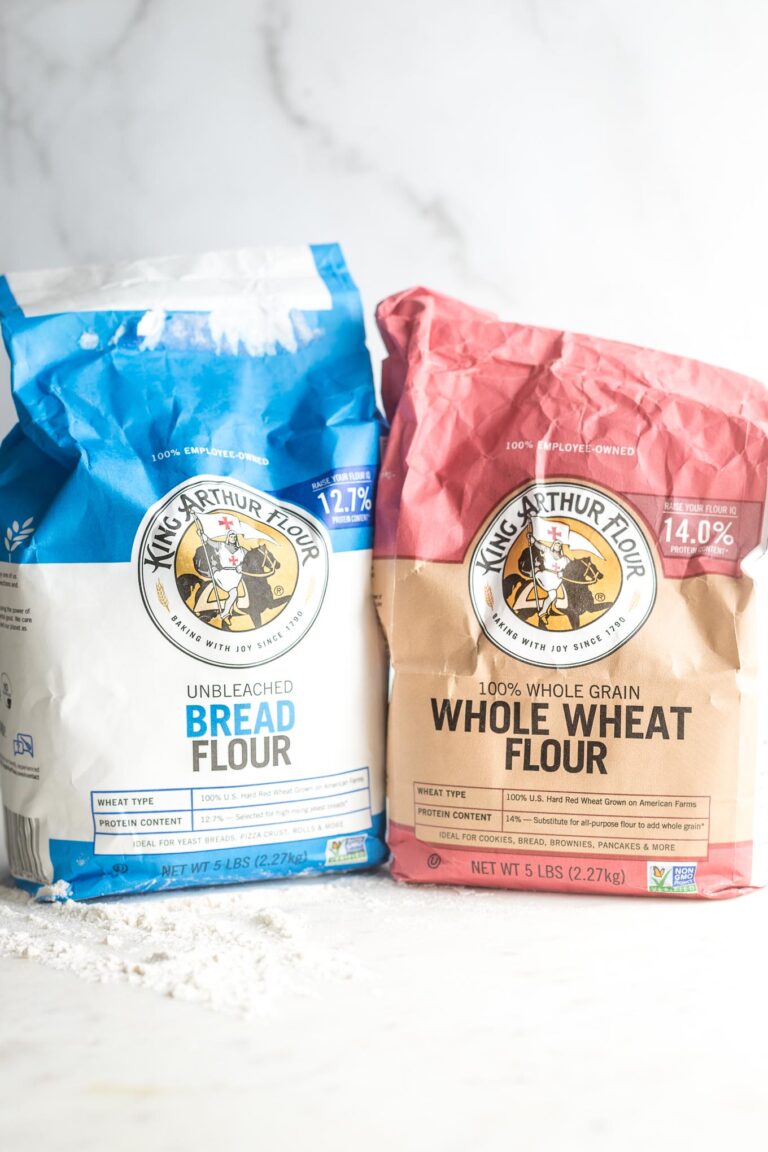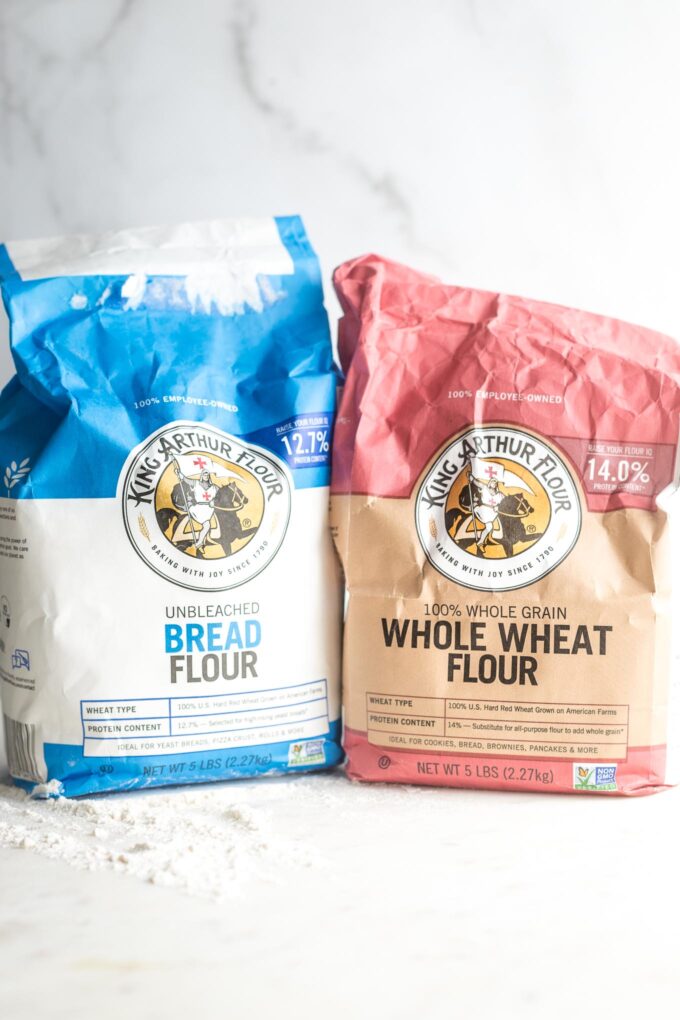 The process of making homemade pita is surprisingly straightforward but requires giving the dough multiple chances to rise. This is necessary to get pockets that puff.
You'll start by combining a small amount of each flour, warm water, yeast, and honey in a mixing bowl. Left to rest, that mixture will bubble and expand into a sponge, at which point you'll add the rest of the flour, water, olive oil, and salt. Knead that dough into a smooth ball, transfer to a lightly-greased bowl, and allow to rise until doubled in size.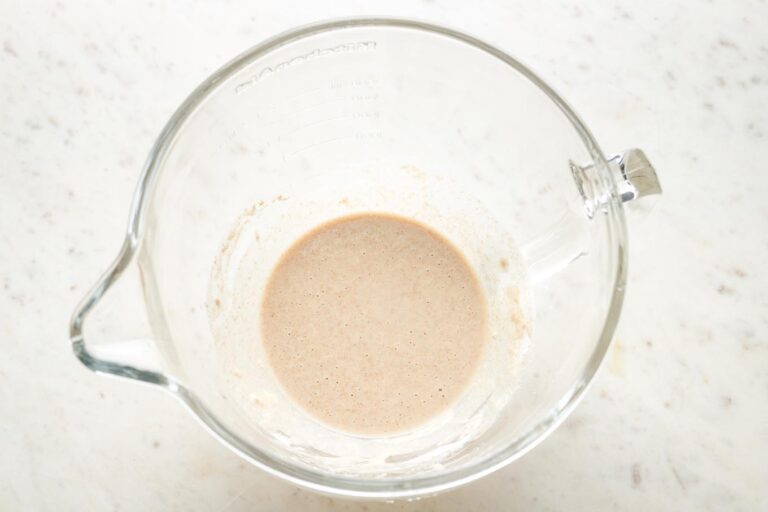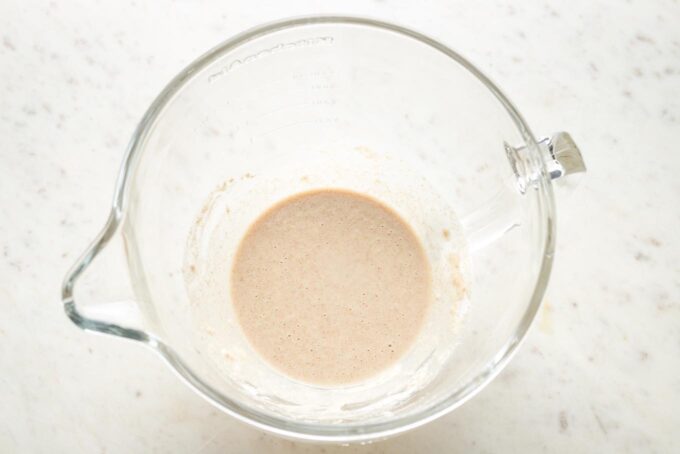 At this point you can punch down the dough, divide into eight portions, and roll each out into a flat round. Allow those another 45 minutes or so to puff up.
Yes, pita takes some patience, but the vast majority of time spent is hands-off, which makes it manageable.
Helpful Equipment, Tips & Tricks
Don't add too much flour to the dough. It should be soft and smooth, but not sticky.
Try to roll out each piece of dough evenly. If some portions are thicker than others, the pita will form a partial pocket.
Having a pizza stone is helpful, and a larger one is especially useful as it enables you to bake more than one pita at once. Be certain to preheat the pizza stone along with the oven, so the surface is very hot and begins baking the pita immediately.
Be sure the oven is fully at temperature. To get the best pockets, the oven needs to be very hot when the pita goes in.
Storage and Freezing Instructions
Storing. Pita is admittedly best straight out of the oven, perfectly pliable, warm, and with the highest pockets. That said, homemade pitas will also keep well for 2-3 days in an airtight container at room temperature.
Freezing. Homemade pita does freeze well! Cool pitas completely, and stack gently with a piece of wax paper or parchment between each one. Slide the stack gently into a freezer-safe bag or other container and freeze for 3-4 months.
Reheating. I find the best results from simply removing as many pita breads from the freezer as you need, and placing directly onto an oven rack for a few minutes at approximately 350 degrees. Warm and delicious!
Serving Suggestions
Serve this homemade pita bread with chicken or chickpea gyros, Greek chicken meatballs, Moroccan lamb burgers or Za'atar-spiced lamb meatballs, or grilled Greek shrimp skewers. It's also delicious alongside a Greek salmon salad, chopped chickpea salad, or this chicken gyro salad with creamy dill dressing.
Dip these in some smooth, creamy hummus for the snack of champions!
That said, you don't need to be too fancy or overthink it. I make these and serve them filled with turkey and cucumber for my son's lunch!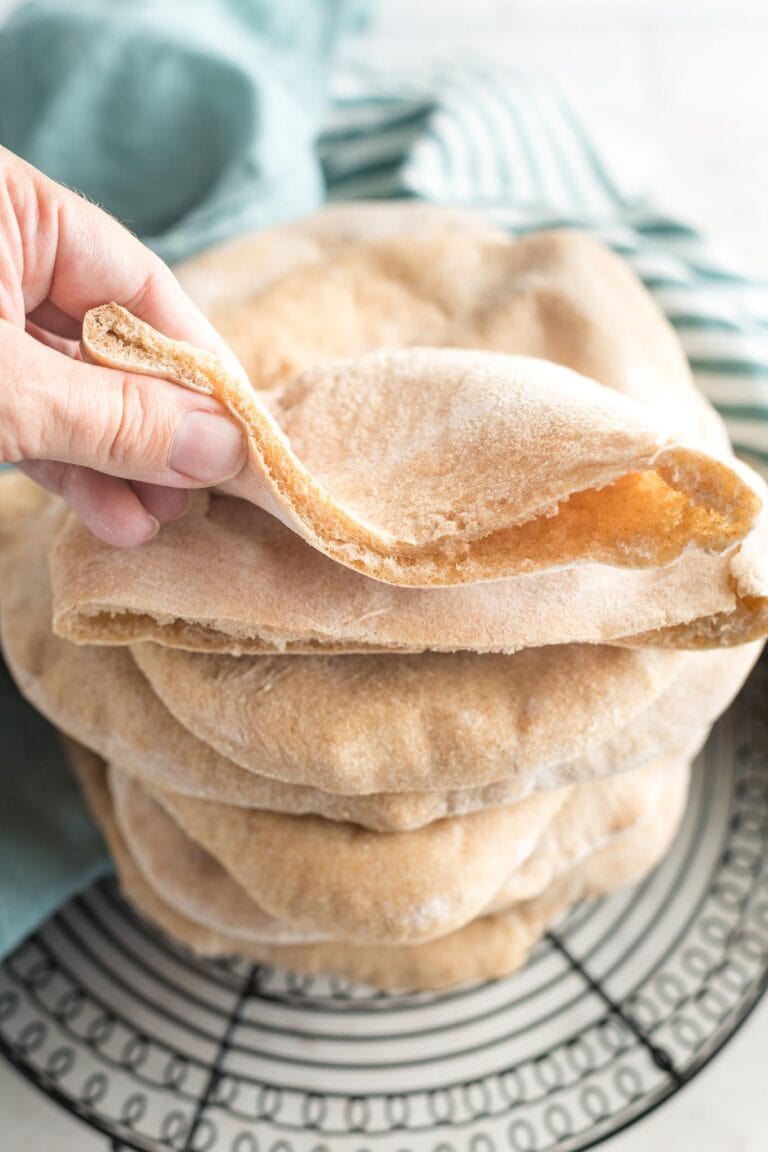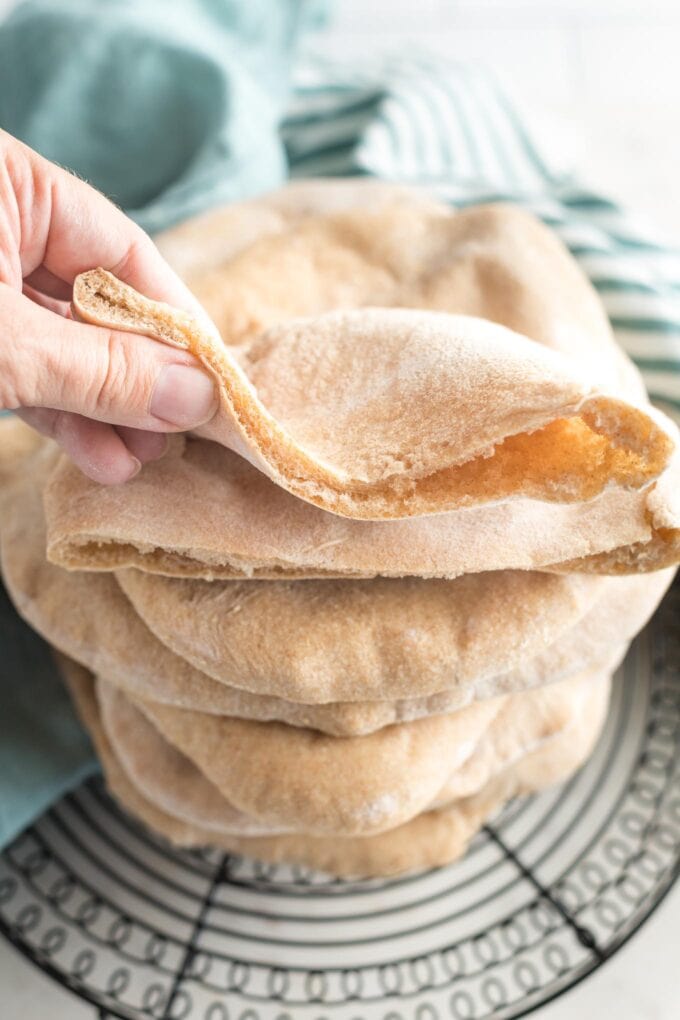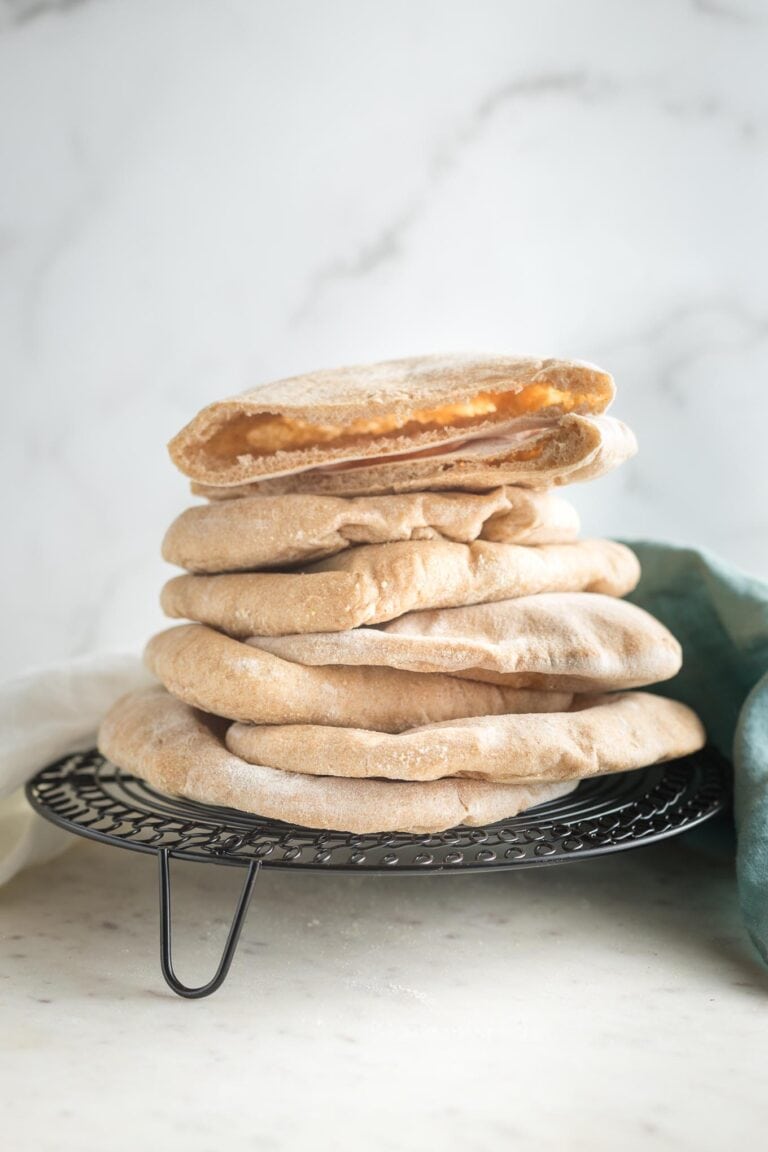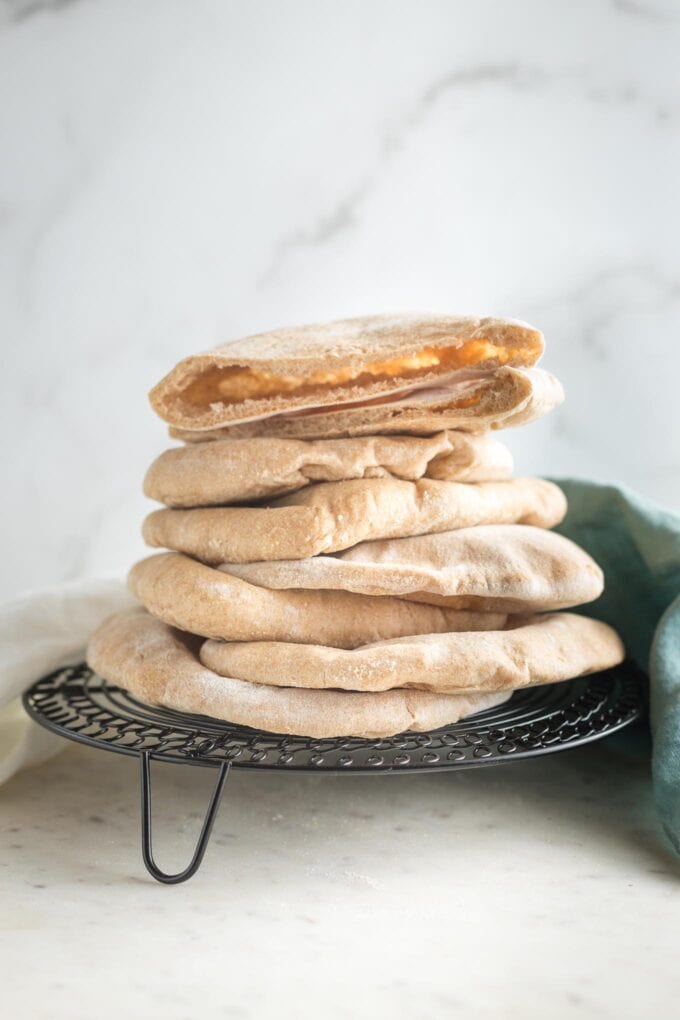 If you try this Whole Wheat Pita Bread, don't forget to rate the recipe and leave a comment below. I love hearing how recipes turn out in your kitchen, and it helps other readers, too.
You can also FOLLOW me on PINTEREST, INSTAGRAM, FACEBOOK, and TWITTER for more great recipes and ideas!
Whole Wheat Pita Bread
This super simple Whole Wheat Pita Bread blows store-bought versions out of the water! Unbelievably soft, lightly sweet, and big pockets.
Ingredients
2 and 1/4 teaspoons instant yeast
1 tablespoon honey 
1 and 1/4 cups warm water 105-115 degrees F, divided
1 and 1/2 cups whole wheat flour divided
1 and 1/2 cups bread flour divided
1/4 cup extra-virgin olive oil 
1 teaspoon salt
cornmeal for sprinkling
Instructions
In the bowl of a stand mixer, combine yeast, honey, and 1/2 cup water, stirring gently to blend. Whisk in 1/4 cup whole wheat flour and 1/4 cup bread flour until mixture is smooth. Cover the bowl with a clean kitchen towel and set aside until bubbly and approximately doubled in bulk, about 45 minutes. 

Uncover the bowl and add the remaining 3/4 cup warm water, 1 1/4 cups whole wheat flour, 1 1/4 cups bread flour, olive oil, and salt. Using the dough hook, knead mixture on low speed until it is smooth and elastic, 6-8 minutes. Transfer the dough to a lightly oiled bowl, turn once to coat, and let it rise in a warm place for 1-2 hours, until doubled in bulk. 

Once the dough has risen, transfer to a lightly floured work surface, punch down, and divide into 8 equal pieces. Form each piece into a ball. Working one at a time, flatten each ball into a disk, and, using a rolling pin, press into a circle about 7 inches in diameter. Transfer the shaped pitas to a piece of parchment paper lightly sprinkled with cornmeal. 

Once all the pitas have been shaped, cover them loosely with a clean kitchen towel and allow to rest for about 30 minutes, until they are slightly puffy. Meanwhile, place a baking stone in the oven and preheat to 500 degrees F. 

When ready to bake, transfer 1 or 2 pitas at a time onto the baking stone. Bake for 2 minutes, until they are puffed and lightly golden. Use tongs to flip each pita over and bake for 1 additional minute. Transfer to a wire rack to cool. Serve slightly warm or at room temperature, and store in an airtight container. 
Notes
The dough can also be made by hand, just be prepared to use a little elbow grease to knead it together! 
If you don't have a baking or pizza stone, these can be baked directly on your oven rack. But consider putting one on your wish list, because, well, pizza! And recipes like this mean you'll find plenty of use for it beyond pizza night. 
Source: Gourmet, May 2003, adapted via The Brewer and The Baker and Annie's Eats
Nutrition Estimate
Calories: 230 kcal, Carbohydrates: 35 g, Protein: 6 g, Fat: 7 g, Saturated Fat: 1 g, Sodium: 242 mg, Potassium: 118 mg, Fiber: 3 g, Sugar: 1 g, Calcium: 11 mg, Iron: 1.1 mg
Did you make this recipe?
Leave a review below, then snap a quick picture and tag @nourishandfete on Instagram so I can see it!
This post was originally published on February 23, 2017, and has been updated with new photos and more helpful information on substitutions, tips, and tricks.