Italian Chickpea Soup
Filled with tender vegetables and cozy orzo, with a zip of Italian seasoning and fresh lemon, this 25-minute chickpea soup recipe is comforting, nutritious, and supremely simple to make. Easily made vegan or gluten-free, as needed.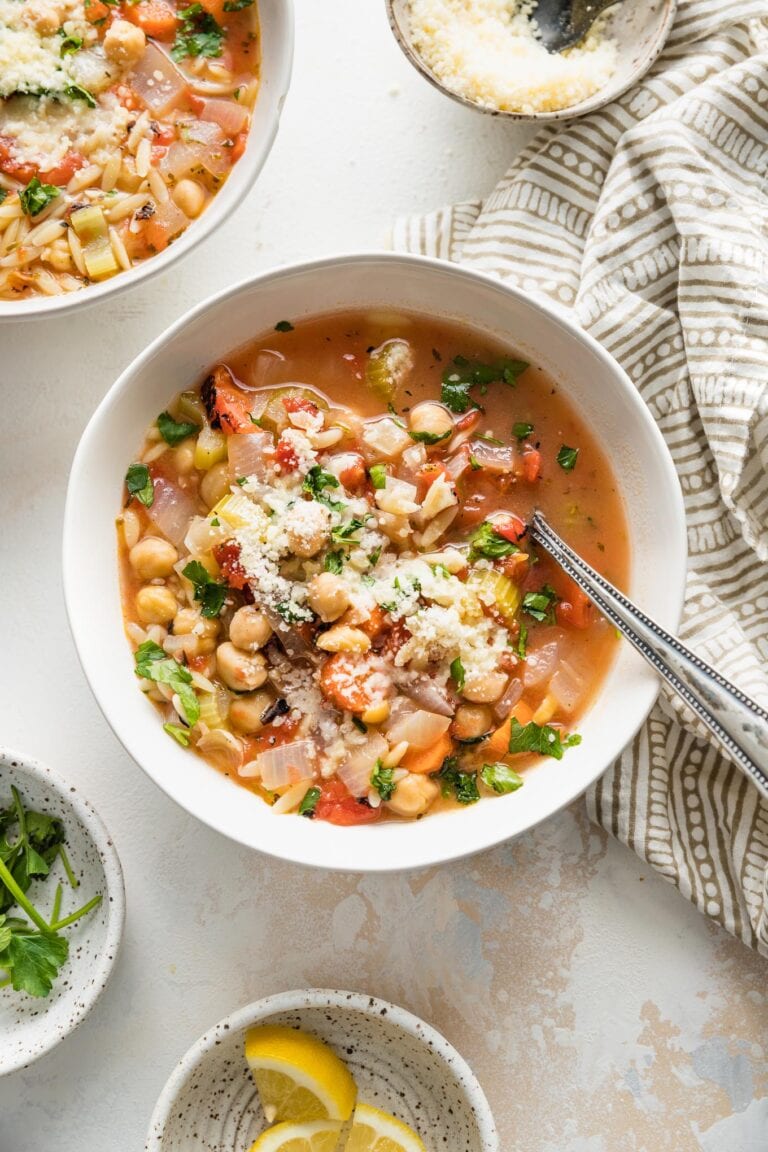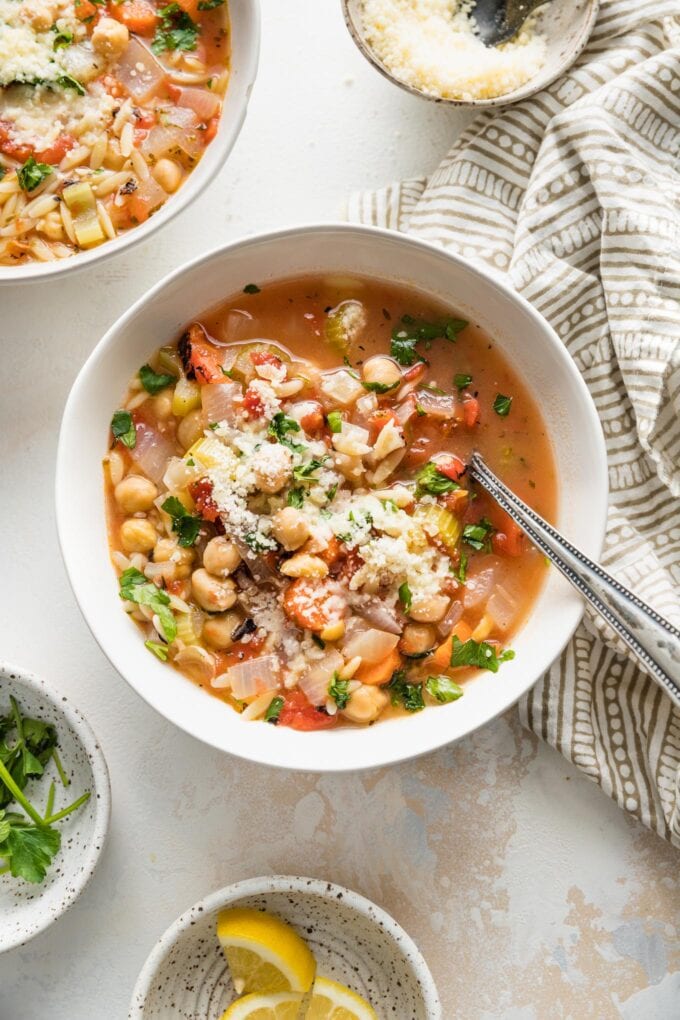 Flavorful Chickpea Vegetable Soup in a Flash
One of my missions in my life is to craft and collect recipes that help us eat nourishing, feel-good meals even on the really, really busy days. Because let's be honest, most days are really, really busy! This cozy and delicious chickpea soup is a perfect example–it's healthy, filling, flavorful, similar to the classic Italian pasta e ceci, but takes just about 25 minutes to get on the table.
The appeal here is the ease of tossing this together, and the irresistible flavor you get from simple ingredients, like minced fresh garlic, high-quality tomatoes, and a generous sprinkle of Italian seasoning. And as with many of my recipes, a smidge of lemon juice added at the end really brightens up the final flavor and brings everything else to life.
Whether it's for the nutrition, the ease, or the taste, you will love making and eating this soup!
Ingredients & Common Substitutions
Here is a visual overview of the ingredients you'll need for this recipe. Scroll down to the printable recipe card at the bottom of this post for quantities!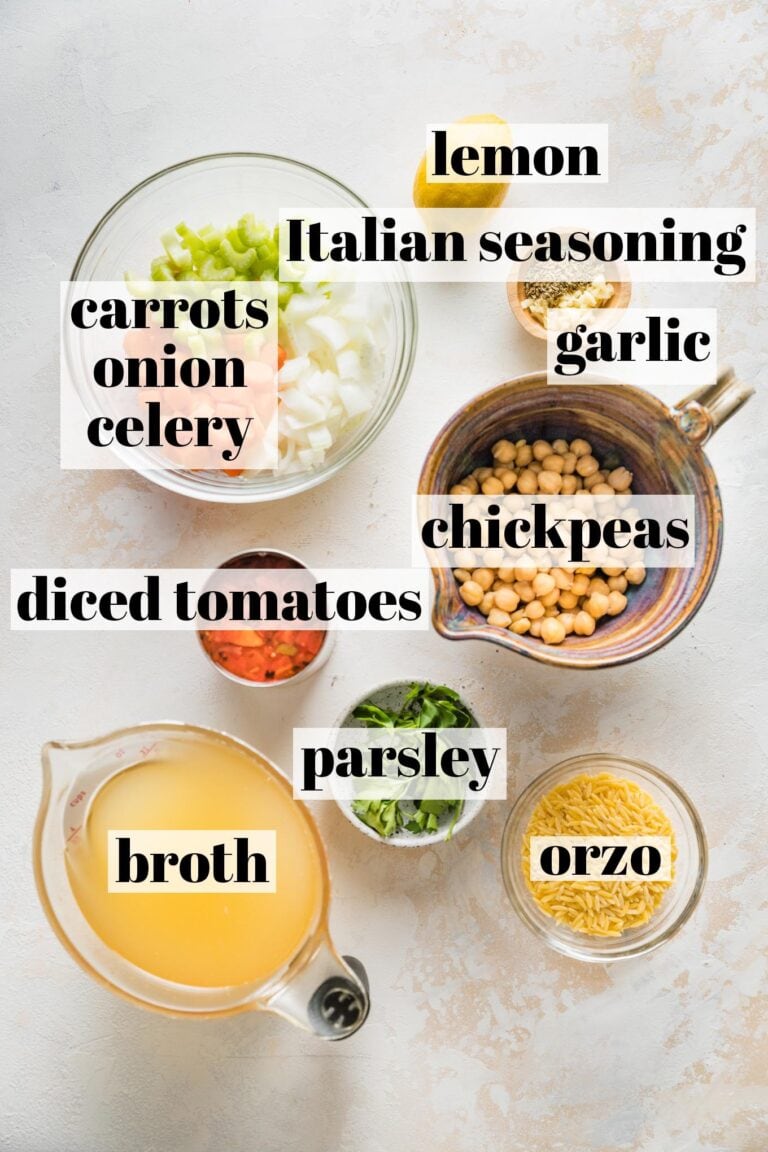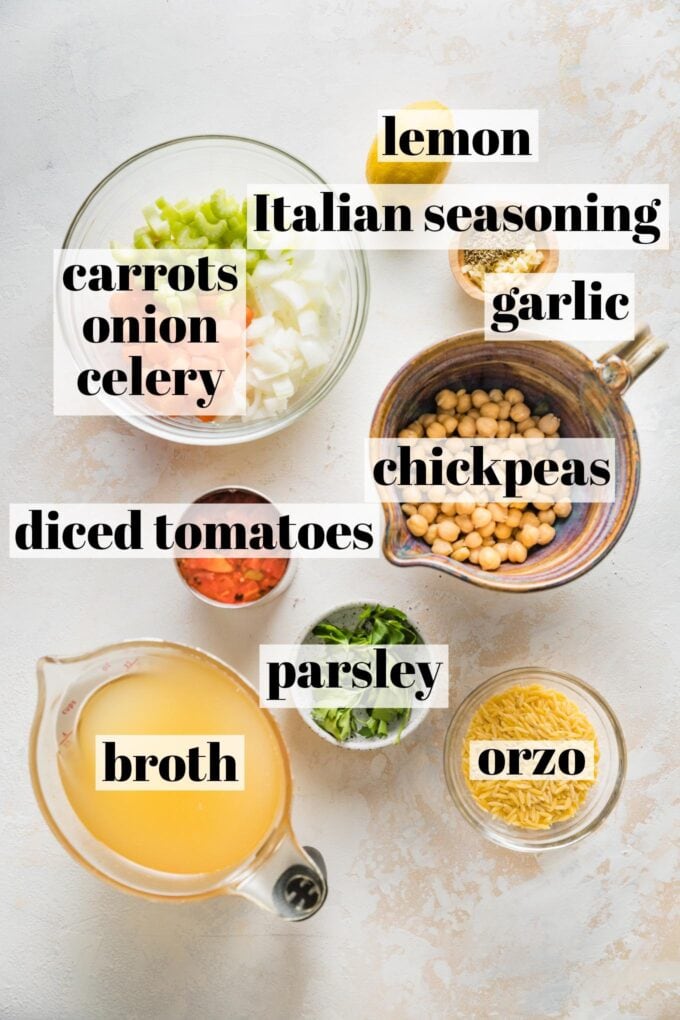 Chickpeas: The ultimate plant-based protein, in my book! So hearty, so nutritious, so delicious. Canned chickpeas keep this recipe quick and easy, but see below for a note on using dry chickpeas if you like.
Vegetables: A blend of onion, carrot, and celery is quick-cooking but packs in the nutrients for this soup. You can easily add bell peppers or other greens as you like. This is a good way to clean out the fridge!
Orzo: Feel free to substitute another type of pasta, just make sure it's small enough to easily eat in soup. Ditalini or stelline would work well.
Broth: You can use vegetable stock, vegetable broth, or chicken broth if you're not concerned about keeping this vegetarian.
Diced Tomatoes: Add flavor, color, more nutrients, and extra liquid to keep the consistency right. I love using fire-roasted diced tomatoes for even more flavor, but this is definitely just a personal call. Use whatever you've got.
Fresh Garlic and Lemon: Fresh is really best for both of these. The flavor is key!
Italian Seasoning: An easy shortcut to terrific flavor. Dried Italian seasoning is sold in any spice aisle and typically includes dried basil, dried oregano, dried rosemary, dried thyme, and dried marjoram. Some brands may also include dried sage, fennel seeds, garlic powder, or crushed red pepper flakes. Feel free to add an extra pinch of any of those herbs or spices to this soup if there's one that you really love.
Fresh parsley — it can be flat-leaf or curly — and a grating of fresh Parmesan cheese are optional but lovely garnishes.
Can I make this from scratch using dry chickpeas?
You can prepare the chickpeas from scratch. You will need to start with approximately 1/2 cup of dried chickpeas to yield the same amount as one 15 ounce can of chickpeas, drained and rinsed.
How To Make Easy Chickpea Soup
There are just five simple steps here, and most of them are just pouring and stirring. I promise even the most novice home chef can pull off this soup.
Cook onion, carrots, and celery for about 5 minutes in a large Dutch oven or stockpot.
Add garlic and Italian seasoning. This should cook for just 30-60 seconds; you don't want the garlic to burn.
Stir in diced tomatoes, with their juices, together with the drained chickpeas and all of the broth. Bring this mixture to a boil.
Add orzo, reduce heat, and simmer everything gently for about 5 minutes. This cooks the orzo with no need for a separate pot, and gives all those wonderful Italian flavors a smidge of time to mingle with one another.
Finish with a sprinkle of lemon juice, salt, and pepper to taste.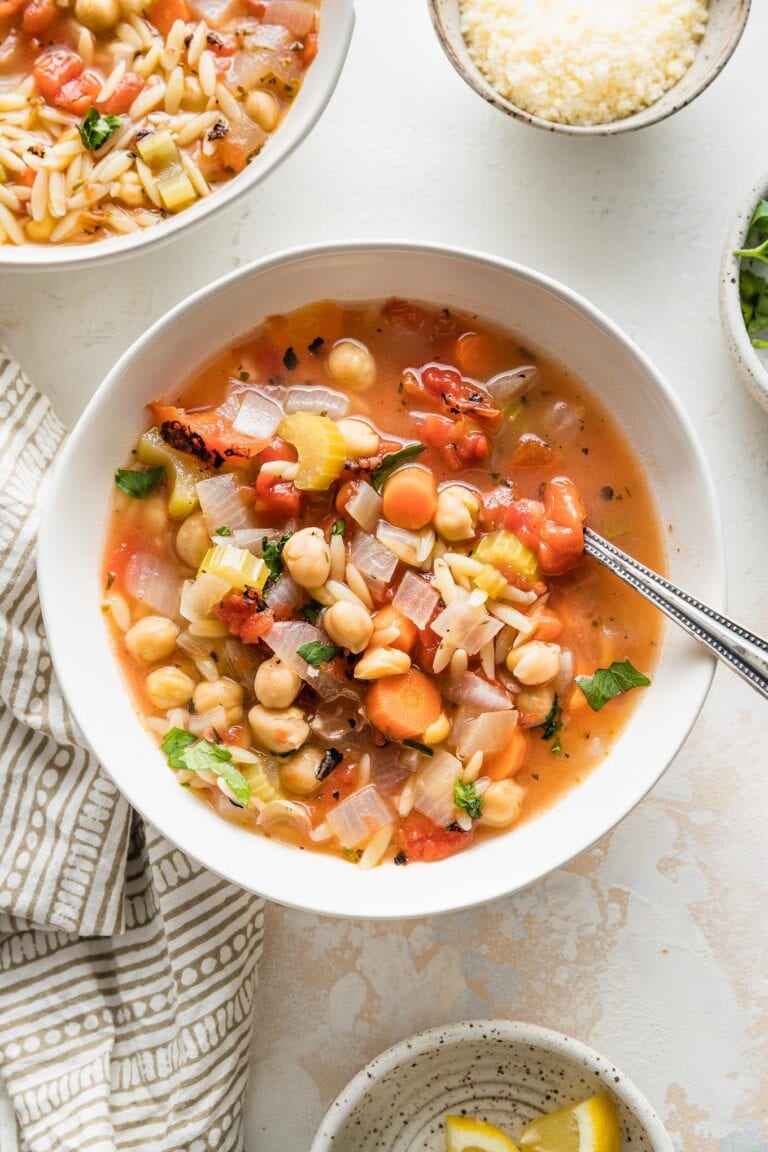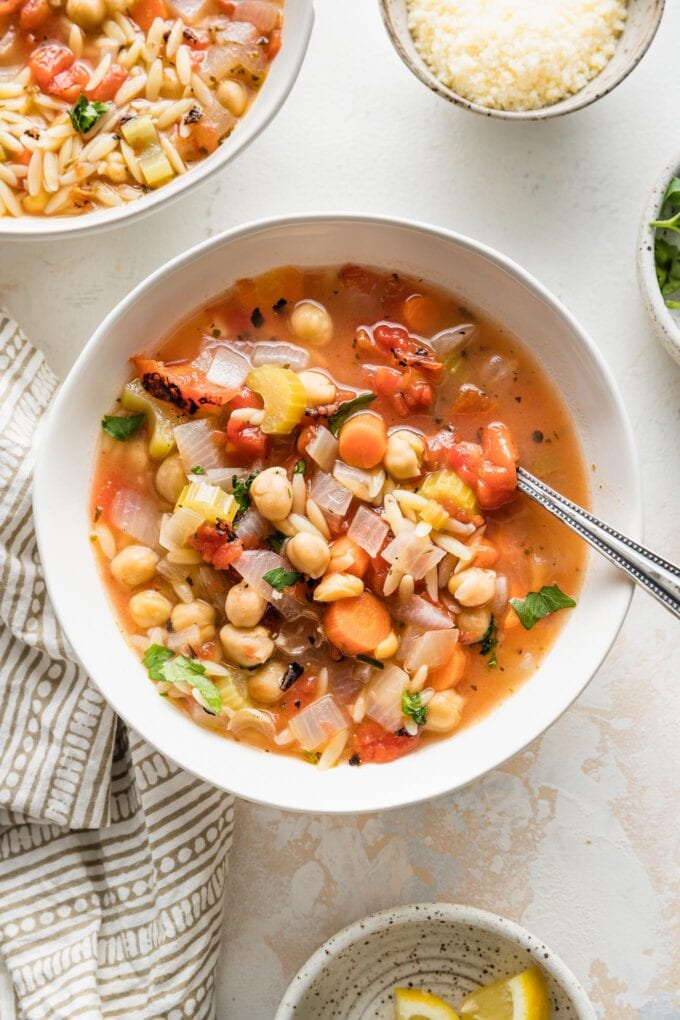 Craving a thick, hearty stew with similar flavors? My Tuscan chickpea stew is another terrific option, perfect with crusty bread or rosemary fries.
Variations
Add More Vegetables: Add roasted sweet potato, butternut squash, bell peppers, or zucchini to up the nutrient factor even more and clean out the crisper in one go. You could also mix in baby kale or baby spinach for more greens–let those wilt in the finished soup for just 1-2 minutes just prior to serving.
Add More Aromatics and Spices: Mix in a smidge of fresh ginger or turmeric for a unique flavor profile, simmer a bay leaf in with the broth, or simply add more of your favorite Italian herb. Have an old Parmesan rind on hand in your cheese drawer? Simmer that in with the soup for added flavor.
Vegan Chickpea Soup: Be sure to use a vegan-certified broth, and omit or use a vegan Parmesan substitute. No other changes are needed.
Gluten-Free Chickpea Soup: Chickpeas are naturally gluten-free, so it's easy to make this soup fit a gluten-free lifestyle. Omit the orzo or use your favorite gluten-free pasta in its place.
Slow Cooker Chickpea Soup
You can make chickpea soup in the slow cooker for another easy dinner! Simply combine all of the vegetables, the chickpeas, the broth, the garlic, Italian seasoning, salt, and pepper in a large Crockpot or other slow cooker. Cook for 5-6 hours on low, then add cooked orzo together with the lemon juice and more salt and pepper to taste.
What To Serve with Chickpea Soup
We love this soup with biscuits or crescent rolls for an ultra-easy meal. Add homemade garlic bread or breadsticks if you're feeling fancy. It also makes a terrific lunch with crackers, grilled cheese, or simple buttered toast.
Soup and a salad always go well together. An arugula salad has a light peppery profile that works well with these Mediterranean flavors, and I especially love a kale Pecorino salad with this, too.
Making Ahead? Do This!
If you're making this to eat later in the day, or you anticipate leftovers, cook the orzo in water separately and add it by the spoonful to individual servings. This prevents the orzo from soaking up excess broth, which can make them mushy and reduce the amount of liquid in your soup.
In this case, simply simmer the soup for about 5 minutes after adding the chickpeas and before adding the lemon juice, salt, and pepper. This serves simply to meld and enhance the flavors.
For the best flavor, be sure to still add a generous pinch of salt to your boiling water before cooking the orzo.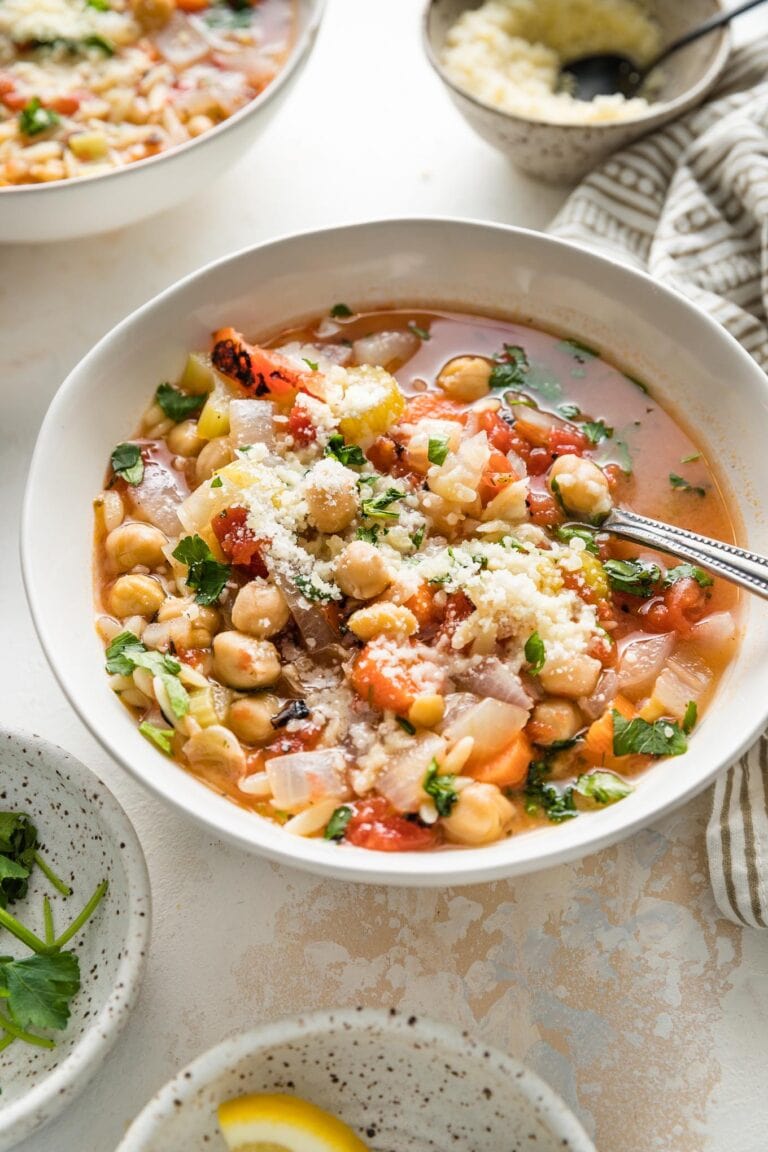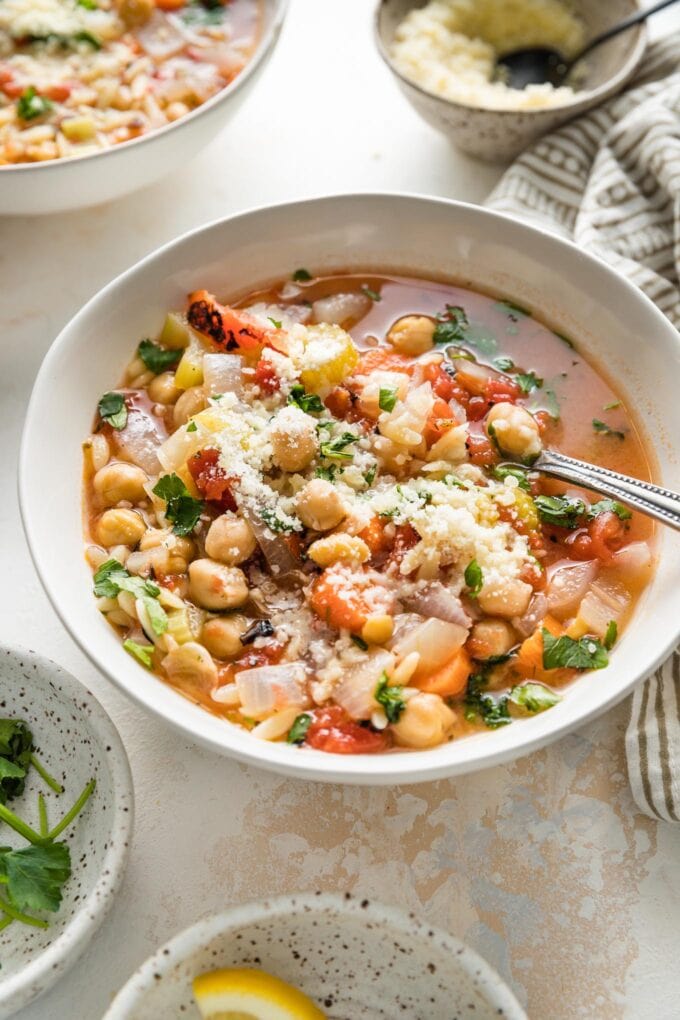 Storage & Reheating Tips
Chickpea soup keeps well in the refrigerator for 1-2 days. These are our hands-down favorite storage containers for soup.
Reheat large quantities over medium heat in a saucepan, or small quantities in the microwave, stirring in between 45-60 second intervals.
I have not personally tried to freeze and defrost this soup; I wouldn't recommend it with the orzo mixed in, but suspect it would work acceptably well with just the broth, vegetables, and chickpeas. Add fresh orzo or another pasta shape when ready to eat.
More Easy Soup Recipes
Love easy soups? Of course you do! Try my white bean chicken soup, creamy tomato tortellini soup, or white bean and spinach soup next. All quick, simple, and nourishing.
Prefer a creamy vegetable soup, without actual dairy? This smooth and creamy carrot red pepper soup is a favorite of mine, both to eat and to deliver to friends with new babies or going through a hard time.
If you try this Italian Chickpea Soup, don't forget to rate the recipe and leave a comment below. I love hearing how recipes turn out in your kitchen, and it helps other readers, too.
You can also FOLLOW me on PINTEREST, INSTAGRAM, FACEBOOK, and TWITTER for more great recipes and ideas!
Italian Chickpea Soup
Filled with tender vegetables and cozy orzo, with a zip of Italian seasoning and fresh lemon, this 25-minute chickpea soup is comforting, nutritious, and supremely simple. Easily made vegan or gluten-free, as needed.
Ingredients
1 Tablespoon olive oil
1/2 medium yellow onion diced
2-3 whole carrots peeled and chopped
1-2 stalks celery diced
3 cloves garlic minced
1 teaspoon Italian seasoning
1 (14.5 ounce) can diced tomatoes with juices
1 (15 ounce) can chickpeas drained and rinsed
6 cups vegetable or chicken broth
1/2 cup uncooked orzo
1 Tablespoon lemon juice from about 1/2 medium lemon
kosher salt and black pepper
1 Tablespoon chopped fresh parsley
Parmesan optional to serve
Instructions
In a large Dutch oven or stockpot, warm olive oil over medium-high heat. Add onion, carrots, and celery. Cook for about 5 minutes.

Add garlic and Italian seasoning. Cook for 30-60 seconds, just until fragrant.

Stir in diced tomatoes and chickpeas, followed by the broth. Bring to a boil.

Add orzo, then reduce heat to medium. Simmer for about 5 minutes, stirring frequently, just until the orzo is tender. (Check package directions and adjust if your orzo requires a much longer or shorter cook time. Do not overcook.)

Stir in lemon juice, salt, and pepper to taste. (I start with 3/4 teaspoon salt and about 10 cranks of fresh-ground black pepper.) Garnish with a few leaves of fresh parsley and grated Parmesan, if desired.
Notes
Make-Ahead Instructions: Cook the orzo separately and mix it into individual bowls. You can also prep the soup through step 3, then remove from the heat, let it sit covered, then bring the liquid back to a boil, add the orzo, and cook. If the cooked or partially cooked orzo sits in the broth, it will absorb more liquid and you'll start veering away from soup and towards stew. (Still tasty but different.)
Slow Cooker Instructions: Combine all of the vegetables, the chickpeas, the broth, the garlic, Italian seasoning, salt, and pepper in a large Crockpot or other slow cooker. Cook for 5-6 hours on low, then add cooked orzo together with the lemon juice and more salt and pepper to taste.
Nutrition Estimate
Calories: 330 kcal, Carbohydrates: 53 g, Protein: 15 g, Fat: 7 g, Saturated Fat: 1 g, Polyunsaturated Fat: 2 g, Monounsaturated Fat: 3 g, Sodium: 1435 mg, Potassium: 786 mg, Fiber: 11 g, Sugar: 11 g, Vitamin A: 5258 IU, Vitamin C: 16 mg, Calcium: 127 mg, Iron: 5 mg
Did you make this recipe?
Leave a review below, then snap a quick picture and tag @nourishandfete on Instagram so I can see it!