Creamy Tomato Tortellini Soup
Cozy bowls of this Creamy Tomato Tortellini Soup are the perfect quick, easy, and filling meal. You'll love the broth with rich tomato flavor, pillowy cheese tortellini, and tender veggies — and that it only takes about 25 minutes to get on the table.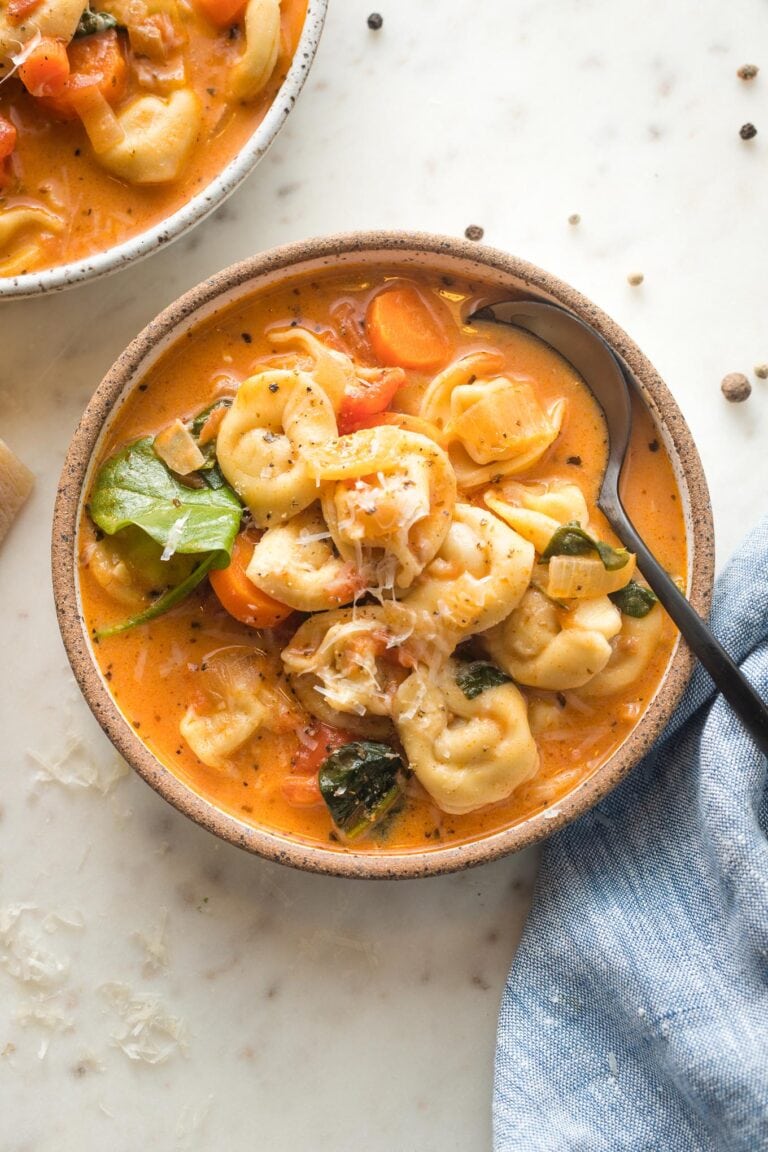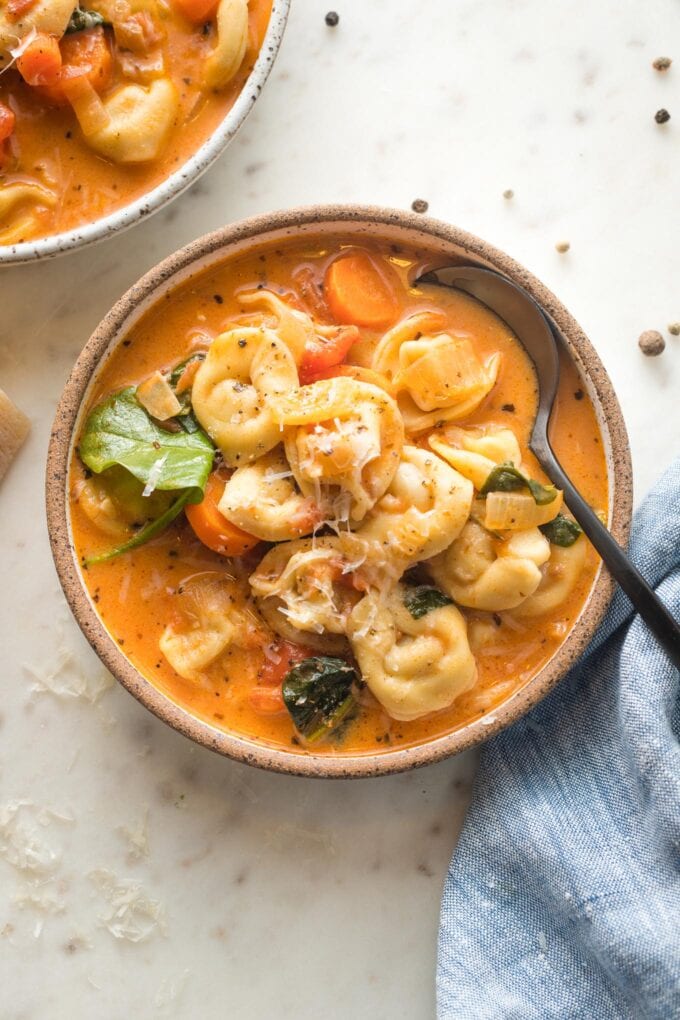 This cozy tortellini soup is loaded with a creamy tomato-based broth, tender carrots and onions, and pillowy pasta pockets that make it hearty and just so soul-warming. I love that it's easy to make totally from scratch, but most of the ingredients are pantry or freezer staples. I always keep packages of cheese tortellini tucked away in the freezer for meals like this!
This soup is adapted from a white bean tortellini soup I've been making for years. It has all the richness of our favorite roasted tomato basil soup, with way less effort!
Love these flavors but prefer more of a traditional pasta with sauce? Tortellini with creamy tomato sauce is a one pan, 15 minute lifesaver for the busiest weeknights, or this simple creamy tomato pasta always is a winner from pantry staples.
Ingredients & Common Substitutions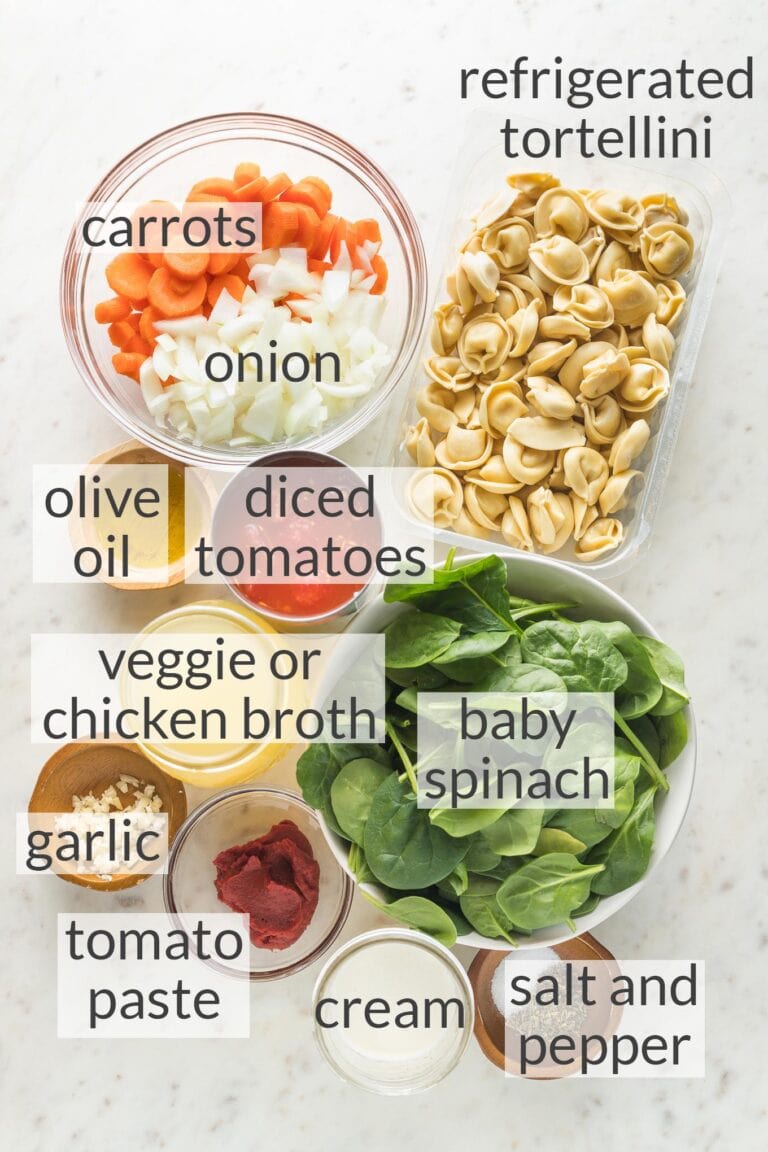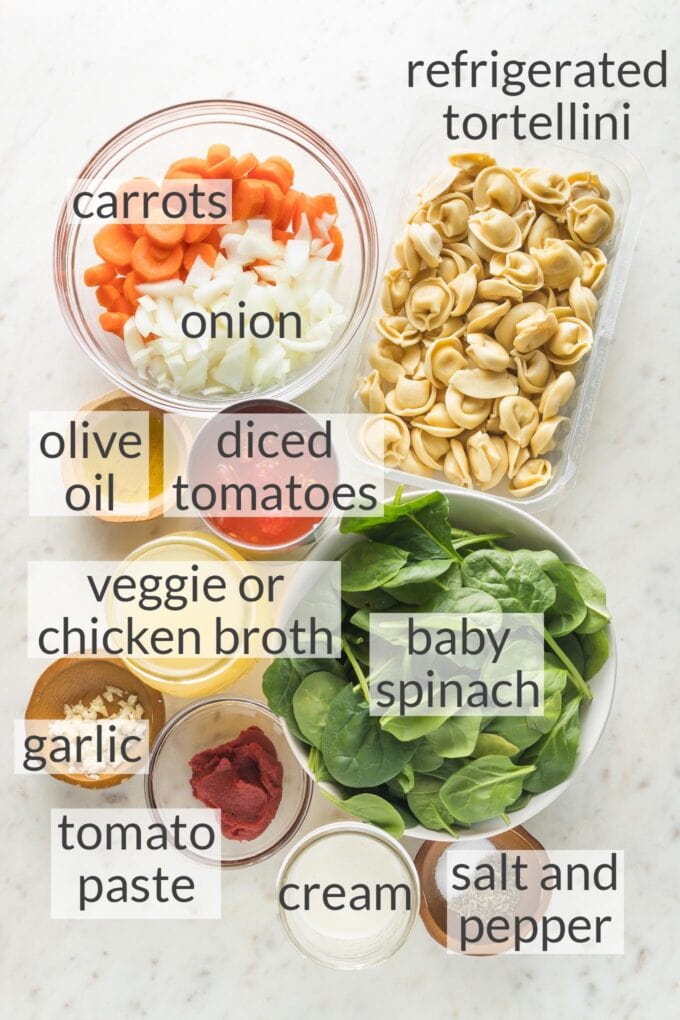 Here are a few notes and shopping tips about the ingredients you'll need to make this ultra-easy creamy tomato tortellini soup with spinach, as well as possible substitutions:
Tortellini. A small package. Our favorites are cheese- or spinach-filled, but any variety you like will work in this soup.
Olive oil.
Carrots. A few medium carrots, peeled and chopped into small coins. Try to cut them into an even thickness, so they cook quickly and evenly.
Onion. Yellow onion is my go-to for this; white onion makes a good substitute.
Garlic. Fresh if you have it, but garlic powder is good in a pinch. Substitute 1/2 teaspoon for the 2 cloves called for in this recipe.
Tomato paste.
Diced tomatoes. One small can, including its juices. See recipe notes for suggestions on low salt vs. no salt added tomatoes. You can substitute crushed tomatoes; the soup will simply have a slightly different texture.
Chicken broth or vegetable broth.
Spinach. Fresh baby spinach is the best to use here; it wilts quickly into tender ribbons. Substitute with kale, chard, or another dark leafy green if you like.
Cream. A little goes a long way to enrich this soup! And yes, half and half makes a good substitute. I have read that Greek yogurt works, too, but haven't tried that one myself.
Italian seasoning, salt, and black pepper.
Help! I only have dried tortellini! Can I still make this?
Absolutely! Just follow the package directions for cooking the tortellini in the simmering broth, and add the spinach and cream immediately at the end of the cooking time.
My tortellini are frozen! What should I do?
Not to worry! I make this soup with frozen tortellini all the time. Simply add tortellini directly from the freezer and add 3-4 extra minutes to the cooking time, following all other directions as written.
This extra time reflects both the additional minutes to cook the tortellini from frozen vs. refrigerated as well as extra time to return the broth to a simmer after the frozen pasta cools it down.
How long do fresh tortellini keep in the freezer?
You can store fresh packaged tortellini in the freezer for up to 4 months, simply by placing the original sealed package in the freezer compartment.
How To Make Creamy Tomato Tortellini Soup
Cook carrots and onion in a large pot or Dutch oven until tender.
Add garlic, tomatoes, and additional seasonings, and simmer again until fragrant so the flavors can meld.
Add broth, bring to a rapid boil, and cook tortellini directly in the soup.
Remove from heat, stir in spinach and cream. Sample and adjust seasonings to taste.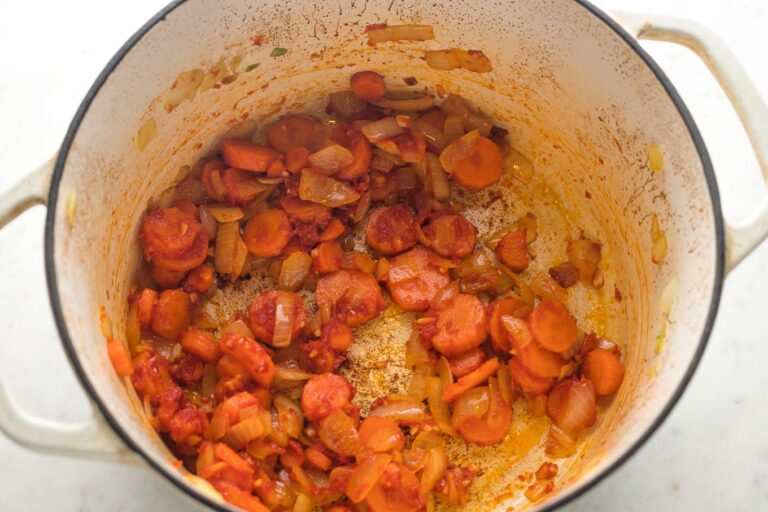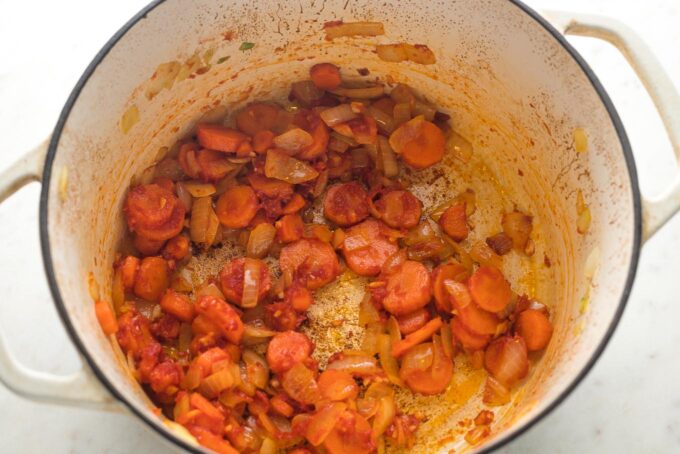 Can you cook tortellini directly in soup?
Yes! Cooking tortellini directly in a broth-based soup is not only a terrific time-saver and way to streamline the number of pots you need to make dinner, it usually also helps to add subtle flavor to the tortellini and naturally thicken the broth, as the tortellini will release a small amount of starch as they cook.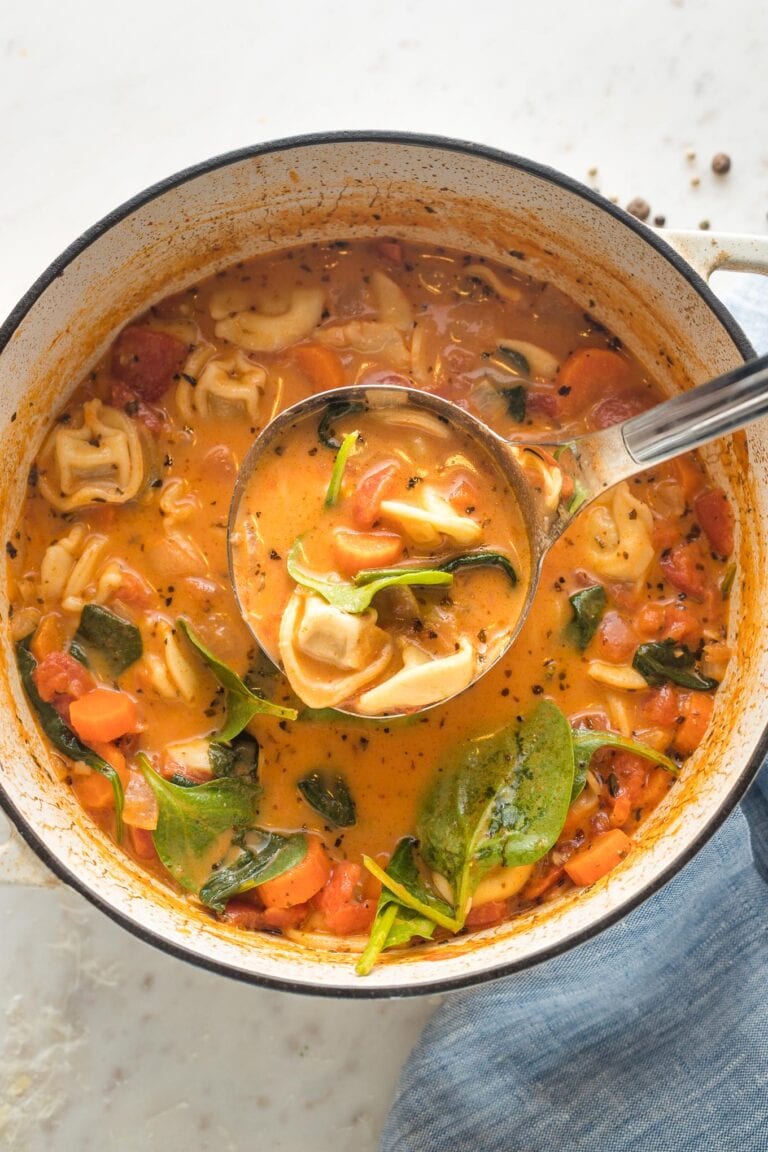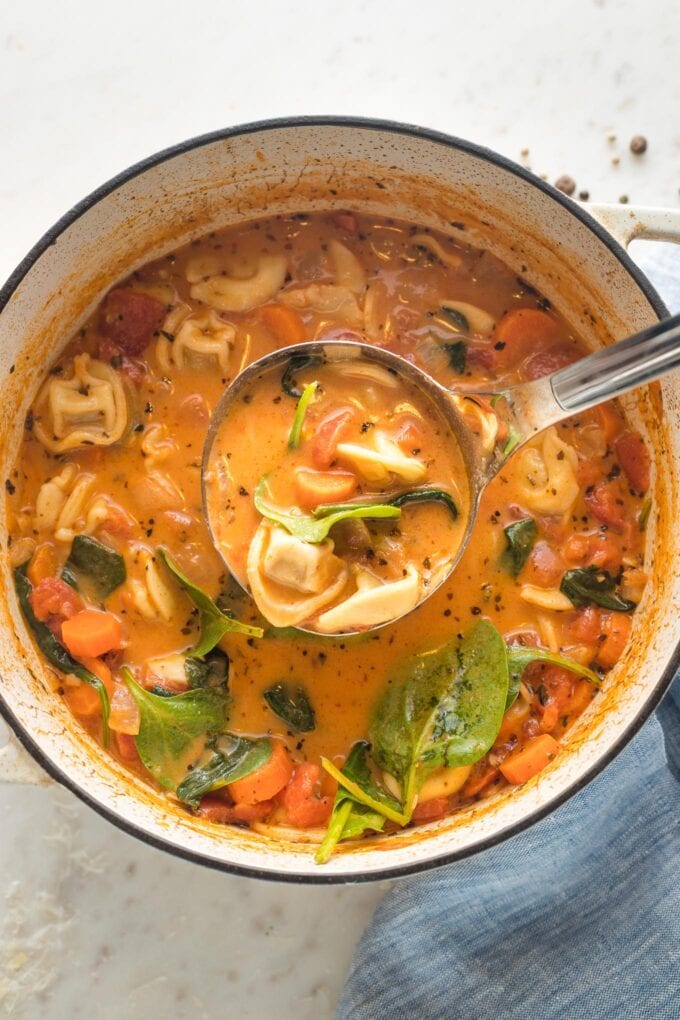 What goes well with tortellini soup?
Like any tomato soup, this hearty tortellini version goes perfectly with breadsticks, garlic bread, or Texas toast. Add a simple spinach, arugula, or Italian salad to round things out.
Serve the soup itself with a sprinkling of fresh-grated Parmesan cheese — a microplane makes it quick and easy to get delicate shreds — and a garnish of fresh basil or parsley, if available. The fresh flavor and pop of color are the perfect finishing touches!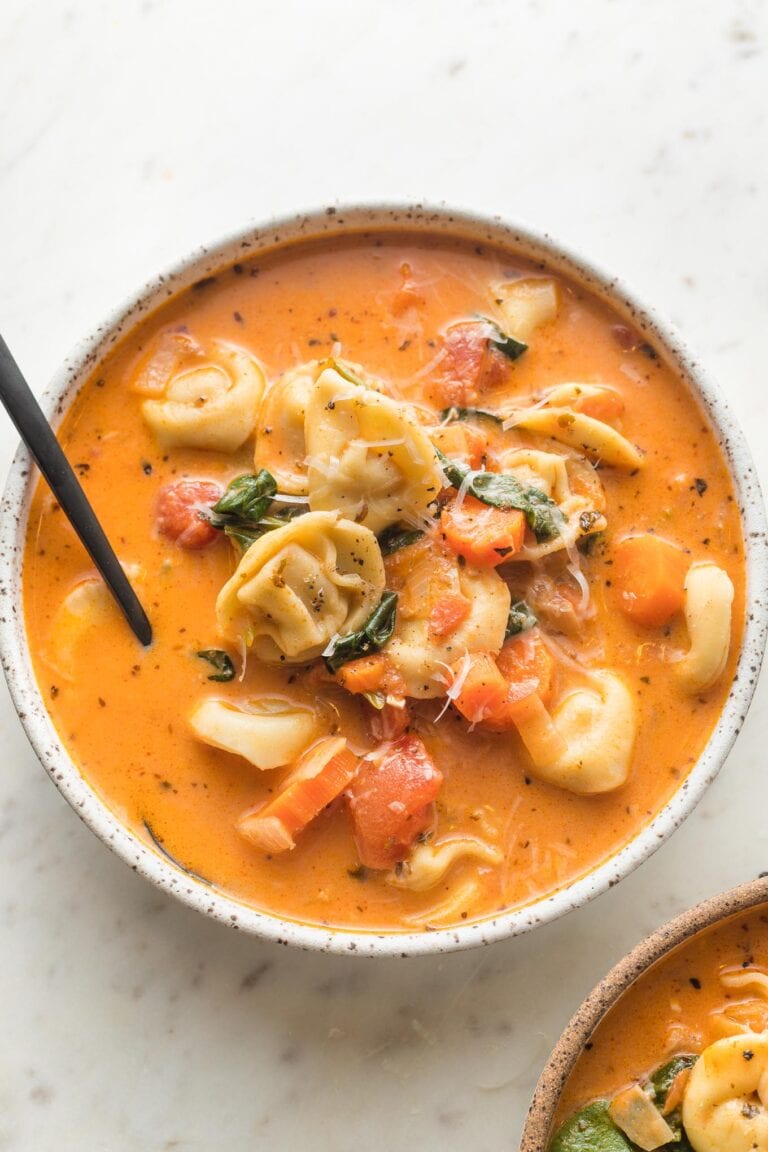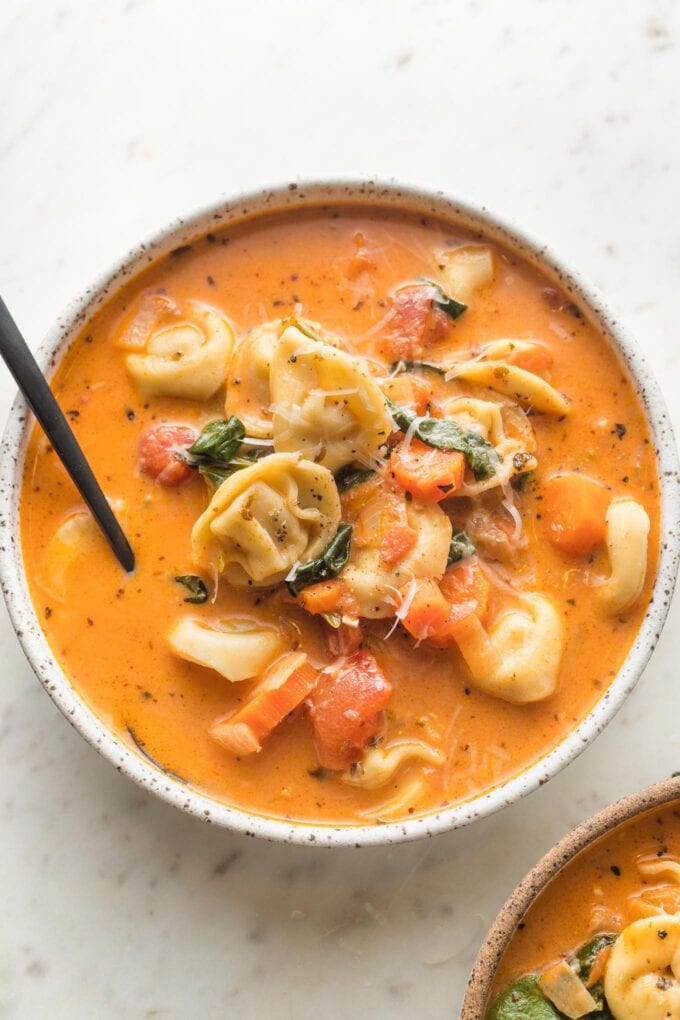 Variations
Substitute or add extra veggies: chopped bell pepper, squash, zucchini, corn, or peas can all work to give your soup an extra helping of veg. Peppers or squash of any kind should be added in the first step, so they have time to soften; corn or peas can be added near the end of the tortellini's cooking time, so they just warm through.
Leave out the spinach, or substitute with kale or Swiss chard.
Make with your favorite hearty pasta, ravioli, or egg noodles instead of tortellini.
Leave out the cream for a lighter, broth-forward soup.
Brown a little Italian sausage in the pot along with the onion, and boom: creamy tomato tortellini soup with sausage!
Storage and Reheating
This creamy tomato tortellini soup keeps very well in the fridge for 3-4 days, especially if you slightly undercook the tortellini to start with. Keep leftovers in an air-tight container. Reheat large quantities over medium heat in a saucepan, or small quantities in the microwave, stirring in between 45-60 second intervals.
Can tortellini soup be frozen?
Unfortunately, no. The tortellini in soup can turn very soft and almost fall apart when frozen and then thawed, and cream-based soups and sauces often separate after being stored in the freezer. Not good!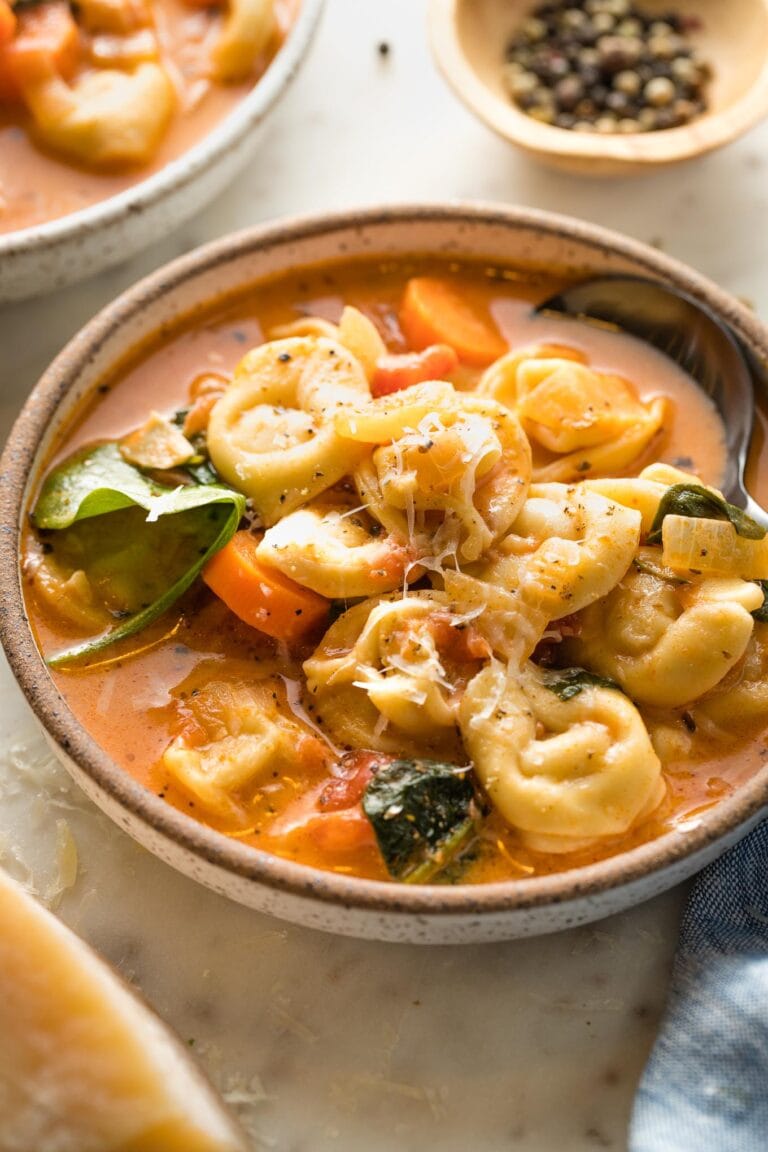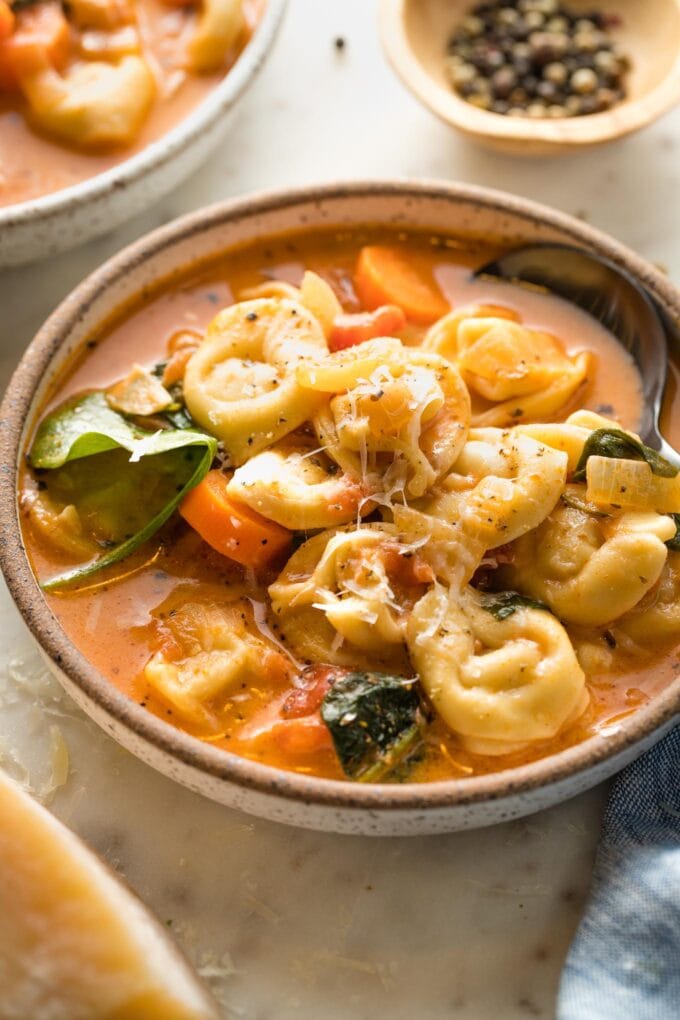 More Cozy Soup Recipes
If you try this Creamy Tomato Tortellini Soup, don't forget to rate the recipe and leave a comment below. I love hearing how recipes turn out in your kitchen, and it helps other readers, too.
You can also FOLLOW me on PINTEREST, INSTAGRAM, FACEBOOK, and TWITTER for more great recipes and ideas!
Creamy Tomato Tortellini Soup
Quick, easy, and delicious! Adapted from our favorite healthy tortellini white bean soup.
Ingredients
1 Tablespoon olive oil
3 medium carrots peeled and chopped into small pieces
1/2 medium yellow onion chopped
2 cloves garlic minced
2 Tablespoons tomato paste
1 (15 ounce) can diced tomatoes with juices
1 teaspoon Italian seasoning
1/2 teaspoon table salt see note
4 cups chicken or vegetable broth
9 ounces fresh tortellini any variety
2-3 cups fresh baby spinach loosely packed
1/3 cup heavy cream
Instructions
In a large Dutch oven or stockpot, warm olive oil over medium-high heat. Add carrots and onion, and cook for about 5 minutes, stirring often. Add garlic and tomato paste and cook, stirring often, for about 1 minute more, then stir in the diced tomatoes, Italian seasoning, and salt.

Add the broth, increase heat, and bring the mixture to a boil. Add tortellini and cook according to package directions.

When the tortellini is done, turn off the heat, and stir in the spinach and cream. Sample a spoonful and season with extra salt and/or black pepper, to taste. Serve with grated Parmesan, if desired.
Notes
On Salting: For our tastes, I find that 1/2 teaspoon table salt is just right if using diced tomatoes that also have salt in them. If using no salt diced tomatoes, I add extra salt to the soup, usually 3/4-1 teaspoon in total.
Nutrition Estimate
Calories: 360 kcal, Carbohydrates: 44 g, Protein: 13 g, Fat: 16 g, Saturated Fat: 7 g, Polyunsaturated Fat: 1 g, Monounsaturated Fat: 5 g, Cholesterol: 57 mg, Sodium: 1743 mg, Potassium: 746 mg, Fiber: 5 g, Sugar: 8 g, Vitamin A: 9782 IU, Vitamin C: 37 mg, Calcium: 227 mg, Iron: 4 mg
Did you make this recipe?
Leave a review below, then snap a quick picture and tag @nourishandfete on Instagram so I can see it!