Roasted Tomato Basil Soup
This delicious roasted tomato basil soup has a rich taste and creamy texture without any added cream or other dairy. A mix of fresh and canned tomatoes delivers dreamy flavor and consistency, while plenty of herbs infuse the homemade taste everyone loves. This is the ultimate cozy bowl of soup!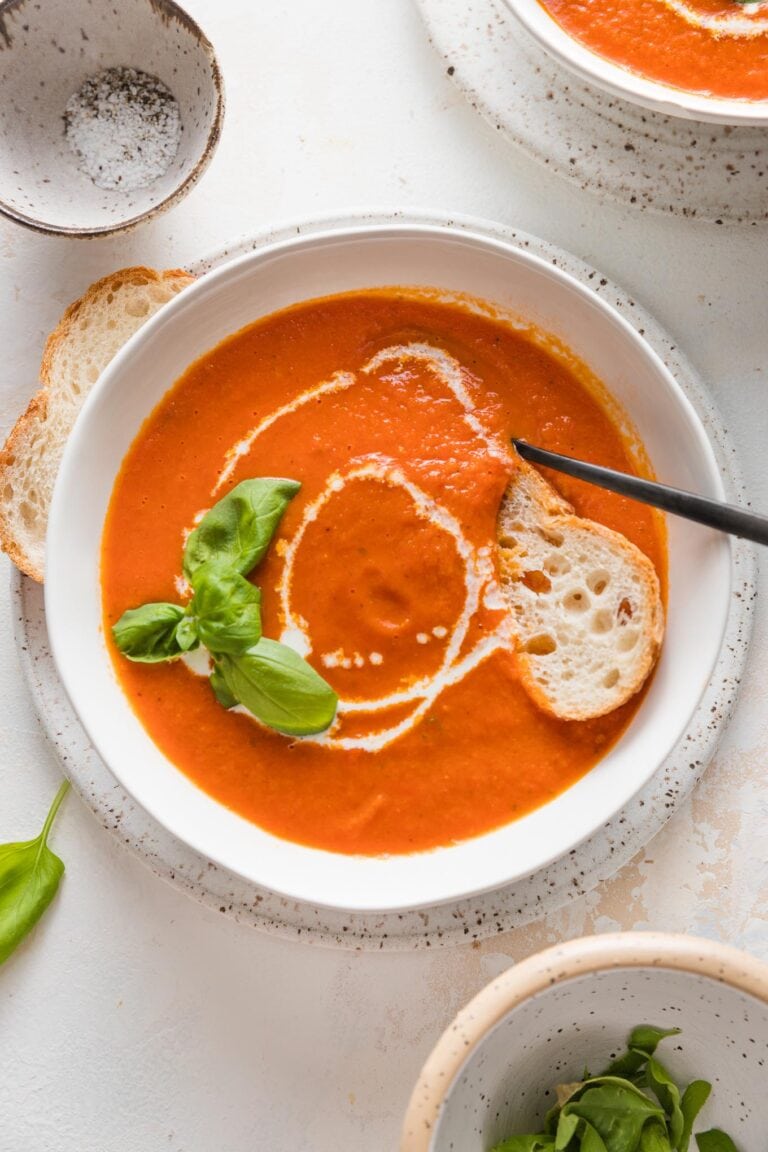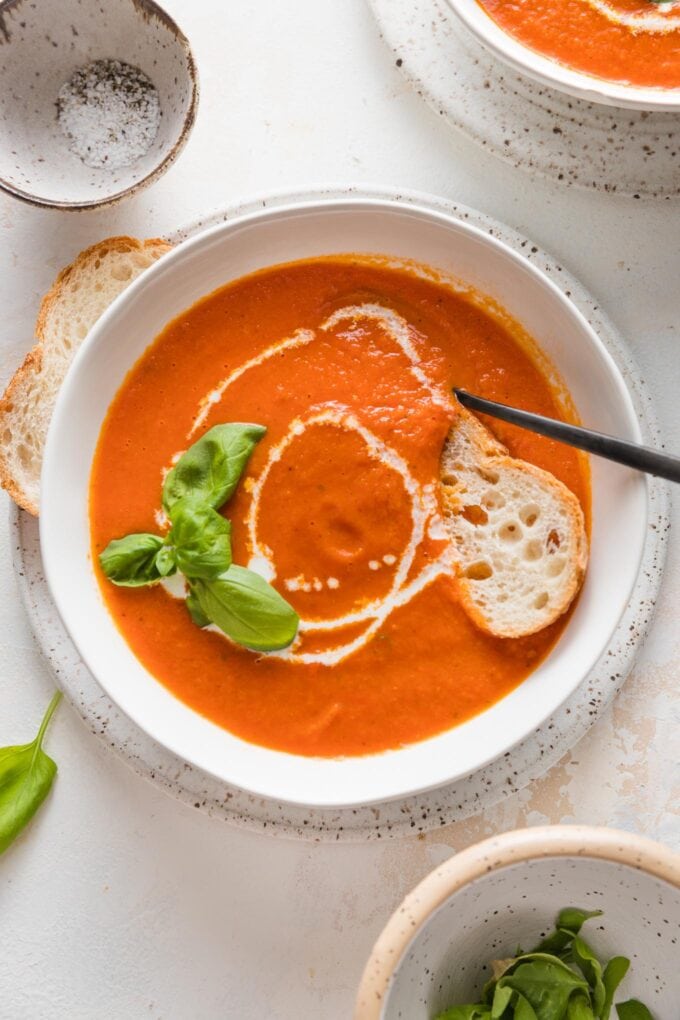 Tomato Soup: A Love Story
Even during my pickiest childhood years, I believe I always enjoyed a creamy, smooth tomato soup. This served me well when I was a student at the London School of Economics, during which I probably ate tomato soup — canned, generic, from the bargain section of Tesco — four or five times a week.
Living in London was fantastic but also extremely expensive! At first, I served drinks in a pub, the Blackfriar. That was fun in its way, but after a few months I began working in a small bakery cafe instead. This yielded just enough spending money to scrape by; the real benefit was routinely taking home a few extra slices of bread. The owners were a pair of Italian brothers who baked spianata, a kind of flat focaccia popular in Rome, from scratch daily. It was incredible.
So, with a steady supply of bread, I did the only logical thing: stocked up on Tesco tomato soup and settled in for a tasty, inexpensive, meal on constant repeat.
Fast forward more than years than seem possible, and I could still happily eat tomato soup any day. Now my favorite is homemade, of course, preferably with a grilled cheese sandwich. When I have fresh tomatoes and enough time to roast them, this recipe gets the nod every time.
It's a creamy roasted tomato basil soup that boasts incredible flavor and texture, and comes by it all naturally. Nary a drop of heavy cream or a processed ingredient in sight.
Ina Garten's Roasted Tomato Soup
This recipe is only lightly adapted from the Barefoot Contessa. Her soup is so near perfection I've never felt the need to stray unless I need a different method or ingredients.
Related: Fire-Roasted Instant Pot Tomato Soup (fast, uses only canned tomatoes)
Ingredients & Substitutions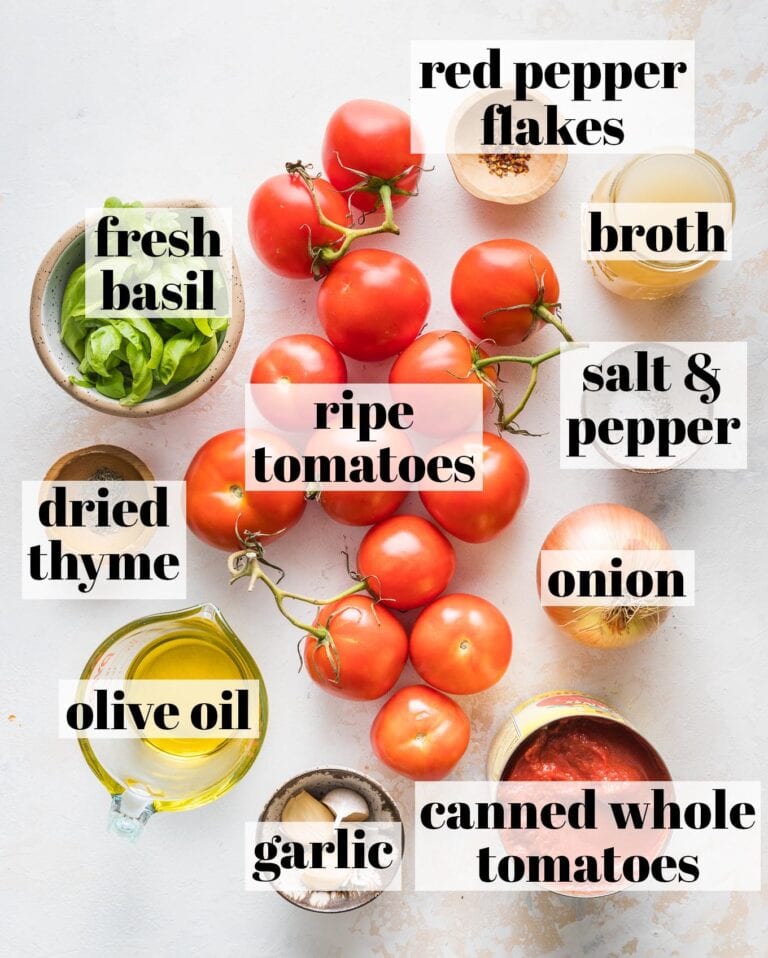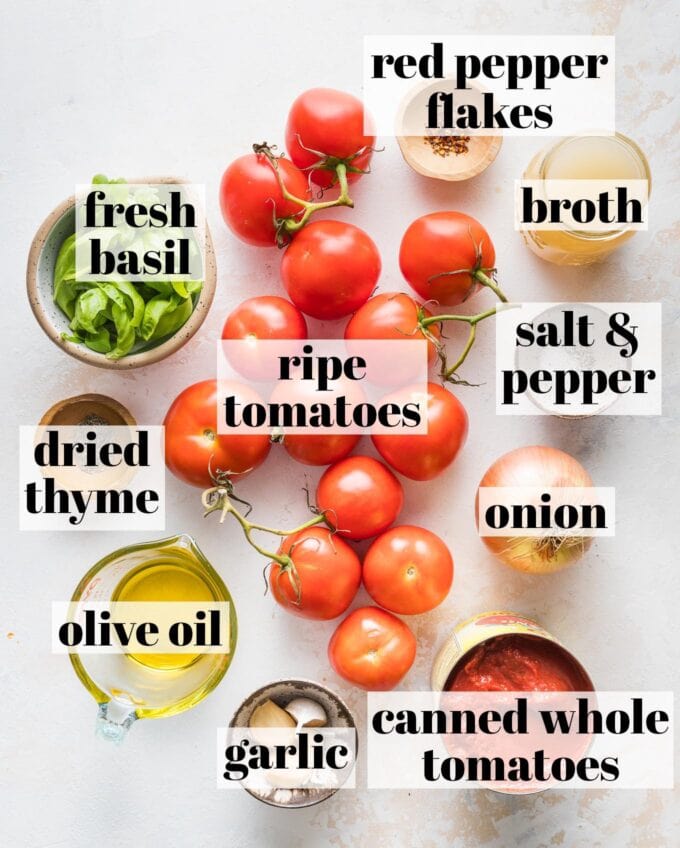 Here are a few notes and shopping tips about the ingredients you'll need to make this, as well as possible substitutions. Find full amounts in the print-friendly recipe card below.
Tomatoes. About 3 pounds. This is an outstanding way to use garden fresh tomatoes when you have more than you know what to do with. That said, I also make it year-round using Roma or on-the-vine tomatoes from the grocery store and have not once been disappointed. Roasting brings out the best in any tomato!
Canned whole peeled tomatoes. Yes, I know it might seem odd to use both fresh and canned tomatoes. But I swear it gives this recipe that extra irresistible layer of flavor. Don't just trust me, trust Ina.
Fresh basil. For the best flavor and the prettiest garnish.
Dried thyme. I find using dried thyme to be fine in this recipe, but by all means use fresh if you have it on hand.
Yellow onion. Substitute a sweet white onion if you like.
Garlic.
Chicken or vegetable broth.
Olive oil.
Kosher salt, black pepper, and red pepper flakes.
How To Make Tomato Basil Soup
This is admittedly not the fastest tomato soup recipe in the world, but I promise it's worth it, and a huge percentage of the time is hands-off.
This is a general overview. As always, you will find full instructions with exact ingredients and times in the print-friendly recipe card below.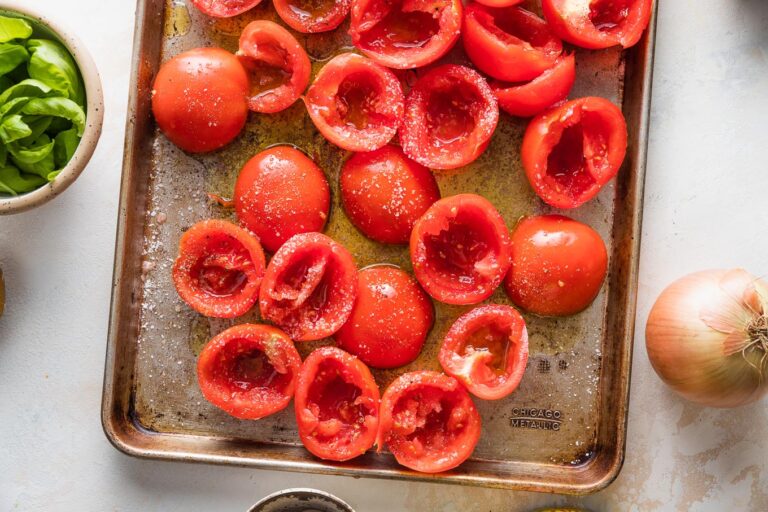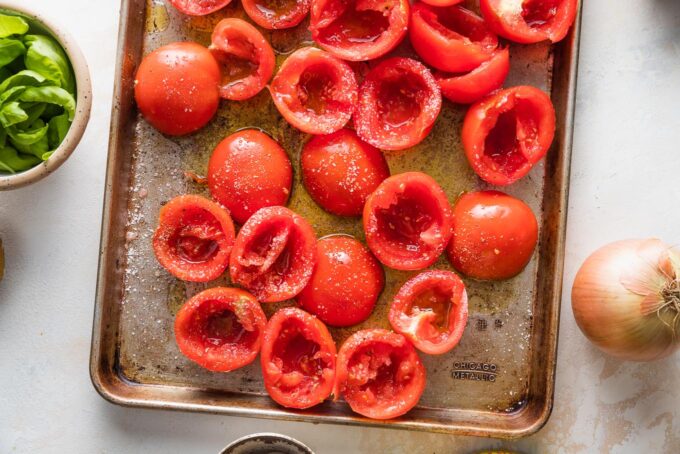 First, roast the tomatoes. Preheat the oven to 400 degrees and set out a large rimmed baking sheet. Halve the tomatoes. I usually scoop out the seeds, as well, which is not strictly necessary but makes for a smoother and more creamy consistency in the end. Toss with olive oil, salt, and pepper, and roast for about 35 minutes.
Next, combine everything and simmer. Add the roasted tomatoes, with juices, and all other ingredients to a large stockpot or Dutch oven. Bring to a simmer and let it bubble, uncovered, for about 45 minutes.
Finally, blend the soup and serve. I definitely prefer doing this with an immersion blender, so there's no need to wash a large appliance or worry about splashes or spills while pouring the soup between the blender and the pot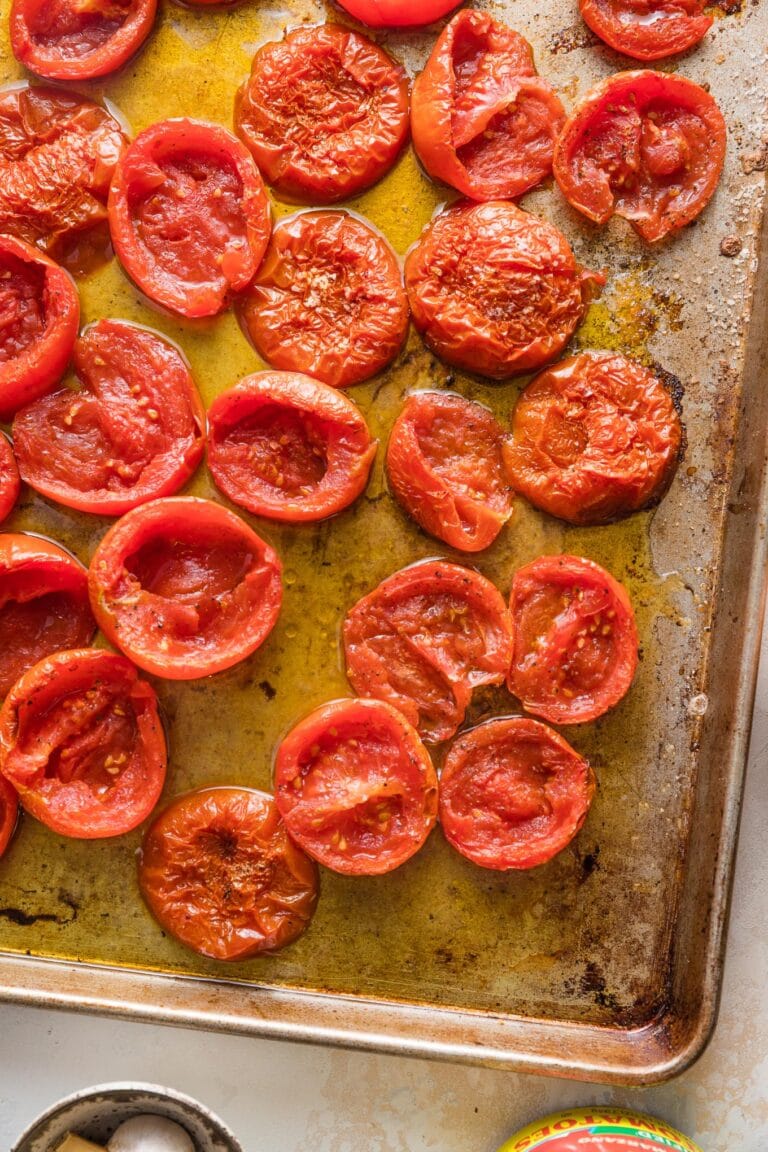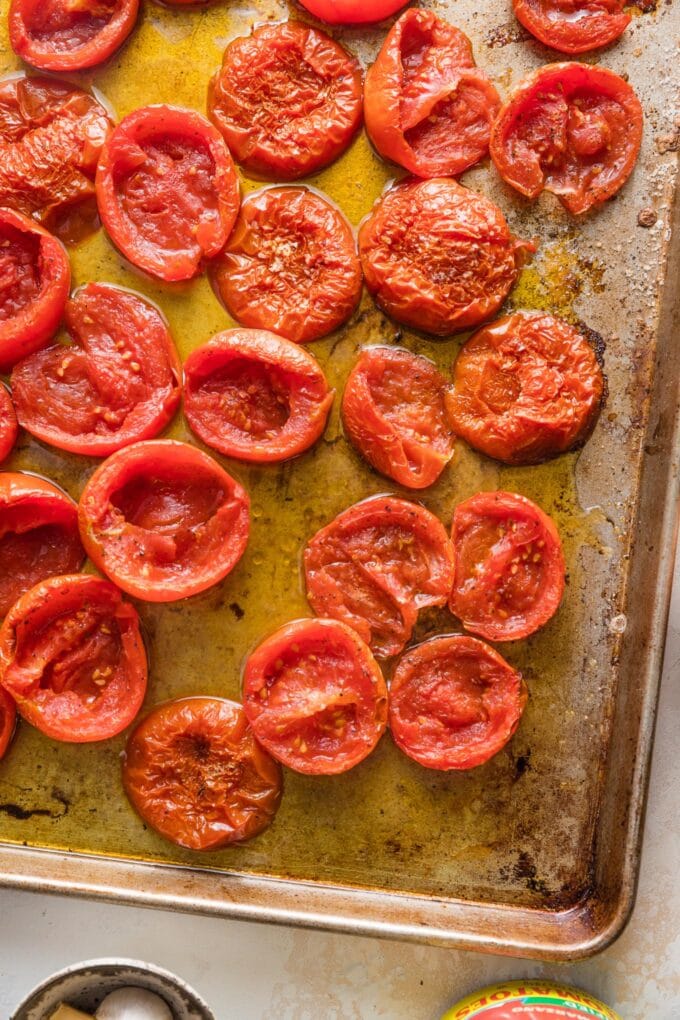 Pro Tip
You may be tempted to shave off some of this soup's simmering time, and you certainly can in a pinch. But bear in mind that the long simmering not only enhances the soup's flavor, it also concentrates the liquid so you get that creamy, thick consistency without having to add any cream. The longer the soup simmers, the thicker, creamier, and more luxurious it gets.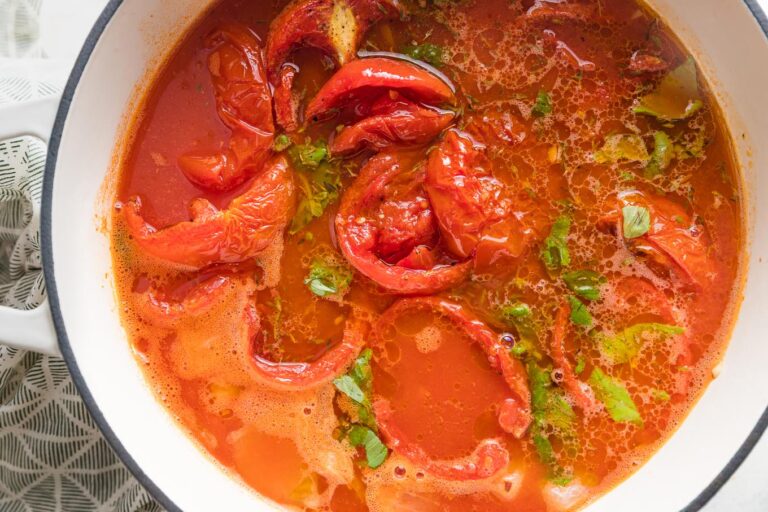 Serving Suggestions
Tomato soup goes so well with all the classic sides! Garlic bread, grilled cheese sandwiches, rosemary cheddar buttermilk biscuits, or miracle one-hour breadsticks pair with this beautifully. We also love it with simple oyster crackers.
Fancy a salad? French carrot and arugula parmesan pine nut are my very favorites with tomato soup.
Feeding Kids
Struggling to get your kids to try soup? Put a few Goldfish crackers on their plate, as well. Tell them to let the fish swim and then try to pull them out with their spoon!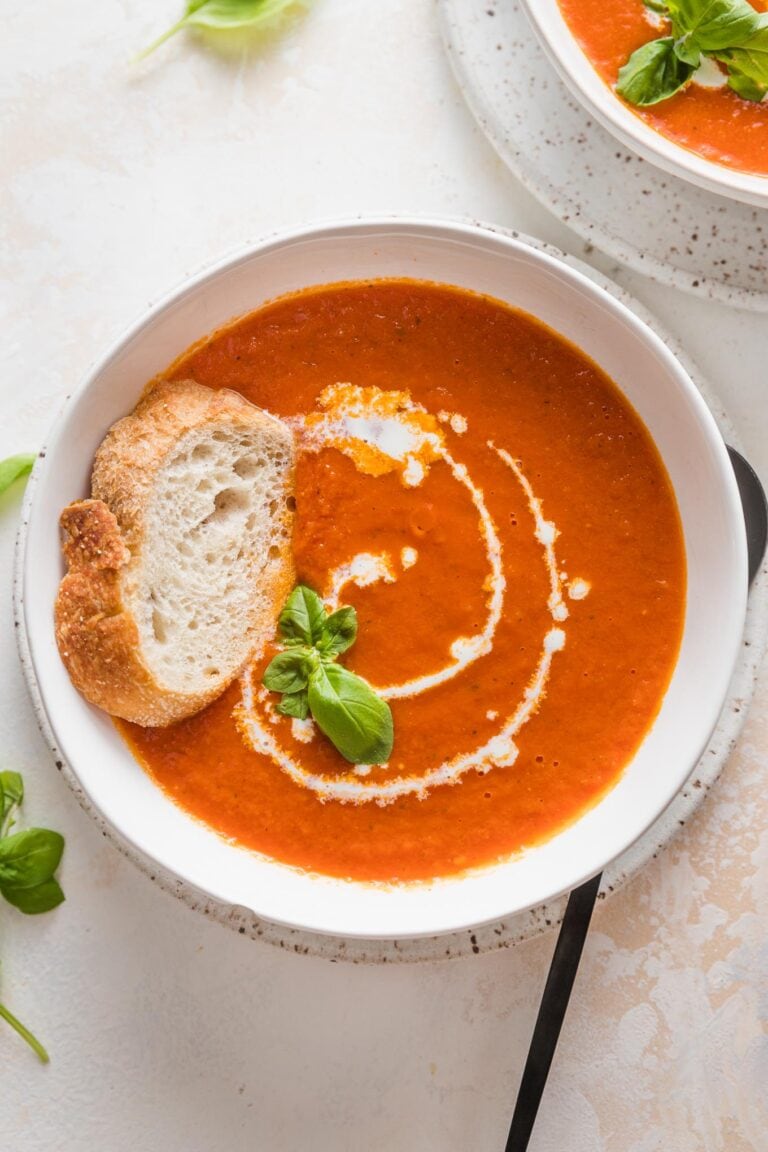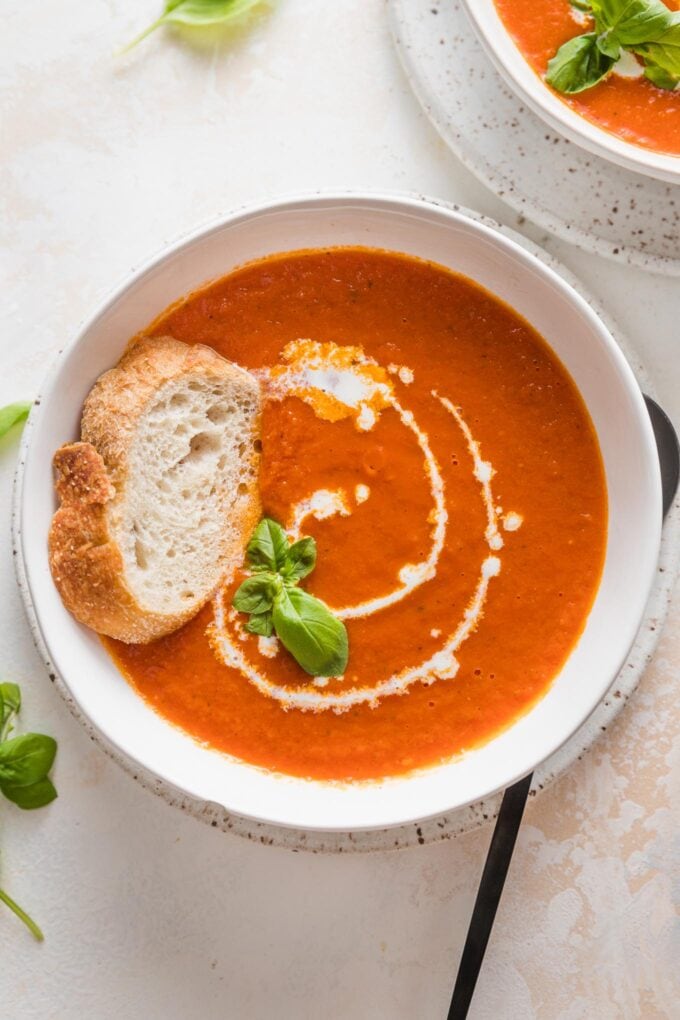 Of course I like that this soup does not contain cream in the actual recipe, but if you want to drizzle a bit of cream on top as a pretty garnish, go right ahead. My husband also likes to mix in a small amount of milk to cool down the soup more rapidly.
A small sprinkle of Parmesan, basil, thyme, or parsley makes a lovely finishing touch, as well.
Storage, Reheating, & Freezing
Storage: This recipe makes a large amount, about 8 servings for my family. Leftovers keep well in an airtight container in the refrigerator for 4-5 days. The flavors become even more rich as the soup sits.
Reheating: Warm portions either over medium heat on the stovetop or in the microwave. If using the microwave, be prepared to stir several times as it warms, otherwise the outside will be burning hot while the inside remains chilled.
Freezing: A bonus of not using heavy cream is that this soup freezes beautifully. Cream-based soups and sauces are vulnerable to separating in the freeze/defrost process. Let extra soup cool completely and store in a freezer-safe container for 3-4 months. Be sure to leave a little room in the container for the soup to expand as it freezes solid. Thaw in the fridge overnight, then warm on the stove and serve.
Best Tool for the Job: Do yourself a favor and buy a pack of these perfect containers for storing soups, stews, and chilis. They are so convenient for not only storage purposes, but also for giving soup as part of a meal train or for a gift.
Related Recipes
If you try this Roasted Tomato Basil Soup recipe, don't forget to rate it and leave a comment below. I love hearing how recipes turn out in your kitchen, and it helps other readers, too.
You can also FOLLOW me on PINTEREST, INSTAGRAM, FACEBOOK, and TWITTER for more great recipes and ideas!
Creamy Roasted Tomato Basil Soup
A simple recipe for creamy roasted tomato basil soup, full of flavor and naturally thickened without heavy cream or cream cheese. When I'm really craving the perfect tomato soup, this is the one!
Ingredients
3 pounds (about 1.5 kgs) ripe tomatoes halved with seeds removed
1/4 cup plus 2 Tablespoons olive oil
1 and 1/2 teaspoons kosher salt
12-14 cranks freshly-ground black pepper
1 large yellow onion coarsely chopped
6 cloves garlic minced
1/4 teaspoon red pepper flakes
28 ounces (800 grams) canned whole peeled tomatoes
2-3 cups fresh basil leaves roughly torn
1 teaspoon fresh thyme leaves or 1/2 teaspoon dried thyme
4 cups (950 ml) low-sodium chicken or veggie broth
Instructions
Preheat the oven to 400 degrees F (200 C). In a large bowl, combine the tomato halves, 1/4 cup of olive oil, kosher salt, and pepper; toss to combine. Spread out the tomato halves on a rimmed baking sheet, and roast for about 35 minutes. Set aside. (This step can be done several hours in advance.)

In a Dutch oven or large stockpot over medium heat, warm the remaining 2 tablespoons olive oil. Add the onions to the pot and cook, stirring occasionally, until beginning to soften, about 5 minutes.

Add the garlic and red pepper flakes, and cook just until fragrant, about 1 minute more. Stir in the canned tomatoes, roasted tomatoes, basil, thyme, and chicken broth. Bring the entire mixture to a boil, then lower the heat and simmer, uncovered, for 40-50 minutes.

Use an immersion blender, standard blender, or food processor to puree the soup until smooth, and serve. 
Notes
Storage and freezing: This soup keeps extremely well. Store in the fridge for 4-5 days, or freeze for 3-4 months and defrost overnight in the fridge.
Recipe: Adapted, as so very many good things are, from Ina Garten.
Nutrition Estimate
Calories: 129 kcal, Carbohydrates: 15 g, Protein: 3 g, Fat: 7 g, Saturated Fat: 1 g, Sodium: 734 mg, Potassium: 656 mg, Fiber: 4 g, Sugar: 8 g, Vitamin A: 1888 IU, Vitamin C: 36 mg, Calcium: 72 mg, Iron: 2 mg
Did you make this recipe?
Leave a review below, then snap a quick picture and tag @nourishandfete on Instagram so I can see it!
This post was originally published October 22, 2017 and has been updated twice with new photos and more helpful information about ingredients, substitutions, and storage.