Rosemary Cheddar Buttermilk Biscuits
Fluffy, buttery layers speckled with fresh herbs and sharp cheese – these rosemary cheddar buttermilk biscuits are a show-stopping accompaniment to any meal.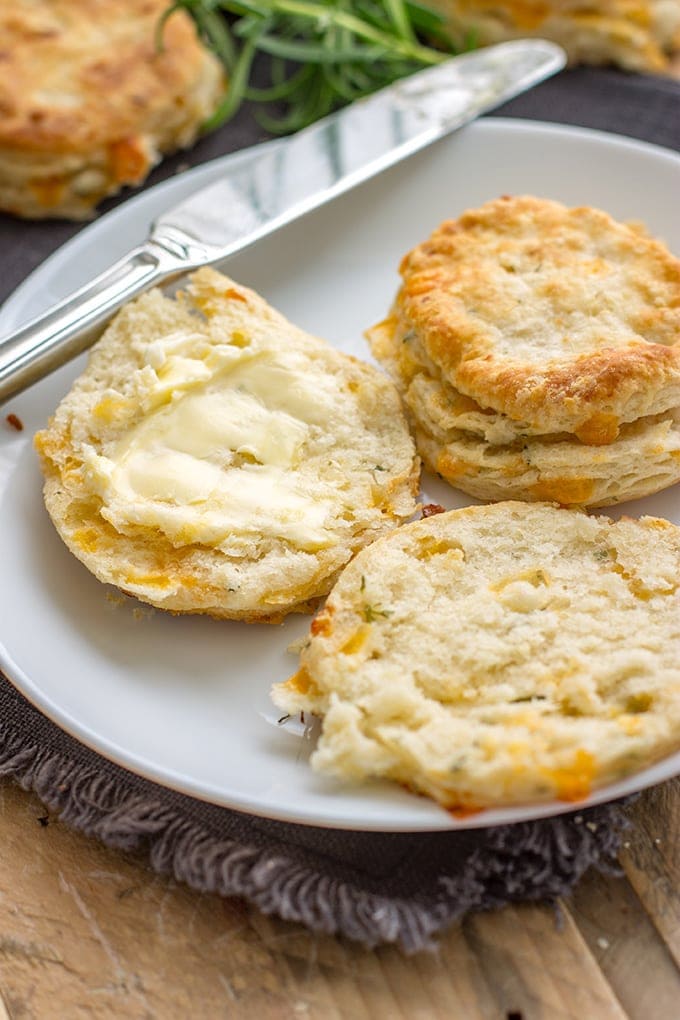 How can one possibly improve on the perfect flaky, buttery biscuit? I mean, biscuits are the ultimate go-with-everything side. I started out thinking how perfect they are for fall and winter, because just imagine a piping hot biscuit next to your bowl of chili or soup or stew.
Then again, biscuits seem equally at home on a spring table, perhaps next to your Easter brunch? And I don't think I'd find it strange or off-putting in the slightest to see a big plate of biscuits piled high at a summer BBQ, perhaps next to some ribs or wings. So, I've concluded, biscuits are a year-round winner.
But, I digress. How can one improve on the perfect biscuit? Add fresh rosemary and cheddar!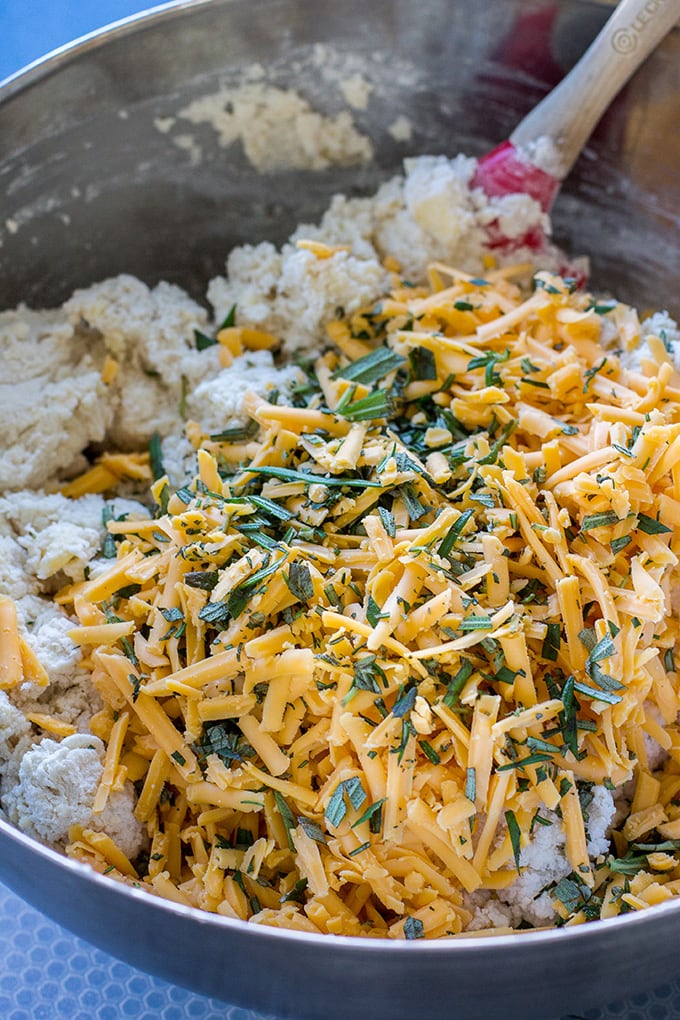 [clickToTweet tweet="Give me all the flaky, buttery layers in these rosemary cheddar buttermilk biscuits, please!" quote="Give me all the flaky, buttery layers in these rosemary cheddar buttermilk biscuits, please!"]
These might seem complicated, when you look at all the steps in the recipe, but let me assure you they are both easier and faster to make than you may think. You'll mix up a quick dough with flour, butter, and buttermilk – very easy, no yeast – add the chopped rosemary and grated cheese, and then spend a few minutes shaping it. Just like so: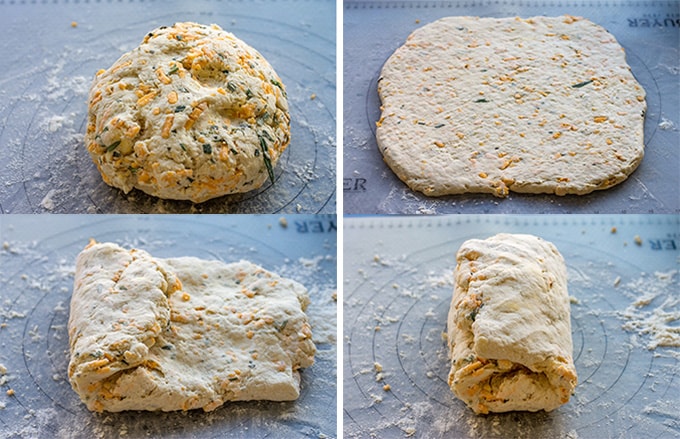 Honestly, it's fun. Use your hands.
Turn out the dough and press it into a rectangle.
Fold one side in, and fold the other side over that, like a letter. (If you ever send actual paper letters..)
Press this back out, and repeat the folding. Press and repeat one more time!
Daydream about all of the soft, flaky layers you're creating!
Just be gentle, so as not to overwork things, and every fold makes it more delicious.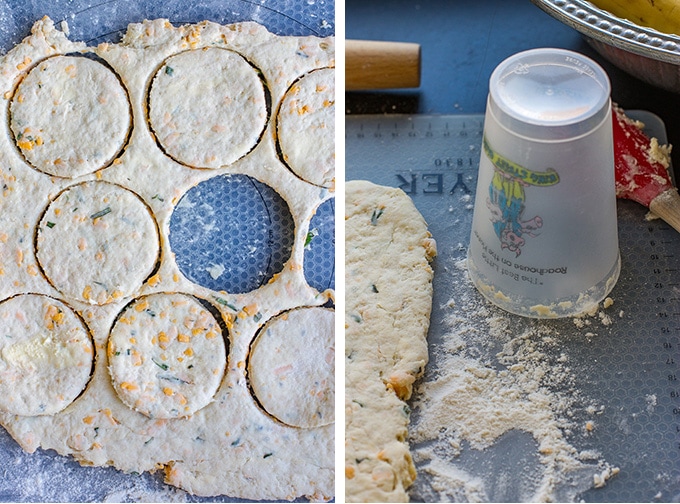 I recently picked up a set of biscuit cutters on our trip to Italy, but that was several weeks after I made this batch, so I improvised here the same way I've improvised when making biscuits for years – with a cup! Nothing fancy! You can see here I'm using just a plain old plastic cup to cut round biscuits out of the rolled dough.
Here's the important thing – when you press down to cut the biscuits, do NOT twist! That seals off the sides of the dough, which puts a serious dent in how much your biscuits will rise in the oven. They will still have a great taste, but will be less fluffy, and I will cry for you.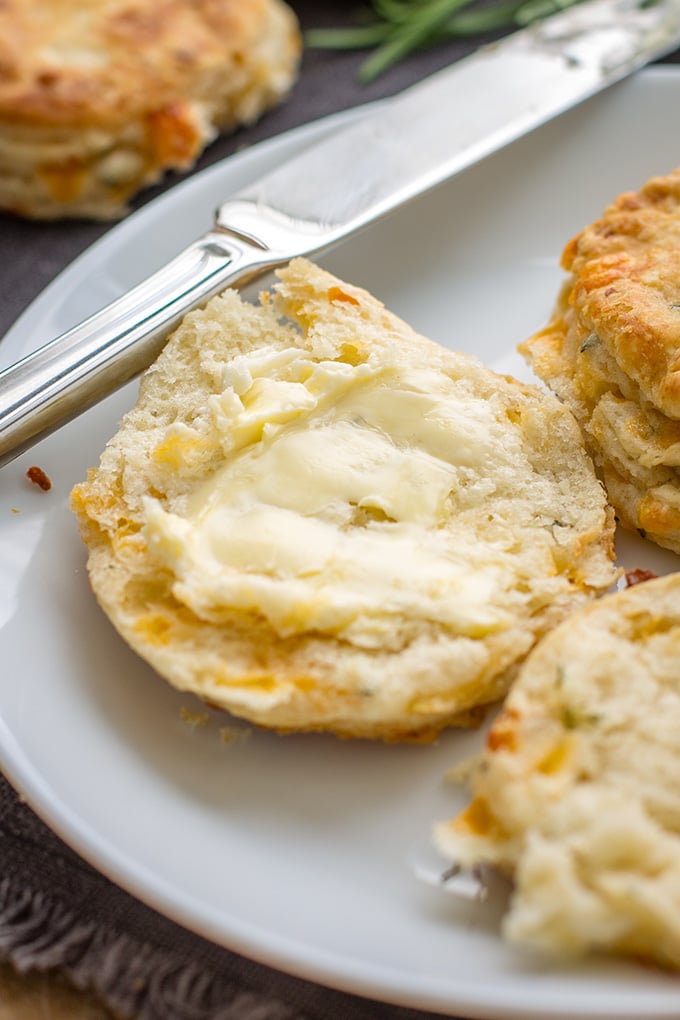 These biscuits are so soft and flaky, with a tender crumb thanks to the buttermilk, golden tops, and sweet little pockets thanks to the melted butter. Adding cheddar and fresh herbs just takes them to the next level and makes them that much more special, especially for accompanying a savory main. They would be terrific with a holiday meal, whether your Thanksgiving turkey or an Easter ham, and equally special alongside an everyday cozy, comforting bowl of soup or chili. (My favorite!)
However you choose to enjoy them, eat up! I guarantee a batch of these beauties won't last long!
Rosemary Cheddar Buttermilk Biscuits
Fluffy, buttery layers speckled with fresh herbs and cheese - these rosemary cheddar buttermilk biscuits need to be on your table right now!
Ingredients
2 1/2 cups (312 grams) all-purpose flour
2 tablespoons baking powder
1 teaspoon salt
1/2 cup (115 grams) unsalted butter very cold and cut into cubes
1 cup plus 2 tablespoons (270 ml) cold buttermilk divided
2 teaspoons honey
1 cup (113 grams) sharp cheddar cheese coarsely grated
3-4 tablespoons fresh rosemary leaves only, coarsely chopped
Instructions
Preheat oven to 425 degrees F (220 C). Set out a large cast-iron skillet, or line a baking sheet with parchment paper or a silicone baking mat; set aside.

In a large bowl or food processor, combine the flour, baking powder, and salt; whisk or pulse to blend. Add the cubed butter and pulse again, or cut the butter into the flour mixture with two knives or a pastry blender. You're aiming for coarse, pebbly crumbs with visible bits of butter. If using a food processor, pour the mixture out into a large bowl.

Make a well in the center of the flour-butter mixture, and pour in 1 cup (240 ml) of buttermilk, followed by the honey. Fold just until combined - take care not to overmix. Add the grated cheddar and rosemary, and gently fold again. The dough will be quite crumbly - don't worry, it will come together more as you shape it in the next steps.

Turn the dough out onto a lightly floured work surface and, using your hands, gently press it into a rough rectangle. Fold one third of the rectangle into the center, then fold the opposite third on top of it, as if folding a letter. (See photo in post for a guide.) Rotate the dough 90 degrees, then gently press it back into a wider rectangle.

Repeat the folding process, then turn the dough and flatten again, followed by one more round of folding. (You will have done the "letter" fold three times in all. This is what's going to give you amazing, flaky layers!)

Using a rolling pin, gently roll out the dough until it's about 1/2-inch thick. Using a biscuit cutter or a medium-sized glass, cut the dough into circles approximately 3 inches in diameter. Re-roll scraps to create additional biscuits. Arrange cut biscuits in your cast-iron skillet or lined baking sheets, being sure that their sides are touching.

Brush the tops lightly with the remaining buttermilk, and bake for 12-15 minutes, until the tops are golden brown.

Serve biscuits warm with additional butter, honey, or toppings of your choice. Wrap any leftovers in airtight packaging and store at room temperature or in the fridge for 3-4 days.
Notes
Using very cold butter helps ensure you will get delightful little pockets in the finished biscuits. If possible, place the cubed butter in the freezer for 20-30 minutes before starting the recipe. It also helps to start with cold flour - measure it out and place it in the freezer next to the butter for a bit before you start!
When you cut the biscuits, do NOT turn the cutter - just press straight down, and pull the cutter or glass straight back up. Twisting the cutter will seal off the sides and prevent the biscuits from rising as nicely.
This recipe was adapted from All Recipes via Sally's Baking Addiction, with the mix-ins inspired by this show-stopping Irish soda bread over at Foodness Gracious. (Which I've also made myself and plan to repeat every St. Patrick's Day forever and ever.) So much goodness!
Nutrition Estimate
Calories: 219 kcal, Carbohydrates: 22 g, Protein: 5 g, Fat: 11 g, Saturated Fat: 7 g, Cholesterol: 32 mg, Sodium: 276 mg, Potassium: 269 mg, Sugar: 2 g, Vitamin A: 380 IU, Vitamin C: 0.1 mg, Calcium: 185 mg, Iron: 1.5 mg
Did you make this recipe?
Leave a review below, then snap a quick picture and tag @nourishandfete on Instagram so I can see it!
Craving a Biscuit?
And follow me on Pinterest for more great recipes! I'm always sharing new ideas!
Hungry for More Bread and Rolls!?
Overnight Apple Butter Cinnamon Rolls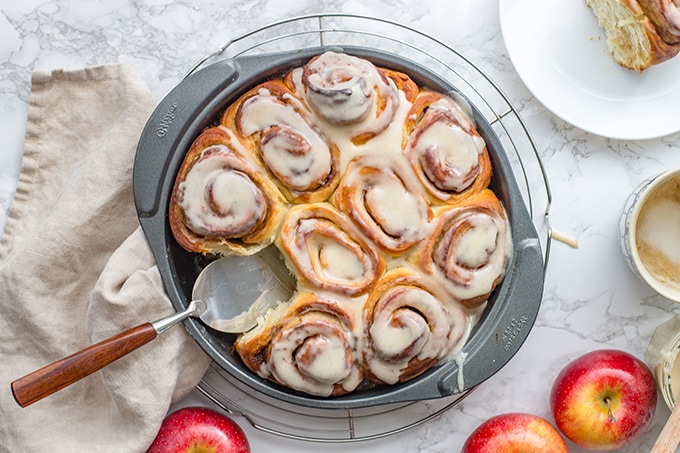 The Easiest Flour Tortillas From Scratch (these are life-changing!)