One-Bowl Mini Chocolate Cake with Mocha Buttercream
Tiny desserts are the sweetest desserts! This one-bowl mini chocolate cake with mocha buttercream frosting and layers of mini chocolate chips is a chocolate lover's dream.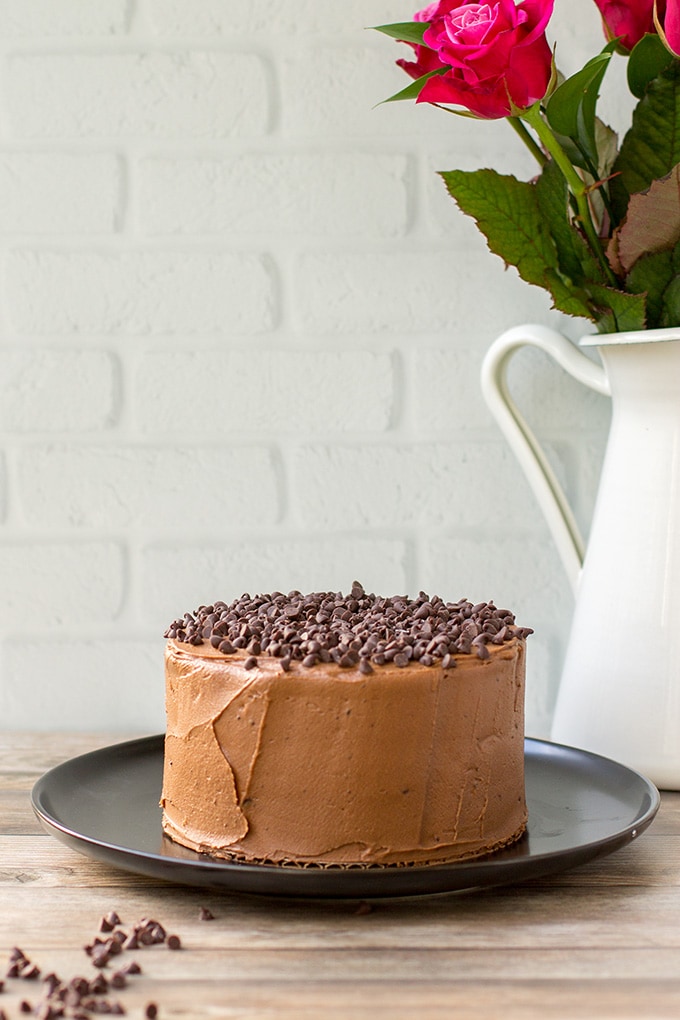 No doubt about it, small desserts are extra enticing. Something about the smaller proportions make them that much more charming, plus I believe when there's less to indulge in, we're more inclined to savor each bite. This cake is no exception – a sweet little two-tiered six-inch creation, with layers of rich, tender chocolate cake, the simplest and most delectable mocha buttercream frosting, and mini chocolate chips sprinkled in for good measure.
This cake is a chocolate lover's dream, and it also happened to be the cake I made for my own birthday this year. It was a gift to myself in many ways:
chocolate, obviously;
espresso, which is essentially all that keeps me alive (see: toddler);
tiny, and therefore adorable, and also therefore possible to enjoy/share with my husband over the course of a few days with minimal guilt;
mixed by hand IN ONE BOWL. So easy.
See!? It's a dream on so many levels.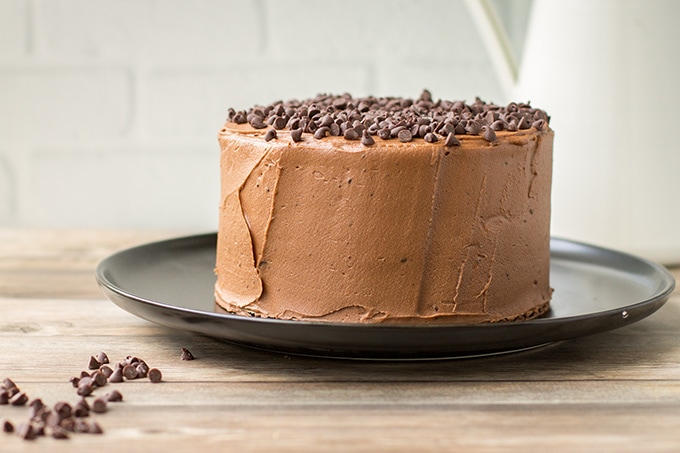 [clickToTweet tweet="A mini chocolate cake with mocha buttercream, mixed by hand in one bowl!? That's true love!" quote="A mini chocolate cake with mocha buttercream, mixed by hand in one bowl!? That's true love!"]
As one more gift to myself, I chose to frost this in my own preferred manner – haphazard but generous. No turntables or fancy equipment to drag out from the pantry, or to wash afterward. Just heap on the frosting, even it out a bit with a spatula, and go!
And feast your eyes on those towering layers of soft, smooth mocha buttercream goodness. When I cut into a cake, that's what I like to see!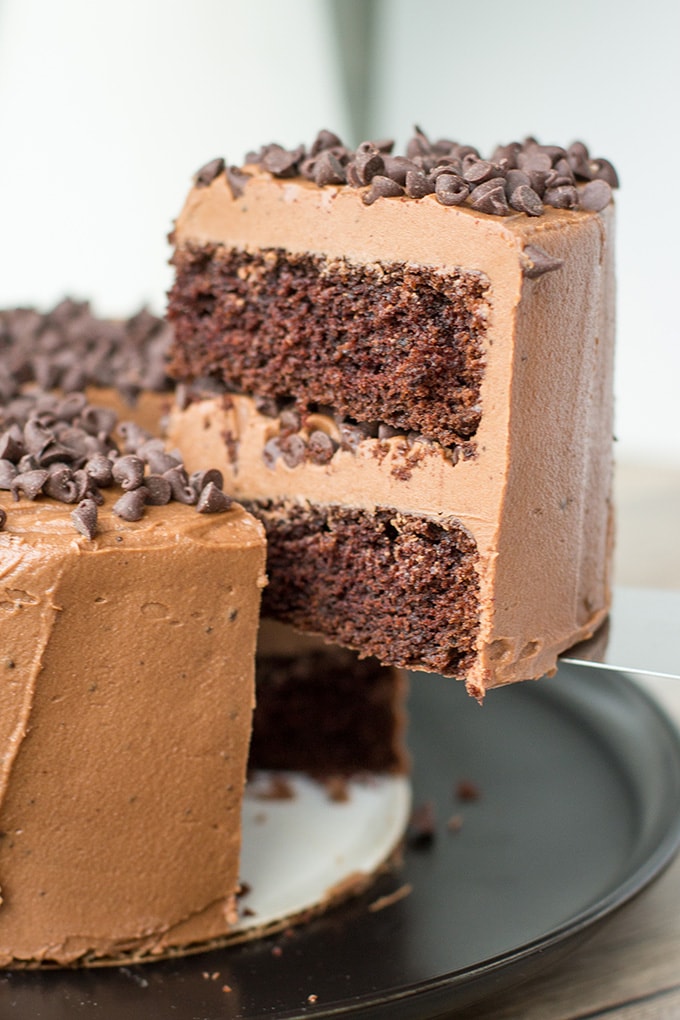 This cake is so simple that I really don't have any ingenious tricks or tips. What I would strongly recommend is that, if you are interested in simple, utterly delicious baked goods, you add Yvonne Ruperti's One Bowl Baking to your cookbook wish list. I've now made about a dozen things from this book, every last one has turned out wonderfully, and it's no hyperbole – they really are all made in one bowl. This is simple baking done right!
(I feel a bit like a commercial, so I'll note this is in no way sponsored. I bought the cookbook myself and Ms. Ruperti definitely has no idea who I am. I just really love it. The above link *is* an affiliate one, which means that if you happened to click through and make a purchase, Nourish & Fete would receive a small commission, at no additional cost to you, and I would do a happy dance and be profoundly grateful.)
More Cakes and Cupcakes:
Champagne Layer Cake
Small Batch Triple Chocolate Cupcakes
Everyday Chocolate Snack Cake
Perfect Filled Lemon Cupcakes
Chocolate Stout Cupcakes with Irish Cream Frosting
Butter Yellow Cake with Chocolate Buttercream
Blood Orange Snack Cake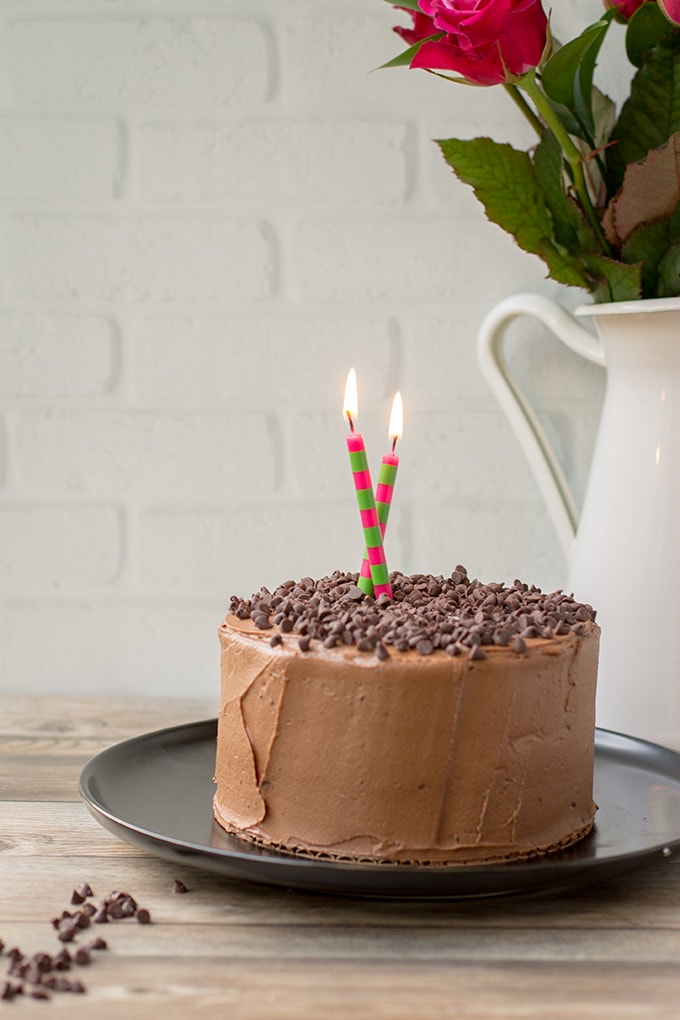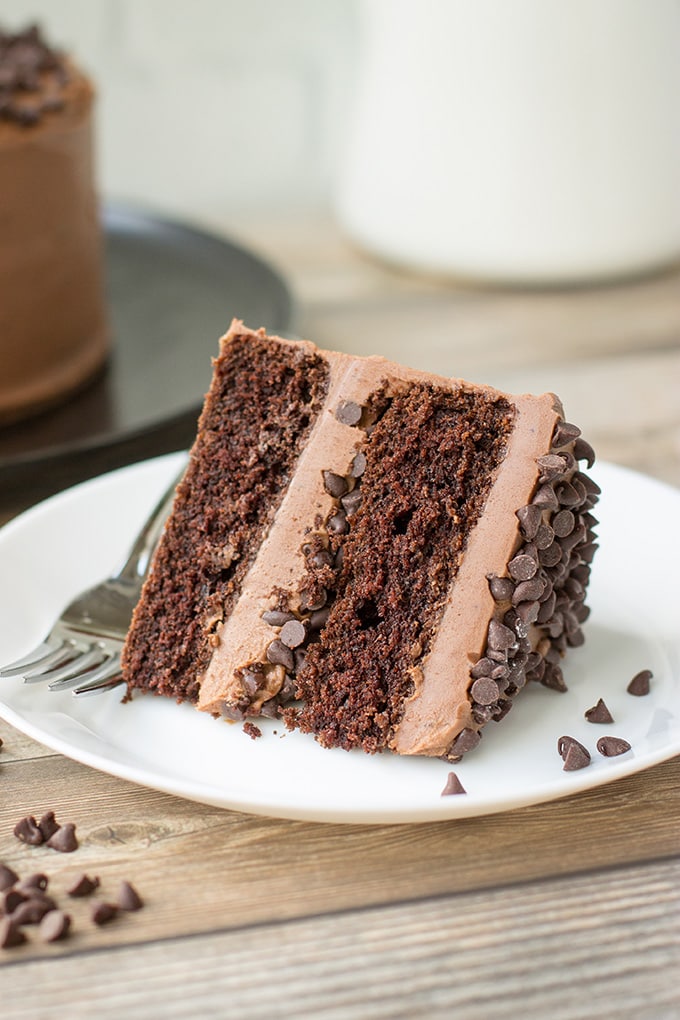 One-Bowl Mini Chocolate Cake With Mocha Buttercream
Tiny desserts are the sweetest desserts! This one-bowl mini chocolate cake with mocha buttercream frosting and layers of mini chocolate chips is a chocolate lover's dream.
Ingredients
For the Cake:
1/2 cup (100 grams) granulated sugar
2 Tablespoons packed light brown sugar
1/2 cup (120 ml) sour cream or creme fraiche
1/3 cup (80 ml) vegetable oil
1 large egg
1 teaspoon vanilla extract
1/4 teaspoon salt
3/4 cup (105 grams) all-purpose flour
1/3 cup (28 grams) cocoa powder
1/2 teaspoon baking soda
For the Frosting:
1.5 ounces (42 grams) unsweetened chocolate finely chopped
1 Tablespoon instant coffee or espresso powder
16 Tablespoons (1 cup, 2 sticks, 227 grams) unsalted butter at room temperature
2 cups (227 grams) powdered sugar
1 cup (170 grams) mini chocolate chips
Instructions
Preheat the oven to 350 degrees F (180 C). Prepare two 6-inch round cake pans by greasing the bottoms and sides with a small pat of butter, then dusting lightly with flour; set aside.

In a large bowl, combine the granulated sugar, brown sugar, sour cream, oil, egg, vanilla, and salt. Whisk until well-combined.

Add the flour, cocoa, and baking soda, and whisk again until the batter is smooth. Try not to overmix.

Divide the batter evenly between your prepared cake pans and bake just until firm, 20 to 22 minutes. When the cakes are ready, a toothpick or skewer inserted into the center should come out clean, and the tops should bounce back when gently poked with a finger.

Transfer pans to a wire rack to cool for 15 minutes, then invert the cakes out of the pans to cool completely before frosting.

To make the frosting, in a large bowl, warm the chocolate with the coffee powder. (This can be done either by setting the bowl over a pan of boiling water, or by microwaving at 50% power in 30-second intervals.) Stir frequently, until the chocolate is melted and the mixture is smooth. Add the butter and whisk again until smooth. 

Whisk in the powdered sugar until the mixture is even and lightens to a pale brown. The the frosting may be too soft to spread at this point; if so, allow it to rest at room temperature for a few minutes, whisking occasionally, until ready to use.

To assemble, set one cake layer on a small plate or cake stand. Scoop about 1 cup of frosting on top, spreading into an even layer. Sprinkle about half of the mini chocolate chips on top of the frosting, then stack the second cake layer on top. Use remaining frosting to coat the top and sides of the cake, and garnish with additional chocolate chips, as desired.
Notes
Cake will keep well for 2-3 days at room temperature if tightly covered.
Recipe adapted from One Bowl Baking, by Yvonne Ruperti, via Hummingbird High. (I originally found this recipe years ago on HH, and only last week found the post again and realized that Michelle had herself adapted this from Ruperti's cookbook, with which I had fallen in love independently in the interim. Fate!)  I cannot recommend Ruperti's cookbook highly enough - everything I've made from it has been delicious, and really truly mixes up quickly in ONE BOWL. Amazing.
Six-inch round cake pans are not expensive, and more useful than you might think. See again - tiny desserts are universally loved!
Nutrition Estimate
Serving: 1 slice, Calories: 457 kcal, Carbohydrates: 47 g, Protein: 3 g, Fat: 30 g, Saturated Fat: 20 g, Cholesterol: 70 mg, Sodium: 134 mg, Potassium: 134 mg, Fiber: 1 g, Sugar: 36 g, Vitamin A: 655 IU, Vitamin C: 0.1 mg, Calcium: 32 mg, Iron: 1.7 mg
Did you make this recipe?
Leave a review below, then snap a quick picture and tag @nourishandfete on Instagram so I can see it!