Cheerful lemon cupcakes filled with silky smooth lemon curd and finished off with a sweet layer of cream cheese poppy seed frosting – the ultimate delicious sunny treat!
As I mentioned last week, I have developed a little habit of smearing this incredible homemade lemon curd on everything and anything in my kitchen. But of all the things I've used it for, these cupcakes are without a doubt my favorite. I mean, just look at them!
Perfect lemon cake gets its flavor and gorgeous color from the real mccoy – a generous helping of fresh lemon juice and zest. That would be good on its own, no doubt, but a healthy layer of the best cream cheese frosting takes it up a notch for sure. (I mean, it's dessert we're talking about. Let's not be austere.)
And then, when you bite into the cupcake and find a dollop of sinfully smooth and creamy lemon curd hiding in the middle? Yes please! 
[clickToTweet tweet="Here comes the sun! Cheerful lemon cupcakes filled w/ silky lemon curd. HELLO, SPRING! " quote="Here comes the sun! Cheerful lemon cupcakes filled w/ silky lemon curd. HELLO, SPRING! "]
I'm pretty confident you'll be the hero of any gathering to which you might bring a plate of these beauties. Brunch, baby shower, BBQ, neighborhood block party, hump day survival party at the office, you get the idea.
Best of all, for an overall creation that is so sure to impress, the component parts and assembly are pretty darn straightforward:
A simple cake batter using pantry staples, that just so happens to be more reliable and way better tasting than several far more complicated lemon cake recipes I've tried. (No falling-apart cake, barely-there color, or acidly artificial lemon flavor here.)
The lemon curd really will blow your mind at how simple it is to make at home, but store bought would also be so delicious. Filling the cupcakes is done so simply with a paring knife and small spoon.
Uh, cream cheese frosting. With butter. And powdered sugar. And poppy seeds to make it all incredibly pretty. Pipe it or just spread it on top of the cupcakes with a knife or spatula. It's going to be delicious and beautiful aand scream springtime pretty much no matter what.
I rest my case!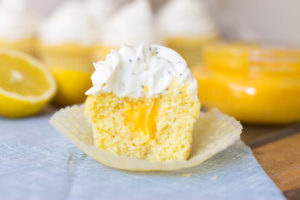 Print
Perfect Filled Lemon Cupcakes
Yield 12 cupcakes
Cheerful lemon cupcakes filled with silky smooth lemon curd and finished off with a sweet layer of cream cheese poppy seed frosting - perfect for a sunny sweet treat! 
Ingredients
For the cupcakes: 
1 1/2 cups (190g) all-purpose flour 
2 tsp. baking powder
1/2 tsp. salt 
1/2 cup (1 stick; 115g) unsalted butter, at room temperature
1 cup (200g) white sugar 
2 large eggs, at room temperature
2 tsp. vanilla extract
1/2 cup (120ml) whole milk 
zest and juice of two medium lemons
For the filling:
1/2 cup lemon curd (homemade or store-bought) 
For the frosting: 
8 oz. cream cheese, chilled
5 tbsp. (72g) unsalted butter, at room temperature
2 3/4 cups powdered sugar, sifted  
3 tsp. clear vanilla extract 
1 tbsp. poppy seeds
Instructions
Preheat the oven to 350 degrees F (180 C). Prepare a 12-count muffin pan with paper liners and set aside. 
In a medium bowl, combine flour, baking powder, and salt. Whisk to combine and set aside.
Using a handheld or stand mixer fitted with the paddle attachment, beat the butter and sugar together on medium-high speed until creamed, 2-3 minutes. Add the eggs and vanilla, scrape down the sides of the bowl, and beat again on medium-high speed until mixture is well-combined. 
Add the dry ingredients to the butter-sugar mixture in three batches, beating on low speed after each addition. Mix in the milk, lemon zest, and juice, and beat again on low speed just until combined. Do not overmix.
Divide batter evenly between 12 cupcake liners, and bake for 18-20 minutes, until a toothpick inserted in the middle of cupcakes comes out clean. Remove from the oven, allow to cool in the pan for 10-15 minutes, then remove to a wire rack to cool completely before filling and frosting. 
To fill the cupcakes, use a small paring knife to cut a small cone out of the center of each cupcake, making a well about 1-1 1/2 inches deep. Spoon a small amount of lemon curd into the well. If you like, you can slice each cone you removed and replace just the top edge, so the top of the cupcake still has a smooth surface of cake with the curd underneath. (This is definitely not necessary, but is pretty quick and easy and can make the cupcakes slightly easier to frost.) 
To make the frosting, using a handheld or stand mixer with the paddle attachment, beat the cream cheese and butter on medium-high for 2-3 minutes, until light and fluffy. Add in the powdered sugar and mix on low speed just until incorporated, then increase the speed to medium-high and beat 3-4 minutes, until mixture is smooth and light. Add the vanilla and poppy seeds, and beat again 1-2 minutes. Frost cupcakes as desired.
Notes
Regular vanilla extract may certainly be used in the frosting, but oddly enough, clear imitation vanilla works even better with cream cheese frosting, both to keep it bright white (duh) but also to help the frosting hold its shape. 
This makes enough frosting to decorate at least 1 dozen cupcakes. Depending on how generously you frost your batch, you may have extra. (What a shame!)
Nutrition Facts
Serving Size 1 cupcake
Amount Per Serving
Calories 441
% Daily Value
* Percent Daily Values are based on a 2,000 calorie diet. Your daily values may be higher or lower depending on your calorie needs.
Cake adapted from Sally's Baking Addiction; filling adapted from Williams-Sonoma; frosting adapted from Annie's Eats
Pin This Recipe to Save for Later:

More Cupcake Ideas:
118