Butterfinger Cupcakes
Rich chocolate cake layered with silky smooth peanut butter frosting and topped with crumbled Butterfinger bits? It doesn't get any better.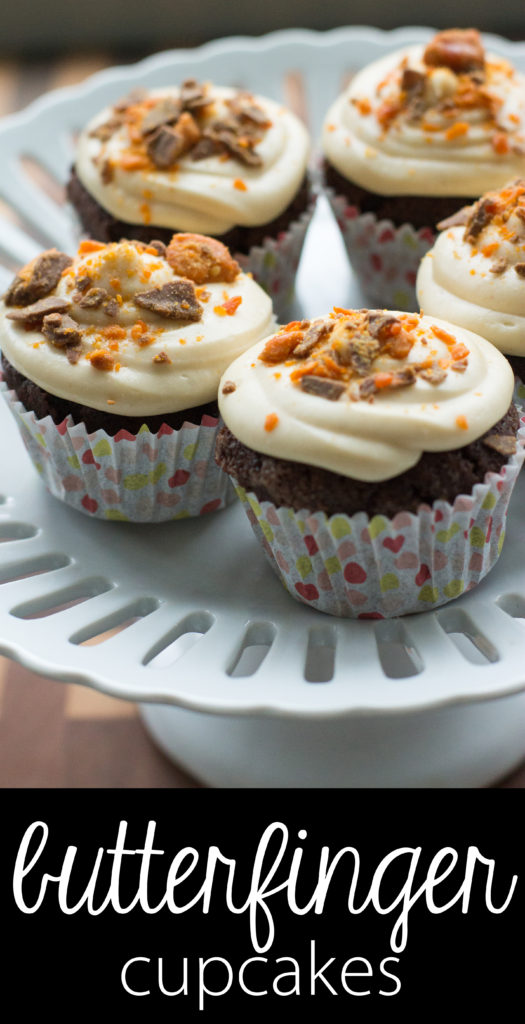 If there is one type of candy that I find completely irresistible, it is, without a scrap of doubt, Butterfingers. I can walk by any number of other treats, but my willpower disappears when confronted with mini Butterfingers in any office candy jar. So dangerous. I almost never buy them myself, because it is essentially guaranteed that I will consume them all, probably in a frighteningly short period of time. It's a true, if rarely indulged, love. So when I got to musing recently, as one does, about new types of cupcakes to make, the potential of a Butterfinger-inspired combo held undeniable appeal.
A quick Google search for inspiration yielded a few different possibilities, including several with a banana cupcake, since banana and peanut butter is widely considered a complementary combo. But I have to say, this is simply a matter of personal preference, but if I'm going for the Butterfinger flavor profile, give me all the chocolate, please!!
We'll start with this recipe for rich, dark chocolate cupcakes because they bake up very evenly, giving you a nice, flat base for decorating. Speaking of which, mmm, frosting. This peanut butter confection will knock your socks off. Silky smooth with a light, whipped texture and a very clear but not overpowering peanut butter flavor. If you have any left over after frosting the cupcakes, there is nothing wrong with eating it with a spoon.
I considered various options for incorporating actual Butterfingers, the real star of the show here – inside the cupcake, under the frosting, a little square of candy on top – before settling on bits of crushed candy simply sprinkled on top. Inside or under the frosting, I feared the candy would lose too much of its signature crunch. Squares were a little unwieldy to cut and keep intact, as in, they kept shattering into zillions of tiny shards on the counter, so eventually I decided to go with it and just sprinkle the shards on top of the cupcakes and call it a day. Delicious! (You might have better luck placing a whole candy on top if you find the truly mini Butterfingers, just the thumbprint size squares. Those would probably hold up better and be adorable garnish, just the right size for a cupcake.)
Of course after the experimentation I did have one leftover candy bar, for which I had zero trouble finding a home. Oink oink. 😉
Now go make these and share with someone who needs a smile!
Butterfinger Cupcakes
Ingredients
For the cupcakes:
1/2 cup plus 1 tbsp. hot water
1/2 cup plus 1 tbsp. Dutch-process cocoa powder
2 1/4 cups all-purpose flour
3/4 tsp. baking soda
3/4 tsp. baking powder
1/2 tsp. salt 
2 sticks plus 1 tbsp. unsalted butter
1 2/3 cups granulated sugar
3 large eggs at room temperature
1 tbsp. vanilla extract
3/4 cup sour cream or greek yogurt 
For the frosting:
8 oz. cream cheese at room temperature
4 tbsp. unsalted butter at room temperature
1/2 cup creamy peanut butter
3 1/4 cups powdered sugar
1 cup frozen whipped topping thawed
1-2 cups crushed Butterfinger bars or Butterfinger baking bits 
Instructions
To make the cupcakes, preheat oven to 350 degrees F and line cupcake pans with paper liners. 

In a liquid measuring cup, combine hot water and cocoa powder and whisk until smooth. In a medium bowl, combine flour, baking soda, baking powder, and salt, and whisk to blend.

In a medium saucepan set over medium heat, combine the butter and sugar. Cook, stirring occasionally, until the mixture is smooth and the butter is completely melted. Transfer the mixture to the bowl of an electric mixer and beat on medium-low speed until the bowl is cool to the touch, about 5 minutes. Add the eggs one at a time, blending well after each addition and scraping down the sides of the bowl as needed. Blend in the vanilla and then the cocoa mixture until smooth. With the mixer running on low speed, add the dry ingredients in three additions alternating with the sour cream or greek yogurt; begin and end wih the dry ingredients and blend each addition just until incorporated.

Divide the batter evenly between the prepared cupcake liners, and bake 20-22 minutes, until a toothpick inserted into the center of the cupcakes comes out clean. Let cool in the pans for 5-10 minutes, then transfer to a wire rack to cool completely before frosting.

To make the frosting, combine the cream cheese, butter, and peanut butter in the bowl of an electric mixer. Combine on medium speed until smooth. Add the powdered sugar one cup at a time, beating continuously. Mix in the whipped topping until frosting is smooth and fluffy. Frost cooled cupcakes as desired, then top with a sprinkling of crushed with Butterfinger bits.
Notes
I store these in the fridge, because of the cream cheese-based frosting, and allow the cupcakes to sit at room temperature for about 30 minutes before serving. Obviously how you store/serve these is your own judgment call!
Nutrition Estimate
Calories: 374 kcal, Carbohydrates: 48 g, Protein: 5 g, Fat: 19 g, Saturated Fat: 10 g, Cholesterol: 59 mg, Sodium: 169 mg, Potassium: 141 mg, Fiber: 1 g, Sugar: 35 g, Vitamin A: 482 IU, Calcium: 40 mg, Iron: 1 mg
Did you make this recipe?
Leave a review below, then snap a quick picture and tag @nourishandfete on Instagram so I can see it!
Cupcakes from Martha Stewart's Cupcakes
, adapted along with frosting from Annie's Eats