Arugula Tomato Bacon Pizza
If you're looking for an easy, breezy, flavorful combo, it doesn't get any better than this arugula tomato bacon pizza. Major flavor and quick enough for a weeknight, with a little marinara and a lot of mozzarella, you'll be in pizza heaven in no time.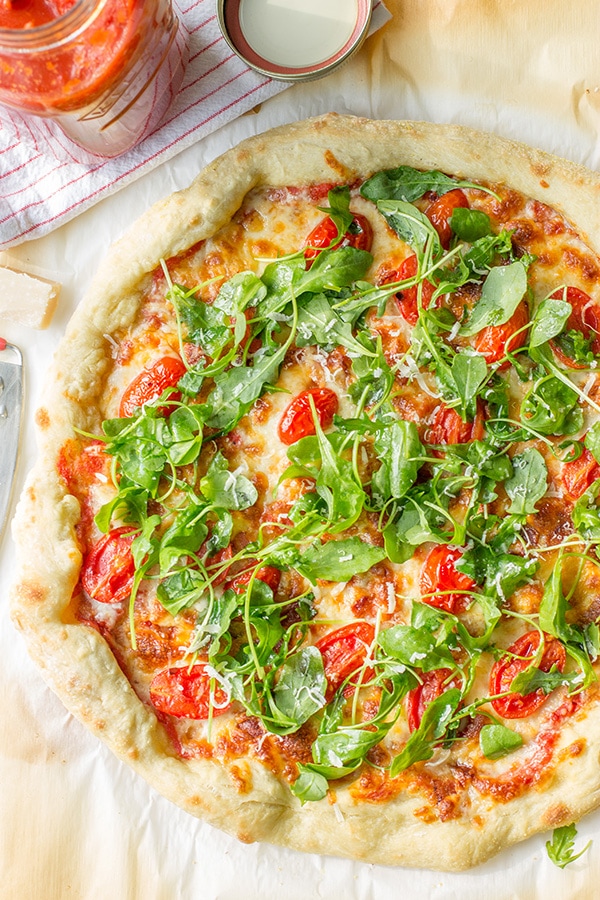 As promised in the last post on this 20-minute, dead simple, weeknight marinara sauce, I hustled to share this pizza with you. Any pizza is wonderful, of course, but, as it turns out, arugula tomato bacon is especially amazing and delicious and deserves to be in your life and on your table ASAP.
One of our favorite mini traditions is Friday night pizza night. It's such a fun, easy, celebratory way to start the weekend, and mercifully flexible. After a tough week or if we just feel like going out, we can always hit up our local pizza place – Pizza Fresca near Stockel, for Brussels-based readers – which also does carry-out. But, the majority of Fridays we make pizza at home. (Stocking homemade pizza dough in the freezer is a necessity for this!)
I love going out – no cleanup! – but overall, it's the make-at-home nights we enjoy the most.
A Pizza Fit for Summer
Our temperatures really spiked last week, which admittedly had me second-guessing whether it would be wise to crank up the oven for pizza. Pizzas usually cook in less than 10 minutes, though, so I decided to open up all the windows (we have no air conditioning) and charge ahead. This just left the all-important decision of what toppings to use. Endless good choices!
In hopes of finding some quick inspiration, since, to be honest, I was at work and needed to buy groceries on the way home, I did a random Google search for summer pizza. One of the top results (all hail the first page..) was a Cooking Light round-up. Looking good.. I clicked through a few and immediately settled on this pretty little number with bacon, cherry tomatoes, and arugula. Oh yeah.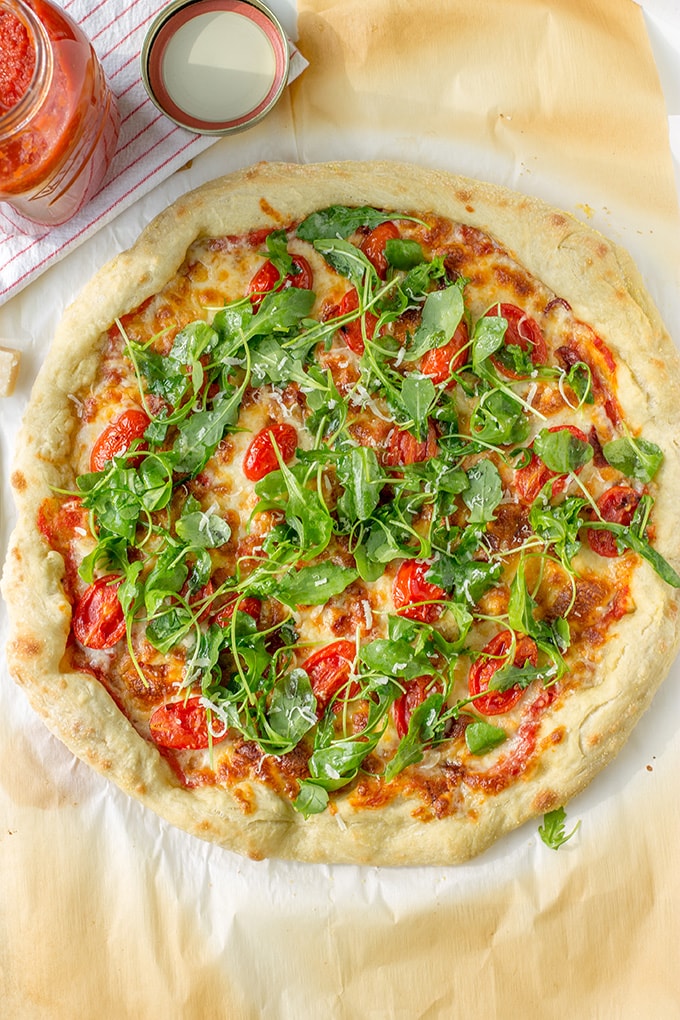 [clickToTweet tweet="Looking for major flavor? Arugula tomato bacon pizza delivers and is quick for a weeknight!" quote="Looking for major flavor? Arugula tomato bacon pizza delivers and is quick for a weeknight!"]
Quick Topping Prep
Despite having a couple of components, this pizza comes together quickly. Fry the bacon, then remove it from the pan and crumble with your hands. Now comes the most beautiful part – well, except for the finished product – you'll quickly saute a handful of sliced cherry tomatoes in the rendered bacon fat. No wonder they're extra delicious!
Top the pizza with some marinara – storebought is fine, homemade is better – shredded mozzarella, the crumbled bacon, tomatoes, and a sprinkling of Parmesan. Into the oven and let the magic unfold. While the pizza bakes, toss a few handfuls of arugula with olive oil and white wine vinegar. Pizza out, scatter the greens on top, slice, and serve!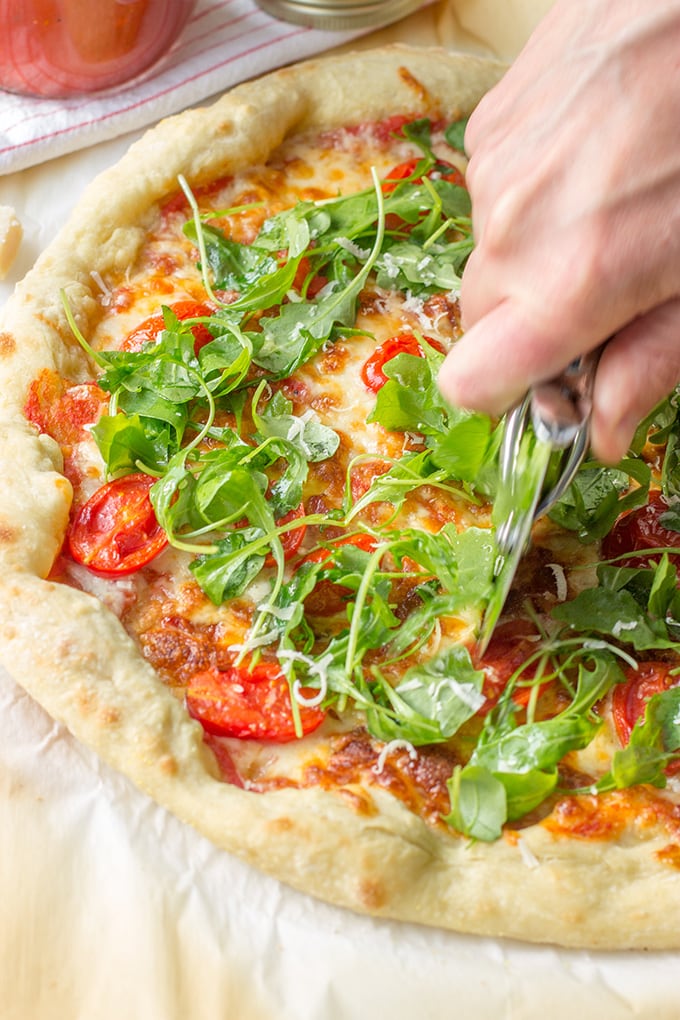 You might be tempted to leave off the arugula or serve it on the side as a salad, but I'd encourage you to at least try a slice with the arugula actually on the pizza. The residual heat wilts the arugula just a tiny bit, and the flavor and texture of the fresh greens complement the bacon and tomatoes so nicely. Give it a try!
Now run to the kitchen and make this at the next available opportunity. Better than take-out by far!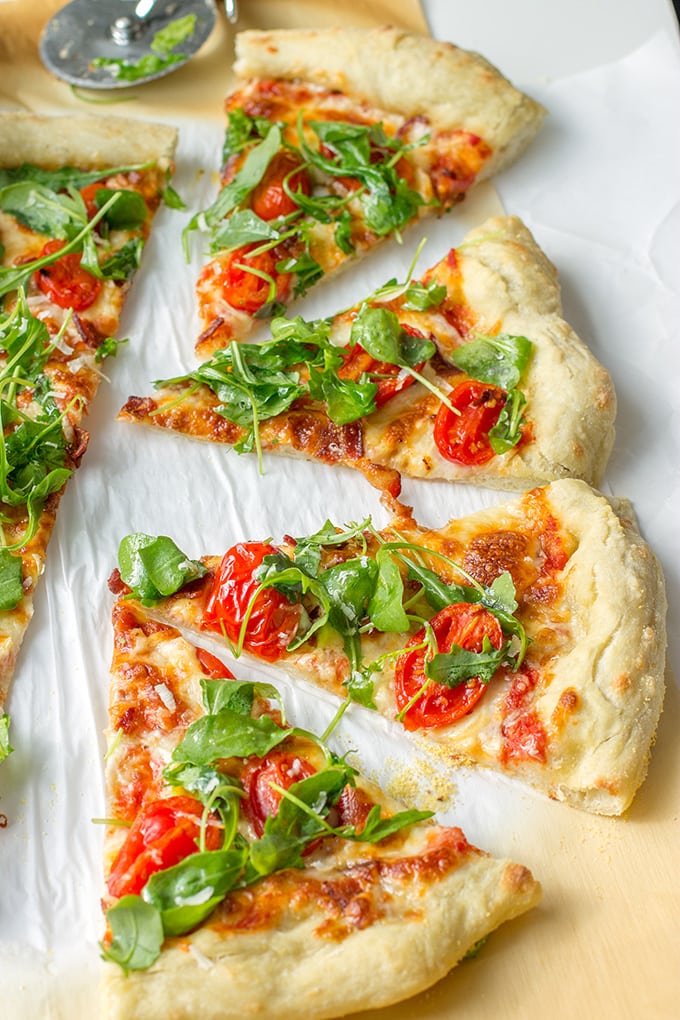 More Homemade Pizza Recipes
If you're craving pizza the homemade way, try a classic pizza margherita next, or take the most delicious shortcut ever and whip up some garlicky naan pizzas in 10 minutes flat.
You can also FOLLOW me on PINTEREST, INSTAGRAM, FACEBOOK, and TWITTER for more great recipes and ideas!
Arugula Tomato Bacon Pizza
If you're looking for an easy, breezy, flavorful pizza, it doesn't get any better than this combo of arugula, bacon, and pan-roasted tomatoes. With a little marinara sauce and a lot of mozzarella, you'll be in pizza heaven in no time.
Ingredients
Dough for 1 large pizza
3 bacon slices
1 cup (approximately 200 grams) cherry or grape tomatoes halved lengthwise
1/2 teaspoon crushed red pepper
Cornmeal for sprinkling
1 tablespoon plus 1 teaspoon extra virgin olive oil divided
1/2 cup marinara sauce homemade or storebought
6 ounces mozzarella cheese shredded
2 tablespoons freshly grated Parmesan cheese
1 cup arugula
1/2 teaspoon white wine vinegar
Instructions
Preheat the oven to 500 degrees F (250 C) and preheat a pizza stone or baking sheet for at least 30 minutes. While the stone is preheating, let the pizza dough rest at room temperature.

Cook bacon in a skillet over medium heat until crisp. Remove bacon and crumble. Add tomatoes and crushed red pepper to the skillet, and cook for 2 minutes, stirring occasionally.

Lay out a pizza peel or parchment paper and dust lightly with cornmeal. Shape the pizza dough into a 12"-14" circle using lightly floured hands and/or a rolling pin. Lay the shaped dough on the cornmeal-dusted surface, and lightly brush the outer edge with 1 tablespoon olive oil.

Spread sauce evenly onto the dough. Sprinkle with mozzarella, followed by the crumbled bacon, tomatoes, and Parmesan.

Gently transfer the pizza to the preheated surface (if using parchment paper, I usually slide the pizza straight in with the parchment still underneath it). Bake until the cheese is melted and the crust is lightly browned, 8-10 minutes.

While pizza is baking, toss arugula with 1 teaspoon olive oil and white wine vinegar. Remove pizza from the oven, top with the arugula, and let cool slightly before slicing and serving.
Notes
A pizza stone really helps give you get the best crust. A good one is not terribly expensive, plus you'll find many other uses for it.
If your crust springs back or is very difficult to shape, try letting it rest for another 5-10 minutes and try again. It should not give you fits! A few more minutes to rest at room temperature helps the gluten in the dough relax.
Nutrition Estimate
Calories: 246 kcal, Carbohydrates: 25 g, Protein: 10 g, Fat: 11 g, Saturated Fat: 4 g, Cholesterol: 23 mg, Sodium: 645 mg, Potassium: 136 mg, Fiber: 1 g, Sugar: 4 g, Vitamin A: 470 IU, Vitamin C: 4 mg, Calcium: 130 mg, Iron: 1.7 mg
Did you make this recipe?
Leave a review below, then snap a quick picture and tag @nourishandfete on Instagram so I can see it!
Adapted from Cooking Light