Simple Marinara Sauce
This simple marinara sauce is easy to make in your very own kitchen with just a handful of everyday ingredients. It has delicious Italian flavor, keeps well, and can be used in countless ways. This is a great staple recipe if you want to cook more basics from scratch.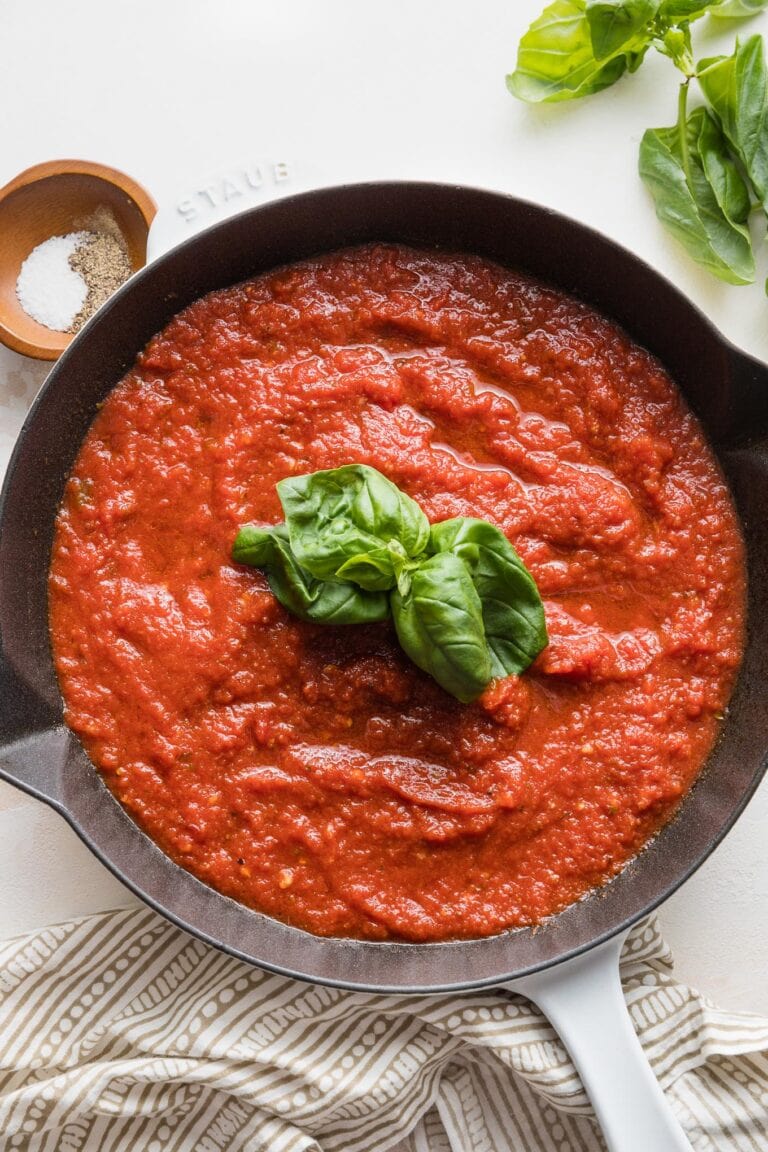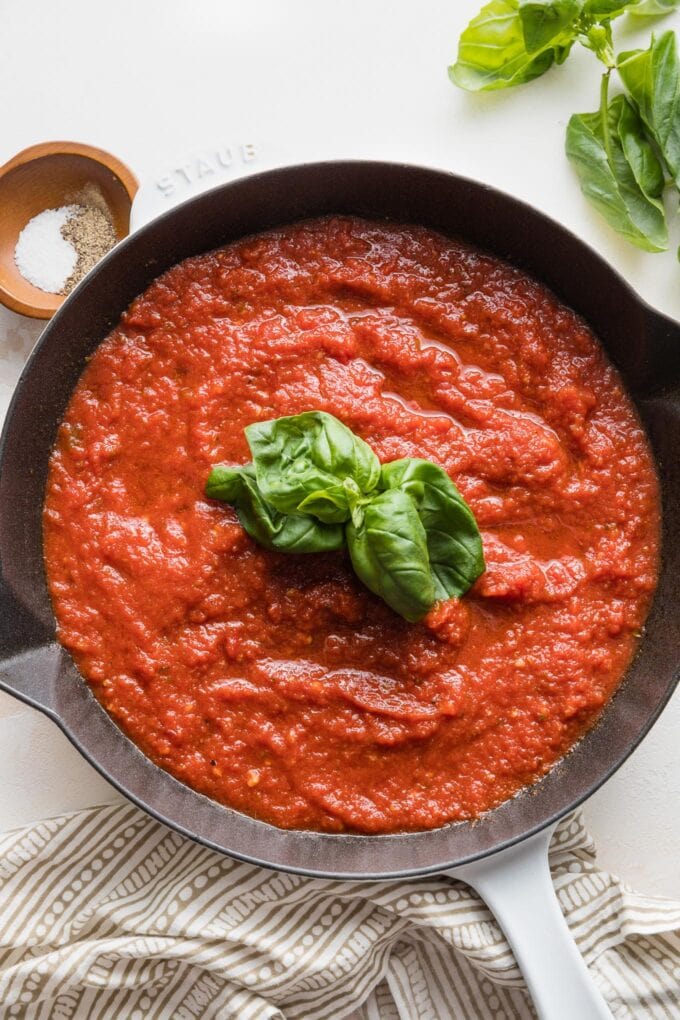 Easy Homemade Marinara Sauce
Making your own marinara sauce from scratch is extraordinarily satisfying. This Italian-American classic tomato sauce is surprisingly simple to make, but it just feels wonderful to put in that little bit of extra effort and love. Plus, it definitely pays off in terms of the amazing flavor and the total lack of questionable additives in your sauce!
We love that this simple marinara sauce is:
Of course you can toss this with your favorite al dente pasta for a classic pasta marinara, but it's also a delightful building block of many other recipes, including pizzas, lasagna, pasta bakes, and Italian-inspired sandwiches. However you use it, you can count on this straightforward recipe to deliver great results every time.
What is in a classic marinara sauce?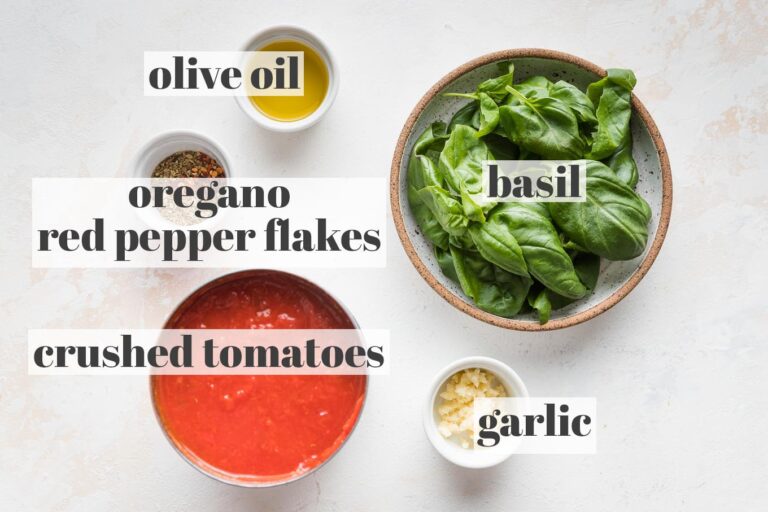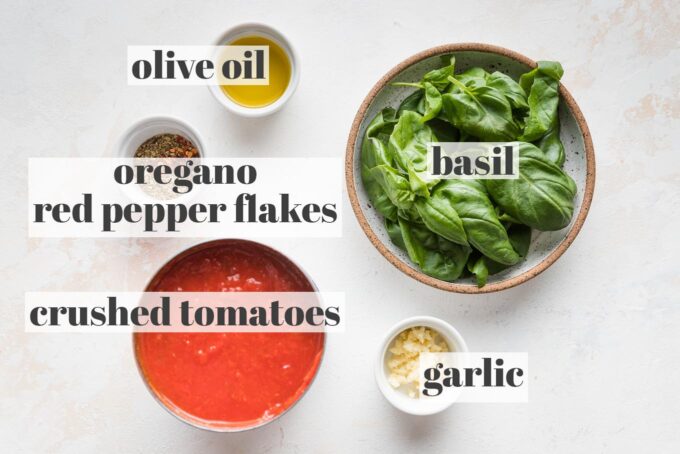 As with many beloved classics, you'll find debate on the original ingredients in an authentic Italian marinara sauce!
Here are a few notes and shopping tips about the ingredients you'll need to make this version, which we absolutely love, as well as possible substitutions.
Can you make marinara from canned whole tomatoes?
Yes, canned whole tomatoes can make a great marinara sauce. Substitute a 28 ounce can of whole tomatoes for the crushed tomatoes here, and include all juices from the can. Either crush the tomatoes by hand as you add them to the skillet, smash them with a wooden spoon as they cook, or blend them at the end with a traditional or immersion blender until the sauce is as smooth as you like it.
Do you add sugar to homemade marinara sauce?
You can add sugar to homemade marinara sauce at the end to counter the tomatoes' natural acidity, but it's not typically necessary if you've begun with pretty good quality tomatoes. If you do prefer the extra sweetness, start with just 1/2 teaspoon of sugar per batch of marinara. Stir well to incorporate and add more to taste.
Does marinara sauce have onion?
Yellow or sweet onion is commonly added to marinara sauce for an added layer of flavor. If this is your jam, one option is to simmer a cut half or quarter of an onion in the sauce, then remove it prior to using. This will give a subtle hint of the taste. You can also sauté 1/4 to 1/2 cup of finely chopped onion in the olive oil prior to adding the garlic, for more of the flavor and texture in the finished sauce.
How To Make Your Own Marinara Sauce
This is seriously super simple. Ready to review?
Sizzle garlic and olive oil. Start these in a cold skillet, then bring it up to heat slowly over medium heat.
Add tomatoes, oregano, and red pepper. Nestle in the basil, reduce heat to low, and simmer for as long as you've got.
Remove basil and season with salt and pepper to taste.
Be very sure to add the tomatoes as soon as the garlic begins to sizzle! If the garlic turns dark brown or begins to burn, it will impart an acrid taste to the entire sauce. This is a simple but crucial thing to watch!
How long to simmer homemade marinara sauce?
The short answer is: as long as you've got. In my experience as a time-pressed home cook, even 15 minutes over low heat will deliver a delicious and flavorful sauce, as long as you've used quality ingredients. If you have the time to let it simmer for longer, up to 45 minutes, the flavors will only deepen and intensify, giving you even more of that rich Italian flavor everyone loves.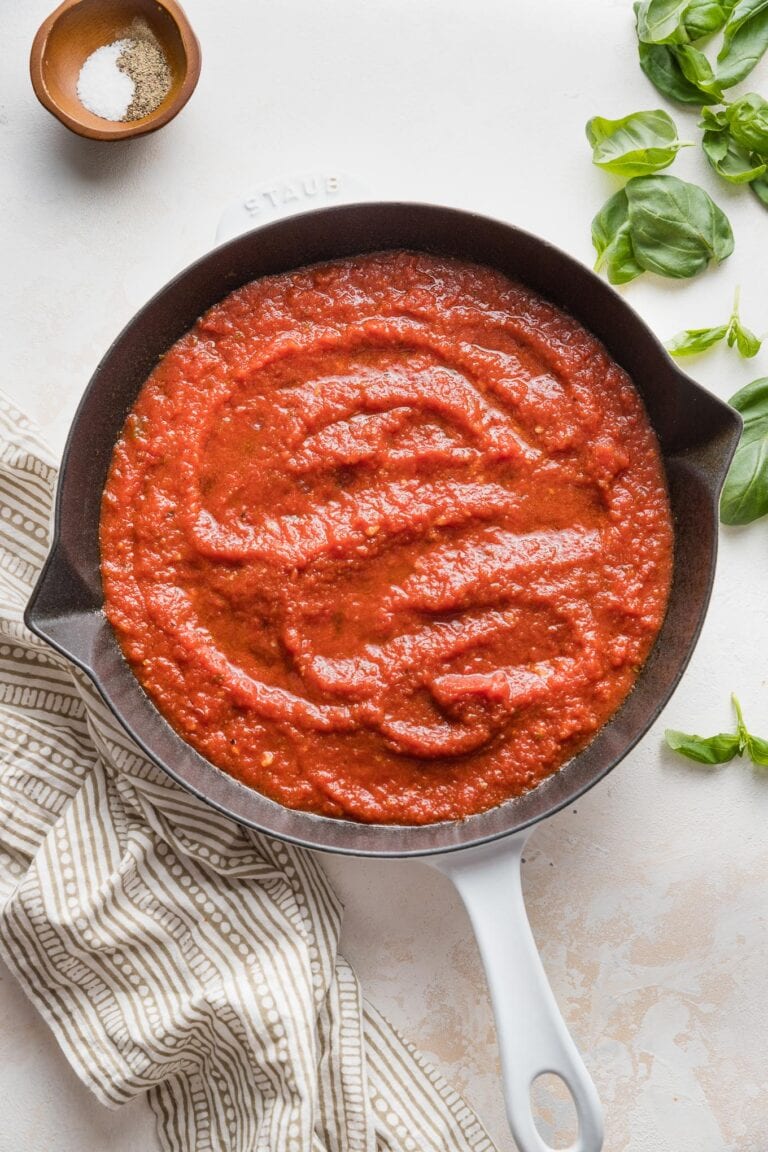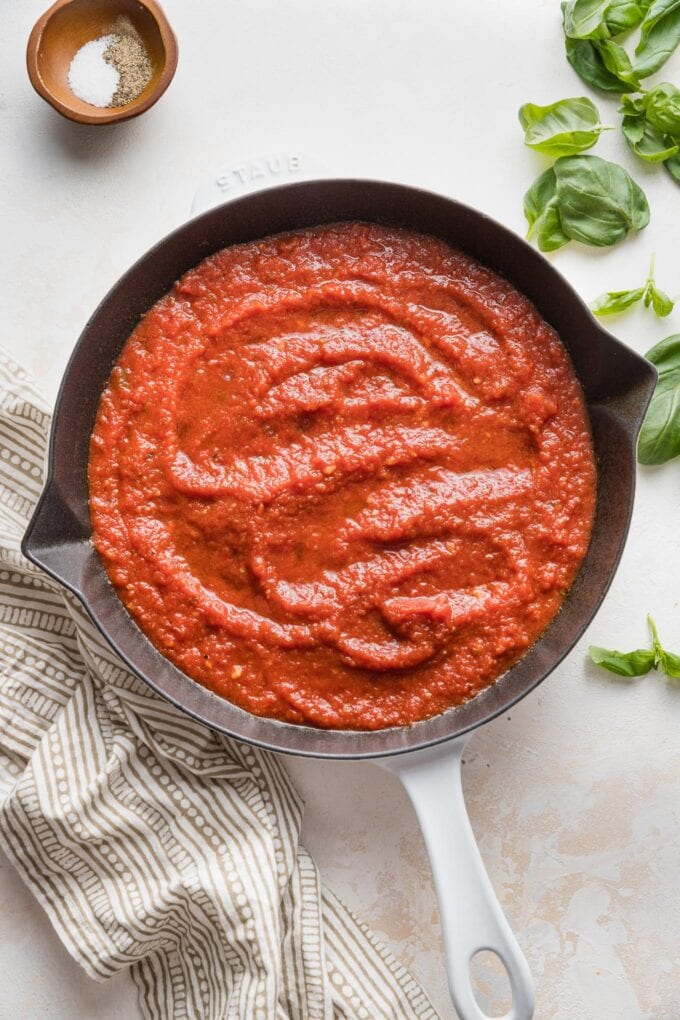 This makes a fairly thick marinara sauce, which I find perfect for clinging tenderly to al dente pasta. If you prefer a thinner consistency, simply stir in a small amount of broth, water, pasta water, or red or white wine.
Pro Tip: Adding pasta? If the timing works out, you do not need to drain the pasta into a colander, then toss into the sauce. Use a wide slotted spoon to transfer al dente pasta directly from its boiling water into marinara sauce. It's OK if a little water comes with it!
Serving Suggestions
A simple marinara sauce is the perfect staple if you want to begin making more sauces and seasonings from scratch, because it's easy to make and incredibly versatile. Toss it with pasta for a dish that's as elegant as it is simple. Mix it with meatballs for a classic comfort food you can serve as a low-carb bowl or pile into subs for a fun treat.
Have a little extra? Set it aside as the most irresistible dipping sauce!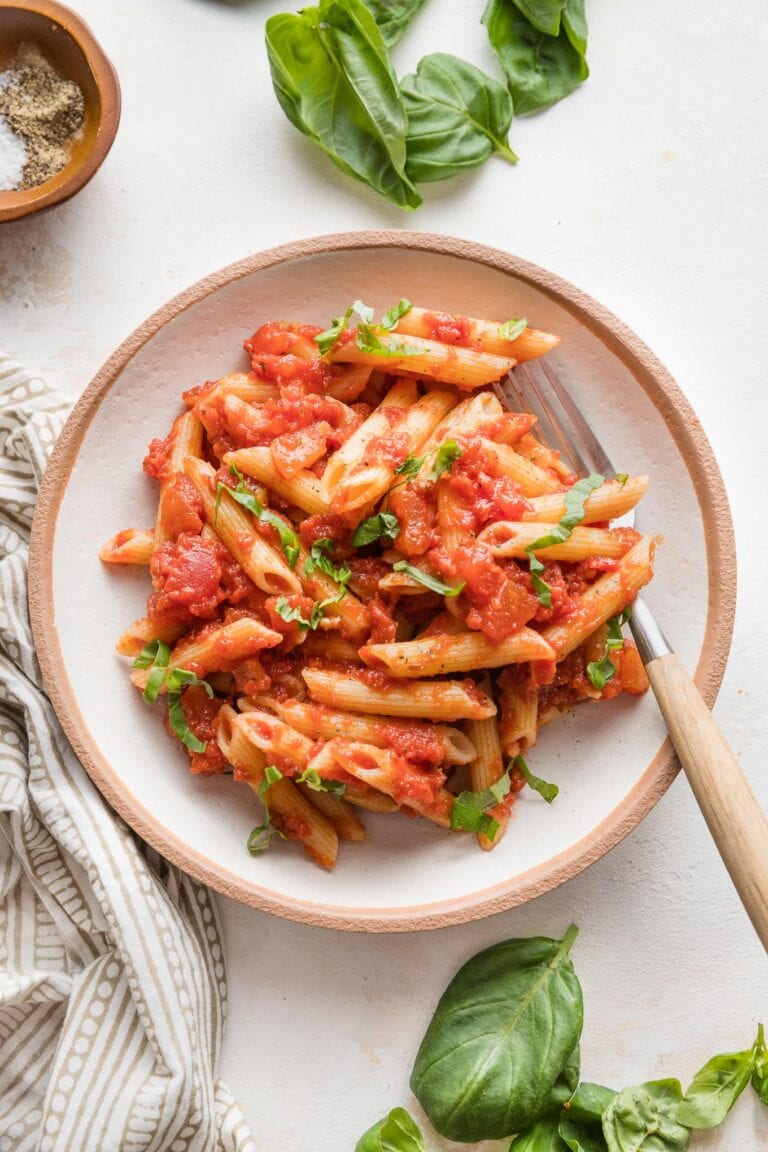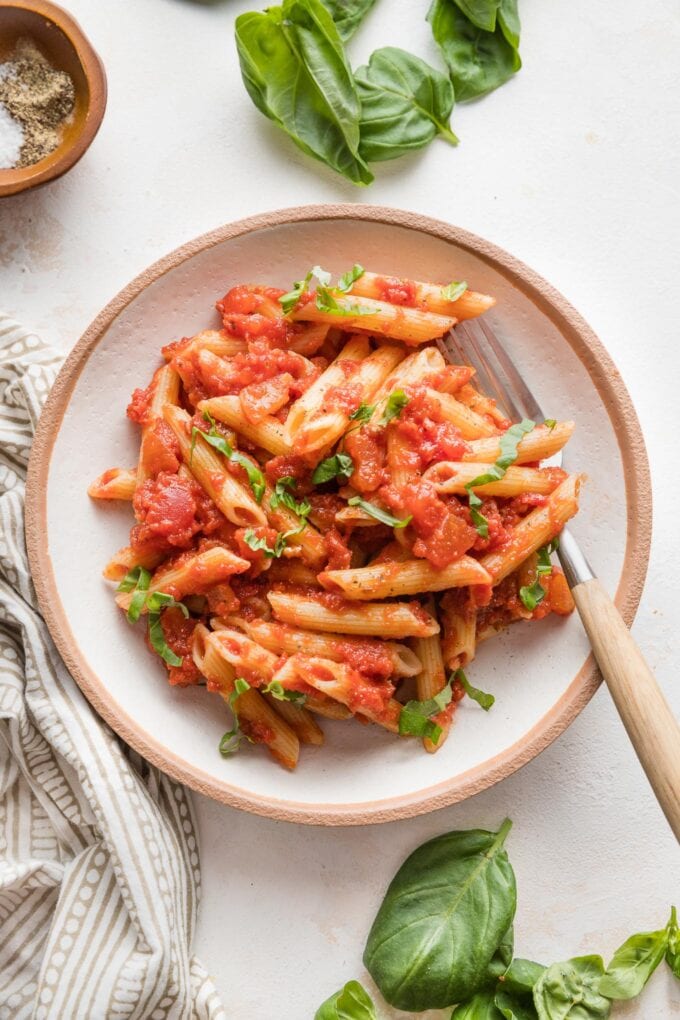 What is the difference between marinara and spaghetti sauce?
Although marinara is frequently used as a staple pasta sauce, what many Americans consider classic spaghetti sauce is more complex, with additional ingredients, often including ground beef or finely crumbled Italian sausage. Marinara does not typically contain meat, giving it a looser texture, and has just a few prized ingredients.
Yield, Storage & Reheating
Ways To Use Marinara Sauce
There are as many delicious ways to use marinara sauce as there are days in the year!
More Easy Homemade Sauces
Try homemade vodka sauce, bolognese, basil pesto with lemon zest, or zucchini basil pesto next. We also love the easy from scratch sauce in this creamy tortellini Alfredo.
Want to try making your own salad dressing next? This from scratch Italian salad dressing and homemade balsamic vinaigrette are great options to start with.
If you try this recipe for Simple Homemade Marinara Sauce, don't forget to rate it and leave a comment below. I love hearing how recipes turn out in your kitchen, and it helps other readers, too.
You can also FOLLOW me on PINTEREST, INSTAGRAM, FACEBOOK, and TWITTER for more great recipes and ideas!
Simple Marinara Sauce
A deliciously simple and fresh-tasting marinara sauce is surprisingly easy to make at home from just a few everyday ingredients. Quick, too!
Ingredients
2 Tablespoons extra-virgin olive oil
4 cloves garlic minced
1 (28 ounce) can crushed tomatoes
1 teaspoon dried oregano
pinch red pepper flakes
2-3 sprigs fresh basil plus more for serving
kosher salt and black pepper
Instructions
Place olive oil and garlic in a cold skillet, then place the skillet over medium heat. As soon as the garlic starts to sizzle and smell fragrant, stir in the tomatoes, oregano, and red pepper flakes. Nestle in the sprigs of fresh basil.

Reduce heat to low and let the sauce simmer for at least 15-20 minutes. Leave it to simmer over low heat for up to 45 minutes if you have that much time.

Remove the basil sprigs and sample the sauce. Add salt and pepper to taste.

Serve right away with your favorite pasta or protein, or store in the fridge for 3-4 days, or freeze for up to 3 months.
Notes
Using high-quality tomatoes is important. With so few ingredients, the flavor will really make a difference. San Marzano tomatoes are generally considered top notch; my favorite brands include Mutti, DeLallo, and Muir Glen, which are organic and come in BPA-free cans.
You can use whole canned tomatoes in place of crushed. Include all juices from the can. Either crush the tomatoes by hand as you add them to the skillet, or blend them at the end with a traditional or immersion blender until the sauce is as smooth as you like it.
This recipe yields about 2.75 cups of sauce, which I find plenty to generously cover 8-10 ounces of pasta. A 24 ounce jar of store-bought marinara contains about 2.5 cups, so this will make enough for any recipe that calls for that amount.
Homemade marinara sauce freezes well for up to 3 months. Place in an airtight container, store in the freezer, and defrost overnight in the refrigerator or rapidly in warm water on the counter to use as desired. If freezing, I like to use a simple silicone zip-top bag, since it is easy to lie or stand up flat, and makes it easy to press out excess air, which helps the sauce stay maximally fresh.
Nutritional information is an estimate based on the sauce alone, dividing this recipe into 6 portions.
Nutrition Estimate
Calories: 45 kcal, Carbohydrates: 1 g, Protein: 0.2 g, Fat: 5 g, Saturated Fat: 1 g, Polyunsaturated Fat: 0.5 g, Monounsaturated Fat: 3 g, Sodium: 1 mg, Potassium: 13 mg, Fiber: 0.2 g, Sugar: 0.04 g, Vitamin A: 6 IU, Vitamin C: 1 mg, Calcium: 9 mg, Iron: 0.2 mg
Did you make this recipe?
Leave a review below, then snap a quick picture and tag @nourishandfete on Instagram so I can see it!
This post was originally published on June 5, 2017. It has been updated with new photos, a simplified recipe, and more helpful answers to frequently asked questions.