Creamy Tortellini Alfredo with Peas
This tested and perfected recipe for creamy tortellini Alfredo is incredibly delicious and simple to make. It's ready in 25 minutes and lends itself well to lots of tasty variations, making it a comforting family meal you'll enjoy again and again.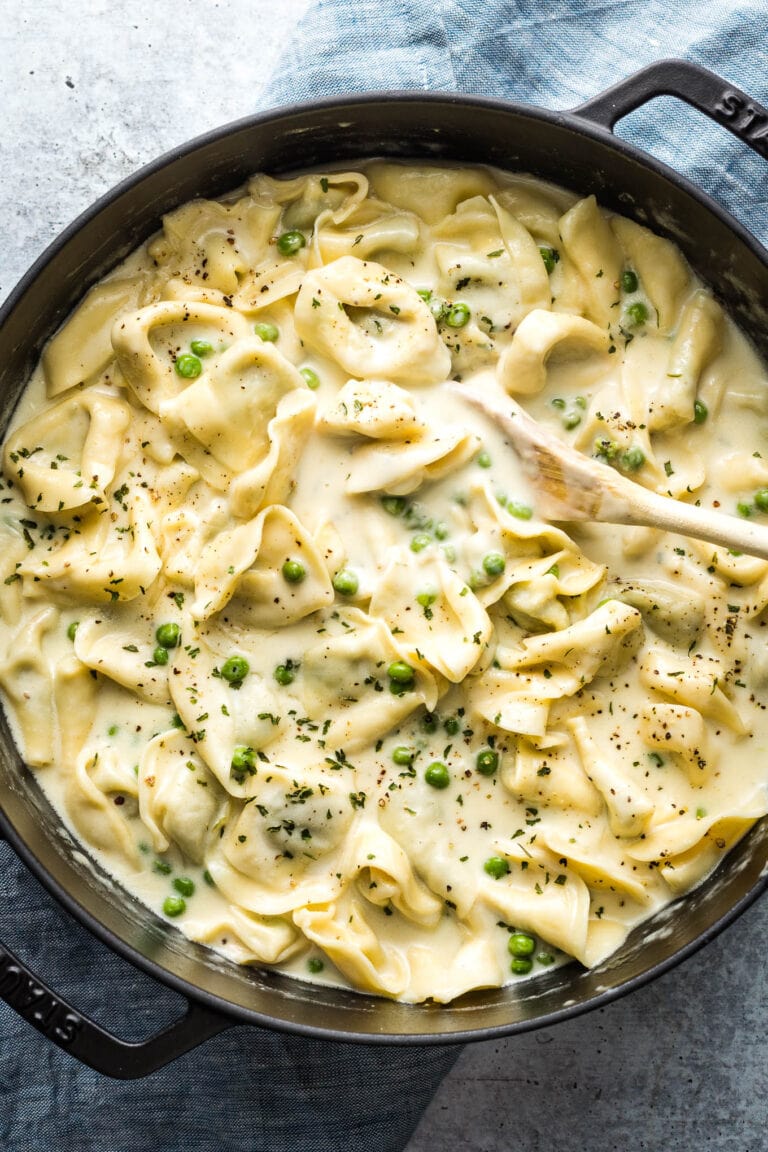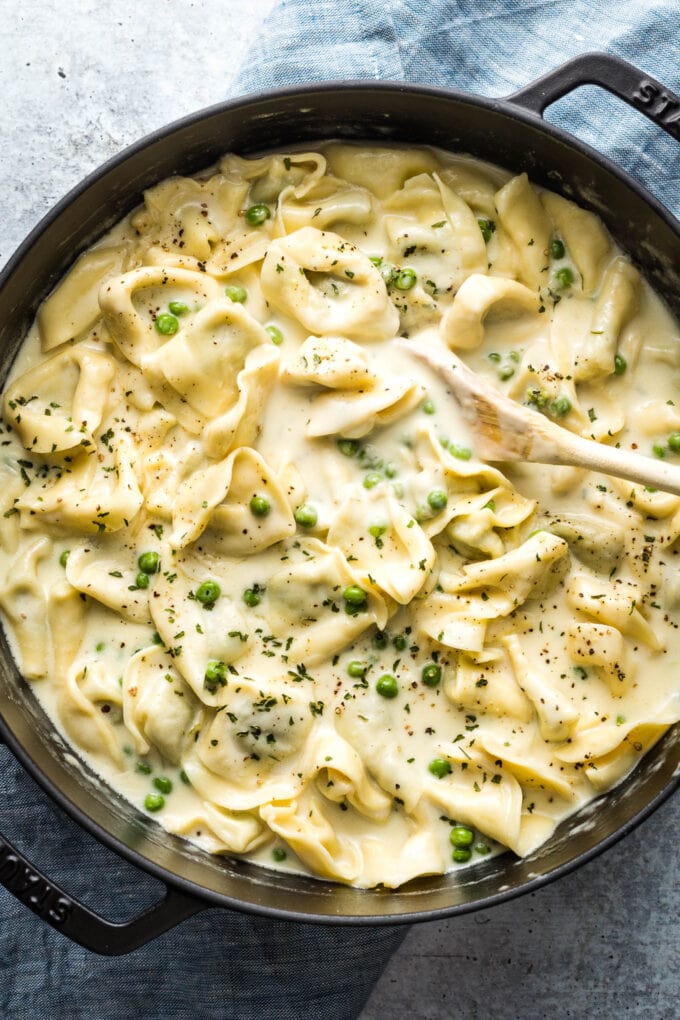 This is one of those recipes we probably tested way more times than was strictly necessary. I mean, Alfredo sauce is a classic staple, right? But I was intent on getting it just right – delicious, smooth, and, most important of all, easy and reliable enough for any home cook to succeed. And I'm happy to report that this is, indeed, the Goldilocks of Alfredo sauce – not too thick, not too runny, not too fussy, no strange ingredients, just oh so very right.
Why pair it with tortellini and peas, you might ask?
Why you'll love it
Filling – the sauce is rich, the tortellini is hearty, together you get a substantial meal.
Simple – pasta and peas are a go-to combo for an easy one-pot dish, like my pesto pasta with peas, because they're so easy to cook together in one pot, no separate cooking time required.
Quick – ready in 25 minutes flat!
Flexible – there are tons of add-ins and variations that suit this beautifully. See below for ideas!
Cheesy, creamy, and delicious – I mean, it's made mostly of butter, cream, and Parmesan. 🙂 Your family is going to gobble it up.
What you'll need
Here's what you'll need to make this at home. As always, follow the full recipe below for detailed amounts and instructions.
Large package refrigerated tortellini – any kind. I usually buy them filled with cheese or a spinach-ricotta mixture, but you can find them filled with chicken, prosciutto, or sometimes other veggies, too. Pro tip: these can be frozen for later use, making them one of my favorite freezer staples. So many options! You do want the refrigerated kind, not the dried, so look in a cold aisle near the cheese or other fresh pasta, not with dried pasta and sauces.
Frozen peas – another freezer staple! And there's no need to defrost them in advance.
Butter
Flour – I typically use all-purpose but any kind should work.
Chicken or veggie broth – or stock.
Lemon juice – 1 teaspoon, which you should easily get from 1 lemon.
Heavy cream – for the most reliable result, I really do recommend using heavy cream here. You can certainly swap for light cream, half n half, or even whole milk, but it will definitely impact the consistency of the sauce.
Garlic powder, salt & black pepper.
Parmesan cheese – freshly-grated is ideal for the smoothest, creamiest consistency!
The actual cooking process couldn't be easier. Basically you'll boil the tortellini together with the peas. Meanwhile, make the sauce in a separate pan, then stir in the tortellini and get ready to dig in.
Does Alfredo sauce have cream or cream cheese?
Like so many everyday sauces and staples, what constitutes an "authentic" Alfredo sauce is subject to interpretation! Some say that the Italian original had no cream at all – just butter and Parmesan cheese, emulsified into a thick sauce. Most Americanized versions incorporate cream for a smoother, more stable result that's easy to reproduce at home.
To go a step further, many versions rely on cream cheese. I've tested a few methods with this, however, and find that while cream cheese is an effective crutch for making the sauce, well, creamy, it can sometimes give a grainy texture, plus the leftovers are more likely to reheat poorly. So, butter + cream + Parmesan = the ticket to ride!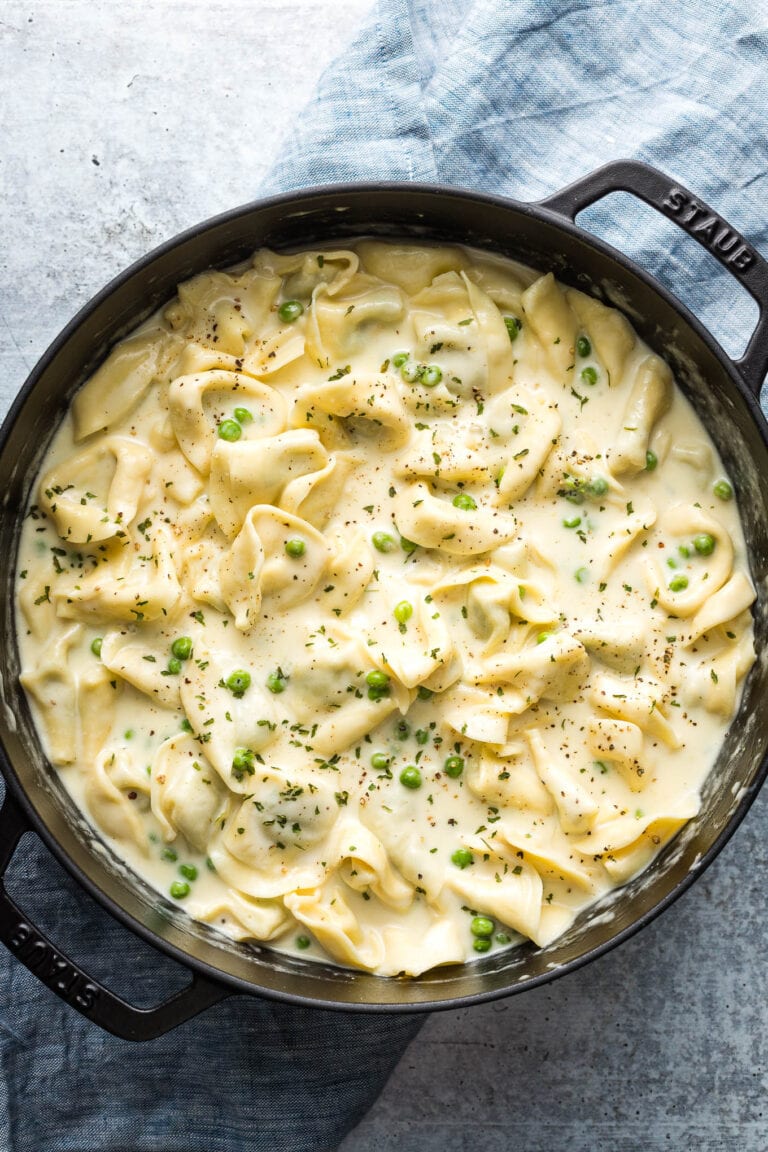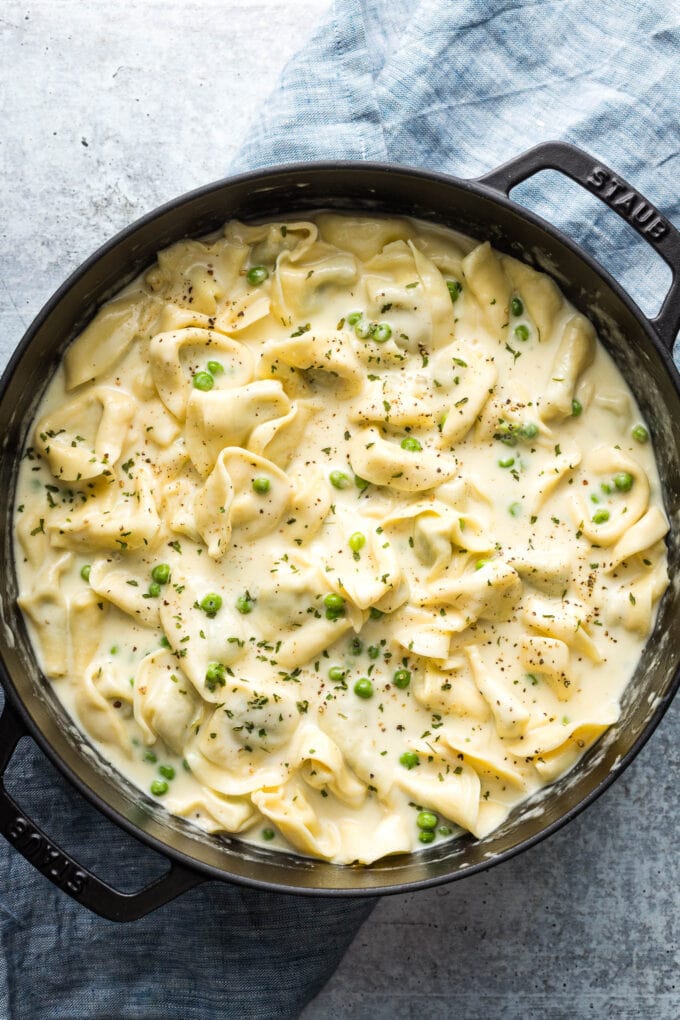 Variations and add-ins
There are so many ways to punch this easy recipe up even further, if that's your thing!
A pinch of nutmeg – add with the garlic powder
Baby spinach – add to the sauce at the end, with the tortellini and peas
Crisped bacon – heaven! Crumble over the top before serving
Crisped prosciutto – same same!
Shredded cooked chicken – add with tortellini with peas at the end
Crumbled cooked sausage
Chicken nuggets or tenders – you know, "for the little ones" 😉
What goes with tortellini Alfredo?
These tortellini make amazing comfort food or a luscious date night meal. The sauce is rich, so pair it with a simple salad–arugula or spinach are always reliable, as are leafy greens with Italian dressing–and some crusty bread to mop up the extra sauce from your plate. Garlic bread for bonus points.
And if you enjoy this recipe for tortellini Alfredo, you'll love my creamy Tuscan chicken, creamy garlic chicken with thyme, creamy crockpot chicken gnocchi soup, tortellini with mushrooms and Parmesan, or Tuscan tortellini in a cream sauce with spinach and sun-dried tomatoes. All comforting family meals, all easy to make!
You can also FOLLOW me on PINTEREST, INSTAGRAM, FACEBOOK, and TWITTER for more great recipes and ideas!
Creamy Tortellini Alfredo with Peas
This easy tortellini Alfredo with peas is incredibly delicious and simple to make. It's ready in 25 minutes and lends itself well to lots of delicious variations.
Ingredients
1 18-20 ounce package refrigerated tortellini any flavor
1 1/2 cups frozen peas no need to defrost
3 tablespoons butter
1 tablespoon flour
3/4 cup chicken or veggie broth
1 teaspoon lemon juice
1 cup heavy whipping cream
1/2 teaspoon garlic powder
1/2 teaspoon salt
8-10 cranks freshly-ground black pepper
3/4 cup freshly-grated Parmesan cheese
Optional add-ins: a pinch of nutmeg (add with the garlic powder), baby spinach (add to the sauce at the end, with the tortellini and peas), crisped bacon, shredded cooked chicken
Instructions
Bring a large pot of salted water to a boil and cook tortellini to al dente according to package directions. During the last minute of cooking time, add peas to the pot, then drain the peas and tortellini together.

While the tortellini cooks, make the sauce. Melt butter in a large skillet over medium-high heat, then whisk in the flour and cook for 60 seconds.

Reduce heat to medium and whisk in the broth and lemon juice.

Add cream, garlic powder, salt, and pepper. Whisk until smooth, then let the sauce simmer for 1-2 minutes to thicken slightly.

Stir in the Parmesan and let it melt until the sauce smooths out once again. If the sauce is too thick for your liking, add a bit more broth or cream. Taste and add more salt or pepper as desired. Stir in the tortellini and peas, toss well, and enjoy! Garnish with a bit of parsley (dried or fresh) if you like.
Notes
This yields 6 portions if served alongside other things (salad, garlic bread, chicken, etc.) or 4 larger portions for a one-pot meal.
Nutrition Estimate
Calories: 533 kcal, Carbohydrates: 48 g, Protein: 20 g, Fat: 30 g, Saturated Fat: 17 g, Cholesterol: 118 mg, Sodium: 903 mg, Potassium: 155 mg, Fiber: 4 g, Sugar: 5 g, Vitamin A: 1374 IU, Vitamin C: 15 mg, Calcium: 345 mg, Iron: 2 mg
Did you make this recipe?
Leave a review below, then snap a quick picture and tag @nourishandfete on Instagram so I can see it!