Italian Chicken Sausage Pasta
This flavorful Italian-style chicken sausage pasta is a great all-in-one, 25 minute meal. A creamy marinara-based sauce, tender spinach leaves, and plenty of Parmesan round out the dish.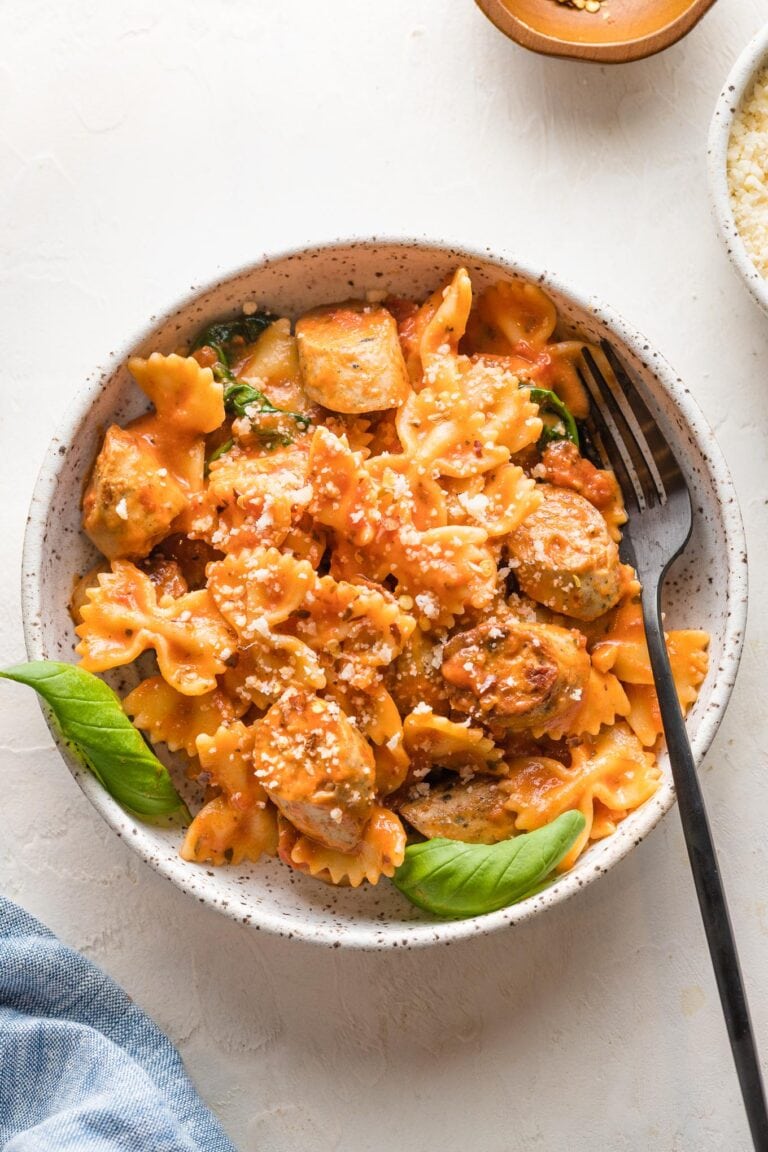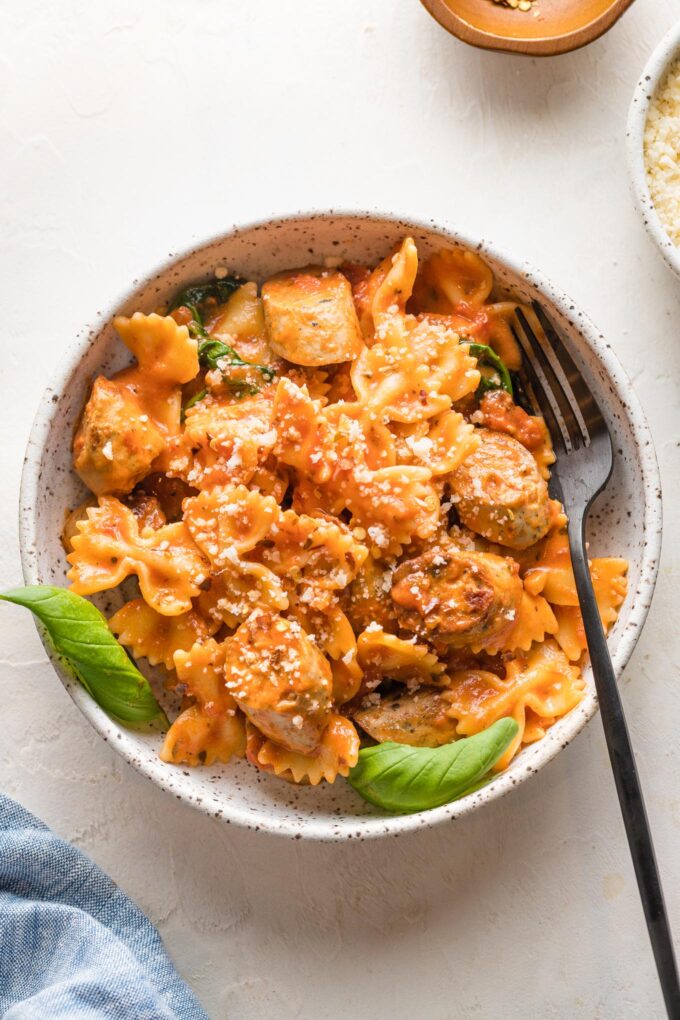 Making an easy all-in-one meal is a breeze when you incorporate a few pantry staples and flavorful sausage for an easy-to-cook protein. This recipe is even simpler than most thanks to a base of marinara sauce. I like to add garlic, red pepper flakes, and a little cream to punch up the sauce, but if you use a quality marinara for a starter, you're halfway to a wonderful dinner in no time at all.
Ingredients & Common Substitutions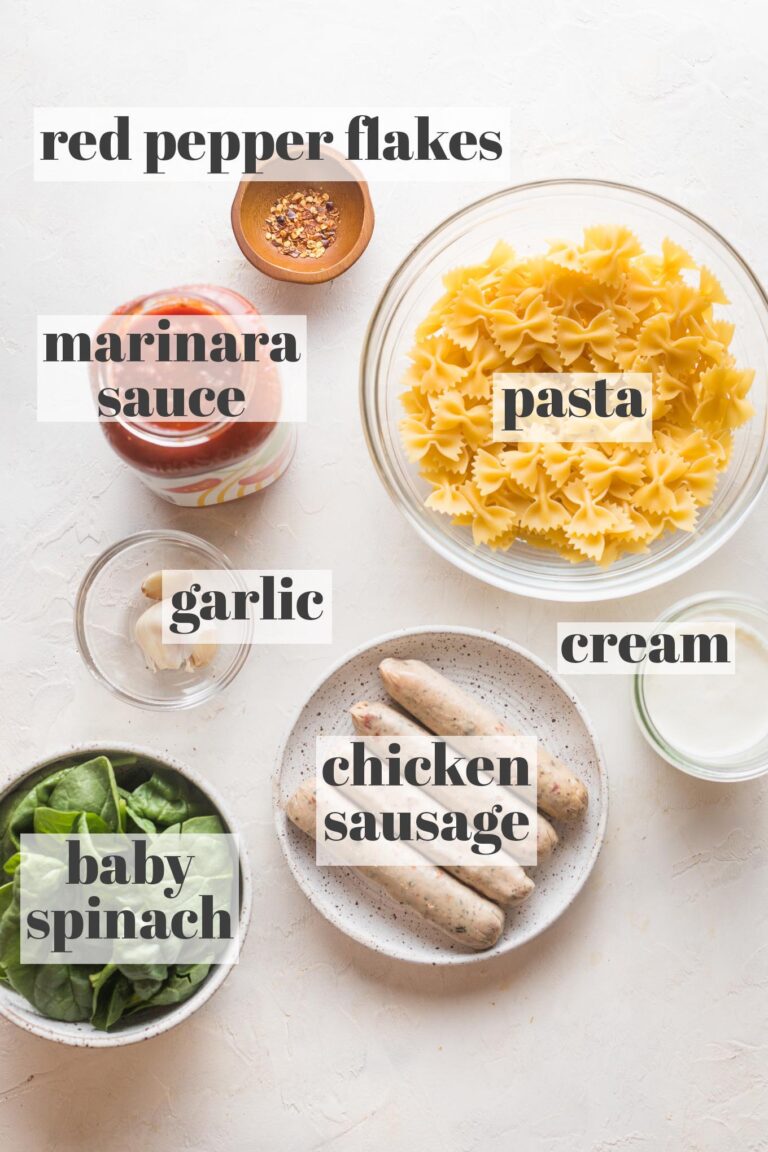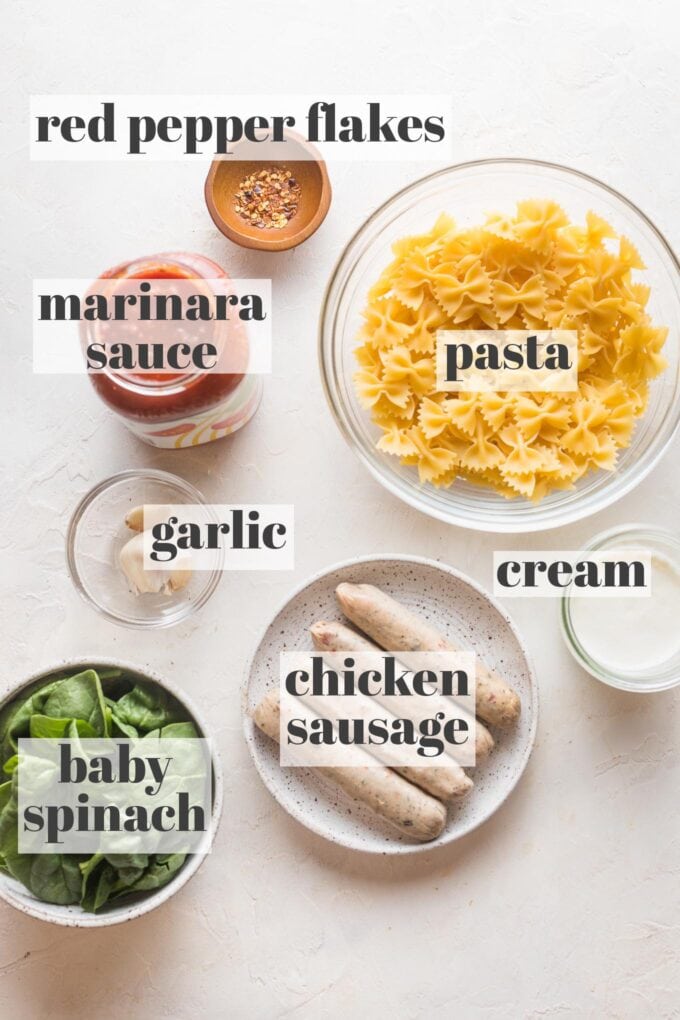 Here are a few notes and shopping tips about the ingredients you'll need to make this, as well as possible substitutions.
Pasta: Any type that you like. Farfalle, also known as bowties, are shown here, but this works perfectly with rotini, penne, rigatoni, or really any pasta shape you happen to have in the pantry.
Chicken sausage: I like to use a flavorful Italian-style chicken sausage, such as Aidell's, for maximum flavor and lean protein. You can definitely substitute a traditional pork Italian sausage or a plant-based option if you prefer. Anything you can slice and brown.
Marinara: The base of the sauce. Feels like cheating, but it's definitely not. 🙂
Cream: Heavy or light cream adds a touch of richness to the sauce. Half and half is a good substitute, and you can omit or swap with a plant-based milk if you want to make this dairy-free.
Baby spinach: Tender baby spinach leaves wilt in the sauce for a nice pop of color and healthy vegetables to this dish. Kale or Swiss chard work well as a substitute. You can also mix in frozen peas or another vegetable.
Garlic, red pepper flakes, salt, and pepper.
Help! I have no marinara on hand. Can I make my own?
Absolutely! Homemade marinara sauce is easy to make and delicious. Make a big batch–it freezes well and is so satisfying to pull out of the freezer for a quick weeknight dinner.
How To Make It
Begin by bringing a large pot of water to a rapid boil to cook the pasta. The sauce comes together very quickly, so you'll want the pasta to get started first.
Be sure to add a generous pinch of salt — ideally kosher salt — to the water just before adding the uncooked pasta. It should be salty like the sea to impart subtle flavor.
While the pasta cooks, begin the sauce by browning the sausage.
How do I cook chicken sausage?
Chicken sausage is typically sold already cooked, meaning you could safely eat it straight from the package, but for the best flavor and texture, you'll want to brown it.
Grab a sharp chef's knife and slice the sausage at an angle into pieces that are between 1″ and 2″ thick. Add a small drizzle of olive oil to a large skillet — cast iron works beautifully but any skillet will do — then add the sliced sausages and cook for about 5 minutes, stirring occasionally. They will begin to develop brown, crispy edges.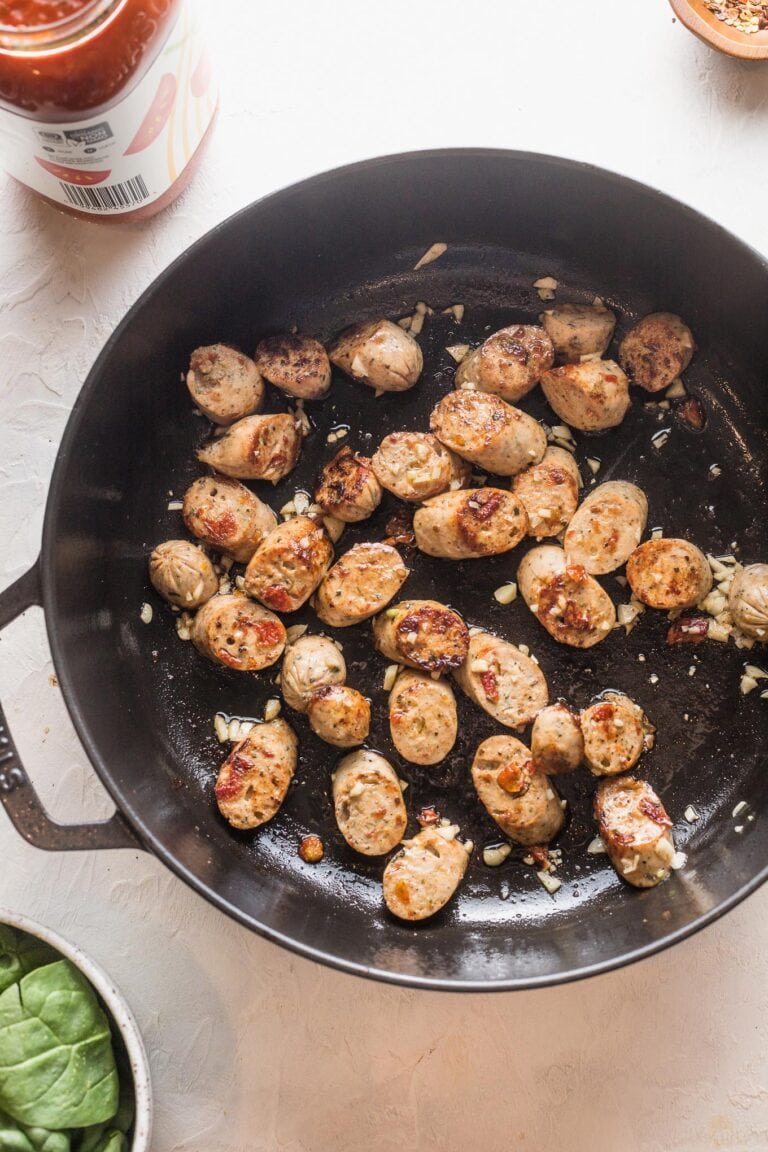 When most pieces of the sausage have at least a few brown spots, add the garlic and cook for about 1 minute more, just until fragrant. Then add the marinara, cream, red pepper flakes, salt, and pepper.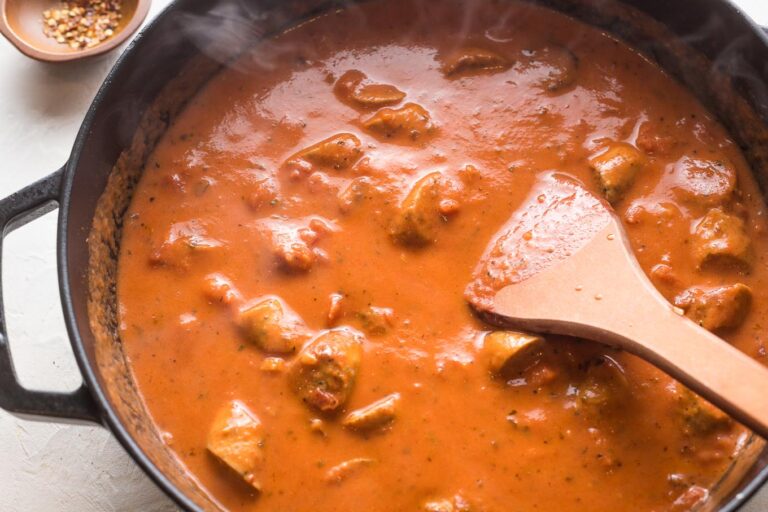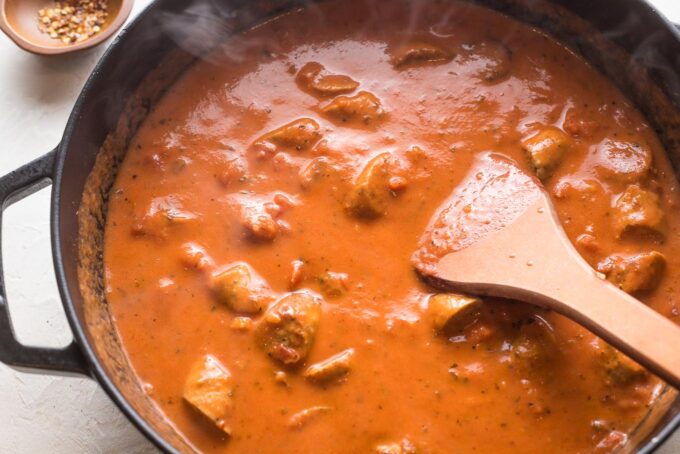 Stir well and let the sauce simmer for a few minutes to thicken ever so slightly and deepen in flavor. Then, stir in a few handfuls of baby spinach.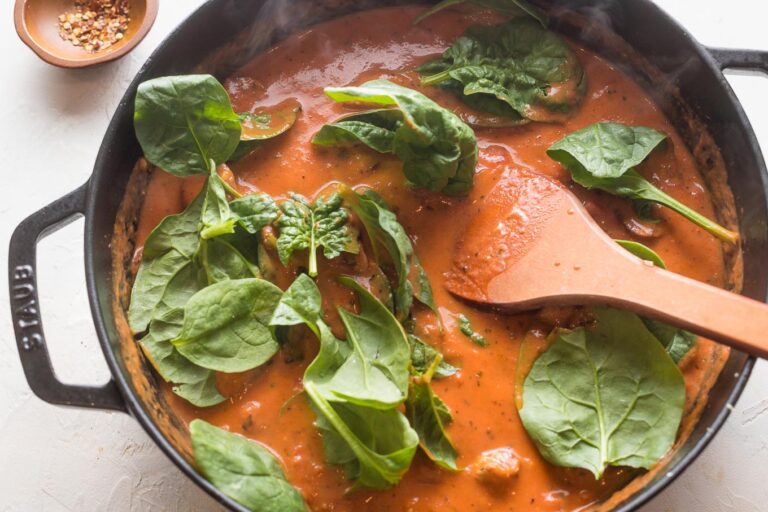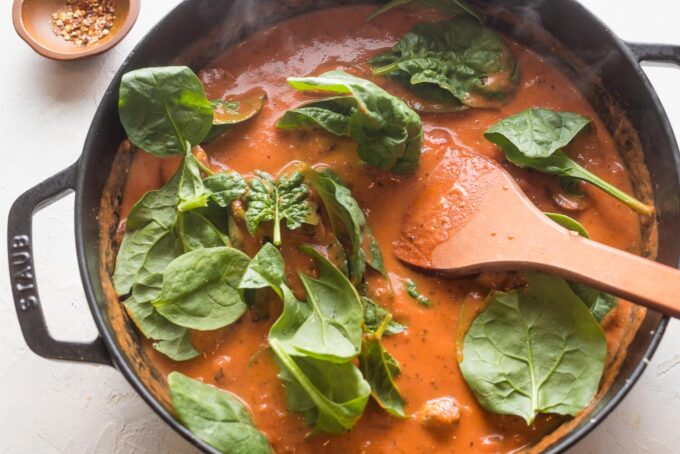 You can remove the pan from the stove or turn off the burner at this point. The spinach will wilt quickly from the residual heat.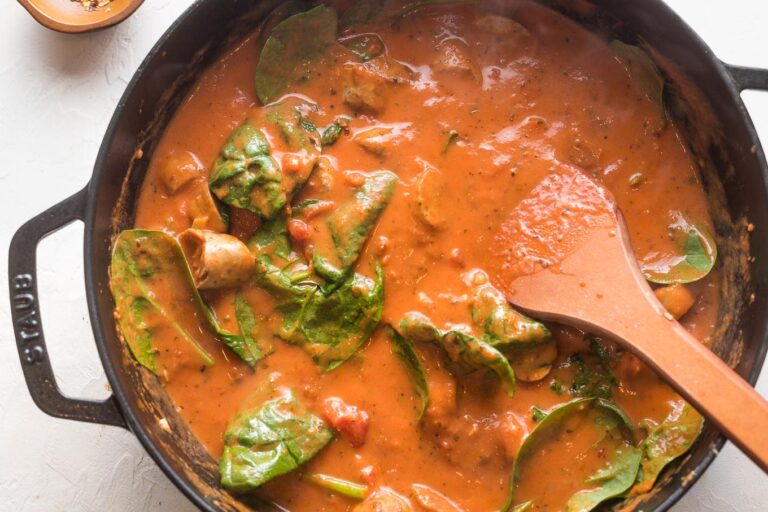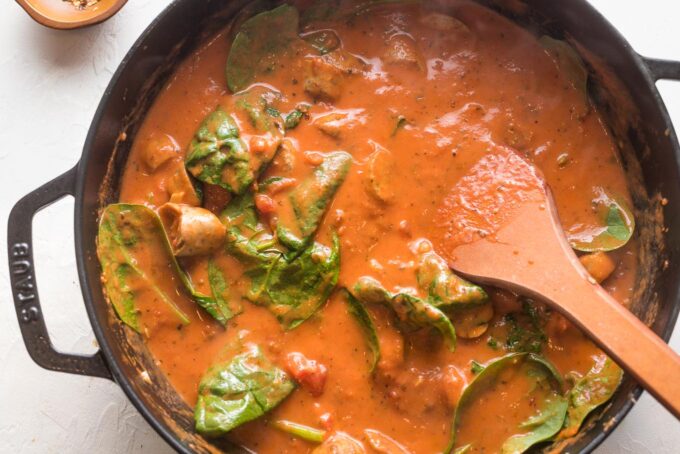 By this time your pasta will likely be done. Stir the drained pasta into the sauce.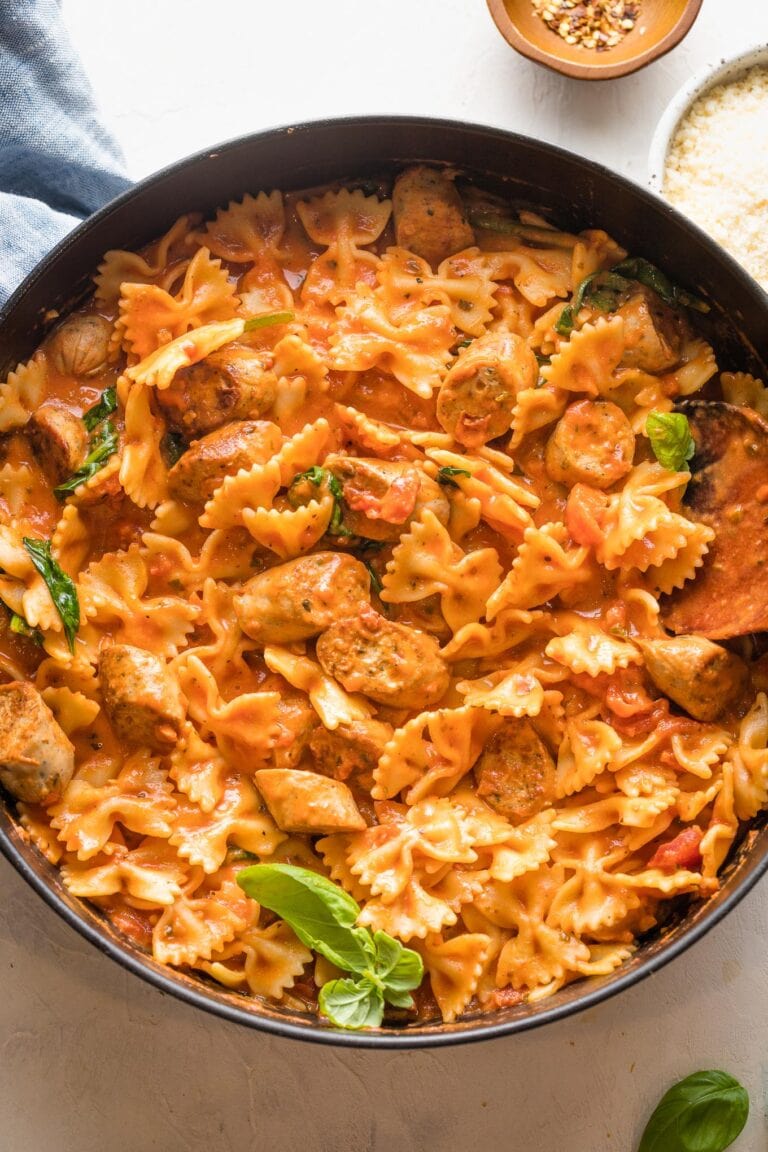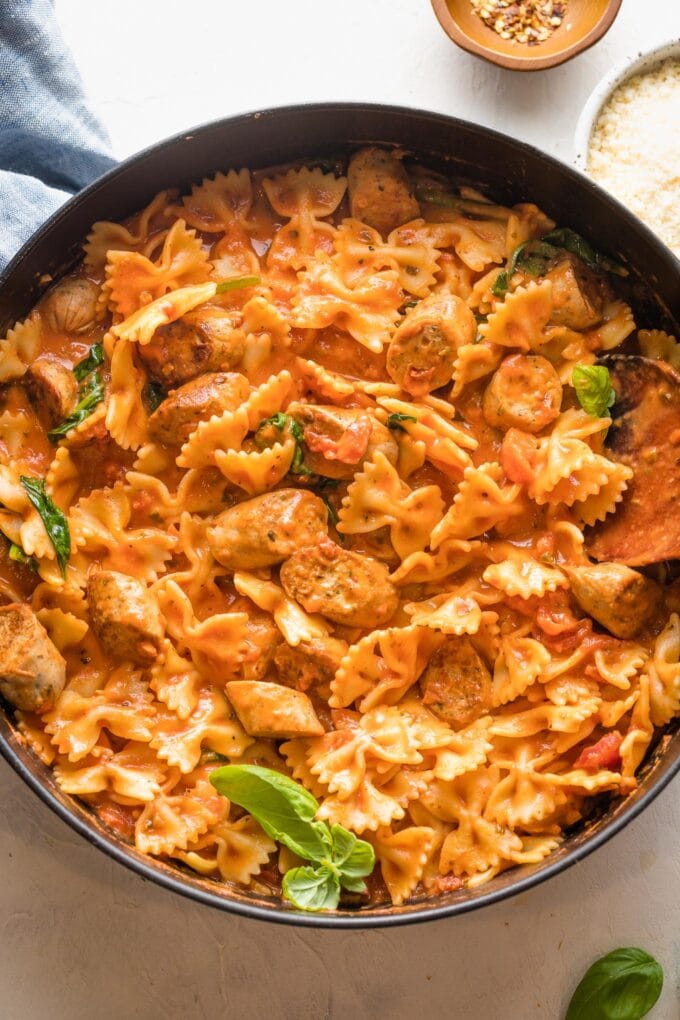 Garnish with basil and as much Parmesan as desired, then serve.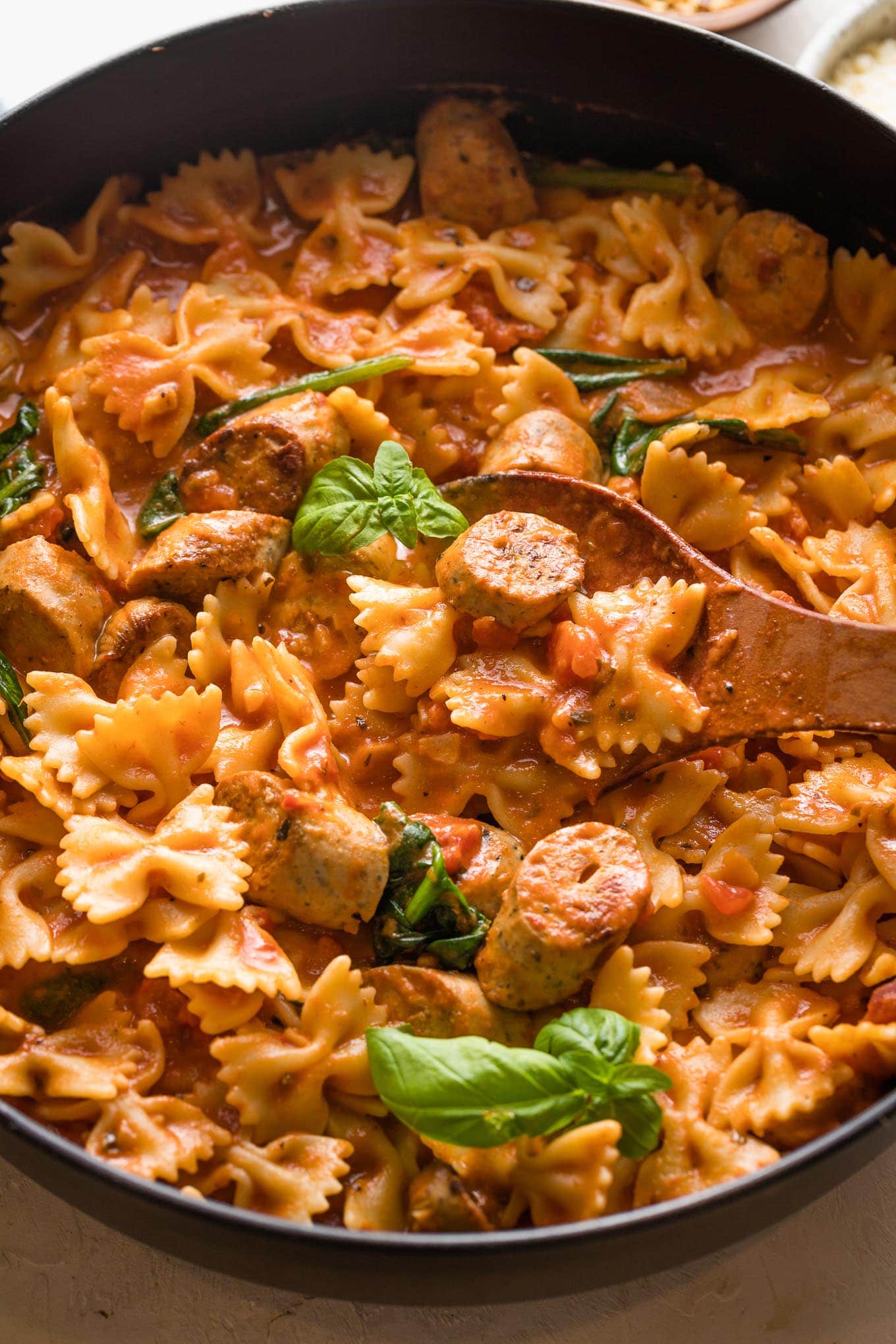 Is chicken sausage healthy?
Chicken sausage, and turkey sausage as well, has considerably fewer calories and grams of fat per link than traditional pork-based sausages, making them a healthier choice for most of us. It is still a processed food, and some brands can be high in sodium, so it always pays to examine labels and eat everything in moderation depending on your exact nutritional needs.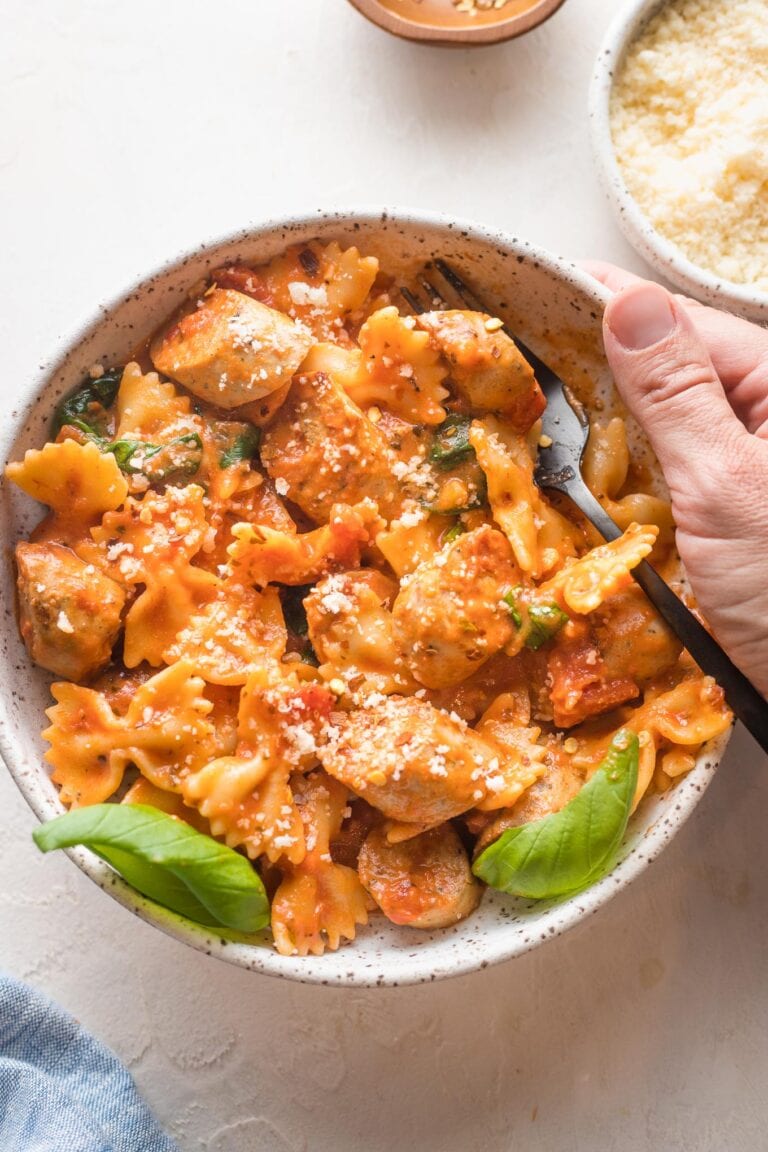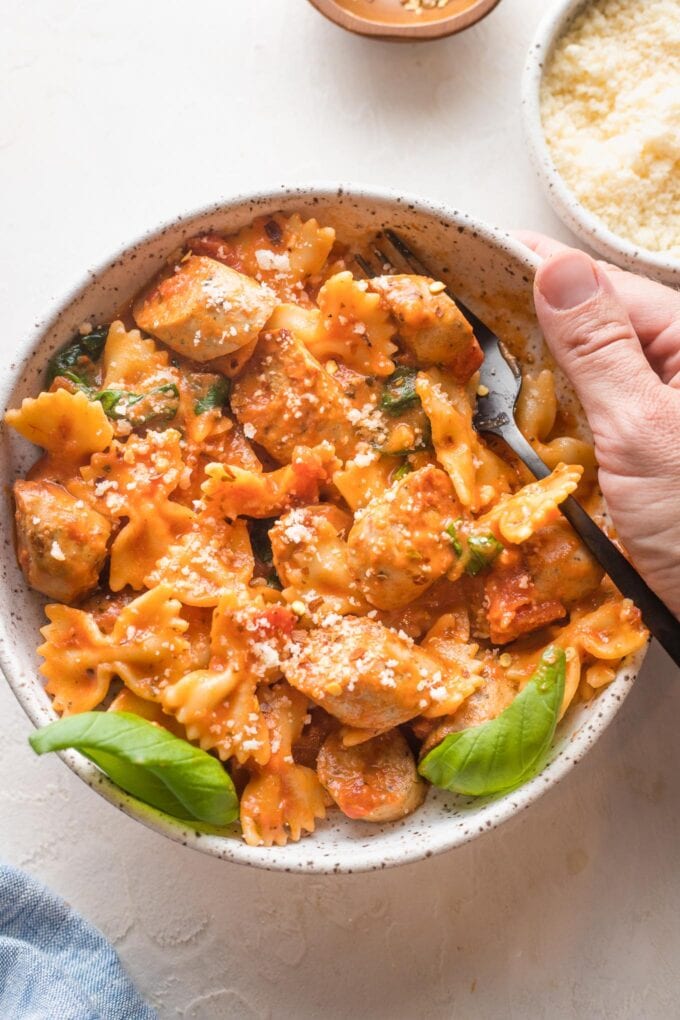 Serving Suggestions
Cozy bowls of this chicken sausage pasta go perfectly with a salad or extra green veggie on the one side — try an arugula salad, steamed peas, or roasted broccolini — and crusty rolls, garlic bread, or breadsticks on the other.
All that to say, when you really have zero energy at the end of the day, I personally think this meal is acceptable to serve just as it is, especially if you go heavy on the spinach. 🙂
Storage & Reheating
This easy pasta dish keeps and reheats like a dream. This is a great meal to enjoy for dinner, then pack as a lunch the next day. Bring on the leftovers!
Store individual portions or a larger amount tightly-covered in the refrigerator for 3-4 days.
Reheat on full power in the microwave until warmed through. If warming on the stovetop, add a splash of broth or water to re-thin the sauce.
Freezing, unfortunately, is not recommended. Creamy sauces do not generally freeze well, as they tend to separate when defrosted and reheated.
More Easy Pasta Recipes
Simple pastas always hit the spot! You'll love my recipes for chili garlic beef and shells, one pan creamy tomato tortellini, and lemon chicken pasta–all easy and delicious 30 minute meals.
Craving more of a creamy pan sauce? This creamy crumbled Italian sausage pasta with spinach hits the spot. And if you love using chicken sausage for an easy lean protein, don't miss these recipes for sheet pan chicken sausage with potatoes and broccoli, or sheet pan chicken sausage and peppers.
If you try this recipe for Chicken Sausage Pasta, don't forget to rate it and leave a comment below. I love hearing how recipes turn out in your kitchen, and it helps other readers, too.
You can also FOLLOW me on PINTEREST, INSTAGRAM, FACEBOOK, and TWITTER for more great recipes and ideas!
Chicken Sausage Pasta
A great all-in-one, 25 minute meal. A creamy marinara-based sauce, tender spinach leaves, and plenty of Parmesan round out the dish.
Ingredients
10 ounces pasta uncooked, any type
4 links Italian-style chicken sausage sliced into 1-inch coins
1 tablespoon olive oil
3-4 cloves garlic minced
24 ounces marinara sauce homemade or store-bought
1/2 cup heavy cream or half and half
1/2 teaspoon red pepper flakes
1-2 handfuls fresh baby spinach
kosher salt and black pepper
Parmesan parsley or basil, optional garnish
Instructions
Boil a large pot of water, add a generous pinch of salt, and cook pasta just to al dente according to package directions. Drain and set aside.

While pasta cooks, warm oil in a large skillet set over medium-high heat. Add sliced sausage and cook, stirring frequently, for about 5 minutes, until it begins to brown on the edges.

Reduce heat to medium-low. Add garlic to the pan and cook for 30-60 seconds, just until fragrant.

Add marinara sauce, cream or half and half, red pepper flakes, and salt and pepper to taste. Let the mixture simmer for 2-3 minutes, then turn off the heat. Stir in spinach. Cook 1 minute more, just until it wilts, then add cooked pasta and stir well.

Garnish with grated Parmesan, fresh parsley, and/or basil, if desired, and serve.
Nutrition Estimate
Calories: 439 kcal, Carbohydrates: 55 g, Protein: 20 g, Fat: 16 g, Saturated Fat: 4 g, Polyunsaturated Fat: 1 g, Monounsaturated Fat: 3 g, Cholesterol: 56 mg, Sodium: 1363 mg, Potassium: 575 mg, Fiber: 4 g, Sugar: 8 g, Vitamin A: 993 IU, Vitamin C: 11 mg, Calcium: 61 mg, Iron: 3 mg
Did you make this recipe?
Leave a review below, then snap a quick picture and tag @nourishandfete on Instagram so I can see it!