Crispy Oven-Roasted Broccolini
How to make the best oven-roasted broccolini, with tender stalks, crispy tips, and a salty finish—in just 20 minutes. This is an easy side dish that goes with anything. And if anything will convince skeptics to eat their veg, this is it!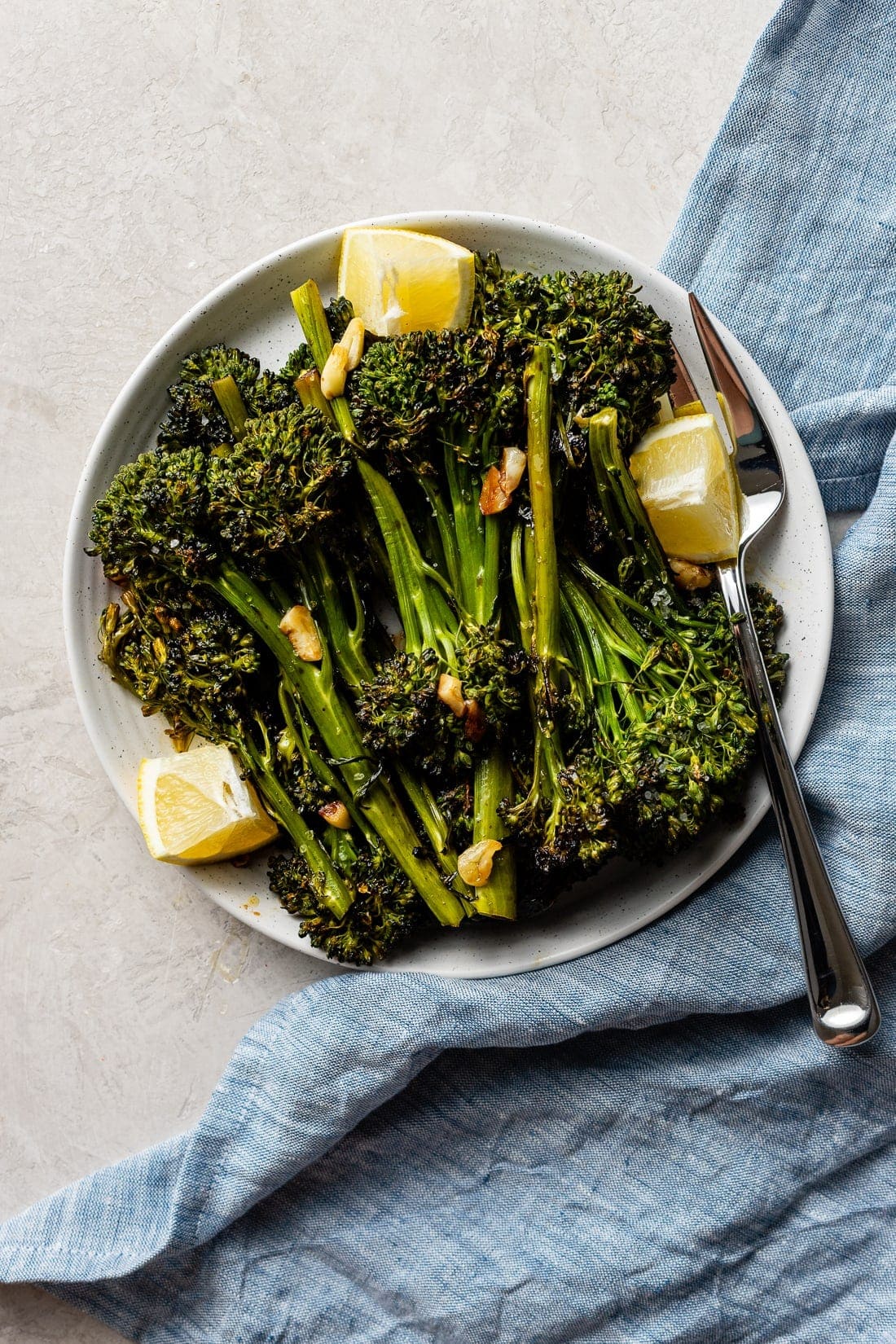 Side dishes seem like they should be easy, but can be kind of… not easy. Right? It's not so much that they're difficult to make. More that a side dish can be an afterthought. And not where you want to spend a ton of time and effort.
Fortunately, there are two solutions to this: the easy salad (see here and here) and the glorious roasted vegetable.
Fact: all vegetables are more delicious when roasted.
What is roasting?
Roasting is an easy technique well worth knowing. It's as simple as cooking something in the oven in an open, uncovered pan at a high temperature – 400°F and above. Direct exposure to such a high temperature allows the food to develop a browned, flavorful "crust."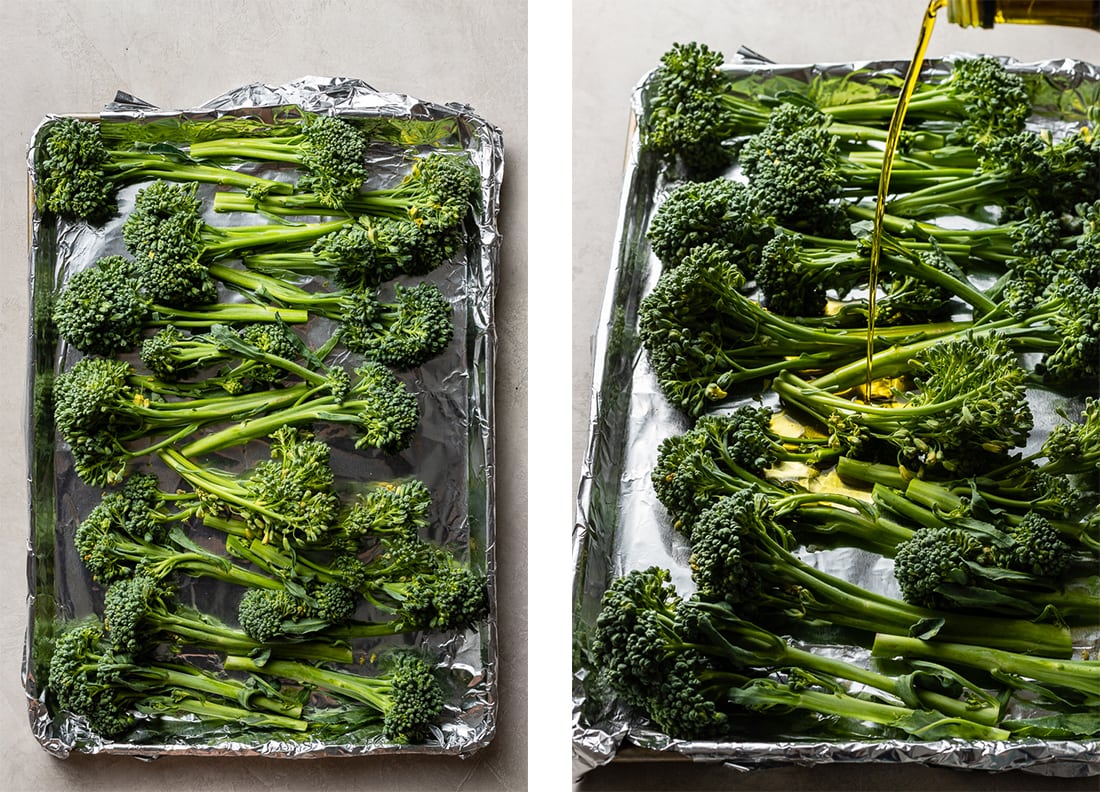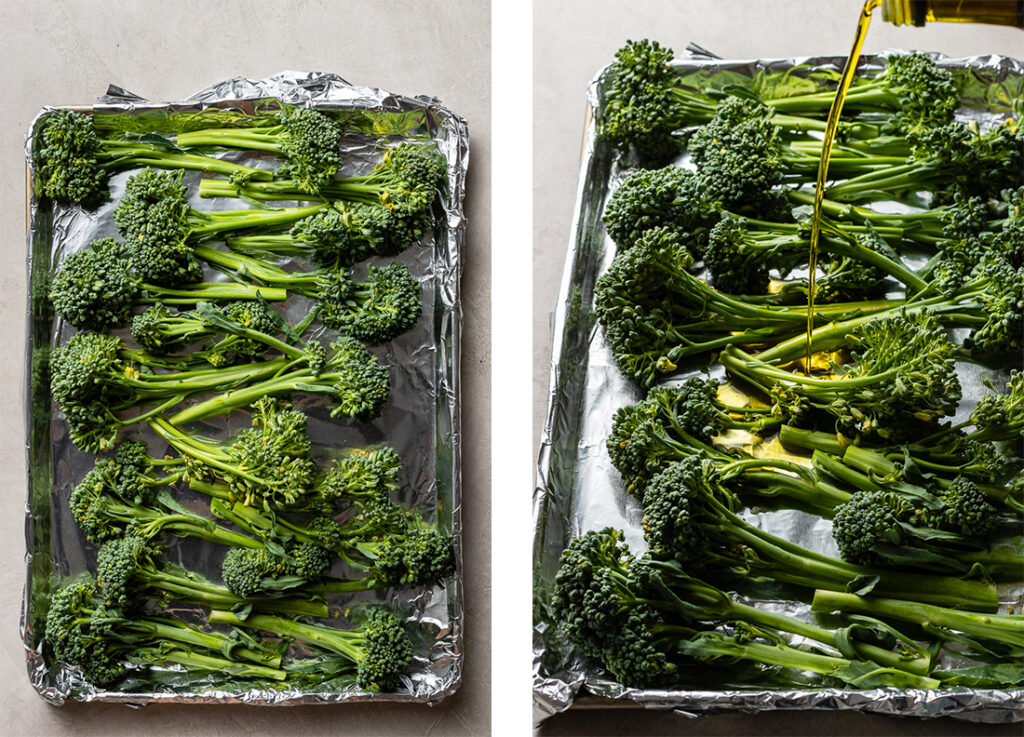 You can roast most anything, but it's an especially great technique for veggies. In addition to getting those browned, crispy bits, the high heat quickly brings out the veggies' natural sweetness, adding depth and delicious flavor.
No bland, soggy veggies here! We're talking crispy ends, tender stalks, and a lot of flavor.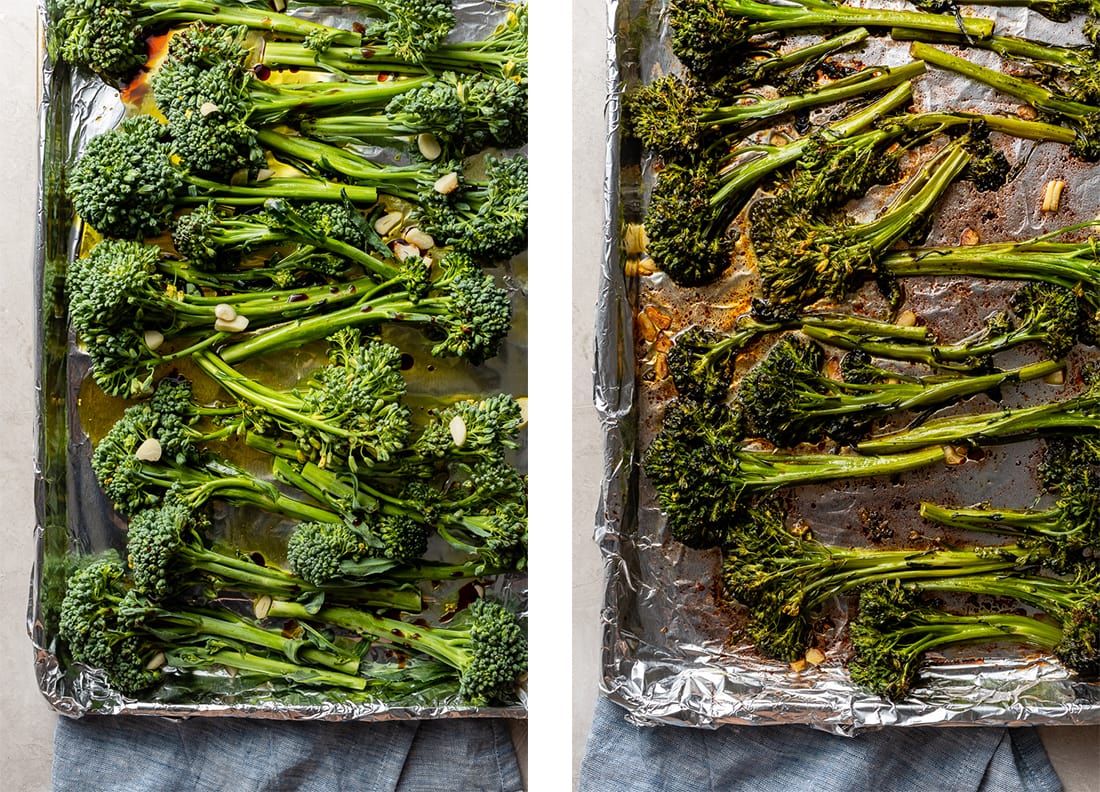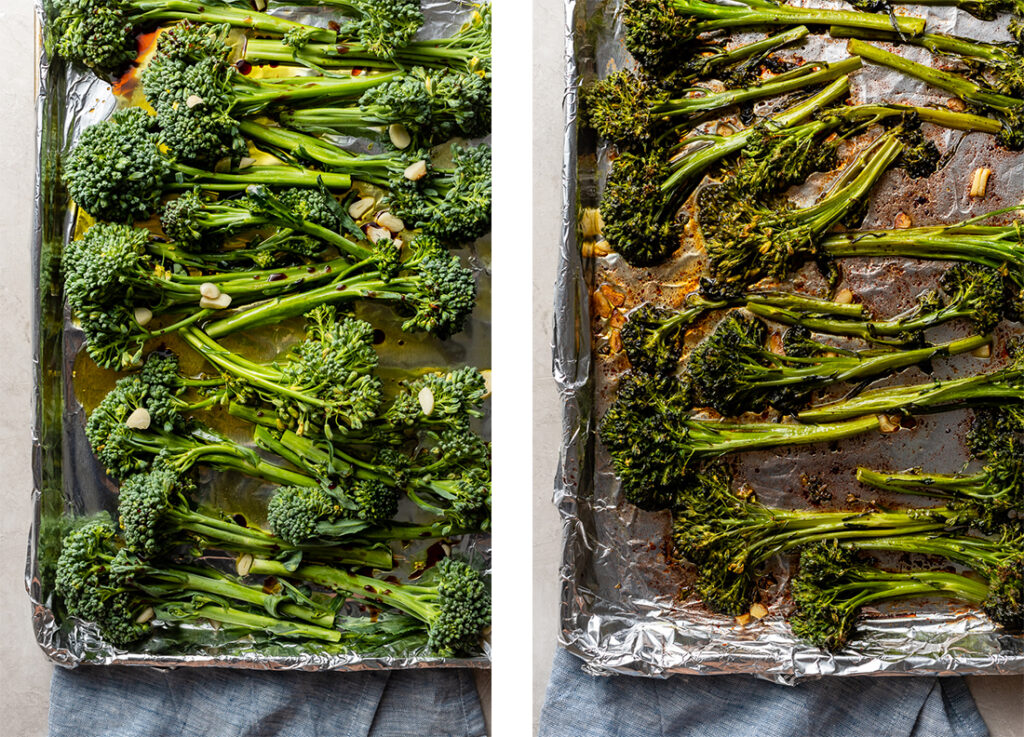 How to season roasted vegetables?
The other great thing about roasting veggies is that you don't need to add much. Simple is good! For a good basic broccolini, start with:
olive oil
soy sauce
garlic
That's it! You might be tempted to add salt, but pro tip: wait to sprinkle the broccolini with salt after it comes out of the oven. Adding salt before actually draws water out of the broccolini while it roasts, and can make it more difficult to get that perfect texture. Once I started waiting to add the salt, it was a game-changer — perfect broccolini each and every time!
Serve with a few lemon wedges, for a pretty look and chance to add one more bright flavor.
If you want to change up the flavor or add a little more, it's easy! Try experimenting with red pepper flakes, pine nuts, Parmesan cheese, sun-dried tomatoes … and invite me over! 🙂
If you like this for an easy side dish, you might also enjoy roasted carrots with thyme, roasted green beans with garlic, or roasted asparagus with lemon pepper. And, while your oven is cranked up, why not roast the tomatoes for this delicious, 20-minute spaghetti recipe?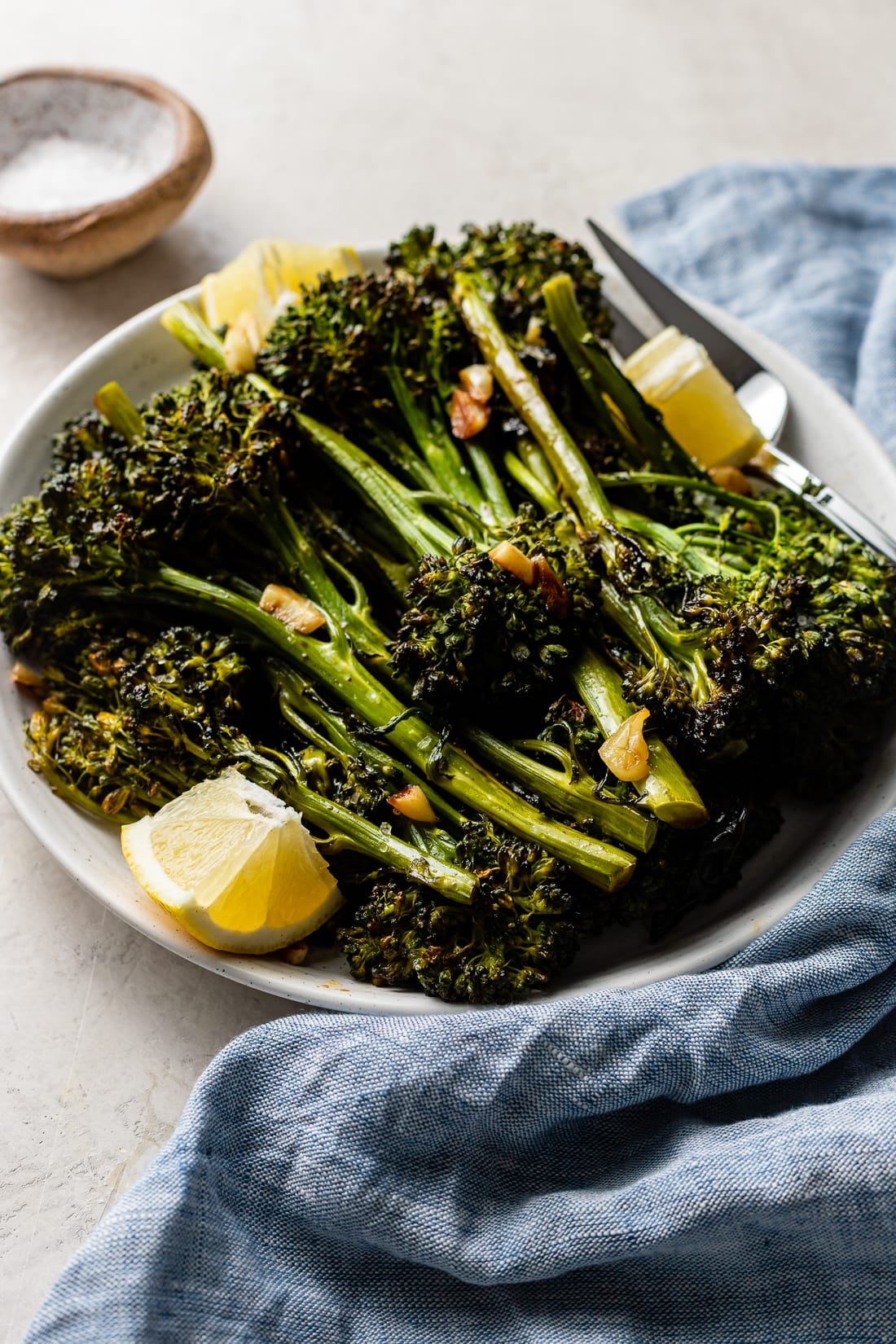 If you make this Roasted Broccolini or any other recipe from Nourish and Fete, please rate it and leave a comment below. We love hearing from you, and other readers will benefit from your experience!
Crispy Oven-Roasted Broccolini
How to make the best oven-roasted broccolini, with tender stalks, crispy tips, and a salty finish—in just 20 minutes.
Ingredients
1 (6-8 ounce) bunch broccolini
2 tablespoons olive oil
1 tablespoon soy sauce
3-4 cloves garlic thinly sliced
coarse sea salt and lemon wedges to finish (optional)
Instructions
Preheat oven to 425 degrees. Line a large rimmed baking sheet with aluminum foil.

Chop off the broccolini's rough, woody ends – just the last 1/2" or so of each stalk. Place broccolini on the baking sheet, and drizzle the olive oil and soy sauce on top.

Using kitchen tongs or your hands, gently turn the broccolini, pressing the tips of each stalk into the oil and soy sauce so they are lightly coated. Arrange the stalks in a single layer across the sheet, trying to minimize crowding or overlapping. Sprinkle the sliced garlic evenly on top.

Roast the broccolini for 12-15 minutes, until the stalks are tender and the tips are browned and crispy. Remove from the oven, sprinkle with sea salt, and serve hot with lemon wedges, as desired.
Nutrition Estimate
Calories: 85 kcal, Carbohydrates: 4 g, Protein: 2 g, Fat: 7 g, Saturated Fat: 1 g, Sodium: 146 mg, Potassium: 9 mg, Fiber: 1 g, Sugar: 1 g, Vitamin A: 750 IU, Vitamin C: 40 mg, Calcium: 34 mg, Iron: 1 mg
Did you make this recipe?
Leave a review below, then snap a quick picture and tag @nourishandfete on Instagram so I can see it!