Thyme Roasted Carrots
The best side dishes are the simplest ones! Roasting brings out carrots' natural sweetness for a simple, healthy side that will have everyone asking for seconds. I eat these as a snack!
Or, if you don't want to turn on the oven, try this classic French carrot salad – one of my most popular side dishes!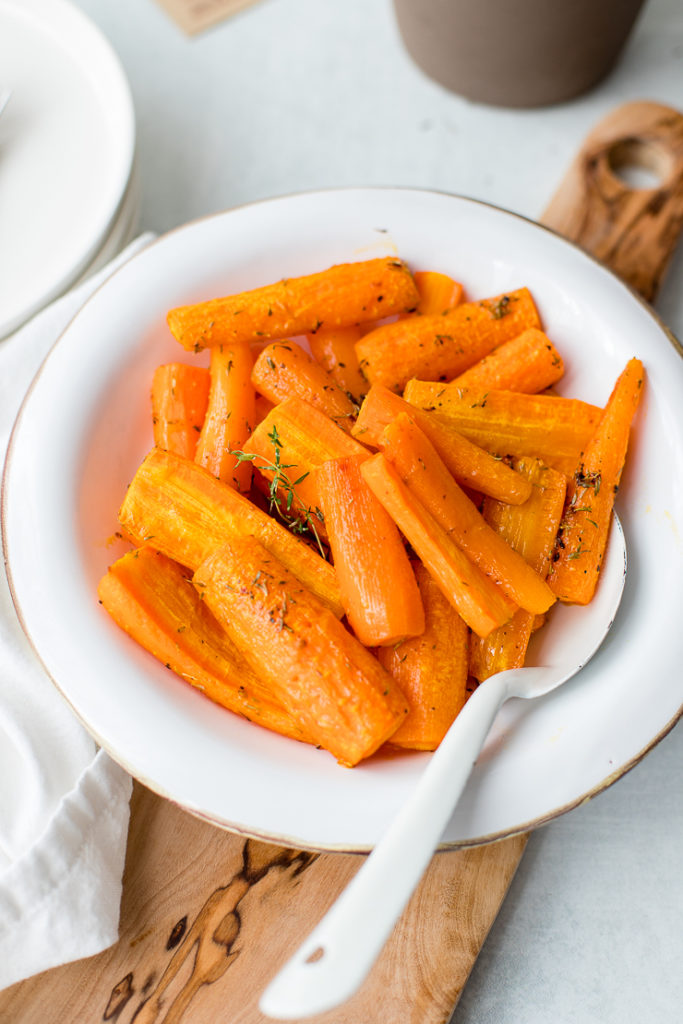 When it comes to side dishes, I firmly believe that simple is best.
Don't get me wrong, I love an intricate and flavorful risotto as much as anyone. It's just that usually, by the time I've put mental and physical energy into figuring out what to make for dinner, not to mention actually, you know, making it, I want to keep the sides as straightforward as possible. Bonus points if they essentially cook themselves.
So these thyme roasted carrots are RIGHT up my alley.
I have been making this basic recipe for a very long time: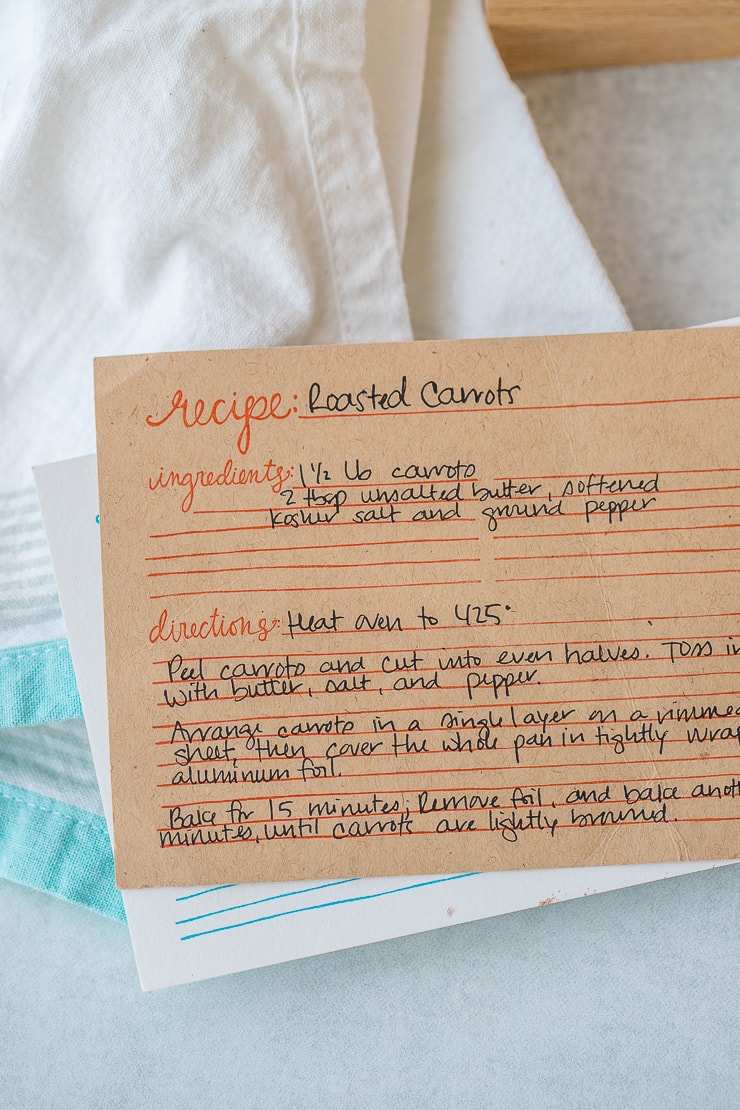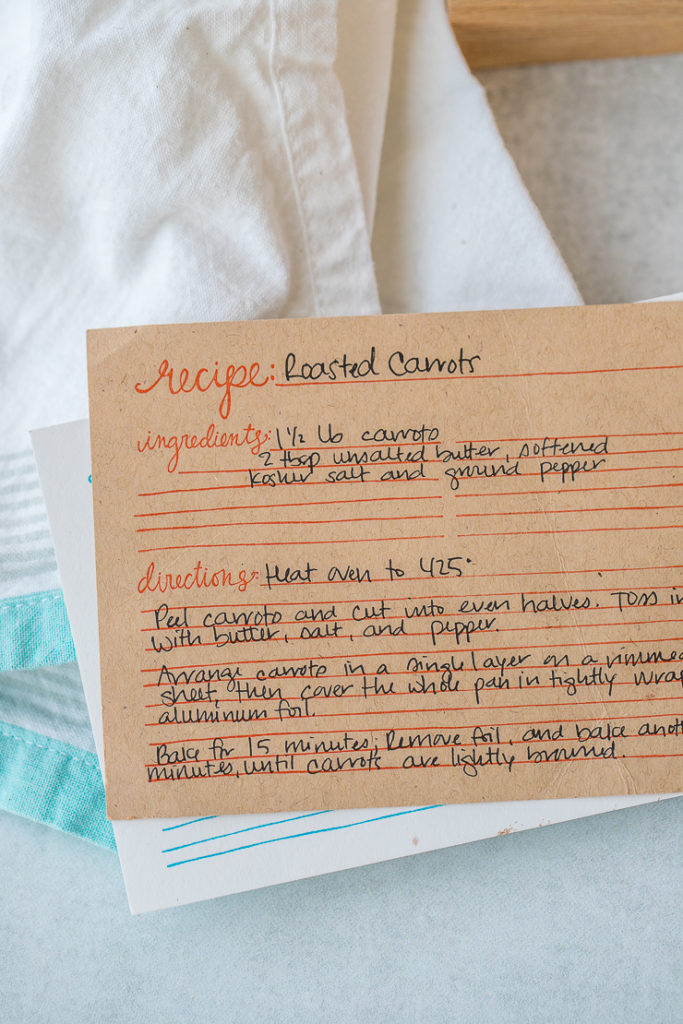 As you can see, since the days when I kept track of perfected recipes by writing them down, rather than publishing them on the internet! But, the more things change, the more they stay the same. These carrots are every bit as regular in my dinner rotation as they were a zillion years ago, when I wrote things on paper in semi-neat hand-writing.
How To Roast Carrots
This is basically the simplest thing, but I'd love to break it down here, so that if you don't already realize how easy this is, you will feel completely empowered to make these yourself!
Obviously, you'll start with a big bunch of carrots. This batch still had the green tops, but you'll be cutting those right off, so buy whatever is available and looks good to you.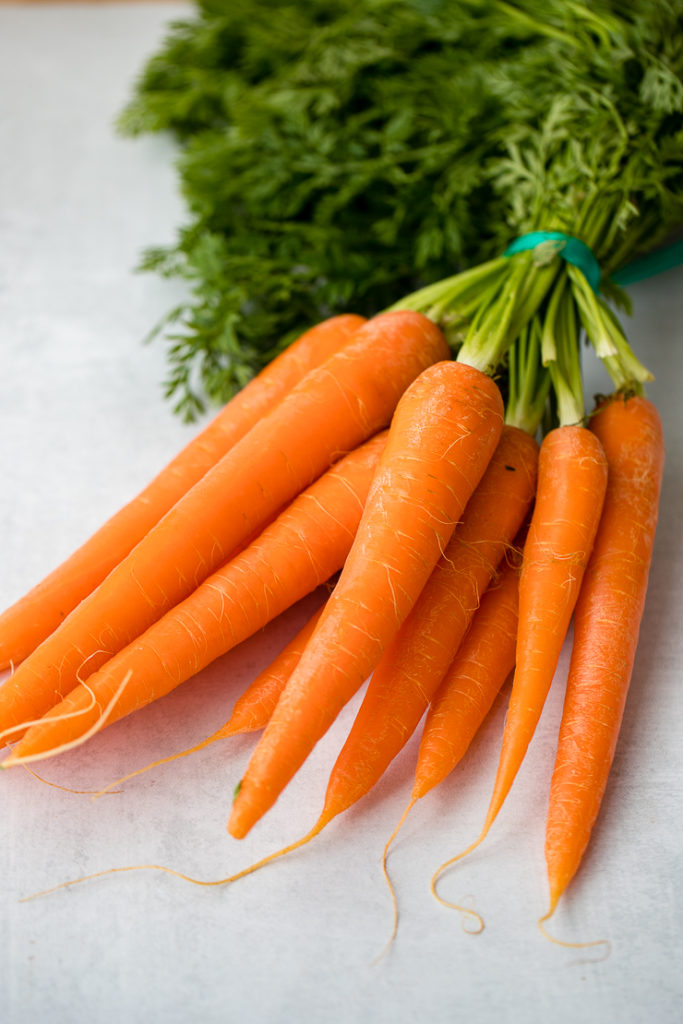 Slice off the very bottoms and very tops, then peel the carrots. Or, don't. Sometimes, if I've bought organic carrots and washed them well, I skip peeling. Usually, though, I find it easiest and fastest just to peel them quickly.
Now slice the carrots into sticks that are your desired length and, importantly, about the same thickness. You don't need to break out a ruler or anything, but this is important to making sure they are all done roasting at the same time, so eyeball it and do your best. It's OK to slice some parts of the carrot into two sticks, others into three, others not at all. You just want the thickness of all sticks to be roughly the same.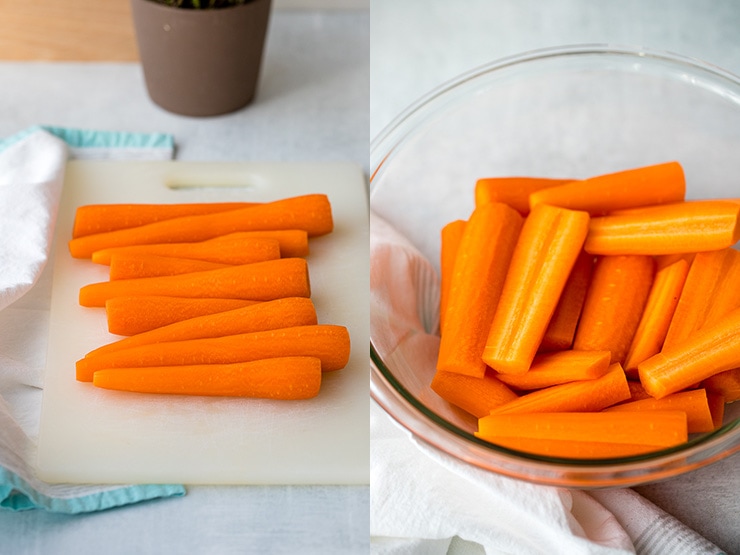 Now sprinkle with a bit of seasoning. These are honestly delicious with just kosher salt and freshly-ground black pepper, but I absolutely love adding a touch of thyme, as well, either dried or fresh.
I confess that the day I took these photos, I used dried thyme even though I had a fresh thyme plant available right on the counter. Time was flying, as it does, and I just couldn't bring myself to take the extra step of removing the thyme leaves from the stems and chopping them up. Lazy? Maybe. But at the end of the day, simple is good. And yes, fresh herbs always taste best, but this mama's got other stuff to do, too!
Quickly toss the carrots with the seasoning, then smear a generous pat of softened butter on top, and stir again to coat them evenly. You want the butter to be pretty soft, so it spreads easily.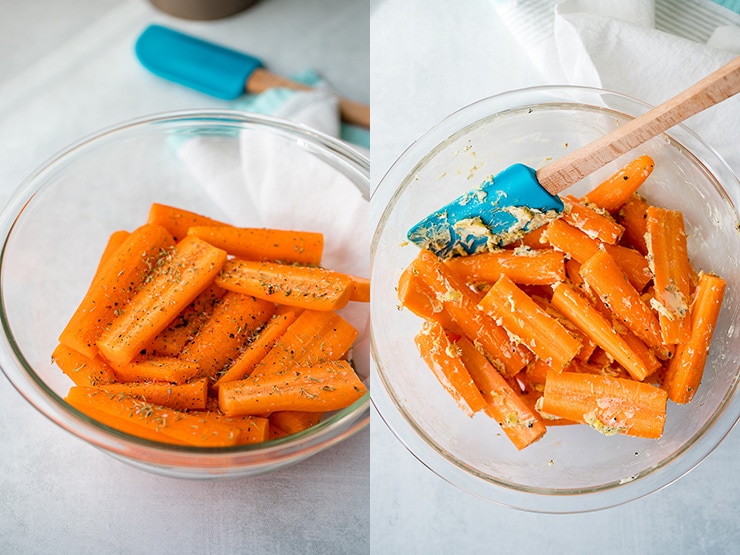 Steam, Then Roast
Now spread the carrots out in a single layer on a large sheet pan. I have found the absolute best results from baking in two stages–about 15 minutes tightly covered with foil, so the carrots begin to steam, followed by about 30 minutes uncovered, to truly roast them.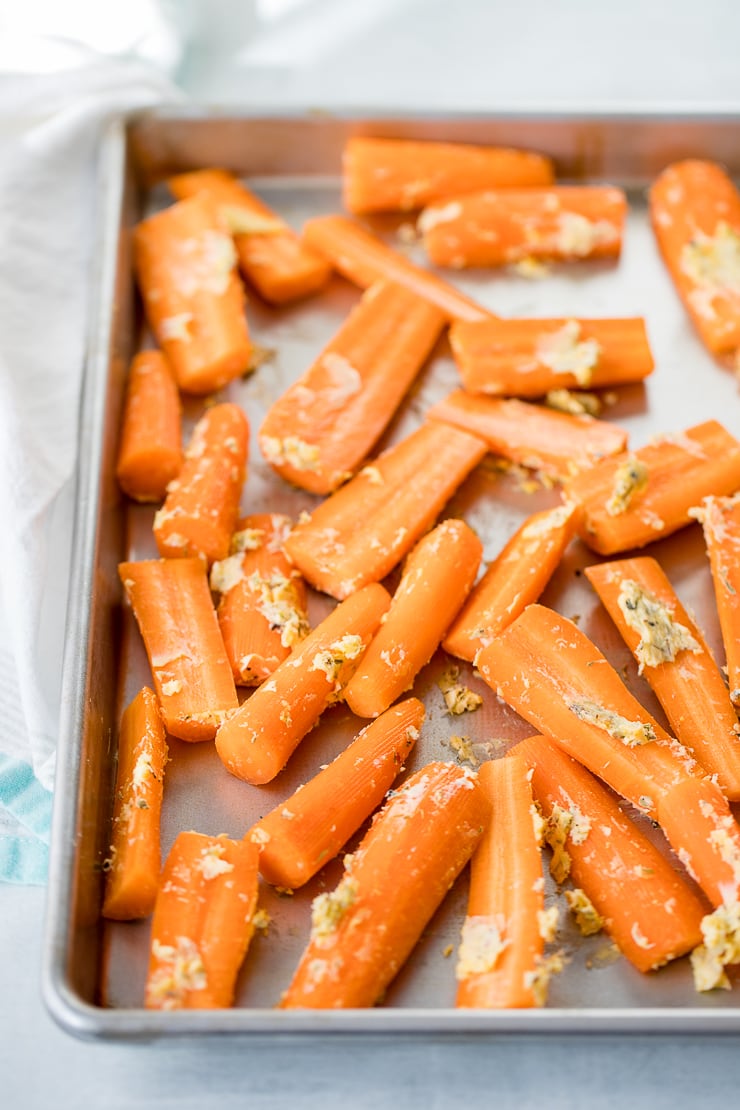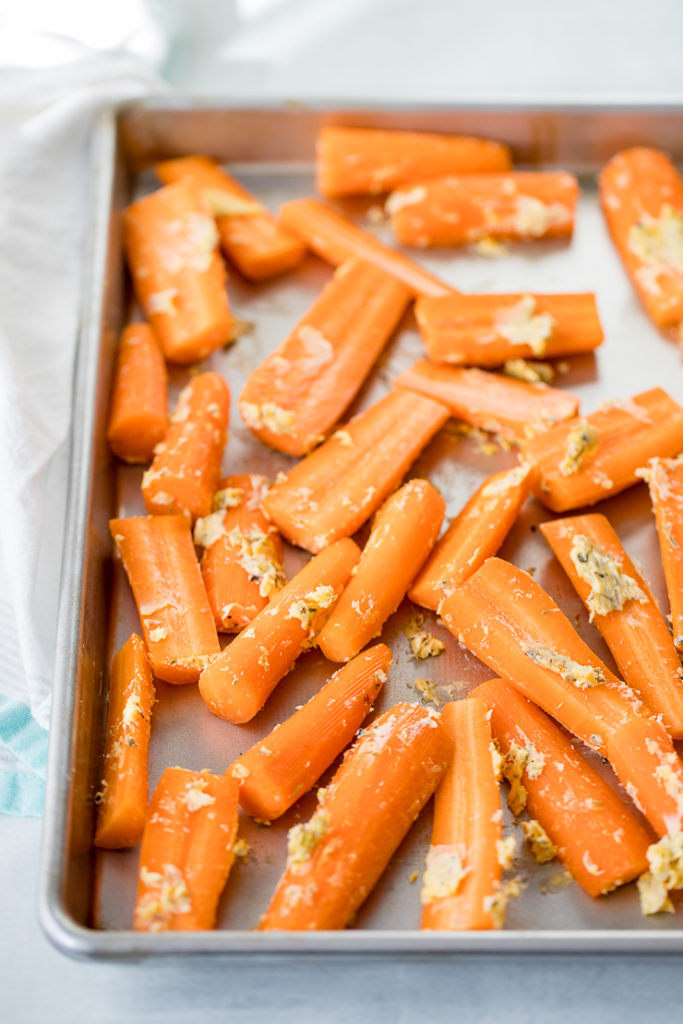 After the uncovered portion, you'll be presented with beautiful, lightly browned, crinkly carrots that look just like this. They should be tender and able to be pierced easily with a fork.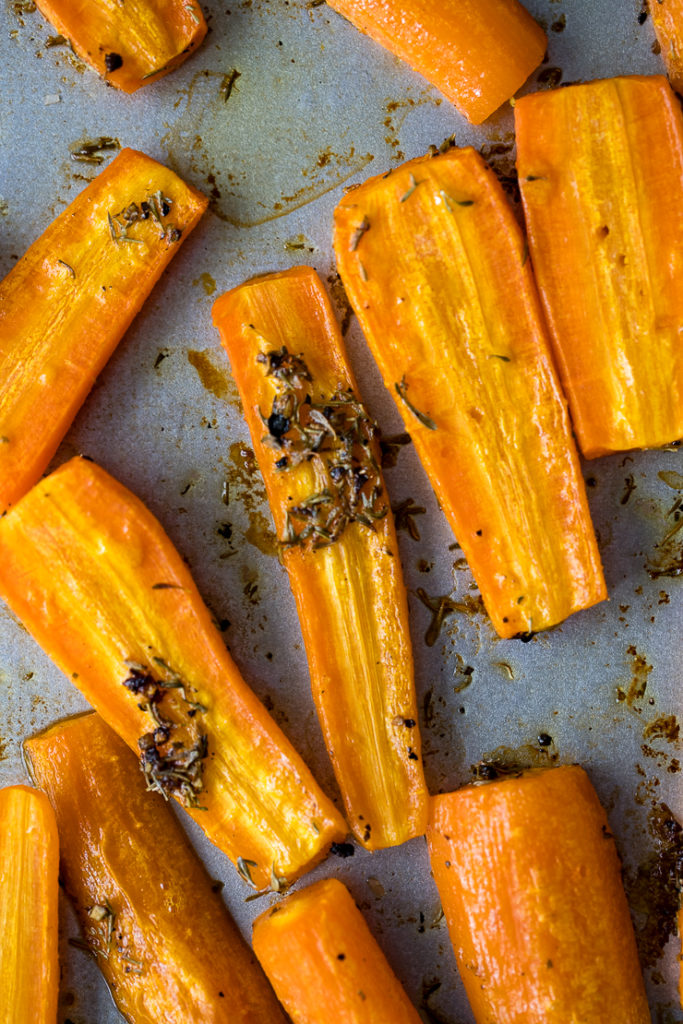 Now serve them up and get ready to chow down!
I'm not exaggerating–I have definitely been known to eat the leftovers as a snack. However many I make, I always wish I had more! I most often think of these as a side dish for hearty meals, such as meatballs or French dip sandwiches. They also make a lovely addition to your holiday table, from Thanksgiving all the way to Easter, not least because they are so hands-off.
If you are really in a pinch for time the day of a big meal, you can even prep the carrots through arranging on the sheet pan, then cover with foil, pop in the fridge overnight, and bake as directed when you're ready to go. So. Easy.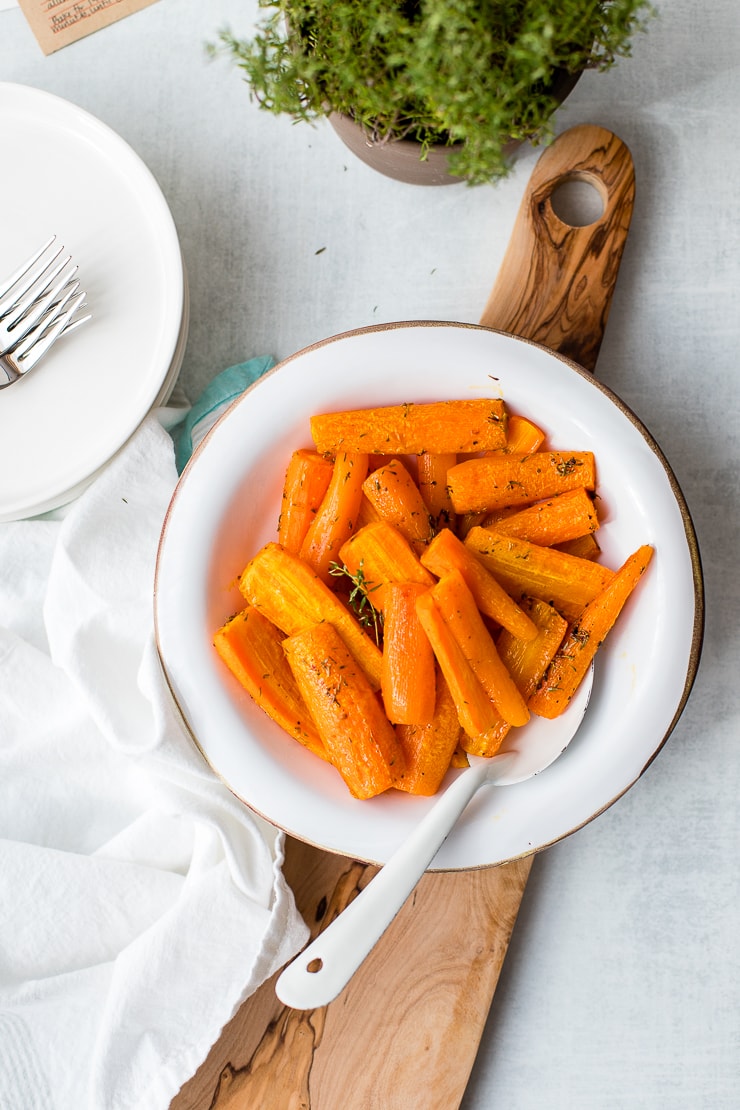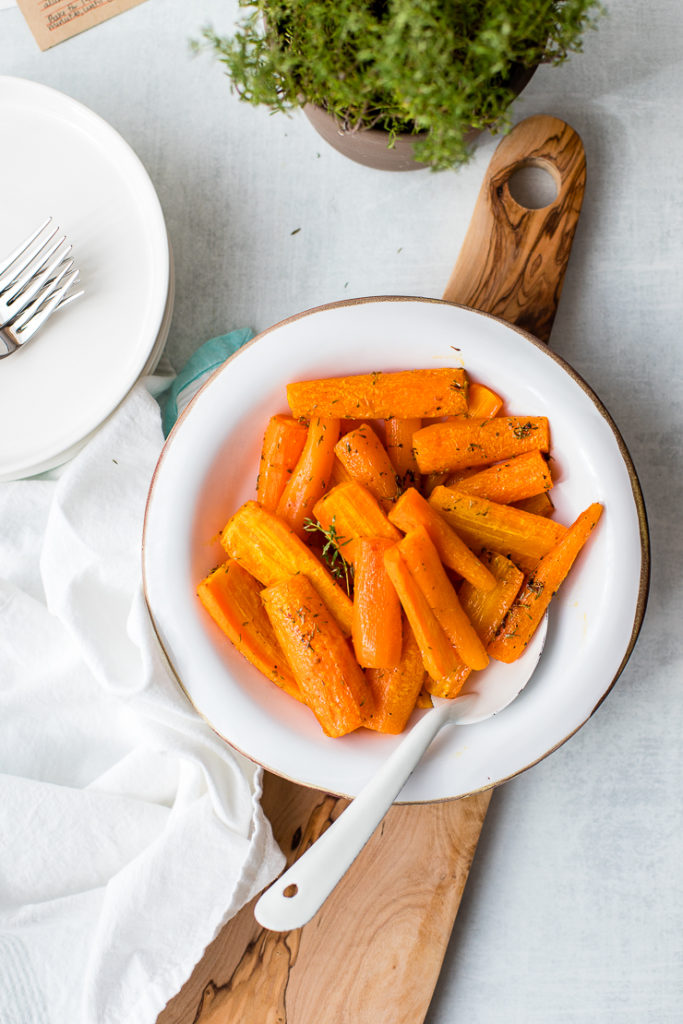 I hope these are as big a hit in your home as they are in mine, and make the cook's life a little easier at the same time! ♥
More Simple Side Dish Ideas:
If you've tried these carrots or any other recipe on the blog, please remember to rate the recipe and leave a comment below. I love hearing from you, and other readers will benefit from your experience!
Thyme Roasted Carrots
The best side dishes are the simplest ones! Roasting brings out carrots' natural sweetness for a simple, healthy side that will have everyone asking for seconds. I eat these as a snack!
Ingredients
1 1/2 lbs. (750 grams) carrots
2 tablespoons (28 grams) unsalted butter softened
2 teaspoons fresh thyme leaves or 1 teaspoon dried 
Kosher salt
freshly-ground black pepper
Instructions
Preheat oven to 425 degrees F (220 C). Set aside a large rimmed sheet pan. 

Peel carrots and cut into sticks of the desired length and approximately the same thickness, to ensure even cooking. Toss cut carrots in a bowl with thyme, a generous pinch of salt, and a few turns of freshly-ground black pepper. Add softened butter, and stir to coat. 

Arrange carrots in a single layer on the baking sheet, then cover the whole pan in tightly-wrapped aluminum foil. 

Bake for 15 minutes, then remove the foil, and bake another 30-35 minutes, until carrots are fork-tender and lightly-browned. Remove and serve immediately.
Notes
These are pretty hands-off as it is, but if you're really pinched for time, you can prepare the carrots through step 3, then store in the fridge, and continue by baking as directed when you're ready to go.
Leftovers keep well in the fridge for 3-4 days, and can be easily reheated in the microwave.
Nutrition Estimate
Calories: 120 kcal, Carbohydrates: 16 g, Protein: 1 g, Fat: 6 g, Saturated Fat: 3 g, Cholesterol: 15 mg, Sodium: 118 mg, Potassium: 544 mg, Fiber: 4 g, Sugar: 8 g, Vitamin A: 28640 IU, Vitamin C: 11.6 mg, Calcium: 60 mg, Iron: 0.7 mg
Did you make this recipe?
Leave a review below, then snap a quick picture and tag @nourishandfete on Instagram so I can see it!