Quick Lemon Thyme Chicken
You'll love this quick and easy lemon thyme chicken recipe for a go-to weeknight dinner! You can count on this no-fail method for cooking chicken breasts in a skillet, and pair it with a simple sauce of garlic, herbs, white wine, and citrus for a delicious meal. No cream!
Easy recipes like this creamy Tuscan chicken, bruschetta chicken, honey mustard chicken and green beans, or this brown butter sage chicken skillet hit the spot when you need to liven up basic chicken breasts!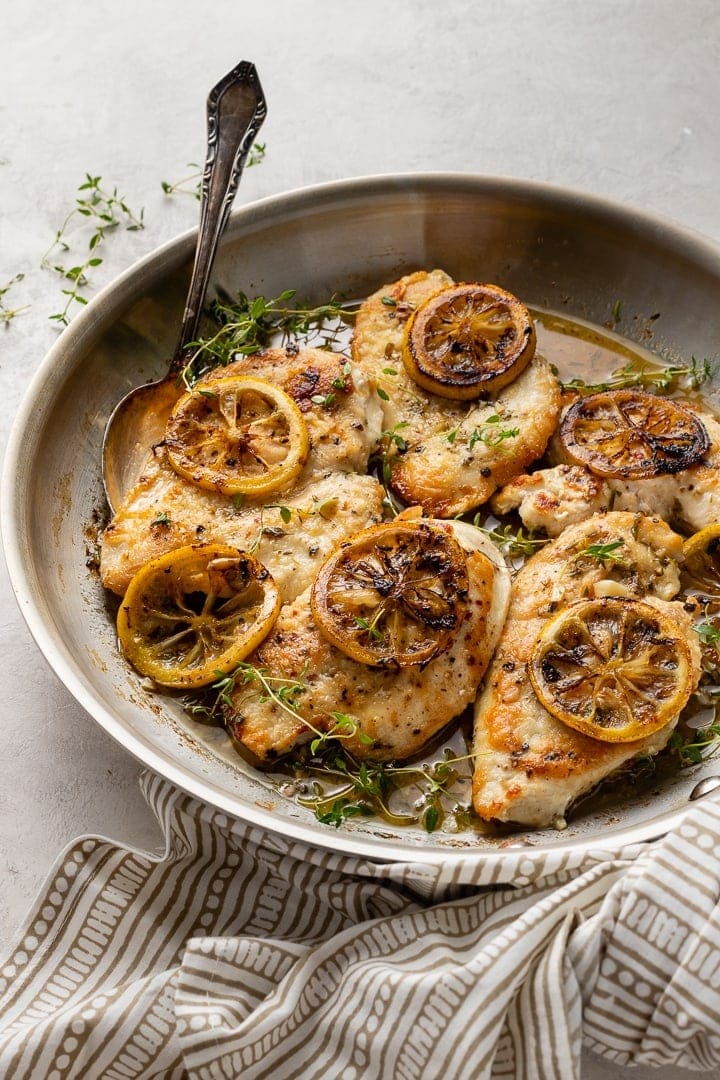 One thing I am pretty sure we could all use more of is quick, no-fail, delicious weeknight recipes. Whether you are coming home harried from work or errands or kids' activities or just wrapping up a(nother) long day, it's comforting to have a dinner plan that you know is going to be simple to prepare and, equally if not more important, taste really good! After all, however simple the dinner, you're still not going to want to cook it if you don't want to eat it, too!
Along those lines, this recipe has become one of my go-to MVPs. Simple, fresh ingredients are always a good start. You probably have most of what you need for this already in your house.
Tender, juicy chicken breasts with a light crust pair beautifully with a light sauce of citrus, garlic, and herbs. A little white wine and butter don't hurt, either! And, from a process perspective, making the sauce in the same skillet you used for the chicken is a double bonus – the sauce takes on extra flavor, and you only have one pan to clean.
See? Definite dinner of champions.
Ingredients and shopping tips
Here's your shopping list:
Chicken Breasts: Boneless, skinless. If they're very thick or uneven, take an extra minute to slice them down the middle (aka, butterfly) before cooking. It makes a huge difference in allowing them to cook more quickly and evenly.
All-Purpose Flour: Just a smidge, for dredging the chicken, which creates a light, crunchy crust on each piece. Use almond flour or skip it entirely if you're avoiding gluten.
Chicken Broth.
White Wine. Add more chicken broth instead if you're avoiding all alcohol.
Garlic and Thyme: Fresh, minced garlic imparts the most amazing aroma and flavor. Fresh or dried thyme will work fine!
Lemon: This doesn't need to be too exact, so I usually just add the juice of 1 lemon. If you want to be more precise, use 2 tablespoons.
Butter.
Freebies: salt, pepper, olive oil.
One thing that's NOT in this recipe: cream!
Many recipes for lemon chicken with herbs, specifically thyme, call for a cream sauce. I recommend giving it a try without: you really don't need cream here to make a sauce that tastes rich and flavorful, so why not save those calories for other things? 🙂
Also, adding cream with citrus introduces a risk that the sauce will separate, unless you're very careful with the heat and cooking time. So you can make it a touch healthier AND easier to make. Win-win!
How to make it
This method of cooking chicken breasts is so simple yet fool-proof.
One of the best tips I know for cooking chicken is to let it rest out of the fridge for a few minutes before you do anything else. Stone cold meat tends to cook less evenly – specifically, the breasts can be overcooked and dry on the outside by the time they are done on the inside. No bueno. So set the meat on the counter for a few minutes while you prep the rest of your ingredients or a quick side dish.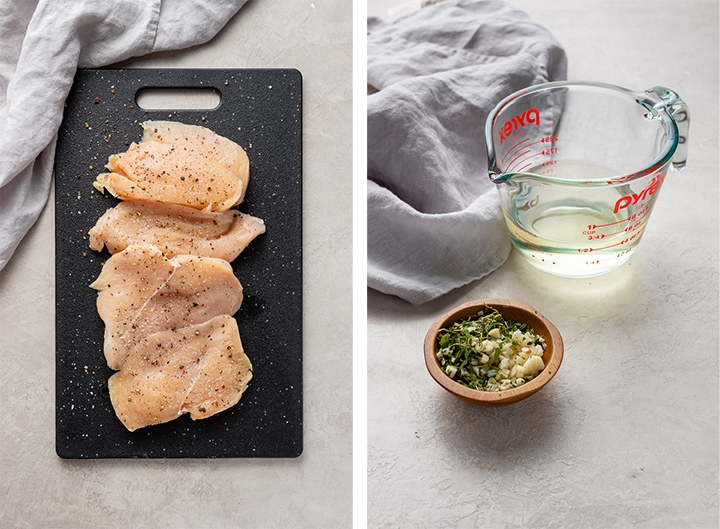 When ready to cook, season both sides of the chicken with salt and pepper. Dredge each piece lightly in flour, and sauté briefly on each side, just until browned on the outside and cooked through. Voila! This chicken stays tender!
Now remove the cooked chicken to a plate, and set aside briefly. Cover the plate with foil, if you like, to keep the chicken warm.
Now, in the same skillet, you'll make the sauce. Add a bit more olive oil, if the pan looks very dry, then cook the minced garlic and thyme just until they're fragrant. Add the white wine, then the chicken broth, and let it all simmer for a few minutes.
Now stir in the lemon juice and butter. When the butter is melted, you're ready to eat! I like to add the chicken back to the skillet for just a minute or two, so it soaks up that delicious sauce – and looks pretty.
Don't forget to spoon the extra sauce generously over not only the chicken pieces, but also any sides. It's worth it!
Easy Entertaining
This dish is 100% worthy of casual entertaining, and you can make it look gorgeous just by putting a few extra sprigs of fresh thyme around the skillet and topping everything with a few charred lemon slices.
How To Char Lemon Slices
You can char lemon slices in the same skillet before you start the chicken, or in a separate skillet while you make the chicken/sauce. Either way, just cut thin slices, brush or spray them lightly with olive oil, and put in a skillet over medium-high heat. Check them every 2-3 minutes, and flip when the underside starts to have small blackened spots. See!? Gorgeous and easy!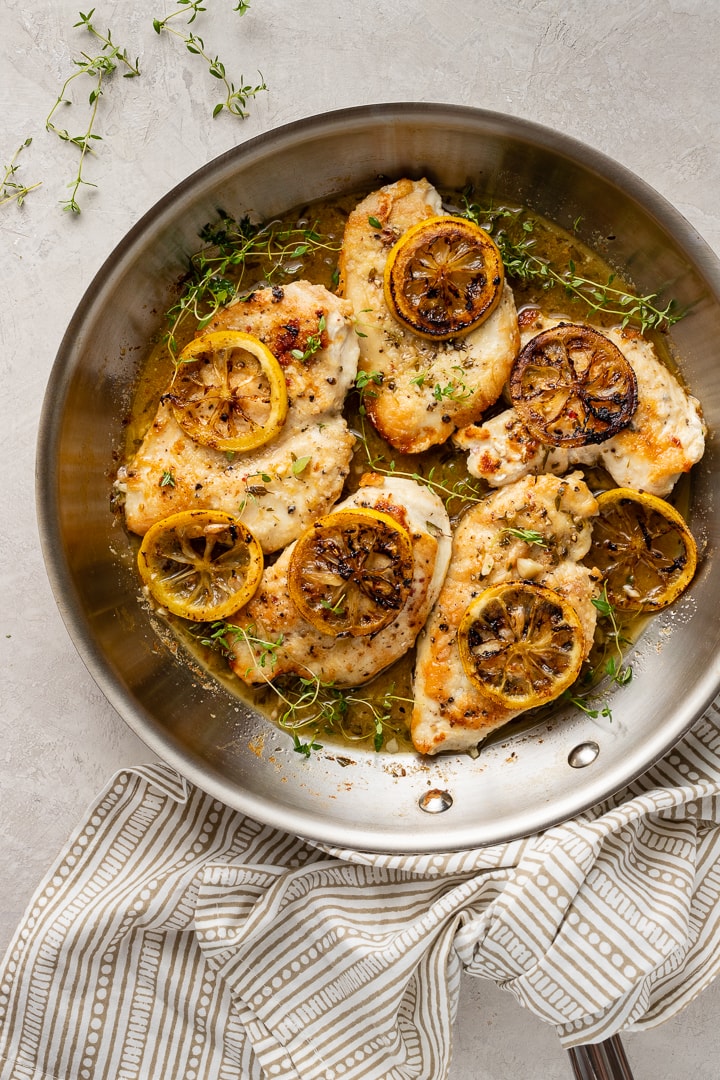 Complete the meal
Lemon thyme chicken goes beautifully with a simple salad, roasted asparagus, or broccoli. My personal favorite meal is to pair this with an arugula salad or broccolini and a side of orzo. The lemon thyme sauce is incredible spooned over the greens and pasta, and makes the whole meal really feel fresh and flavorful for minimal effort.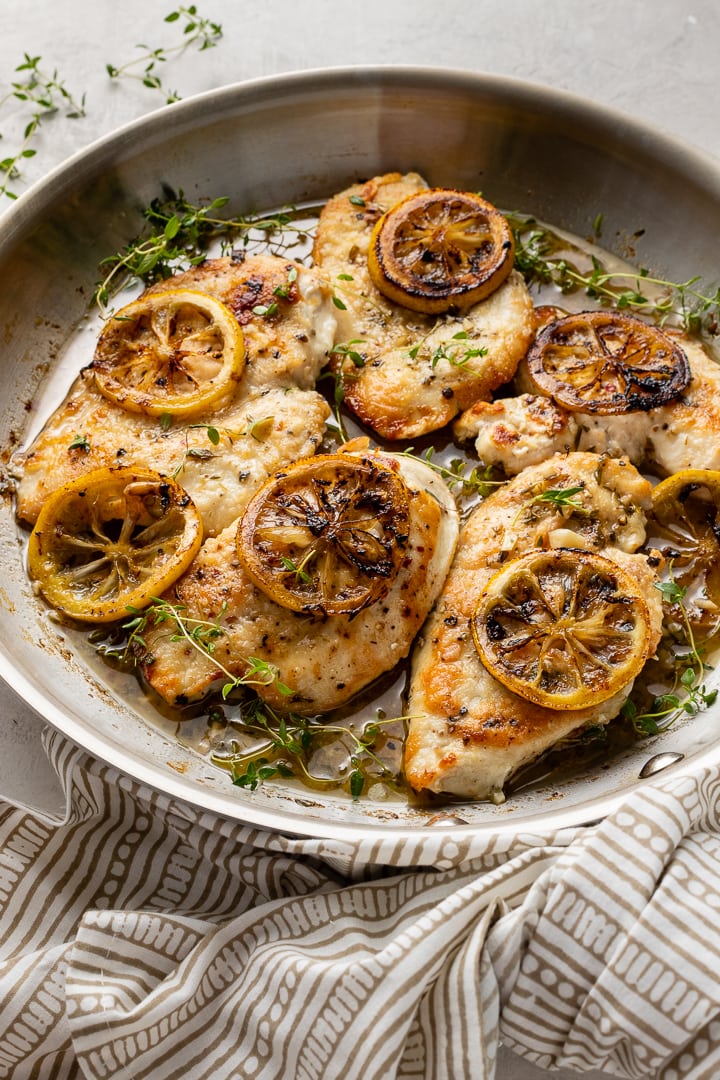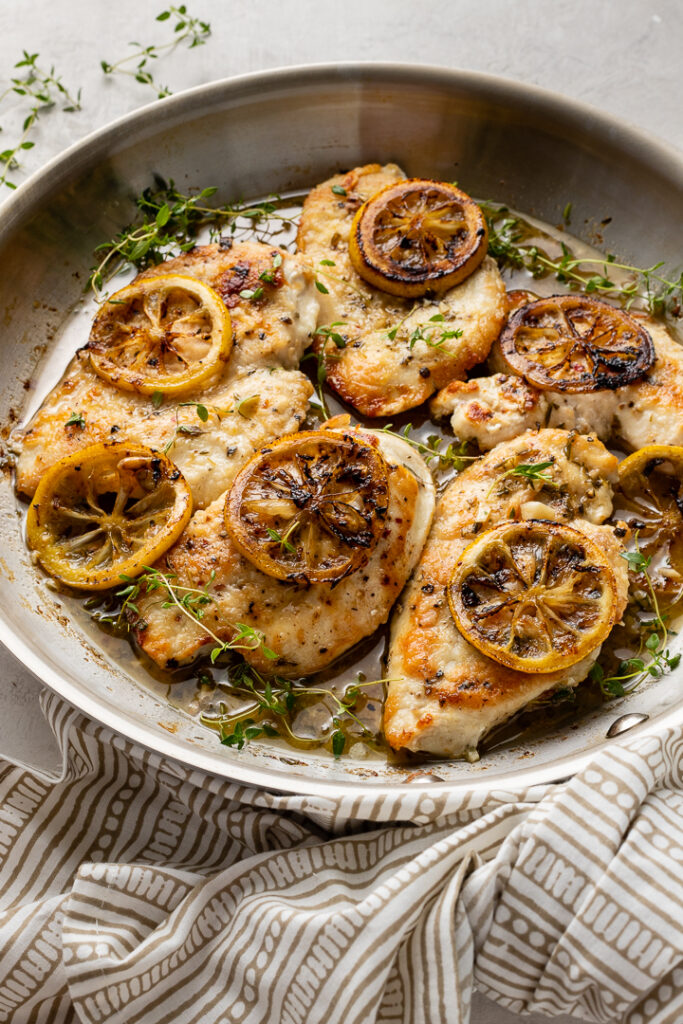 More Chicken Recipes with Lemon
If you love these flavors, try my recipes for creamy lemon chicken, lemon chicken thighs, lemon rosemary chicken, or lemon chicken pasta next. Each is simple to make and delicious!
Want to enjoy these same flavors but with a healthy seafood meal? Baked lemon salmon with herbs will hit the spot.
Enjoy! If you try making this Lemon Thyme Chicken or any other recipe from Nourish and Fete, please rate it and leave a comment below. We love hearing from you, and other readers will benefit from your experience!
You can also FOLLOW me on PINTEREST, INSTAGRAM, FACEBOOK, and TWITTER for more great recipes and ideas!
Lemon Thyme Chicken
Meet your new favorite weeknight dinner! A no-fail method for quickly-cooked chicken breasts, paired with a simple sauce of garlic, herbs, white wine, and citrus.
Ingredients
4 boneless, skinless chicken breasts
1 teaspoon kosher salt
1 teaspoon freshly ground black pepper
1/4 cup all-purpose flour
1 tablespoon olive oil 
3 cloves garlic minced or pressed
2 teaspoons fresh thyme leaves minced (or 1 teaspoon dried thyme)
1/2 cup dry white wine
3/4 cup chicken broth  (I usually use low-sodium)
juice of 1 lemon
2 tablespoons butter
Instructions
Season both sides of the chicken breasts with salt and pepper. Place the flour in a shallow bowl or plate, then lightly dredge each piece of chicken through it to coat, shaking gently to remove any excess.

Warm the olive oil in a large skillet over medium-high heat. Add the chicken and saute for 2-3 minutes per side, until cooked through and lightly golden. Remove the chicken to a plate, cover with foil, and set aside. 

If the pan looks extremely dry, add a tiny bit more olive oil. Add garlic and thyme to the skillet and sauté for about 1 minute, just until fragrant.

Add wine and scrape the bottom of the skillet to loosen any browned bits, then stir in the chicken broth. Bring the liquid to a simmer, and cook until the sauce is reduced and slightly thickened, 5-6 minutes. Add the lemon juice, followed by the butter, and stir until butter is melted. Taste and adjust seasonings as needed. Spoon the sauce over the chicken to serve.
Notes
If you can, it really helps to allow your chicken to rest at room temperature for 10-15 minutes before you begin cooking it. Stone cold chicken breasts tend to cook less evenly, i.e. they can be overcooked and dry on the outside by the time they are fully cooked on the inside.
If your chicken pieces are very thick, or if they are noticeably uneven, try slicing them in half through the middle before seasoning and cooking. (aka "butterflying" the chicken.) This will also help them cook more evenly and quickly! 
Recipe adapted from Taste of Home and Everyday Annie.
Nutrition Estimate
Calories: 405 kcal, Carbohydrates: 9 g, Protein: 50 g, Fat: 15 g, Saturated Fat: 5 g, Cholesterol: 160 mg, Sodium: 909 mg, Potassium: 905 mg, Fiber: 1 g, Sugar: 1 g, Vitamin A: 290 IU, Vitamin C: 5 mg, Calcium: 22 mg, Iron: 2 mg
Did you make this recipe?
Leave a review below, then snap a quick picture and tag @nourishandfete on Instagram so I can see it!
This post may contain affiliate (*) links. See my full disclosures page.
This post was originally published on April 5, 2017, and updated July 23, 2019 with new photos and more information about the ingredients, instructions, and recommended pairings.