Penne Alla Vodka with Mushrooms & Sun-Dried Tomatoes
This easy vegetarian Penne Alla Vodka recipe is one you'll want to make again and again! Mushrooms and sun-dried tomatoes add layers of flavor, it comes together quickly, and it's simple to adapt whether you make your own sauce or use store-bought.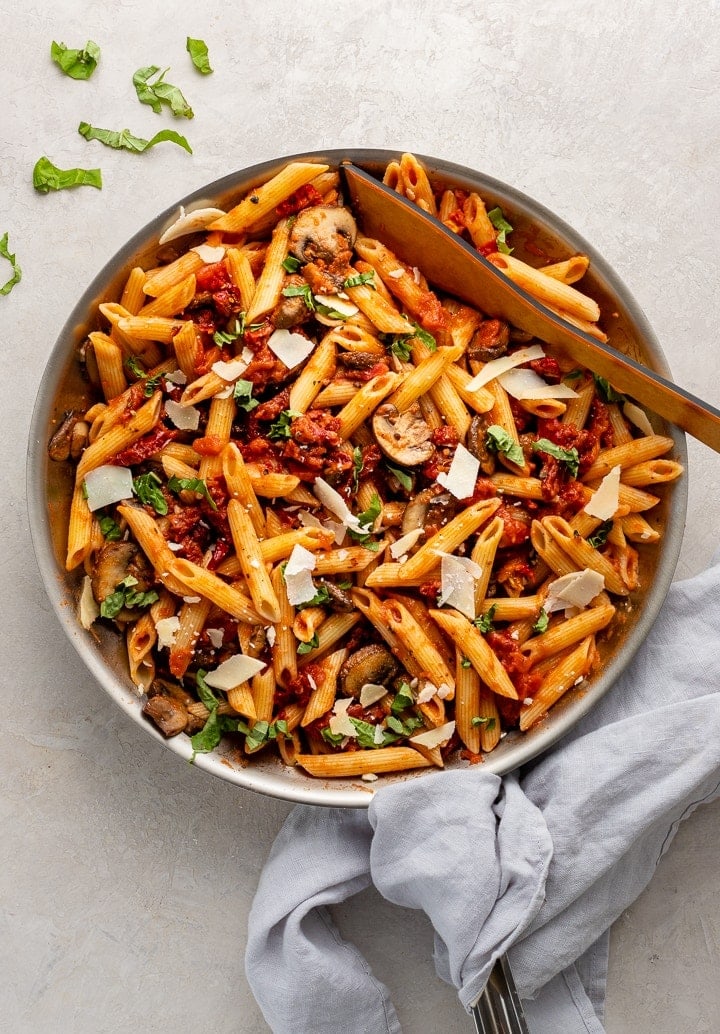 There you are, wanting to throw together a real meal at home, but seriously not wanting to turn on the oven, chop a sky-high pile of veg, or use a ton of pans you'll just have to scrub afterwards. Sound familiar? That's pretty much every day here!
This simple penne alla vodka is just the thing. It's a vegetarian-friendly version of this pasta with chorizo and sun-dried tomatoes, swapping in mushrooms and adding a bit of garlic and fresh basil for extra flavor.
This recipe won over ALL FIVE members of my family, so you know that is a winner! Hallelujah!
Penne Alla Vodka Plus: Shopping List
I like to call a dish like this penne alla vodka plus. My thinking is that pasta with vodka sauce is delicious on its own, but when you add a few extras, it definitely earns a little "plus one."
To make this, you'll need just a few ingredients:
Penne: Or another dried pasta. Any shape is fine, as long as it has a few ridges or crevices where the sauce can cling.
VODKA SAUCE: AKA a little jar of heaven! This sauce is incredible. I would choose a pasta dish with vodka sauce over nearly anything else most days of the week! Another reason I love this recipe is because when you are in a major hurry, it's perfectly delicious with a quality jarred sauce, but for those times you want to go extra, using a batch of homemade vodka sauce truly puts it over the top. Highly, highly recommend!
Mushrooms: I usually use either white button mushrooms or baby 'Bellas. Buy them pre-sliced to save time!
Sun-dried tomatoes: You'll also save a minute if you buy the tomatoes pre-sliced and dried, not oil-packed, but either way certainly works!
Garlic: a few cloves, minced.
Fresh basil leaves, to sprinkle on at the end.
Freebies: salt, pepper, and olive oil.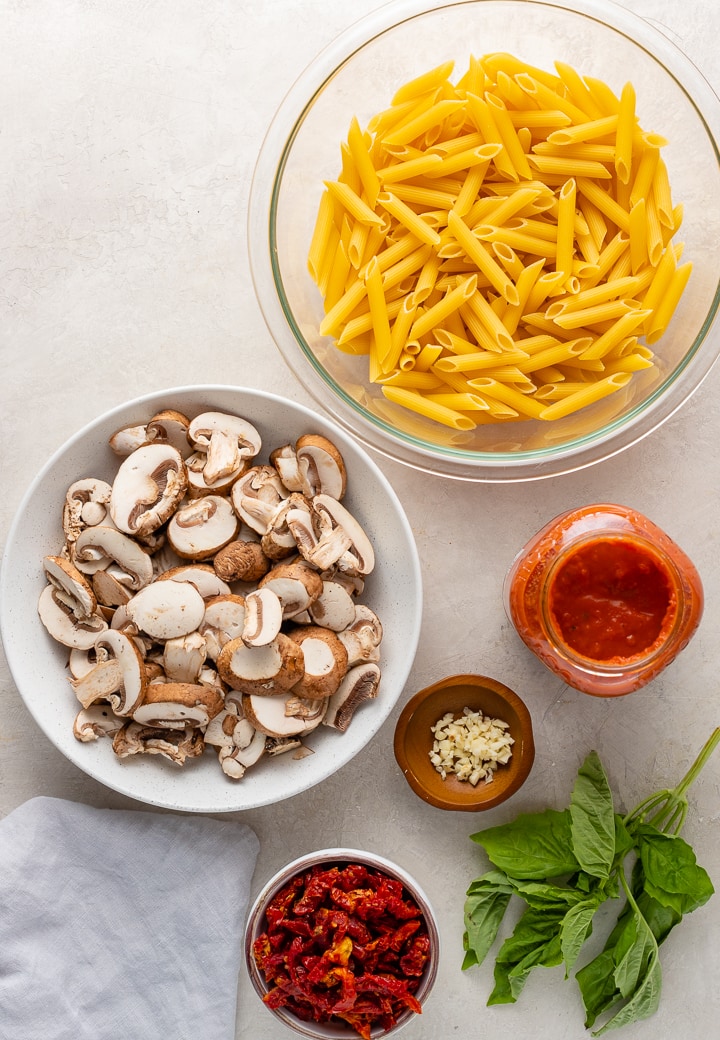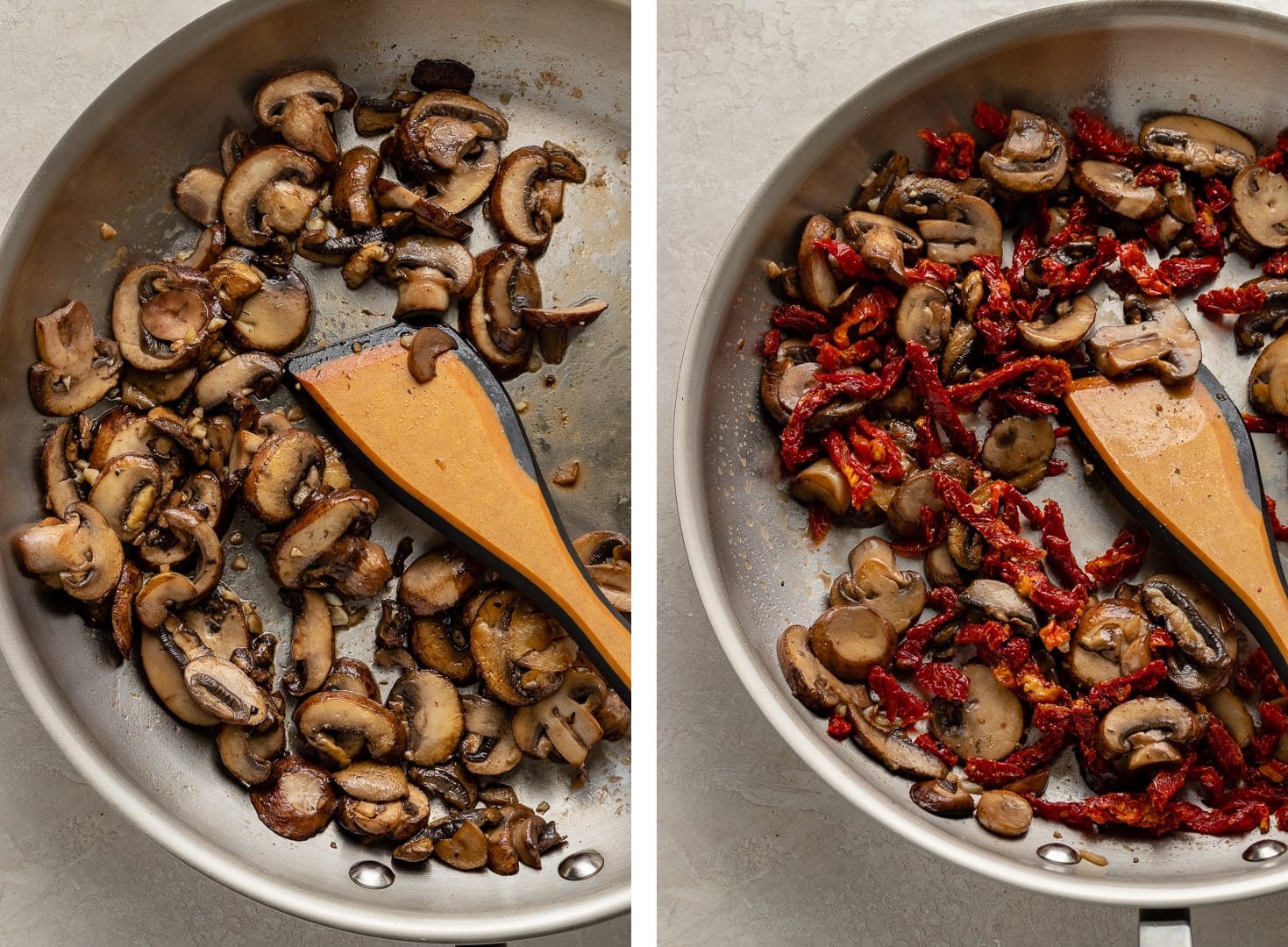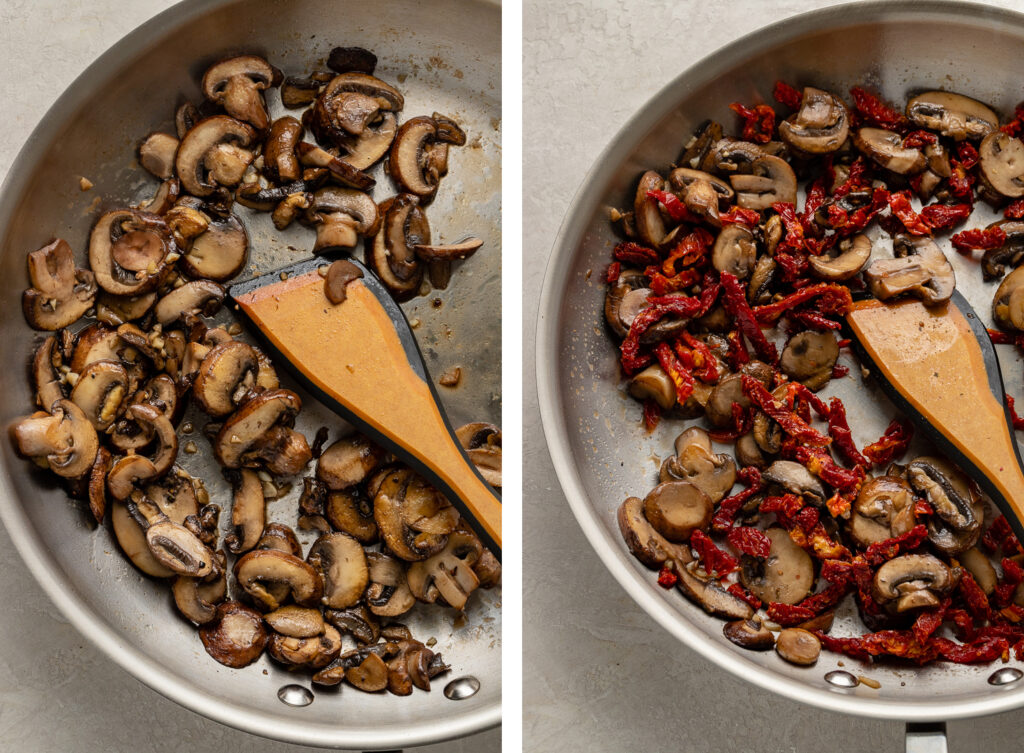 How To Make It
Here's what you'll do:
Boil a large pot of water, salt generously (here's why!), and cook the pasta to al dente.
Meanwhile, prep your ingredients and warm a drizzle of olive oil in a large skillet.
Cook the chopped garlic for about 1 minute, just until fragrant. Add mushrooms, and cook about 5 minutes, until they are nicely browned. Stir in the sun-dried tomatoes.
Add in the sauce and the drained pasta. Add the sauce a bit at a time, and stir as you go, so you can adjust the amount to your taste. I think it's best when the pasta is nicely coated, but not drowning!
Sprinkle on a little fresh basil and grated Parmesan. And dig in!
If you're using sauce from the store, or that you made yourself ahead of time and stored in the fridge, obviously it's pretty straightforward to simply add that directly from the jar. If you're making the sauce yourself at the same time as the meal, you could do this one of two ways:
To work most quickly, make the sauce in a separate skillet at the same time as you cook the garlic and mushrooms. The downside is you'll have an extra pan to wash.
Alternatively, you can cook the garlic, mushrooms, and tomatoes as directed, then transfer them to a bowl and make the sauce right in the same skillet. This is what I'd recommend – if you can't spare those extra few minutes, maybe just use a jarred sauce this time!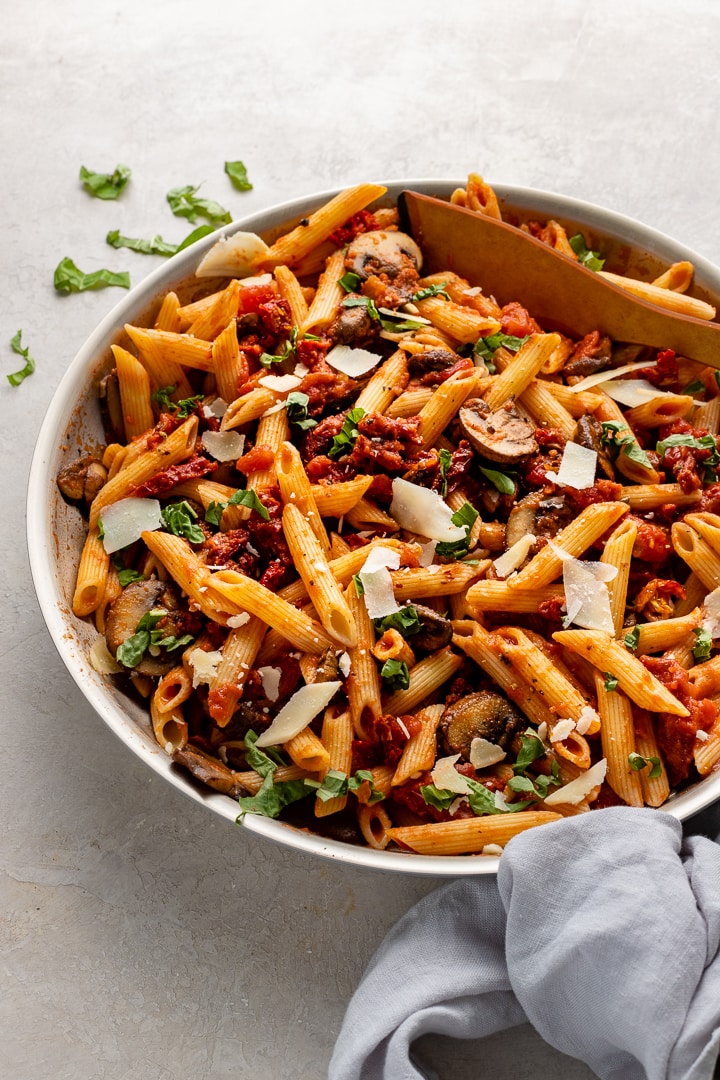 What To Serve With It
I highly encourage keeping it simple with the sides – as always!
A simple Italian Garden Salad would go wonderfully here, as would …
or any roasted veggie – Ina Garten's roasted broccoli is always a favorite in my house!
and, you know, a little garlic bread never hurt anyone. 🙂
If you try making this Penne Alla Vodka or any other recipe on the blog, please rate it and leave a comment below. I love hearing from you, and other readers will benefit from your experience!
Penne Alla Vodka With Mushrooms and Sun-Dried Tomatoes
A simple, flavorful, vegetarian recipe for penne alla vodka!
Ingredients
16 ounces penne or other pasta
1 tablespoon olive oil
3 cloves garlic finely chopped
10 ounces sliced mushrooms
1/2 cup chopped sun-dried tomatoes
1 1/2 cups vodka sauce
salt and pepper to taste
2 tablespoons fresh basil slivered
grated Parmesan for serving
Instructions
Bring a large pot of salted water to boil. Cook pasta to al dente according to the package directions, then drain and set aside.

While the pasta is cooking, warm the olive oil in a skillet over medium-high heat. Add garlic and cook for 30-60 seconds, just until fragrant. Add mushrooms and sauté for about 5 minutes, until they turn dark brown in spots. Stir in the sun-dried tomatoes, followed by about 1 cup of the sauce, and reduce heat to low.

Add pasta to the skillet, plus salt and pepper to taste, and stir well to combine. Add more sauce until the pasta is evenly coated, but not drowning in it. Add fresh basil, and serve with Parmesan. Enjoy!
Notes
Any type of pasta is fine – penne is a traditional option, but I also love to make this with fusilli, orechiette, or cavatappi. I do like to use something with ridges and crevices for the sauce to cling to.
I usually make this with sliced white or baby bella mushrooms.
For the quickest preparation, buy sun-dried tomatoes pre-sliced and dried, vs. oil-packed. If you can't find those, just drain and lightly dry them with a paper towel, and chop if necessary before tossing them in with the cooked mushrooms.
Adjust the amount of sauce to your taste and convenience – if making this with homemade sauce, I usually just use one batch per pound of pasta, and if making with jarred sauce, I just use one jar. 
Nutrition Estimate
Calories: 352 kcal, Carbohydrates: 67 g, Protein: 14 g, Fat: 4 g, Saturated Fat: 1 g, Sodium: 351 mg, Potassium: 842 mg, Fiber: 5 g, Sugar: 9 g, Vitamin A: 380 IU, Vitamin C: 9.3 mg, Calcium: 37 mg, Iron: 2.7 mg
Did you make this recipe?
Leave a review below, then snap a quick picture and tag @nourishandfete on Instagram so I can see it!