Baked Lemon Herb Salmon
Lemon Herb Salmon is a dinner staple: quick, easy, delicious, and healthy. With minimal prep and clean up, plus a short baking time, this recipe is a dream on busy nights. Pair with steamed veggies and rice or garlic bread.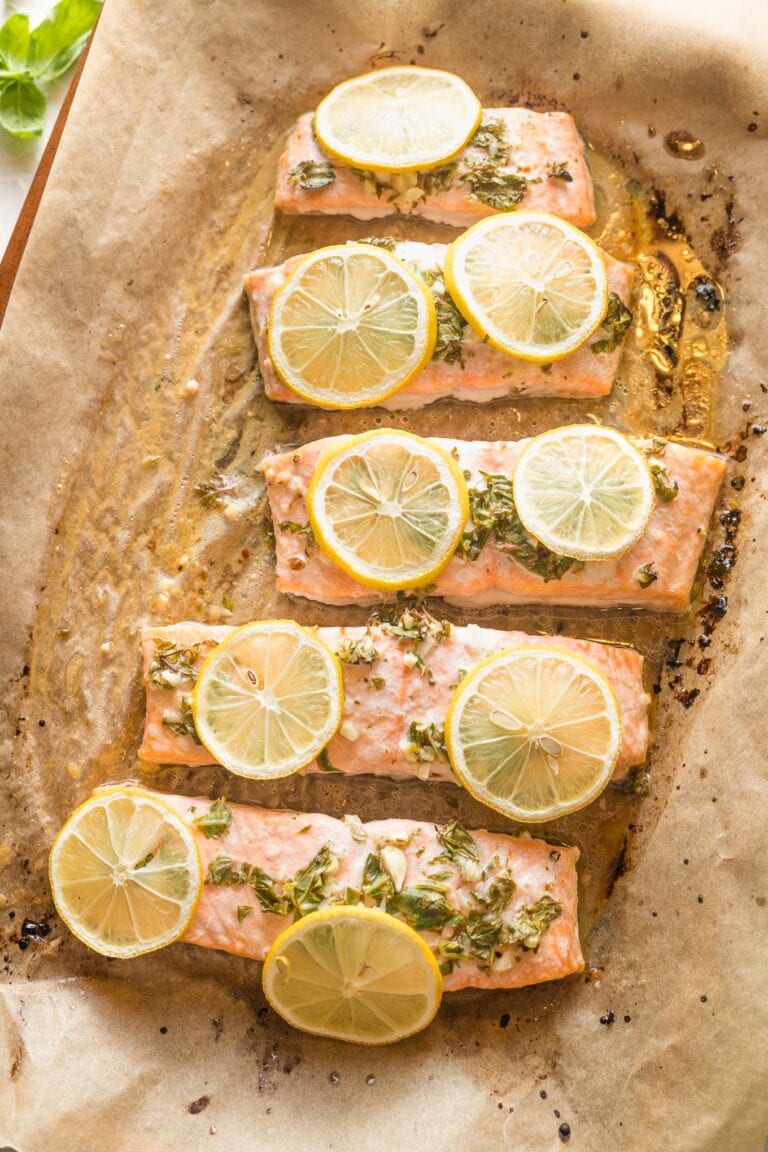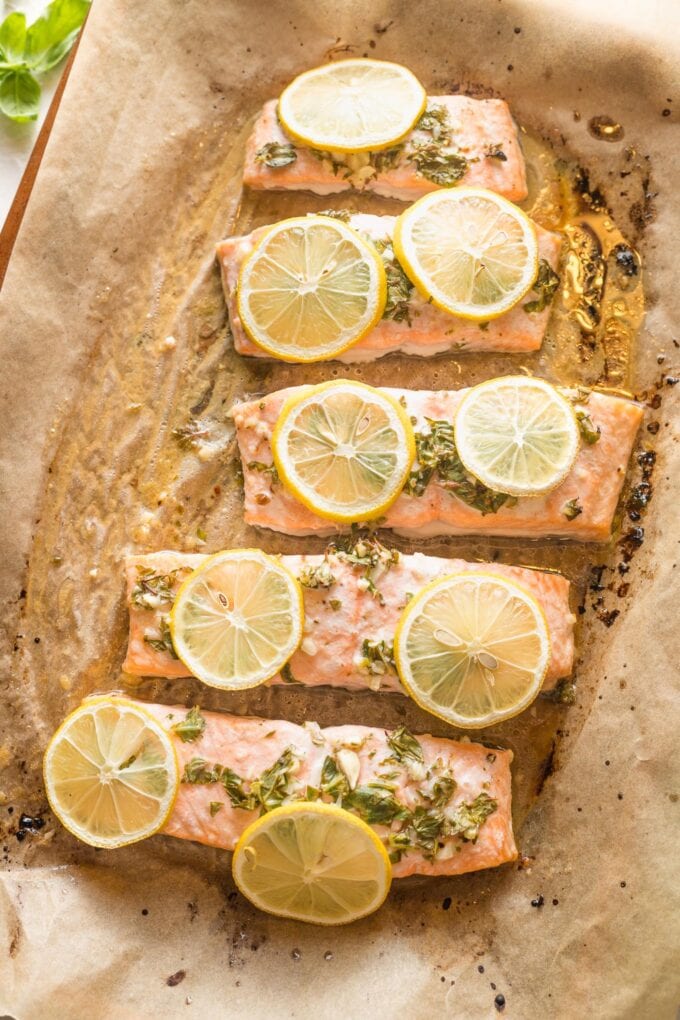 Like most busy households, we're perpetually in search of new dinner ideas that require a bare minimum of prep work, yet are still healthy and based mainly on real, whole foods. This simple lemon salmon with herbs checks every box.
You'll Love That It's…
Easy to prep: 5 minutes max.
Quick and hands-off to cook: once it goes in the oven, the salmon bakes away to tender perfection, and you're free to focus on other things. No pot-minding.
Fresh and flavorful: lemon and herbs always make for a stellar combination.
Healthy: most of us could stand to eat more fish. A simple baked salmon is an excellent way to make that goal super convenient and easy to achieve.
Versatile: this is a great last-minute family dinner, yet elegant enough to serve any company — especially if you use a large side of salmon instead of individual filets.
Ingredients & Common Substitutions
Here is a visual overview of the ingredients you'll need for this recipe. Scroll down to the printable recipe card at the bottom of this post for quantities!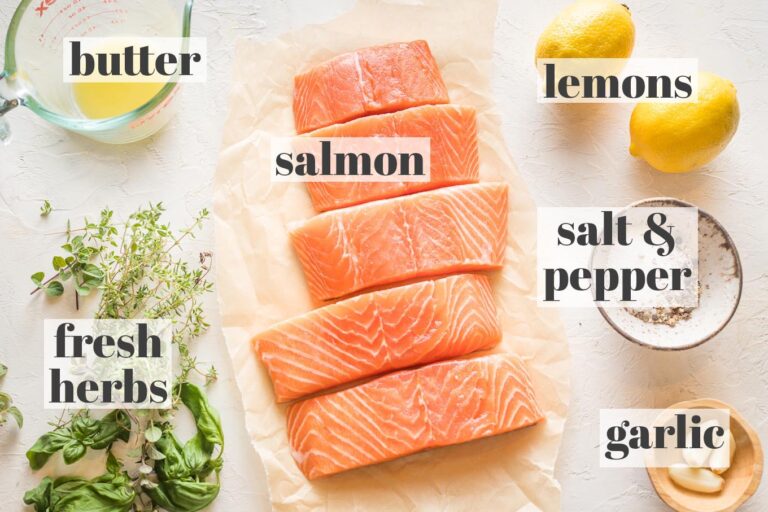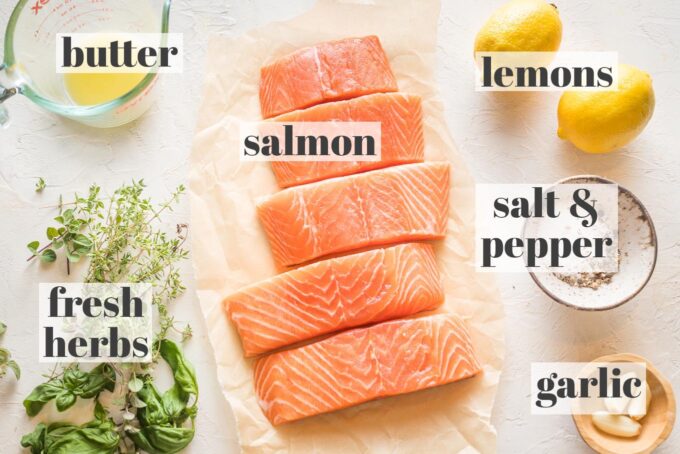 There are just a handful of ingredients here, so the quality and freshness of each matters.
Salmon: You can use either pre-cut filets, as shown here, or a whole side of salmon, which bakes in about the same amount of time and makes for a really elegant presentation.
Lemons: This is key to the flavor, so fresh lemons really are worth it here.
Garlic: Minced fresh garlic will impart the best flavor by far; the jarred stuff is worth using in a pinch.
Fresh herbs: The best flavor and the prettiest garnish. This dish is perfect for using some sprigs from your herb garden!
What's better: skin on or skin off salmon?
Purchase "skin-on" salmon if possible, and cook with the skin side facing down. The skin serves an important purpose, helping to keep the salmon intact as it cooks and acting as a natural barrier between the tender flesh and the hot pan, which in turn helps to prevent overcooking and a dry, flavorless meal.
Can you eat salmon skin?
Yes! Salmon skin can get very crispy when baked or roasted, and is generally safe to eat. If you prefer not to eat the skin, however, it's very easy to flake the salmon flesh off of it once cooked.
What herbs go with salmon?
Salmon goes well with nearly any common herb: basil, thyme, oregano, rosemary, and parsley are perfect with this baked lemon preparation. Feel free to mix and match to your taste. Add dill for a mild Greek flavor twist.
How To Make Baked Lemon Salmon
When I say this takes minimal prep work, it's the truth. As an added bonus, the clean-up is just as easy. That is exactly why this recipe is a life-saver for those nights when you have no plan and no time.
Brush salmon with butter.
Season with a mixture of lemon, garlic, and herbs.
Bake in a 425 degree oven for 10 minutes or slightly more, for thick filets.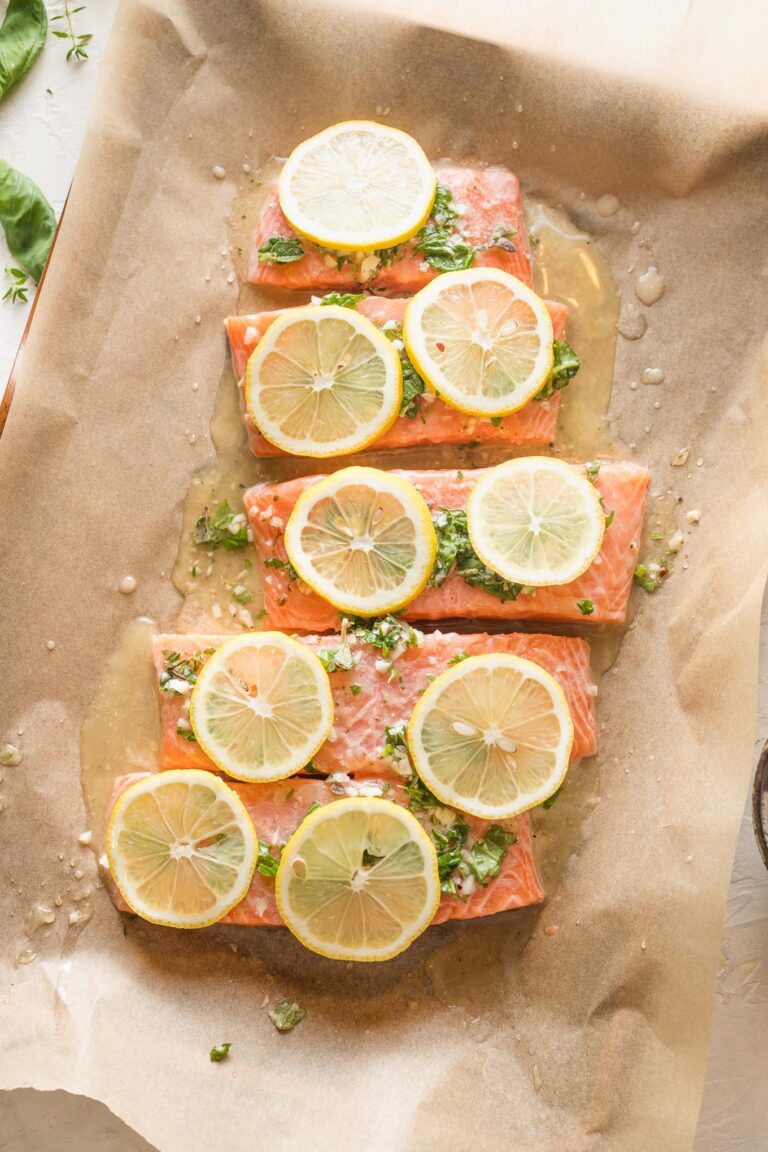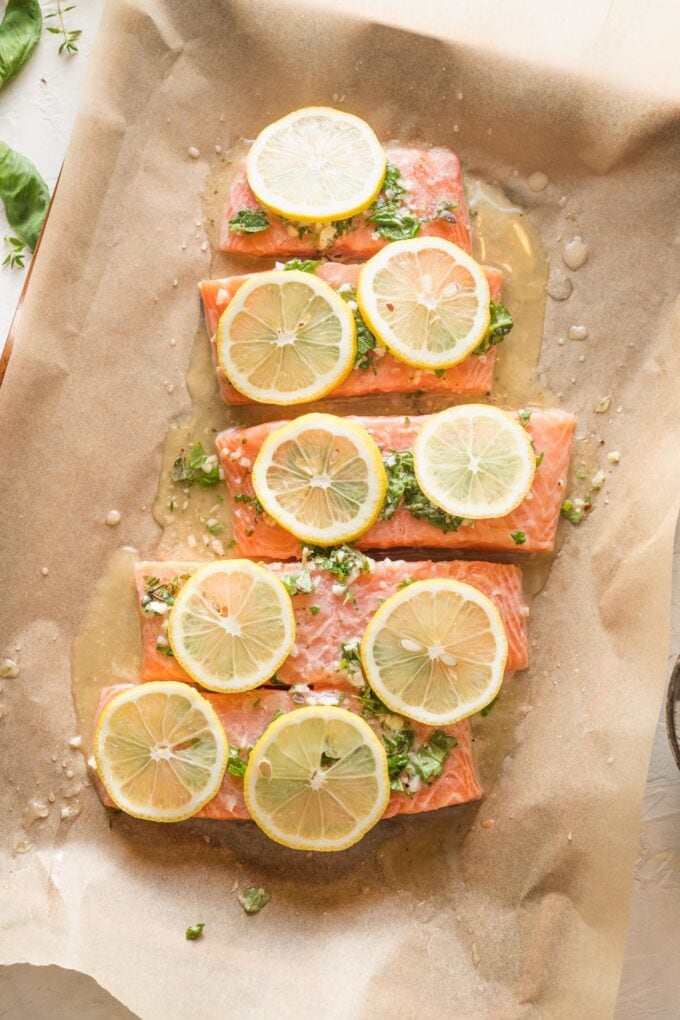 Pro Tip: Add lemon slices on top before baking! This adds more fresh lemon flavor and makes for a very pretty finished product. This works best with thin slices, which can be discarded after baking or added to plates.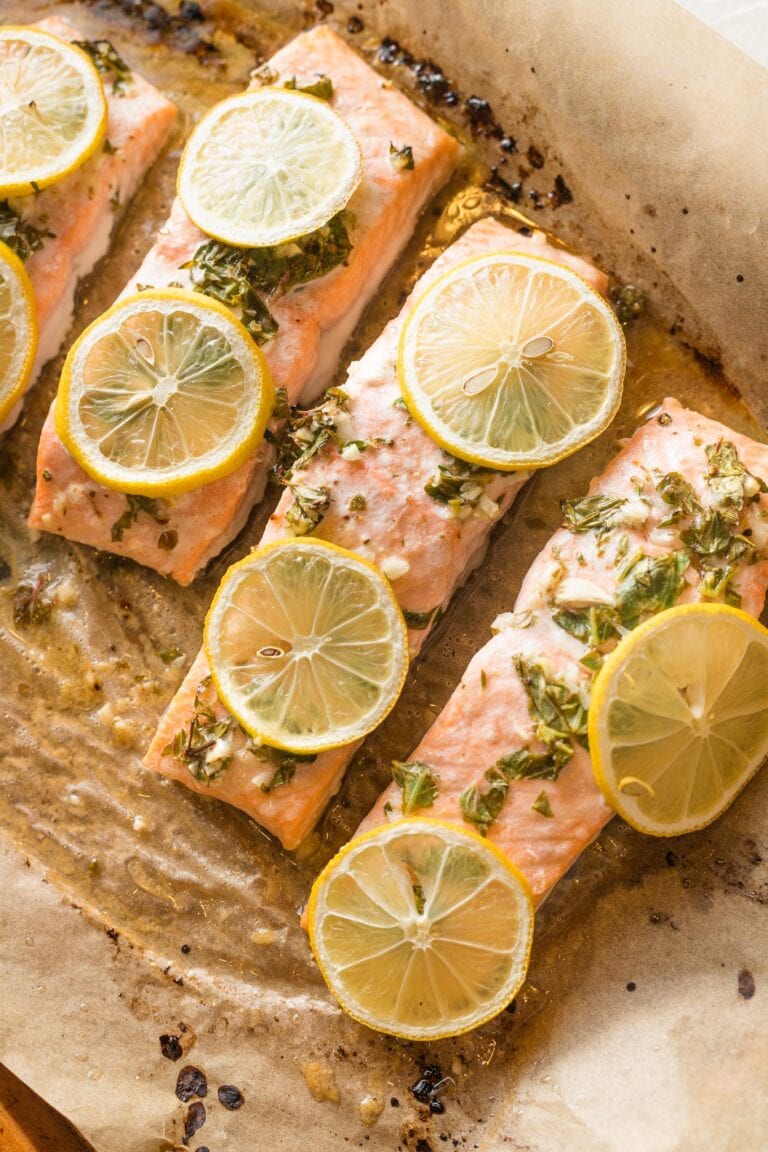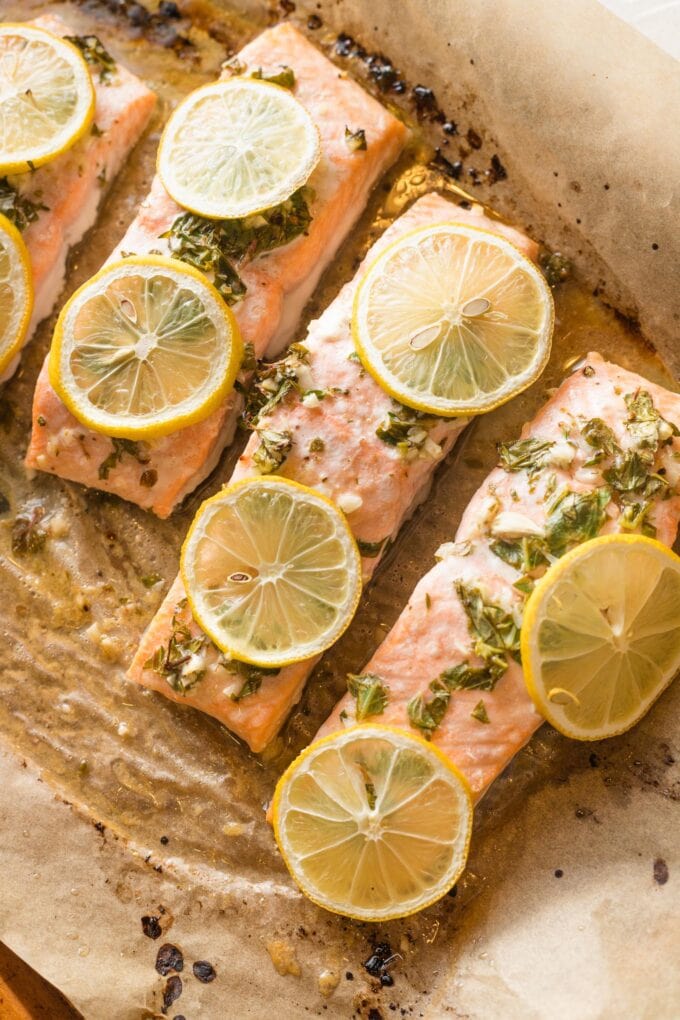 How long to bake salmon at 425 degrees?
Salmon cooks very quickly, and can go from completely uncooked to done in as little as 10 minutes in a 425 degree oven. Of course, the exact cooking time will depend on how thick the filets are, and it is worth watching closely to be sure they do not overcook.
What is the recommended internal temperature for baked salmon?
The USDA recommends cooking salmon to an internal temperature of at least 145 degrees F, but keep in mind that the salmon will continue to cook and rise in temperature for several minutes after you remove it from the hot oven. For salmon that is safe yet tender, remove it when the internal temperature reaches 125 to 135 degrees F. An instant read meat thermometer makes this easy.
How do you know when salmon is done?
There are several ways to tell when salmon is cooked through. Firstly, the color will change from translucent, raw red, to a more opaque pink. Another easy test is to press gently on the filet with a fork or your finger — cooked salmon will flake easily, meaning it separates along the white lines that criss-cross the filet. These lines are strips of fat.
What To Serve with Baked Salmon
Pair this salmon with roasted or steamed broccoli, green beans, or carrots. Rice, pasta, or couscous makes a nice bed for the salmon or side dish for sharing, as does garlic bread.
The plate shown here includes a lemon herb salmon filet, steamed green beans, and pearl couscous.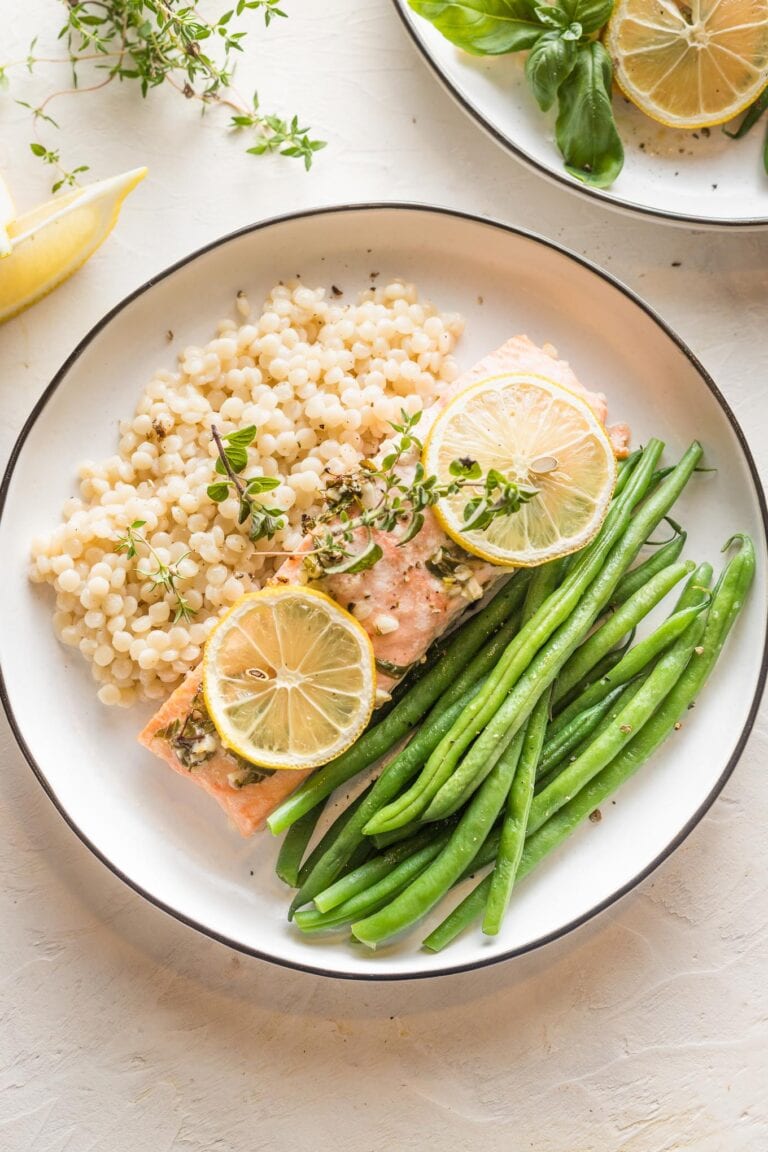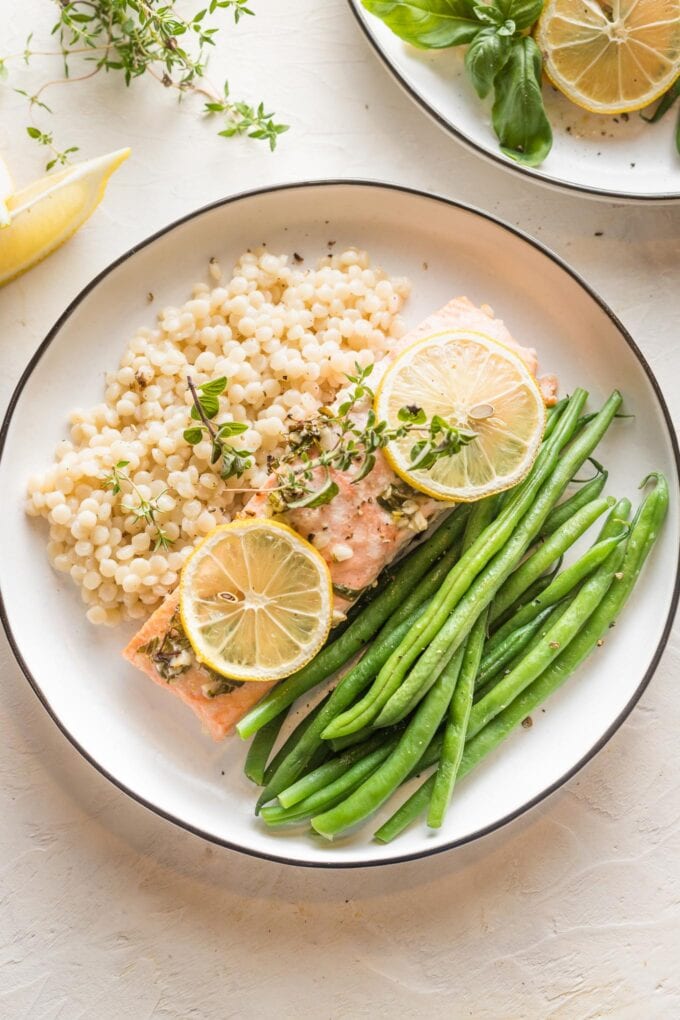 Pro Tip: Make it a sheet pan meal! You can easily cook veggies alongside this salmon in order to create a one pan dinner. Quick-cooking veggies, like green beans, broccoli, peppers, or cherry tomatoes, may be able to cook right alongside the salmon. More starchy vegetables, such as carrots or potatoes, may need a head start of 15 minutes or more.
Storage & Reheating
Store any leftovers in the fridge for up to 4 days. I prefer to eat leftover salmon cold these days, and it's a perfect thing to toss on a lunch or dinner salad for added protein. Of course, you can reheat in the microwave at 50% power. Why 50%? Using half-power warms salmon quickly, but without the same risk of it drying out.
More Easy Salmon Recipes
Salmon is such a delicious, healthy, and quick-cooking dish! Try my recipe for a rosemary garlic sheet pan salmon, salmon pesto pasta, or Greek salmon salads next.
If you try this Lemon Herb Salmon, don't forget to rate the recipe and leave a comment below. I love hearing how recipes turn out in your kitchen, and it helps other readers, too.
You can also FOLLOW me on PINTEREST, INSTAGRAM, FACEBOOK, and TWITTER for more great recipes and ideas!
Baked Lemon Herb Salmon
A dinner staple: quick, easy, delicious, and healthy. With minimal prep and clean up, plus a short baking time, this recipe is a dream on busy nights. Pair with steamed veggies and rice or garlic bread.
Ingredients
3-4 salmon filets
2 Tablespoons butter melted
2 medium lemons
1/4 cup fresh herbs coarsely chopped (thyme, oregano, rosemary, parsley, or basil all work well)
3 cloves garlic minced
kosher salt and black pepper
Instructions
Preheat oven to 425 degrees F. Line a rimmed baking sheet with parchment paper and place salmon on top, skin-side down, if your filets have skin.

Brush the melted butter evenly on top of the filets.

Juice one lemon, then stir the chopped herbs and minced garlic into the juice. Add a generous pinch each of salt and pepper. Spoon this mixture evenly over the salmon filets. Thinly slice the other lemon, and place slices on top of each filet.

Place salmon in the oven and roast for 10-14 minutes. The cooking time will vary depending on how thick your salmon is. For tender yet safely-cooked salmon, check with an instant read thermometer and remove it when the thickest part of the filets reaches an internal temperature of 145 degrees F. You can also tell it is done when the salmon is opaque and flakes easily when pressed with a fork.

Garnish with extra sprigs of fresh herbs and lemon wedges, as desired. Serve and enjoy!
Notes
You can use skin-on or skinless salmon for this recipe, but I recommend buying skin-on salmon if you have the choice. The skin helps to keep the salmon intact as it cooks and prevents overcooking and dry, tough salmon. It's very easy to flake the salmon off of the skin once cooked. You can also use a whole side of salmon, which bakes in about the same amount of time and makes for a really elegant presentation.
Nutrition Estimate
Calories: 236 kcal, Carbohydrates: 1 g, Protein: 26 g, Fat: 14 g, Saturated Fat: 5 g, Polyunsaturated Fat: 3 g, Monounsaturated Fat: 4 g, Trans Fat: 0.2 g, Cholesterol: 85 mg, Sodium: 104 mg, Potassium: 656 mg, Fiber: 0.2 g, Sugar: 0.1 g, Vitamin A: 542 IU, Vitamin C: 6 mg, Calcium: 26 mg, Iron: 1 mg
Did you make this recipe?
Leave a review below, then snap a quick picture and tag @nourishandfete on Instagram so I can see it!