Watermelon Cucumber Salad with Feta and Mint
Throw together this easy Watermelon Cucumber Salad with feta and mint for a refreshing salad that's sweet, salty, creamy, and crunchy. It's a dream summer side that perfectly complements any grilled protein.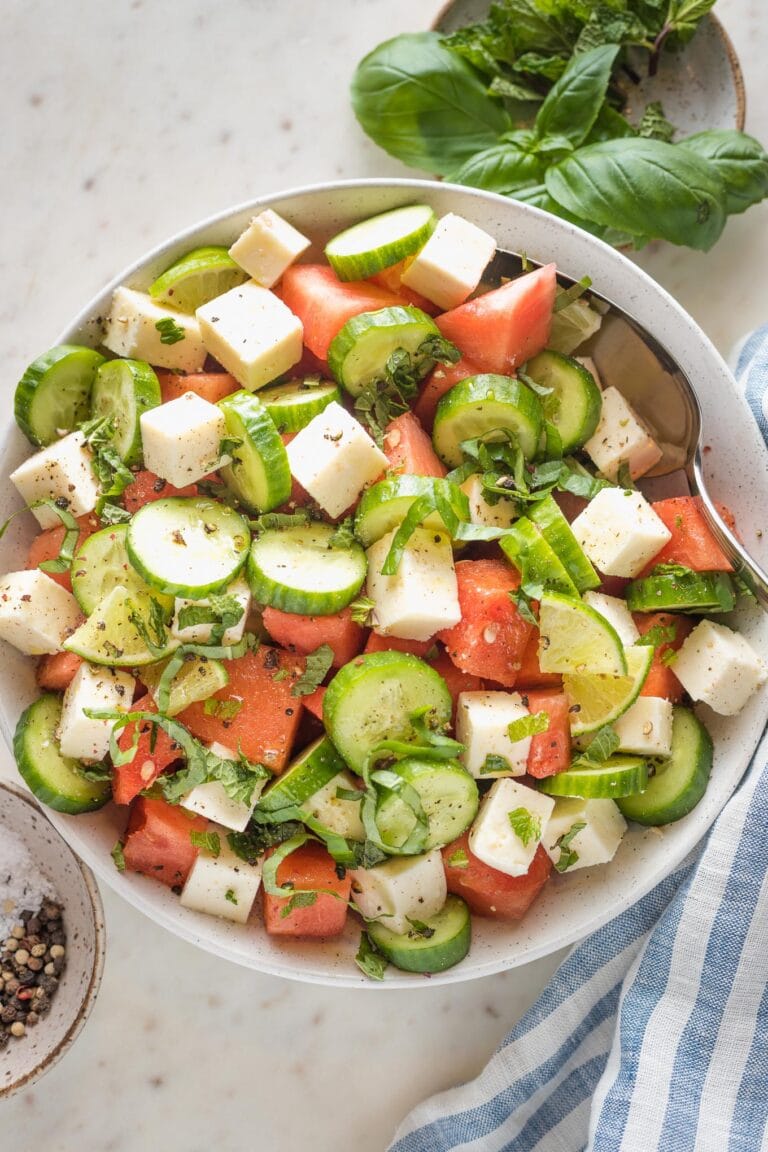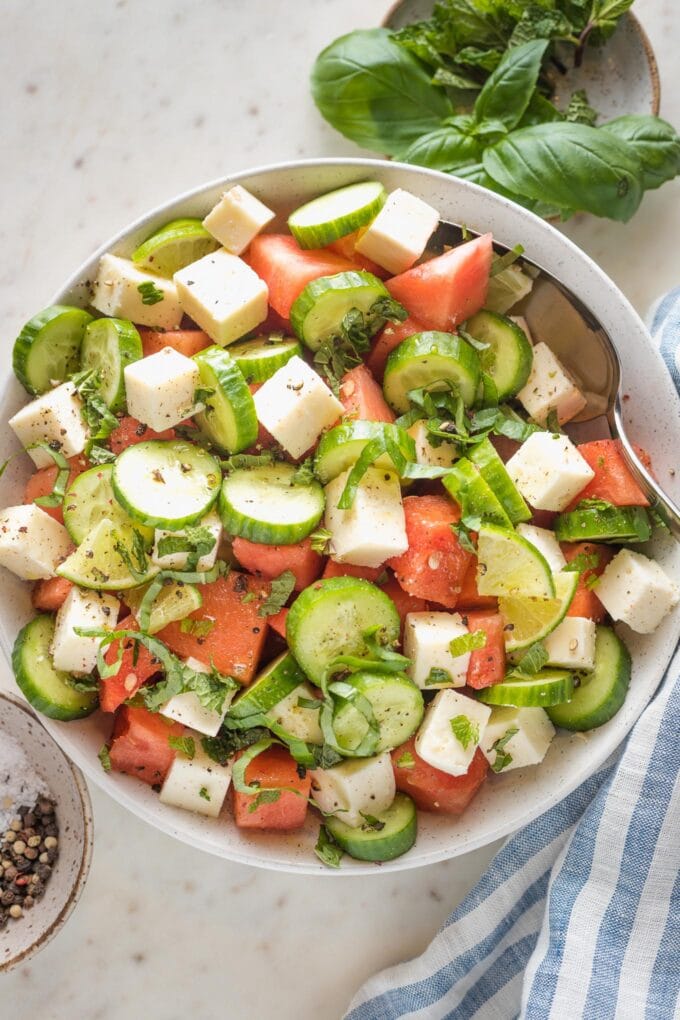 In our house, summer means all the watermelon, all the time. It's the rare item that I refuse to buy out of season, just because nothing compares to the sweet, refreshing, juicy melon at the peak of its summer season.
While it's perfectly acceptable to eat all the watermelon plain – in humongous slices, with juice dripping down chins and arms – it's also lovely to incorporate it into a fancy salad, side dish, or appetizer for more elegant summer meals. This easy watermelon feta salad with crisp cucumber and zippy herbs always hits the spot!
Recipe Ingredients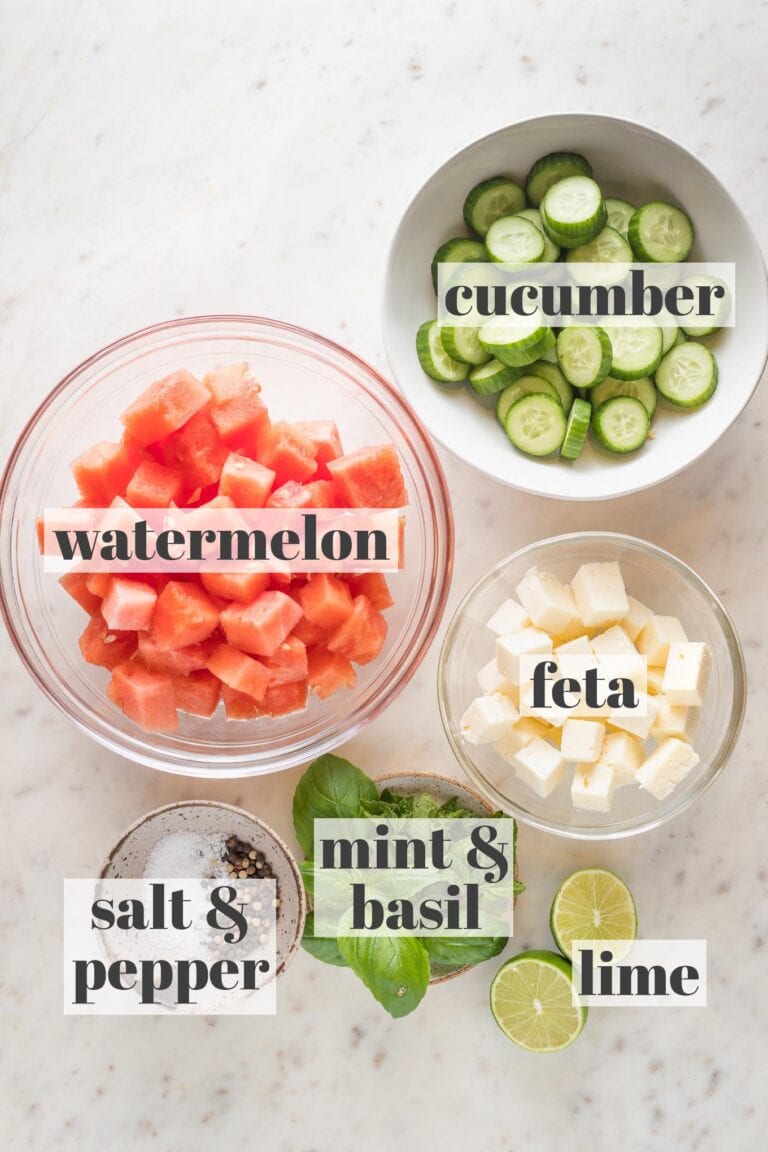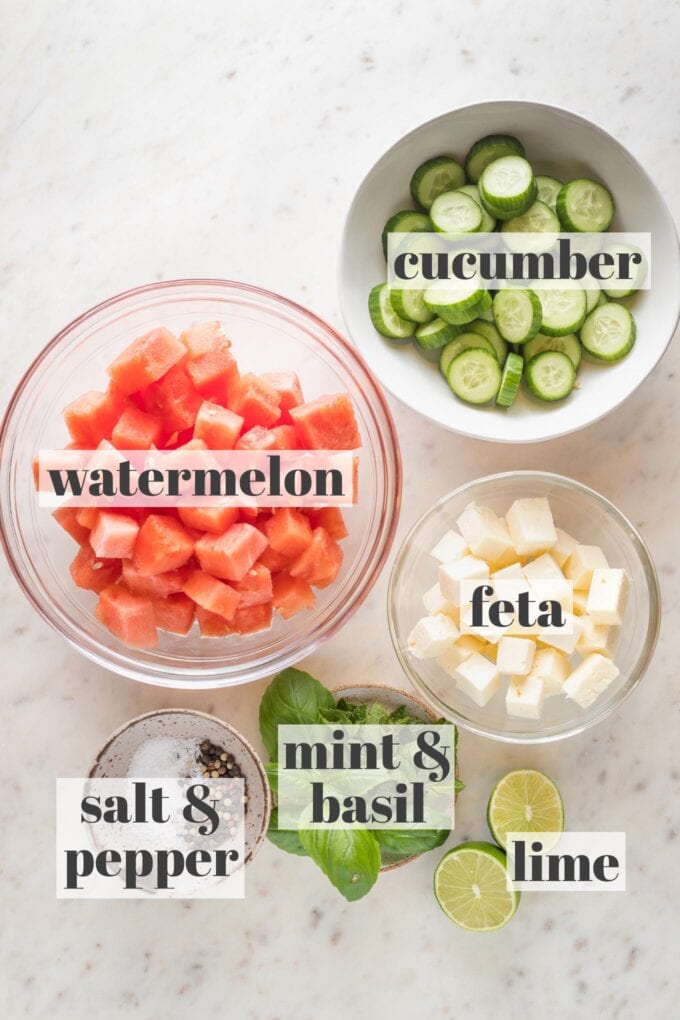 Ingredient Notes and Common Substitutions
Watermelon: the star of this show! Read tips below for picking out the best, juiciest, freshest watermelon you can.
Cucumber: I used baby cucumbers here, but English cucumbers or standard cucumbers also work well. The advantage of baby (Persian) or English cucumbers is that the seeds are very tiny and the skin is very thin, meaning you don't really need to scoop out the seeds or peel the cucumbers before adding to this salad or any other. Traditional American cucumbers tend to have larger seeds and a thicker skin, so you may want to scoop out the seeds from the middle with a spoon or a paring knife, and peel all or part of the skin, to taste.
Feta Cheese: you can include the feta in large cubes, as shown here, or crumbled into smaller pieces.
Fresh Mint and Basil: so worth picking up fresh for this salad. The pop of color and fresh flavor really makes the salad sing.
Lime Juice: fresh is incomparable here, and there's no garnish more lovely than a lime wedge tossed casually on top. Lemon juice or even a white wine or champagne vinegar can work in a pinch.
How to choose the best watermelon?
There's not much more disappointing than bringing home a gigantic watermelon only to find it's overripe, underripe, or just not that flavorful. Stave off that sadness by following these tips for choosing a great watermelon every time:
Look for a strong stripe pattern: you want deep, dark greens, and pale, creamy yellows.
Dull is better than shiny: sheen on the skin can be a tell-tale sign of an underripe melon. And a word to the wise: watermelon will not ripen much more after it's picked, so don't buy an underripe one thinking it will improve with a day or two on the counter.
Look for a yellow-orange field spot: this is a large, discolored patch on the watermelon's surface, and it shows exactly what part of the melon was lying on the ground as it ripened. That patch should be a rich yellow color, verging on orange. If the field spot is white, steer clear, as this can indicate a lack of flavor.
Dry spots and web-like veins are good: they mark a watermelon that is extra sweet, as sugar has begun to seep out to the skin.
Heavy is best: a watermelon that is relatively heavy for its size will have a higher water content and generally be sweeter than its lighter neighbor.
When is watermelon in season?
In the US, watermelon is typically in season between late May and early September, though this can vary according to yearly crop yield and your exact region.
Looking for more fancy ways to use watermelon? Watermelon Tomatillo Salad is fun and goes with any Mexican-inspired dish, and Watermelon Raspberry Mint Wedges are an appetizer guaranteed to wow your guests.
How To Make a Watermelon Cucumber Salad
When we say this salad takes 5 minutes to throw together, it's no exaggeration. The most time-consuming step is cutting the watermelon. (And trying not to eat it all while you cut it – ha!)
Chop watermelon and cucumber. Cut feta into squares, as shown, or crumble, as desired.
Cut mint and basil into small slivers.
Toss everything together and top with a sprinkle of salt and pepper, plus a squeeze of fresh lime juice.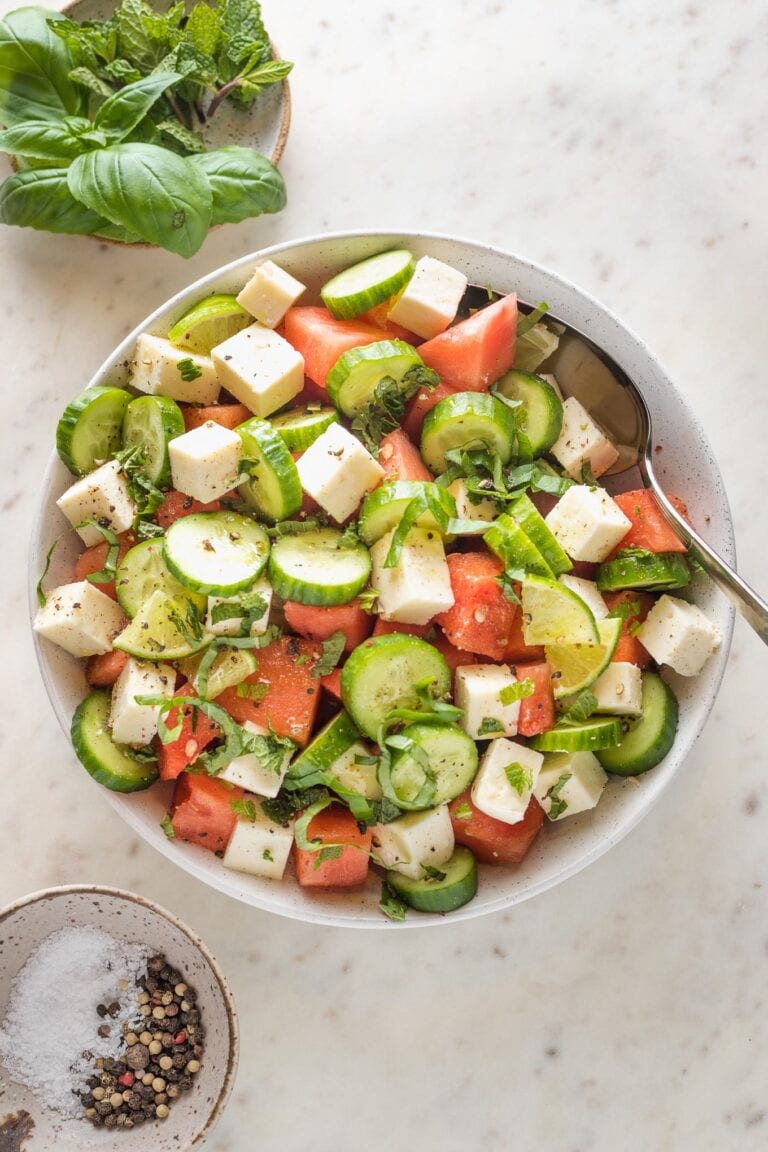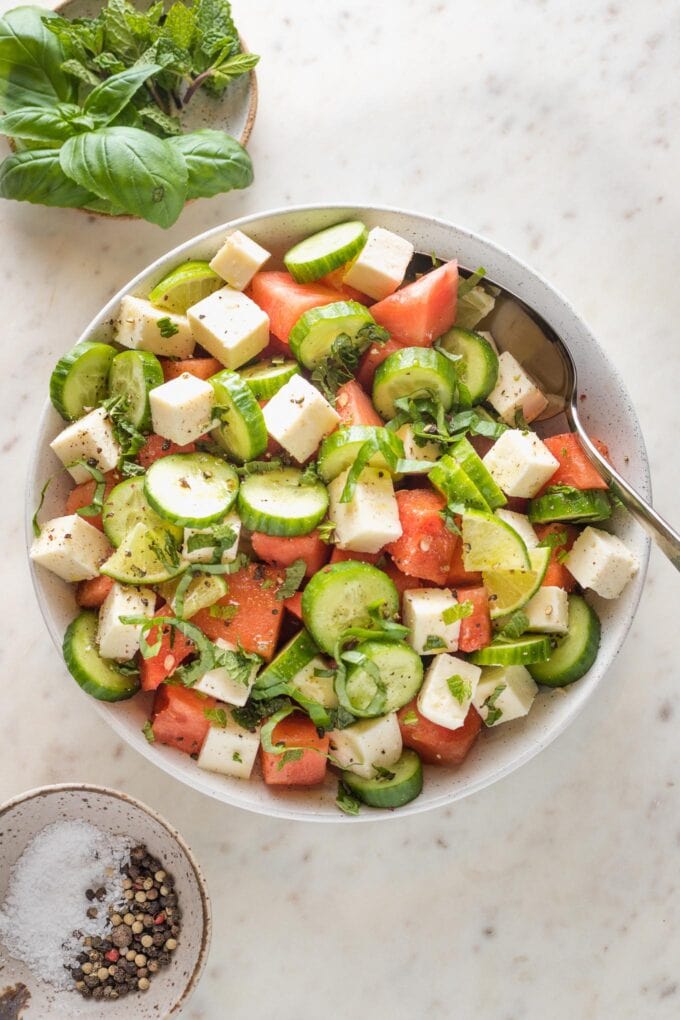 You can also buy pre-crumbled feta, if you like, to make this even faster. Add as little as 1-2 tablespoons, or 1/2 cup or more if you are a big feta lover.
Toss it all together, add a big serving spoon or fork, and invite your family or guests to dig in!
How to cut watermelon into cubes?
Cutting watermelon can be intimidating if you haven't done it before! See these detailed instructions and visual guides to cutting a watermelon into cubes, as you'd need for this salad, as well as into sticks and triangles for snacking.
Is watermelon good for you?
You might think that watermelon doesn't offer much in the way of nutrition, and indeed it is mostly made up of water, but according to WebMD, the juicy melon also contains the antioxidant lycopene as well as a decent amount of vitamin A. So eat with abandon, and don't worry when the little ones reach for slice after slice!
Does this salad keep well?
Watermelon cucumber salad is best served right away, but can be kept in the fridge for up to 2-3 hours if needed. By the next day, unfortunately, the salad will be a bit soggy.
If you do need to prep this in advance, I recommend cubing the watermelon and feta, storing those separately in a small bowl or airtight containers in the refrigerator, and combining with the cucumber, herbs, and juice just prior to serving.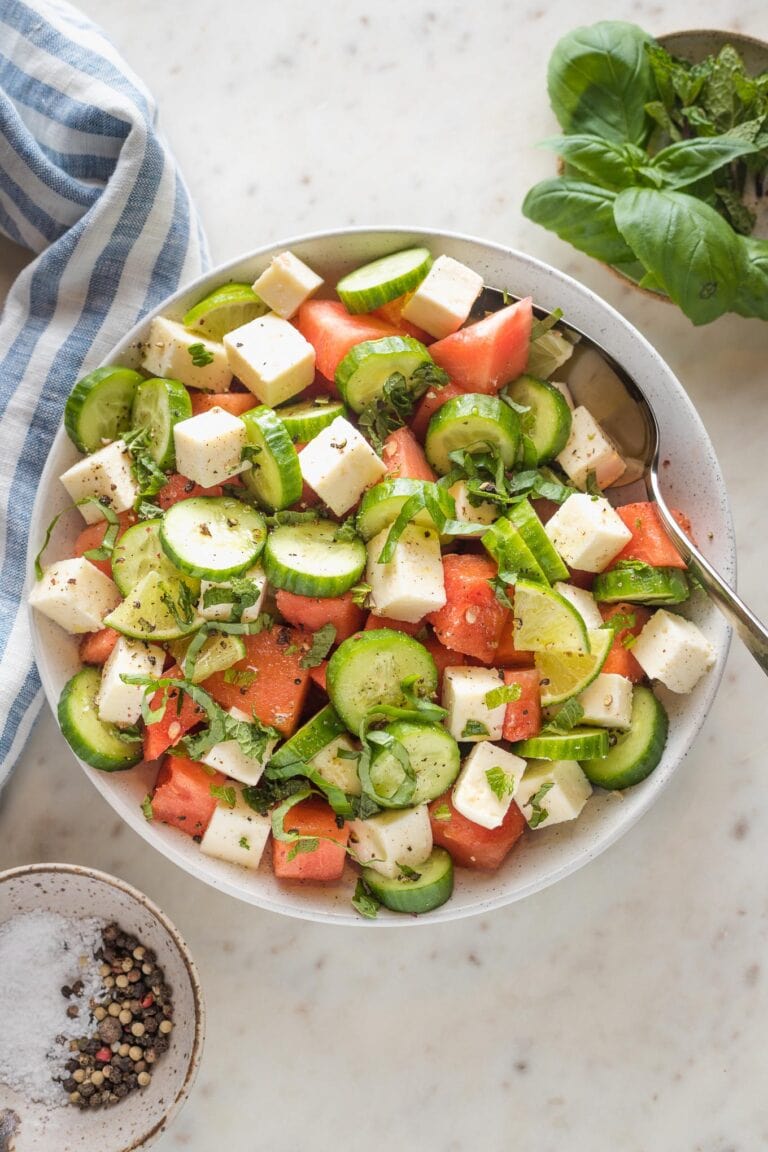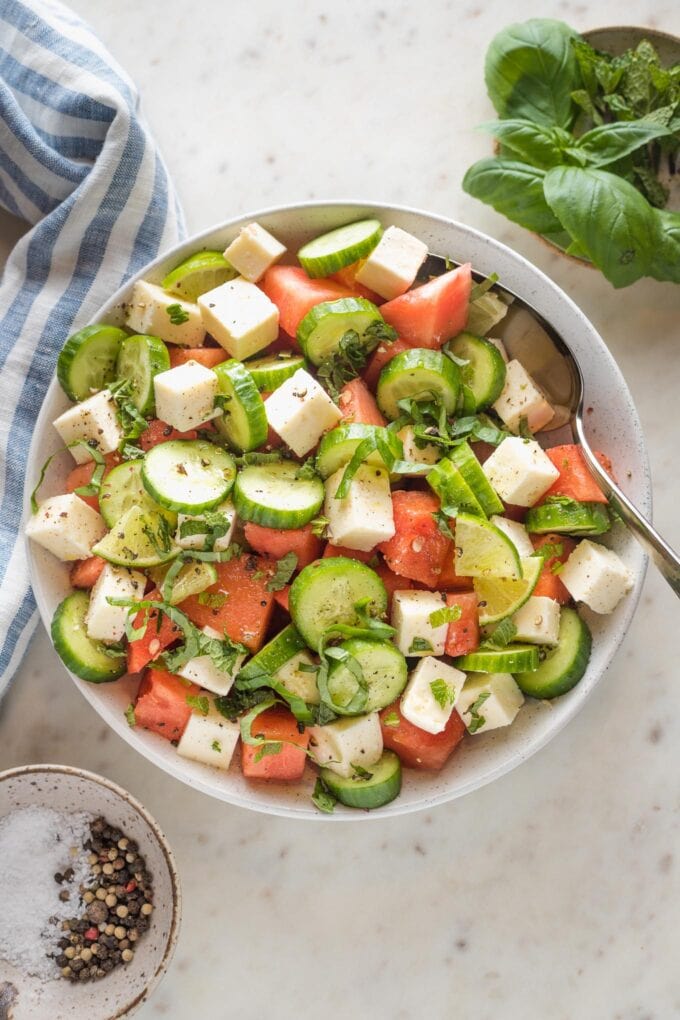 Variations
Add another Fruit: Pitted cherries or sliced peaches, nectarines, or plums would all work beautifully with these flavors.
Use another Melon: Try cantaloupe or honeydew melon for a different base.
Use a different Cheese: Try using goat cheese, Parmesan, or salty, creamy Cotija for a subtle change.
Add more Bite: Toss in some chopped red onion, shallot, or even diced jalapeño for more of a kick.
Make it more Sweet: Add a drizzle of honey or agave nectar along with the olive oil.
More Summer Salads
Love a good light salad in the hottest months of the year? This peach arugula salad with blueberries and prosciutto is as delicious as it is beautiful. My other favorites are this simple spinach nectarine combination, a white bean tomato cucumber salad, and marinated mozzarella balls with tomato and avocado.
Need an easy kid-friendly fruit arrangement? A simple fruit rainbow is always a hit!
If you try this Watermelon Cucumber Salad, don't forget to rate the recipe and leave a comment below. I love hearing how recipes turn out in your kitchen, and it helps other readers, too.
You can also FOLLOW me on PINTEREST, INSTAGRAM, FACEBOOK, and TWITTER for more great recipes and ideas!
Watermelon Cucumber Salad with Feta and Mint
Throw together this easy watermelon salad with cucumber, feta, and mint for a dream summer salad that's sweet, salty, creamy, and crunchy!
Ingredients
1 mini or 1/2 large watermelon about 4 cups
2 baby or Persian cucumbers about 1.5 cups
4 ounces feta cheese
generous handful fresh mint
generous handful fresh basil
1 lime
kosher or sea salt and fresh-cracked black pepper
olive oil and balsamic vinegar optional
Instructions
Cut the rind off of the watermelon, slice, and cut into cubes of about 1" square. Slice cucumbers, and cut or crumble feta. Cut basil and mint into small slivers.

Combine watermelon, cucumber, feta, basil, and mint in a large bowl. Spritz with lime juice and sprinkle with salt and pepper. Add olive oil and balsamic vinegar, if desired. Stir very gently to combine.

Garnish with a few extra sprigs of herbs and cut lime wedges, if desired. Serve and enjoy!
Nutrition Estimate
Calories: 88 kcal, Carbohydrates: 10 g, Protein: 4 g, Fat: 4 g, Saturated Fat: 3 g, Polyunsaturated Fat: 0.2 g, Monounsaturated Fat: 1 g, Cholesterol: 17 mg, Sodium: 217 mg, Potassium: 175 mg, Fiber: 1 g, Sugar: 7 g, Vitamin A: 689 IU, Vitamin C: 12 mg, Calcium: 108 mg, Iron: 1 mg
Did you make this recipe?
Leave a review below, then snap a quick picture and tag @nourishandfete on Instagram so I can see it!