Watermelon Raspberry Mint Wedges
Watermelon Raspberry Mint Wedges are the epitome of summer! Crisp, cool watermelon piled high with sweet berries, dusted with zippy mint, lime, and sea salt, then drizzled with tangy balsamic glaze.
Toss these together in 10 minutes, then serve as an appetizer, snack, or even a salad.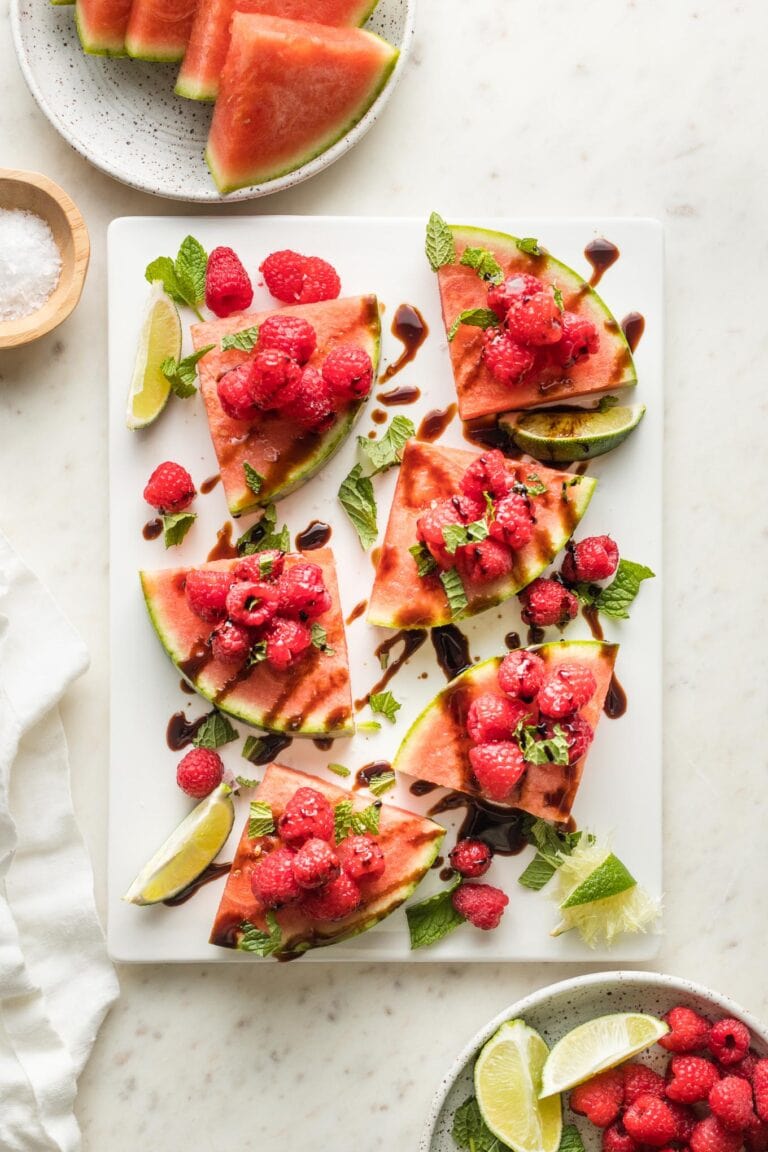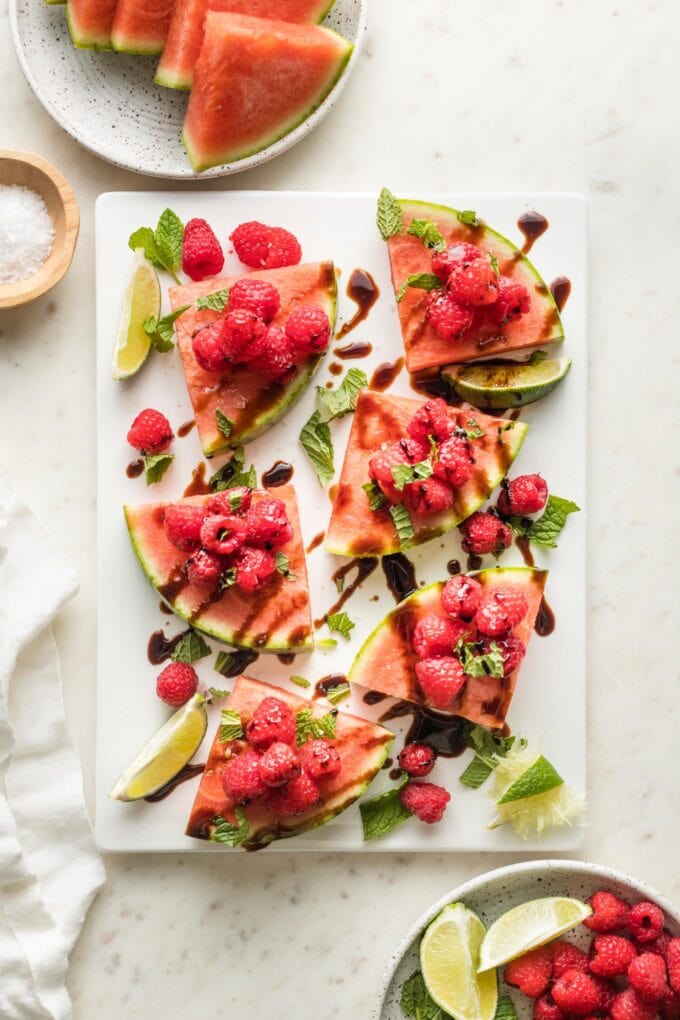 Nothing screams summer more vibrantly than watermelon. Cool, crisp, refreshing, and pretty much the most fun color combination found in nature.
My two little ones both love watermelon, so you can find a steady stream of the big green fruits on our kitchen counter all summer long. Usually I just slice it up and watch it disappear, but on occasion I manage to squirrel away enough to make something special – like this.
Why You'll Love This Combo
Feels elegant. Balsamic glaze and sea salt often have that effect!
Simple and quick. No cooking; strictly a slice, sprinkle, drizzle method.
Contrasting flavors and textures. Sweet and citrusy, juicy and crisp. And you get a pop of everything in each bite.
Perfect for sharing. These are easy to make in bulk and arrange on a platter for all to enjoy. They're also great for feeding a mix of adults and kids; just set out a bowl of plain watermelon wedges next to the platter, and everyone is happy.
All you do to assemble these is slice the watermelon into small wedges, top each with a few fresh raspberries, and sprinkle with mint leaves, flaky sea salt, and a squeeze of lime juice. A casual back-and-forth drizzle of balsamic glaze finishes everything off.
Pro tip: I like to slice the watermelon ahead of time and store the wedges in the fridge for a few hours, or even overnight. This makes assembly truly a snap and ensures your watermelon will be enticingly cool and crisp.
Hands vs. Forks
The only area for debate is whether these are best eaten with a fork or with your hands. If you go the by hand route, just keep a napkin nearby and prepare for a little mess, but a whole lot of joy. 🙂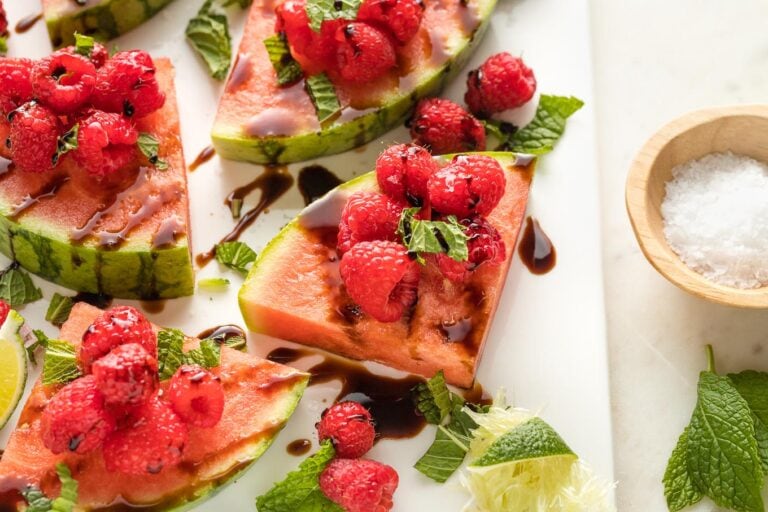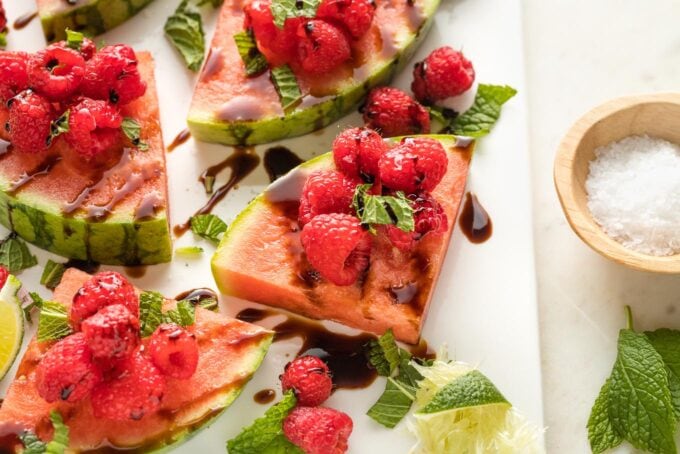 Enjoy fun recipes to make with watermelon? This watermelon tomatillo salad is fun and goes with any Mexican-inspired dish, and an easy watermelon cucumber salad with feta and mint is always a hit!
If you try these Watermelon Wedges, don't forget to rate the recipe and leave a comment below. I love hearing how recipes turn out in your kitchen, and it helps other readers, too.
You can also FOLLOW me on PINTEREST, INSTAGRAM, FACEBOOK, and TWITTER for more great recipes and ideas!
Watermelon Raspberry Mint Wedges
These beauties are easy, impressive, and taste like pure summer! Serve them as an appetizer, snack, or even a salad.
Ingredients
1 small seedless watermelon cut into wedges
1 and 1/2 cups raspberries
1 small handful fresh mint leaves slivered
1 tablespoon fresh lime juice
flaked sea salt
balsamic glaze
Instructions
Cut the watermelon into wedges and arrange in a single layer on a large plate or platter. Place a few raspberries on top of each wedge.

Sprinkle mint, lime juice, and sea salt lightly over each wedge. Drizzle lightly with balsamic glaze, and serve.
Notes
Though not strictly necessary, I prefer to slice the watermelon at least 2 and up to 24 hours ahead, refrigerate the wedges in a bowl, then arrange on the platter and finish just before serving. This makes the watermelon refreshingly cool and crisp. I don't recommend adding the raspberries and other ingredients until ready to serve.
Nutrition Estimate
Calories: 121 kcal, Carbohydrates: 30 g, Protein: 2 g, Fat: 1 g, Saturated Fat: 1 g, Polyunsaturated Fat: 1 g, Monounsaturated Fat: 1 g, Sodium: 4 mg, Potassium: 446 mg, Fiber: 3 g, Sugar: 24 g, Vitamin A: 2153 IU, Vitamin C: 35 mg, Calcium: 31 mg, Iron: 1 mg
Did you make this recipe?
Leave a review below, then snap a quick picture and tag @nourishandfete on Instagram so I can see it!