Peach Arugula Salad
This colorful Peach Arugula Salad with juicy blueberries, tender prosciutto, and a simple white wine vinaigrette is a summer stunner. It comes together in a snap yet feels fresh and elegant.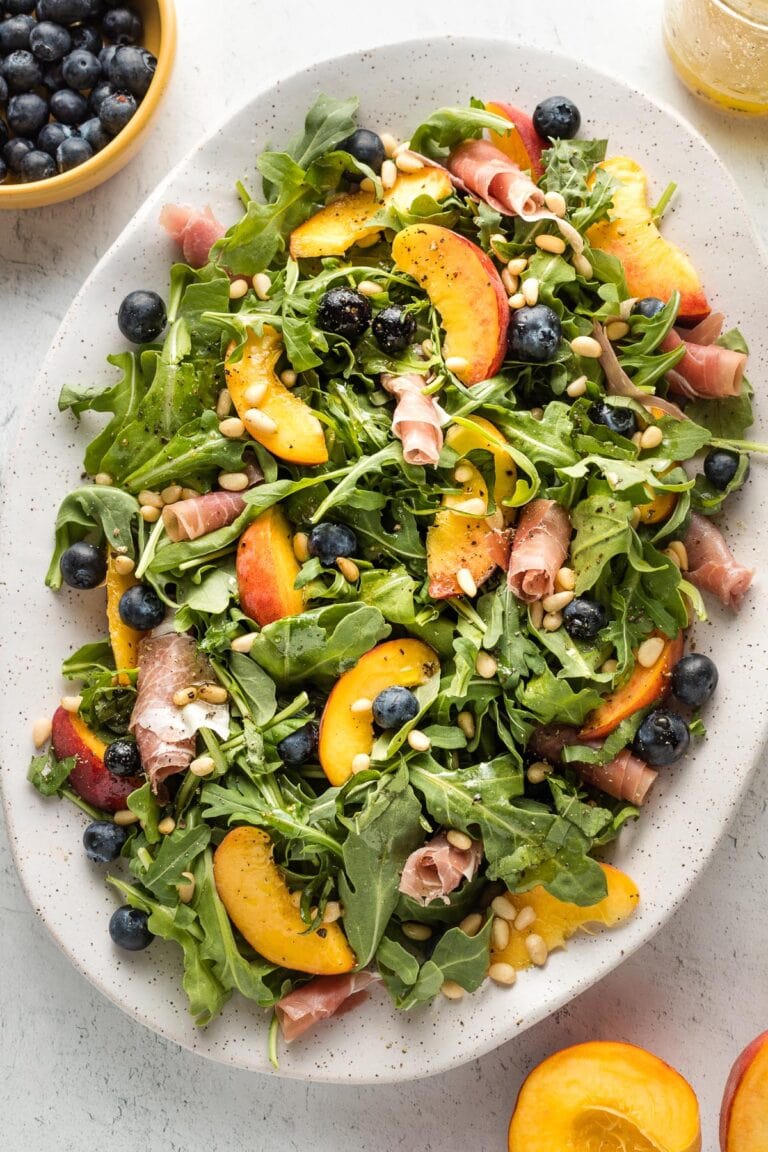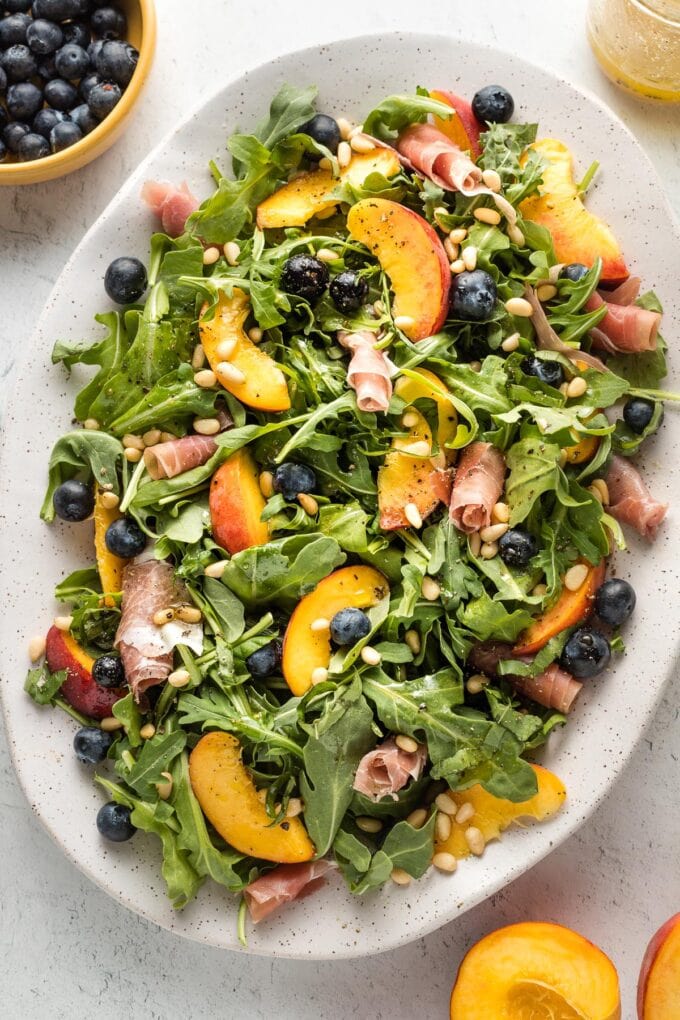 Summer is Served
We're always craving fresh salads full of seasonal produce, certainly never more than in the heat of summer. One of the season's true glories? Sweet, plump, juicy, run-down-your-chin-when-you-take-a-bite peaches.
Whether you pick them up at your everyday grocery store, nab a bushel at the local farmers market, or grab an overflowing flat from a roadside stand, when you see those plump, fuzzy stone fruits, you're in for a treat.
In my book, a dreamy summer salad has to meet a few criteria. This one checks every box.
No cook, no fuss. Anything that lets me skip the oven and stove is a win. This is strictly a scatter and drizzle situation.
Fruit included. OK, so I do love many salads without fruit, but it's all the more fun when you incorporate some of those gorgeous summer stone fruits and berries. Plus, kids tend to enjoy that!
Healthy. Lots of nutrients here!
Elegant. This is simple yet chic — the best of all worlds!
Serve this alongside grilled lemon chicken thighs and a simple pesto pasta for a picture perfect summer meal.
Ingredients & Substitutions
Here are a few notes and shopping tips about the ingredients you'll need to make this, as well as possible substitutions. Full amounts are noted in the print-friendly recipe card below.
Peaches. Yellow or white. Nectarines work wonderfully, too.
Arugula. Also known as rocket lettuce, arugula has a crisp texture and peppery bite that nicely offsets the sweet, juicy stone fruit. Substitute baby spinach or mixed baby greens if needed.
Prosciutto. The tender, salty Italian ham is delicious in salads, and can be easily torn into small bites or rolled up into little rosettes, as shown here, for a pretty presentation. Simply omit it for a vegan and vegetarian-friendly side.
Blueberries. These little jewels add so much! Raspberries, blackberries, or cherries would be a nice seasonal swap or addition.
Pine nuts. Crunchy bits of heaven. Replace with pecans, walnuts, or pistachios if you like.
Fresh basil. Optional but a lovely and vibrant finishing touch. Mint or oregano also pair well.
For the dressing: extra virgin olive oil, white wine vinegar, Dijon mustard, sea salt, and black pepper. No white wine vinegar? Use apple cider, champagne vinegar, or fresh lemon juice instead.
Many peach prosciutto salad recipes are served with cheese, specifically feta, fresh mozzarella, or its creamier cousin, burrata. Scatter one of these on top if you like!
Is there a difference between regular and baby arugula?
Baby arugula is harvested when the leaves are younger, making them more tender, petite, and mild in flavor. Baby arugula has less of arugula's signature peppery punch. Both are often sold pre-washed at well-stocked grocery stores; try each and decide which you prefer!
How To Make a Peach Arugula Salad
The best summer salads and sides are easy to throw together, and this fits the bill! You can either toss this together without fuss or fanfare, or arrange it with a little more care for glamour points. Either way, here are the steps and a quick visual overview. You will find full instructions with exact ingredients in the print-friendly recipe card below.
Shake together the dressing in a small bowl or jar.
Combine arugula, peaches, prosciutto, and blueberries in a large bowl.
Drizzle with dressing to taste, and finish with pine nuts & basil.
Toss & serve!
For the most elegant presentation, toss the arugula, dressing, and about half of the pine nuts and blueberries together, then arrange this mixture on a large plate or platter. Top with the remaining pine nuts and blueberries, the peaches, prosciutto rolled up into pretty rosettes, and a few leaves of basil.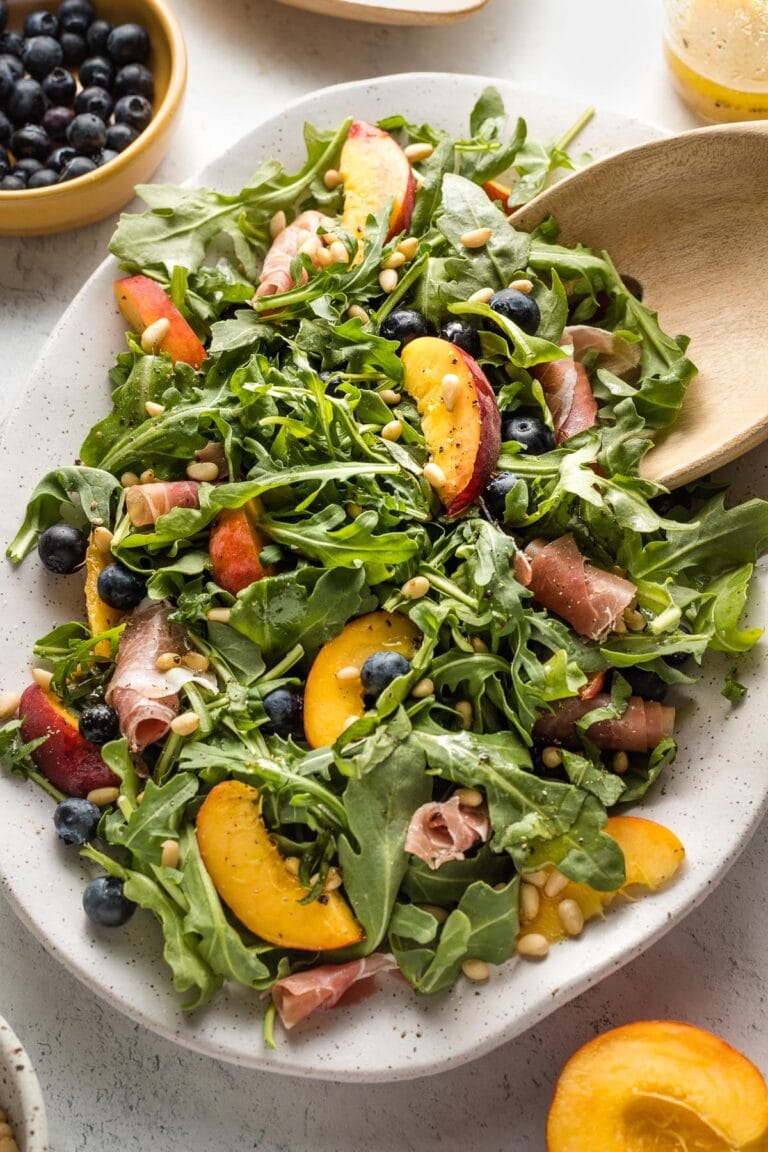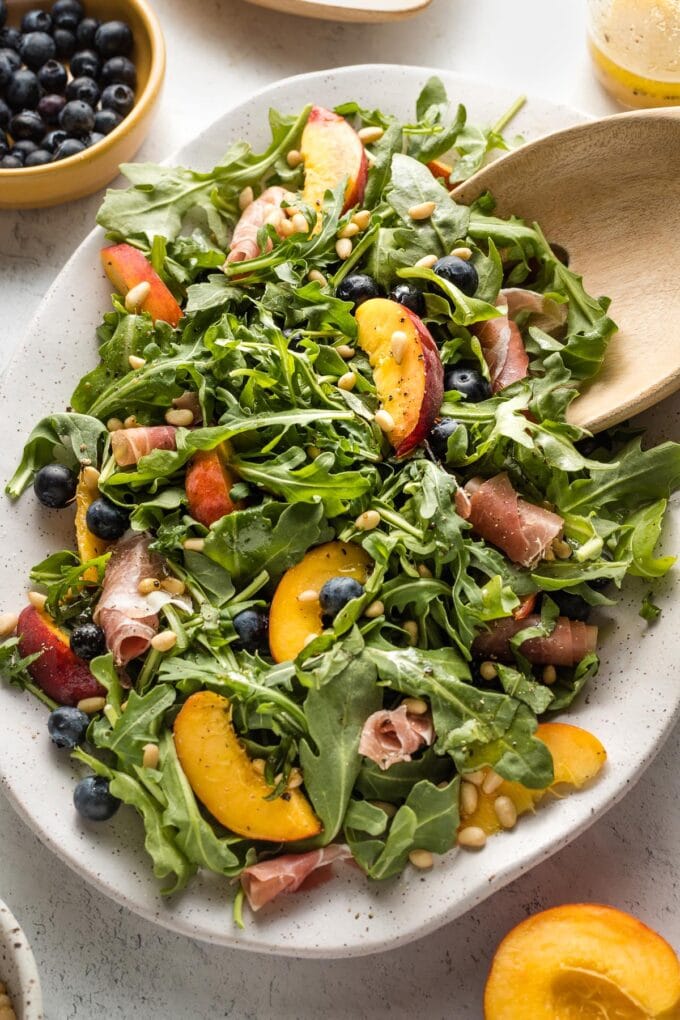 Variations
Swap the berries for another seasonal fruit. Raspberries, strawberries, blackberries, cherries, etc.
Grill the peaches. Split peaches in half, brush each interior side lightly with olive oil, and grill over medium heat until char marks form. Let cool slightly, slice into wedges if desired, and add to the salad.
Add cheese. Crumbled feta cheese, mozzarella, or burrata are classic choices. Other fun additions include creamy goat cheese (we love Humboldt Fog), or a tangy Manchego.
Add a drizzle of honey on top–or whisked into the vinaigrette–for an extra shot of sweetness.
Swap pine nuts for pecans or walnuts–candied, toasted, or raw.
Replace the prosciutto with 1-2 diced avocados for a creamy, rich, vegetarian-friendly spin.
Recipe FAQs & Expert Tips
Can I make this salad ahead of time?
You can wash the greens and blueberries, toast the pine nuts, and make the dressing ahead of time; it keeps well, jarred, in the fridge for up to two weeks. The rest of the salad, however, is best assembled right before eating.
Can leftovers be stored?
Peach arugula salad is best eaten fresh because the vinaigrette will start to soften the greens and fruit. In the event that you do have leftovers, pack in an airtight container and store in the refrigerator for 1-2 days.
How can you tell when a peach is ripe?
A perfectly ripe peach will have a bit of "give" when pressed gently. If it's completely firm to the touch, it most likely needs 1-2 days to further ripen. It should also have a sweet aroma and a dark yellow color, without brown or mushy spots.
Peaches purchased at the grocery store often need a day or two to be ready, so do your best to plan ahead. In a hurry? Read these tips on ripening peaches if needed.
When are peaches in season?
Peaches are generally in season from mid-summer to early fall in the US, but the exact season varies a bit depending on exactly where they are grown. Here is a great guide to peach season if you'd like to learn more.
What's the best way to slice a peach?
Peaches come in two varieties: freestone and clingstone. As you might expect, freestone peaches, which tend to be larger, have fruit that practically falls off the pit (or "stone"). Clingstone, in contrast, will literally cling to the pit, making it more difficult to twist and pull.
If you have freestone peaches, you will be able to cut the peach with a paring knife all around its vertical center, making a circle around the pit, then pull the two hemispheres apart, pop out the pit, and slice the fruit.
When working with clingstone peaches, I find it easiest to simply slice pieces of the fruit off the sides, working around the pit in quadrants to get as much fruit as possible.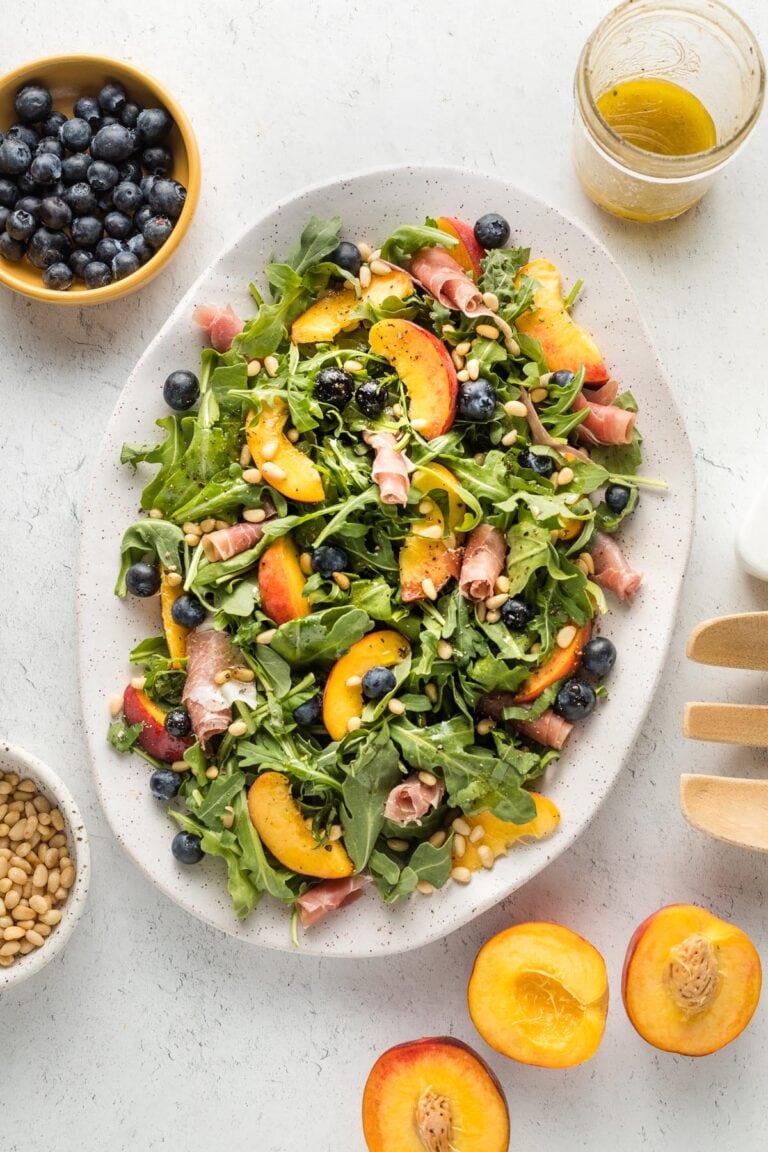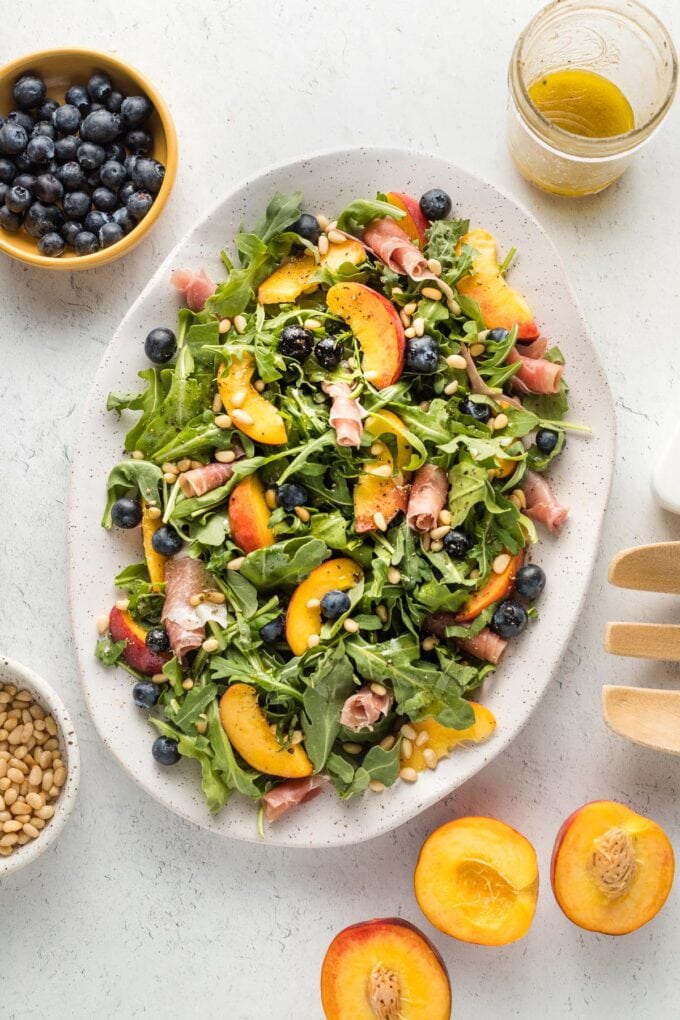 Related Recipes
Love fresh, colorful salads? Try our favorite white bean tomato cucumber mix, roasted corn and cherry tomato salad, pearl couscous salad with cucumber and tomato, or a Greek chickpea salad that goes with everything.
Looking for meal-worthy beds of greens? My two current favorites are a balsamic chicken salad with spinach and blackberries, and a Greek salmon salad loaded with healthy protein.
If you try this Peach Arugula Salad, don't forget to rate the recipe and leave a comment below. I love hearing how recipes turn out in your kitchen, and it helps other readers, too.
You can also FOLLOW me on PINTEREST, INSTAGRAM, FACEBOOK, and TWITTER for more great recipes and ideas!
Peach Arugula Summer Salad
This colorful salad with a simple white wine vinaigrette is the best of summer: it comes together in no time yet feels fresh and elegant.
Ingredients
For the Salad:
2-3 cups baby arugula
2-3 ripe peaches
1/2 cup fresh blueberries
2 ounces prosciutto thin-sliced
2 tablespoons toasted pine nuts
1/4 cup fresh basil leaves
For the Dressing:
2 tablespoons olive oil
2 tablespoons white wine vinegar
1/2 teaspoon Dijon mustard
1/2 teaspoon sea salt
10-12 cranks fresh-ground black pepper
Instructions
To make the dressing, combine olive oil, vinegar, Dijon, salt, and pepper in a small bowl or jar. Whisk or shake together until smooth.

Spread arugula out on a plate or platter, then arrange sliced peaches, blueberries, and prosciutto on top. Drizzle lightly with spoonfuls of dressing (you may not use it all), scatter pine nuts and basil on top, and serve.
Notes
Pine Nuts: You can buy pine nuts already toasted at Trader Joe's and many other grocery stores, but you can also toast raw pine nuts yourself. To do so, place them in a small skillet over medium heat and cook for 2-3 minutes, stirring very frequently, until golden brown in spots. Remove from the heat, let cool, and use as desired.
Nutrition Estimate
Calories: 167 kcal, Carbohydrates: 11 g, Protein: 4 g, Fat: 13 g, Saturated Fat: 3 g, Polyunsaturated Fat: 3 g, Monounsaturated Fat: 6 g, Trans Fat: 1 g, Cholesterol: 9 mg, Sodium: 395 mg, Potassium: 258 mg, Fiber: 2 g, Sugar: 9 g, Vitamin A: 578 IU, Vitamin C: 9 mg, Calcium: 27 mg, Iron: 1 mg
Did you make this recipe?
Leave a review below, then snap a quick picture and tag @nourishandfete on Instagram so I can see it!