Healthy Broccoli Salad
This healthy Broccoli Salad is an easy and delicious side that's perfect for sharing! It features crunchy broccoli, carrots, and red cabbage, salty sunflower seeds, sweet dried cranberries, and a creamy mayo-free homemade dressing.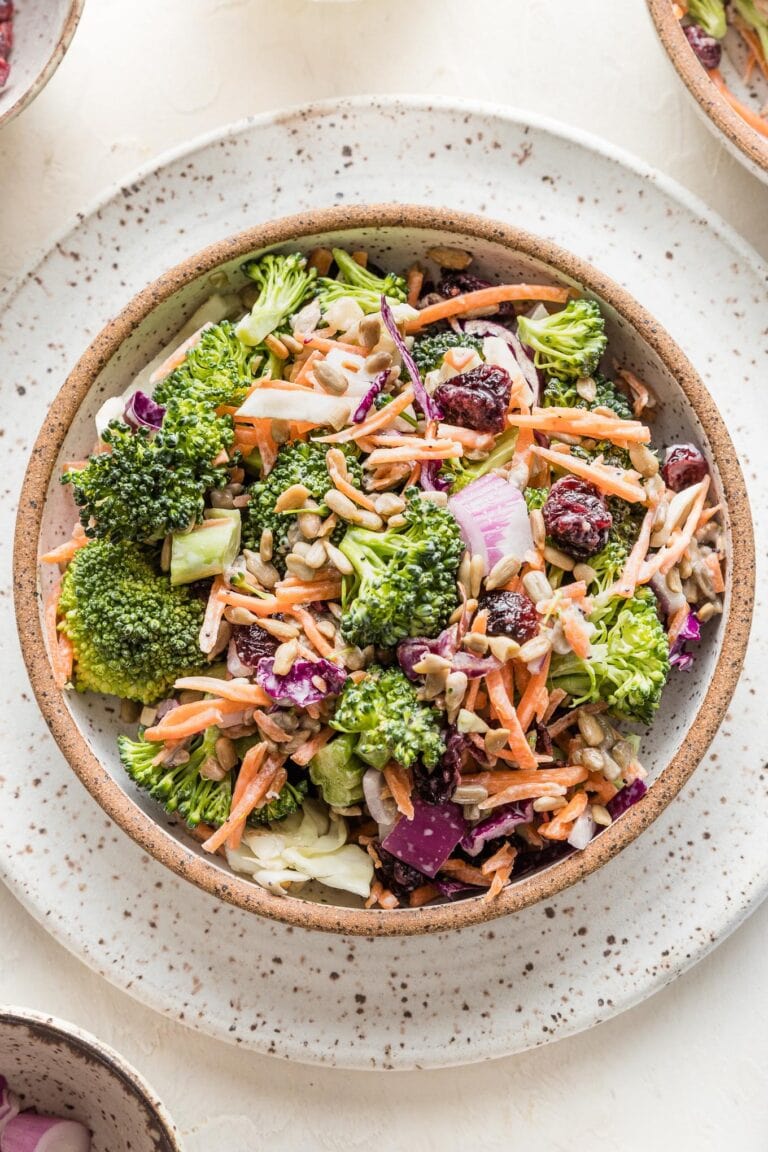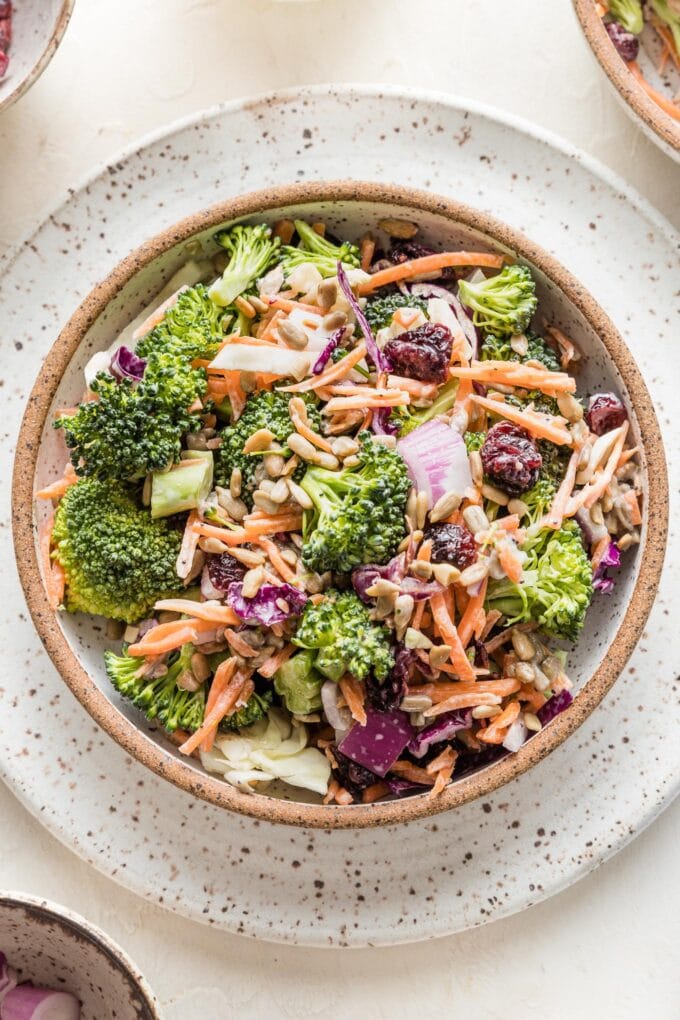 Favorite Broccoli Crunch Salad
I freely admit that I pick up a salad kit from the grocery store from time to time. Honestly, some of them are pretty dang delicious! One favorite that I found myself eyeing frequently is a chopped broccoli crunch mixture. Maybe a little too frequently — those kits are convenient, but not inexpensive, after all.
After a few attempts, I'm pleased to report this copycat Taylor Farms broccoli crunch salad is at least as popular as the original in my house! It hits the same flavors and textures: delightfully crisp broccoli florets, carrots, and red cabbage for a colorful veggie crunch, sweet dried cranberries for contrast, and sunflower seeds for a slightly salty, totally irresistible touch. And best of all, an easy, creamy homemade poppy seed dressing.
I love this for all sorts of occasions and all sorts of reasons. It's:
Flavorful. This ingredient combination is popular for good reason.
Nutritious. Vibrant natural colors mean an array of natural nutrients!
Good to make ahead and to share. This transports well and the sturdy vegetables hold up well to the dressing, making it perfect for potlucks, picnics, and the like.
Super easy. Almost as easy as a salad kit. 🙂 But everything always tastes better from scratch!
Serve this with BBQ chicken, baked pork chops, or chicken pesto pasta salad for a delicious dinner, or whip it up as a side dish for pizza night!
Ingredients & Substitutions
Here are a few notes and shopping tips about the ingredients you'll need to make this, as well as possible substitutions. Full amounts are noted in the print-friendly recipe card below.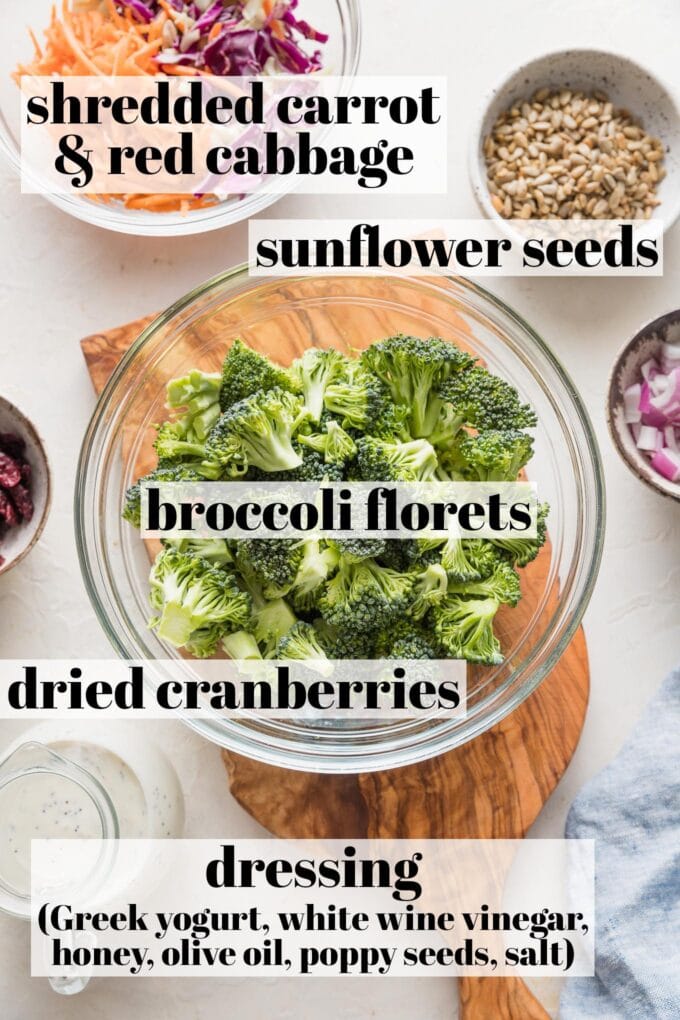 Broccoli florets. Be sure these are chopped into small bite-sized pieces, with any large, tough stem pieces discarded.
Shredded red cabbage and shredded carrots. You can purchase both of these pre-shredded to save time, or shred your own carrots using a food processor and cabbage with a good old fashioned chef's knife.
Dried cranberries. That little pop of sweetness adds so much! Dried cherries or raisins would be a great substitute, or swap in halved green or red grapes for a sweet yet fresh touch.
Sunflower seeds. Every great salad needs a little extra crunch! Pepitas, pumpkin seeds, slivered almonds or other nuts would also be fantastic.
For the dressing: Greek yogurt, white wine vinegar, honey, olive oil, poppy seeds, and a pinch of salt.
Optional add-ins: finely chopped red onion and crumbled cooked bacon bits. These are common additions to broccoli salads, we just don't prefer or find them necessary here.
The dressing is the main difference between this recipe and its store-bought inspiration, which uses a coleslaw-style dressing. Unfortunately, what do you think is the number one ingredient in that dressing? Sugar.
Instead, we're using this creamy Greek yogurt-based honey poppy seed dressing. It's tangy, lightly sweet, and easy to make yourself. Boom: a no mayo broccoli salad worth writing home about.
Want to experiment? Craving that signature mayonnaise dressing with celery seed tang? Match this salad with the dressing from my healthy homemade coleslaw. Yum!
How To Make a Fresh Broccoli Salad
As you might expect, this is a breeze to throw together. Here are the steps and a quick visual overview. You will find full instructions with exact ingredients in the print-friendly recipe card below.
Whisk or briskly stir together the dressing.
Chop all veggies and toss together.
Dress to taste and serve, or let rest in the refrigerator for 1-2 hours.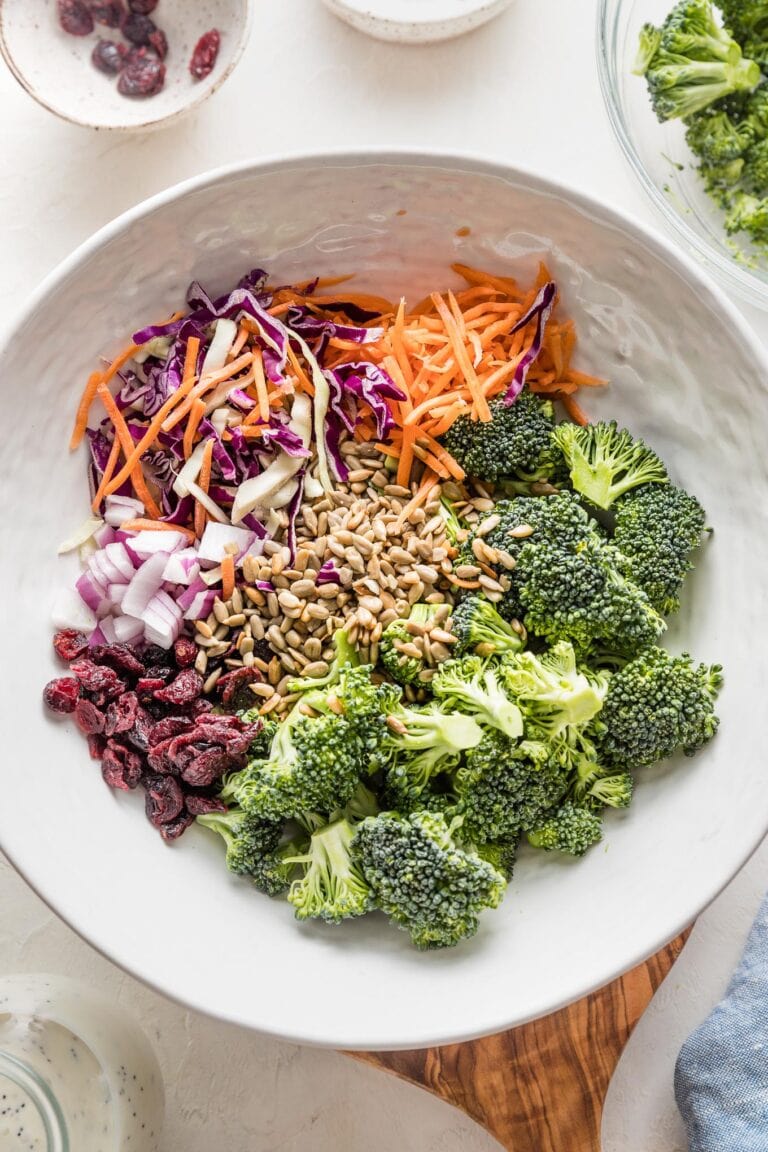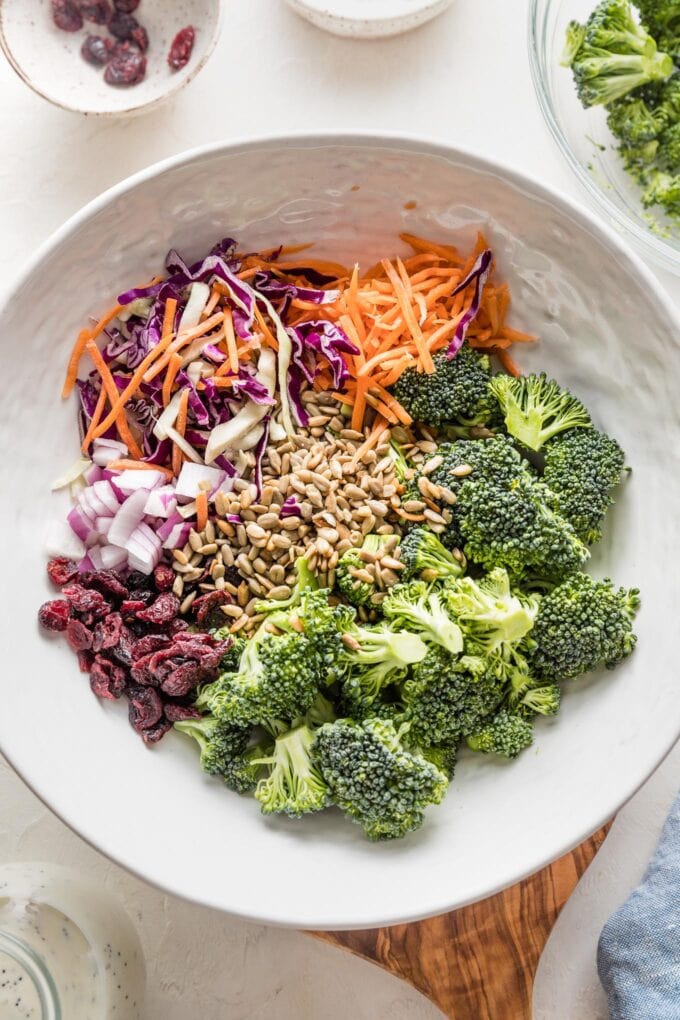 Definitely take your time when adding the dressing — you can always add more, but can't take it off! Any extra dressing will keep well in the fridge and can be used for other salads over the course of the upcoming week.
This salad is naturally gluten-free and vegetarian. It can be made vegan by using a vegan Greek yogurt and substituting maple syrup or another sweetener of your choice for the honey.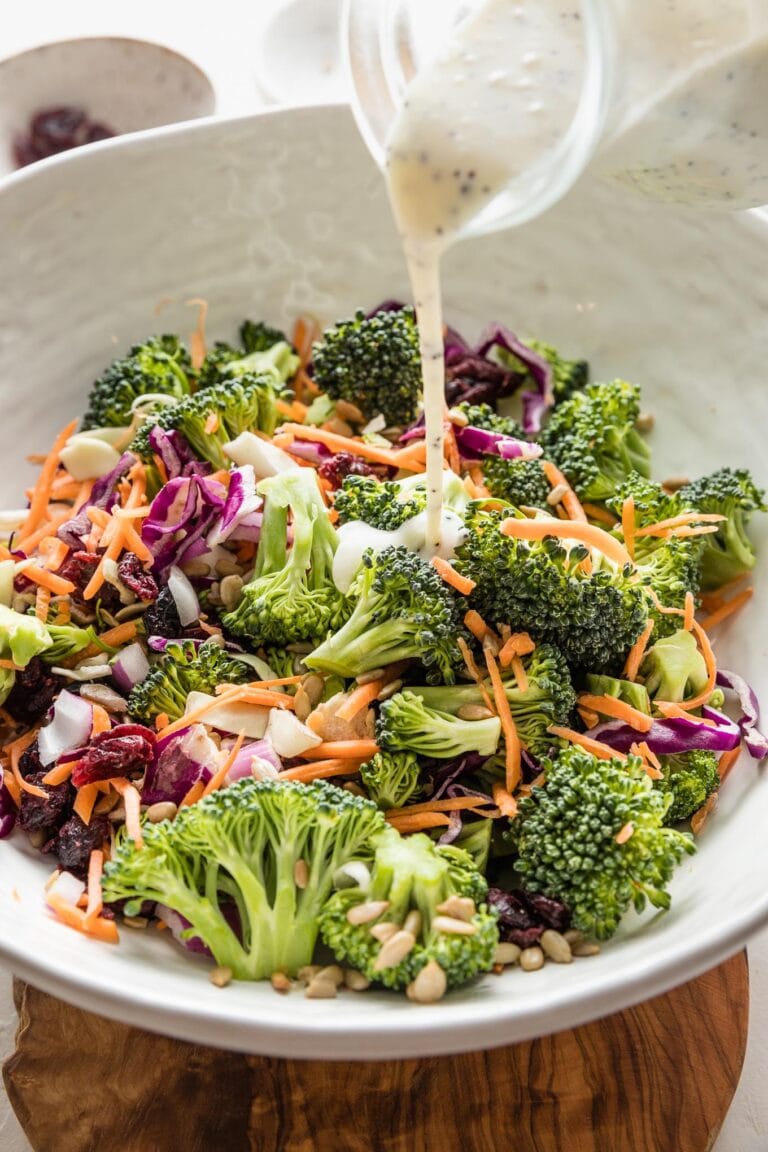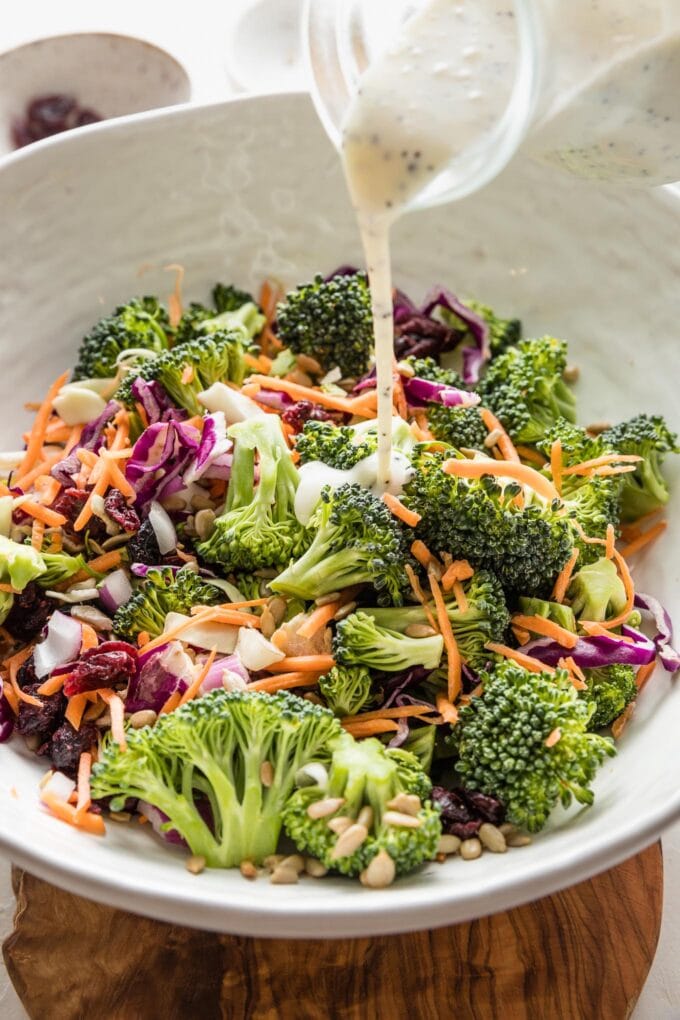 Serving Suggestions
Pair broccoli salad with grilled dry rub chicken, lemon herb salmon, or quick and easy garlic butter or jerk-style shrimp for a healthy, fresh meal.
This salad is a great choice for picnics and potlucks, because the crisp vegetables stand up to the dressing without becoming soggy too quickly. Keep refrigerated until ready to serve, then set out for buffet-style serving in a large bowl.
Broccoli salad is one of my personal favorites to enjoy alongside our weekly pizza night!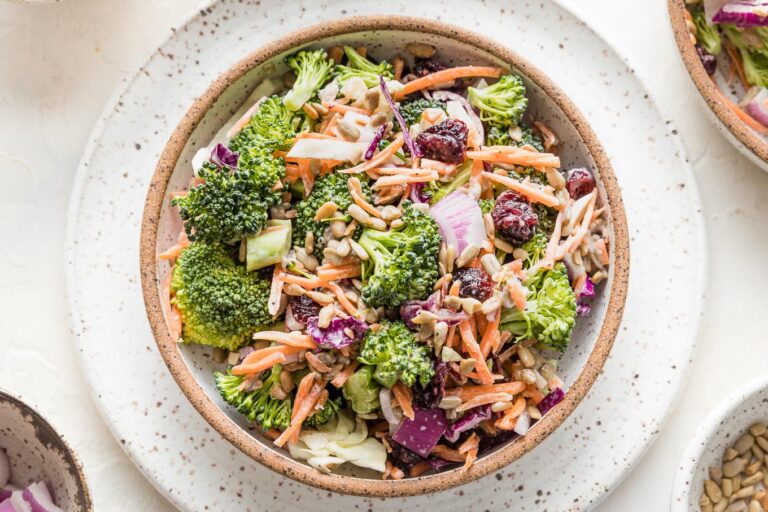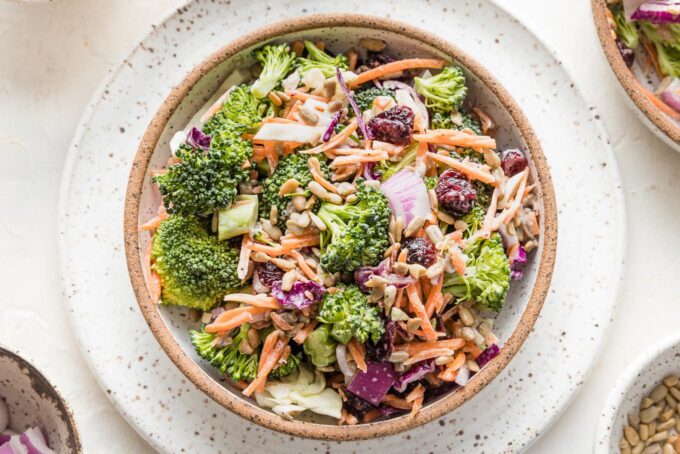 Recipe FAQs and Expert Tips
Can you make broccoli salad ahead of time?
Yes! Fully dressed, this salad will keep well for up to one day, tightly covered in an airtight container in the refrigerator. Leftovers stay reasonably enjoyable for another 1-2 days, but if you want to prepare it that much ahead of time, it's best to chop all the vegetables, whisk together the dressing, and set aside the dried cranberries and sunflower seeds, storing all separately. Combine close to serving time.
Do you cook broccoli for broccoli salad?
No! You can make broccoli salad with completely raw broccoli. The crunch is delightful and ensures the vegetable remains crisp even when paired with a creamy dressing. Just be sure the florets are cut into small pieces so you don't have any awkwardly large bites with which to contend.
This said, if you really detest raw broccoli, blanching it for a salad is OK. Do this by submerging the broccoli florets in boiling water for 60 seconds, then using a slotted spoon to transfer them to a bowl filled with ice water. This softens the broccoli very slightly and gives it an even more vibrant green color.
Related Recipes
Love a tasty summer salad? Me too! Try my peach arugula salad, Greek chickpea salad, or pearl couscous salad with tomato and cucumber next.
Have more broccoli to use? This fresh and light lemon broccoli pasta or baked broccoli mac and cheese make terrific easy meals.
If you try this Healthy Broccoli Salad Recipe, don't forget to rate it and leave a comment below. I love hearing how recipes turn out in your kitchen, and it helps other readers, too.
You can also FOLLOW me on PINTEREST, INSTAGRAM, FACEBOOK, and TWITTER for more great recipes and ideas!
Healthy Broccoli Salad
An easy and delicious side that's perfect for sharing! It features crunchy broccoli, carrots, and red cabbage, salty sunflower seeds, sweet dried cranberries, and a creamy homemade dressing.
Ingredients
For the Salad:
4-6 cups broccoli florets chopped into small pieces, tough stems removed
1 cup shredded carrot
1 cup shredded red cabbage
1/2 cup dried cranberries
1/4 cup roasted and salted sunflower seeds
For the Dressing:
1/4 cup plain Greek yogurt whole milk or low-fat
2 Tablespoons white wine vinegar
1-2 Tablespoons honey
1 Tablespoon extra virgin olive oil
1 teaspoon poppy seeds
1/2 teaspoon kosher salt
Instructions
Whisk together all dressing ingredients, starting with 1 Tablespoon of the honey, until smooth and emulsified. Sample by dipping one veggie into the dressing; add additional salt or honey to taste.

Combine broccoli, carrot, red cabbage, cranberries, and sunflower seeds in a large mixing bowl. Pour as much dressing as you like over the vegetable mixture and toss until well combined. (I usually use about half of the dressing for this salad and save the rest, but I don't love a ton of dressing on salads; you might prefer more.)

Serve right away or store in the fridge for up to 12 hours prior to serving. Enjoy!
Notes
This yields 4 generous side salad portions. The amounts are, of course, very flexible.
Extra dressing can be stored in a mason jar or any other airtight container in the refrigerator for up to one week. Shake well to recombine, then use on other salads or as a veggie dip as desired.
Nutrition information is only an estimate based on an online calculator and assumes one uses approximately half of the dressing on this salad. 
Nutrition Estimate
Calories: 186 kcal, Carbohydrates: 30 g, Protein: 6 g, Fat: 7 g, Saturated Fat: 1 g, Polyunsaturated Fat: 3 g, Monounsaturated Fat: 2 g, Trans Fat: 0.01 g, Cholesterol: 0.4 mg, Sodium: 269 mg, Potassium: 510 mg, Fiber: 6 g, Sugar: 20 g, Vitamin A: 6162 IU, Vitamin C: 96 mg, Calcium: 86 mg, Iron: 1 mg
Did you make this recipe?
Leave a review below, then snap a quick picture and tag @nourishandfete on Instagram so I can see it!