Peach Caprese Salad
Add stone fruit for a sweet summery twist on a classic: this juicy, sunset-hued Peach Caprese Salad is a gorgeous side, snack, or light meal for the warmest days of the year. Fresh basil leaves and a drizzle of rich balsamic glaze tie it all together with no fuss.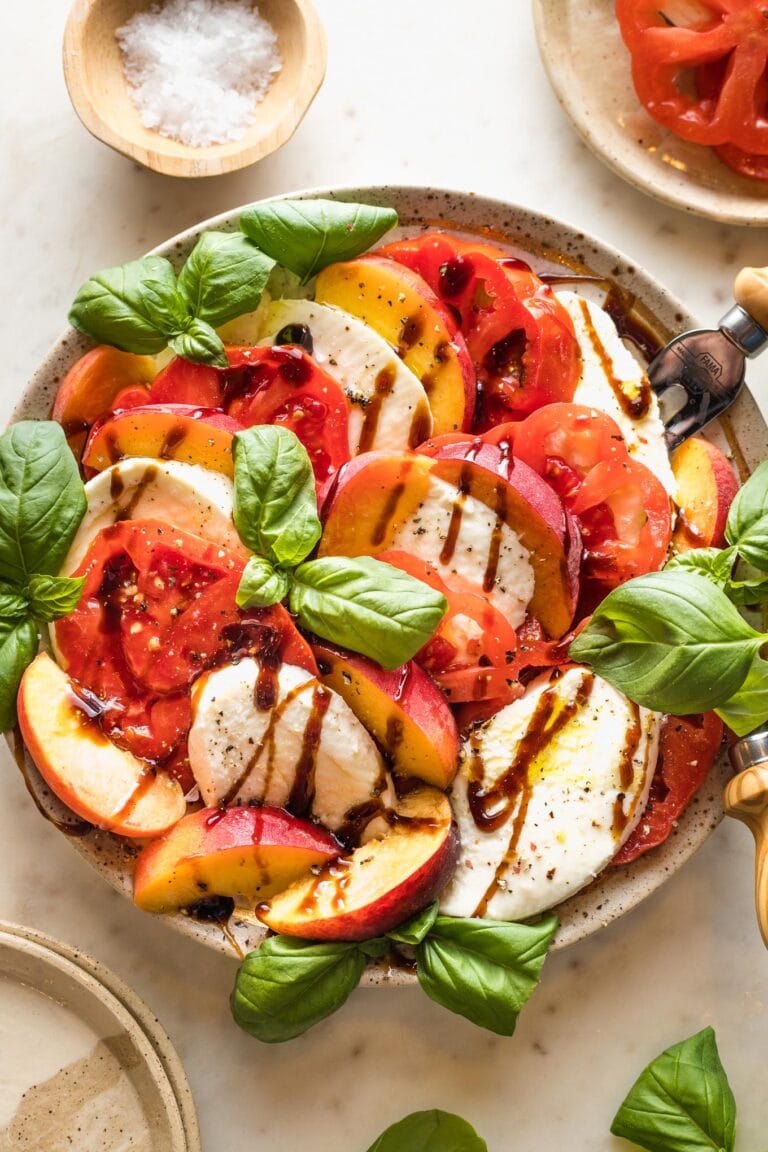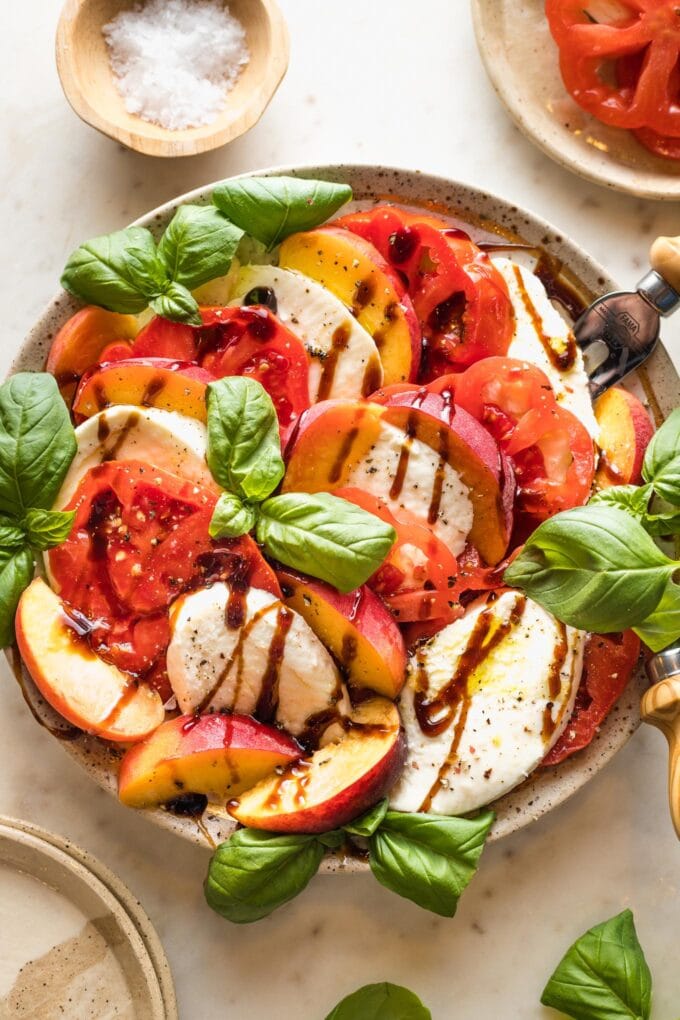 Peach Caprese is the Best Caprese
Nothing says late summer love like heaping piles of ripe, juicy peaches in every store, farmers market, and roadside farm stand. It's the rare treat that is simply not available at other times of the year, which makes it all the more pleasurable to literally buy all you can eat when you can.
This simple yet irresistible peach caprese is a lovely way to work a few of those beautiful fruits onto your table. It makes a terrific appetizer, side, or even its own light meal, thanks to the satisfying combination of sweet peaches, tangy tomatoes, and creamy mozzarella.
Ingredient Notes & Substitutions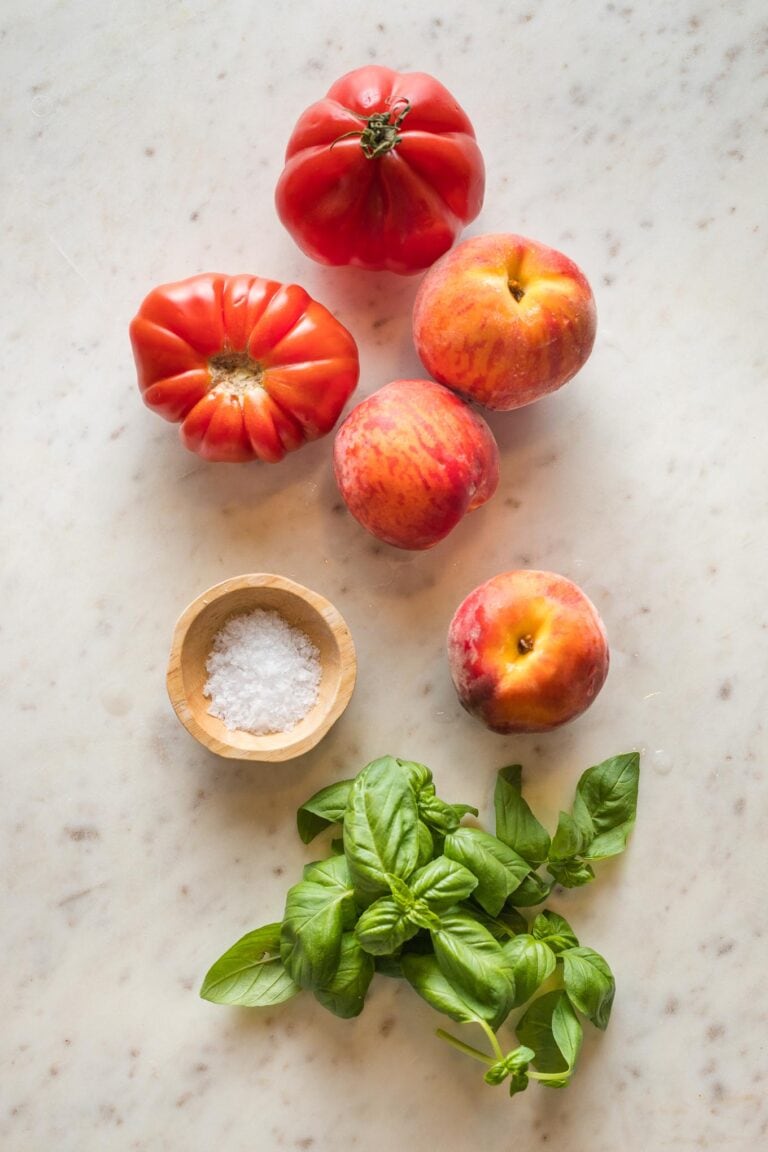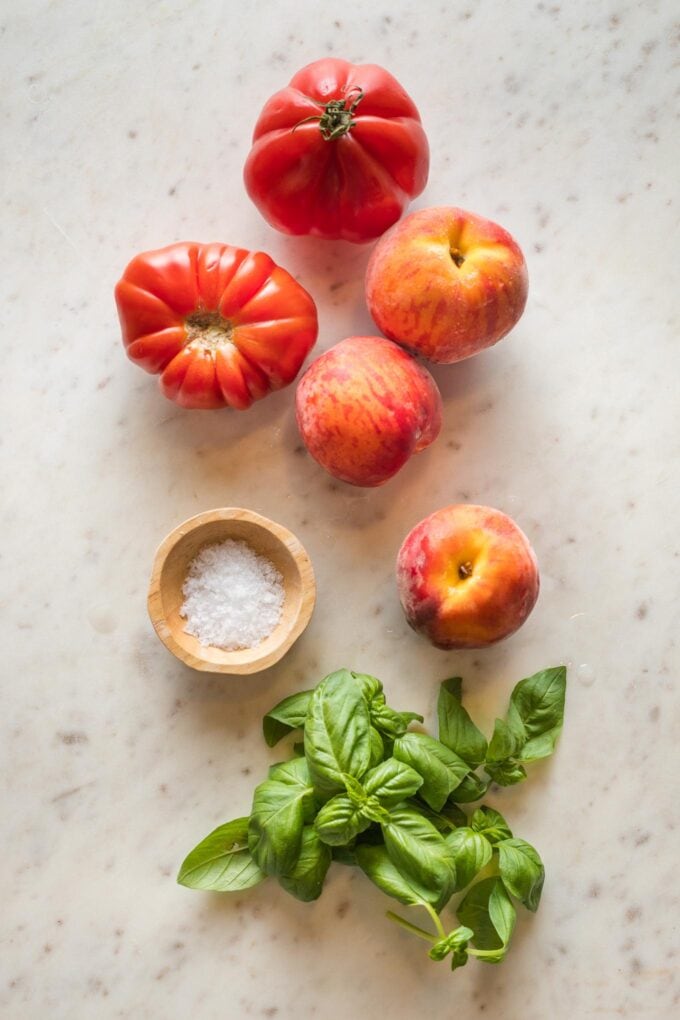 You can find the full ingredient list in the recipe card below, but if you're looking for shopping tips, why these ingredients work together, or substitution ideas, read here:
Peaches: look for peaches that have just the slightest give when gently squeezed, but no brown or very soft spots. Yellow peaches look especially beautiful tucked alongside the deep red tomatoes, but white peaches are just as tasty, and nectarines work very well, too.
Tomatoes: this is a great use for those heirloom tomatoes you just had to buy, but any on-the-vine tomato will work, too, as will plump Romas in a pinch.
Mozzarella: buy a large ball of fresh, water-packed mozzarella if possible. Buffalo mozzarella or even creamy burrata are good substitutes to elevate this even further.
More peaches than you know what to do with? Toss them into a show-stopping peach arugula salad with blueberries and prosciutto or swap them for the nectarines in this delicious blueberry stone fruit crisp.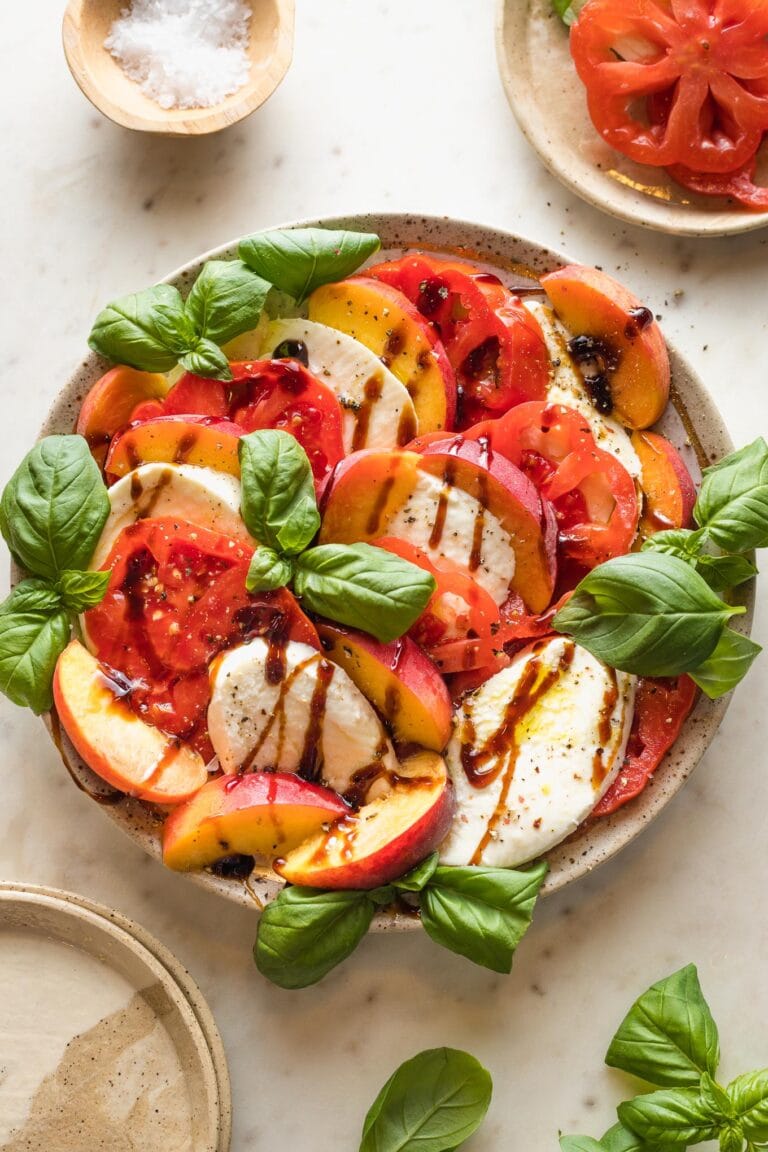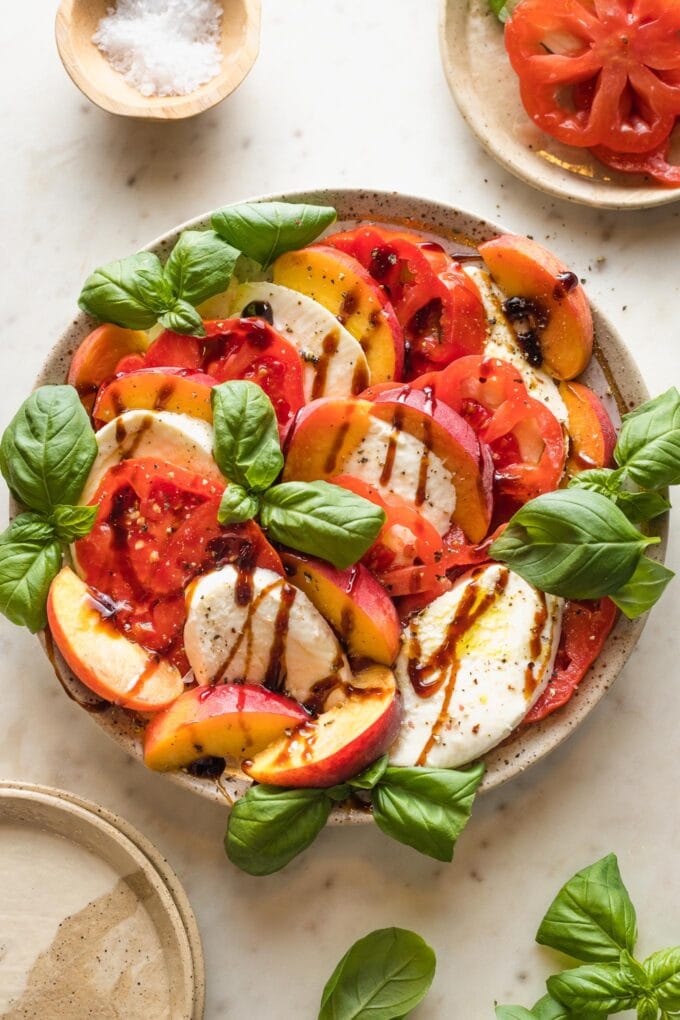 How To Make It: Tips and Tricks
This is extremely straightforward, which is, of course, one of its charms. 🙂 That said, a few tips and tricks to make it both easy and picture-perfect:
Peach prep. First, wash your peaches: their fuzzy skin can, unfortunately, carry dirt and bacteria from the harvesting and transport process right into your salad. So gently rub your peaches under cool running water before slicing. For this salad, you can either cut the peaches into hemispheres and remove the pit, or just cut off slices around the pit – either works.
Keep it even. Slice everything – peaches, tomato, mozzarella – about 1/2″ thick. It looks best and is easiest to eat when the layers are relatively even.
Go light on the olive oil: You really just need a small drizzle for flavor, because both the peaches and the tomatoes are very juicy by themselves.
Use plump basil for looks: Even if you prefer shreds of basil scattered across the whole salad, save a few of the largest, most plump leaves to garnish the whole plate. The deep, rich green makes a striking and beautiful contrast with the warm tones of the tomatoes and stone fruit.
Serving Suggestions
This salad goes beautifully with grilled fish, chicken, or steak for a summer dinner that leans into the season. You can also pair it with burgers or bratwursts. Interested in trying it as a light main dish? Enjoy as is, or tuck some thinly-sliced prosciutto in among the layers for an extra satisfying and delightful touch.
More Summer Salads
Love a good light salad in the hottest months of the year? Keep channeling the caprese vibes with this marinated tomato and burrata salad, or marinated mozzarella balls with tomato and avocado. Or serve this healthy broccoli salad for a versatile potluck side.
If you try this Peach Caprese, don't forget to rate the recipe and leave a comment below. I love hearing how recipes turn out in your kitchen, and it helps other readers, too.
You can also FOLLOW me on PINTEREST, INSTAGRAM, FACEBOOK, and TWITTER for more great recipes and ideas!
Peach Caprese Salad
Add stone fruit for a sweet summery twist: this juicy, sunset-hued Peach Caprese Salad is a gorgeous and simple side, snack, or light meal!
Ingredients
8 ounce ball fresh mozzarella
2 ripe peaches
1-2 vine-ripened or heirloom tomatoes
extra virgin olive oil
balsamic glaze or balsamic vinegar
kosher or sea salt
fresh-cracked black pepper
handful fresh basil leaves
Instructions
If the mozzarella comes packed in water, drain it well and gently pat dry with a paper towel or clean kitchen cloth. Slice mozzarella, peach, and tomato into pieces approximately 1/2" thick.

Arrange slices of mozzarella, peach, and tomato in alternating layers on a plate or small platter. Drizzle with olive oil and balsamic glaze, and sprinkle lightly with salt and pepper.

Add basil leaves, tucking them around the edge and in between layers, as desired. Serve right away and enjoy!
Did you make this recipe?
Leave a review below, then snap a quick picture and tag @nourishandfete on Instagram so I can see it!