Marinated Tomato Burrata Salad
This Tomato Burrata Salad is as delicious as it is beautiful, and easy to throw together, too. Marinating the tomatoes makes it especially elegant for dinner guests or casual summer gatherings.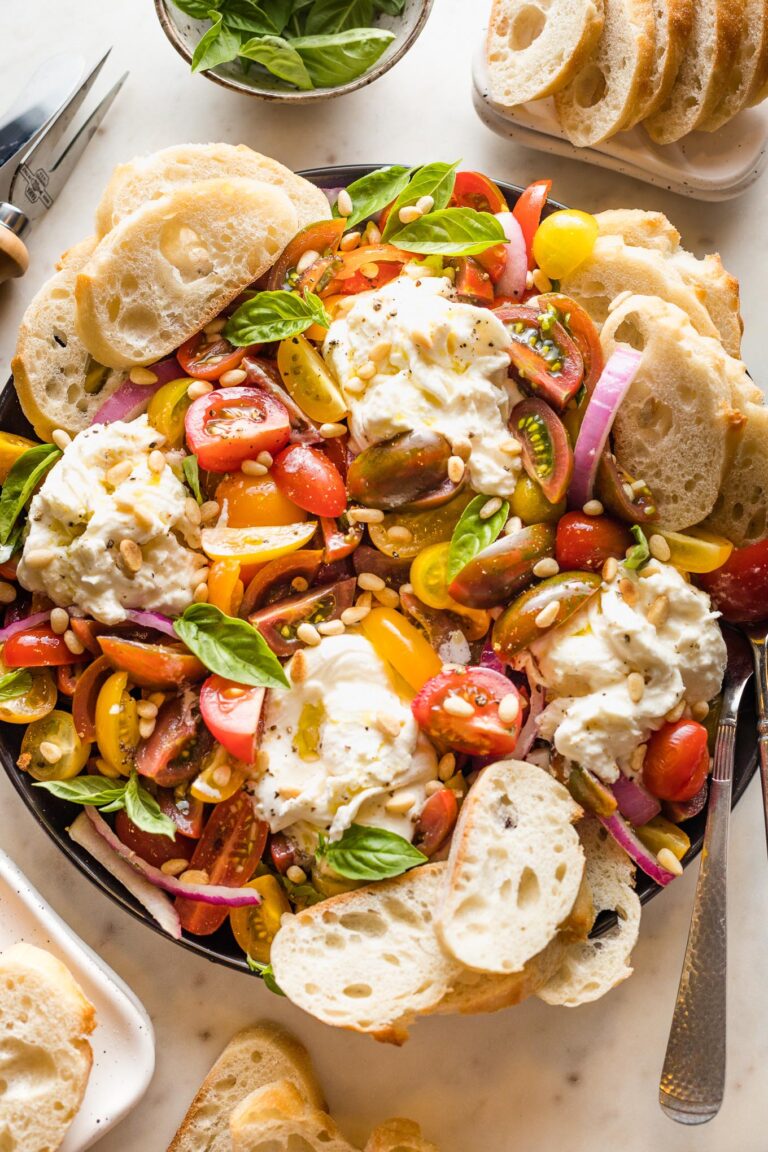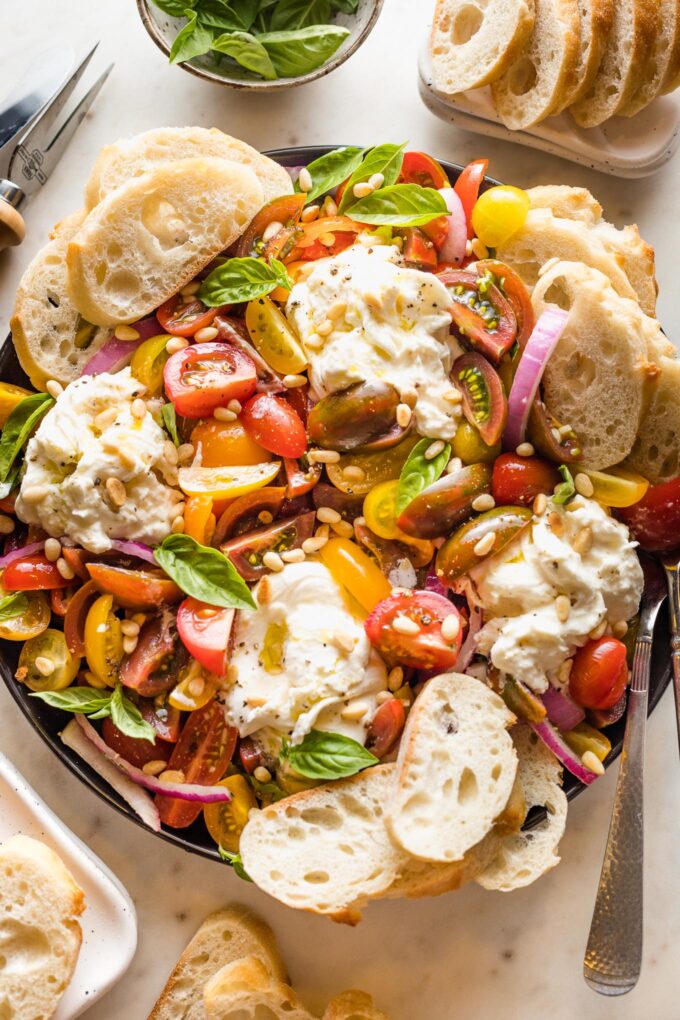 The best salads are the easiest salads – especially in the summer! Fortunately, superstar ingredients like fresh, multi-colored tomatoes, vibrant leaves of basil, and creamy burrata make it easy to eat well with minimal effort.
And sure, you could just toss all of this together and call it a day – it would still be delicious! If, however, you have at least 15 minutes ahead of time to marinate the tomatoes in a light honey champagne vinaigrette, you'll thank yourself, and have an even more impressive dish to share!
Recipe Ingredients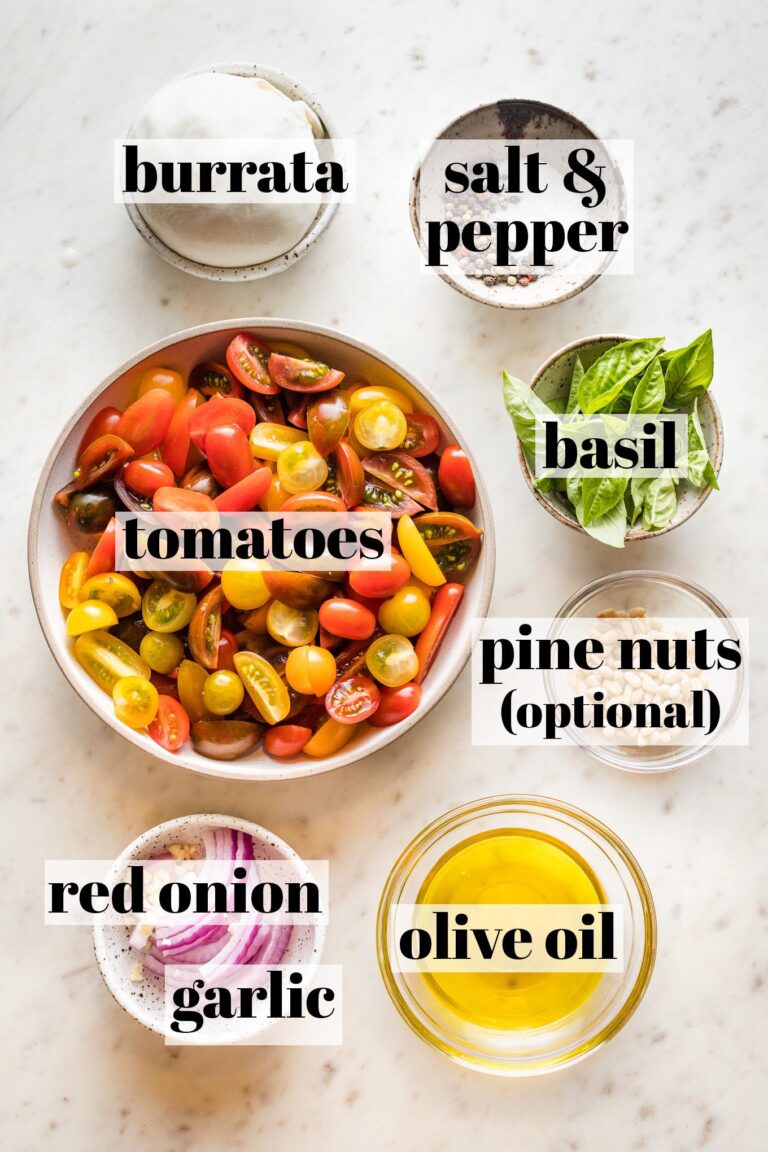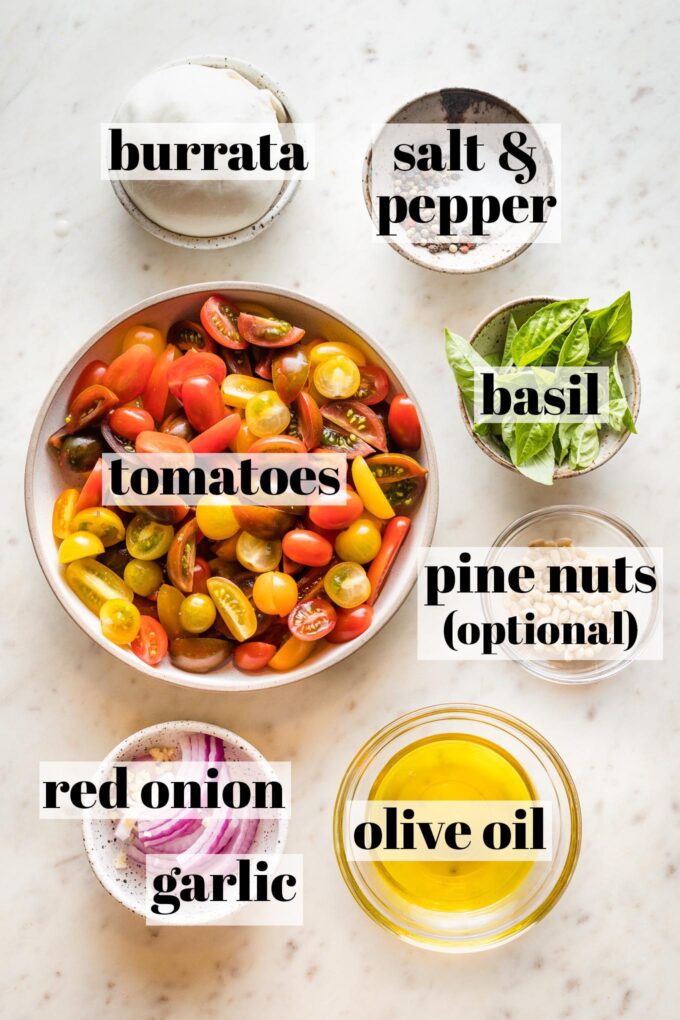 Ingredient Notes & Common Substitutions
You can find the full ingredient list in the recipe card below, but if you're looking for shopping tips, why these ingredients work together, or substitution ideas, read here:
Tomatoes: When you start to spy those beautiful multi-colored, in-season tomatoes from your garden or from the local farmers' market, this is the time to make this salad! Craving it other times of year? Use plump Romas or vine-ripened tomatoes; they will do the trick nicely.
Burrata: See the full description of burrata below. It's heavenly, but you can substitute a regular ball of fresh mozzarella cheese here, as well. Look for a fresh water-packed mozzarella and cut or tear it into pieces much as the burrata shown here.
Red onion: The marinating time softens the bite of red onion. If you prefer an even more mellow flavor, use a shallot instead.
Pine nuts: These are optional, as I know they are pricey and occasionally hard to find. Lightly toasted pine nuts add a nice touch of texture at the end, as the crunch pleasingly contrasts the creamy burrata and the warmth nicely contrasts the acidic tomatoes. But if you don't have them or just don't prefer it, simply leave them off.
Champagne vinegar: White wine vinegar is a good substitute.
Honey: Substitute with maple syrup or a teaspoon of granulated sugar if you prefer.
What is burrata?
Burrata is a semisoft Italian cheese made from mozzarella and cream. The mozzarella forms an outer shell and encases a lush mixture of cream and cheese curds. The total effect is that, when sliced open, you get ribbons of fresh mozzarella mixed with a gooey, creamy center — a blend of contrasting textures that tastes and appears every bit as dreamy as it sounds.
Where to buy burrata?
You can typically find burrata in the grocery store refrigerator section along with other fresh or specialty cheeses, such as fresh mozzarella, ricotta, and Parmesan. In my area, burrata is stocked by Trader Joe's, Wegmans, Whole Foods, Giant, and more. (Lucky us!)
But why marinate tomatoes?
Good question! It's true – in-season tomatoes are so lovely on their own. But marinating them in a light blend of great and good things make them even better with minimal effort. The honey adds a subtle natural sweetness, complementing tomatoes' natural tang. (Many tomato sauce recipes call for added sugar for this exact reason.) The vinegar draws out that acidity. And the salt enhances everything, as it usually does.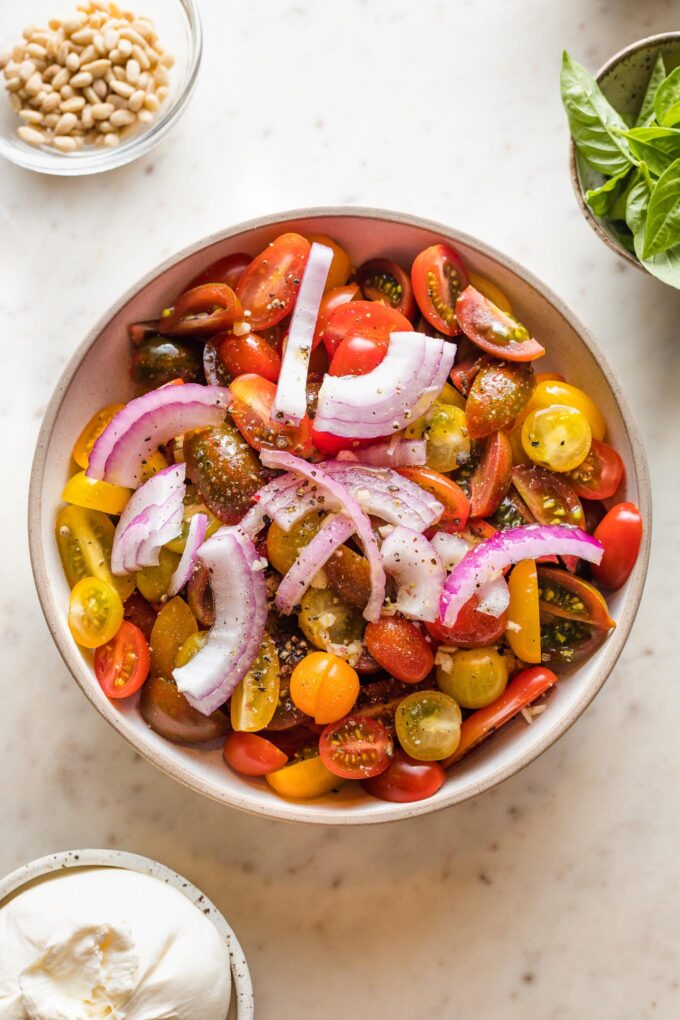 And the garlic, well, does garlic ever hurt anything? Not in my opinion. 🙂
How To Make This Salad
This only requires a few steps of prep, and no cooking.
Cut and marinate tomatoes. Halve or quarter the tomatoes, depending on their size. Toss with the onion, oil, honey, vinegar, garlic, salt, and pepper, then pop into the refrigerator for as little as 15 minutes or as much as 3 hours.
Mix in basil. Doing this after the tomatoes marinate ensures the basil doesn't turn brown and lose flavor.
Arrange on a platter. Spread the marinated tomatoes out on a platter, leaving most of their rendered juices behind in their bowl. Tear open the burrata – don't even try to this neatly, it's more of a rip and tug situation – and place on top. Garnish generously with more fresh basil, pine nuts if using, and a finishing sprinkle of olive oil and sea salt.
Dive in!
Tips and Tricks
Serve right away: Once the salad is assembled, serve and eat quickly. That said, any leftover bits can be kept in the refrigerator tightly covered and enjoyed over the next day or so, especially spread on toast.
Use a flaky sea salt and adjust to your taste: A flaky sea salt such as Maldon is perfect here; not only does it have a lovely taste and texture, but it literally sparkles if you sprinkle a tiny bit over the top just prior to serving. The perfect finishing touch.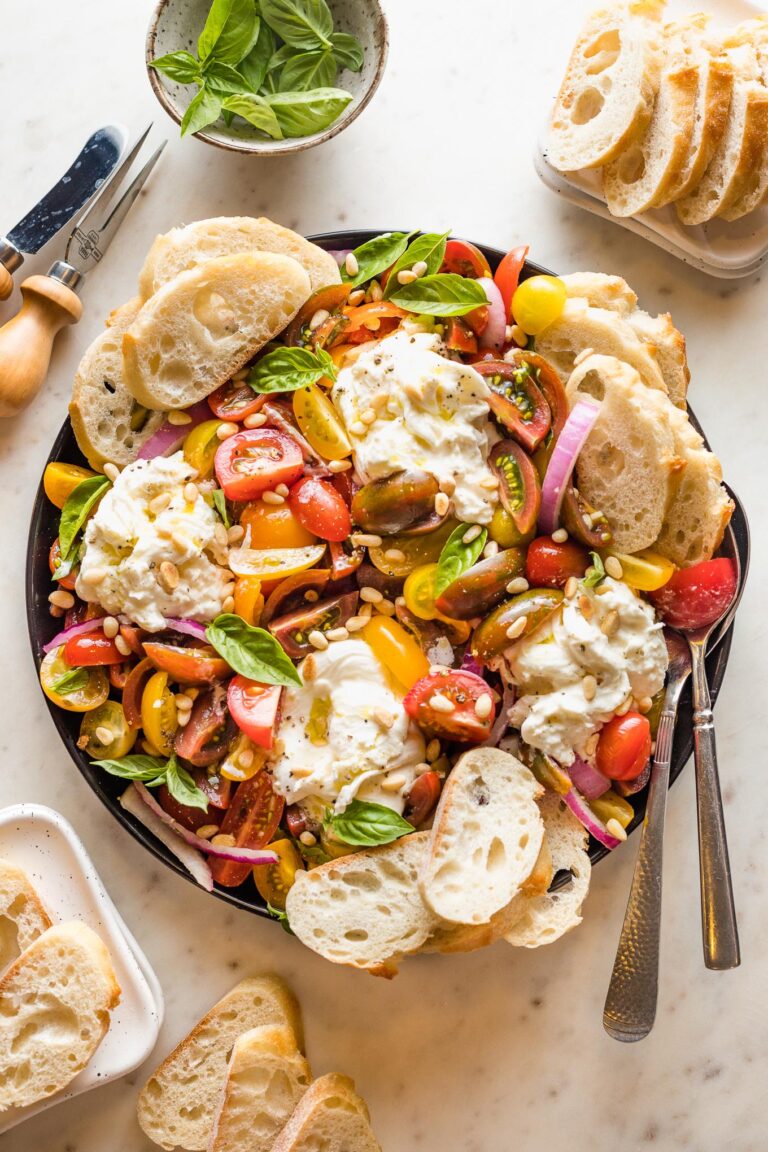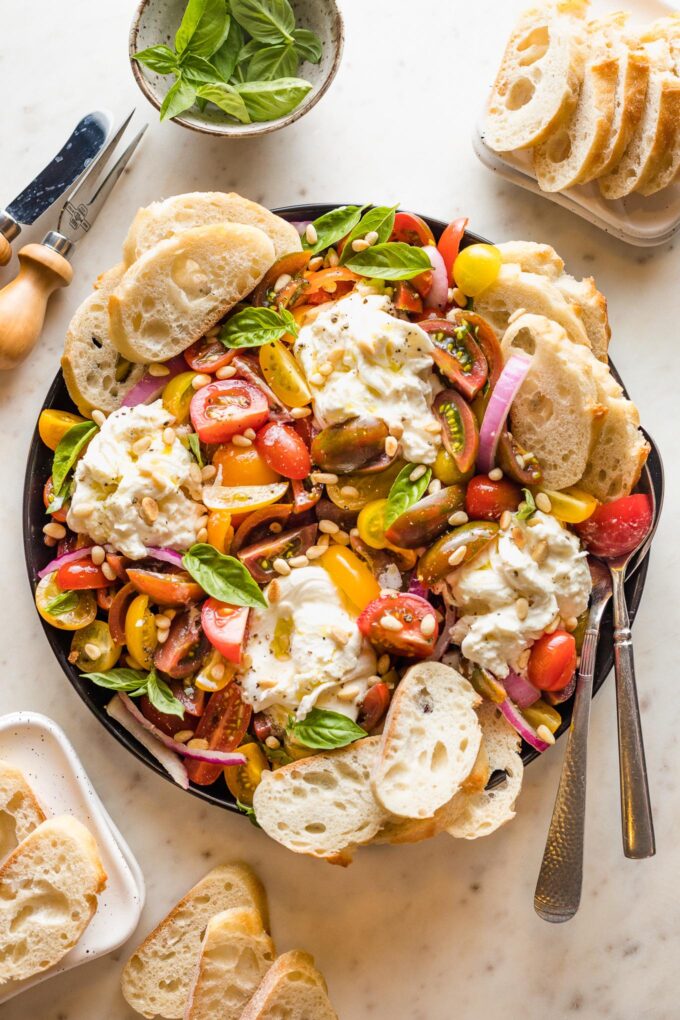 What To Serve with a Tomato Burrata Salad
Serve this salad with a basket of toasted baguette slices or crackers for an easy and elegant appetizer that invites everyone to dive in and make their own little spread. It's also lovely as part of a larger snack board with other cheeses, olives, and meats, if you like.
Feeling more creative? Serve this family-style alongside some grilled Italian chicken or fish, and let everyone spoon it onto their plates as desired in a beautiful, messy heap of summer's bounty. Add corn, green beans, or a spinach salad on the side for a true feast.
Variations
This salad also lends itself well to variations. Since it requires no cooking, you can simply toss in anything that you like! A few ideas:
Add prosciutto: As in this prosciutto caprese pasta salad, it's a perfect complement.
Add peaches, nectarines, or cherries.
Toss in some croutons or chunks of bread: As in this this simple panzanella with mozzarella, this makes it a more filling salad and, in my opinion, worthy of standing on its own as a meal.
Add some greens: Mixed baby greens or a peppery arugula work well.
If you try this Tomato Burrata Salad, don't forget to rate the recipe and leave a comment below. I love hearing how recipes turn out in your kitchen, and it helps other readers, too.
You can also FOLLOW me on PINTEREST, INSTAGRAM, FACEBOOK, and TWITTER for more great recipes and ideas!
Marinated Tomato Burrata Salad
As delicious as it is beautiful, and easy to throw together, too. Marinating the tomatoes gives this a little extra oomph, and makes it especially elegant for dinner guests or casual summer gatherings.
Ingredients
3-4 small heirloom tomatoes quartered or sliced into bite-sized pieces
1/4 cup thinly-sliced red onion
1 clove garlic minced
2 tablespoons extra virgin olive oil
2 tablespoons champagne vinegar
1 teaspoon honey
salt and pepper
1 burrata ball
generous handful of fresh basil
1 tablespoon toasted pine nuts optional
baguette toasts or crackers for serving
Instructions
Add tomatoes, onion, garlic, oil, vinegar, honey, and a pinch each of salt and pepper to a small bowl. Toss to combine. Cover and place in the fridge for at least 15 minutes and up to 3 hours.

When ready to serve, cut about half of the basil into thin slivers and gently mix into the tomatoes.

Arrange tomatoes on a platter, leaving most of their rendered juices behind in the bowl. Break open the burrata and place on top, followed by a sprinkling of pine nuts. Drizzle very lightly with additional olive oil, vinegar, salt, and pepper. Garnish with remaining basil leaves, and serve with baguette toasts or crackers, as desired.
Nutrition Estimate
Calories: 163 kcal, Carbohydrates: 4 g, Protein: 7 g, Fat: 15 g, Saturated Fat: 6 g, Polyunsaturated Fat: 1 g, Monounsaturated Fat: 4 g, Cholesterol: 27 mg, Sodium: 4 mg, Potassium: 160 mg, Fiber: 1 g, Sugar: 3 g, Vitamin A: 777 IU, Vitamin C: 9 mg, Calcium: 208 mg, Iron: 0.3 mg
Did you make this recipe?
Leave a review below, then snap a quick picture and tag @nourishandfete on Instagram so I can see it!