Pork Pineapple Kabobs with Grilled Mango
Pork pineapple kabobs combine juicy marinated cubes of meat with sweet chunks of pineapple and mango for a fun, flavorful meal off the grill, perfect for easy summer dinners or entertaining.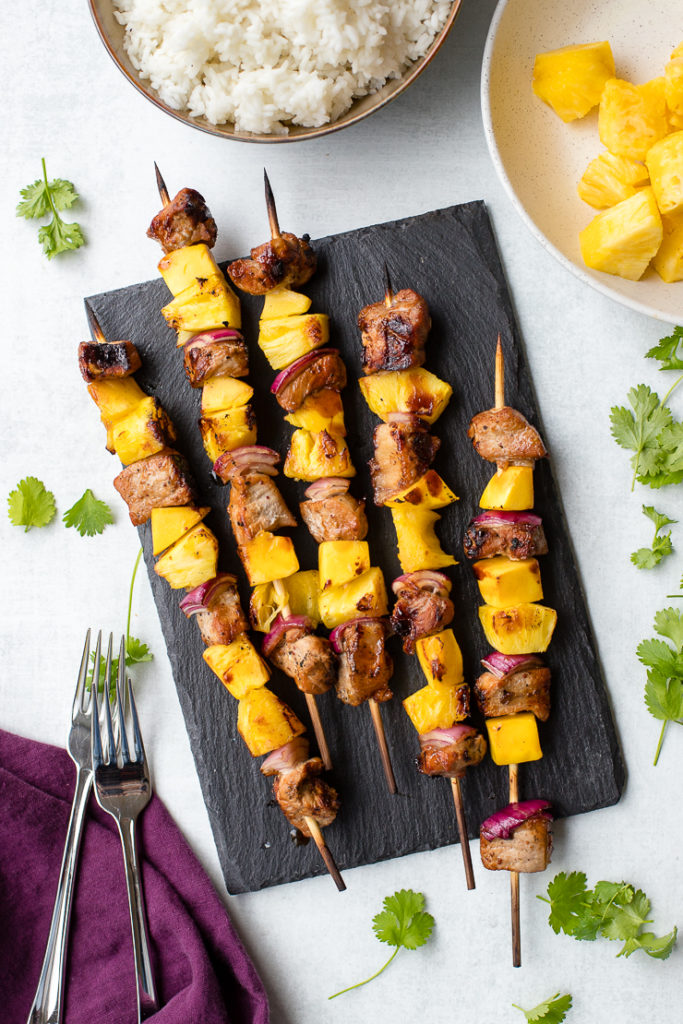 If you had been at my house while I was making these kabobs for the first time, you would have heard a litany of complaints and (thinly) veiled expletives pouring forth from the kitchen. We had been out and about the whole day, which was great fun, but then by the time we got home I was tired and didn't really feel like cooking. I charged forth, for all the usual reasons — I had all the ingredients, didn't want them to go bad, it was nice grilling weather, etc. Also we had no fall-back plan. Belgium has a lovely food scene, but is distinctly short on Chipotle-style establishments where one would just breeze in for dinner on a Sunday, especially with a small human in tow.
So, pork pineapple kabobs it was. But, as my husband can surely attest, I was full of crankiness and reasons why dinner was going to be a disaster. I wished I had marinated the pork before we left that morning. I massacred the pineapple while trying to cut it. Why had I not yet gotten around to ordering pretty metal skewers? The kid would definitely not eat mango grilled, despite his obsession with the fruit, so what was the point of it all? And why, for the love of all things, can I cook and bake constantly and still manage to mess up rice on the stovetop, every. single. time!??!?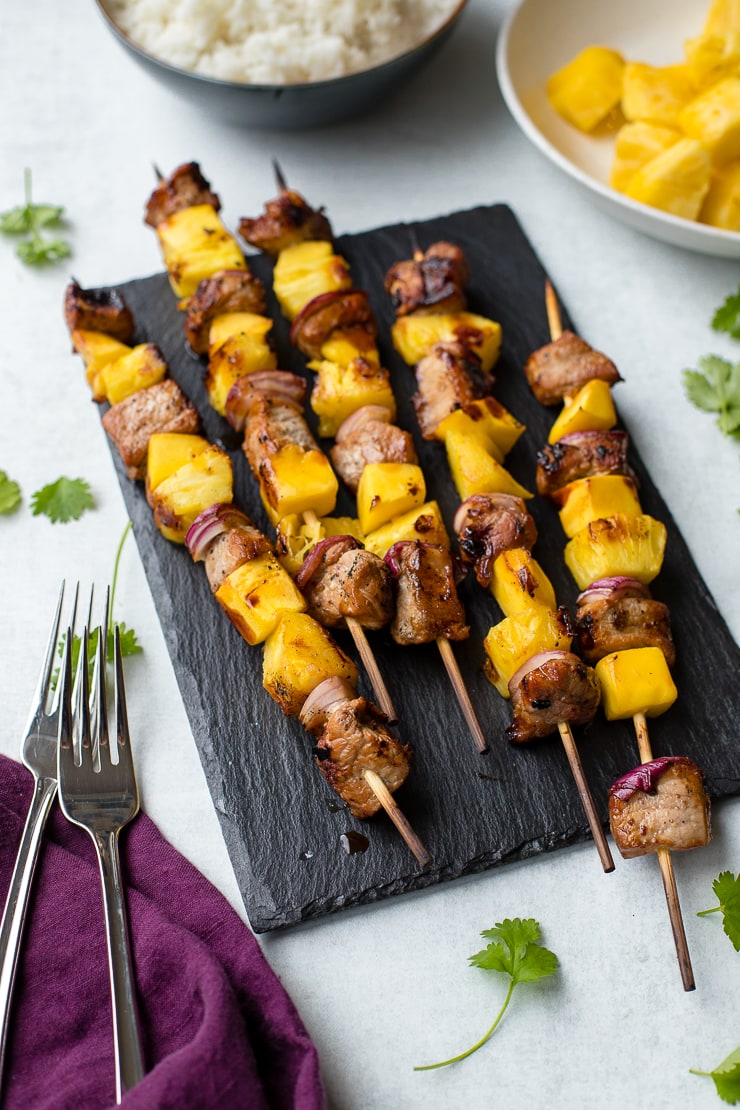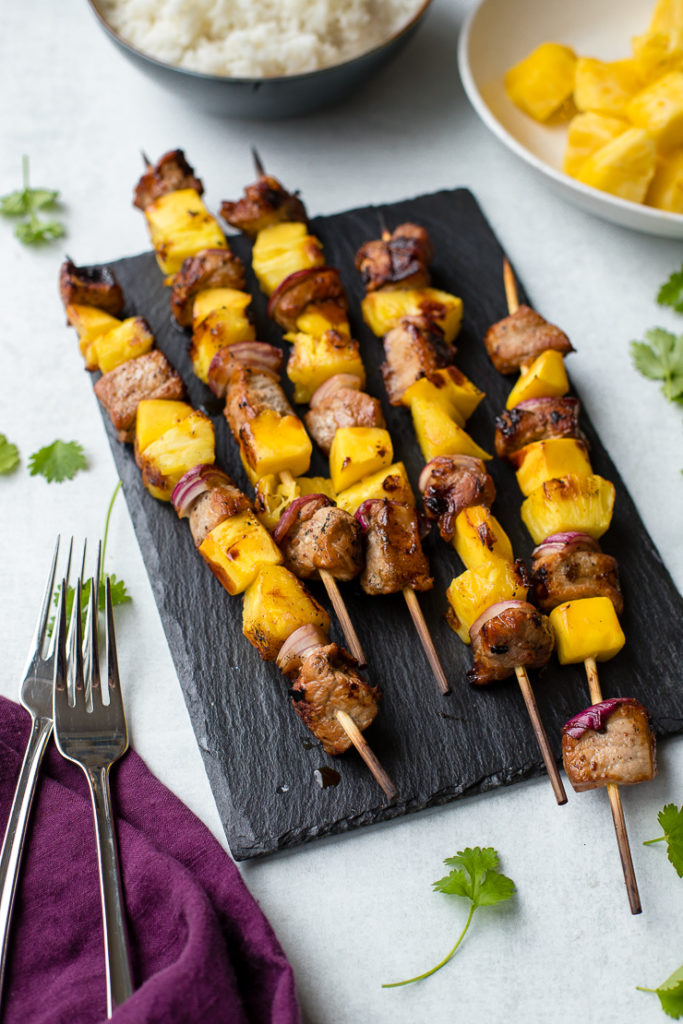 Anyway, no need to belabor things: I got everything skewered, my husband kindly, and wisely, took over the grilling work, I poured a beer, and … the kabobs were delicious. So delicious that I need to make them again, ASAP, and so do you! It's prime grilling season, after all. And fortunately, these would work just fine over a grill pan on the stovetop, as well, so you've got options for all weather and circumstances.
Tips for Making The Best Pork Pineapple Kabobs
Try to cut the pork into evenly-sized cubes, somewhere between 1-1.5″. You don't want them too small, or they'll cook too quickly and dry out.
Same with the fruit – you want it to get a bit of char on the grill, but very small cubes will be difficult even to stick onto the skewers!
For best results, leave a bit of time to let the pork marinate – in a pinch, 45 minutes will do, since it's already cubed. But for even more flavor, and to truly minimize your workload right before a meal, marinate in the morning or even the night before you want to eat. **This is a 30-minute meal minus the inactive marinating time.
Either bamboo or metal skewers are fine to use. If using bamboo, soak them for 30+ minutes before putting on the meat and fruit, to reduce charring and prevent, you know, fire!
Feel free to change up the fruit and veggies you use to suit your taste and what you have on hand – I personally plan to add some bell peppers next time!
If you try these kabobs or any other recipe on the blog, please remember to rate the recipe and leave a comment below. I love hearing from you, and other readers will benefit from your experience!
Pork Pineapple Kabobs with Grilled Mango
Pork pineapple kabobs with grilled mango are a great grilling recipe, perfect for easy summer dinners and entertaining!
Ingredients
For the Marinade
1/3 cup low-sodium soy sauce
2 Tablespoons light brown sugar
2 teaspoons Worcestershire sauce
1 teaspoon Dijon or whole-grain mustard
2 garlic cloves, minced (can sub 1/2 teaspoon garlic powder)
a few turns of freshly-ground black pepper
For the Kabobs
2 large pork chops, about 1 pound, cut into cubes approximately 1" (see recipe note 1)
1 1/2 cups cubed pineapple
1 1/2 cups cubed mango
1/2 red onion, cut into small chunks
fresh cilantro, slivered, for garnish
Instructions
To make the marinade, combine all ingredients in a large bowl and whisk to combine. Add the cubed pork to the bowl, cover tightly with plastic wrap, and refrigerate for 45-60 minutes. (see note 2)

When ready to grill, remove pork from the fridge and prepare the rest of your ingredients. Thread everything onto skewers, alternating between meat, pineapple, mango, and onion.

Grill the kabobs over medium heat, turning often, until pork is cooked through. Garnish with cilantro, if desired, and serve immediately.
Notes
1. I typically use boneless chops, as they're easier to find at my grocery store, but bone-in chops would also work well, and quite possibly be more flavorful - just increase the weight you're starting with to account for the bone, and plan a few extra minutes to carefully remove and cube the meat!
2. You can definitely marinate the pork longer, if desired and/or time permitting - up to 24 hours should be fine!
3. Metal or bamboo skewers are fine - if using bamboo, soak them for 30-60 minutes in water before grilling to minimize charring and prevent any fires!
Marinade adapted from Recipe Tin Eats.
Nutrition Estimate
Calories: 169kcal, Carbohydrates: 20g, Protein: 13g, Fat: 4g, Saturated Fat: 1g, Cholesterol: 35mg, Sodium: 629mg, Potassium: 386mg, Fiber: 1g, Sugar: 16g, Vitamin A: 565IU, Vitamin C: 42.4mg, Calcium: 27mg, Iron: 1mg
Did you make this recipe?
Leave a review below, then snap a quick picture and tag @nourishandfete on Instagram so I can see it!