Oregano Chicken
This delicious Oregano Chicken skillet is easy to make in about 25 minutes. We love the tender pan-fried chicken breasts, buttery white wine-infused sauce, and fresh sprigs of oregano. Simple yet restaurant-worthy!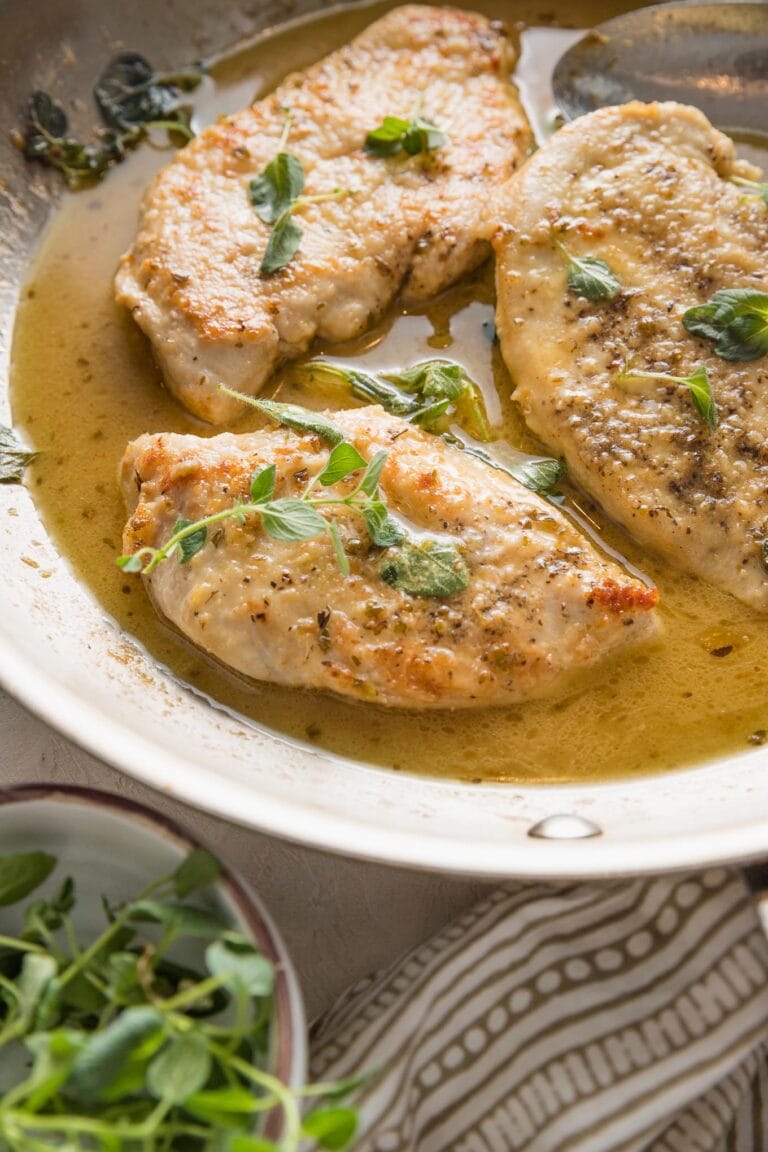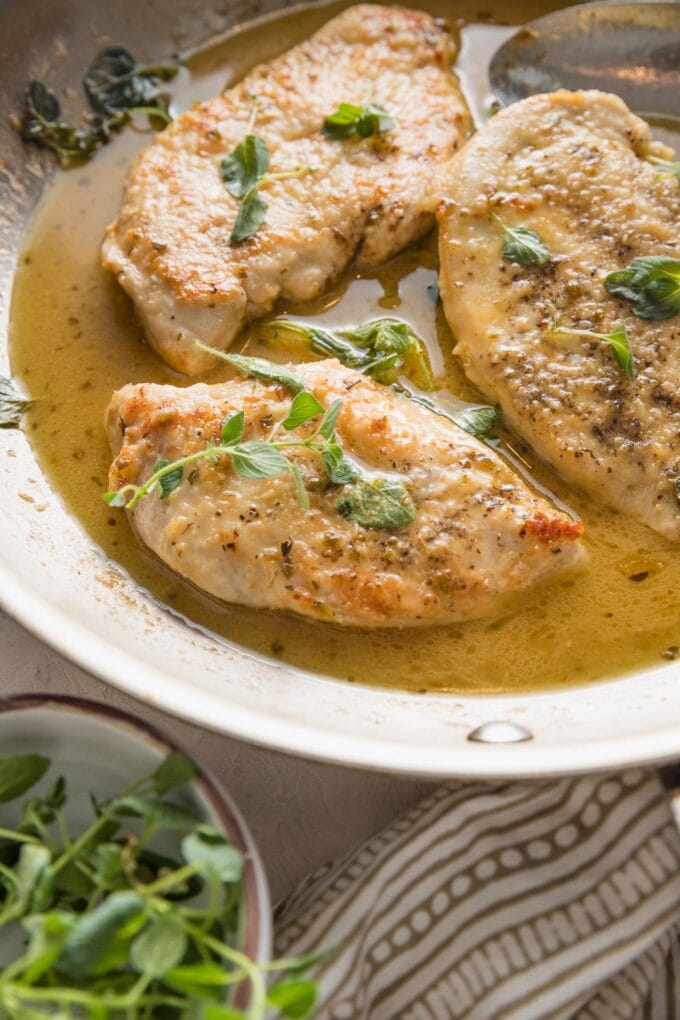 Chicken with Oregano & White Wine Sauce
We make a lot of easy chicken recipes around here, but this one has the distinction of earning rave reviews from every single member of my family over the course of multiple meals. If you know my chicken-skeptic son, you know that's no minor feat!
Tender chicken breasts get a nice crust from a quick pan-fry. They then get to swim in a light yet buttery white wine sauce that is chock full of flavor from one of the loveliest herbs. Yes, there's a lot to like here!
Our oregano chicken skillet accomplishes a lot with a little. It's:
Quick and easy to get on the table, with minimal prep or mixing.
Made in one skillet for easy cooking and easier clean-up.
Elegant yet approachable. This is one that sounds impressive when you say it or serve it to company, but is great for kids, too. (Most alcohol cooks out of the sauce, and you can always swap it for additional broth if you prefer.)
Garnish with lots of fresh oregano and serve alongside bread and a green salad or roasted green beans for a delightful meal.
Ingredients & Common Substitutions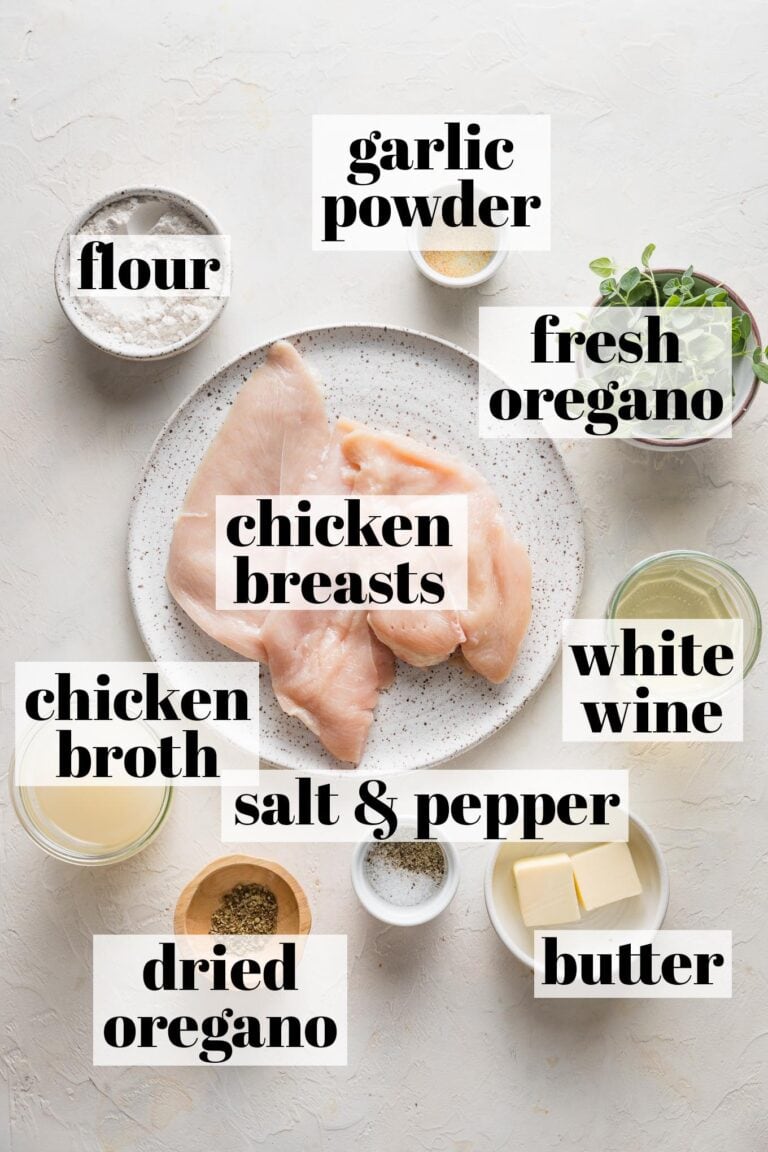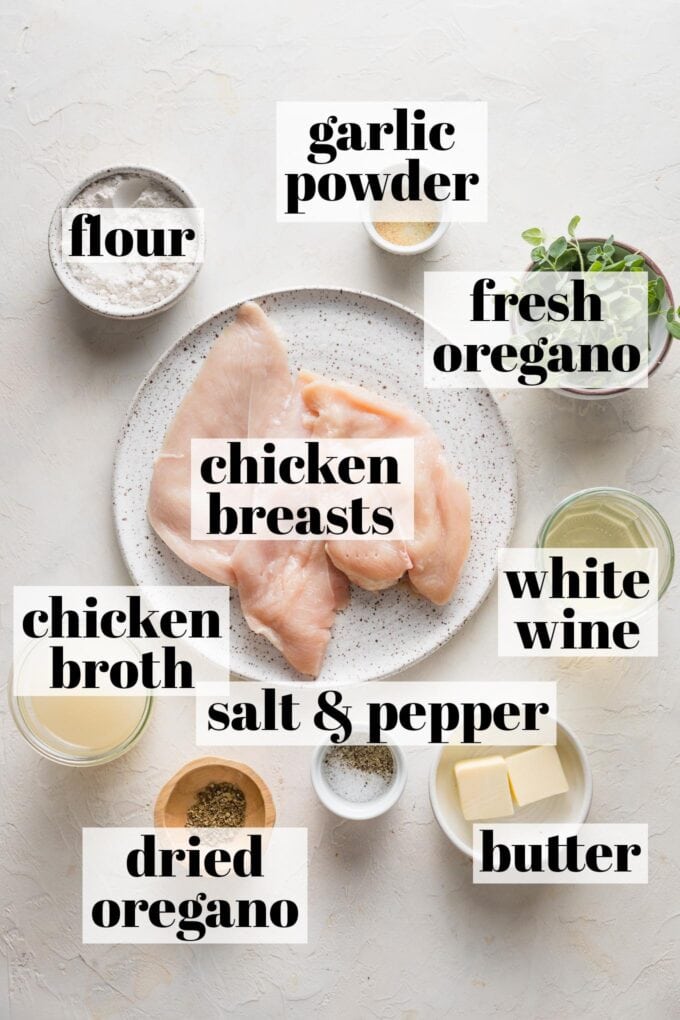 Here are a few notes and shopping tips about the ingredients you'll need to make this, as well as possible substitutions. Full amounts are noted in the print-friendly recipe card below.
Chicken Breast. For best results, use boneless skinless chicken breasts that are thinly sliced. You can buy chicken labeled "thin-sliced" at most grocery stores, but it's also easy to just cut thicker breasts in half through the middle so each piece becomes two.
Fresh and Dried Oregano. I know, it may seem crazy to use both, but I truly think it gives the most depth and complexity of flavor. Naturally you can substitute all one or the other as needed — a good rule of thumb is to use 1 teaspoon of dried herbs for every 1 Tablespoon of fresh.
Broth. Chicken broth, chicken stock, vegetable broth, or vegetable stock — use whatever you have.
White Wine. My favorites include Sauvignon Blanc or Pinot Grigio, or any other dry variety. This adds and intensifies flavor in the sauce, but can be substituted with additional broth if you prefer for any reason.
Flour. Dredging the chicken in a smidge of flour before it goes in the hot pan helps it form a delectable light crust. Omit this or substitute your favorite gluten-free flour to make this recipe gluten-free.
Staples: butter, olive oil, kosher salt, black pepper, and garlic powder.
Love lemon? Add a squeeze of lemon juice to the sauce at the end for extra punch. Or try our citrus-centric chicken recipes: creamy lemon chicken, lemon thyme, or lemon rosemary!
Can I substitute chicken thighs?
Yes, but be prepared for a longer cooking time, especially if using bone-in thighs. You may want to transfer the chicken and sauce to a baking dish and finish it in the oven if thighs are taking a very long time and getting too browned in the skillet.
How To Make Oregano Chicken
I love making this because I feel like a much more elegant chef than I actually am. 🙂 Here is a quick summary of the steps. You will find full instructions with exact ingredients in the print-friendly recipe card below.
Season and pan-fry the chicken. A sprinkle of salt, pepper, and garlic powder flavors the chicken, while a light dredge of flour helps it develop a light crust and also helps to slightly thicken the sauce. Cook the chicken on both sides in a hot skillet with a drizzle of olive oil and pat of butter, then remove to a plate and set aside.
Make the sauce. This is a simple yet sophisticated combination of broth, wine, butter, and oregano.
Return chicken to skillet. Let the chicken finish cooking in the sauce to guarantee it stays tender and help the sauce reach the perfect consistency.
Garnish and serve! A few sprigs of fresh oregano at the end add flavor, color, and general beauty!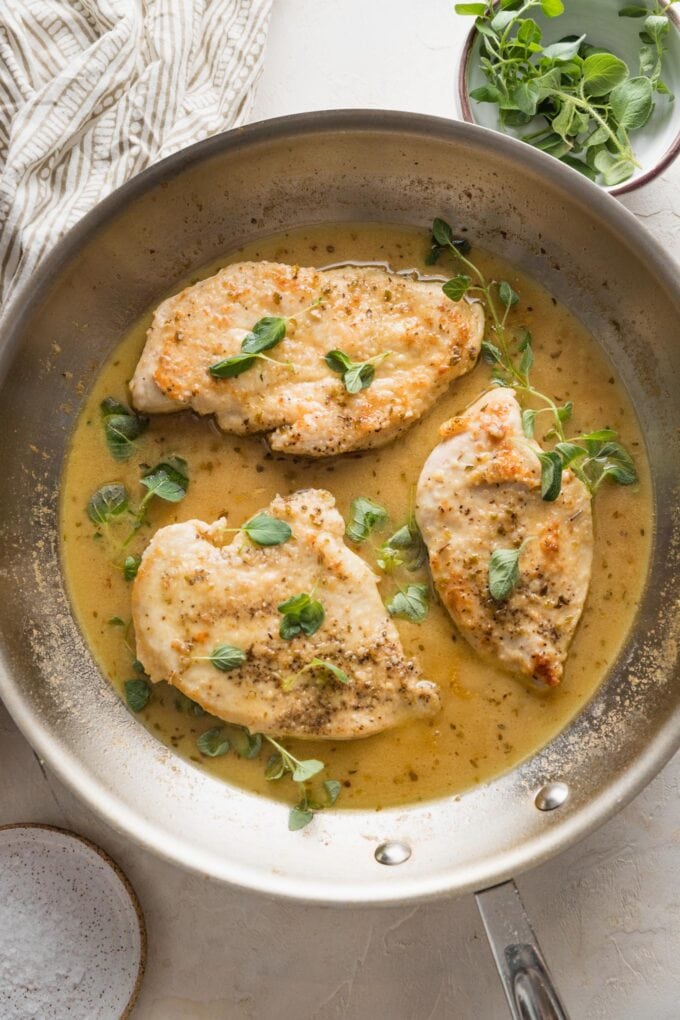 Variations and Add-Ins
Care to tweak or incorporate more flavors? Here are some ideas.
Add lemon juice to the sauce along with the final pat of butter, or serve with lemon wedges.
Stir in baby spinach, arugula, or Swiss chard for built-in greens. Wilt these in the sauce by tucking them in under the chicken when you return it to the pan.
Add cherry or sun-dried tomatoes for more color. Mix them into the sauce just after adding the white wine and broth. If using oil-packed sun-dried tomatoes, bonus points for using the oil from the jar to sauté the chicken.
Make it gluten-free by omitting the flour entirely or using any gluten-free blend that you like.
Make it dairy-free by using your favorite brand of dairy-free butter.
Serving Suggestions
Oregano chicken is absolutely delicious served with roasted potatoes, garlic bread, or a crusty baguette or Italian bread to mop up the sauce. If you plan to use the pan sauce over pasta, consider doubling it so you have enough.
On the side, we suggest a simple arugula or spinach salad. Roasted asparagus, baby carrots, or green beans are also terrific. Adding a drizzle of the sauce is a great way to make vegetables more appetizing!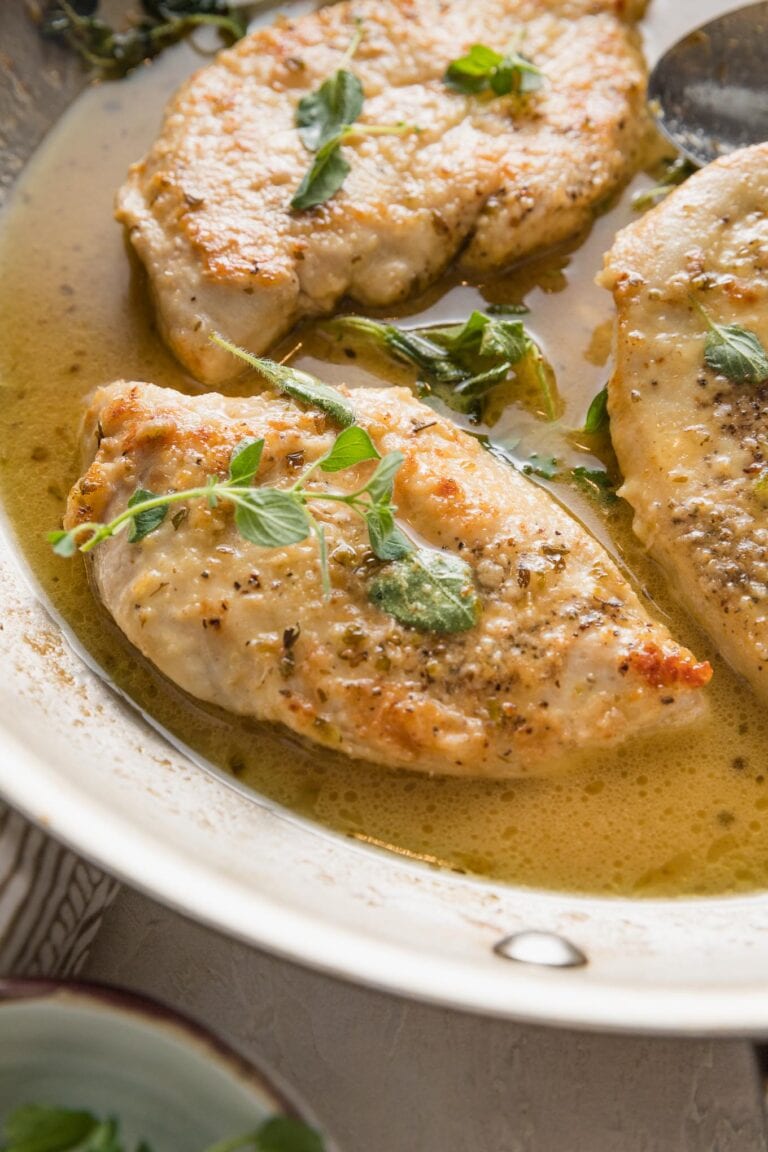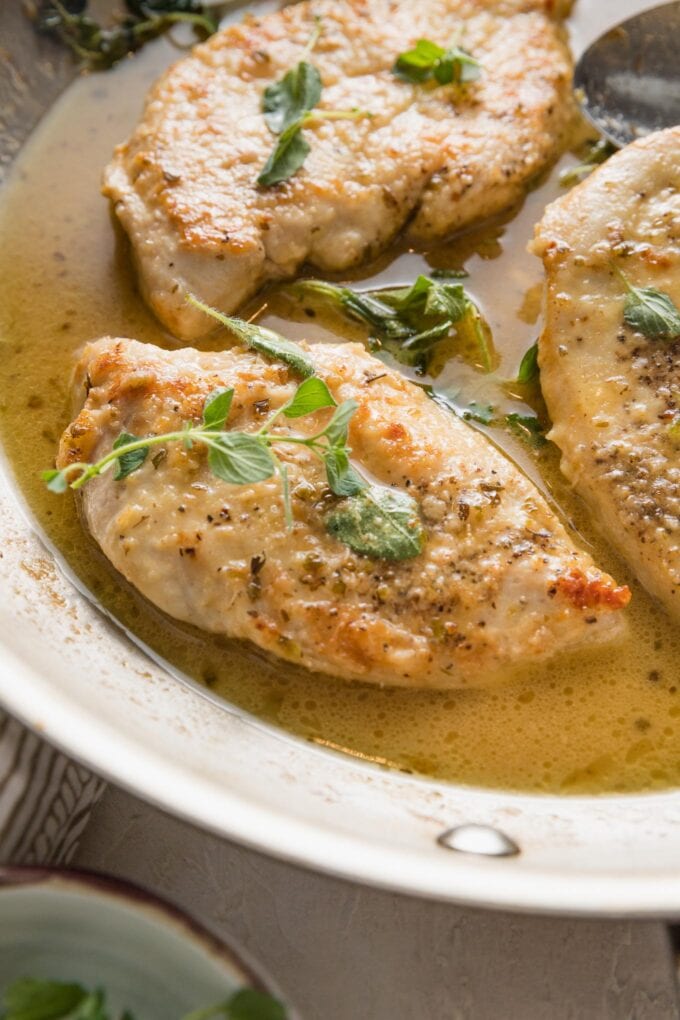 Recipe FAQs and Expert Tips
Do you wash chicken before cooking?
Do not wash raw chicken prior to cooking. It's unnecessary and only increases the odds of spreading bacteria around your sink and other parts of the kitchen.
What is the recommended internal temperature for chicken breasts?
According to the USDA, chicken is safe and ready to eat when it has reached 165° F. If the chicken continues cooking as it climbs above this temperature, it can quickly dry out, and there's no going back. The best way to avoid this? Invest in a simple instant-read meat thermometer. This makes it easy to watch for that benchmark and pull the chicken off right away. No guesswork.
How to get a golden crust on chicken breasts?
Master the light golden crust on your chicken with these simple tips! Be sure they are seasoned evenly on both sides, use a light dredge of flour on each side, and be certain that the pan and cooking oil is already hot when you place the chicken breasts in the skillet. This helps them to sear quickly on the bottom and develop a light crust while staying tender on the inside.
Where does oregano come from?
Oregano is a delightful flowering herb that is from the mint family and is native to the Mediterranean. This explains why it's widely associated with Greek, Italian, and other Mediterranean cuisines. The herb has been widely naturalized in other regions, however, and another variety called Mexican oregano has a different flavor and adds amazing notes to many Mexican and Tex-Mex dishes.
Storage & Reheating
Leftovers? Woohoo! I love having this meal tucked away for an extra lunch or dinner.
Store individual portions or a larger amount in an airtight container in the refrigerator for 3-4 days. These are our favorite containers!
Reheat on 50% power in the microwave until warmed through.
If the sauce gets too thick, don't worry. It will loosen up a bit as it warms, or you can always thin it back out by placing your portion in a small saucepan and whisking in 1-2 teaspoons of broth or water.
I haven't tried freezing this one but recommend you just eat it and save the trouble. 🙂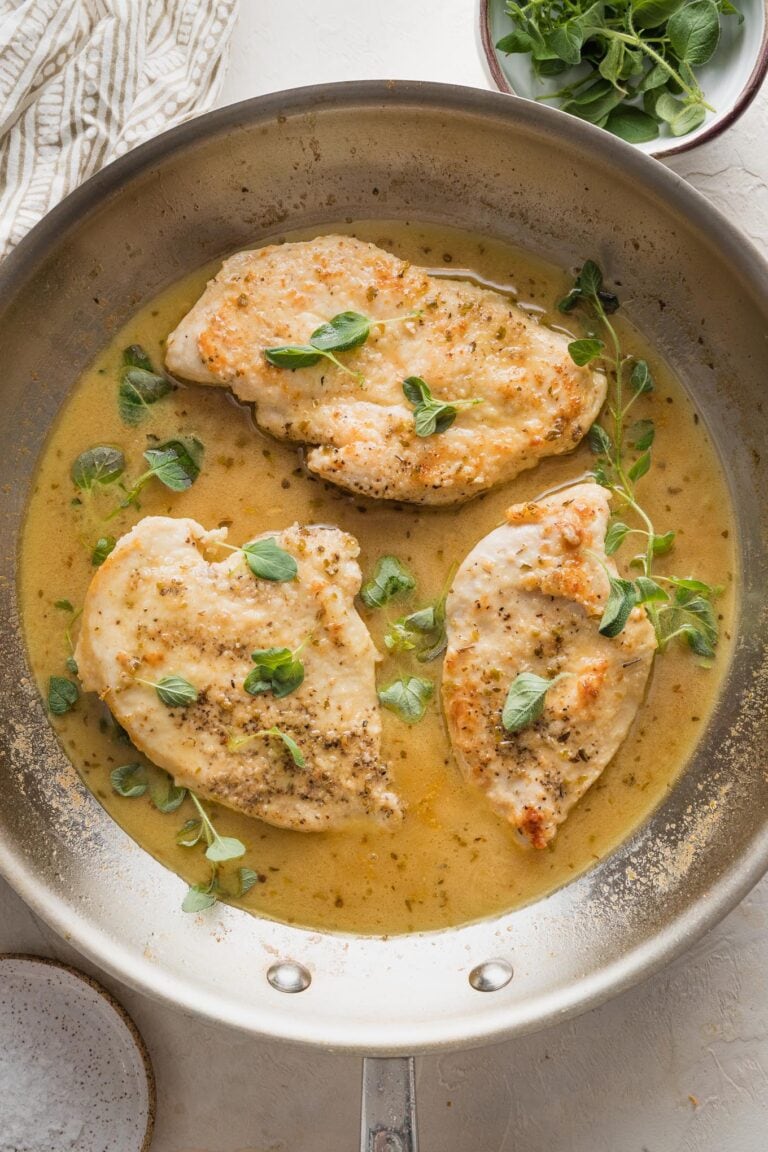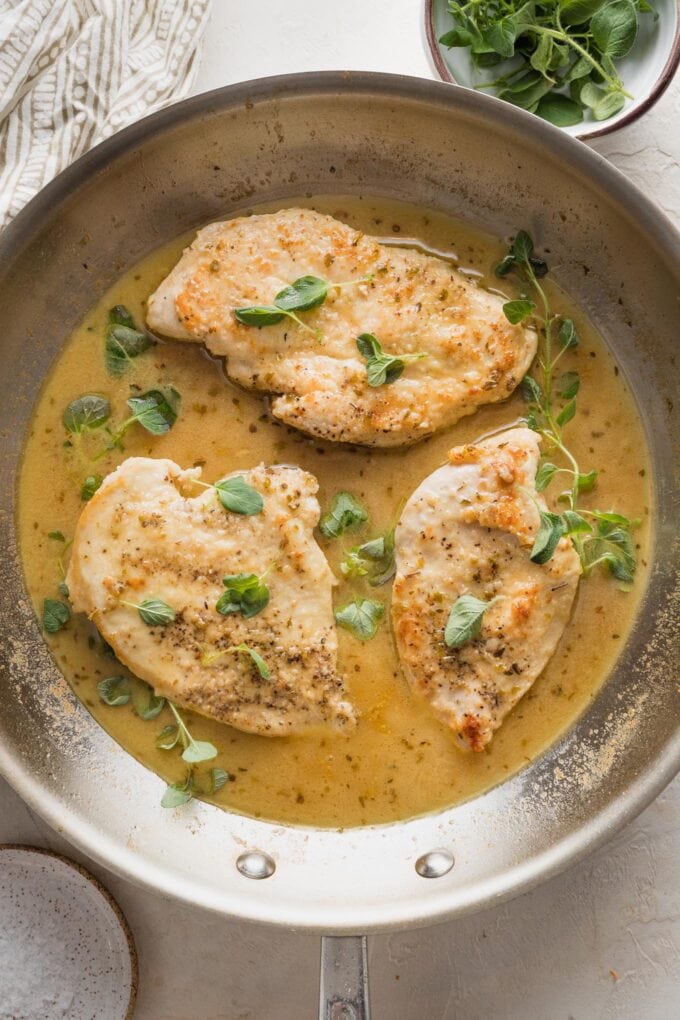 Related Recipes
Enjoy easy dishes with everyone's favorite lean protein? You're in the right place! Save this lemon chicken pasta, creamy balsamic chicken, Greek-marinated chicken, or Italian dressing chicken to try next. Or, try this delicious chicken in white wine sauce, which is very similar to this recipe with a tweak to the herbs.
Want to simplify your life with some big-batch Crockpot cooking? Slow cooker shredded Mexican chicken, slow cooker teriyaki chicken, and slow cooker BBQ chicken are all pretty life-changing, if you ask me!
If you try this Oregano Chicken Recipe, don't forget to rate it and leave a comment below. I love hearing how recipes turn out in your kitchen, and it helps other readers, too.
You can also FOLLOW me on PINTEREST, INSTAGRAM, FACEBOOK, and TWITTER for more great recipes and ideas!
Oregano Chicken
Easy to make in about 25 minutes. We love the tender pan-fried chicken breasts, buttery white wine-infused sauce, and fresh sprigs of oregano. Simple yet restaurant-worthy!
Ingredients
3 Tablespoons all-purpose flour
4 thin-sliced chicken breasts
1/4-1/2 teaspoon garlic powder
kosher salt & black pepper
1 Tablespoon olive oil
3 Tablespoons butter divided
3/4 cup chicken broth
1/2 cup dry white wine
1/2 teaspoon dried oregano
fresh oregano for serving
Instructions
Place flour in a small bowl or plate. Sprinkle chicken breasts evenly on both sides with garlic powder and a small amount of salt and pepper. Warm olive oil and 1 Tablespoon of the butter in a large skillet over medium-high heat.

Lightly dredge each chicken breast through the flour. Shake gently to remove any excess, then place each piece in the hot pan. Cook for 1-2 minutes per side, until browned on the outside but not quite fully cooked through. Remove chicken pieces and set aside.

Add broth and wine to the pan, bring to a simmer, and let it bubble for 1-2 minutes, scraping the bottom to remove any browned bits. Add remaining 2 Tablespoons butter and the dried oregano. Simmer for another 1-2 minutes, while the butter melts.

Return chicken to the pan, lower heat to medium-low, and simmer for another 3-4 minutes, until sauce thickens slightly and chicken is cooked through. Garnish with fresh oregano and serve.
Nutrition Estimate
Calories: 224 kcal, Carbohydrates: 6 g, Protein: 14 g, Fat: 14 g, Saturated Fat: 6 g, Polyunsaturated Fat: 1 g, Monounsaturated Fat: 5 g, Trans Fat: 0.4 g, Cholesterol: 59 mg, Sodium: 148 mg, Potassium: 282 mg, Fiber: 0.3 g, Sugar: 0.4 g, Vitamin A: 284 IU, Vitamin C: 1 mg, Calcium: 15 mg, Iron: 1 mg
Did you make this recipe?
Leave a review below, then snap a quick picture and tag @nourishandfete on Instagram so I can see it!