Easy Classic Key Lime Pie
Count on this easy and reliable recipe for a classic Key Lime Pie with no fuss. The buttery graham cracker crust, creamy sweet-tart filling, and simple yet impressive garnishes come together for a spectacular dessert every time.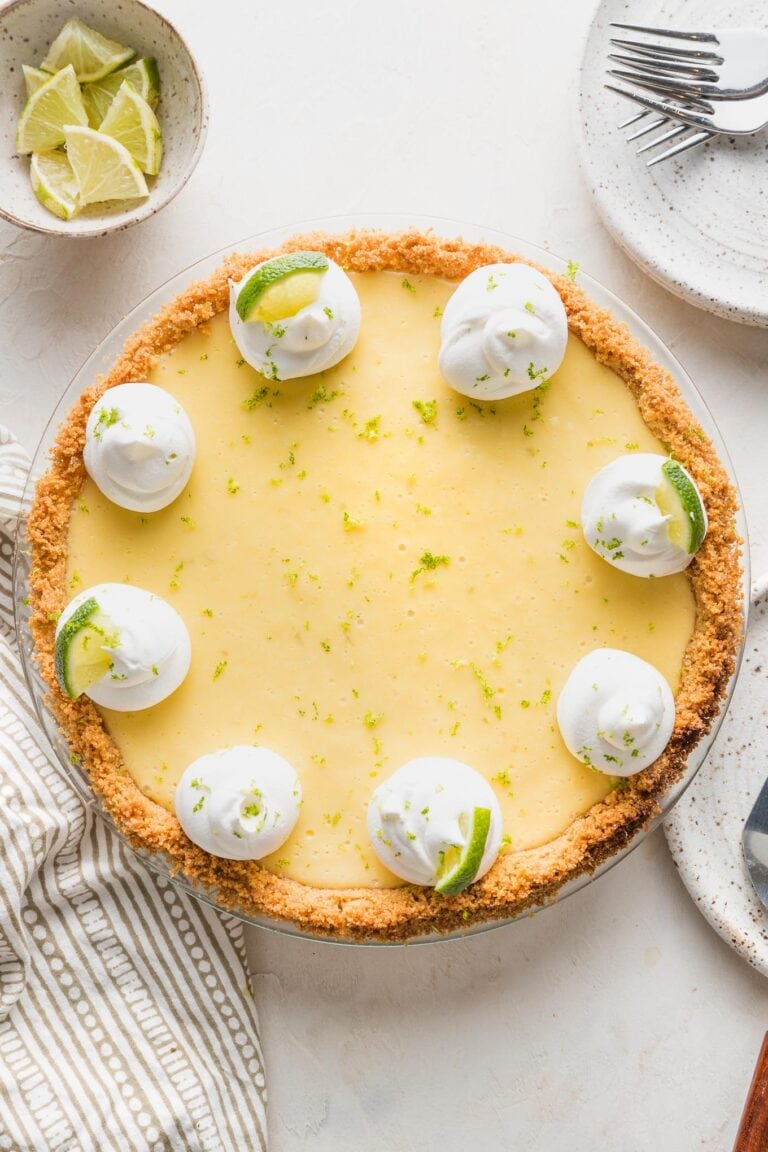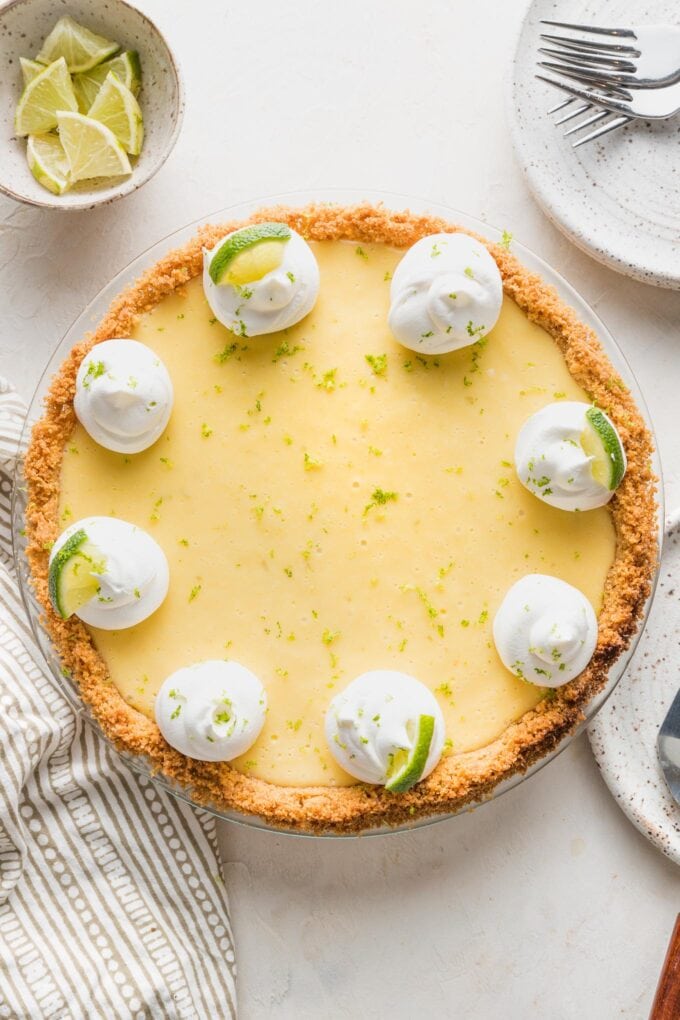 Cool, Creamy, Classic Key Lime Pie
Key lime pie is super special to my family, because for nearly a decade now, my step-daughter has requested one every year for her birthday dessert. As a result, I've had many opportunities to perfect my key lime pie recipe, and this is the forever favorite we settled on a few years ago. Everyone loves it, and it comes out perfectly every time–no guesswork.
So, you might ask, what do we love about this recipe in particular? It's:
Just the right balance of sweet and tart. This definitely has the signature tang of key limes, but is sweet enough to be appealing to those who don't always care for tart desserts.
Generous. Some key lime pies taste good but have a pretty thin layer of filling. Life's too short for that, I say! This recipe uses two 14-ounce cans of sweetened condensed milk and appropriately scaled up amounts of juice, zest, and egg yolk to solve that problem.
In the best graham cracker crust ever. Everyone will press the final crumbs into their fork.
I look forward to making this key lime pie every May for Elena, but it's honestly so delicious and easy to make that it's a dream dessert all summer long. It's also ideal to make ahead of when you need it!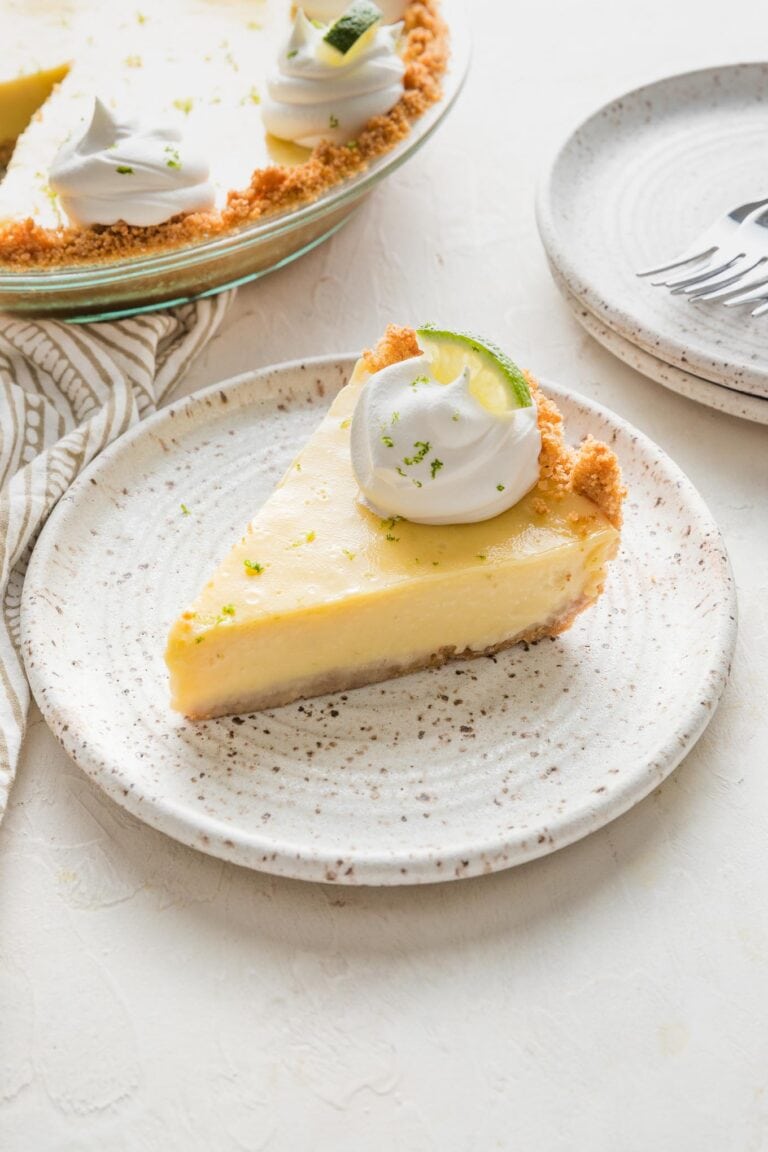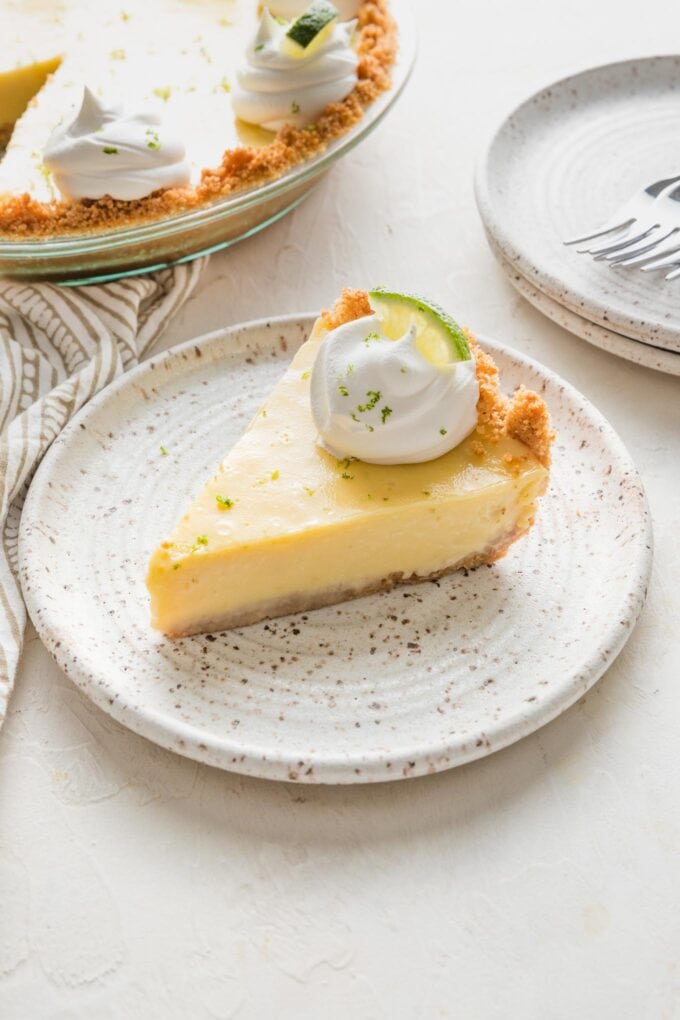 Ingredients & Substitutions
Here are a few notes and shopping tips about the ingredients you'll need to make this, as well as possible substitutions. Full amounts are noted in the print-friendly recipe card below.
For the Crust: Graham crackers (or pre-crushed graham cracker crumbs), butter, and granulated white sugar.
For the Filling: Key lime juice, lime zest, egg yolks, and sweetened condensed milk.
Optional Garnishes: Whipped cream (or use Cool Whip, no shame in that game), more lime zest, or thinly-cut lime slices. You can also get creative and sprinkle more graham cracker crumbs, finely chopped nuts, shaved chocolate, or shredded coconut across the top, or offer those as topping for individual slices.
Can you buy bottled key lime juice?
Yes! My favorite brand is Nellie and Joe's Key West Lime Juice. It works perfectly in my pies every time and makes making this so much easier. One bottle yields enough juice for two pies, so you may want to double up on the crust and plan to share pie with a friend or neighbor. 🙂
Can you make key lime pie with regular limes?
Yes! You can substitute key lime juice with an equal amount of regular lime juice. I have done this many times in the past.
Pro Tip: A high-quality zester and juicer will go a long way to making this easy and fast.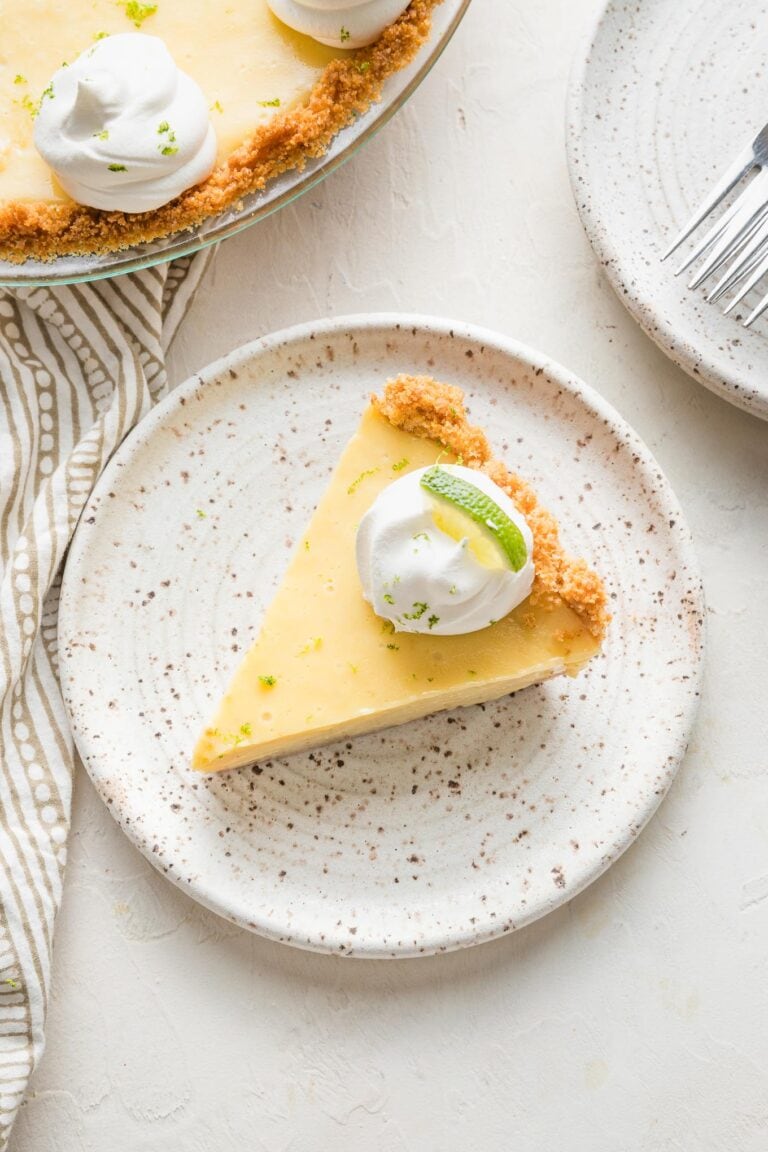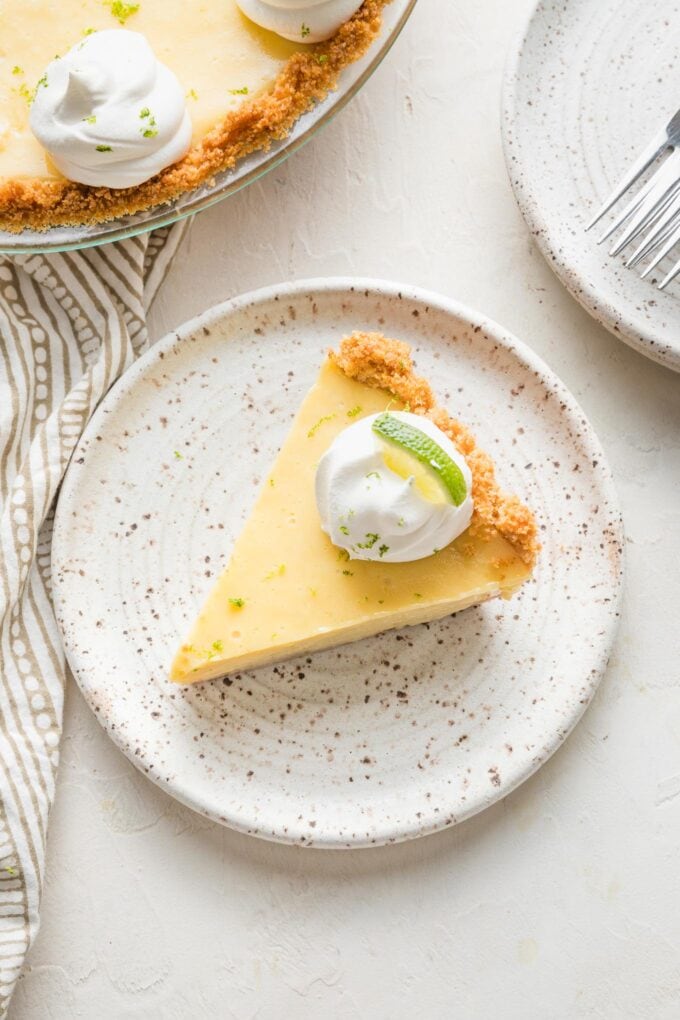 How To Make Key Lime Pie
This is a beautifully simple pie to make, especially if you take advantage of readily-available, high-quality store-bought key lime juice. Here are the basic steps. You will find full instructions with exact ingredients in the print-friendly recipe card below.
Prep and par-bake the crust. Baking the crust for just 8 minutes allows it to set and develop a delightful golden brown color and aroma.
Whisk together the filling. Pour it into the still-warm par-baked crust.
Bake for 16-20 minutes at 350 degrees F.
Allow to cool all the way, first at room temperature, then in the refrigerator.
Finally, garnish to your heart's content, and serve!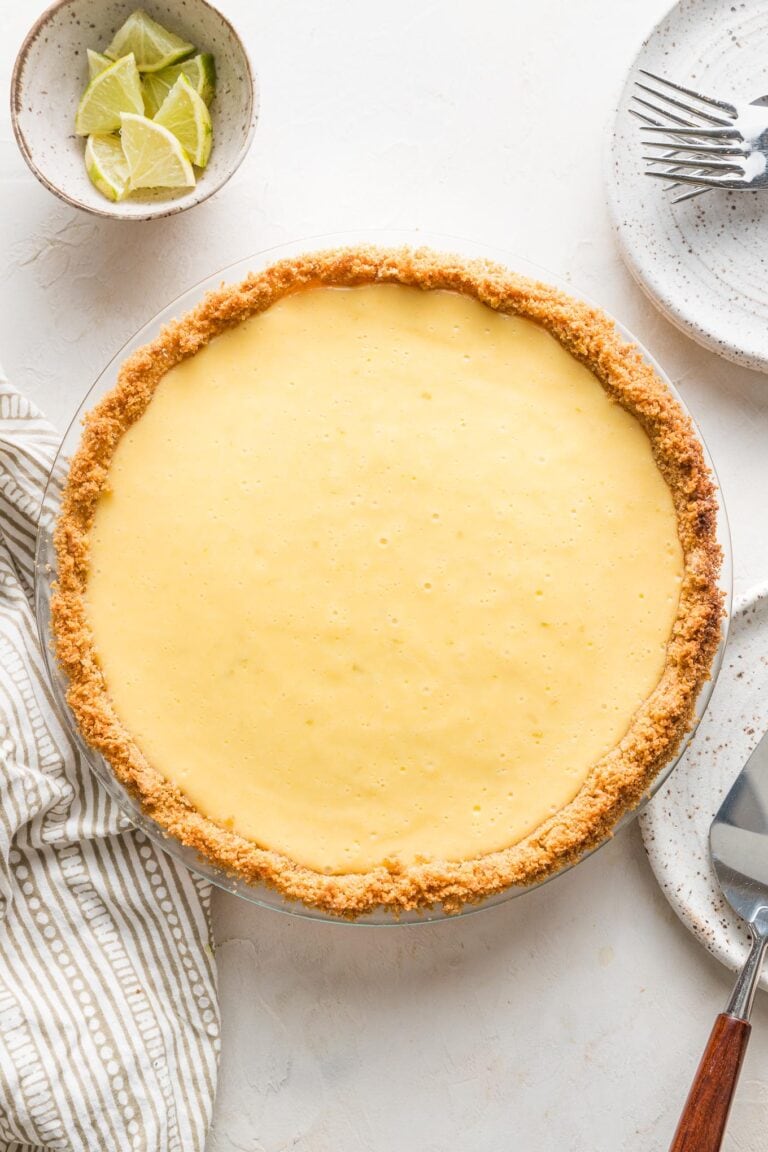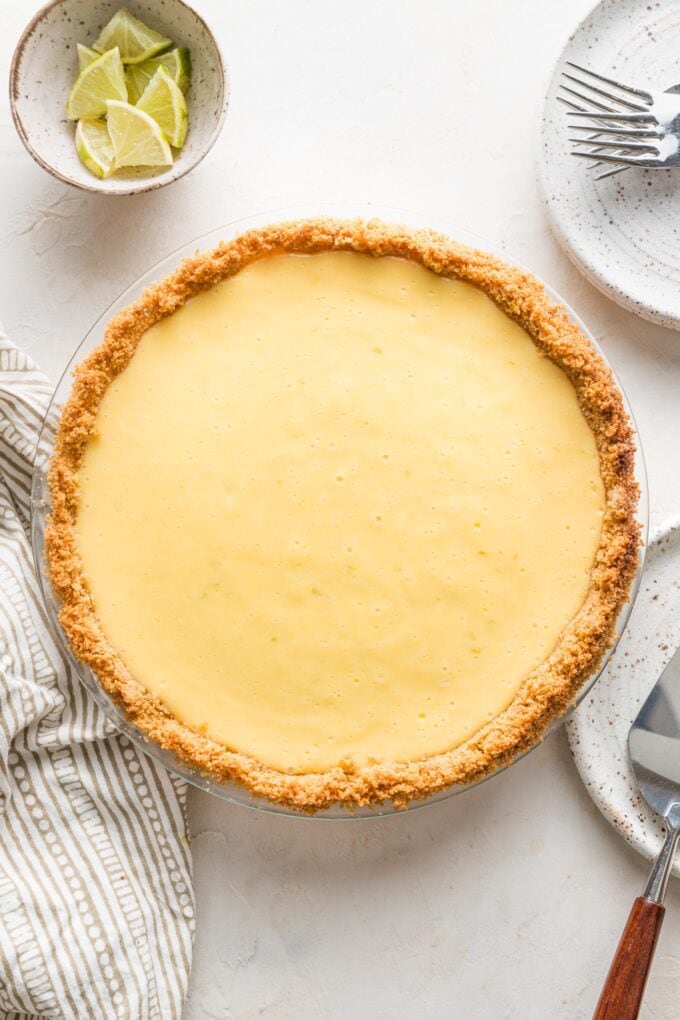 How to tell when key lime pie is done?
To test your pie, lightly tap or shake the side of the pan. The center of the pie should be mostly set but give the very slightest wiggle–this means your pie is perfect. If the filling near the center moves in a wave, continue to bake your pie. If the center is completely solid, remove immediately.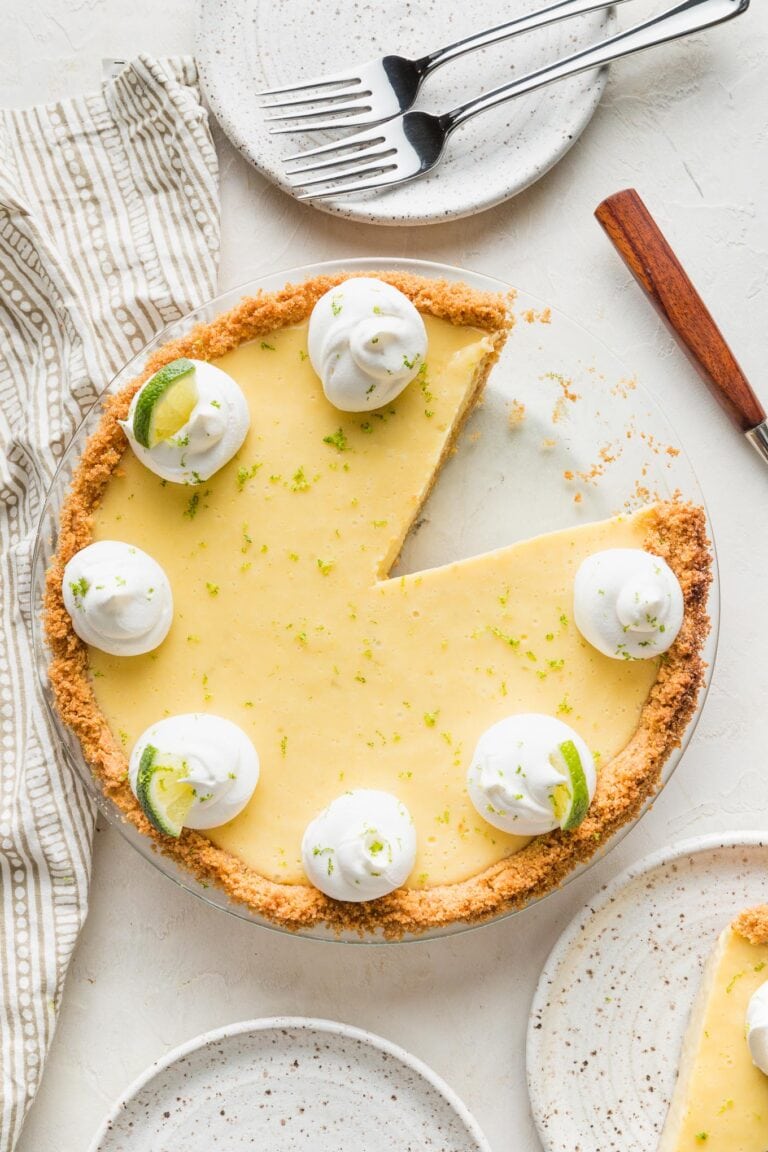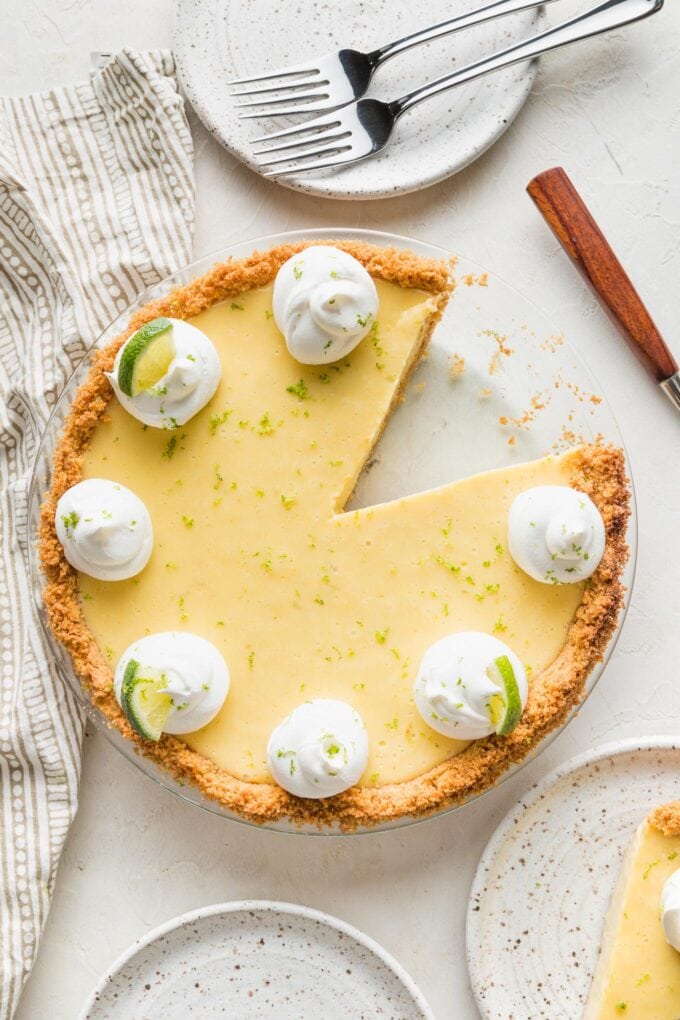 Recipe FAQs and Expert Tips
What's the best size pie pan to use?
I prefer to make this in a 9-inch or 9.5-inch glass pie pan. I've also done it as a deep dish pie, but be prepared for the baking time to be substantially longer, perhaps an extra 10-20 minutes, if you're using a smaller or deep-dish style pie plate.
How to store key lime pie?
Key lime pie should always be refrigerated until you're ready to serve it, both for food safety as well as for the best taste and texture. It will keep well in the fridge for up to 4 days.
When covering key lime pie, make sure that the plastic wrap does not directly touch the top. If it does, it's likely to stick and pull off some pie when removed. You can wrap it tightly from edge to edge of the pie plate, use a couple of toothpicks stuck in the pie to prop up the plastic wrap, or set the pie plate inside of a larger baking pan and cover that.
Can I make this pie in advance?
Definitely! In fact this is an ideal make-ahead dessert. Wrap or cover the pie and it will stay perfectly well in the refrigerator for up to 4 days. Wait until shortly before serving the pie to add whipped cream and other garnishes, so those remain fresh.
If you are using homemade whipped cream, add that right before serving. If you are using Cool Whip or another form of stabilized whipped cream, you can pipe or dollop that onto the pie a couple of hours before.
How can I make my own whipped cream?
It's surprisingly easy! Pour about 1 cup of heavy whipping cream into a bowl, add 1-2 teaspoons of granulated sugar, and beat on high speed using an electric mixer until the cream begins to hold its shape and form stiff peaks. Spoon or pipe out onto the pipe as desired.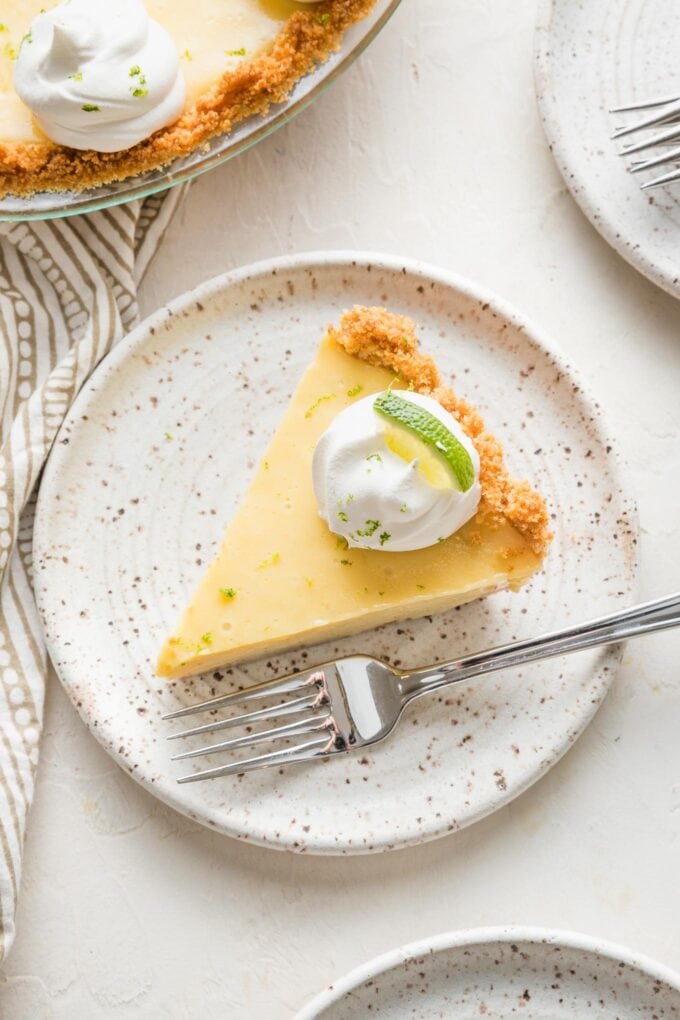 Who made the original key lime pie, and where?
It's generally accepted that key lime pie as it's known today was invented in Key West, Florida, where the signature sweet, tart, and tiny key limes grow abundantly.
Naturally, however, there is controversy over who first conceptualized the idea. Some give partial credit to the New York-based Borden condensed milk company, which published a cookbook containing a recipe for a lemon cream pie in 1931, and believe that recipe was adapted by cooks in the Florida Keys to use key limes. Rumors still circulate, however, that local Key West pie makers conceived of the recipe as long ago as the 1890s.
Southern Living has published a more detailed dive into key lime pie's mysterious origins, if you are intrigued.
Related Recipes
Love that sweet-tart key lime flavor? Key lime pie popsicles are another fun way to enjoy it! For more citrus-inspired desserts, try making some Meyer lemon bars, a lemon cream pie, lemon filled cupcakes, or these fun layered lemon mousse parfaits.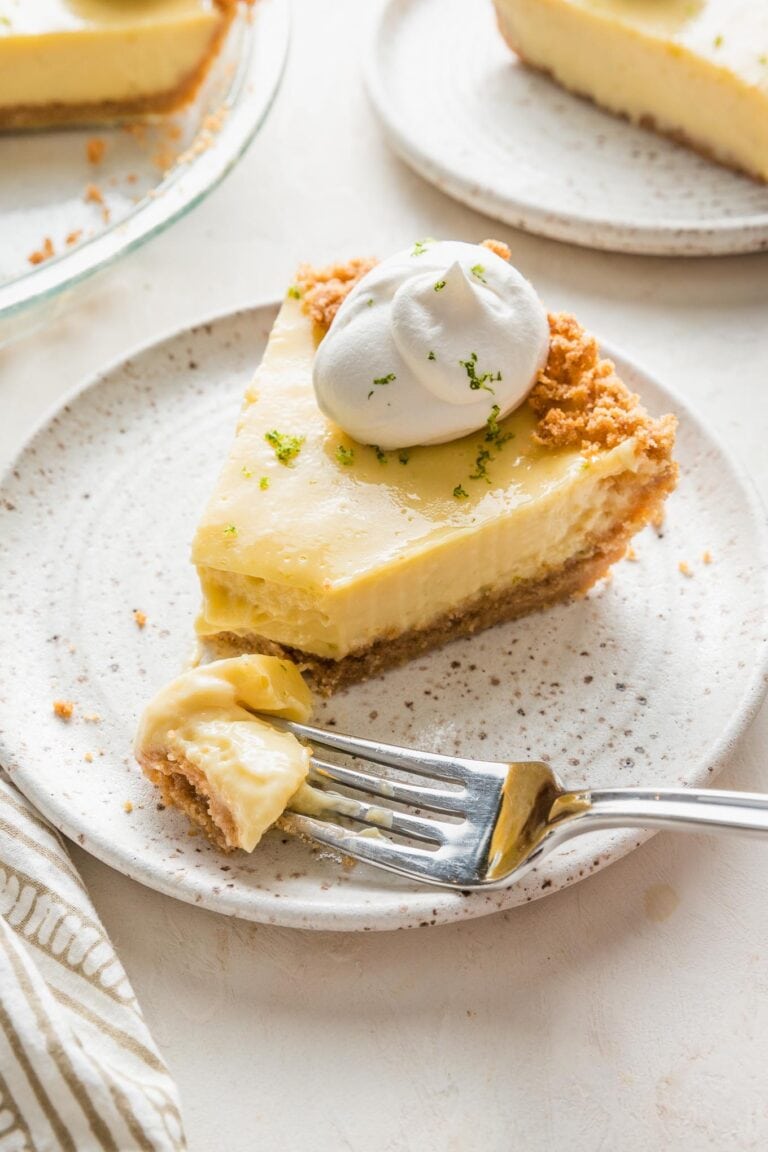 If you try this Classic Key Lime Pie Recipe, don't forget to rate it and leave a comment below. I love hearing how recipes turn out in your kitchen, and it helps other readers, too.
You can also FOLLOW me on PINTEREST, INSTAGRAM, FACEBOOK, and TWITTER for more great recipes and ideas!
Easy Classic Key Lime Pie
Cool, creamy, classic key lime pie with a buttery graham cracker macadamia nut crust. Summer's not complete without one, and this recipe is no-fail!
Ingredients
Crust:
12 full sheet graham crackers or 1 and 1/2 cups graham cracker crumbs
1/3 cup granulated sugar
6 Tablespoons butter melted
Filling:
2 cans sweetened condensed milk 14 ounces each
1 cup key lime juice
4 teaspoons lime zest
4 large egg yolks
Optional Garnishes:
lime zest, lime slices, whipped cream
Instructions
Preheat the oven to 350 degrees F and set aside a 9-inch pie plate.

Blitz graham crackers in a food processor until they are crushed into fine crumbs. Combine the crumbs, sugar, and melted butter in a medium bowl. Stir until the crumbs are evenly moistened.

Pour the crumb mixture into the pie plate. Use the back of a measuring spoon or the bottom of a small drinking glass to press the crust firmly across the bottom and up the sides of the pan. Bake the crust by itself for 8 minutes, just until fragrant and very lightly browned, then remove from the oven and set aside.

While the crust bakes, make the pie filling by whisking together the sweetened condensed milk, lime juice and zest, and egg yolks. Pour mixture into the warm crust. Let rest for a minute to allow air bubbles to rise to the surface, and pop any large ones with a toothpick.

Bake the pie for 16-20 minutes, until the center is mostly set but still wiggles very slightly when you jostle the pie. Remove from the oven and allow to cool on a wire rack.

Once the pie is close to room temperature, cover it and chill for at least 1 hour before garnishing and serving.
Notes
Key lime pie should be stored in the refrigerator and keeps well for about 4 days.
I have successfully made this as a deep dish pie, but be prepared for the baking time to be substantially longer, perhaps an extra 10-20 minutes, if you're using a smaller or deep-dish style pie plate.
Recipe adapted from Cook's Illustrated.
Nutrition Estimate
Calories: 444 kcal, Carbohydrates: 57 g, Protein: 9 g, Fat: 20 g, Saturated Fat: 9 g, Cholesterol: 120 mg, Sodium: 194 mg, Potassium: 379 mg, Fiber: 1 g, Sugar: 48 g, Vitamin A: 505 IU, Vitamin C: 9.6 mg, Calcium: 256 mg, Iron: 1.2 mg
Did you make this recipe?
Leave a review below, then snap a quick picture and tag @nourishandfete on Instagram so I can see it!