Rosemary Cheddar Irish Soda Bread
A savory Irish soda bread packed with fresh rosemary and a generous helping of sharp cheddar — just the thing for snacking or an irresistible St. Patrick's day side.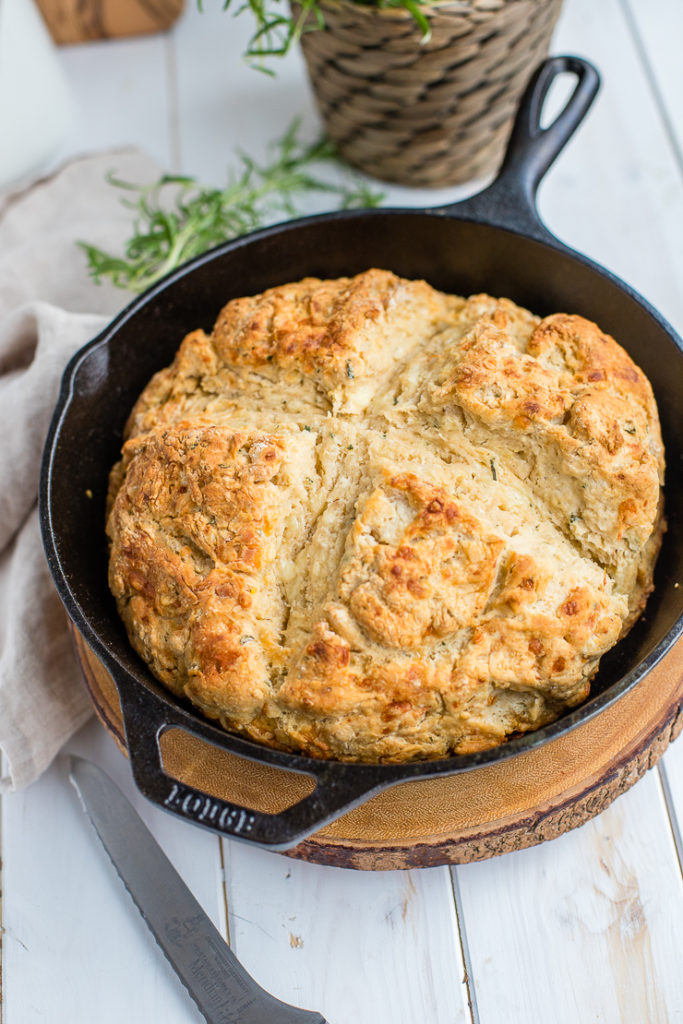 Rosemary and sea salt are two of my favorite additions to just about any bread or roll, so it's only natural that they would doll up a soda bread beautifully. Add a sharp cheddar, though, and you're pretty much in bread heaven.
Whisking the chopped rosemary and cheese straight into the dough means you get a speckled loaf with bright streaks of cheddar, and a little kosher or sea salt sprinkled on top amplifies everything with a crisp, savory bite. Are you with me? Running into your kitchen yet?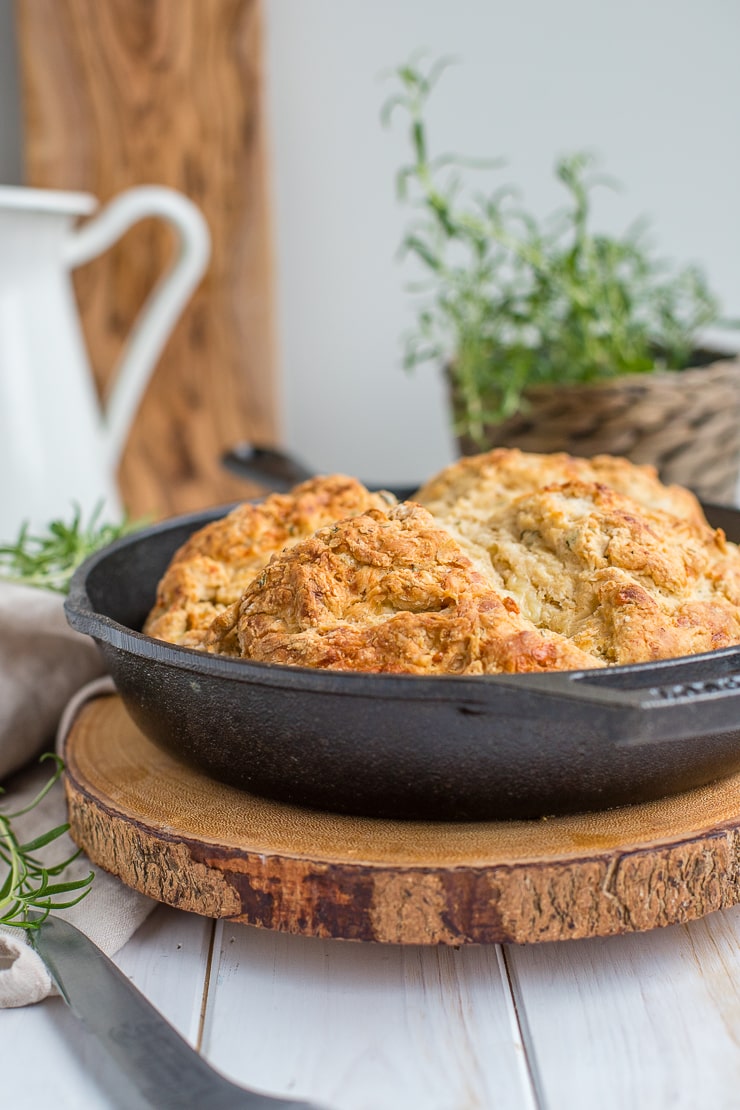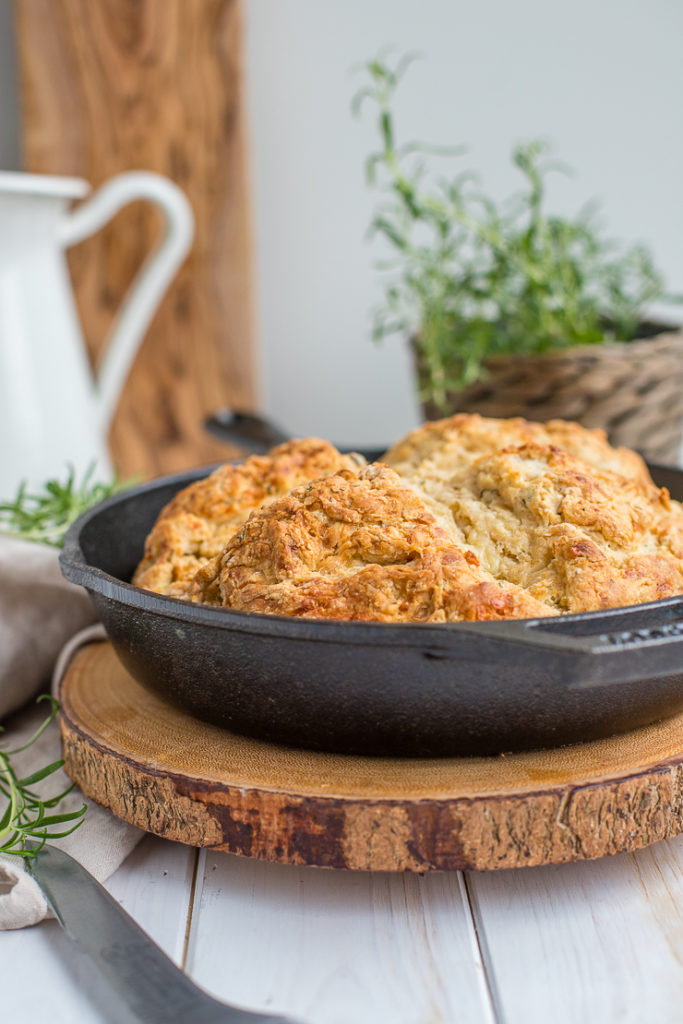 [clickToTweet tweet="A savory Irish soda bread packed with fresh rosemary and a generous helping of sharp cheddar – perfect for snacking or an irresistible St. Patrick's day side!" quote="A savory Irish soda bread packed with fresh rosemary and a generous helping of sharp cheddar – perfect for snacking or an irresistible St. Patrick's day side!"]
Admittedly this is not a purist's soda bread, which would probably be either plain or studded with a sweet mix-in like raisins. But if rosemary cheddar bread is wrong, I don't want to be right.
How To Make Savory Irish Soda Bread, Step-by-Step
The beauty of soda bread is how simple it is to make. If you normally shy away from homemade bread, this is a fantastic starter. No yeast, no stand mixer – just mix, shape, and bake.
As I was updating this post to improve guidance on the baking time and method, I thought it might be helpful to include some step-by-step photos, as well. Of course you can find the full recipe below!
First, you'll just combine the dry ingredients by hand. Be sure to use a large bowl, since you'll be adding everything else to the same one! (See photo 1 below.) Then add cold butter cut into small pieces (2). Using your fingers, massage and crumble in the butter until you have an even, mealy texture. (3) Add buttermilk (4) and stir it up! (5)
Now comes the slightly messy part – you've got to get that craggy mass of dough shaped into a round-ish ball. Start with the spoon, then switch to your hands. Pinch it, press it, shape it, turn it out onto the counter if you need to, and keep pressing. It will come together! (6)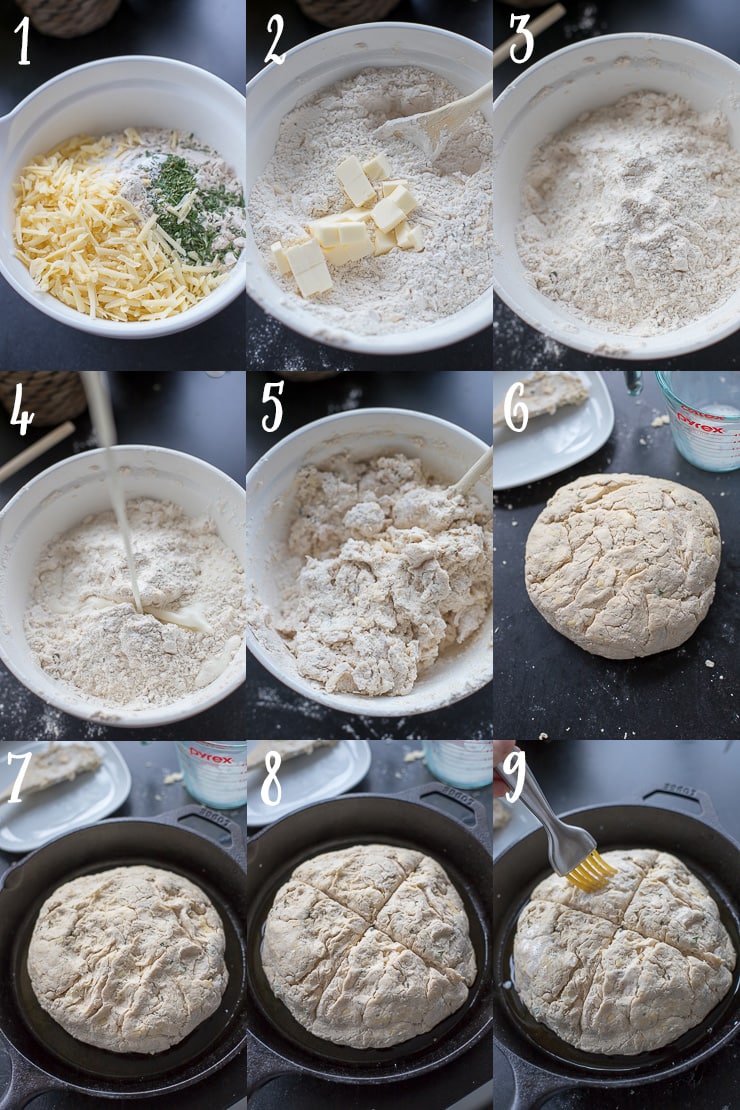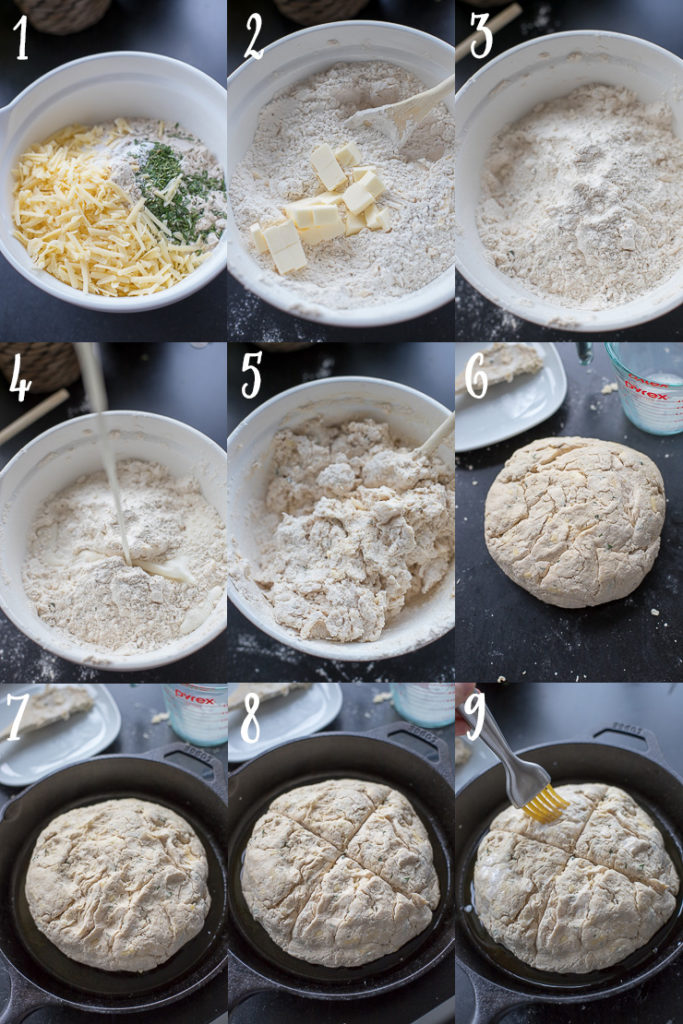 Now transfer to your baking surface. (7) This works beautifully in a cast-iron skillet, but also works fine on a pizza stone or regular baking sheet.
Using a sharp knife, score a deep "X" across the top of the entire loaf. (8) This is critical, as it helps the heat of the oven penetrate the dough-y center of the loaf – before the outside gets burnt to a crisp! Finally, brush the top of the loaf lightly with extra buttermilk. (9) You're ready to bake!
About halfway through the baking time, you'll want to check the bread and possibly tent it with foil to prevent the top from becoming overly brown before it's baked through. It's at about this point that your house will start to smell incredible. 🙂 After 45-60 minutes total baking time, you'll be rewarded with this amazingness.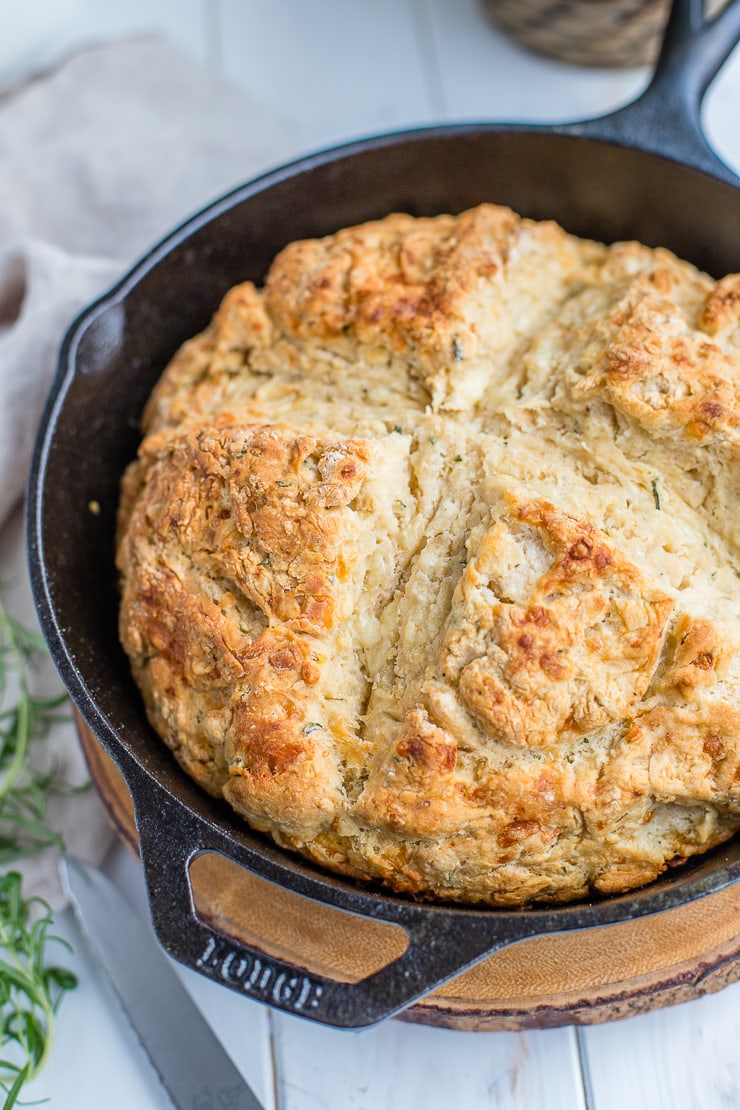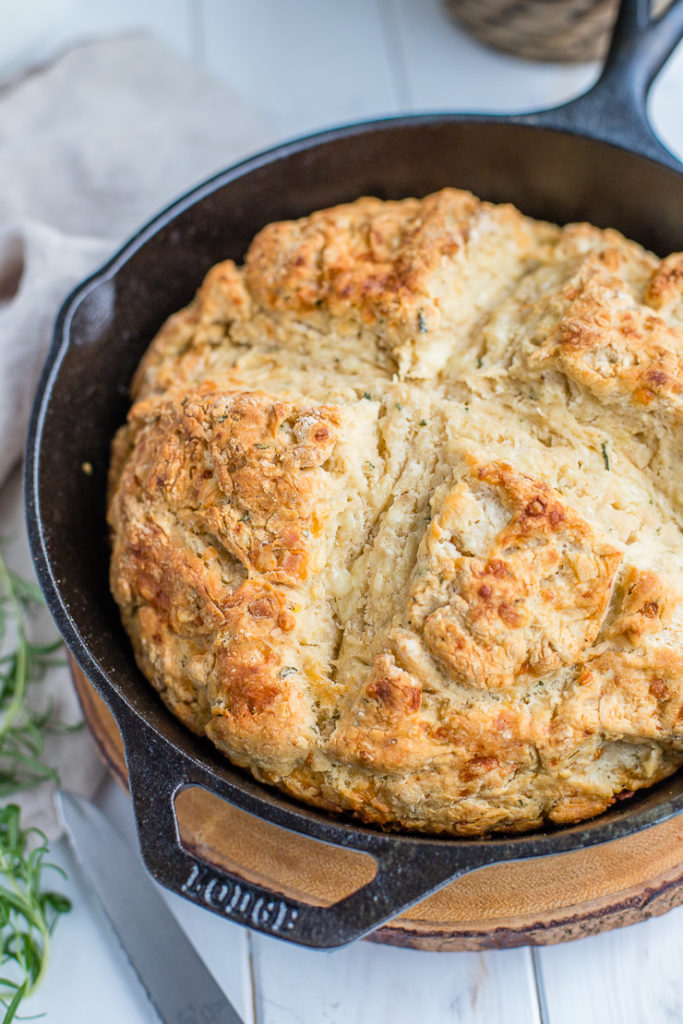 Now, Enjoy!
Allow the bread to cool for at least 10 minutes before slicing in, as this also helps to avoid the center turning gummy. Then, slice and devour to your heart's content!
This makes a great side dish for stew, corned beef, or other typical St. Patrick's Day fare, but I'll be honest – my personal favorite thing is to just eat it as a snack. Take a warm slice and enjoy. If the bread is already cooled, it can easily be toasted or even microwaved for 10 seconds to get that warm effect once again. Then, for extra credit, slather with butter and sprinkle each slice with a little sea salt.
Seriously: bread heaven. Right here. Right now!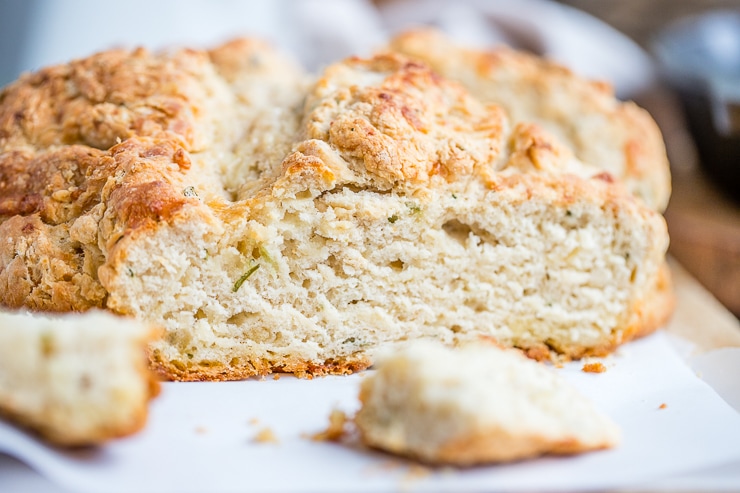 Enjoy! ♥
Rosemary Cheddar Irish Soda Bread
Rosemary and cheddar baked into the loaf makes for a dynamite savory spin on Irish soda bread.
Ingredients
Olive oil for coating the skillet or baking sheet
4 tablespoons cold unsalted butter
3 1/2 cups all-purpose flour
1/2 cup whole-wheat flour can substitute additional all-purpose
2 teaspoons baking powder
1 teaspoon baking soda
1 teaspoon kosher salt
several turns of freshly-ground black pepper
2 tablespoons fresh rosemary chopped
2 cups sharp or mature cheddar cheese grated
2 cups cold buttermilk plus extra for brushing
Instructions
Preheat the oven to 400 degrees F (200 C). Lightly coat a 10-inch cast iron skillet or rimmed baking sheet with oil; set aside. (If using a baking stone, line with parchment paper.)

Cut the butter into small cubes, place on a plate, and keep in the fridge until ready to use.

In a large bowl, whisk together the all-purpose flour, whole-wheat flour, baking powder, baking soda, salt, and pepper. Add the rosemary and cheddar, and stir to combine.

Add the chilled butter and, using your fingers, work the cubes into the flour by quickly pinching and rubbing the butter and flour together. The butter should be fully worked in, without leaving large chunks.

Add 2 cups buttermilk and stir with a wooden spoon or rubber spatula to combine. Once it becomes difficult to stir, use your hands to press and gather the dough into a rough, craggy ball. Shape the ball until slightly flattened and about 7 or 8 inches in diameter.

Transfer the dough to your baking surface, and with a sharp knife, score a large X about 1/2-inch deep all the way from end to end (see photo in post). Brush the top with a bit more buttermilk.

Bake for 25 minutes, then check the bread; if the top is already nicely browned, tent with a piece of aluminum foil. Continue baking for 20 to 30 minutes more. The bread is ready when the center of the X has lost the wet, shiny look of raw dough. You can also insert a cake tester or skewer — it should come out clean.

Transfer to a wire rack and let bread cool 10 minutes before serving. Cut thick slices, slather richly with butter, and sprinkle a bit of extra sea salt on top for the full experience!
Notes
Wrap any leftover bread tightly in plastic wrap and store at room temperature for up to 3 days. Slices can toasted or rewarmed in the microwave for about 10 seconds.
Inspired by Foodness Gracious; adapted from The Kitchn.
Nutrition Estimate
Calories: 214 kcal, Carbohydrates: 25 g, Protein: 8 g, Fat: 9 g, Saturated Fat: 5 g, Cholesterol: 26 mg, Sodium: 334 mg, Potassium: 148 mg, Fiber: 1 g, Sugar: 2 g, Vitamin A: 286 IU, Vitamin C: 1 mg, Calcium: 165 mg, Iron: 2 mg
Did you make this recipe?
Leave a review below, then snap a quick picture and tag @nourishandfete on Instagram so I can see it!
This post was originally published on March 7, 2017, and updated on March 10, 2018 to include new and step-by-step photos and revised instructions.
After additional testing and reader feedback, I found the original recipe produced a bread that was delicious but not always fully cooked in the middle. So my search for something more reliable led me here – slightly revised ingredients, a longer, lower baking time, and, most importantly, additional tips on how to evaluate when the bread is done. Hopefully this ensures success in your kitchen as well as in mine!
This post contains affiliate links; for more information, see my full disclosure policy here.