Homemade Paska – Slovak Easter Bread
Make this rich, slightly sweet homemade paska – a traditional Slovak Easter bread, and one of my favorite childhood traditions.
And for a perfect Easter dessert, try these popular filled lemon cupcakes!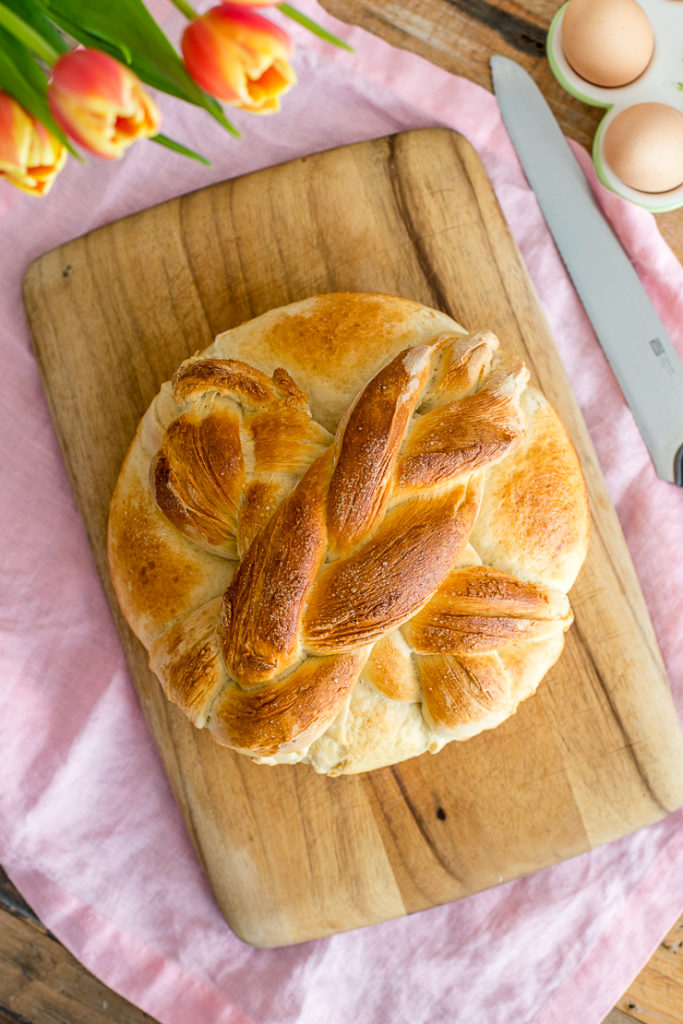 First off, let me apologize for the relative dearth of recipe activity around here recently. Random stomach bugs, sniffles, and a bout of the chicken pox knocked us flat the past couple weeks. Between the germs and random school in-service days, I've barely strung together two "normal" days in a row!
And now the kids are on Easter break, which in Belgium stretches for TWO FULL WEEKS. Aaaaah.
But on the plus side, that means it is Easter! And, for me, if it's Easter, it's time to make this amazing bread. Paska.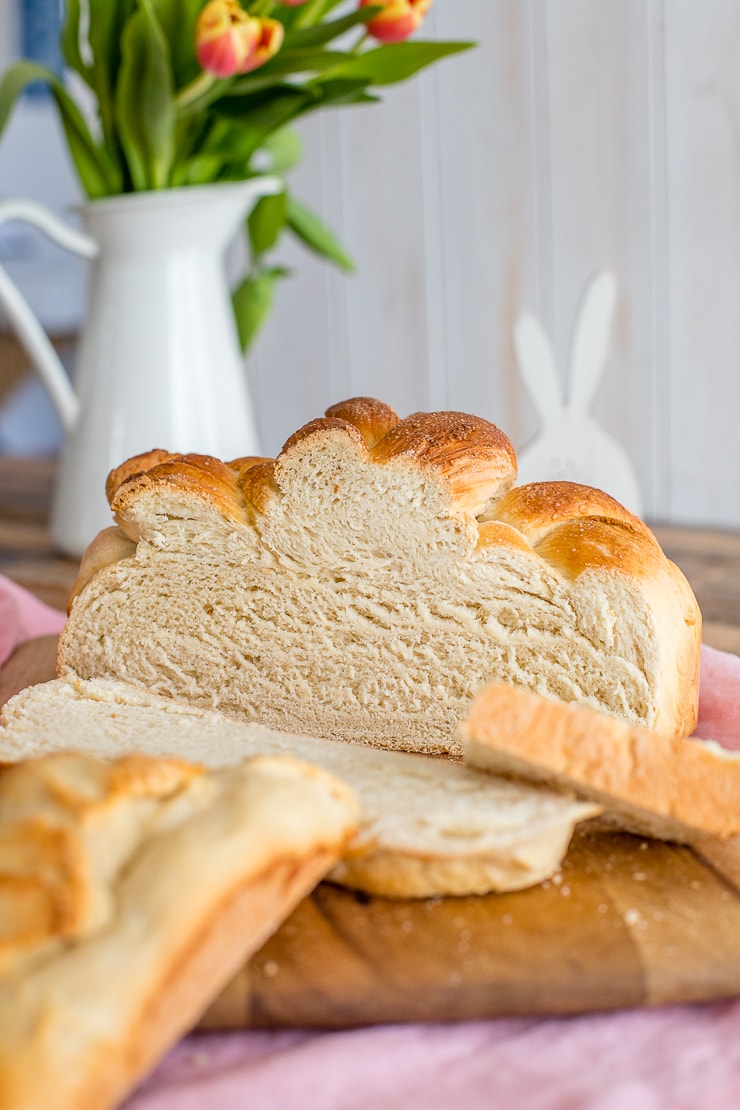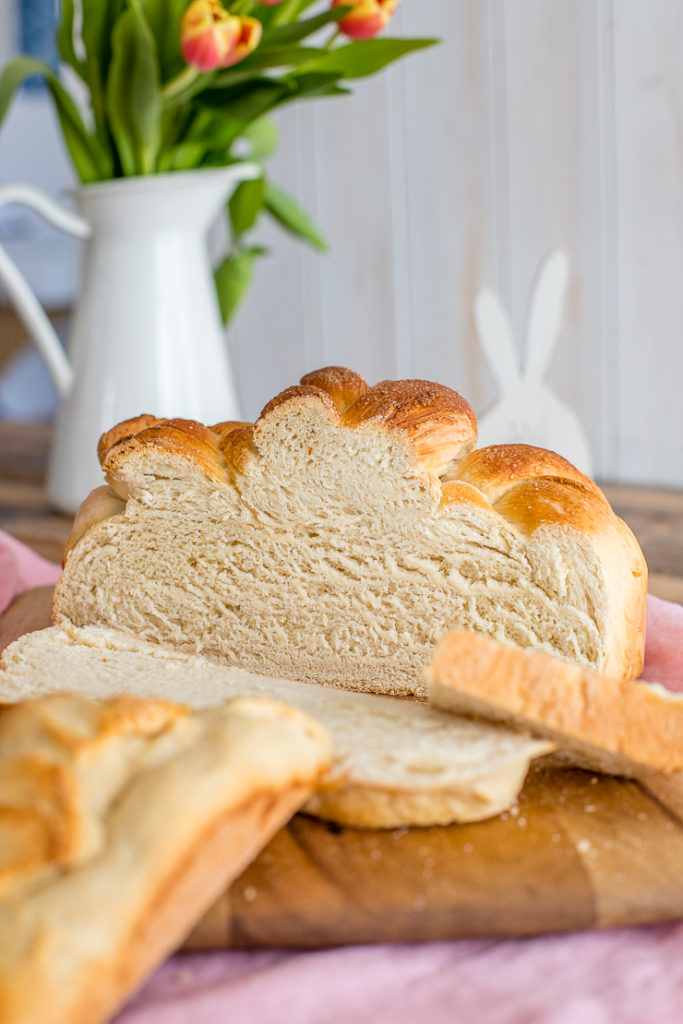 Traditional Slovak Easter Bread
Growing up in a family rich with Slovak traditions, I came early to love paska as a traditional yeasted Easter bread. I believe it's also common in other eastern European traditions. I know it based on my Slovak heritage.
My Dad is 100% Slovak. (Is it possible to be 110% Slovak? Because if so I'm pretty sure he fits the bill. :)) And while my Mom is not herself Slovak, she got all of my paternal grandmother's recipes and has been making them for years. And of the whole lot, paska is one of my absolute favorites.
My family's recipe for paska yields a pretty traditional yeasted bread, enriched with a bit of butter, eggs, and sugar for a sweet, brioche-like flavor perfectly suited to an Easter celebration.
For the most part, my Mom would make this as a simple round loaf. I don't blame her one bit, especially because she was usually baking a small army of loaves. But, as I am usually making just one for our little family, the last couple of years I've made it with a traditional braided cross on top, and really love the special touch that it adds.
How To Make Homemade Paska
This recipe is so simple for a yeasted bread.
Mix all the ingredients together, let it rise, then turn out the puffy dough onto a lightly floured work surface (photo 1 below).
If you want to make the braid, pull off a small amount of the dough at this point (photo 2). I did about a third of it this year, and wished I had done a smaller proportion. I've reflected that suggested change in the recipe card below.
Now you'll divide that small piece of dough in thirds, and roll each one out into a long string (3).
Braid those together (4).
Cut in half, and lay them on top of the larger dough ball in a round baking pan (5).
Don't worry if there's a lot of space around the edges–you'll let the dough rise again, and as you can see it will fill out very nicely (6).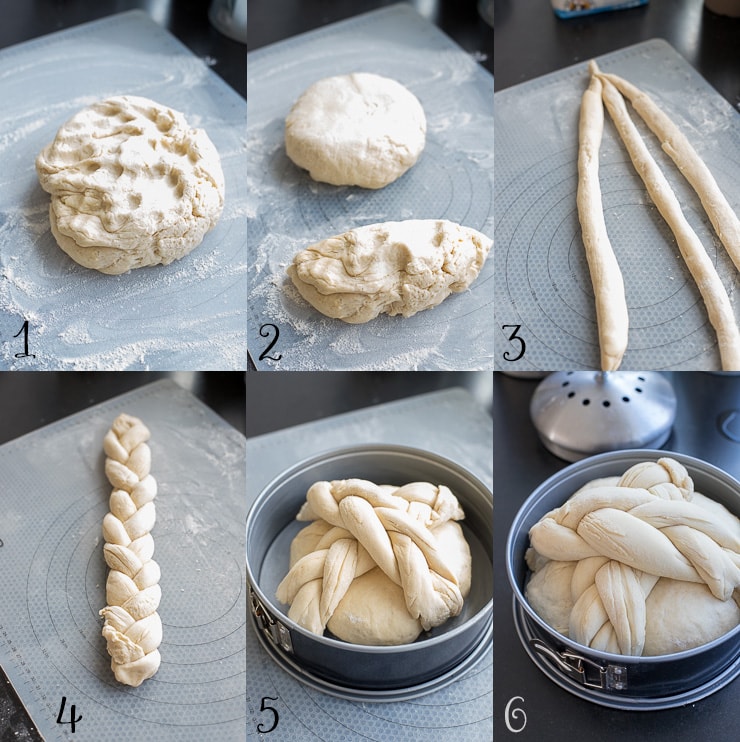 Now bake, and voila! A beautiful golden loaf is ready to go.
Let it cool completely, then remove from the pan, cut, and devour!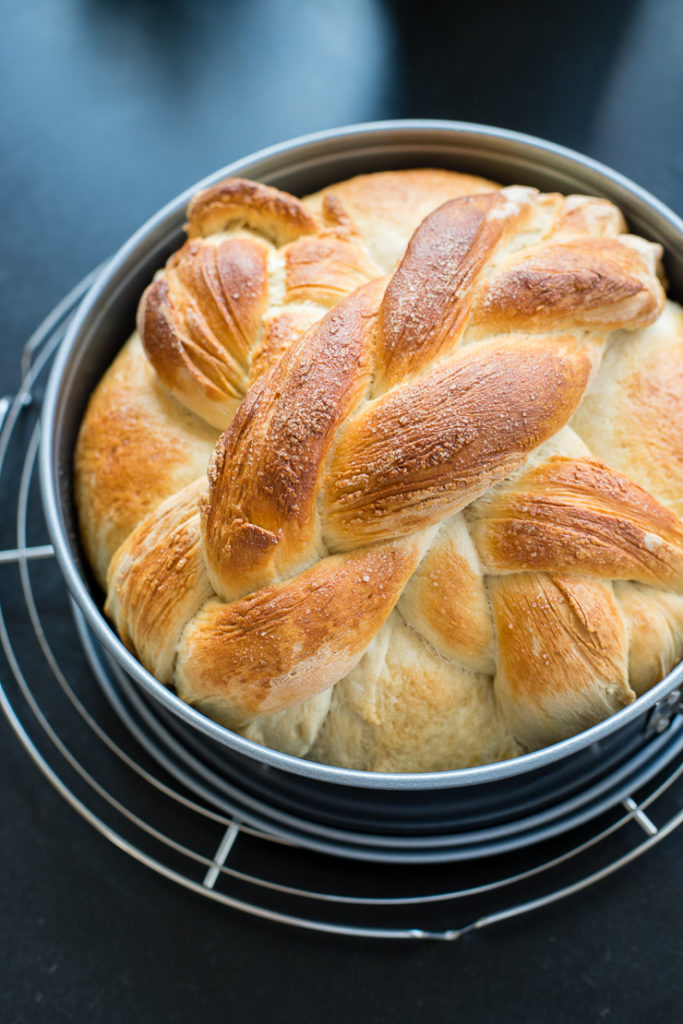 On a completely random side note, how adorable is this sweet egg holder with the bunny from Guess How Much I Love You? 
We did dye eggs this year, but not until several days after I took these photos. 🙂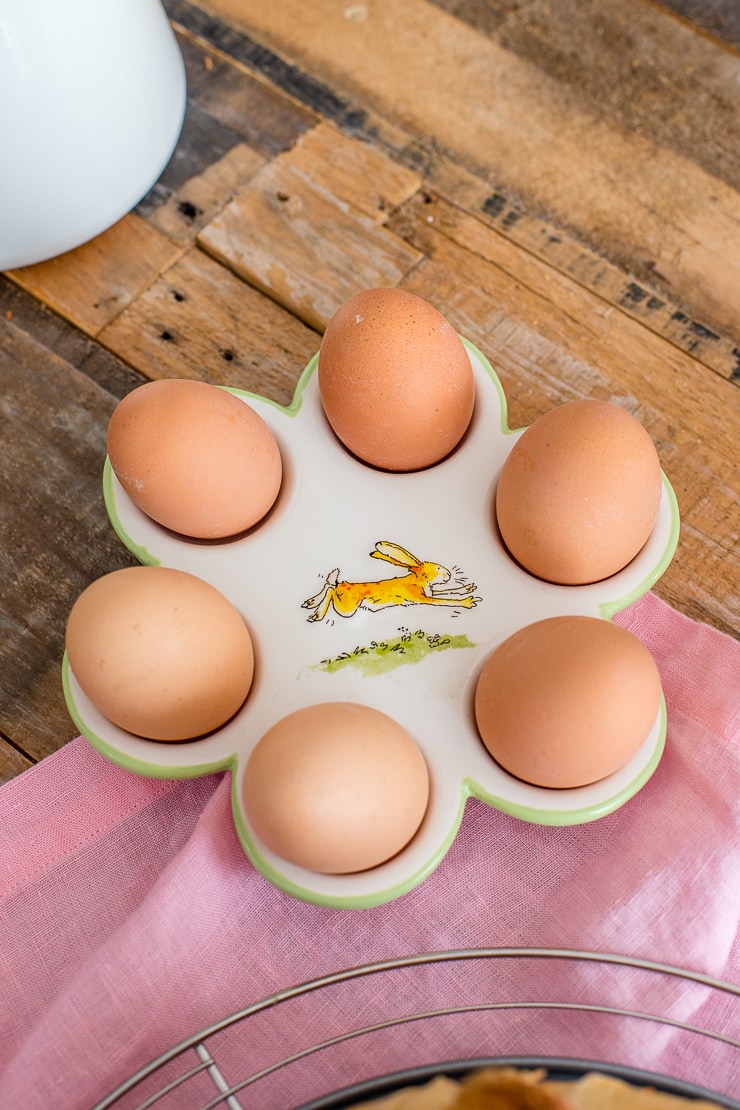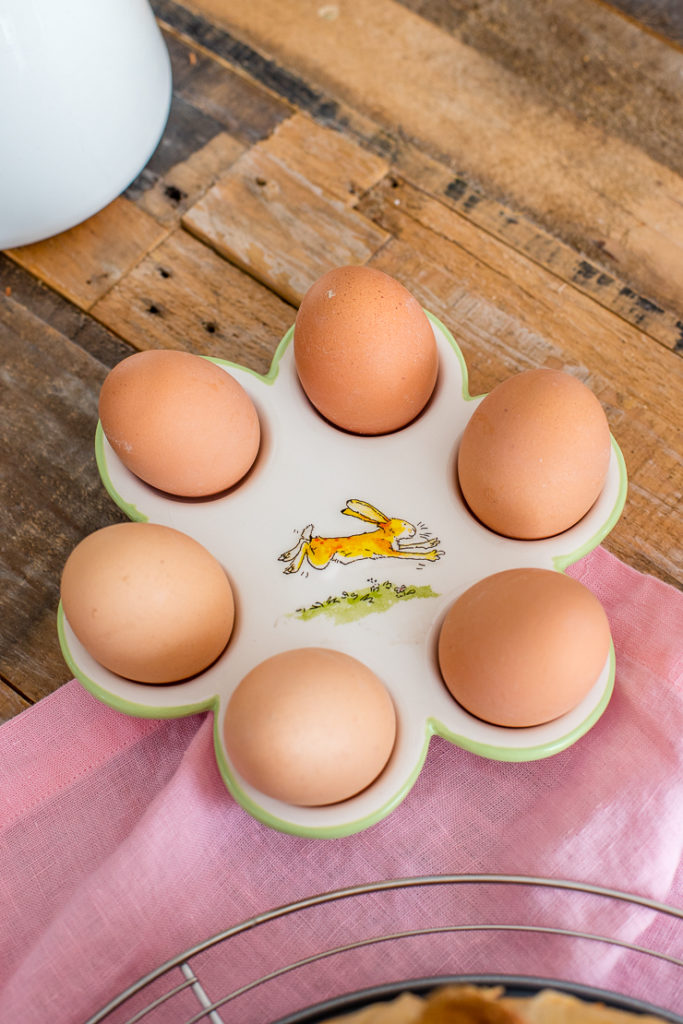 I've made this several years in a row now — and proudly texted my Mom a photo of it every time — and am really excited to be carrying this tradition forward for my own little family. Based on the fact that my almost-three-year-old was determined to eat only this bread for dinner several nights in a row, I think we're off to a good start in the "sharing love for traditions" department!
Whether paska is a treasured childhood memory for you, or simply interests you as a new recipe, I hope you try this recipe and enjoy it as much as we do!
More Bread and Rolls:
If you've tried this bread or any other recipe on the blog, please remember to rate the recipe and leave a comment below. I love hearing from you, and other readers will benefit from your experience!
Homemade Paska - Slovak Easter Bread
Make this rich, slightly sweet homemade paska - a traditional Slovak or Eastern European Easter bread, and one of my favorite childhood traditions!
Ingredients
Bread
5 cups (602 grams) all-purpose flour
2 1/4 teaspoons (1 packet) instant dry yeast
1/4 cup (50 grams) granulated sugar
2 1/2 teaspoons salt
1 cup lukewarm water
1/2 cup whole milk
2 large eggs
1/4 cup (4 tablespoons, 57 grams) unsalted butter, at room temperature
Topping
1 large egg
1 tablespoon water
1 tablespoon granulated sugar
Instructions
Using a stand mixer or wooden spoon, mix and knead all of the dough ingredients — flour through butter — until it comes together into a soft, smooth ball. The dough should be pliable, not very sticky, and bounce back when poked lightly with your finger.

Place the dough in a lightly greased bowl and set aside on the counter. Allow it to rise for 60-90 minutes, until nearly doubled in size. Meanwhile, lightly grease a 9-inch round pan and set aside. (I love using a

springform pan

for this, but a

cake pan

also works well.)

Turn the dough out onto a lightly floured work surface. Pull off about a quarter of it — you'll use this to form the braids. Shape the remaining large piece of dough into a smooth ball, and place in the center of the prepared pan.

Divide the reserved piece of dough into three equal pieces, and roll each one out into a strand about 18"-20". Use these three strands to create one long braid. (See photos in post for a visual.)

Cut the braid in half, then place in a cross on top of the larger piece of dough in the pan. (Alternatively, you could wrap the braid in one length around the inside edge of the pan.)

Cover the loaf and let rise for about 45 minutes, until approximately doubled in size. Near the end of the rising time, preheat the oven to 350 degrees F (180 C) and place a rack in the lower-middle.

When the bread has risen, make the topping. Beat the egg and water together with a fork in a small bowl, and brush the mixture gently over the loaf. Sprinkle with additional sugar, as desired.

Bake bread for 35 to 45 minutes, until the top is a rich golden brown. Remove from the oven and let cool completely before cutting and serving. 
Notes
If well-wrapped, leftovers will keep for 3-4 days. Even once the bread begins to go slightly stale, it makes excellent toast if cut into thick slices, especially spread with jam. Or, for a real treat, homemade lemon curd!
Adapted from a family recipe with a little help from King Arthur Flour, specifically to help convert a ratio of cakes to instant dry yeast.
Nutrition Estimate
Calories: 320 kcal, Carbohydrates: 55 g, Protein: 9 g, Fat: 6 g, Saturated Fat: 3 g, Cholesterol: 46 mg, Sodium: 642 mg, Potassium: 120 mg, Fiber: 2 g, Sugar: 7 g, Vitamin A: 210 IU, Calcium: 29 mg, Iron: 3.1 mg
Did you make this recipe?
Leave a review below, then snap a quick picture and tag @nourishandfete on Instagram so I can see it!