Spring Sugar Snap Pea Salad w/ Buffalo Mozzarella
This bright, fresh, fast sugar snap pea salad is perfect for celebrating spring produce. Toss together some arugula and peas, add fresh herbs, buffalo mozzarella, and a light balsamic vinaigrette, and you won't be able to stop eating your greens!
As spring slowly dawns in my part of the world, I am finding it hard to contain my enthusiasm at the farmers market, and frankly even at the regular old grocery store. There are green things!
Legitimate, bright green things, and not just one or two that you know were actually flown in from who knows where – no. An abundance of green foods, some of which were even grown reasonably close to home.
Life is good.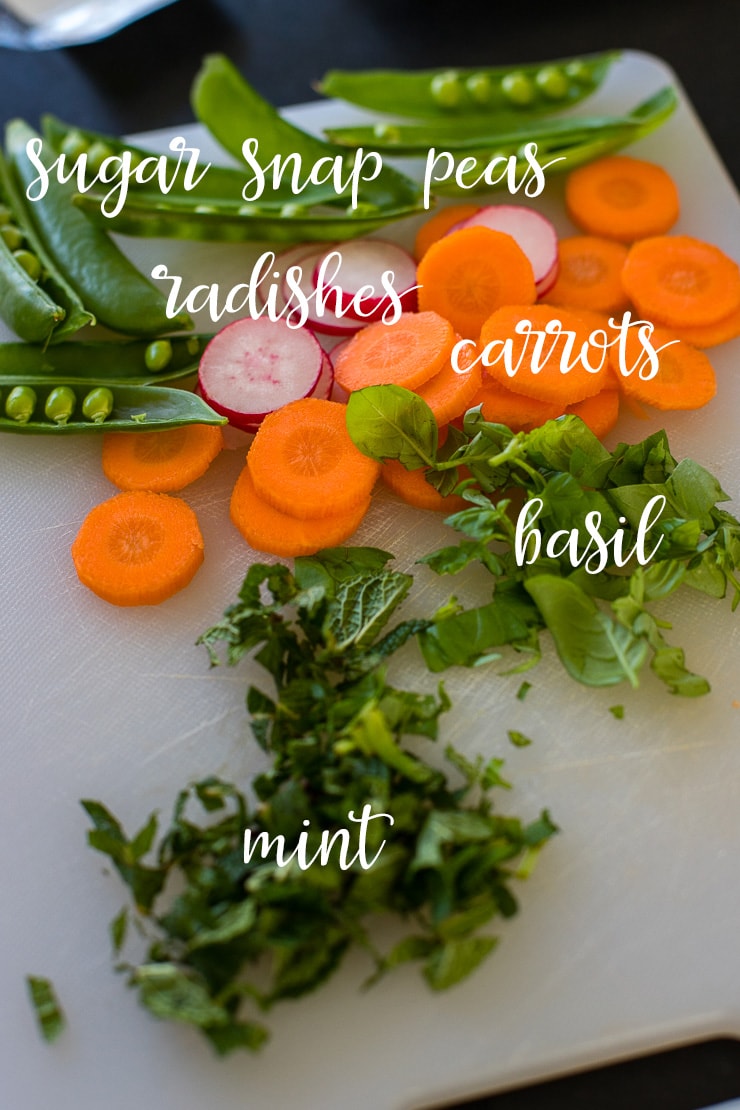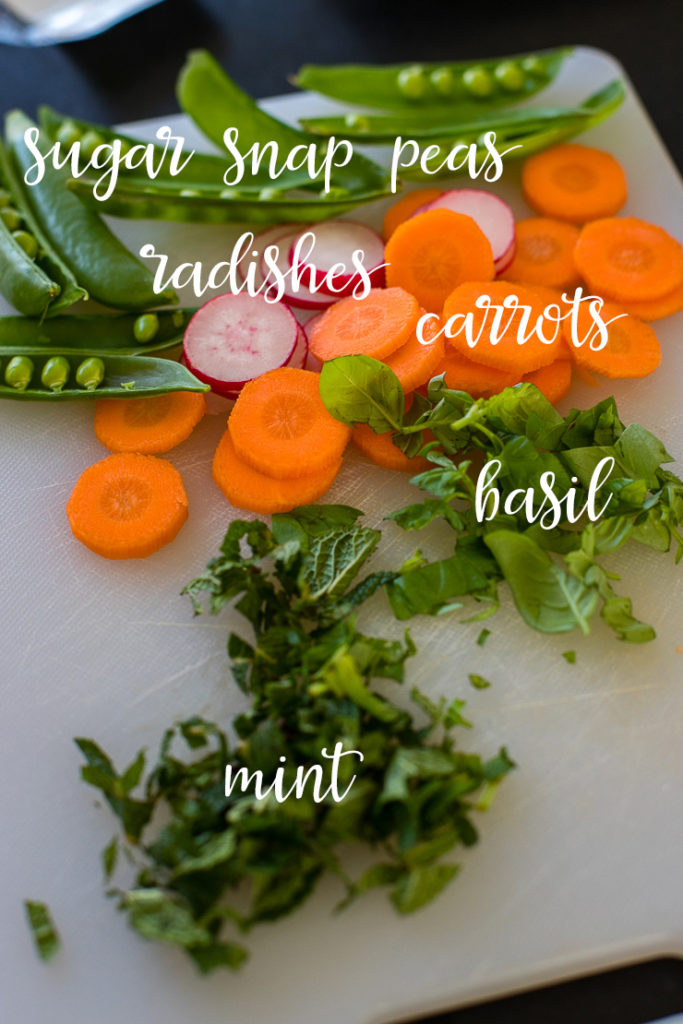 I know I should do better – could do better – about eating my veggies through the long, dark gray winters. There are lovely root vegetables that are available year round. But I have to admit that few of them really excite me. (Sweet potato and roasted carrots being the notable exceptions.)
In contrast, just look at this bowl of goodness. So bright. So cheerful. And so crunchy! How could you not be excited about that?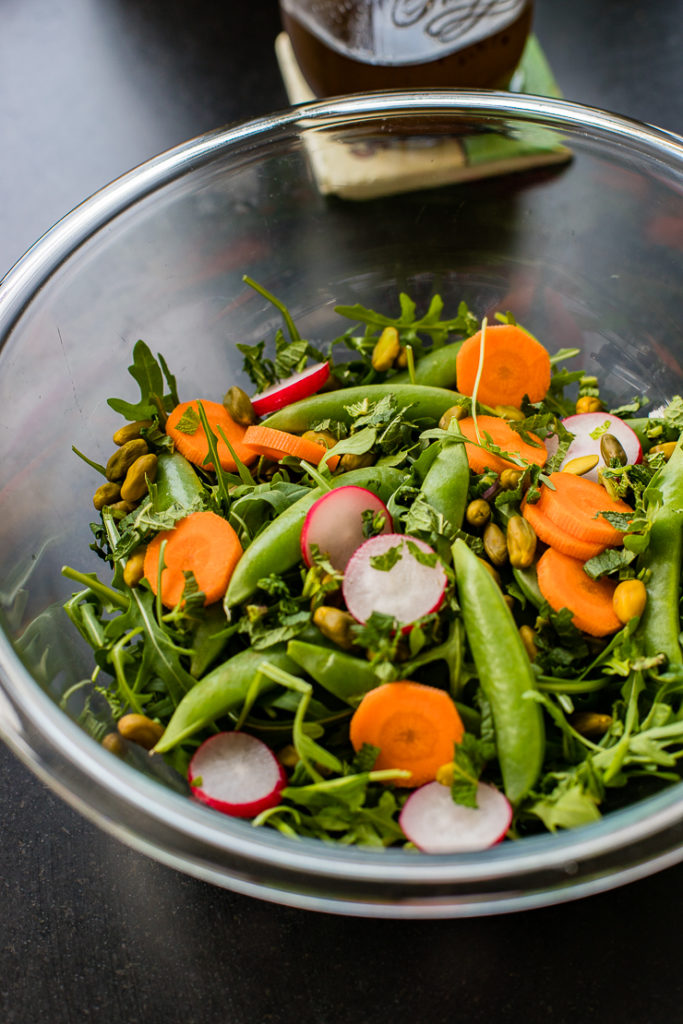 How To Make a Salad With Sugar Snap Peas
One of the true beauties of sugar snap peas is that they require barely any preparation to eat. You can also blanch or sauté them, which I think is nice if they're standing on their own as a side dish, but they have a slight natural sweetness that makes them delicious as-is for a snack or in a salad like this.
As a result, all you really need to do is examine your sugar snap peas for any small threads hanging off of the ends, and quickly trim or chop those off. Depending on where you purchased the peas, they may already be "pre-trimmed." In that case, congratulations, your job is even easier.
Combine with some arugula, a few other vegetables, and serve!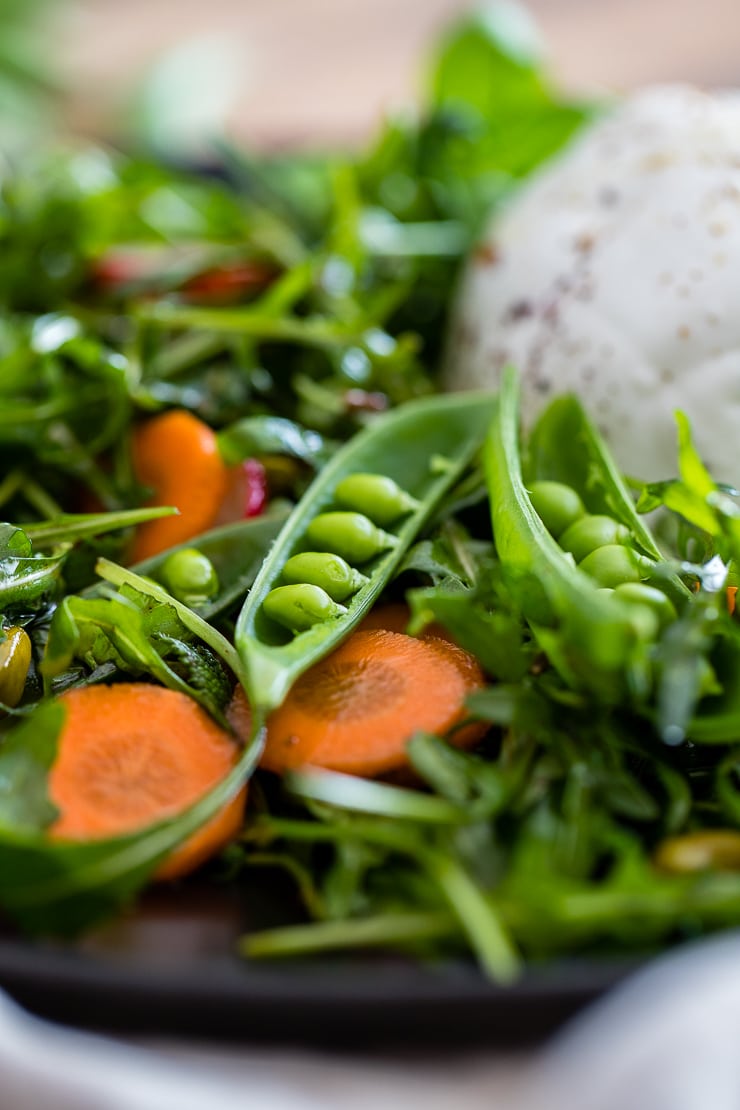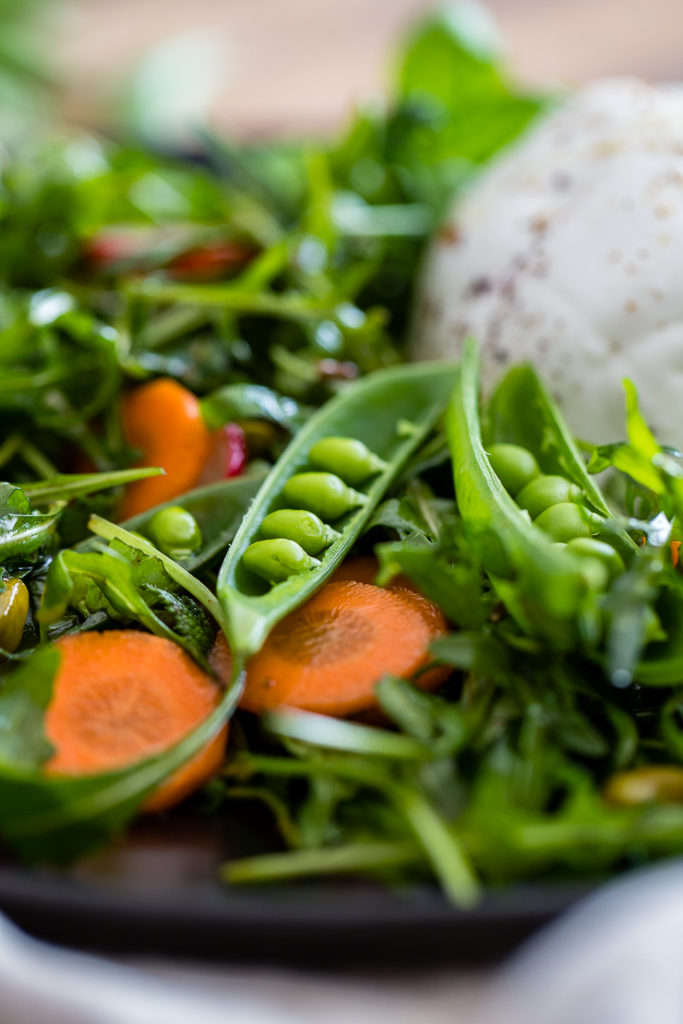 Homemade Balsamic Vinaigrette
Two additional things really put this salad over the top into craving territory for me. One is the simple yet perfect dressing – a classic balsamic vinaigrette. You may shy away from making your own salad dressing, but seriously – it is SO easy, and SO nice to be able to control the flavor to your exact liking.
As an added bonus, the recipe as written below makes a lot more dressing than you'll need for one salad. The dressing keeps for several weeks, so all you need to do is make it once, and you have a perfect homemade salad dressing ready to go for days on end! This is SO nice on super busy weeknights, when even measuring and whisking together a few ingredients is just added work you don't need.
The Cherry On Top: Buffalo Mozzarella
Lastly, after the whole salad is dressed and ready to go, I love to add a generous helping of buffalo mozzarella.
If you can't find buffalo mozzarella, burrata would also be delicious, as would "regular" mozzarella, as long as it's the mozzarella that comes fresh and packaged in water – NOT the low-moisture mozzarella sold in bricks or slices.
This is a desk lunch that does not suck.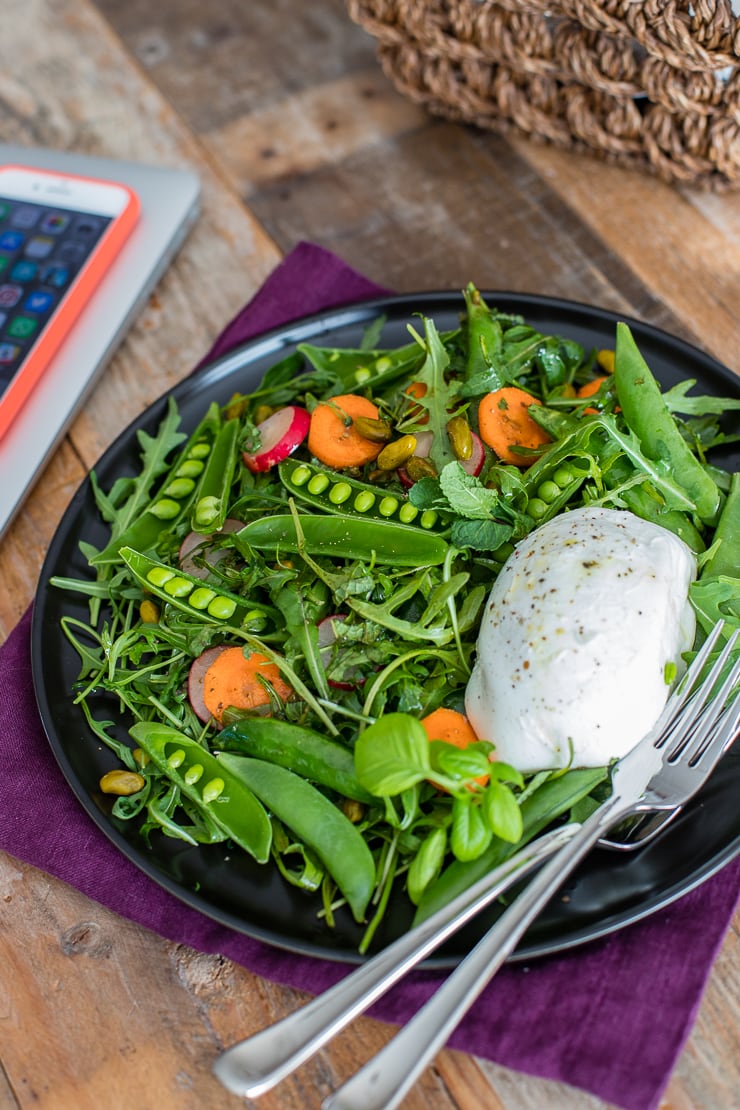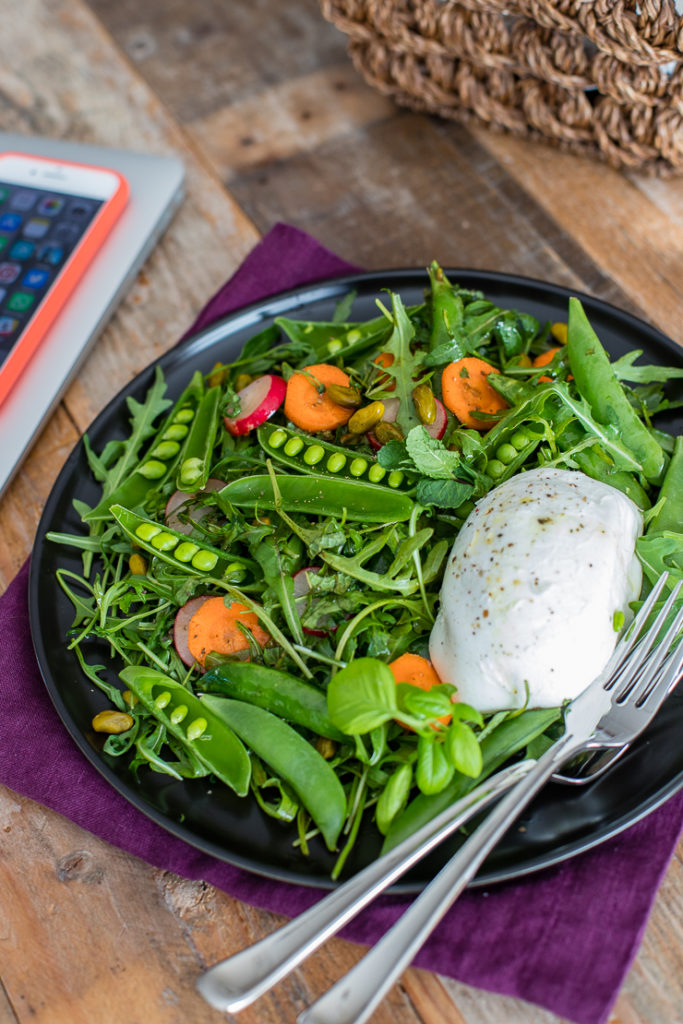 Here are two sure signs of how wonderfully these flavors all go together. Firstly, I have prepared and eaten this salad up to three days in a row for lunch, which for me is completely unheard of.
Secondly, when I plated this nicely for pictures, with the big hunk of mozzarella you see here, I actually found myself wanting the greens at least as much as the cheese. That's really saying something. 🙂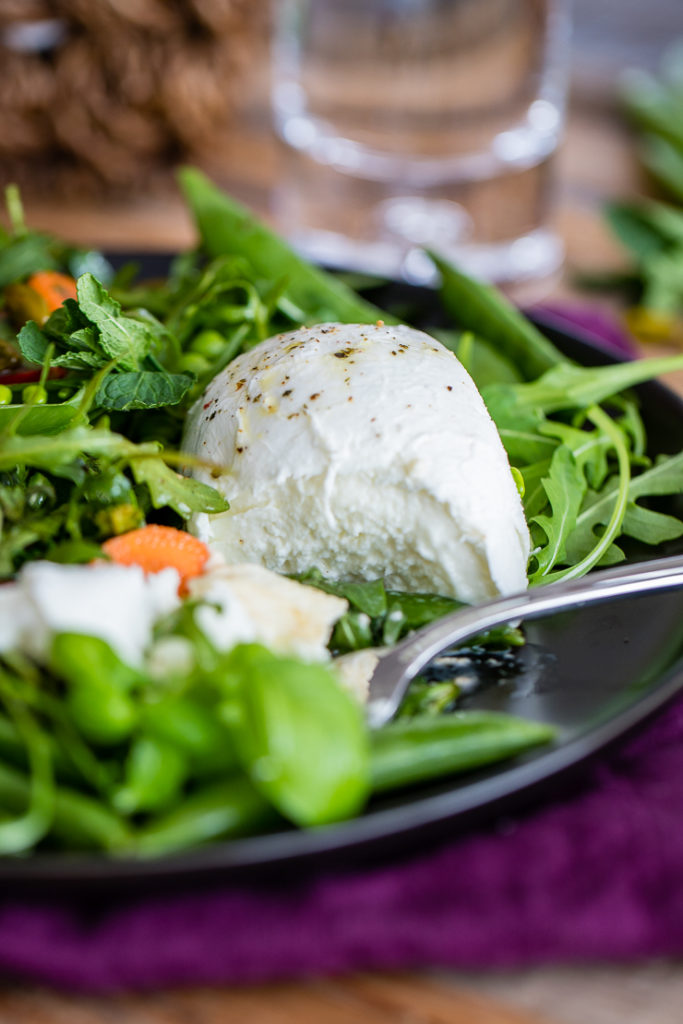 More delicious, easy salads
If you've tried this salad or any other recipe on the blog, please remember to rate the recipe and leave a comment below. I love hearing from you, and other readers will benefit from your experience!
Spring Sugar Snap Pea Salad w/ Mint and Buffalo Mozzarella
A bright, fresh, fast sugar snap pea salad that's perfect for celebrating spring produce. Add fresh herbs, buffalo mozzarella, and a light balsamic vinaigrette, and you won't be able to stop eating your greens!
Ingredients
For the Salad
3-4 handfuls fresh arugula
2 handfuls fresh sugar snap peas
1 small or medium carrot, peeled and sliced 
4-5 small radishes, thinly sliced 
2-3 tablespoons fresh basil, slivered
2-3 tablespoons fresh mint, slivered
1/4 cup shelled pistachios
1 large ball of fresh Buffalo mozzarella, drained and patted dry
For Balsamic Vinaigrette
3/4 cup extra virgin olive oil 
1/4 cup balsamic vinegar
salt and freshly-ground black pepper
Instructions
In a large bowl, combine arugula, peas, sliced carrots and radishes, basil, and mint. Toss to combine.

To make the vinaigrette, combine olive oil and balsamic vinegar in a jam jar, mason jar, or other container with a tightly-fitting lid. Add a pinch of salt and a few grinds of black pepper. Tighten the lid and shake vigorously.

Pour about 2 tablespoons of the vinaigrette over the combined greens and toss to lightly coat. Taste and add more dressing, if desired.

If serving individually, plate salad greens, then top with pistachios and Buffalo mozzarella. Dress mozzarella with a small drizzle of olive oil and another grind of black pepper, if desired. If serving family-style, add pistachios to the bowl, along with roughly torn pieces of mozzarella, and pass at the table.
Notes
As written, I find this recipe serves two for a large lunch salad, or four for a dinner side. Of course, the amounts are entirely flexible depending on your personal preference!
This will make far more dressing than you're likely to want on your salad, but the vinaigrette will keep on the counter for several weeks. The oil and vinegar will separate, so simply store it in a glass jar with a tightly-fitting lid and shake to recombine before dressing additional salads. Congratulations, you just made homemade salad dressing. How easy was that!? 
Of course, alternatively, you could just make a smaller amount of the dressing, simply keeping the ratio of 3 parts oil to 1 part vinegar.
Nutrition Estimate
Calories: 133 kcal, Carbohydrates: 13 g, Protein: 3 g, Fat: 7 g, Sodium: 34 mg, Potassium: 337 mg, Fiber: 2 g, Sugar: 7 g, Vitamin A: 5550 IU, Vitamin C: 6.5 mg, Calcium: 47 mg, Iron: 1.2 mg
Did you make this recipe?
Leave a review below, then snap a quick picture and tag @nourishandfete on Instagram so I can see it!