Creamy Roasted Butternut Squash Soup
Let your oven do all the work with this recipe for the ultimate roasted butternut squash soup. Creamy, delicious, and full of vegetables – not that anyone will guess!
Ladies and gentlemen, we are knee deep into soup season, and with this expected to be one of the coldest Thanksgiving weeks on record, the need for cozy eats that warm us from the inside out has never been greater.
In the past couple years, I've kept roasted tomato basil and roasted carrot red pepper soup in heavy rotation, and I've always loved ultra-fast tortellini soup for busy weeknights.
I'm thrilled to add this roasted butternut squash soup into our line-up. Since perfecting the ratios, I've already made it three times this year, and am really excited to finally share it with you here!
A really (really!) healthy roasted butternut squash soup
Here are just a few things to love about this recipe:
Packed with Vitamin A (thanks to all that butternut goodness + carrots!)
Also a good source of antioxidants, fiber, potassium, and magnesium
Naturally dairy-free
Zero added sugar – all the rich taste and sweetness comes naturally from roasting the veggies!
I don't know about you, but when something this healthy and nutritious masquerades as total comfort food, I get pretty excited. 🙂
How to make an ultra-easy roasted butternut squash soup
This is also super simple to make, thanks to the simplicity of roasted veggies.
You will need enough time to let the oven work its magic, so this is a great recipe to prep over the weekend. Fortunately, once you get all the chopping done, it's very hands-off!
Peel and cube your butternut squash. Pile the chunks on a large sheet pan together with chopped carrots, onion, celery, and herbs.
Pop into the oven for about an hour, until everything is wrinkly and it's easy to pierce the veggies with a dinner fork.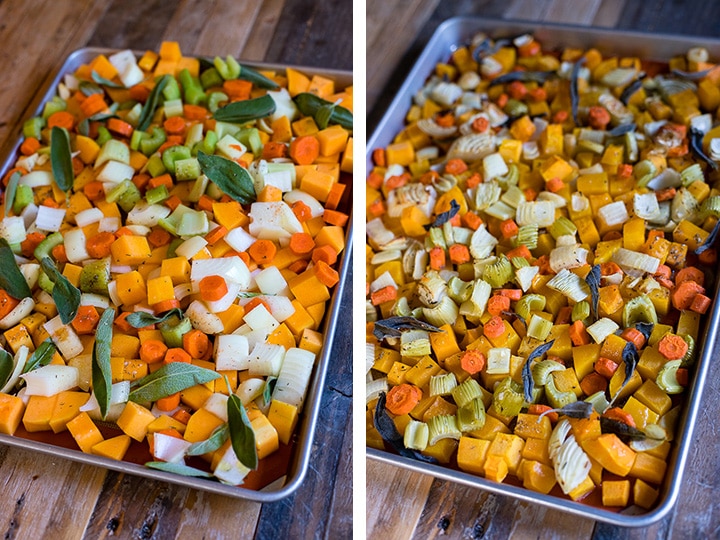 What to do if your hands get itchy after peeling butternut squash
The first time I made this soup, a very strange thing happened to me – after peeling and chopping the squash, my hands, especially the hand that had held the squash, were undeniably red-orange and splotchy. A few minutes later, my fingers and palm turned extremely dry, tingly, and itchy. I tried to keep working, but it was far too distracting– and concerning!
Washing my hands did little to help, so I hit pause and did a little research. Turns out there is such a thing as butternut squash dermatitis! I'll spare you the medical details, but bottom line: if this happens to you, don't panic.
First of all, the symptoms will fade on their own. I found that regular lotion didn't help, but supposedly using an anti-itch cream can help them fade faster. What did help me, to my great surprise, was literally peeling the splotchiness off of my hands using… scotch tape. I simply cut off small strips of tape and pressed the sticky side over the affected areas of my hands. Sure enough, as I peeled back the tape, a small layer of the red-orange compound stuck to it, and that area felt better!
Now when I peel and cut squash, I just use gloves. Much easier. 🙂 But on the off chance this happens to you, well, you know what to do!
Blend, stir, and serve
Returning now to your regularly scheduled soup-making… once the veggies come out of the oven, soft enough to be easily pierced with a fork and smelling delicious, your soup is near at hand.
Transfer veggies to a large blender.
Add a bit of chicken or vegetable stock.
Puree until completely smooth.
Transfer to a large pot, stir in a bit more stock, and warm until ready to serve.
That's it!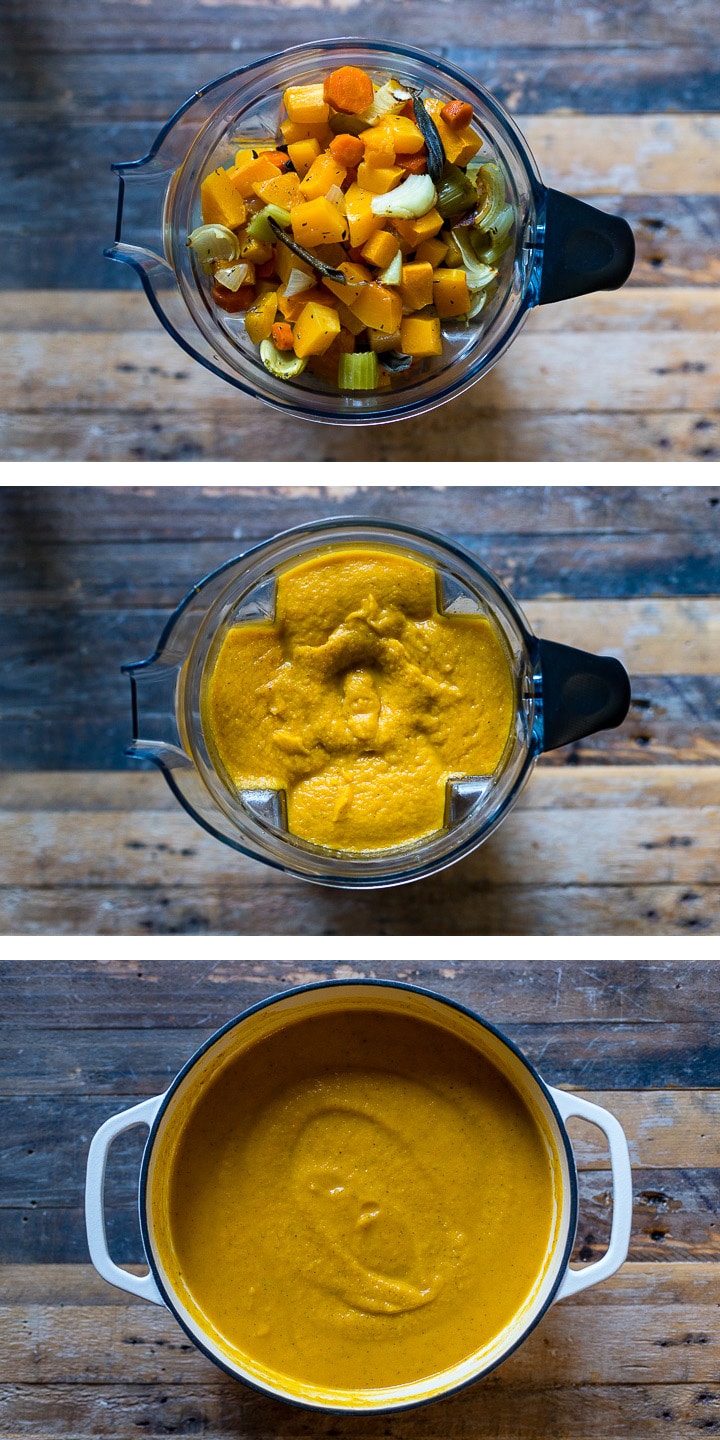 Counter-top vs. immersion blenders…
In the past I've raved about immersion blenders for making soups like this, but truth be told, I recently bought a Vitamix and am in love. Seriously, the night after it arrived, I sat on the couch flipping through the pages of the little recipe booklet that came with it, oohing and aahing to my husband over each new idea. He was thrilled. 😉
But, truth, having waited far too long to upgrade our blender, I finally bit the bullet and went with a certified refurbished Vitamix, and am so happy I did. We saved a good amount of money with the certified refurb route, but I still feel very much as though it's an investment and an appliance that will last for the loooong haul. It ought to! You can check the current price of a certified refurb model on Amazon if you're curious.
And the Vitamix makes ultra fast work of these veggies! But an immersion blender would also work great- you really can't go wrong either way!
What to serve with butternut squash soup
So- the incredible roasted butternut squash soup you just made! Serve it with crusty bread for a simple meal that's hearty and comforting, or serve as a starter if you're having a larger dinner or entertaining during the fall. It's so easy to make ahead of time, and the flavors will only deepen as it simmers on the stove or reheats. A few ideas for the rest of the meal:
Pumpkin ravioli or gnocchi
This would also make an amazing starter for an elegant Thanksgiving feast!
For garnish, the sky's the limit, but our absolute favorite is to sprinkle a few roasted pumpkin seeds on top. The flavor and crunch perfectly contrasts the smooth, creamy, slightly sweet soup.
I added a few chia seeds here for a health boost – and pretty photos. 🙂
And if you don't have pumpkin seeds on hand, some crunchy croutons or even just crackers are also fantastic with this!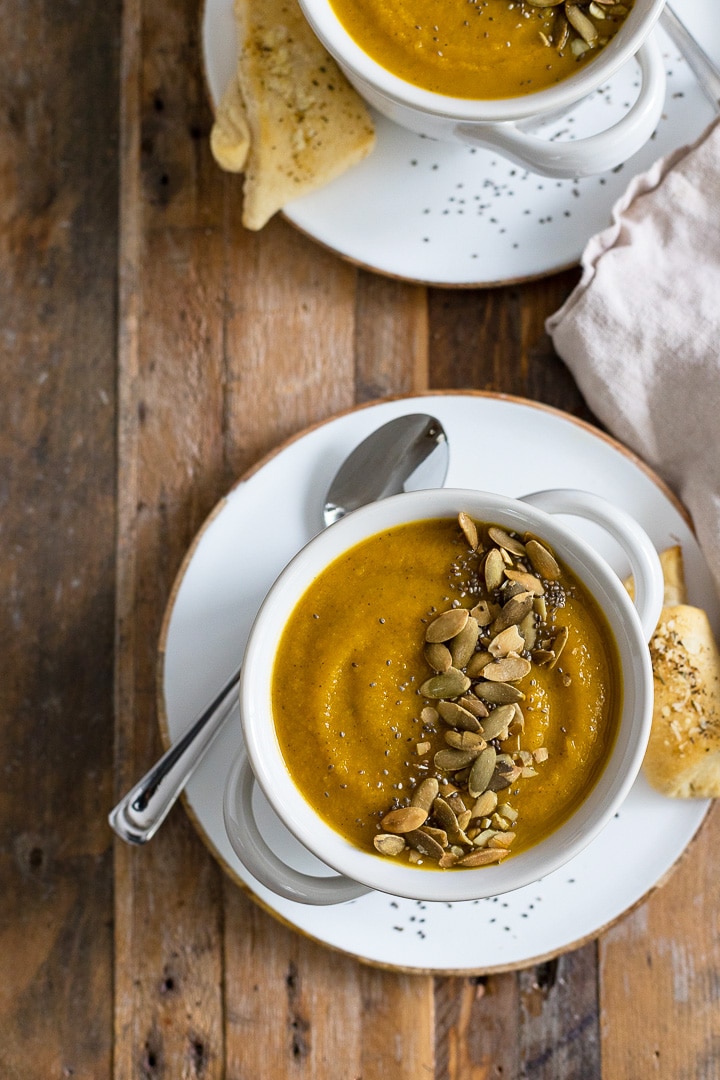 If you try this soup or any other recipe on the blog, please rate the recipe and leave a comment below. I love hearing from you, and other readers will benefit from your experience!
Roasted Butternut Squash Soup
The most delicious, creamy, and nutritious roasted butternut squash soup makes a great fall comfort food!
Ingredients
2 medium butternut squash
4 stalks of celery
1 medium yellow onion
3 carrots
6 garlic cloves
10 fresh sage leaves
1/2 teaspoon dried thyme
1/2 teaspoon kosher salt
pinch of cayenne pepper
freshly-ground black pepper to taste
3 tablespoons extra virgin olive oil
4 cups chicken or vegetable stock
Instructions
Preheat the oven to 350 degrees F.

Peel the butternut squash, then cut open lengthwise and scoop out the seeds. Chop into pieces about 1 inch thick. Transfer to a large rimmed baking sheet.

Cut celery and onion into large chunks, and peel and chop carrots into 1 inch coins. Add to the sheet pan.

Sprinkle peeled whole garlic cloves, sage, thyme, salt, cayenne, and black pepper over the veggies. Drizzle olive oil over the mixture and stir gently to coat.

Roast for 60-75 minutes, until the veggies are soft enough to be pierced easily with a fork. Set aside to cool slightly, about 15 minutes.

Transfer roasted veggies and herbs to a large blender or food processor, together with 2 cups of stock. Puree until completely smooth.

Pour mixture into a large saucepan. Stir in remaining 2 cups stock, and simmer on low for 10-15 minutes, or until ready to serve.
Notes
Garnish as desired - we love to use roasted pumpkin seeds! Their flavor goes perfectly with the soup and they add a wonderful crunch!
Nutrition Estimate
Calories: 155kcal, Carbohydrates: 27g, Protein: 2g, Fat: 5g, Sodium: 640mg, Potassium: 762mg, Fiber: 4g, Sugar: 6g, Vitamin A: 24010IU, Vitamin C: 42.4mg, Calcium: 107mg, Iron: 1.6mg
Did you make this recipe?
Leave a review below, then snap a quick picture and tag @nourishandfete on Instagram so I can see it!