Roasted Butternut Squash Soup
Cozy and filling, roasted butternut squash soup will warm you from the inside out. Let your oven do the work: it's tailor-made to coax all the best flavors from butternut, carrots, onions, sage, and thyme.
Serve this with a crusty loaf of Dutch oven bread, or add a simple wild rice winter salad. Hosting a crowd? Pair with these ravioli or this elevated sage chicken.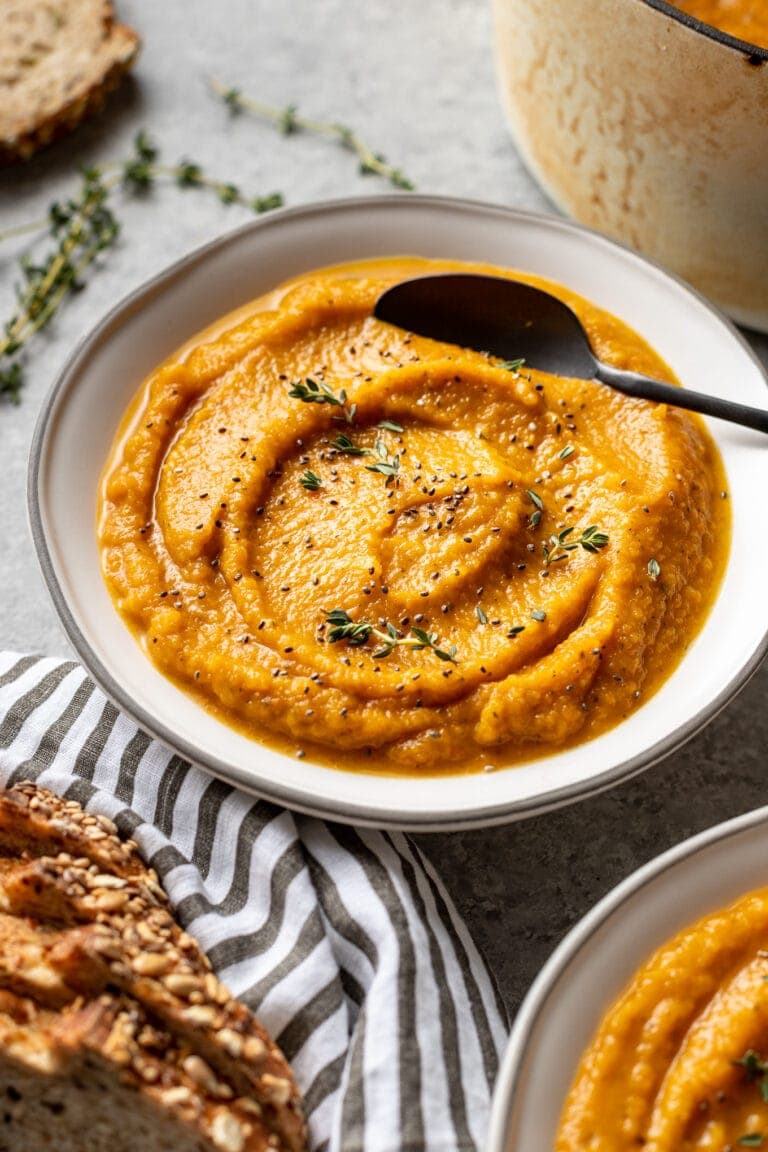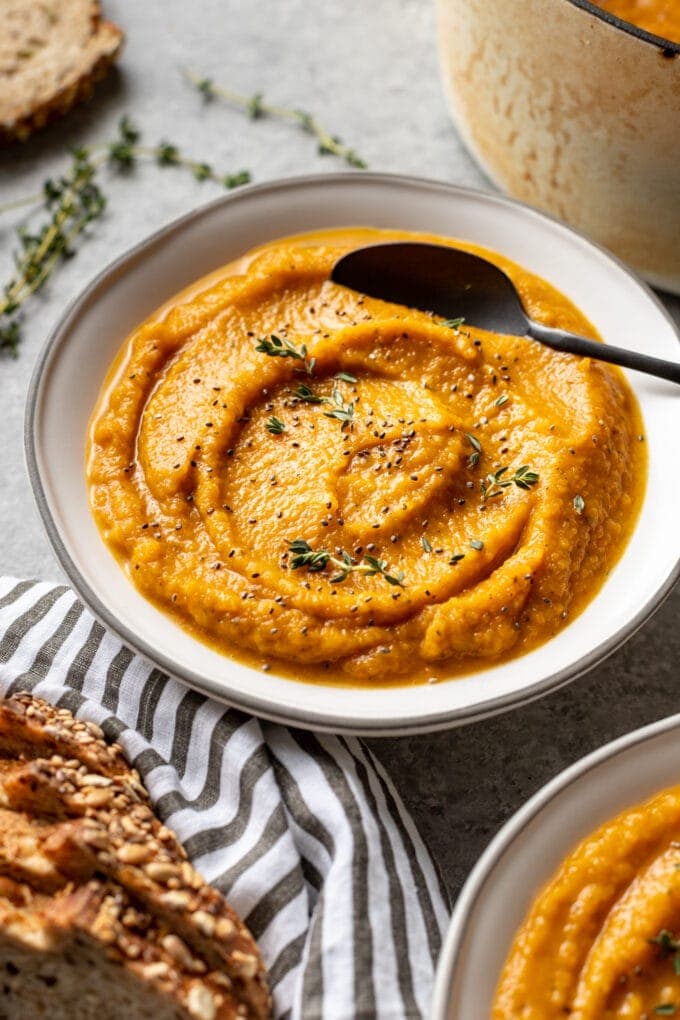 Ladies and gentlemen, soup season is the best season. When the temperatures dip, there's nothing like a piping hot bowl or mug to make you feel cozy.
Soup is also a great way to keep your veggie intake up all winter long. Even healthy, vegetable-forward soups can be incredibly creamy, smooth, and delicious, making them the perfect guilt-free comfort food.
Why we love this soup
This recipe stands out from the pack because roasting brings out amazing complex flavors in butternut squash, with browned and caramelized bits that add depth. Incorporating other veggies adds more flavor and nutrition. Sage and thyme add the perfect herbal note – and, bonus, make your house smell like Thanksgiving.
Plus, let's look at some of the nutritional perks. This soup is:
packed with Vitamin A, thanks to all that butternut plus a few carrots.
high in antioxidants, fiber, potassium, and magnesium.
naturally dairy-free, and vegan if you use appropriate broth.
free of added sugars – the sweetness is all natural, enhanced through the roasting process.
How to make it
This butternut squash soup is simple to make, thanks to the simplicity of roasting. It works for broccolini, and it works here. You'll need some time to let the oven work its magic, so this is a great recipe to prep over the weekend. Fortunately, once everything is chopped, it's very hands-off.
First, peel and cube the squash. (Confession: I often buy it pre-cubed to save time!) Pile the cut pieces on a large sheet pan together with chopped carrots, onion, celery, herbs, and seasonings.
Pop into the oven on high heat until everything is wrinkly and it's easy to pierce the veggies with a fork.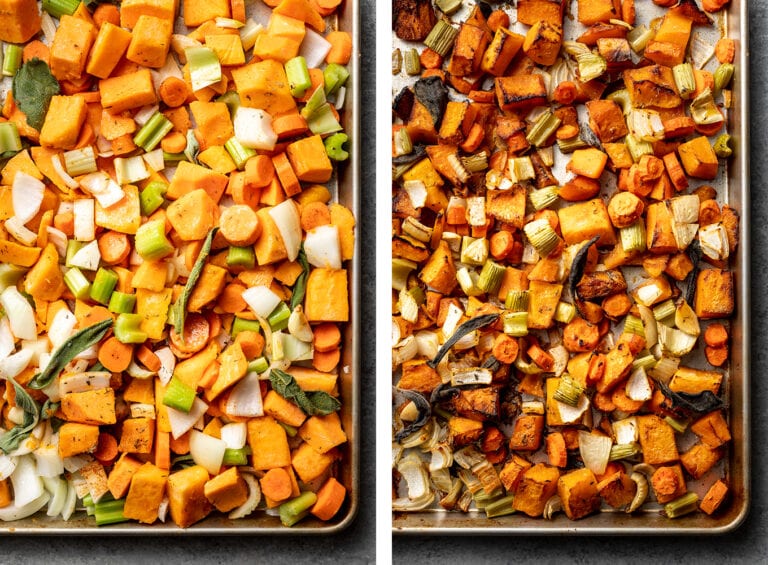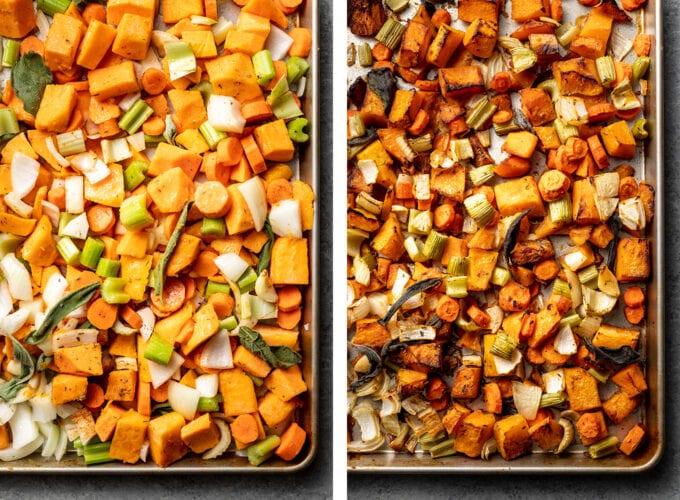 Now you just need to combine those luscious roasted veggies with a good amount of broth and blend it all up.
You can see here that I'm using an immersion blender, which is easy because it means you can combine and blend everything in one step and one pot.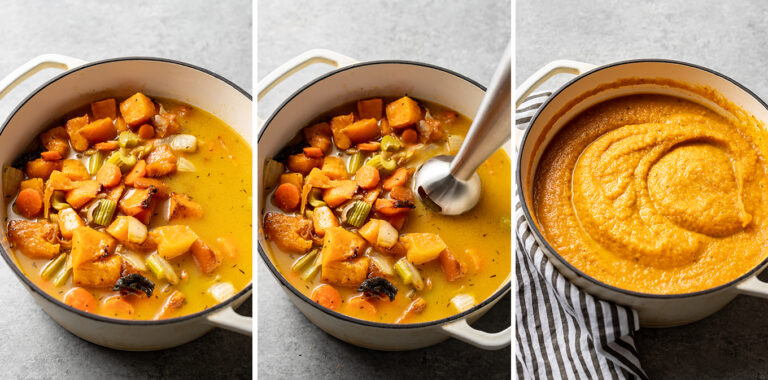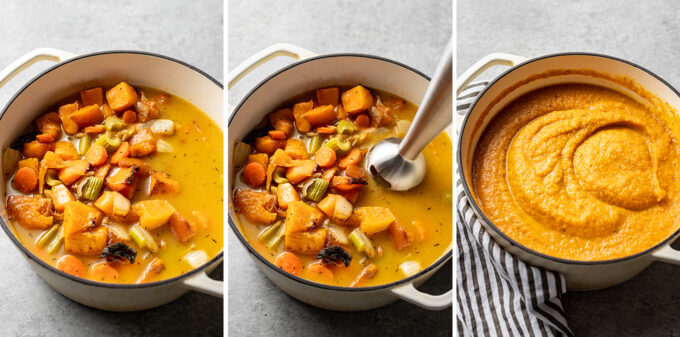 You can also use a standard countertop blender. On the downside, this will dirty an extra appliance. (The immersion blender is so easy to pop in the dishwasher that I don't count it as something I have to wash.)
On the plus side, a high-quality countertop blender, such as a Vitamix or Blendtec, will yield the smoothest possible soup. So if perfectly velvety soup is your goal, transfer and blend away!
Itchy hands?
The first time I made this soup, a very strange thing happened. While handling the squash, I noticed that my hands looked odd. In fact, there was a small red-orange patch, and more worrisome, it seemed to be growing.
A few minutes later, my fingers and the palm touching the squash began to feel excruciatingly dry, tingly, and itchy. Washing my hands did nothing.
Turns out, butternut squash dermatitis is a thing.
On the slim chance this helps someone, some day: if this is you, don't panic. The symptoms will fade on their own. I found that regular lotion didn't help, but supposedly using an anti-itch cream can help them fade faster. What did help was to literally peel the red-orange, itchy splotches off of my hands using scotch tape. Cut small strips of tape, press the sticky side over the affected areas, and peel it back. A small layer of the red-orange compound will stick to it!
Now if I need to cut squash, I use gloves. Or, as noted above, many stores carry it pre-peeled and cubed, which is really nice!
We don't need any itchy hands standing between us and and a soup this good.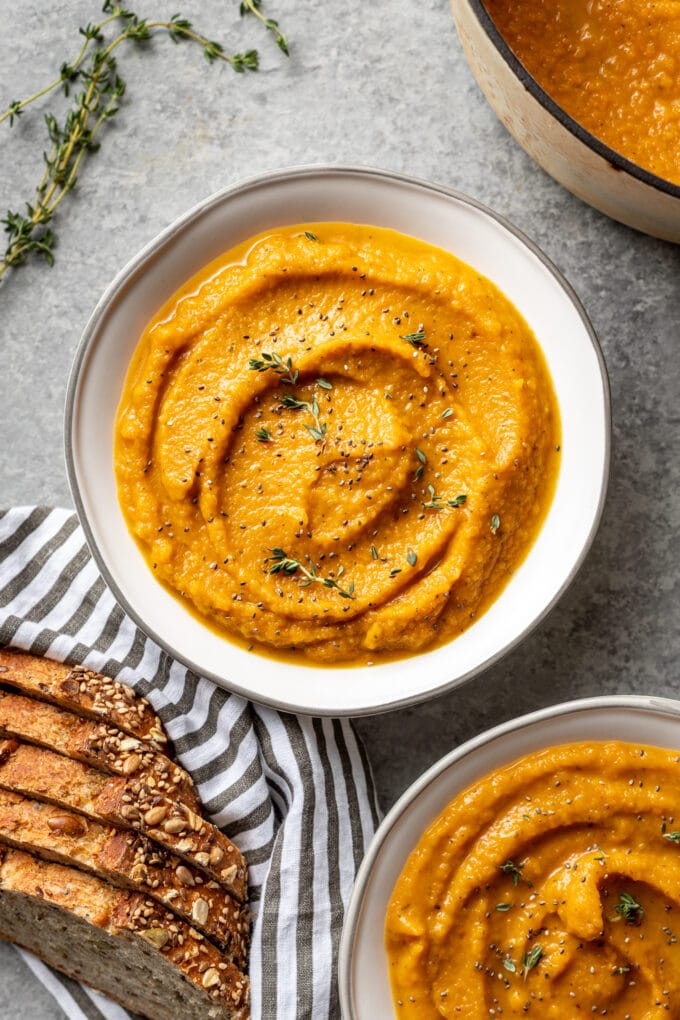 Complete the meal
Serve this with your favorite bread – bonus points if it's this life-changing no-knead Dutch oven loaf. The soup also goes well with a salad or heartier main for a larger dinner or gathering. A few favorite pairings:
If you try this roasted butternut squash soup or any other recipe on Nourish and Fete, please rate the recipe and leave a comment below! We love hearing from you, and other readers will benefit from your experience!
Roasted Butternut Squash Soup
Let your oven do all the work with this creamy, delicious, roasted butternut squash soup. Hearty, cozy, and healthy. Don't forget the crusty bread!
Ingredients
2 medium butternut squash (5-6 pounds total) peeled, seeded, and cubed
4 stalks of celery chopped
1 medium yellow onion chopped
3 carrots peeled and chopped
6 garlic cloves peeled and whole
10-12 fresh sage leaves
1/2 teaspoon dried thyme
1/2 teaspoon kosher salt
pinch of cayenne pepper
freshly-ground black pepper to taste
3 tablespoons extra virgin olive oil
4 cups chicken or vegetable broth
Instructions
Preheat the oven to 400 degrees F. Add cubed squash, celery, onion, carrots, garlic, sage, thyme, salt, cayenne, and black pepper to a large rimmed sheet pan. Drizzle olive oil on top and toss to coat everything evenly.

Roast for 30 minutes, then begin checking the veggies every 10 minutes or so, until they are soft enough to be pierced easily with a fork. Remove from the oven and set aside to cool slightly.

Transfer roasted veggies and herbs to a large blender and add 2 cups of the broth. Puree until smooth, then pour mixture into a large stockpot and stir in remaining 2 cups broth. Simmer on low heat for 10-15 minutes, or until ready to serve. Taste and adjust seasonings as desired.

Alternatively, you can transfer the roasted veggies and herbs directly into a large stockpot, add all 4 cups of broth, and blend with an immersion blender. This saves some effort, but usually doesn't get the finished soup quite as smooth and velvety.
Notes
Shortcut: Use pre-peeled and cubed butternut squash! It's available with other convenience produce in most major grocery stores when squash is in season. You'll need about 8 cups. Don't sweat the exact amount, the recipe is flexible if you have a little more or less.
Garnish: We love a sprinkle of fresh thyme and a little more black pepper, or for a little crunch, try pepitas (toasted green pumpkin seeds). So good! 
Storage: This soup keeps well in the fridge for 3-4 days. It can be frozen for 3-4 months. Freeze in an airtight container and leave some room, the soup will expand as it freezes. Defrost in the fridge overnight and re-warm on the stove as needed.
Nutrition Estimate
Calories: 208 kcal, Carbohydrates: 36 g, Protein: 4 g, Fat: 8 g, Saturated Fat: 1 g, Sodium: 802 mg, Potassium: 1149 mg, Fiber: 6 g, Sugar: 8 g, Vitamin A: 31692 IU, Vitamin C: 68 mg, Calcium: 152 mg, Iron: 2 mg
Did you make this recipe?
Leave a review below, then snap a quick picture and tag @nourishandfete on Instagram so I can see it!
More Delicious Soup Recipes