Dazzling Wild Rice Winter Salad
This hearty wild rice winter salad takes advantage of seasonal greens and pomegranates for a filling and fresh side that looks as good as it tastes!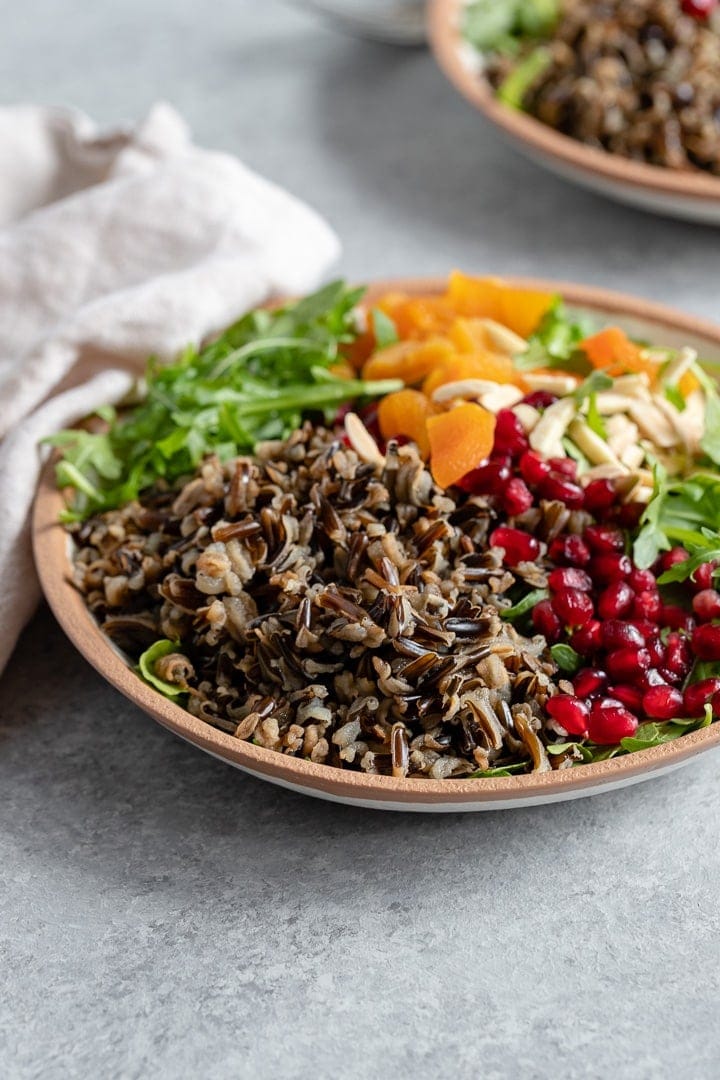 Anyone else go through little food obsessions? When you "discover" an ingredient for the first time. Or, more accurately, discover that you really like it, or that it's not as hard to prepare as you thought it was, etc. And then you start putting that ingredient in all the things.
That was me last year with pomegranate. And I'm still going strong – with pomegranate-glazed salmon, a pomegranate Brussels sprouts salad, a cranberry pomegranate baked brie, and orange pomegranate Prosecco sparklers to show for it.
And this winter's obsession? WILD RICE.
I am in love. ♥
What is wild rice?
For anyone else who has yet to go fangirl for the stuff, some basic facts:
Wild rice is a whole grain, technically a seed – not actually rice.
There are four species of the good stuff, three of which are native to the Great Lakes region of North America.
It's more difficult to harvest than regular rice, and consequently more expensive to buy. But I say it's worth it, because…
It's DELICIOUS.
Wild rice has a distinct nutty, earthy flavor, and more "chew" than regular rice. It can really hold its own in a dish, especially something like this winter salad, to make it filling and hearty.
Where can you buy wild rice?
Any major grocery store should sell this. I got this package at TJ's, and I also like this brand, which is available on Amazon. (affiliate link)
In store, wild rice is probably displayed with other types of rice. You can also buy a wild rice "blend," which is most likely brown rice with a spare fleck or two of wild thrown in. In many recipes, this just would not be the same, but to be honest, for a salad like this, I'm sure a blend would still be tasty. Just follow the package directions on how to prepare it!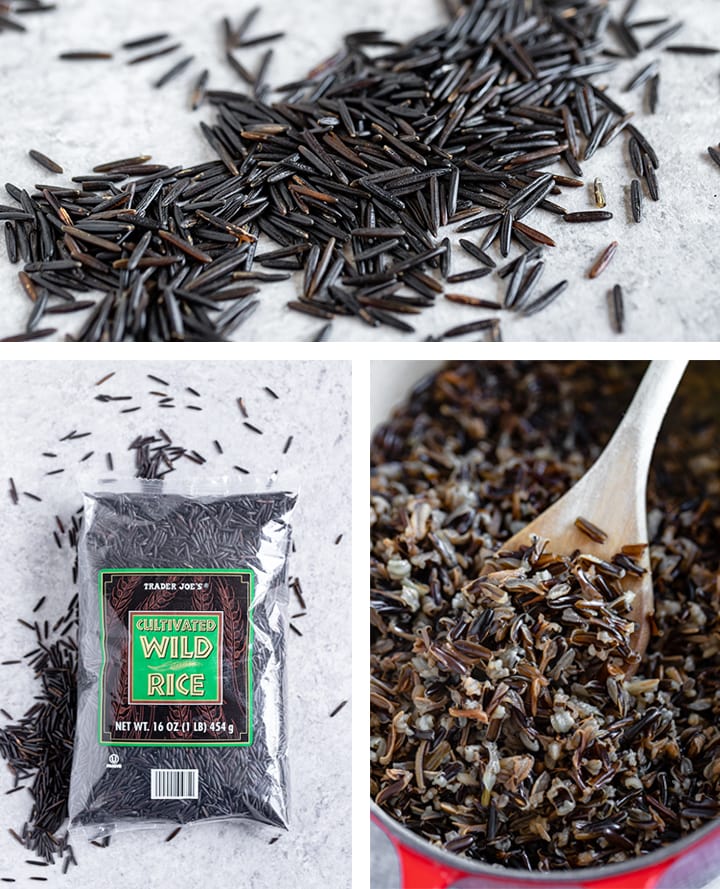 See those lovely dark grains? They are easy to cook – simply simmer in water until they reach the desired chewy texture. It's a lot like pasta, they just take longer! I also like cooking wild as opposed to regular rice because you can just drain extra water at the end. Less guesswork!
When the rice is finished, some of the grains will have burst open, as you can see in the bottom right photo above. Love that light-dark color contrast!
I'll leave you to contemplate whether cultivated wild rice is a contradiction in terms. 🙂 I get what they mean, but it made me chuckle!
Wild rice winter salad
OK, enough waxing about just the rice. Let's move along to this amazing salad! It's so simple, and SO GOOD. Here's what's inside:
Wild rice (obviously)
Arugula
Pomegranate arils
Dried apricots
Almonds – preferably toasted!
All topped with a light white wine vinaigrette. A citrus vinaigrette would be delicious here, too – just something light and bright!
How to serve it
This salad is so festive and pretty, I love it for a special occasion side dish. I served it recently alongside a risotto – a great combination! It does take a little more prep than other salads, because the rice needs time to cook – though this can be done in advance. Plus wild rice and pomegranates, while amazing, aren't necessarily every day ingredients. So it truly is worthy of a celebration!
Also, though, as we all turn the collective corner into January, this salad is the perfect dish to lighten things up a bit. Serve as a side, or add some chicken or another protein to round things out!
And, this is great for lunch/meal prep. Just combine all the ingredients but don't dress the salad 'til you're ready to eat.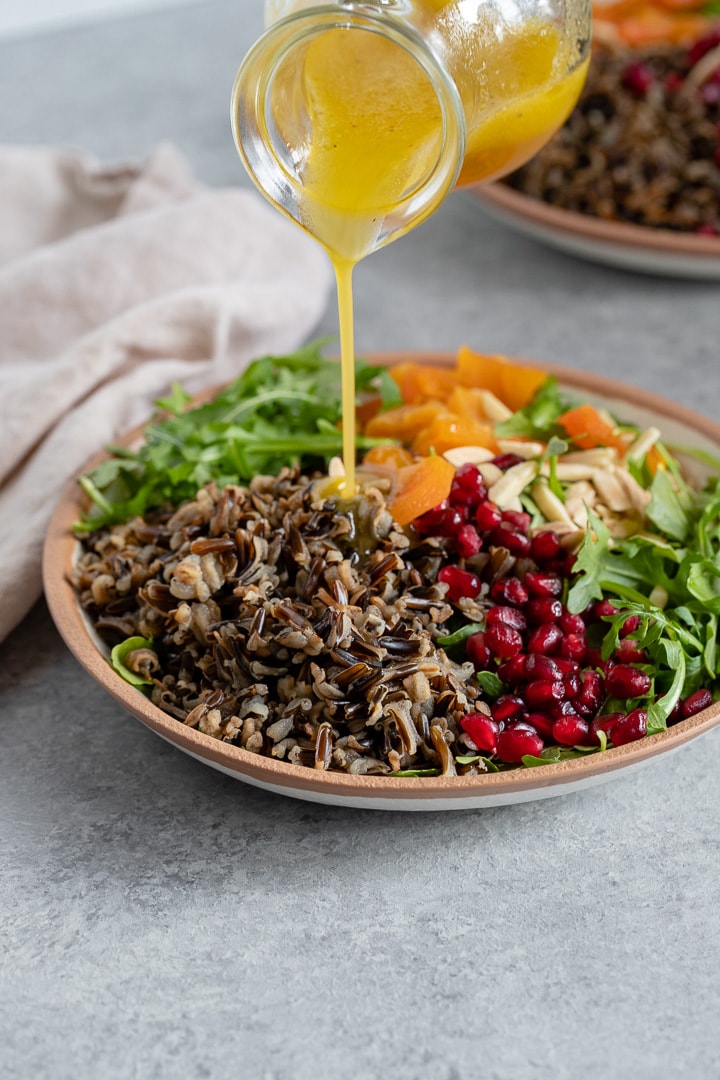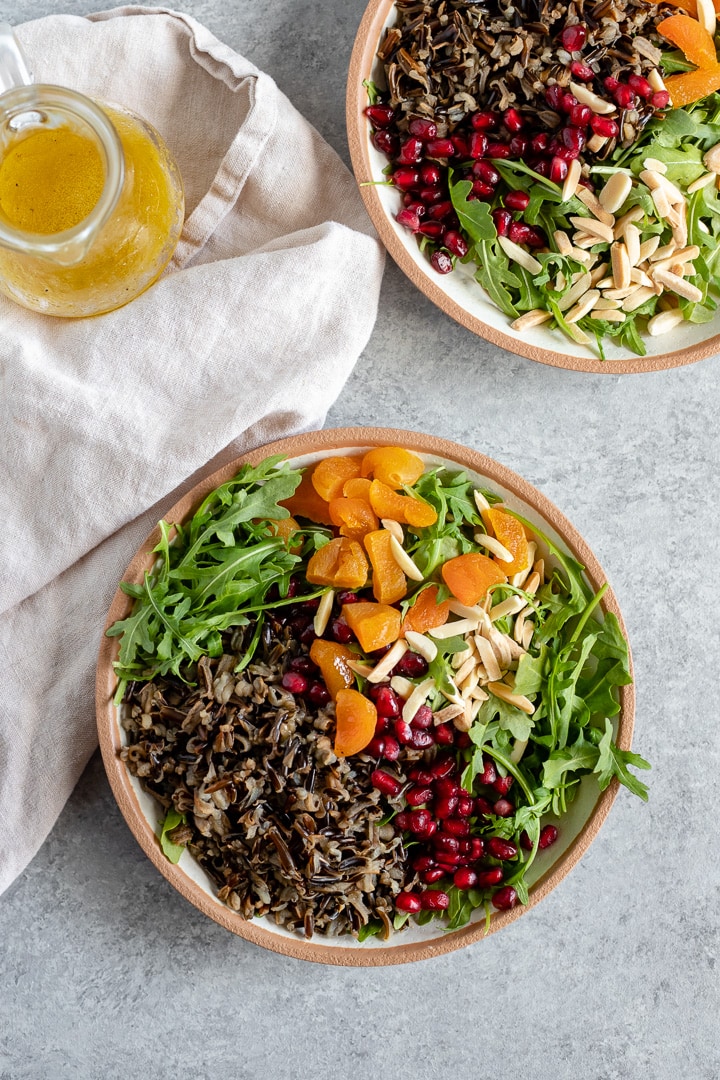 If you try this wild rice salad or any other recipe on the blog, please rate the recipe and leave a comment below. I love hearing from you, and other readers will benefit from your experience!
Dazzling Wild Rice Winter Salad
This wild rice and arugula salad takes advantage of seasonal greens and pomegranates for a filling and fresh side that looks as good as it tastes!
Ingredients
2 cups cooked wild rice, about 1/2 cup raw
3 cups arugula
1/3 cup toasted slivered almonds
1/3 cup dried apricots, coarsely chopped
1/4 cup pomegranate arils
For the Dressing:
1/4 cup extra virgin olive oil
1/4 cup white wine vinegar
1/2 teaspoon dijon mustard
1 tablespoon honey
pinch of salt and freshly-ground black pepper
Instructions
Rice. Cook wild rice according to package directions. (This usually takes about 45 minutes, and can be done up to a week ahead.)

Dressing. Combine all dressing ingredients in a small jar or measuring cup. Shake or whisk vigorously to combine. Extra dressing will keep in the fridge for a week.

Salad. Combine cooked rice, arugula, almonds, apricots, and pomegranate arils. Drizzle with dressing, and toss. Serve cold or at room temperature. Enjoy!
Notes
If you want to prep ahead of time, make the rice and dressing in advance, and store each in the fridge. All the salad ingredients can be combined ahead of time, too, and just dressed when ready to serve.
Nutrition Estimate
Calories: 128 kcal, Carbohydrates: 22 g, Protein: 4 g, Fat: 3 g, Sodium: 10 mg, Potassium: 234 mg, Fiber: 2 g, Sugar: 8 g, Vitamin A: 500 IU, Vitamin C: 2.2 mg, Calcium: 36 mg, Iron: 0.9 mg
Did you make this recipe?
Leave a review below, then snap a quick picture and tag @nourishandfete on Instagram so I can see it!