Mozzarella-Stuffed Chicken Parmesan Meatballs
This recipe for chicken parmesan meatballs stuffed with mozzarella yields the ultimate cozy comfort food. Tender meatballs are surprisingly easy to make, with garlic, Parmesan, Italian seasoning, and little pockets of melted cheese!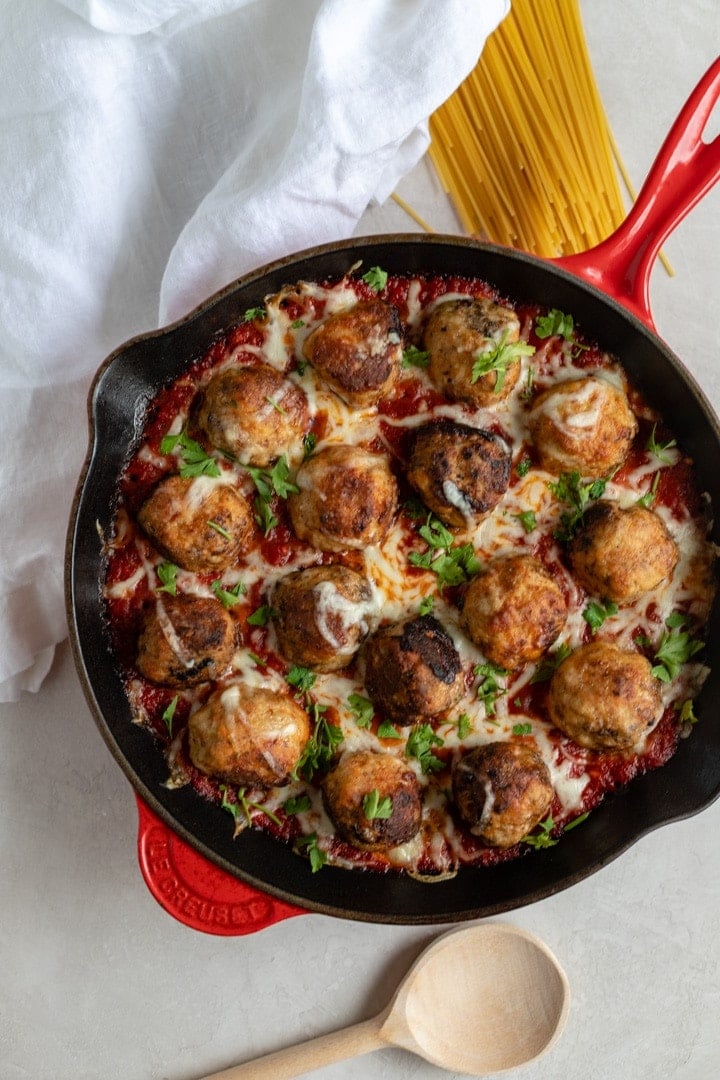 Does your family enjoy chicken Parm? They are going to love this recipe!
It's a little twist on a classic, but when it comes together, it makes perfect sense – and is completely irresistible.
How to make chicken Parmesan meatballs stuffed with cheese
Making these from scratch and then taking the extra step of stuffing each meatball with cheese might seem like a lot of work, but in truth, it takes just a couple extra minutes. And, isn't it worth it to see the looks of awe on your family's face when they realize each meatball has mozzarella inside?
YES. So worth it.
How to make meatballs tender
Have you ever made meatballs and thought either they were a little tough, or the seasoning wasn't very evenly distributed? Over-worked ground meat can lose its tenderness, but under-mixing can leave uneven pockets of flavor.
You can easily fix both, though. Combine all the seasonings and ingredients except the meat first, then add your ground chicken. Or turkey, beef, etc., – this works with any meatball recipe. Stir just until it's evenly incorporated.
Problem solved! Your meatballs will be tender, delicious, and perfectly seasoned.
Cookie scoop for meatballs
Now you just need to scoop out your portions. Do you already use a cookie scoop for this? (affiliate) If not, you definitely should! This little thing has simplified so much in the kitchen since I got a set earlier this year. Obviously it's good for more than just cookies – meatballs, cupcake batter, pancakes, basically anything you want to portion out evenly and hassle-free!
Roll each into a smooth ball, as you normally would. Do this with slightly wet hands and you'll have far less sticking and mess! Just run your hands under the tap for a few seconds, shake but don't dry them, then roll the meatballs. I can usually do 4-5 before rewetting my hands.
Have your mozzarella balls drained and ready to go. I find ciliegine to be perfect – each is about the size of a cherry. If you have dried mozzarella on hand, you can use that, too – just cut it into small cherry-sized pieces.
Now, using your hands, gently split each meatball open a little, pop a piece of mozzarella inside, and seal it back up. Ready to go! You just made stuffed meatballs! You're awesome!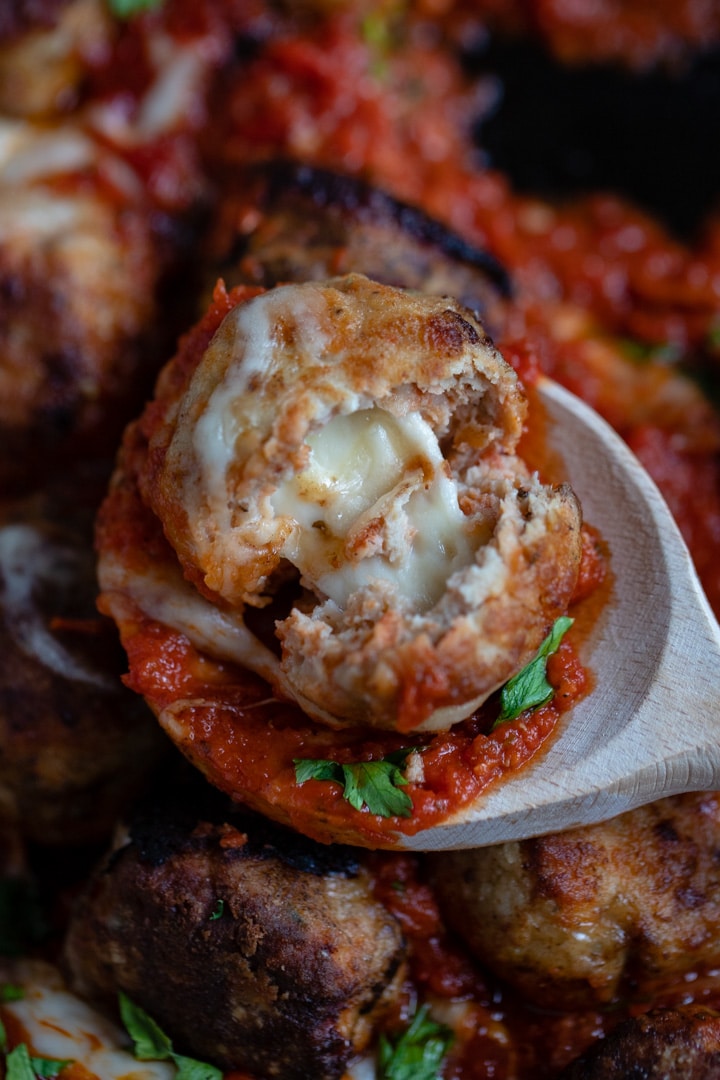 Stove to oven to table
This is a recipe I've adapted over many years from a dog-eared page of Rachael Ray magazine. That original version is also here on the web.
I've simplified to include more pantry staples and dried herbs, which makes prepping the meatballs go more quickly. In some recipes, like creamy Tuscan chicken, I opt for fresh garlic and herbs whenever possible, but I've tested these meatballs both ways, and don't think it makes much difference here.
Also, we're browning these chicken parmesan meatballs in a skillet, with a touch of flour so they get a nice coating – just like your favorite chicken Parm would have! Then they finish in the oven with marinara sauce.
If you use an oven-safe skillet, this can all happen in one pan. (affiliate) This one is my workhorse – I use it multiple times per week!
Jarred vs. fresh marinara
Jarred marinara is great.
If you do have 20 minutes to spare and want to feel like a boss, this quick weeknight marinara is so easy. Five ingredients, just stir together, simmer away, and you'll be so proud of yourself!
I usually use a full batch of this marinara recipe with these meatballs.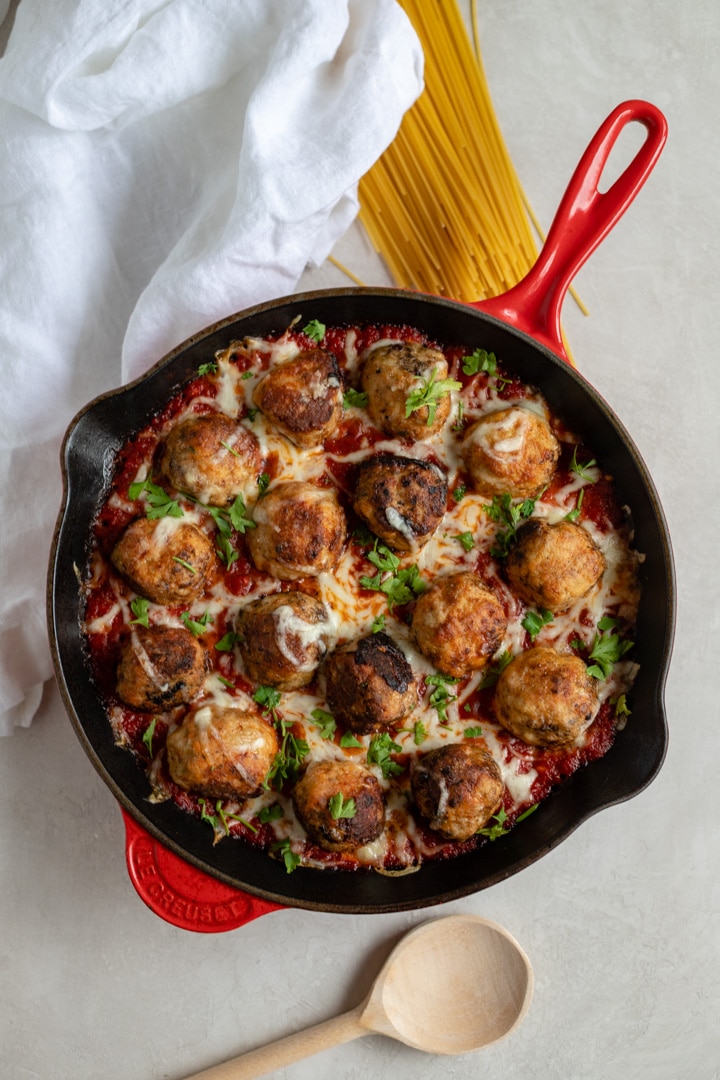 What to serve with meatballs
If we're having chicken parmesan meatballs for dinner, it's a safe bet that we're serving them over pasta, because pasta is life! For a long time I always used spaghetti, but have started subbing in penne, and loving it.
If you're cutting carbs, zucchini noodles make a great swap. And these meatballs are so filling that you may not really need either.
As for veggie sides, we keep it simple, always. A few ideas:
If you try this recipe for chicken Parm meatballs or any other recipe on the blog, please rate the recipe and leave a comment below. I love hearing from you, and other readers will benefit from your experience!
Mozzarella-Stuffed Chicken Parmesan Meatballs
This recipe for chicken parmesan meatballs stuffed with mozzarella yields the ultimate cozy comfort food.
Ingredients
3/4 cup grated Parmesan cheese
1/2 cup bread crumbs
1 large egg
3 Tablespoons tomato paste
2 teaspoons Italian seasoning
1 teaspoon dried parsley
1 teaspoon garlic powder
kosher salt
freshly-ground black pepper
2 pounds ground chicken
1 (8 ounce) package ciliegine (small balls of mozzarella cheese)
1/4 cup all-purpose flour
1-2 Tablespoons extra virgin olive oil
marinara sauce, pasta, more cheese, fresh herbs (for serving)
Instructions
In a large bowl, combine Parmesan, bread crumbs, egg, tomato paste, Italian seasoning, parsley, garlic powder, salt, and pepper to taste. Mix well. Add the chicken and mix gently, just until combined.

Scoop the mixture out into medium-large meatballs, using about 2 Tablespoons each. Using your hands, open each meatball and press a ball of mozzarella inside, then shape and pinch the meat around it so the cheese is completely covered. Set prepared meatballs aside on a plate.

Preheat the oven to 350 degrees F. Set flour on a small plate, and gently roll each meatball through it to form a light coating.

Warm the olive oil in a large oven-safe skillet over medium-high heat. Add the meatballs and cook for 3-4 minutes, turning frequently, until they are evenly browned. Work in batches as needed to avoid over-crowding, setting browned meatballs aside on a paper-towel lined plate.

When all the meatballs are browned, gently wipe out the skillet, then pour in marinara sauce. Nestle meatballs into the sauce, and bake for 18-20 minutes, until the sauce is bubbling and meatballs are cooked through. If desired, sprinkle with additional mozzarella during the last few minutes of baking. Serve with additional cheese, herbs, and pasta, as desired.
Notes
A cookie scoop makes fast work of scooping out the meatballs evenly. I have and love this one! 
Use 1 jar of marinara sauce, or 1 batch of this easy homemade version!
Meatballs can be prepped through step 2 up to 2 days ahead of time, and kept in the fridge, tightly wrapped, until ready to cook.
Leftovers will keep well in the fridge for 3-4 days.
Adapted from Rachael Ray Everyday.
Nutrition Estimate
Calories: 89 kcal, Carbohydrates: 2 g, Protein: 8 g, Fat: 5 g, Saturated Fat: 1 g, Cholesterol: 42 mg, Sodium: 106 mg, Potassium: 232 mg, Vitamin A: 70 IU, Vitamin C: 0.4 mg, Calcium: 50 mg, Iron: 0.6 mg
Did you make this recipe?
Leave a review below, then snap a quick picture and tag @nourishandfete on Instagram so I can see it!