Homemade Pumpkin Pie Spice
Learn how to make homemade pumpkin pie spice with a simple blend of everyday spices. It's quick, easy, customizable, and smells absolutely divine. Keep some on hand for baking all your favorite fall recipes, or gift small jars to neighbors and friends.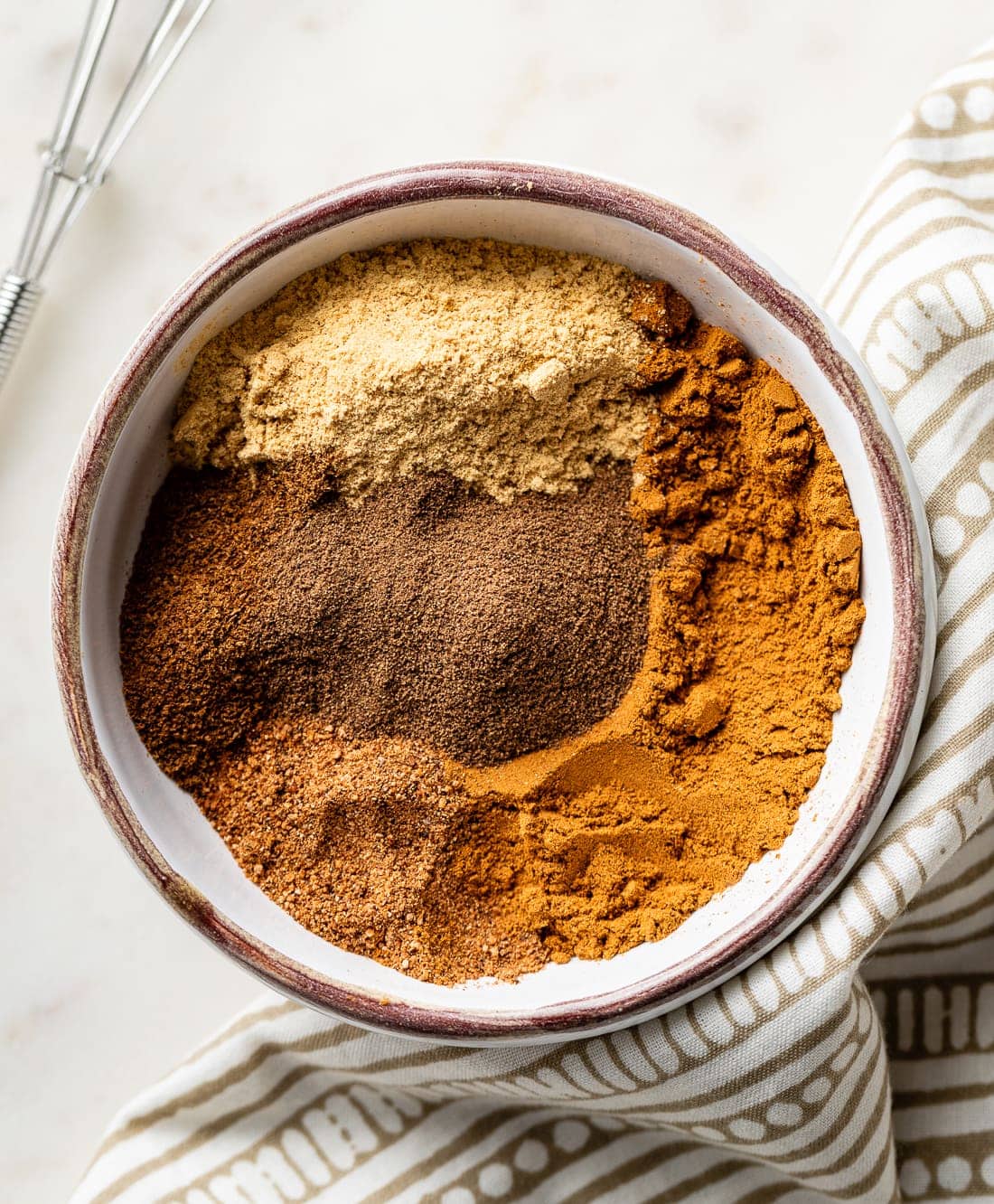 The Best Pumpkin Pie Spice is Your Own
When pumpkin season hits America, it hits big time. For those who are into all things pumpkin, it's exceedingly easy to get the fix: the flavor quickly pops up in coffee, pasta, cereal, and of course, all the baked goods your heart could desire. Undeniably, fall=pumpkin and pumpkin=fall.
In truth, what we actually crave so often isn't just pumpkin, the vegetable, but pumpkin pie spice. A classic, warm, cozy blend of everyday spices that evokes autumn, falling leaves, and warm sweaters by the very scent alone.
Of course you can purchase pumpkin pie spice in virtually any grocery store, but if you're up for a very fun, very quick project, try making your own this season! It's insanely easy, inexpensive if you already have all of the spices, and most of all, fun. Plus, you can customize the blend to your own preferences, if you like.
We love that this homemade pumpkin pie spice is:
A 5 minute project. Measure, whisk, done.
A fun way to prep for fall baking.
Excellent for gifting to neighbors and friends. Share a little jar with a cute handwritten label with your bestie!
Of course you can use this blend in your pumpkin pies, but the possibilities go way beyond that. Pumpkin bread, cookies, pancakes, pumpkin muffins, and maple pumpkin granola are just some of my favorites.
Ingredients in Pumpkin Pie Spice
Pumpkin pie spice is commonly made up of 4–5 different ground spices, each a pantry staple frequently used to add a flavor of warmth in cooking and baking. Full amounts are noted in the printer-friendly recipe card below.
Cinnamon
Ginger
Nutmeg
Cloves
Allspice
When you make your own blend, you're in control of the make-up. If you really enjoy a certain spice, you can add more, or if you don't like one, you can use less or even omit it entirely.
Want to add extra pep to your pumpkin pie spice? Add 1/4-1/2 teaspoon of ground cardamom or ground black pepper.
Cardamom is an idea popularized by the Silver Palate. I personally first saw the idea of pairing ground black pepper with pumpkin in a New York Times pie recipe, but it is a common trick among baking bloggers today.
How To Make It
Literally just measure the spices into a small bowl, whisk to blend well, and store in an airtight container. That's all there is to it!
As written, the recipe yields five Tablespoons, which is enough for quite a few pumpkin treats. It's extremely easy to halve. Or double or triple! Only you know how much pumpkin pie spice you need in your life. You measure that with your heart. 🙂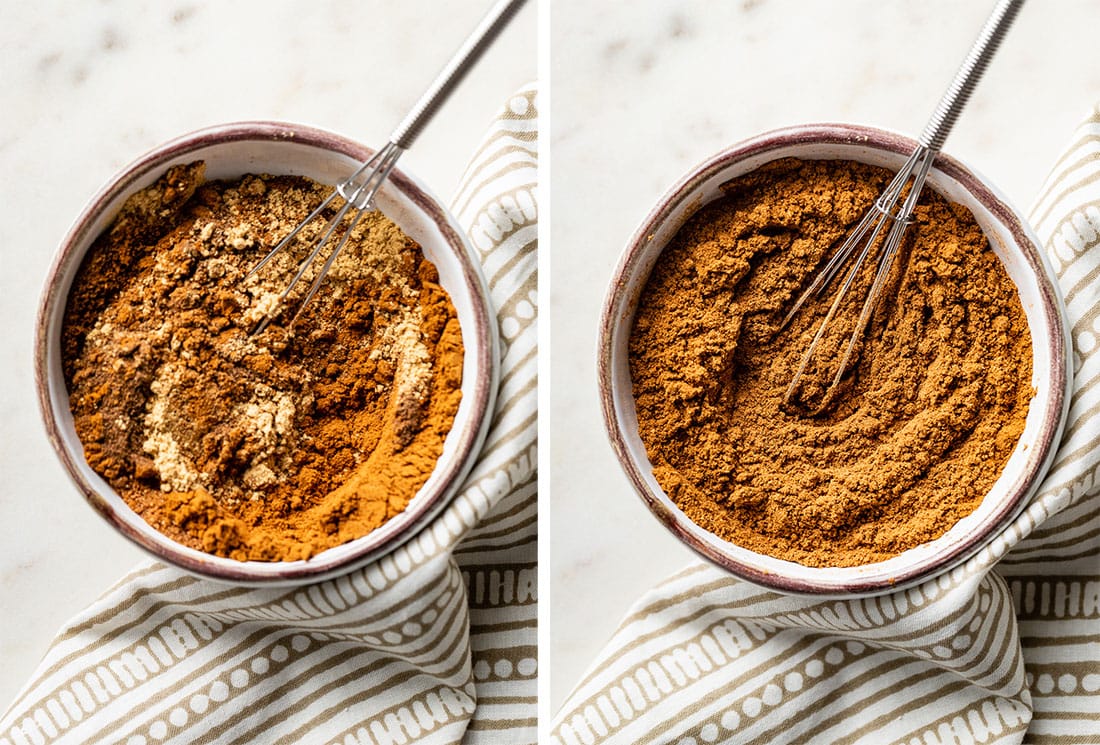 Pro Tip
Make sure the spices you put into your blend are fresh and fragrant! Ground herbs and spices lose their potency over time, especially when exposed to heat and light. The best way to tell if yours is still worthy? Simply open the jar and sniff. The scent should be noticeably strong and rich for best results.
How To Store Pumpkin Pie Spice–and For How Long
Where: Once you've made your spice blend, package it into a small jar or bottle with a tightly-fitting lid, then place that container in a kitchen cabinet, drawer, or other area away from direct sunlight. Spices deteriorate when exposed to heat, moisture, and light, so by keeping them away from those elements you will prolong their ideal freshness and flavor.
For How Long: If made with fresh spices and properly stored, this blend should easily last for six months, i.e., through a full fall and winter.
My Favorite Spice Jars and Labels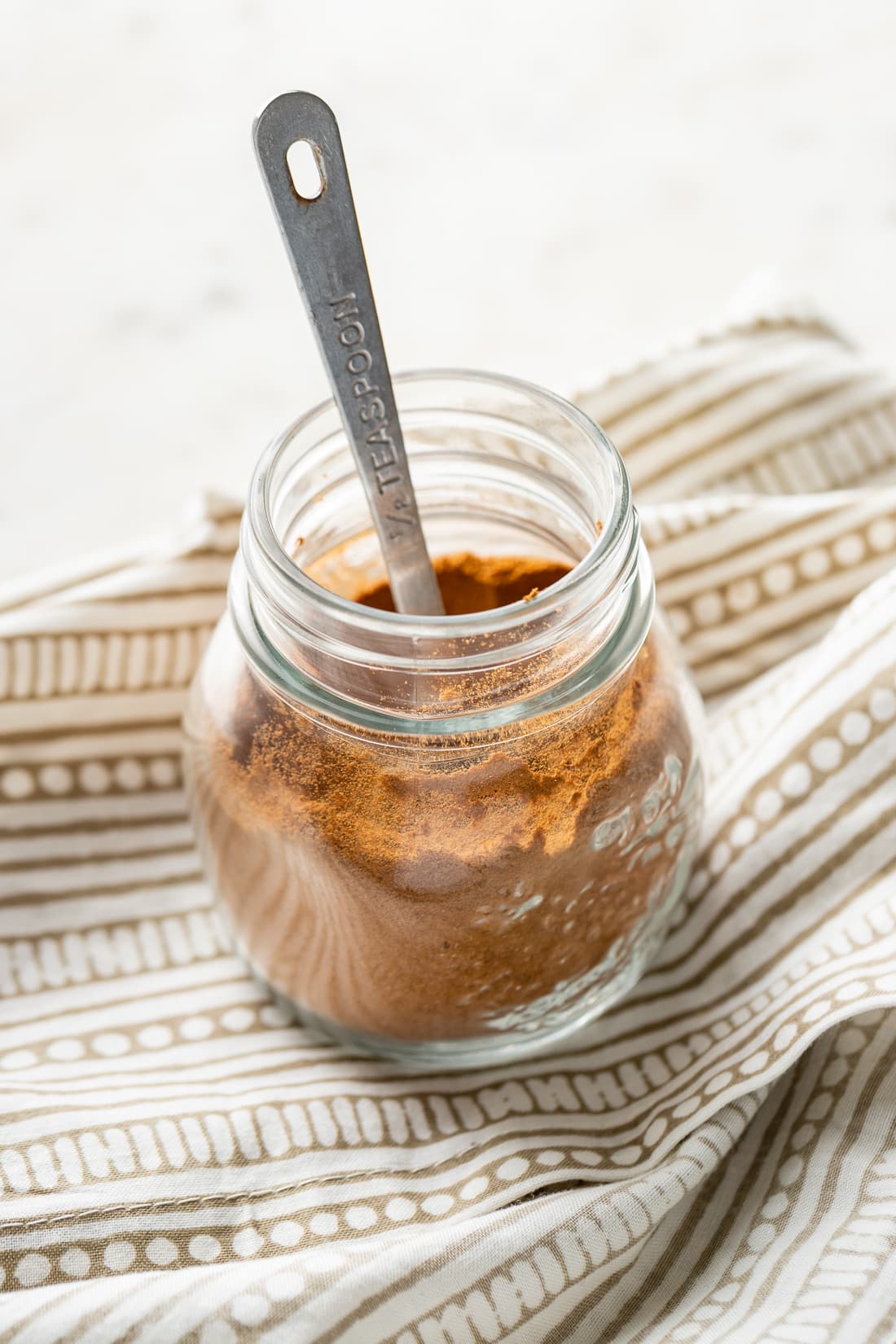 Recipes Using Pumpkin Pie Spice
Obviously you can use homemade pumpkin pie spice to flavor your favorite pie, but don't let the fun stop there! You can use it in all sorts of ways all season long. Here are a few of our favorites:
Sprinkle some onto buttered toast or over oatmeal
Mix a pinch into your morning coffee or tea
Fall, we are so ready for you!
If you try this Homemade Pumpkin Spice, don't forget to rate the recipe and leave a comment below. I love hearing how recipes turn out in your kitchen, and it helps other readers, too.
You can also FOLLOW me on PINTEREST, INSTAGRAM, FACEBOOK, and TWITTER for more great recipes and ideas!
Homemade Pumpkin Pie Spice
Make your own pumpkin pie spice at home with cinnamon, ginger, cloves, allspice and nutmeg. Perfect for fall baking and gifting to friends!
Ingredients
3 Tablespoons ground cinnamon
1 Tablespoon ground ginger
1 teaspoon ground nutmeg
1 teaspoon ground allspice
1 teaspoon ground cloves
Instructions
Add all ingredients to a small mixing bowl and whisk until well-combined. Transfer to an airtight container and store until ready to use.
Notes
Storage: Keep this and other spice blends in an airtight container inside of a kitchen cabinet, drawer, or other area away from direct sunlight. Properly stored, this will keep for six months plus.
Yield: One batch of pumpkin pie spice as written yields five Tablespoons, which is enough for quite a few pumpkin treats. It's extremely easy to halve, double, or triple depending on your needs.
Nutrition Estimate
Calories: 19 kcal, Carbohydrates: 5 g, Protein: 1 g, Fat: 1 g, Saturated Fat: 1 g, Sodium: 2 mg, Potassium: 34 mg, Fiber: 3 g, Sugar: 1 g, Vitamin A: 14 IU, Vitamin C: 1 mg, Calcium: 53 mg, Iron: 1 mg
Did you make this recipe?
Leave a review below, then snap a quick picture and tag @nourishandfete on Instagram so I can see it!
This post was originally published in September 2019 and has been updated with more helpful information on storage, variations, and usage ideas.