Feel-Good Pumpkin Muffins
The best pumpkin muffin recipe, made in ONE BOWL! These muffins are moist, flavorful, easy-to-make, and a little lightened-up, so you can enjoy them guilt-free. Dreamy for breakfast, snacking, or sharing. Perfect for fall and holidays, too!
The way I see it, there are two ideal scenarios for a batch of these muffins. One: it's a chilly Sunday, and you're baking a little something to enjoy as a grab-and-go breakfast the rest of the week. And, you know, maybe an extra few disappear for afternoon snacks.
The other scenario is that you're on either side of a house-guest situation. Maybe you're the host and, while fluffing up the guest room, realize it would be nice to have something simple and tasty to offer for breakfast. Think: "Sleep tight! If you're up early, help yourself to a muffin! I'll leave them right here by the coffeemaker."
Or maybe you're the guest room inhabitant. You want to be a great guest and bring a little something, but do people even do flowers? And does anyone really need another candle? Muffins are universally loved, save your host effort, and make you look extremely thoughtful and skilled.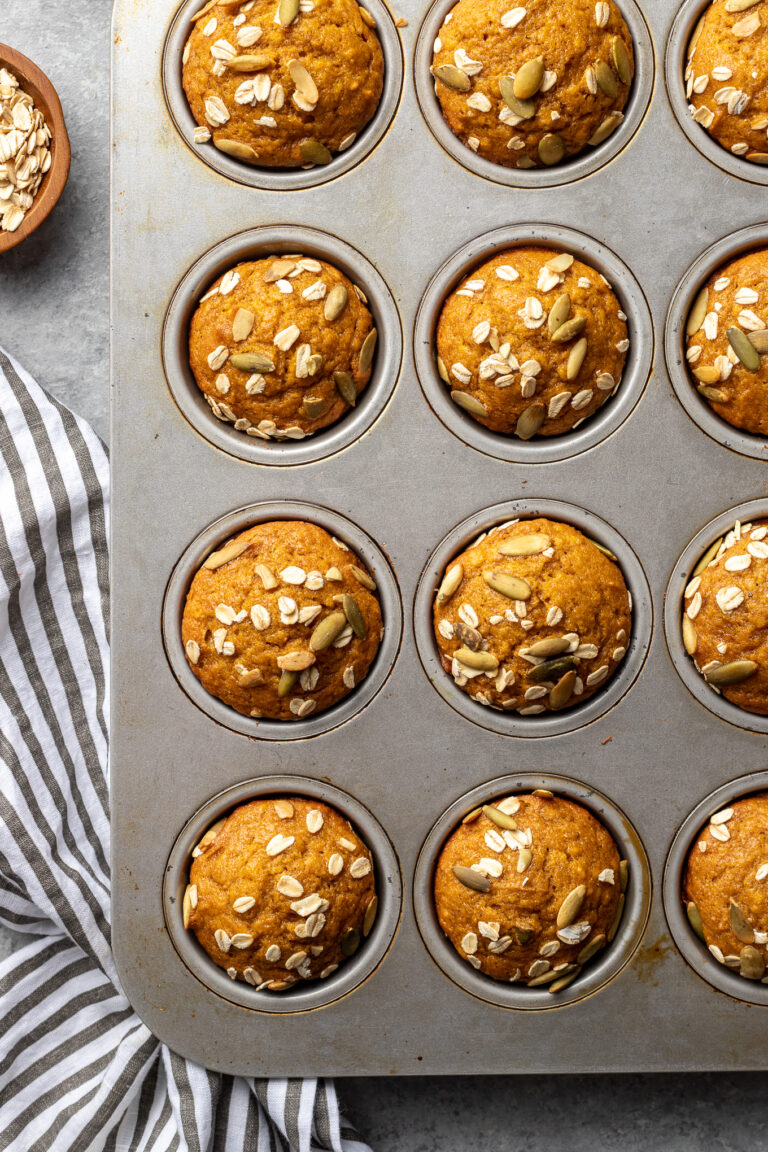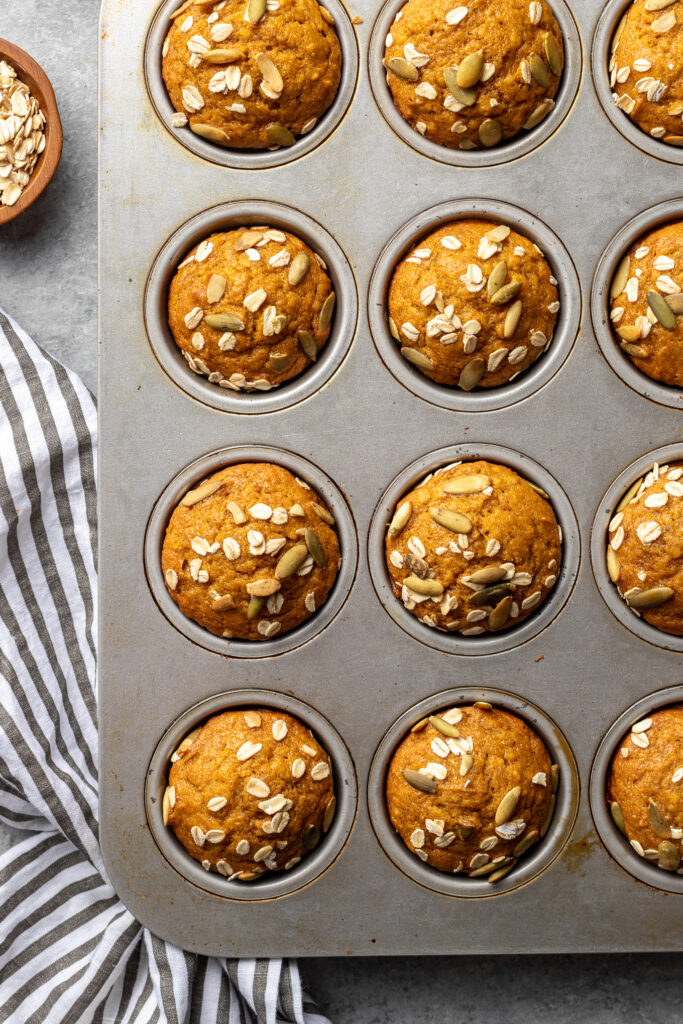 Food blog Godmother Deb's pumpkin bread was one of the very first recipes I started fiddling with in the earliest days of my serious baking and blogging. That bread formed the basis of our favorite pumpkin muffins, and morphed over time to make them a bit healthier and even easier to make.
Pumpkin muffin ingredients
Here's what you'll need:
1 can pure pumpkin puree.
Olive oil, coconut oil, or any other neutral oil. Canola or other vegetable oil is fine if you have it on hand!
Applesauce. You can use additional more oil, instead; the applesauce is just a way to make the muffins a tad healthier.
Flour. I like to use a mix of all-purpose and white whole wheat, but using all all-purpose is fine!
Eggs.
White granulated sugar.
Baking powder, baking soda, and salt.
Toppings are optional but fun – I love using pumpkin seeds and old-fashioned rolled oats to add a little color and crunch on top.
Tips and tricks
You can make this batter in just one bowl. I repeat, just one bowl!
You'll simply whisk together the wet ingredients, sprinkle spices on top, and then fold in the flour with a spatula. The batter will still be a little lumpy, as you can see in the photo. That's OK! You don't want to over-mix, and small lumps like this are fine.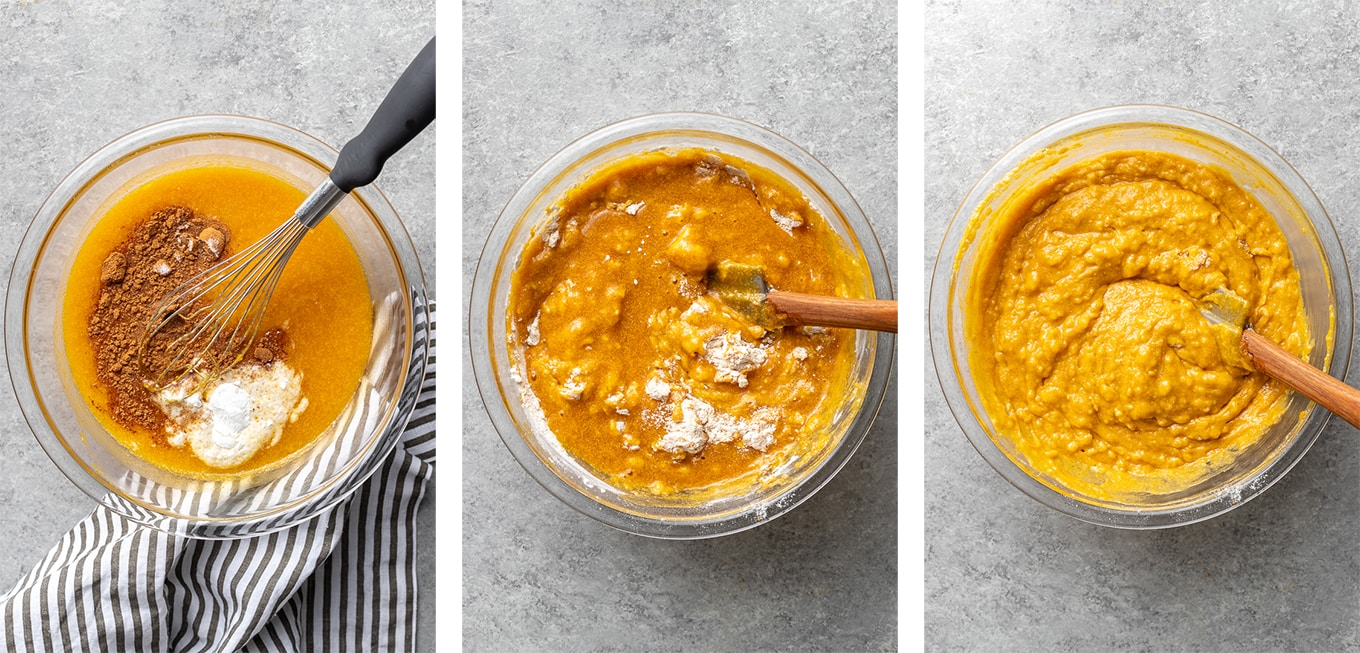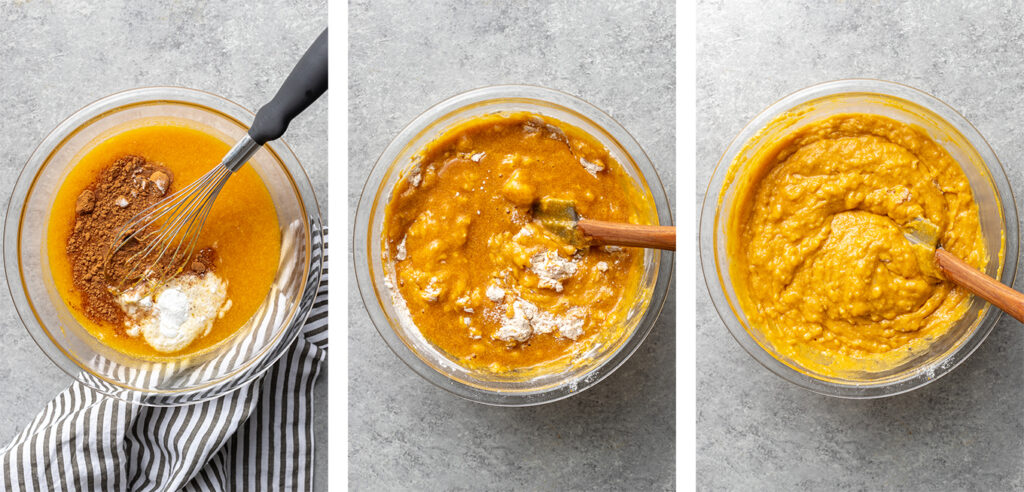 Then just divide the batter among muffin tins. This recipe yields 18 muffins, which is kind of a lot. Fortunately, they freeze really well, if you have extra, but I highly recommend just sharing a few with friends or neighbors!
We typically just spray the muffin tins lightly – I find this works better than using cupcake liners, and is one less thing to deal with.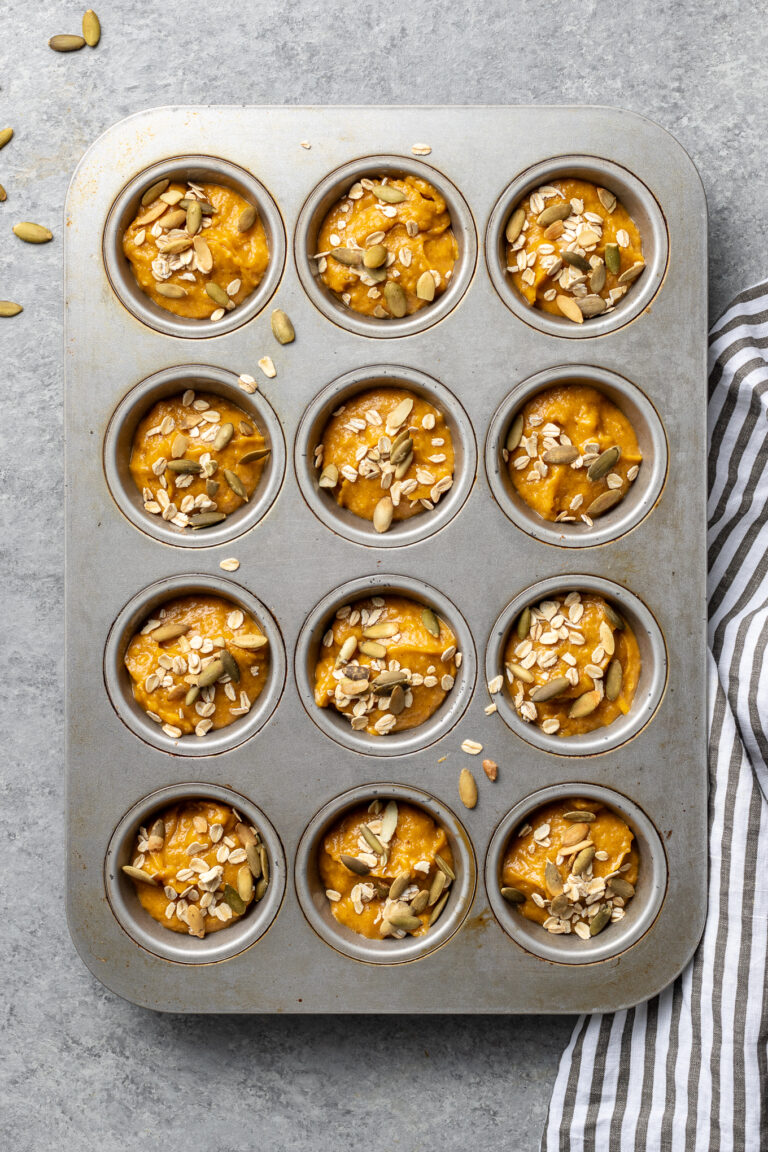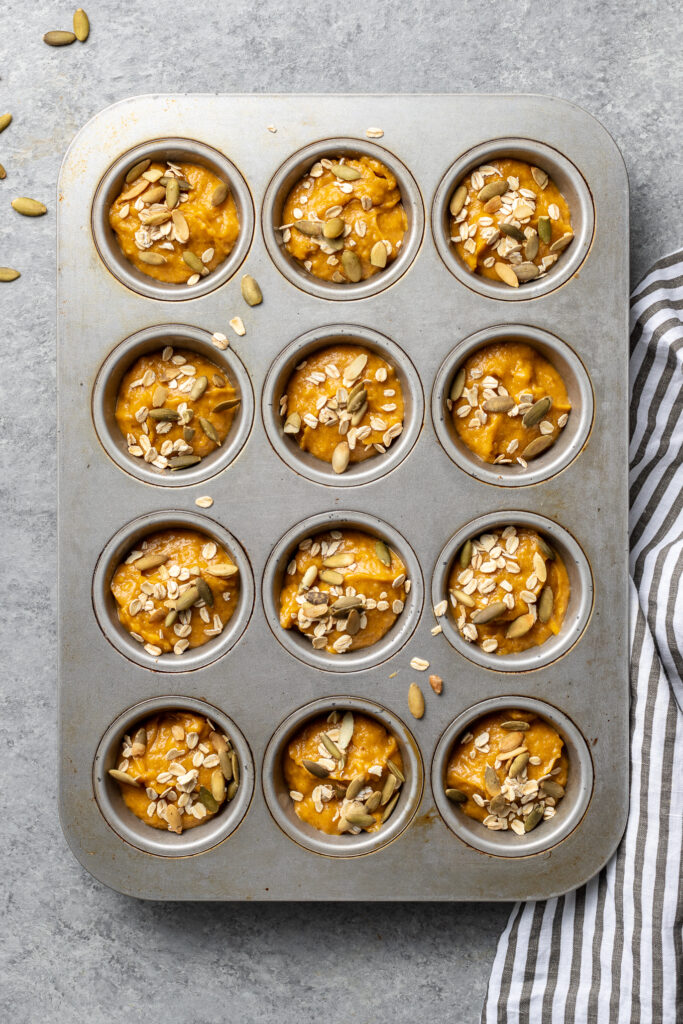 Bake for 25-30 minutes at 350 degrees, remove from the oven, and that's all there is to it! Let the tins cool for a few minutes on a wire rack, then pop out the muffins. Serve them warm (with a pat of butter if you like!).
Or store at room temperature for a few days, or freeze for a few months. This is a great way to get ahead for a big Thanksgiving! Make these ahead, freeze, defrost, and set them out for a delicious, effortless breakfast!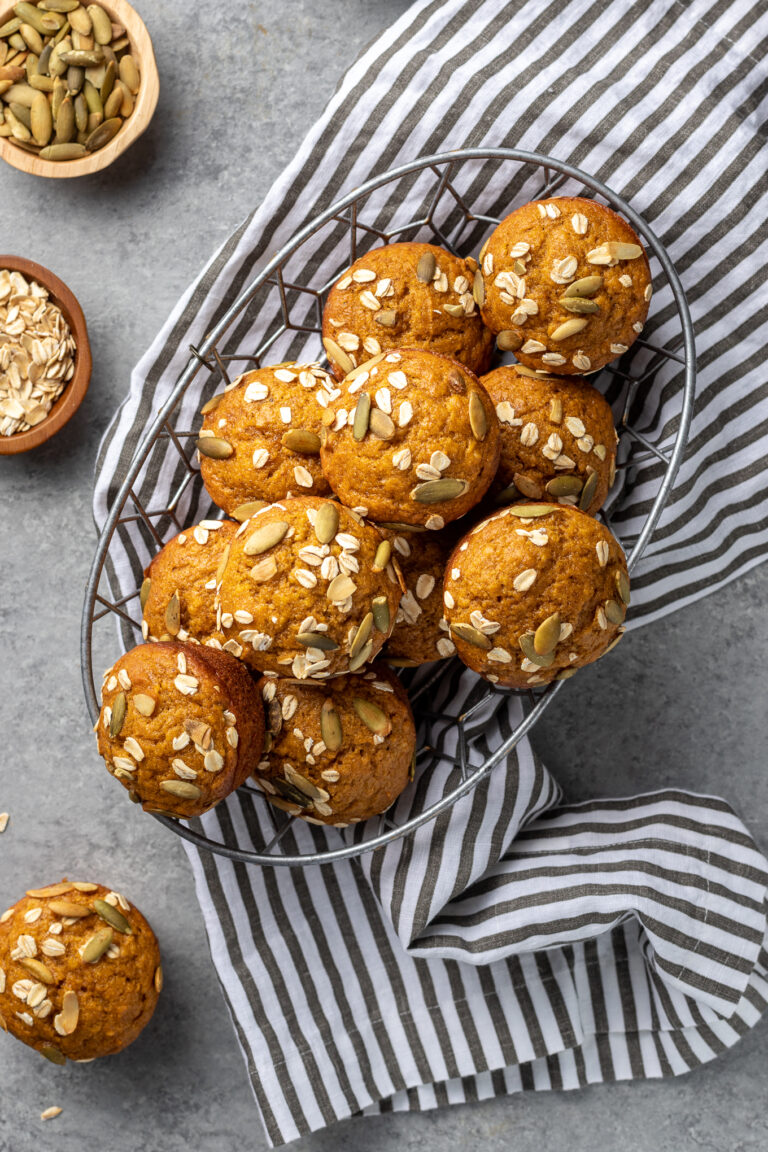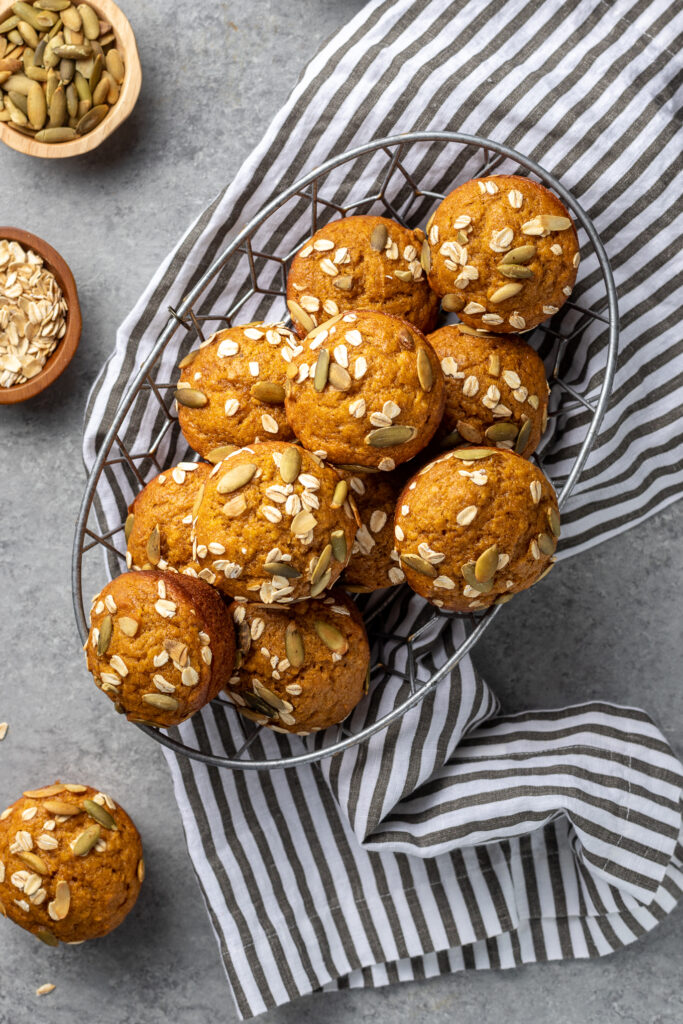 More pumpkin recipes you'll love
More delicious muffin recipes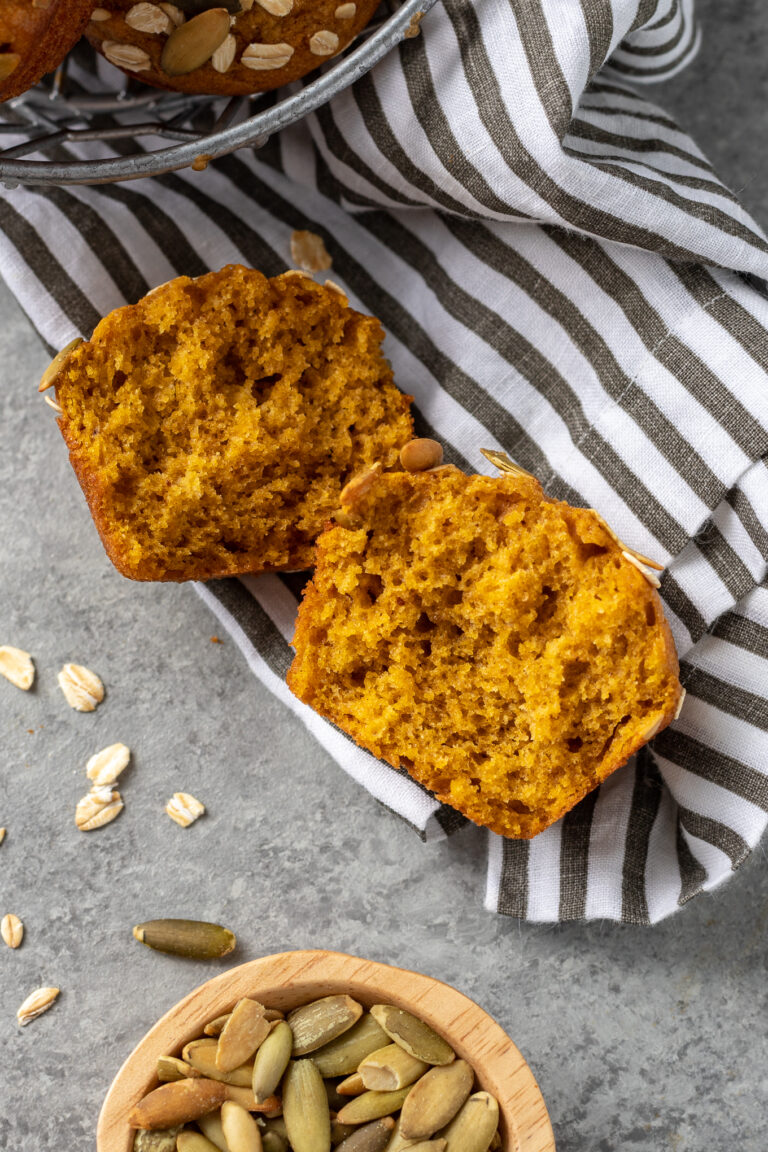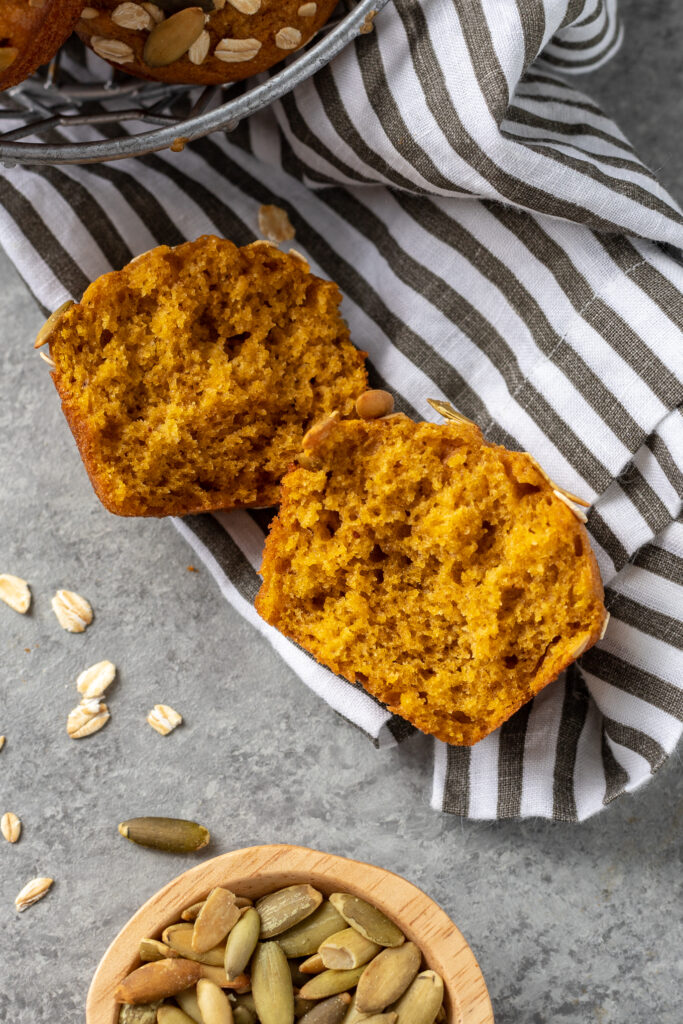 Enjoy! If you make these pumpkin muffins or any other recipe from Nourish and Fete, please rate it and leave a comment below. We love hearing from you, and other readers will benefit from your experience!
Feel-Good Pumpkin Muffins
The best pumpkin muffin recipe, a little lightened up! These muffins are moist, flavorful, and guilt-free.
Ingredients
1 15 ounce can pure pumpkin purée
1/4 cup olive oil or coconut oil melted
1/4 cup applesauce see note
3 eggs
1 1/3 cup granulated sugar
2 teaspoons pumpkin pie spice
1 1/2 teaspoons baking powder
3/4 teaspoon baking soda
1/2 teaspoon salt
1 1/4 cups all-purpose flour
1 cup white whole wheat flour
rolled oats and pumpkin seeds to sprinkle on top (optional)
Instructions
Preheat oven to 350 degrees F. Lightly coat muffin tins with cooking spray and set aside.

In a large mixing bowl, combine pumpkin, oil, applesauce, eggs, and sugar. Whisk until smooth. Sprinkle the pumpkin pie spice, baking powder, baking soda, and salt on top, and whisk again until the batter is evenly mixed. Add flour and fold gently with a spatula or spoon, just until combined and no streaks remain. The batter will be thick and a little lumpy.

Divide batter evenly among prepared muffin wells. Sprinkle tops with oats and pumpkin seeds, if desired. Bake for 25-30 minutes, until a toothpick inserted into the middle comes out clean. Cool for 10 minutes in the pan, then remove muffins to a wire rack to cool completely.
Notes
If you don't have or prefer not to use applesauce, you can sub an extra 1/4 cup of oil.
These muffins will keep well covered at room temperature for 2-3 days. They can also be frozen for 2-3 months. Defrost at room temperature overnight.
Nutrition Estimate
Calories: 158 kcal, Carbohydrates: 29 g, Protein: 3 g, Fat: 4 g, Saturated Fat: 3 g, Cholesterol: 27 mg, Sodium: 123 mg, Potassium: 112 mg, Fiber: 2 g, Sugar: 16 g, Vitamin A: 3716 IU, Vitamin C: 1 mg, Calcium: 32 mg, Iron: 1 mg
Did you make this recipe?
Leave a review below, then snap a quick picture and tag @nourishandfete on Instagram so I can see it!