One-Bowl Blueberry Almond Muffins
Our favorite easy-to-make blueberry almond muffins! These are so simple to whip up in one bowl and perfect for brunch or overnight guests!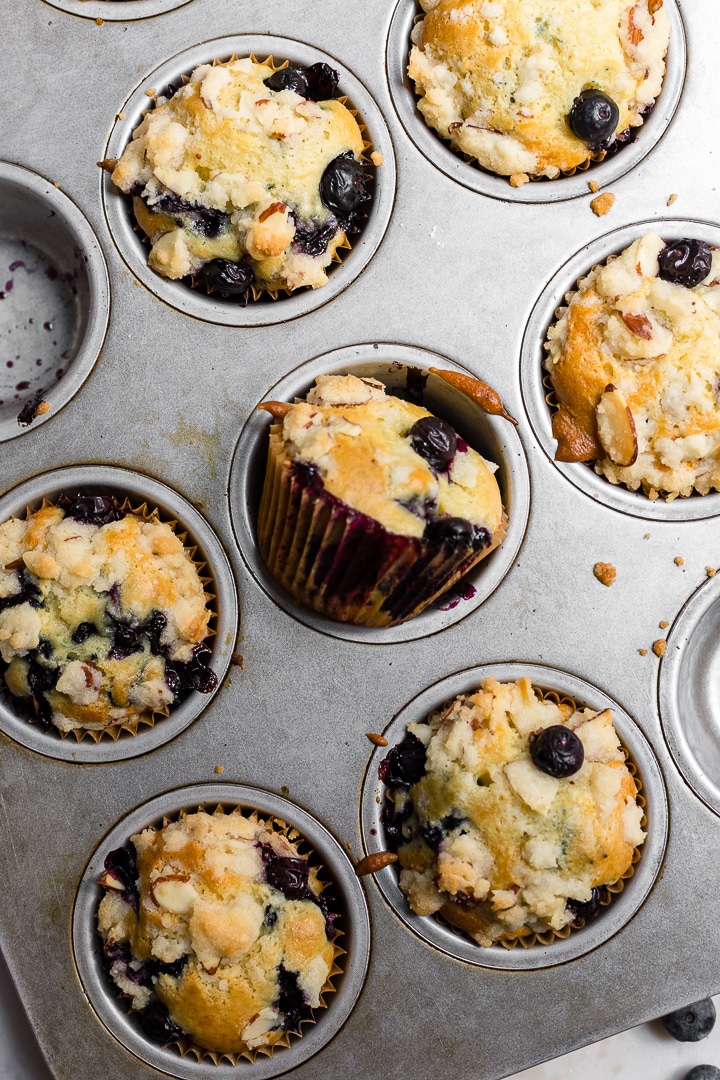 As my good friends know, a Starbucks blueberry muffin is one of my "indulgence" foods. I try not to make them a habit, but they do call out to me from the bakery case.
And if I happen to roll into work with a latte and blueberry muffin in hand, you can bet it's already been a day, and this is my way of compensating.
Emotional eating? Who, me!? Never.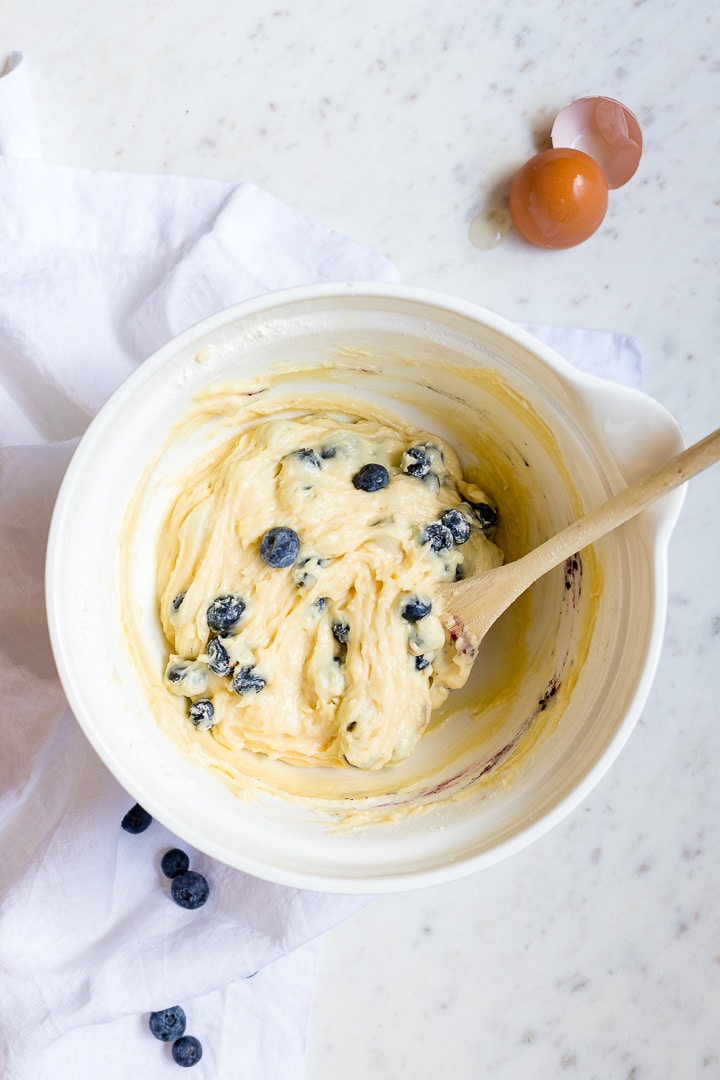 So, when I first stumbled upon Dorothy's super popular recipe for Starbucks copycat blueberry muffins a few years ago, you know I was fated to try them. Her secret is amazing – you won't believe it, but just trust, and try it. A little bit of vinegar mixed with baking soda in the batter gives these muffins the best light texture and crumb.
Do blueberries and almonds go together?
Over time I've adapted this further, so it's not an exact copycat of the Starbucks version. Dare I say I love it even more, because:
It's not so huge and such a calorie bomb!
It combines two of my favorite flavors – blueberries and almond! 
Blueberry and almond go so well together. To make this adaptation, you'll add some slivered almonds to the streusel topping and swap about half of the vanilla extract for almond extract. Something about the subtle nutty flavor and crunch makes these absolutely irresistible.
The *easiest* blueberry almond muffins
As an added bonus, these are extremely quick and easy to make. Everything comes together in just one bowl, and if you start with a vigorous whisk, you can do everything by hand – no need to lug out or dirty an electric mixer of any kind.
These are a fantastic go-to for any type of breakfast or brunch event, or for any time you're having overnight guests.
Who wouldn't feel welcome in your home with a little fresh coffee and one of these delicious muffins to get their day started!? Who's the hostess with the mostess? That's right, friends–you! 🙂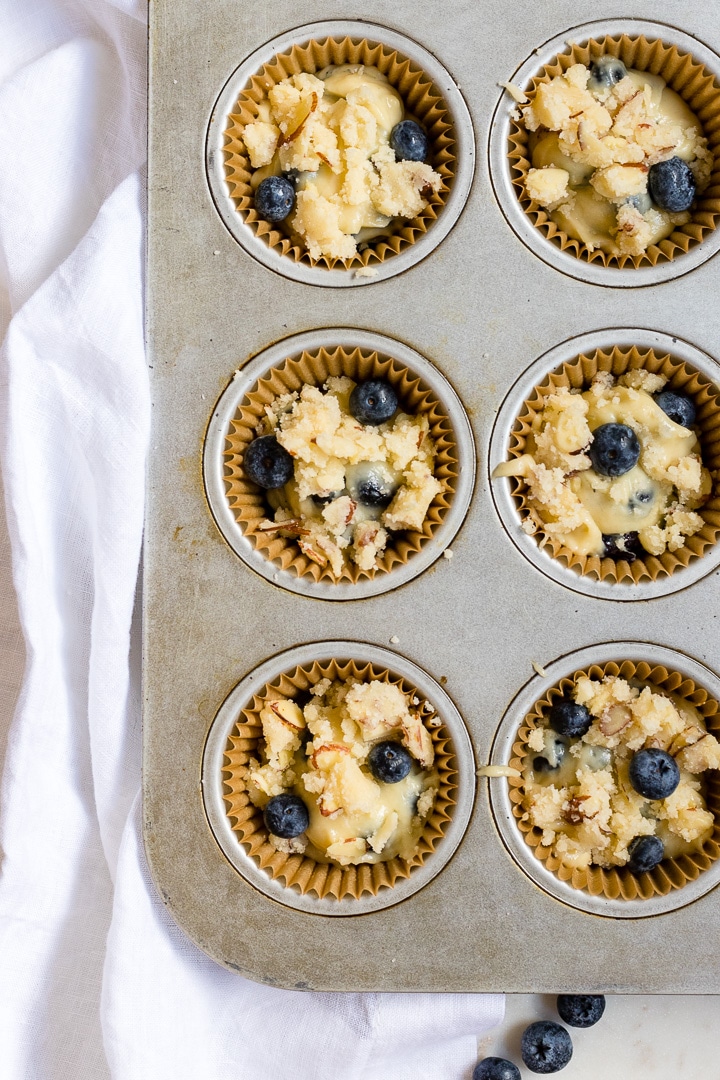 Can you make muffins with frozen blueberries?
Yes! But, be sure to defrost the berries first and drain them well before stirring them into the muffins. Otherwise the excess water content is likely to make soggy little pockets around the blueberries in the muffins. Probably not what you're going for!
In truth, blueberries are one of my favorite fresh berries to keep on hand because they tend to be available year-round and to keep longer in the fridge than many other types of berries. So while frozen is totally possible, fresh might just be easiest here!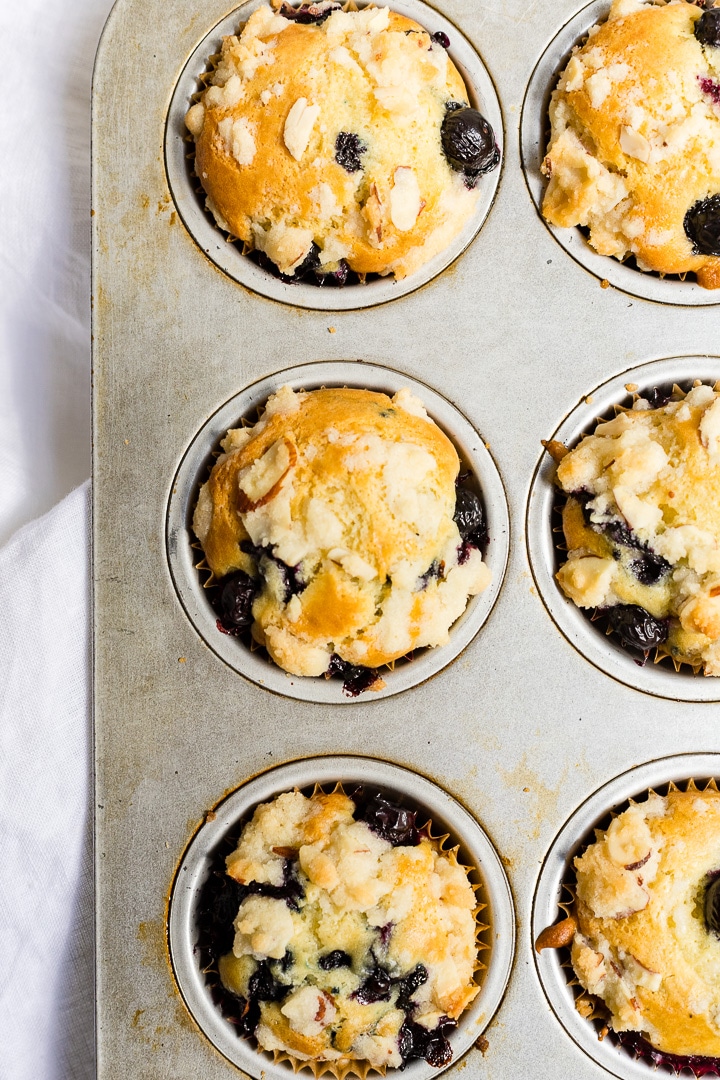 More Tasty Muffin Recipes
How should you store blueberry muffins?
Good news – this is easy! These muffins take no special TLC, they'll keep well at room temperature for at least 3 days after baking, even with the streusel on top.
Can you freeze muffins with streusel topping?
Another good news story here! You can definitely freeze these muffins. I've done it for as much as two months with no problem.
For best results, place muffins on a plate or sheet pan so they're not touching, then put that whole plate in the freezer for about 30 minutes. This will "flash freeze" the muffins so they don't stick together. After that, you can transfer them all together into a large freezer-safe bag, no need to individually wrap.
When ready to eat, I recommend defrosting the muffins in the fridge overnight, then warming briefly in the oven or microwave right before serving.
And believe me, it's a happy discovery to pull a batch of these out of the freezer!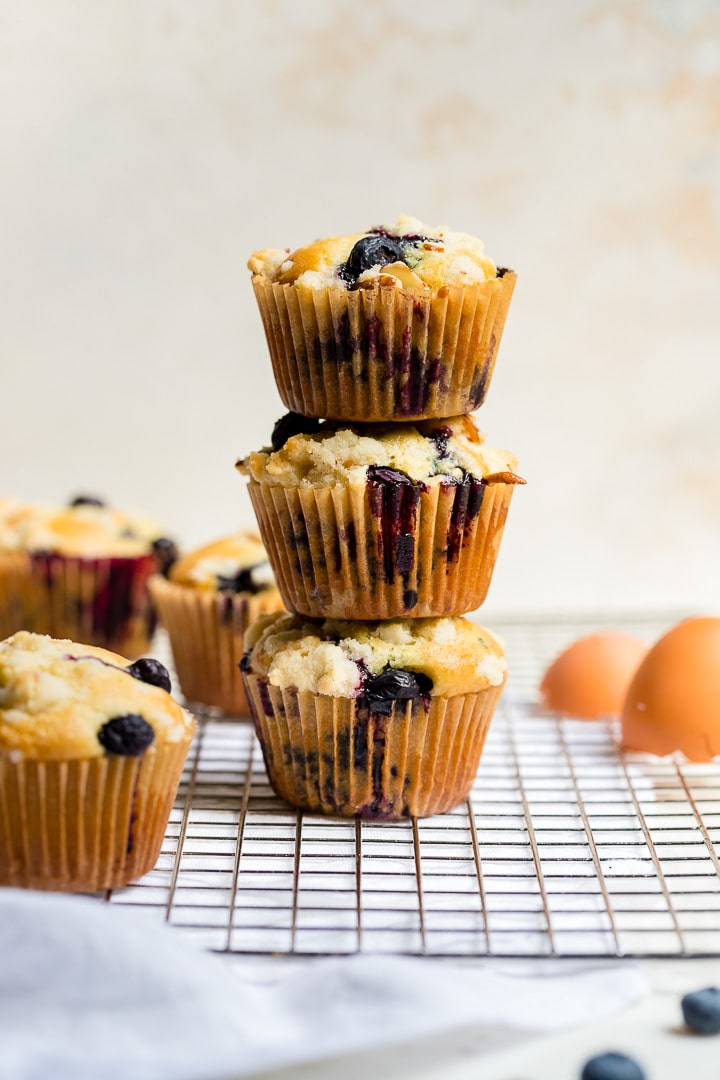 If you try these blueberry almond muffins or any other recipe on the blog, please rate the recipe and leave a comment below. I love hearing from you, and other readers will benefit from your experience!
One-Bowl Blueberry Almond Muffins
Our favorite easy-to-make blueberry almond muffins! These are so simple to whip up in one bowl and perfect for brunch or overnight guests!
Ingredients
Streusel:
2 tablespoons unsalted butter
1/4 cup all-purpose flour
1/4 cup granulated sugar
1/4 cup slivered almonds
pinch of salt
Muffins:
1 large egg
1/2 cup granulated sugar
1/4 cup vegetable oil
1 teaspoon vanilla extract
1 teaspoon almond extract
1/2 teaspoon white vinegar
1/2 teaspoon baking soda
1/4 teaspoon salt
1/2 cup sour cream
1 cup all purpose flour
1 cup blueberries
Instructions
Preheat oven to 350°F (180 C). Spray a 12-count muffin pan generously with nonstick spray or line with cupcake wrappers.

To make the topping, melt butter in a small microwave-safe bowl. Add the flour, sugar, almonds, and salt, and stir with a fork to combine into a crumbly streusel. Set aside.

Combine the egg, sugar, and oil in a large mixing bowl. Whisk vigorously for 30-45 seconds, until the mixture is thick and slightly frothy.

Add vanilla and almond extracts, vinegar, baking soda, and salt. Whisk to combine.

Add sour cream, whisk to combine, then gently stir in the flour. The batter will be thick and slightly lumpy. Gently stir in the blueberries.

Divide batter evenly among muffin cups, and sprinkle the topping evenly over the tops. Bake for 18-22 minutes, until the tops are golden brown and a toothpick inserted into the center of a muffin comes out clean. Let cool for about 10 minutes in the pan, then remove to a wire rack to cool completely.
Notes
Muffins will keep well in an airtight container at room temperature for up to 3 days. They can also be frozen; I recommend defrosting in the fridge overnight, then warming briefly in the oven or microwave right before serving.
Recipe adapted from Crazy for Crust.
Nutrition Estimate
Calories: 197kcal, Carbohydrates: 25g, Protein: 2g, Fat: 9g, Saturated Fat: 6g, Cholesterol: 23mg, Sodium: 107mg, Potassium: 55mg, Sugar: 14g, Vitamin A: 145IU, Vitamin C: 1.3mg, Calcium: 20mg, Iron: 0.8mg
Did you make this recipe?
Leave a review below, then snap a quick picture and tag @nourishandfete on Instagram so I can see it!