Strawberry Banana Muffins
Moist, tender strawberry banana muffins with Greek yogurt are a sweet treat for breakfast, brunch, or snacks. Mix them quickly by hand in one bowl to use up some ripening bananas and have fun eating your daily fruit!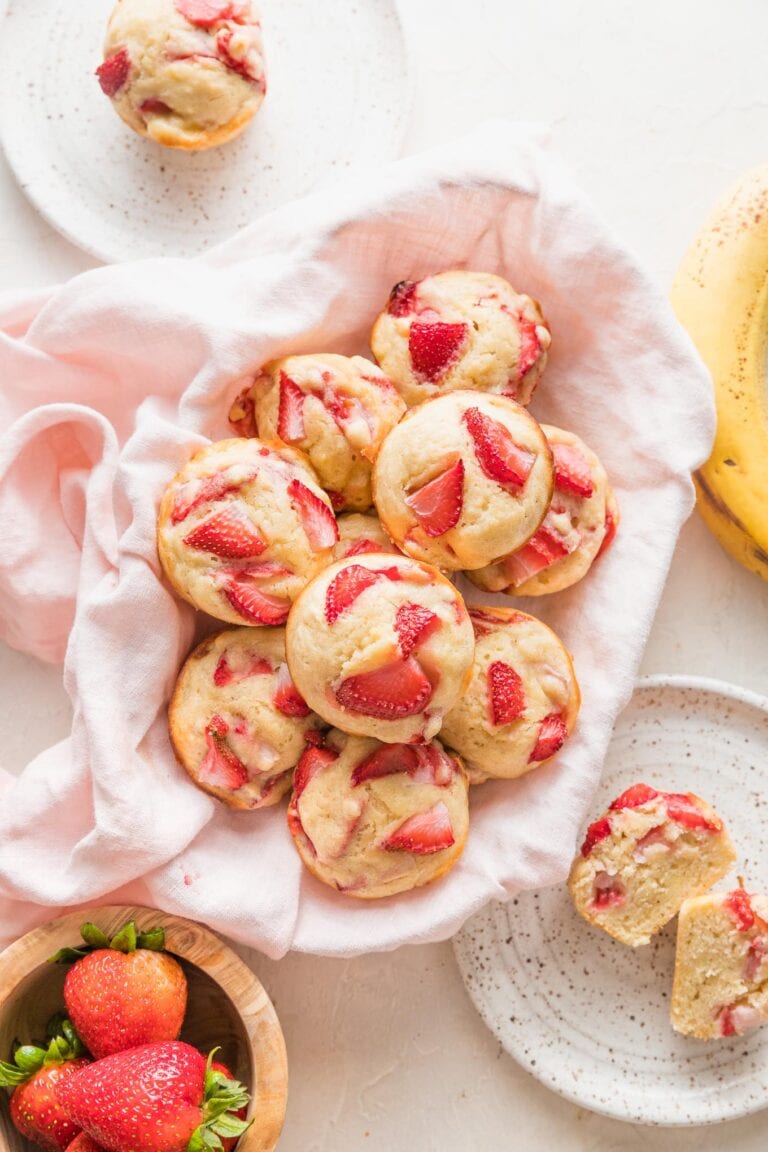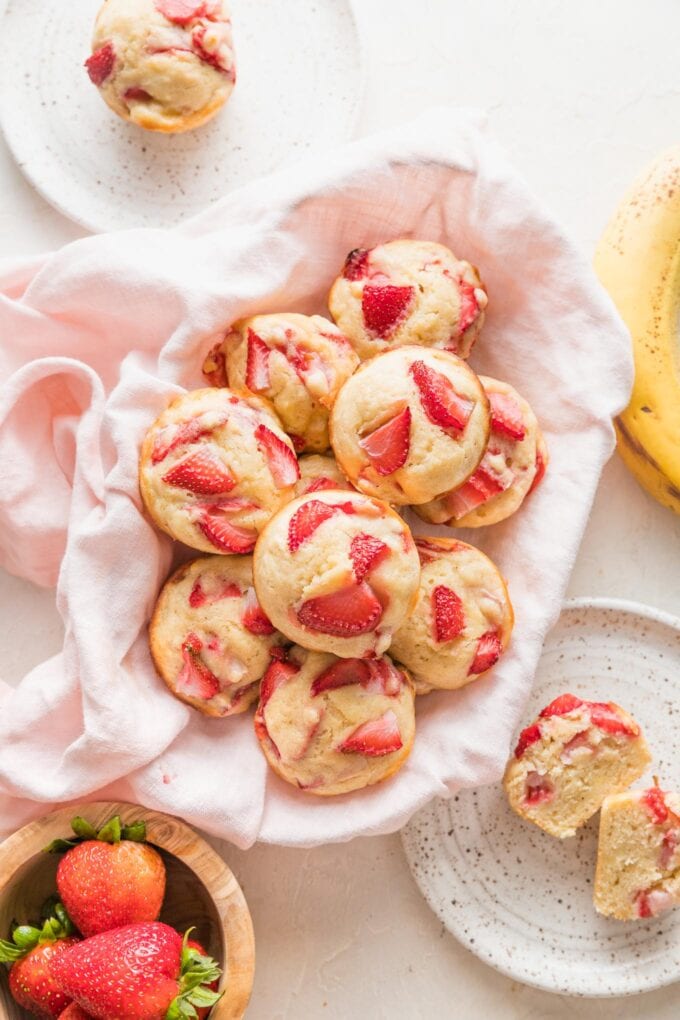 Quick & Easy Banana Muffins with Strawberries
These muffins are so cheery and perfect for anyone who can't get enough of that sweet strawberry-banana combination! They are also yet another delicious way to use up extra bananas that may be growing overripe on your counter, without any real hassle — the batter for these muffins comes together in no time.
We love that these muffins are:
Quick and easy to make in one bowl.
Sweet but not cloying. They taste like a little treat, not like dessert for breakfast.
Cheerful and colorful. Those happy dots of strawberry on top make me smile every time!
Granted, this particular recipe is a bit of a treat, but well worth it. The natural sweetness and moisture of the bananas and strawberries allow you to use less added sugar and fat than you otherwise might find in a muffin, and still enjoy a delicious result.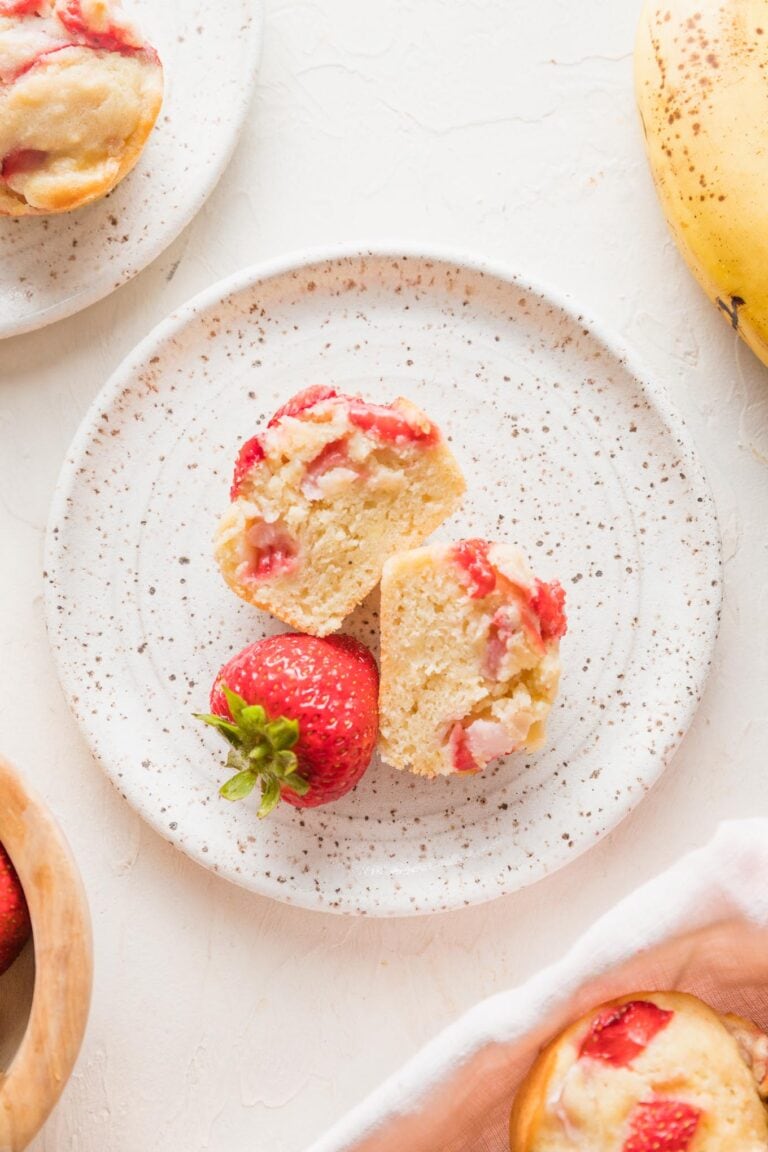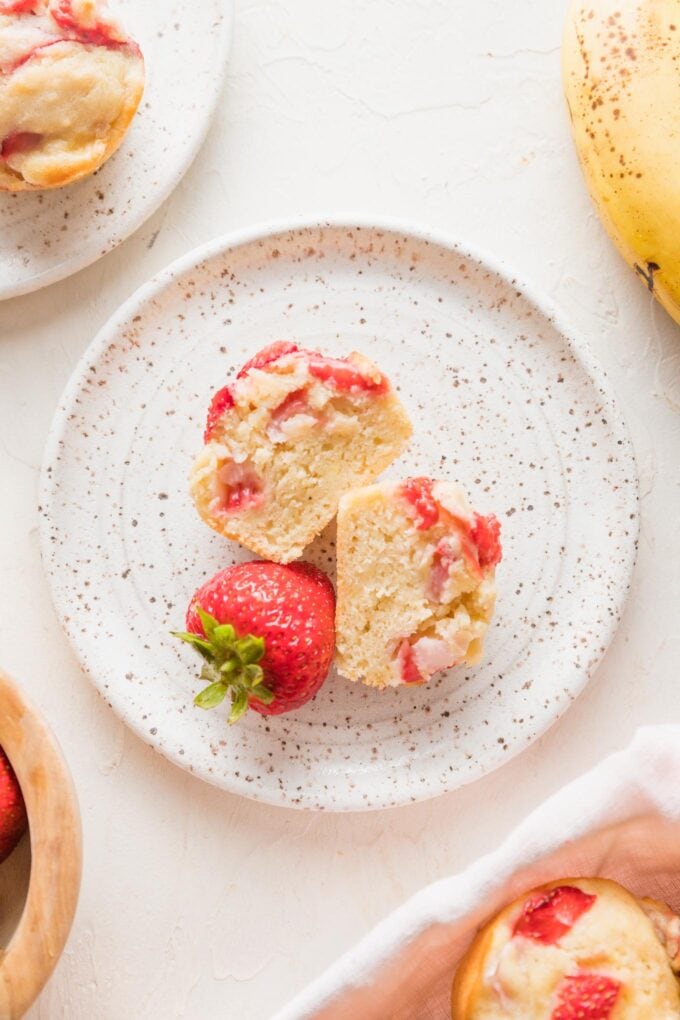 I began years ago by adapting a recipe from our favorite banana chocolate chip muffins, which also uses Greek yogurt and is made in one bowl. Greek yogurt, I'm convinced, deserves much credit for giving muffins and other baked goods a moist crumb without heaviness. I've made minor additional changes over time: slightly reducing the amount of added sugar and vanilla extract, and using my favorite technique of starting muffins with a high-heat bake, so they develop nicely domed tops.
Ingredients & Substitutions
Here are a few notes and shopping tips about the ingredients you'll need to make these, as well as possible substitutions. Find full amounts in the print-friendly recipe card below.
Two large bananas, very ripe. Just as in our favorite banana bread, you can make these with either very ripe bananas off the counter or with bananas that have been frozen whole and then defrosted at your convenience.
Fresh strawberries. You will need approximately 1 and 1/2 cups of rinsed, sliced strawberries, which you should easily obtain from 1 pint or a 12 ounce container.
Greek yogurt and milk. Use either plain or vanilla-flavored Greek yogurt; it can be whole or reduced-fat. I usually make these with 2% milk but have experiment with whole milk and 1% and had good results both ways.
Butter: I use unsalted; if you use salted butter, cut the added salt by about half or to taste.
Baking staples: All-purpose flour, baking powder, one large egg, white granulated sugar, salt, and vanilla extract. You can substitute vanilla bean paste for the extract.
Can I use frozen strawberries?
The first choice for making these muffins would always be fresh strawberries, but in a pinch, yes, they can be made with frozen berries. Be very sure to defrost them fully and drain, then dab away excess liquid before adding them into the batter. Otherwise they will make the batter too moist.
Can I use frozen bananas?
Yes! Toss ripe bananas straight into the freezer, unpeeled. When ready to bake, thaw the bananas completely — an hour or so on the countertop does the job — and proceed. If the defrosted bananas seem to have a lot of excess liquid, dab or drain off a couple of teaspoons.
How To Make Strawberry Banana Muffins
Isn't one-bowl baking the best? You get all the fun of a homemade treat with minimal hassle and clean-up.
Here are the basic steps to whip up these muffins. You will find full instructions with exact ingredients in the print-friendly recipe card below.
Mash bananas in a large mixing bowl, then whisk in the other liquid ingredients.
Sprinkle dry ingredients on top of the wet ingredients, then fold gently.
Portion out a little of the batter into muffin wells, then add the strawberries to the remaining batter and fill wells of a muffin pan to the top. This is an easy way to be sure the strawberries don't sink and stick to the bottom of the pan! I also highly recommend reserving a few strawberry slices to place on top of the muffins prior to baking. This is just for looks, but definitely has a high impact.
Bake for 5 minutes at 425 degrees, then reduce oven temperature to 350 and continue baking the muffins until a toothpick inserted into the center comes out with moist crumbs.
Pro Tip: Take care not to over-mix the batter after adding the flour, baking powder, and salt to the banana mixture. The dry ingredients should be evenly distributed, but vigorous mixing after that point will start to develop the gluten and can make the muffins less tender and moist.
A large dough scoop is affordable and makes filling the muffin wells so easy! An ice cream scoop can also work well.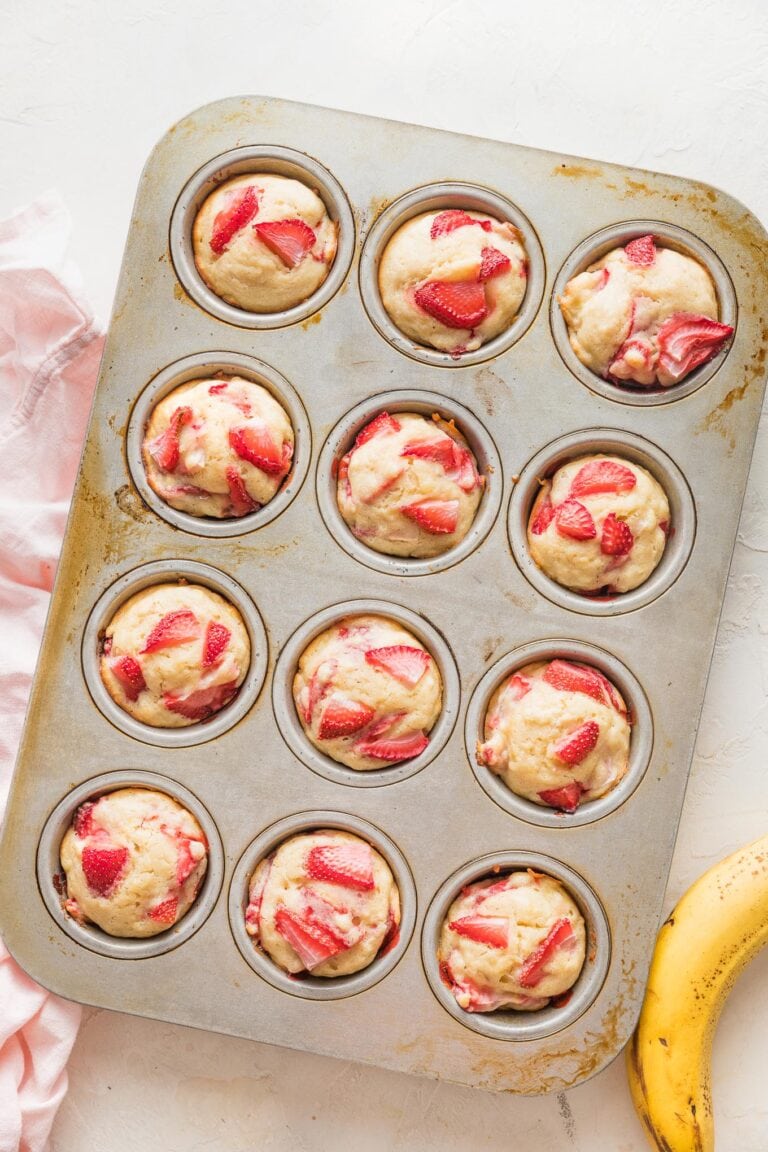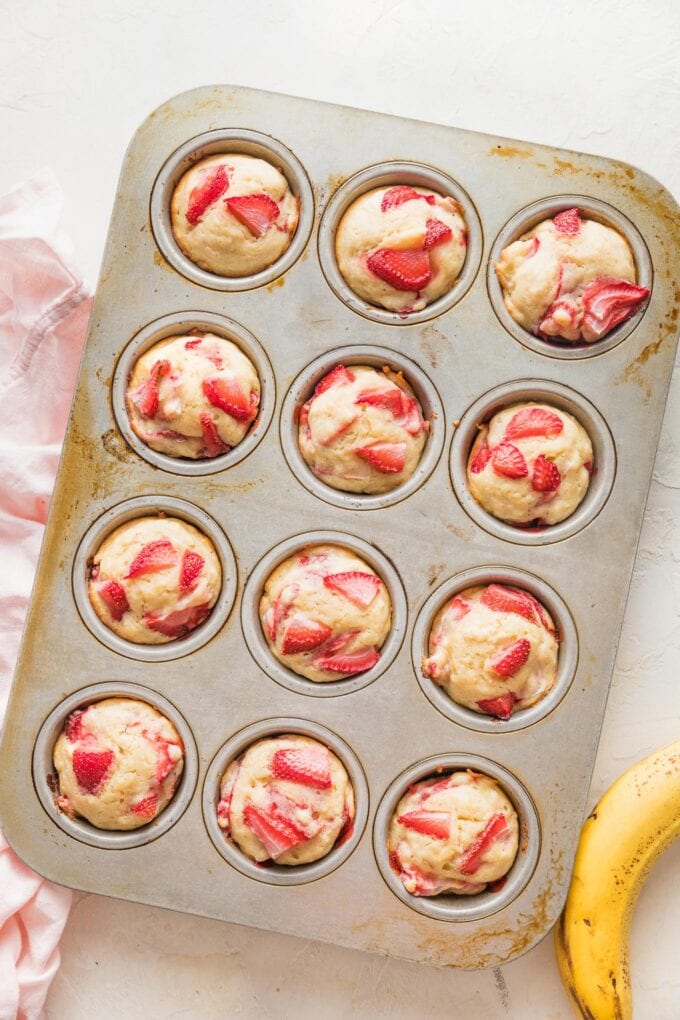 I have actually had luck ditching the paper muffin liners, and simply coating the inside of my wells well with cooking spray. Less waste and, surprisingly, less sticking overall.
If you're craving a little extra texture, you could sprinkle the tops with additional granulated sugar, turbinado sugar, or even rolled oats prior to baking.
Let the muffins cool briefly in the pan, then gently lift them out and finish cooling on a wire rack or plate.
Storage & Freezing
Storage: These muffins keep well at room temperature for 2-3 days. I usually store them in an airtight container, leaving the zipper or lid slightly cracked, because they are very moist and this prevents any build-up of water droplets.
Warming: These muffins are most dreamy when slightly re-warmed prior to serving. Fifteen seconds in the microwave does the trick for us.
Freezer: Yes, these can be frozen! Store in a freezer-safe ziplock or plastic storage container for 2-3 months. You can defrost as a batch on the counter overnight – crack the container to avoid excess condensation inside – or individually by warming in the microwave for about 30 seconds.
Related Recipes
Love baking muffins? Try these next: banana zucchini muffins with walnuts, zucchini chocolate chip muffins, classic lemon poppy seed, blueberry almond, or healthy banana bran muffins.
Can't get enough strawberries? Whip up this delicious spinach strawberry salad, strawberry pineapple salsa, strawberry rhubarb oat crumble bars, or a beautiful strawberry pomegranate smoothie.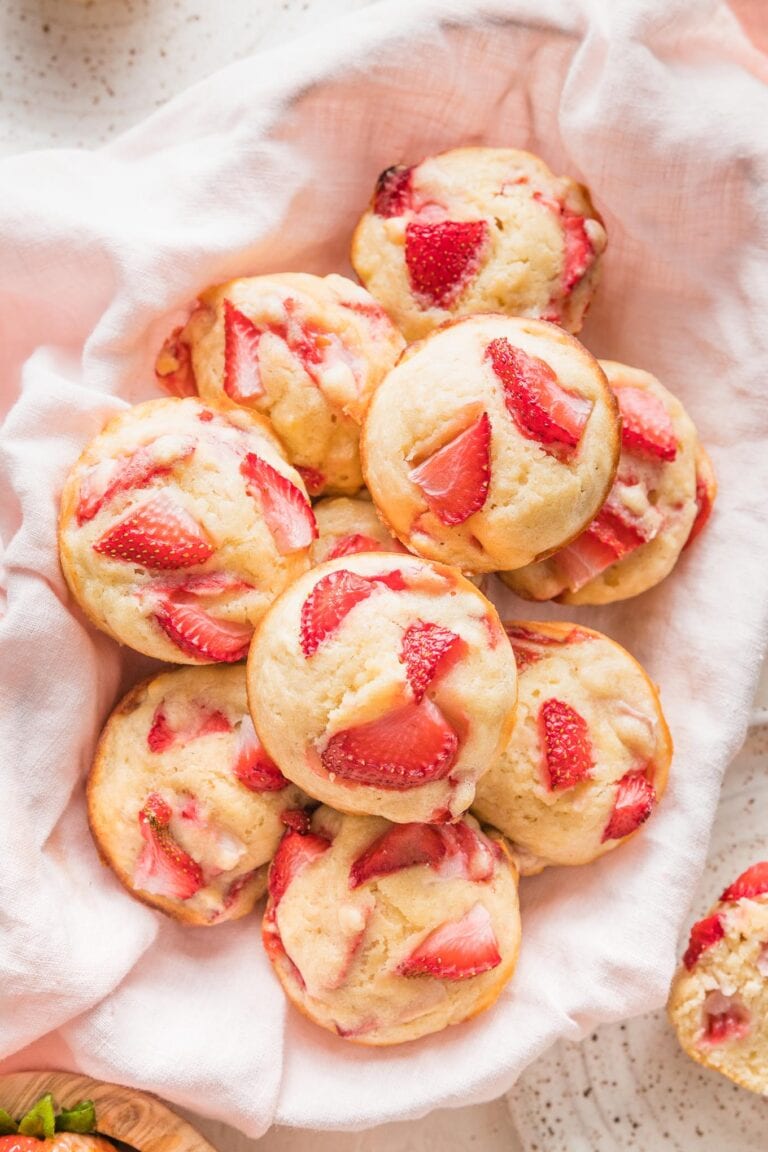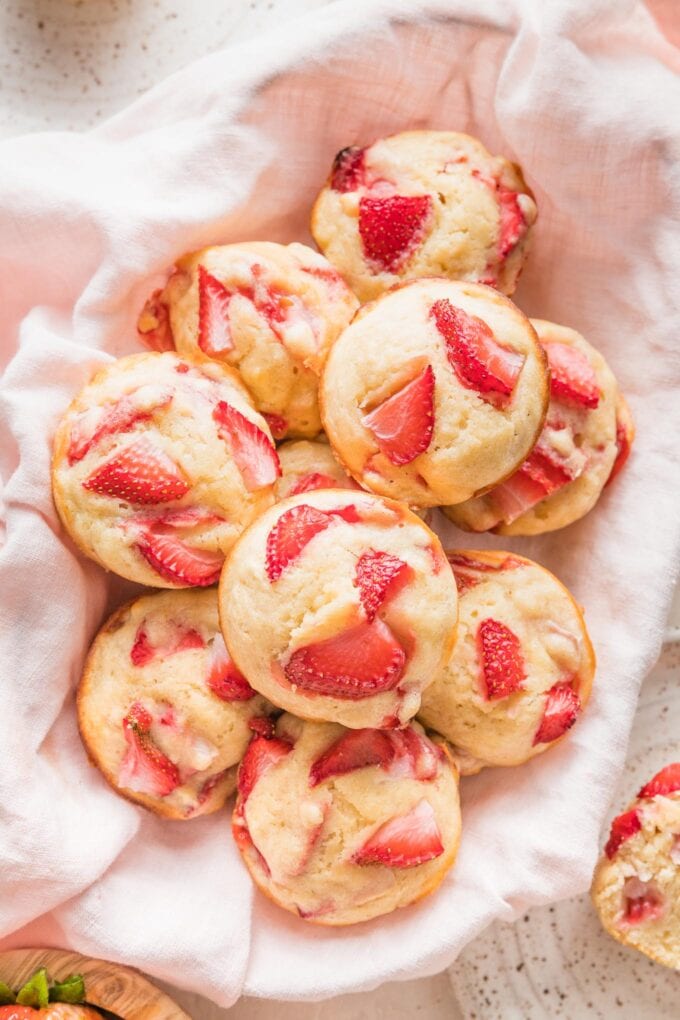 These muffins are the perfect treat for a special breakfast or brunch. They felt just a tiny bit celebratory–perfect for a special occasion, but also just plain fun to bake up with the kids on a random afternoon. I hope you enjoy them as much as I do!
If you try this Strawberry Banana Muffin recipe, don't forget to rate it and leave a comment below. I love hearing how recipes turn out in your kitchen, and it helps other readers, too.
You can also FOLLOW me on PINTEREST, INSTAGRAM, FACEBOOK, and TWITTER for more great recipes and ideas!
Strawberry Banana Muffins
A sweet treat for breakfast, brunch, or snacks. Mix them quickly by hand in one bowl with Greek yogurt and over-ripe or frozen bananas.
Ingredients
2 large bananas very ripe or frozen and defrosted
1 large egg
1/4 cup butter melted and cooled slightly
1/4 cup plain or vanilla Greek yogurt
1/4 cup milk
2 teaspoons vanilla extract 
1/2 cup granulated sugar
1 and 1/2 cups all-purpose flour
1 and 1/2 teaspoons baking powder
1/4 teaspoon salt
1 and 1/2 cups sliced strawberries
Instructions
Preheat oven to 425 degrees F. Lightly coat a muffin tin with baking spray or line with paper cups. (This recipe usually yields 12 regular-sized muffins for me.)

In a large bowl, mash the bananas with a spatula or fork until they are soft and mostly smooth. Add the egg, melted butter, yogurt, milk, and vanilla extract; stir to combine. Add sugar and whisk until the mixture is smooth.

Sprinkle the flour, baking powder, and salt on top of the banana mixture. Fold gently with a spatula just until the flour is mostly incorporated.

Spoon 1-2 Tablespoons of the batter into the bottom of each muffin well. (This ensures that the strawberries don't all sink and stick to the bottom.)

Add most of the strawberries to the remaining batter, then fold gently to incorporate. Divide batter among the 12 muffin cups, topping each one to roughly 3/4 full. Place 2-3 sliced strawberries on top of each muffin, if desired. (This is only for looks.)

Bake at 425 degrees for 5 minutes, then, without opening the oven door, reduce the temperature to 350 degrees and bake for another 12-15 minutes. When done, the muffins will be lightly golden on top and a toothpick inserted into the centers will come out with moist crumbs, but no large streaks of batter.

Let cool for 10-15 minutes in the pan, then remove to a wire rack to cool completely.
Notes
You can make these with either very ripe bananas or with bananas that have been frozen whole and then defrosted. I've done both and had great results each way.
I have actually had luck ditching the paper liners and simply coating the inside of my wells well with cooking spray. Less waste and, surprisingly, less sticking overall.
Nutrition Estimate
Calories: 155 kcal, Carbohydrates: 26 g, Protein: 3 g, Fat: 5 g, Saturated Fat: 3 g, Polyunsaturated Fat: 0.3 g, Monounsaturated Fat: 1 g, Trans Fat: 0.2 g, Cholesterol: 25 mg, Sodium: 89 mg, Potassium: 157 mg, Fiber: 1 g, Sugar: 12 g, Vitamin A: 159 IU, Vitamin C: 2 mg, Calcium: 35 mg, Iron: 1 mg
Did you make this recipe?
Leave a review below, then snap a quick picture and tag @nourishandfete on Instagram so I can see it!
And a little bonus: here is an outtake from my son grabbing one of these very same muffins in 2017, when he had just turned two! I'm pleased to report that after six years of baking them, he still enjoys them just as much. 🙂