Baked Tacos
Easy, delicious, and fun, these oven baked tacos deliver crunchy tortilla shells packed with a well-seasoned filling and melted cheese. Perfect for a quick family dinner, or double the batch to feed a crowd with a taco bar!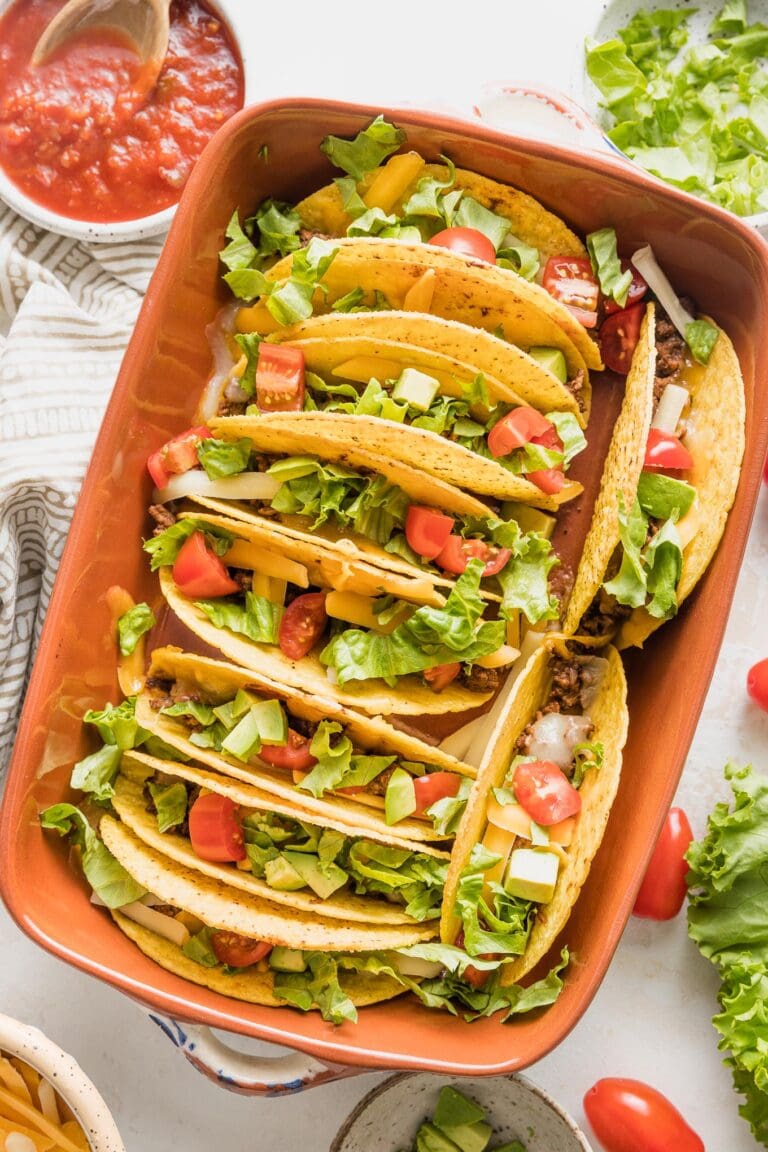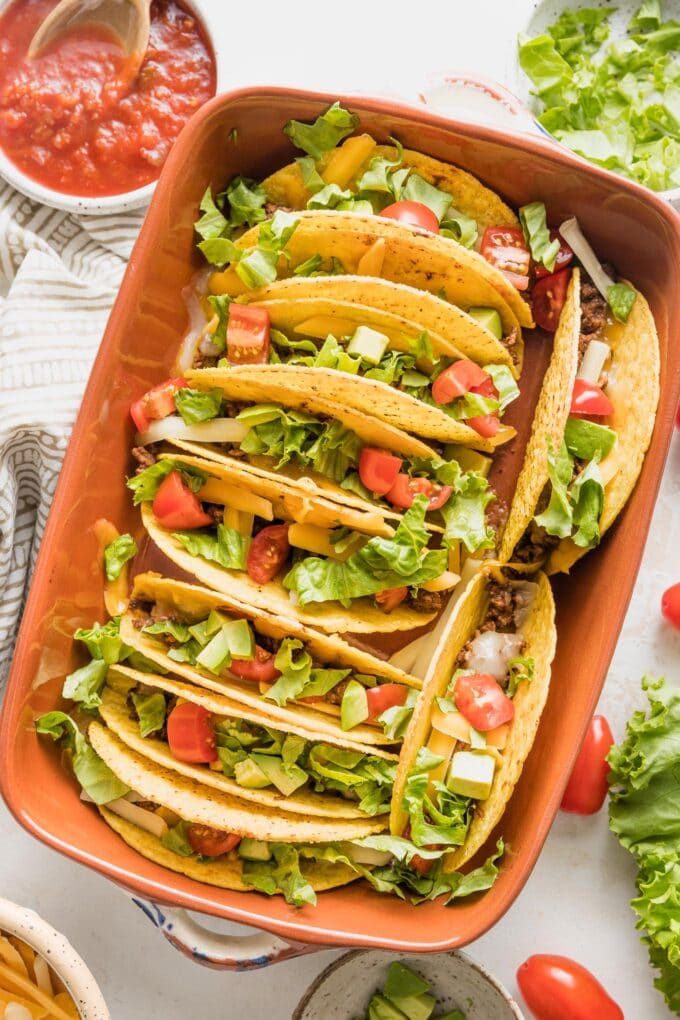 I freely admit that I never really understood the appeal of baked tacos until I tried it myself, whereupon I was an instant convert. Two things really make this the ideal taco method in my book: the quick spin in the oven does a perfect job of crisping the taco shells without added hassle, and you have a few minutes while the tacos bake to prep toppings and get organized, without feeling like you have to watch the taco filling at the same time. It's the little things!
This is the taco recipe that convinced my son to eat actual tacos, rather than tortillas stuffed with cheese and lettuce.
We love that these baked tacos are:
Quick and easy. Great for a simple family dinner.
Partly hands-off. I love that this method give you a little time to focus on prepping taco toppings.
Absolutely delicious. Adding green chilies to the meat mixture adds that extra oomph of flavor and moisture. It's so good!
For a simple dinner, serve these tacos with all the toppings or some chips and blender salsa or guacamole. You can also add a green salad or Mexican bean salad for more protein. No wrong way to taco!
Ingredients & Substitutions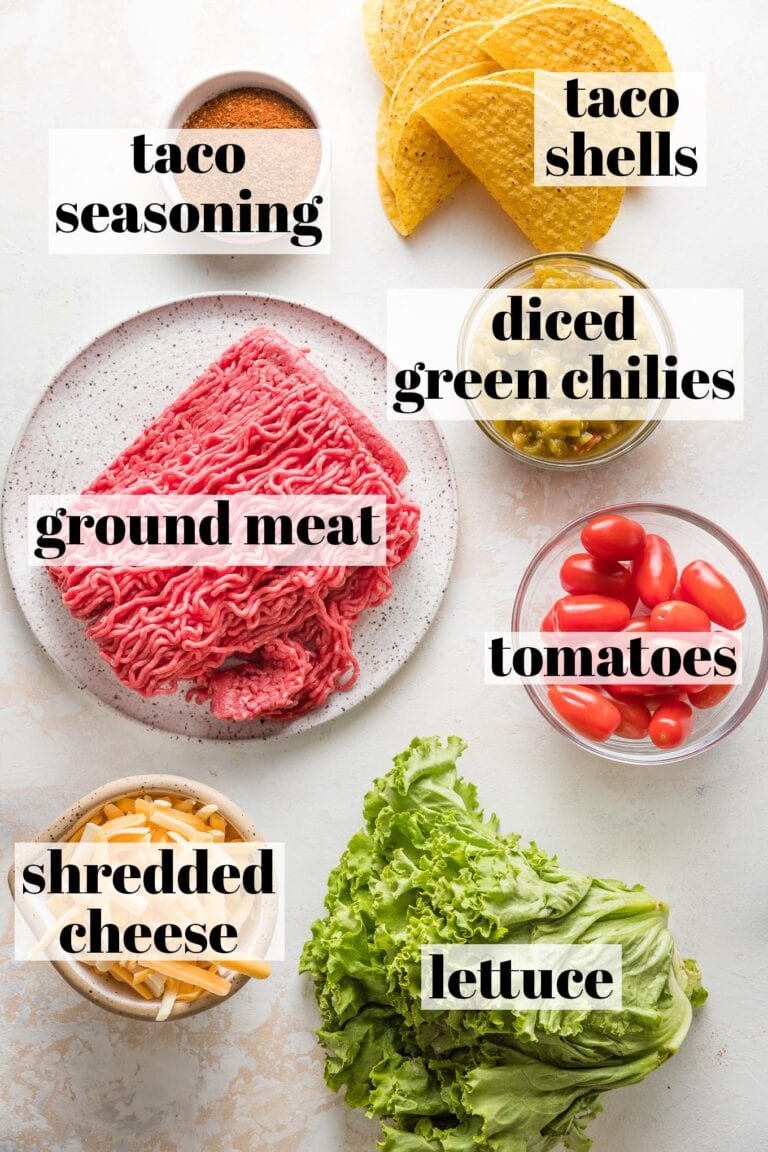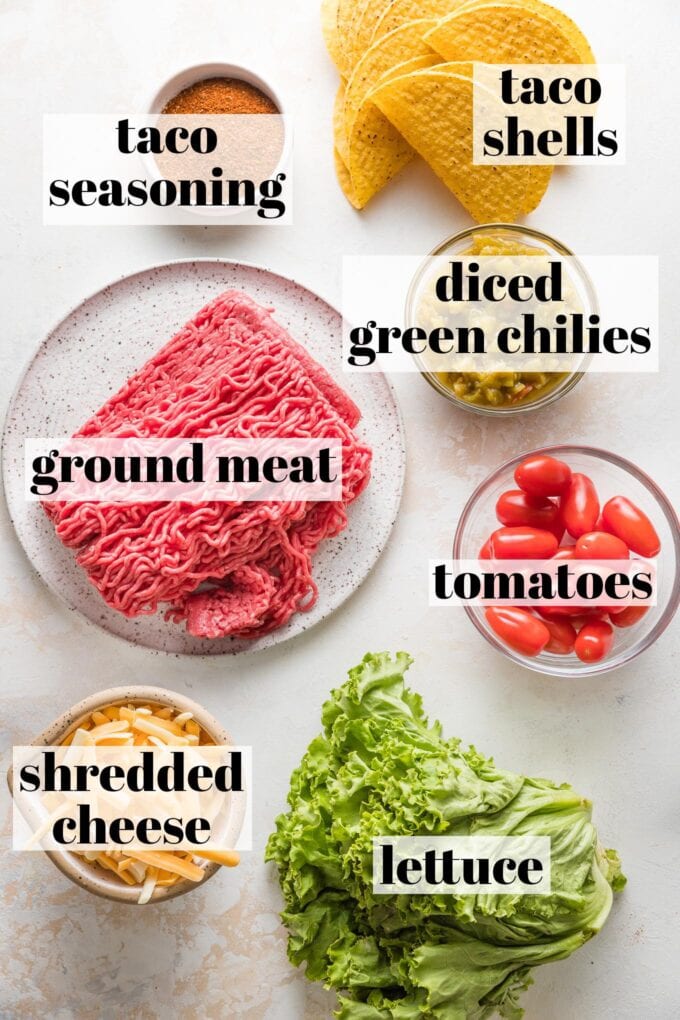 Here are a few notes and shopping tips about the ingredients you'll need to make this, as well as possible substitutions. Full amounts are noted in the print-friendly recipe card below.
Ground beef, chicken, or turkey. This is as flexible as it comes!
Taco seasoning. This is important; use one you enjoy! I love making homemade taco seasoning so I get it exactly the way we like it every time and no preservatives or anything else.
Diced green chilies. A pantry staple for adding punch to simple Mexican and Tex-Mex meals! I use mild green chilies because my kids like them; feel free to use a hot variety if you prefer.
Taco shells. I actually find the stand and stuff shells more annoying than anything else, but this is totally personal preference. Use any hard taco shells that you like.
Shredded cheese. A Mexican blend, Monterey Jack, or straight up cheddar are all great choices. You'll melt some onto the tacos as they bake, and my family always likes having some reserved to add as extra afterwards, too.
The day I photographed these tacos, I was making a double batch, knowing I wanted to photograph some, and also feed some guests that night for dinner. This recipe doubles really well and is a terrific way to feed a crowd. Who doesn't love a taco bar!?
Can I add beans?
Yes! Try mixing one 15 ounce can of black beans or pinto beans, drained and rinsed, into the meat mixture to stretch it further and add another form of protein. Add them along with the taco seasoning.
Love layers? Add a thin smear of refried beans to the bottom of each tortilla before spooning in the meat mixture. So good!
What spices can I substitute for taco seasoning?
If you don't have taco seasoning at the ready, swap in 2 teaspoons of chili powder, 1 and 1/2 teaspoons of paprika, 1 and 1/2 teaspoons ground cumin, 1/2 teaspoon dried minced onion, 1/2 teaspoon kosher salt, and a pinch each of garlic powder and cayenne pepper. This roughly replaces 2 tablespoons of taco seasoning in this or any recipe that calls for it.
How To Make Baked Tacos
This is so easy, you'll hardly need to consult the recipe after you make them once or twice. Here are the steps and a quick visual overview. You will find full instructions with exact ingredients in the print-friendly recipe card below.
Brown and season the meat. I coat the pan with a drizzle of olive oil when browning ground chicken or turkey, but find this unnecessary when browning ground beef, because it renders enough fat on its own.
Stuff the shells. No need to fill them to the brim–a few Tablespoons of the meat mixture usually does the trick.
Sprinkle with cheese.
Bake. About 10 minutes at 375 degrees F is perfect: enough to melt the cheese and crisp the shels, but not long enough to dry out the filling.
Top as desired and dig in!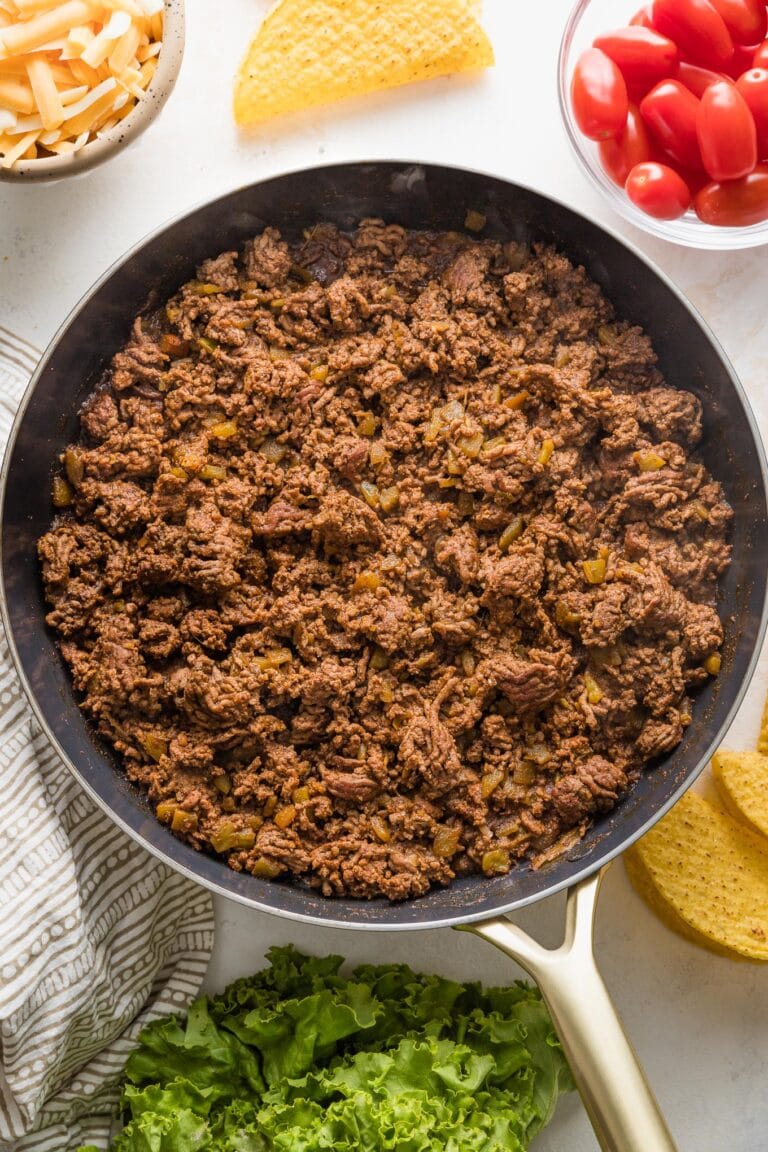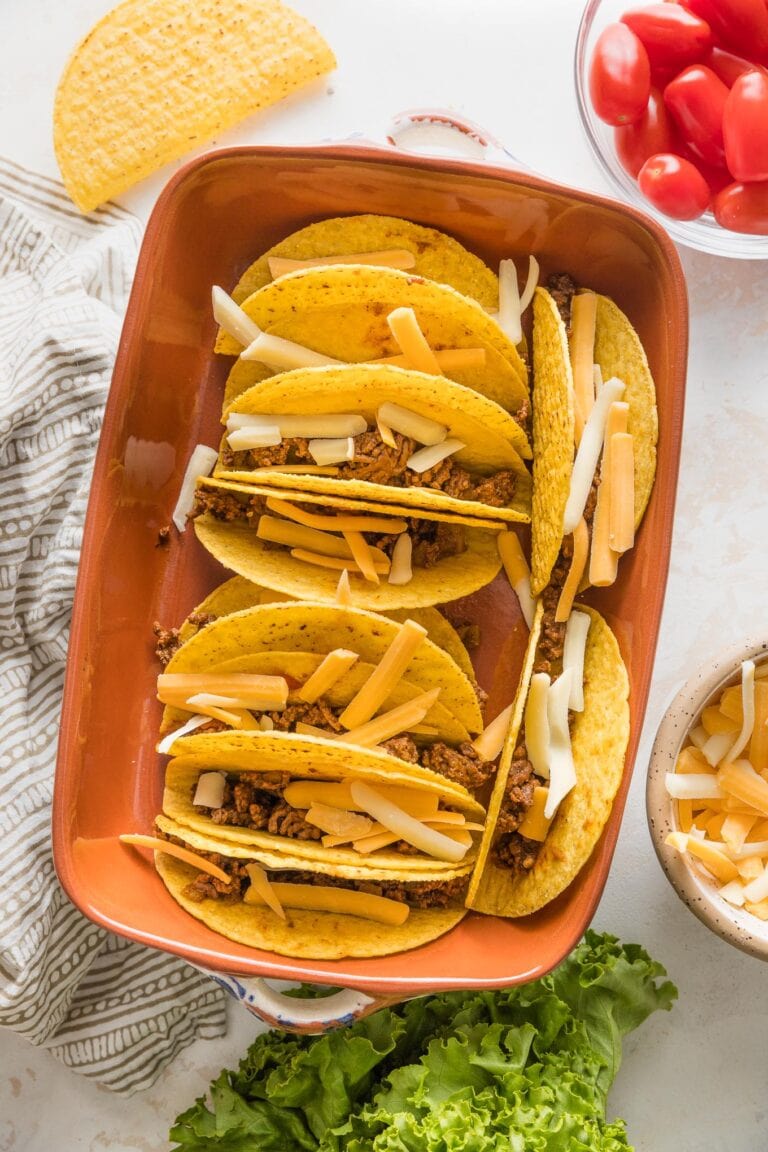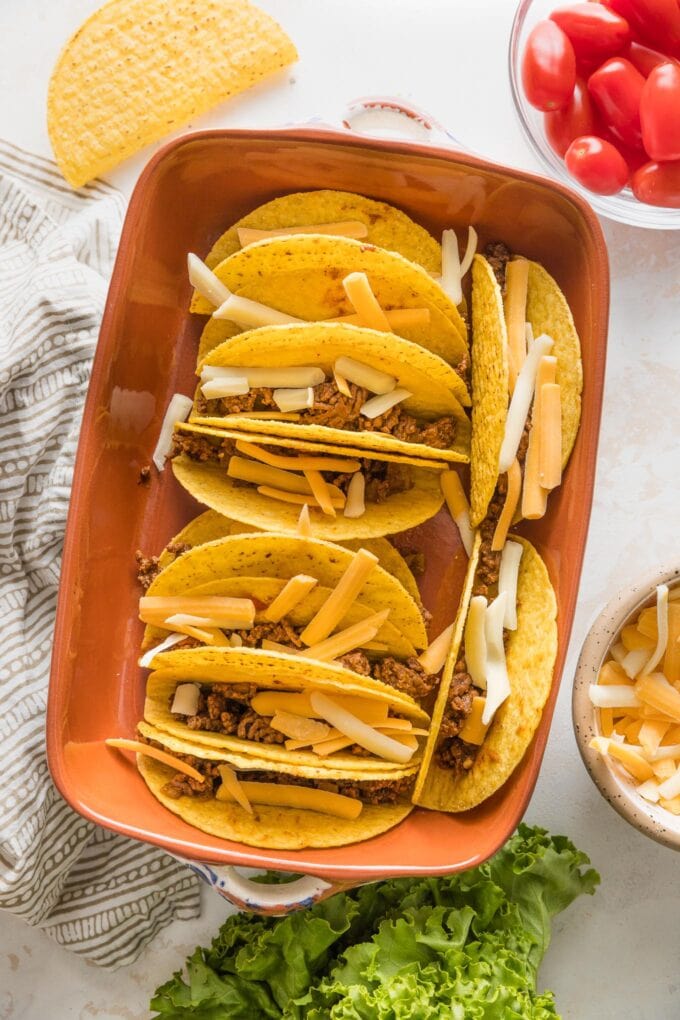 We love these with simple, classic taco toppings like shredded green leaf lettuce, diced tomatoes, diced avocado, and pico de gallo. But the sky's the limit, of course, and everyone has their own favorite taco toppings. Try adding sour cream, Cotija cheese, diced or pickled onions, fancy salsa, corn, shredded cabbage, hot or taco sauce, you name it.
Make Ahead & Freezing Tips
To Make Ahead: The taco meat filling can be made 2-3 days in advance and stored in the refrigerator. When ready, fill taco shells and bake as directed. You can stuff the filling into the shells 1-2 hours ahead of time and store those in the fridge until ready to bake, as well, but the longer they sit the more moisture the shells will absorb, so this method is less preferable.
These are best served immediately after they come out of the oven, for maximum crispness!
To Freeze: You can store the taco meat filling in a freezer-safe container for up to 3 months. Defrost the meat overnight in the refrigerator, then fill tacos and bake as directed. This makes a terrific freezer meal if you're looking to stock up!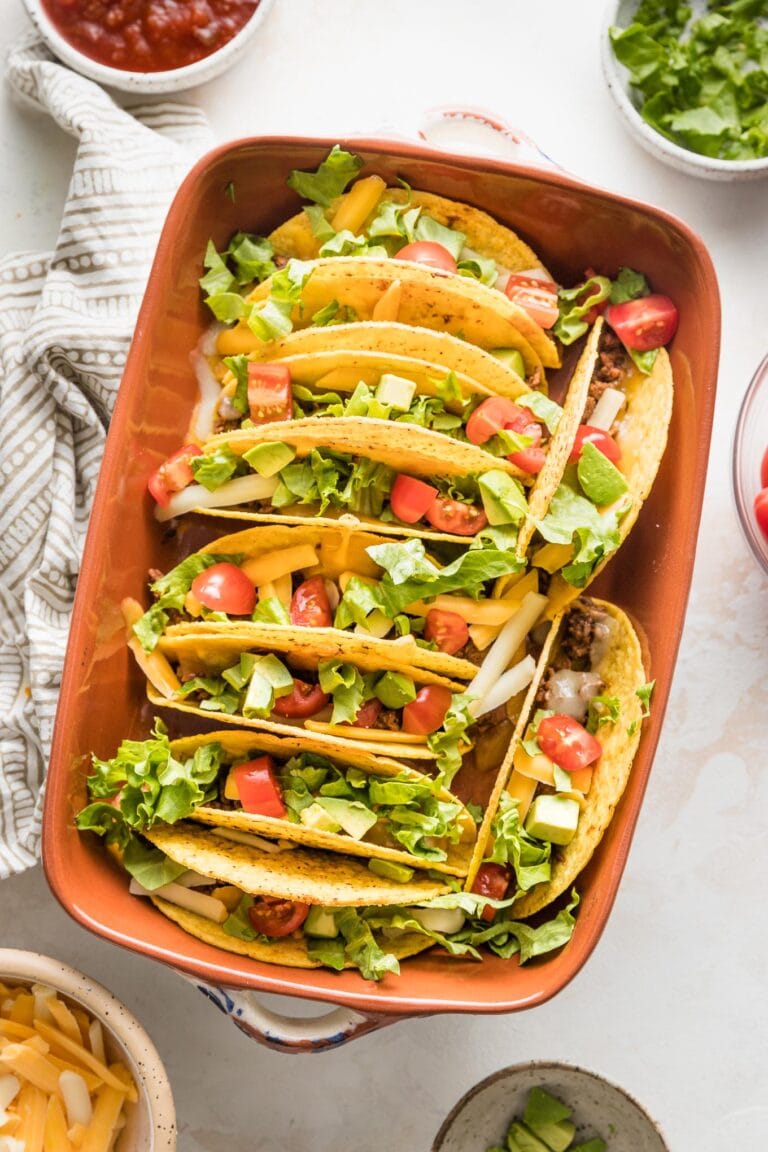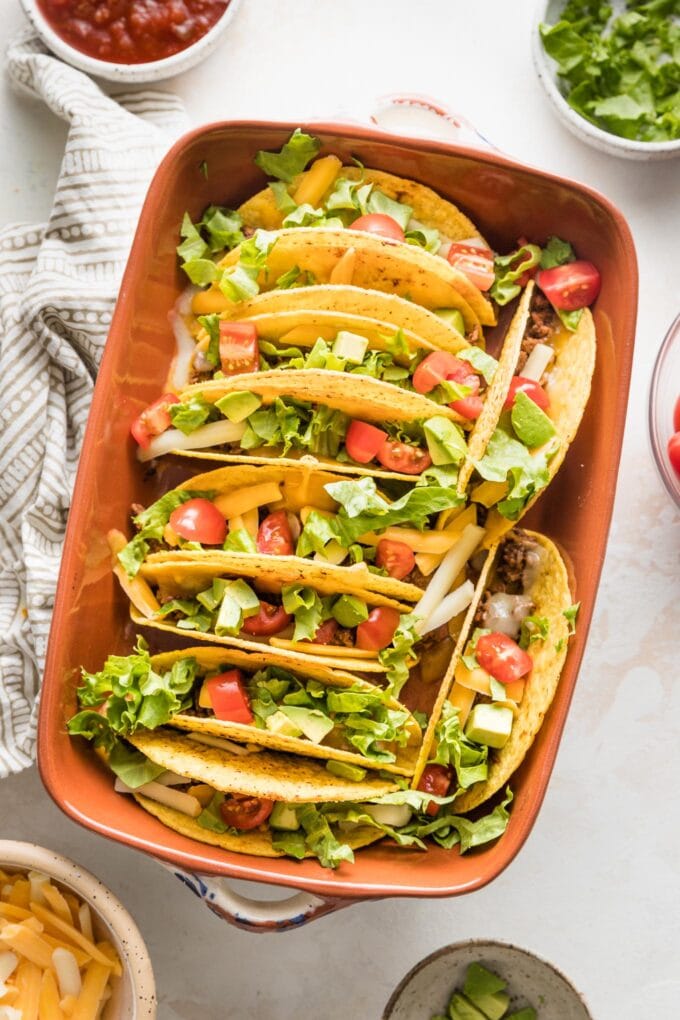 Related Recipes
Don't miss our other go-to Tex-Mex recipes: crockpot shredded chicken tacos, Baja chicken tacos, simple black bean tacos, or quick and healthy fish tacos.
Love using your pressure cooker? These Instant Pot ground beef tacos are another family favorite! We also love stuffing tortillas with this Instant Pot chicken tinga and all the fixings.
If you try this Baked Tacos recipe, don't forget to rate it and leave a comment below. I love hearing how recipes turn out in your kitchen, and it helps other readers, too.
You can also FOLLOW me on PINTEREST, INSTAGRAM, FACEBOOK, and TWITTER for more great recipes and ideas!
Baked Tacos
Easy, delicious, and fun, these oven baked tacos deliver crunchy tortilla shells packed with a well-seasoned filling and melted cheese. Perfect for a quick family dinner, or double the batch to feed a crowd with a taco bar!
Ingredients
1 pound ground beef chicken or turkey
2 Tablespoons taco seasoning
1 (4 ounce) can green chilies
salt to taste
12 hard taco shells
1 cup shredded Mexican cheese
lettuce, tomato, salsa, other toppings as desired
Instructions
Preheat oven to 375 degrees F.

Set a medium skillet over medium-high heat. When hot, add ground meat and begin to break apart with a spatula. (I usually use a drizzle of olive oil with chicken or turkey, but not with beef because it renders more fat on its own.)

Add taco seasoning, green chilies, and salt to taste. (I usually add about 1/2 teaspoon of salt, but how much you will want varies according to your preference and the type of taco seasoning you're using.)

Cook for 5-6 minutes, until the meat is well-browned, then remove skillet from the heat.

Arrange shells upright in a large rectangular baking dish. Spoon a bit of the meat mixture into each shell, then sprinkle a thin layer of cheese on top.

Bake for 10-12 minutes while you prepare lettuce, tomatoes, and any other toppings you like. Remove baking dish from the oven and top tacos as desired. Enjoy!
Notes
Nutrition estimate is just that, an estimate, based on an online calculator, and does not include lettuce, tomato, or any other toppings in addition to the baked cheese.
Nutrition Estimate
Calories: 548 kcal, Carbohydrates: 26 g, Protein: 29 g, Fat: 36 g, Saturated Fat: 15 g, Polyunsaturated Fat: 3 g, Monounsaturated Fat: 14 g, Trans Fat: 1 g, Cholesterol: 98 mg, Sodium: 605 mg, Potassium: 415 mg, Fiber: 4 g, Sugar: 2 g, Vitamin A: 287 IU, Vitamin C: 4 mg, Calcium: 378 mg, Iron: 3 mg
Did you make this recipe?
Leave a review below, then snap a quick picture and tag @nourishandfete on Instagram so I can see it!