Pan-Seared Pistachio Herb Salmon
Fresh, heart-healthy salmon filets, pan-seared and finished with the most delicious crunchy topping of pistachios, basil, and mint. You'll be scraping the pan for every last spoonful! And, like all the best meals, this is lovely for entertaining, yet easy and fast enough to make on a weeknight.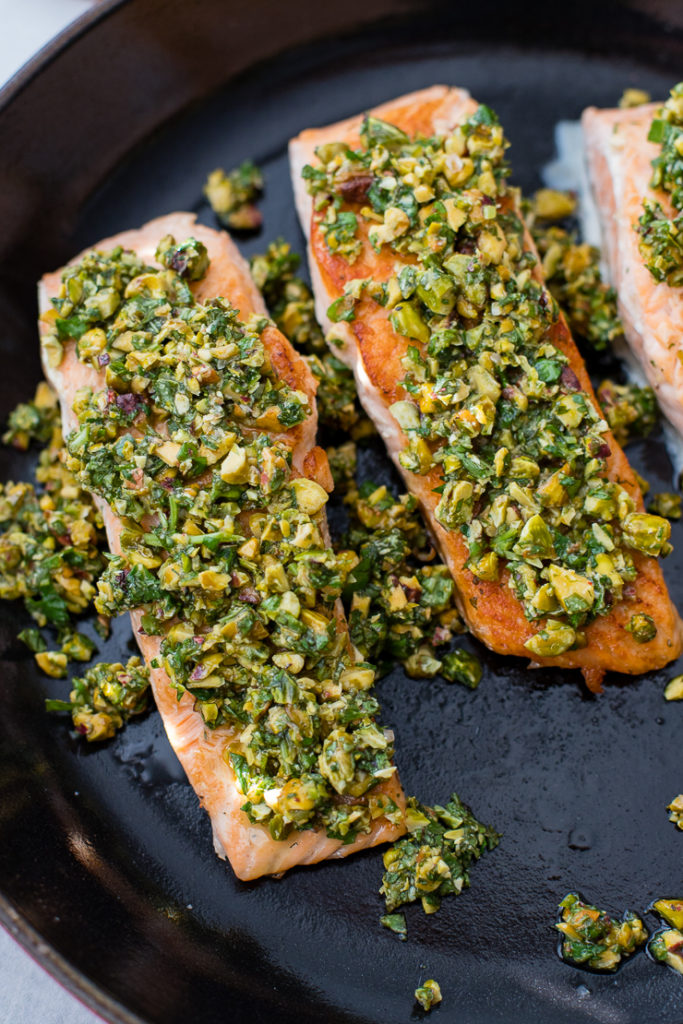 Something you might not know about living in Europe, unless, I don't know, maybe you do, is that there is very little residential air conditioning. For the most part, I really like this. On the rare occasions when I visit an office or store that's kept very cold, I find it off-putting and shudder to remember that everywhere is going to be like that when we move back to the US.
An exception to enjoying this lack of AC, however, would be the occasions when it's sweltering and, for whatever reason, I had in mind making a recipe that requires pumping up the oven up to 400 degrees. (F, that is. Roughly 200 C!)
This, practical though it may be, is what spurred my early efforts to adapt this recipe from Christina, who blogs at The Whole Cook. If you haven't read her blog yet, go do it now! She has an outstanding collection of recipes that manage to be both healthy – including lots of Whole30-compliant and dairy-free options – and absolutely mouth-watering at the same time. No small feat!
So let's summarize all that there is to love here. Salmon, every busy cook's best friend. The MOST DELICIOUS EVER crust of finely-chopped pistachios, lemon juice, and herbs. And, well, that's it! That's literally all you need to make a restaurant-quality meal in less than half an hour.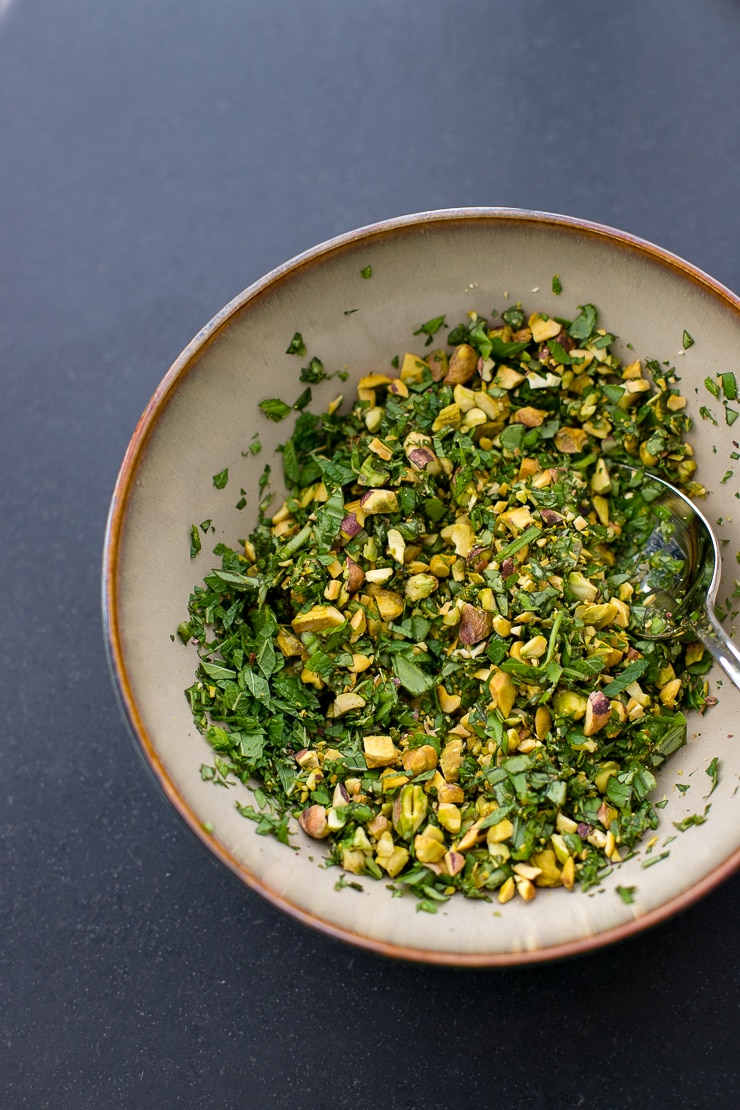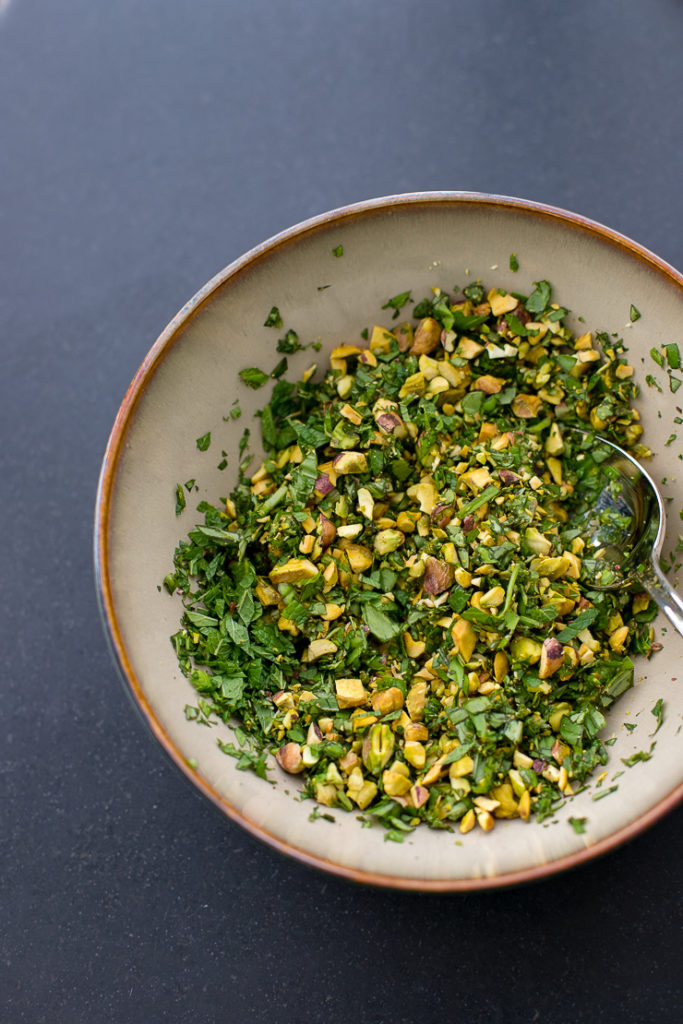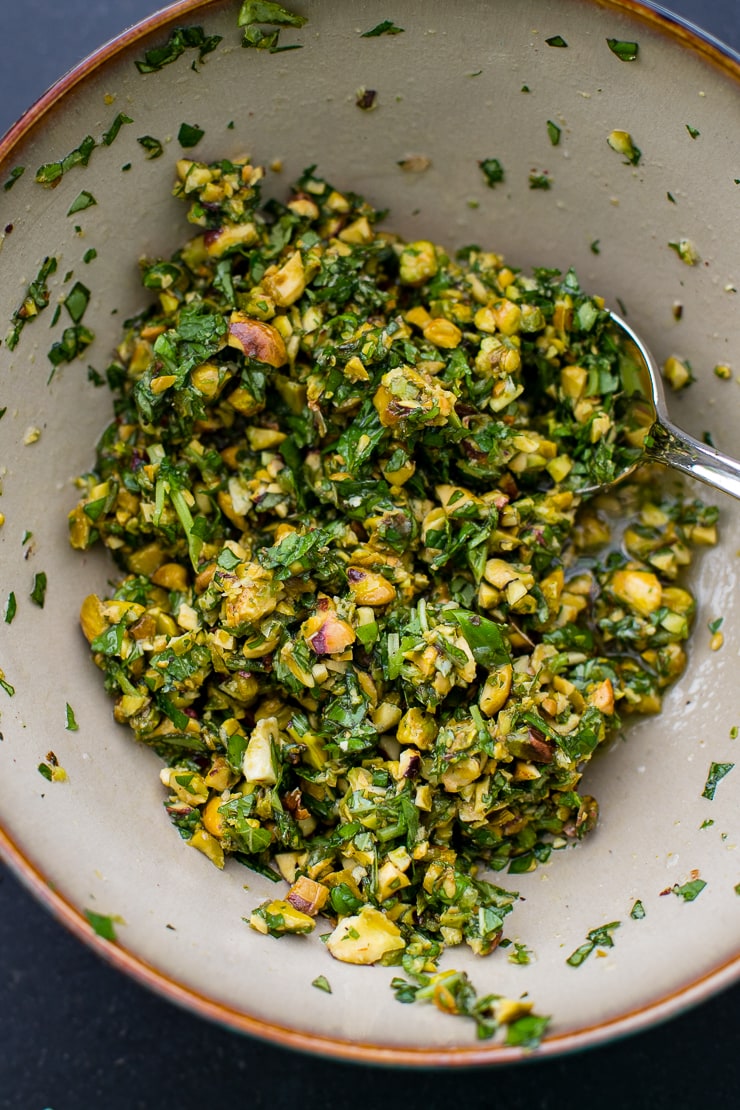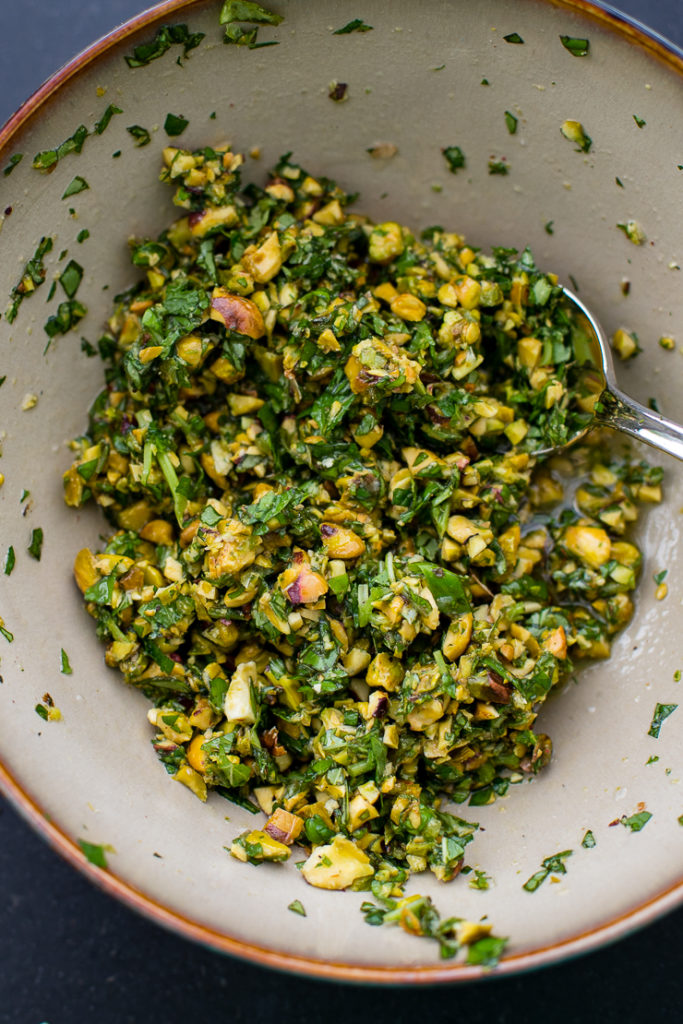 Have a good stare at that topping. Doesn't it look so bright and fresh and crunchy? And it's so easy to put together. Chopped pistachios, basil, and mint. A drizzle of olive oil, lemon juice, and a sprinkle of salt. That's it! You'll want to put it on everything.
This, my friends, is weeknight dining done SO RIGHT. My husband, who is a very thankful recipient of my cooking all the time, but not always effusive in his descriptions, says it is "really gourmet," and I think it is a great recipe for entertaining. It feels special; it can be our little secret that it only takes about 25 minutes and really just a few steps.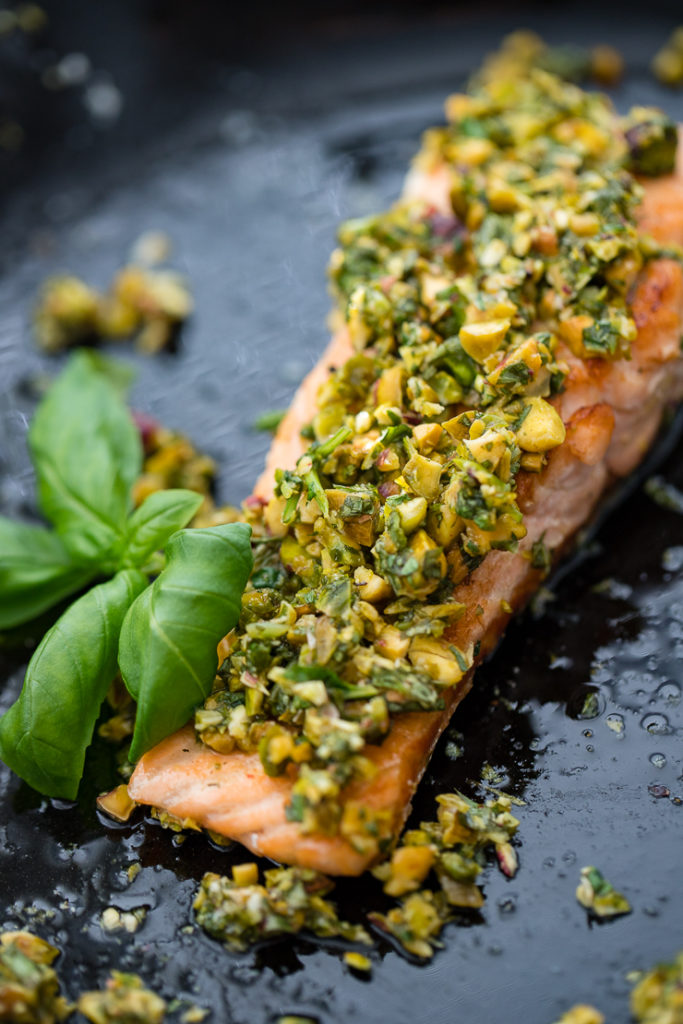 Tips For Pan-Searing Salmon
You can, of course, bake the salmon, if you don't mind turning on the oven, but if you want a change of pace or simply want to amp up the crusty, flaky effect, I highly recommend you give searing a try. If you haven't pan-seared salmon before, here are a few tips to get you started:
Let the salmon rest at room temperature for a bit before you put it in the pan – 15 minutes or so is fine.
Be sure to pat the salmon dry before you start, to ensure a good crisp.
Use a really large pan! You'll want plenty of room to flip each salmon filet without crowding or bumping the others.
Use only enough olive oil as is needed to coat the bottom of the pan; otherwise it WILL splatter everywhere.
In case there is some splatter anyway, wear an apron if you have one. Failing that, maybe at least have the foresight to change out of your favorite silk shirt that you wore to work that day. #speakingfromexperience
When it's time to flip the filets, use a nice, big, sturdy spatula – metal if you have one. This basic one is on my list to buy, but it recently came to my attention that there is actually such a thing as a FISH spatula, and now I kind of want one!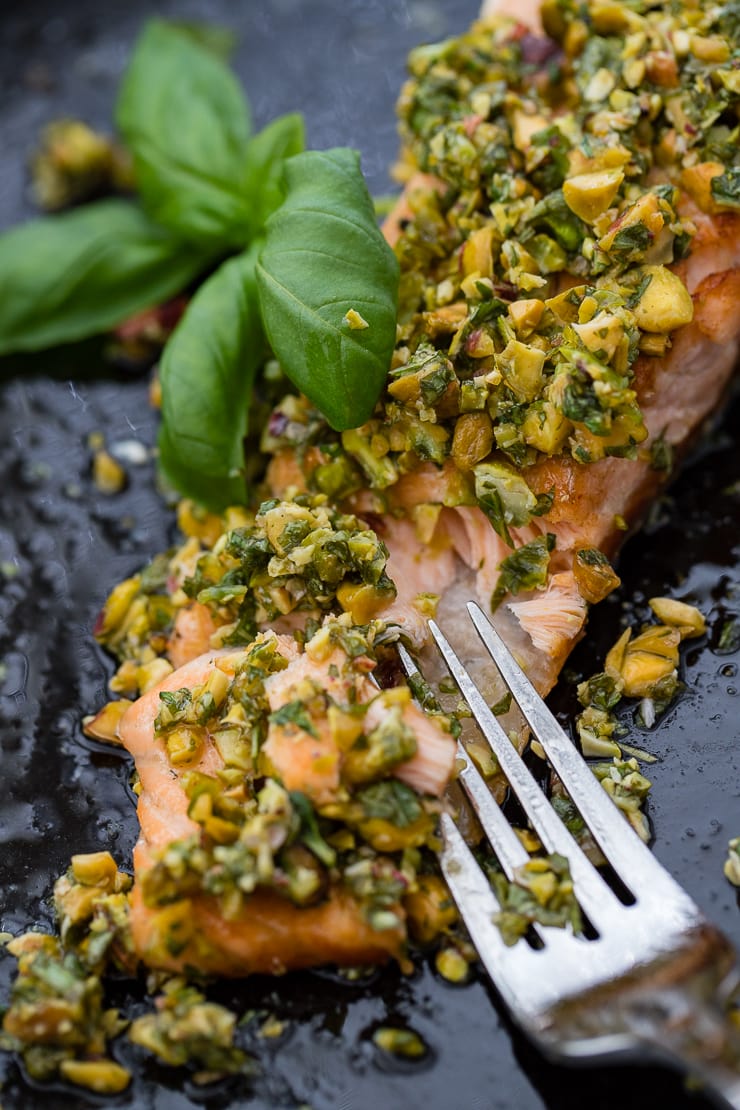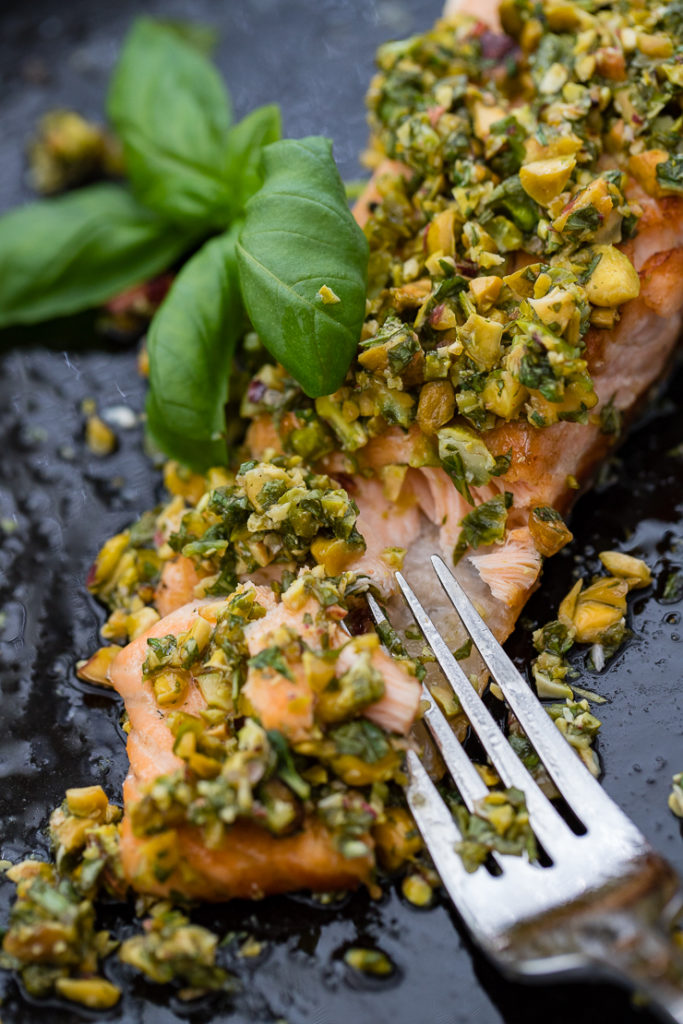 What To Serve With Salmon
The beauty of salmon, this recipe but also most other ways of preparing it, too, is that it goes well with nearly anything! But a few of my favorites sides for this particular dish are:
Asparagus (this is a good recipe if your oven is already on!)
Couscous or rice pilaf
If you try this salmon or any other recipe on the blog, please remember to rate the recipe and leave a comment below. I love hearing from you, and other readers will benefit from your experience!
Pan-Seared Pistachio Herb Salmon
Fresh, heart-healthy salmon filets, pan-seared and finished with the most delicious crunchy topping of pistachios, basil, and mint. Lovely for entertaining, but easy and fast enough to make on a weeknight!
Ingredients
4 fresh salmon filets, skin on (approximately 6 ounces each)
1/2 cup pistachios, shelled
1/2 cup fresh basil
2-3 tablespoons fresh mint
2 tablespoons extra-virgin olive oil plus extra for the pan
juice of 1 lemon
kosher salt
freshly-ground black pepper
extra-virgin olive oil
Instructions
To prepare the topping, finely chop pistachios, basil, and mint. Combine in a small bowl with 2 tablespoons olive oil, lemon juice, 1/2 teaspoon kosher salt, and a few turns of freshly-ground black pepper; stir to blend.

To sear the salmon, set a large cast-iron or stainless skillet over medium-high heat. Using a paper towel or clean dishcloth, pat the salmon dry, then season each filet with a light sprinkle of kosher salt. When the skillet is hot, add just enough olive oil to coat the bottom; allow the oil about 1 minute to warm up.

Carefully place salmon filets in the skillet, skin-side down. Do not poke, prod, or touch them until they're ready to flip! You will be able to see each filet change color, bottom to top, as it cooks. They're ready to flip when cooked about 3/4 of the way to the top, likely 5-6 minutes, depending on the thickness. Using a large, sturdy spatula, and flipping away from you to avoid oil splatters, turn each filet to cook 2-3 minutes on the other side, just until cooked through and flaky.

Remove salmon from skillet and let rest for 2-3 minutes on a paper-towel lined plate. Top each filet with generous spoonfuls of the pistachio-herb topping, and serve.
Notes
For best results, remove the salmon filets from the fridge 15-20 minutes before you start cooking; if they are very cold when they hit the hot skillet, they may cook unevenly and even shrink a bit.
If you prefer, you can also bake the salmon filets at 400 degrees F (200 C) for 15-20 minutes, just until cooked through and beginning to flake. Top as directed, and enjoy!
Adapted from The Whole Cook.
Nutrition Estimate
Calories: 392 kcal, Carbohydrates: 4 g, Protein: 37 g, Fat: 24 g, Saturated Fat: 3 g, Cholesterol: 93 mg, Sodium: 75 mg, Potassium: 1013 mg, Fiber: 1 g, Sugar: 1 g, Vitamin A: 395 IU, Vitamin C: 2.2 mg, Calcium: 48 mg, Iron: 2.2 mg
Did you make this recipe?
Leave a review below, then snap a quick picture and tag @nourishandfete on Instagram so I can see it!