Simple, Comforting Gnocchi Alla Vodka
The best recipe for gnocchi in a rich, velvety vodka sauce! It's easy to make in one pan, takes just 25 minutes, and uses simple, unprocessed ingredients. Serve this as comfort food, date night dinner, or a crowd-pleasing side.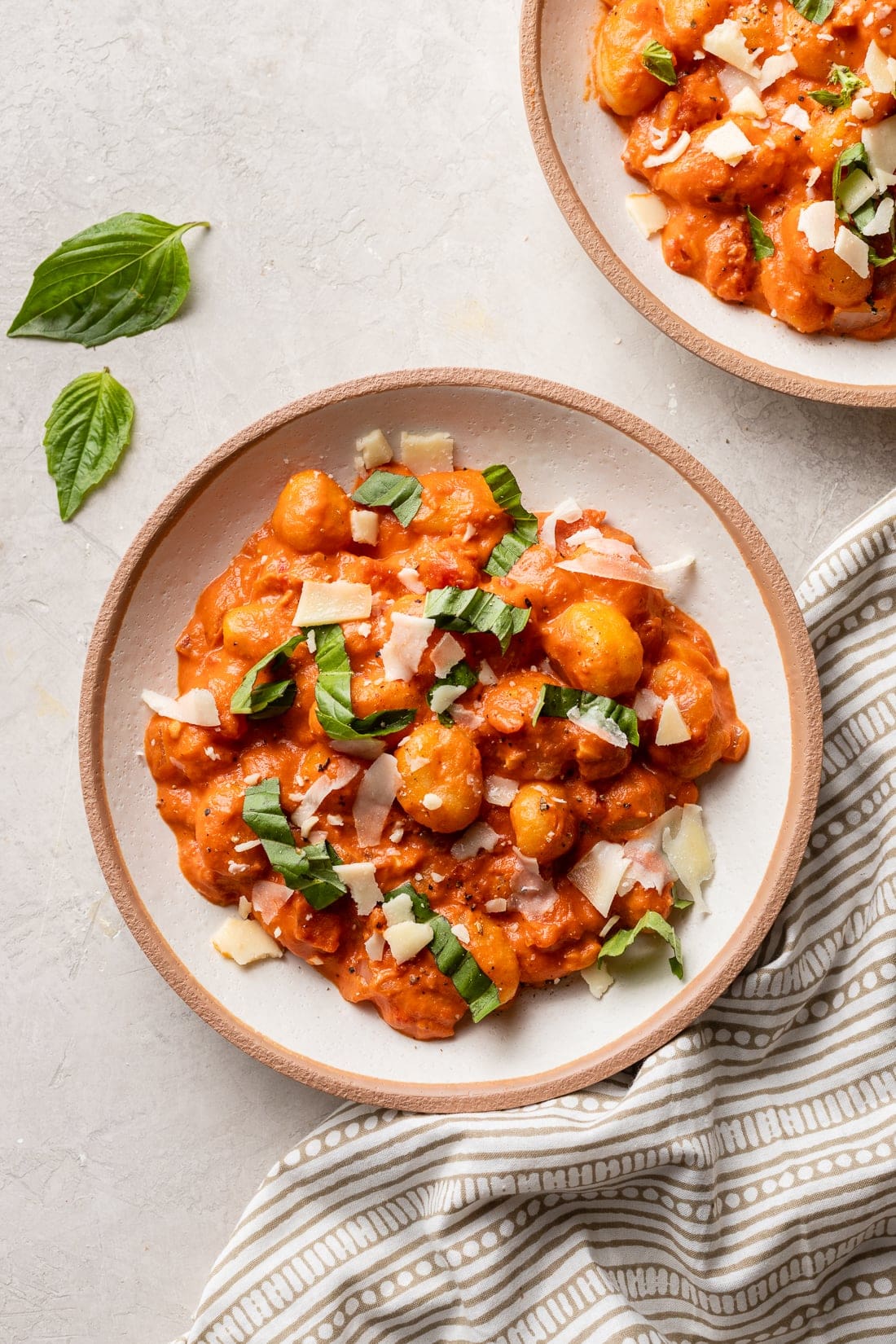 Pasta in vodka sauce is the ultimate comfort food. And gnocchi is arguably the coziest of all pastas. Like, woolen socks on propped feet in front of a raging fire cozy. So it seems clear that a bowl of gnocchi in vodka sauce is the kind of enveloping comfort food that could help offset the worst day.
We never judge a jarred-sauce-kinda-night around here, but isn't it satisfying to make it yourself when the stars align? To help those stars align for you more often, this recipe is crazy easy to pull together in less than half an hour, start to finish. It's adapted from this classic homemade vodka sauce, and the gnocchi cooks right in the simmering sauce, making it a true one-pan situation. Sprinkle some cheese on top, add a dash of fresh basil if you're feeling fancy, and dinner is done.
The best store-bought gnocchi
Let's address one elephant in the room, though. Not all store-bought gnocchi are, um, how to say it gently? Not all store-bought gnocchi are good.
Gnocchi, ideally, are full of contradictions. Pillowy, but hearty. Firm, yet soft. Rich, but light. You can see how this might be tough to achieve, and, well, it is.
Home cooks, and even restaurants, often opt to make ricotta gnocchi, which are lighter, simpler, and more forgiving than their potato-based sisters. Ricotta gnocchi don't keep well, however, so for a convenience option, store-bought potato gnocchi are your go-to.
This is one instance where we say splurge and buy a higher quality brand if you can. The gold standard is DeLallo. Their potato gnocchi truly balance all those contradictions, and have a lovely, light flavor to seal the deal. A 1 pound box will set you back less than $4. And this is not sponsored. We just love a good thing when we taste it.
Can I cook gnocchi directly in pasta sauce?
Heck yes! Cooking the gnocchi right in the simmering sauce saves you the step of boiling water separately and cleaning an extra pan. Most importantly, it works. Just be sure to cover the pan, and test the gnocchi to be sure they're done to your liking.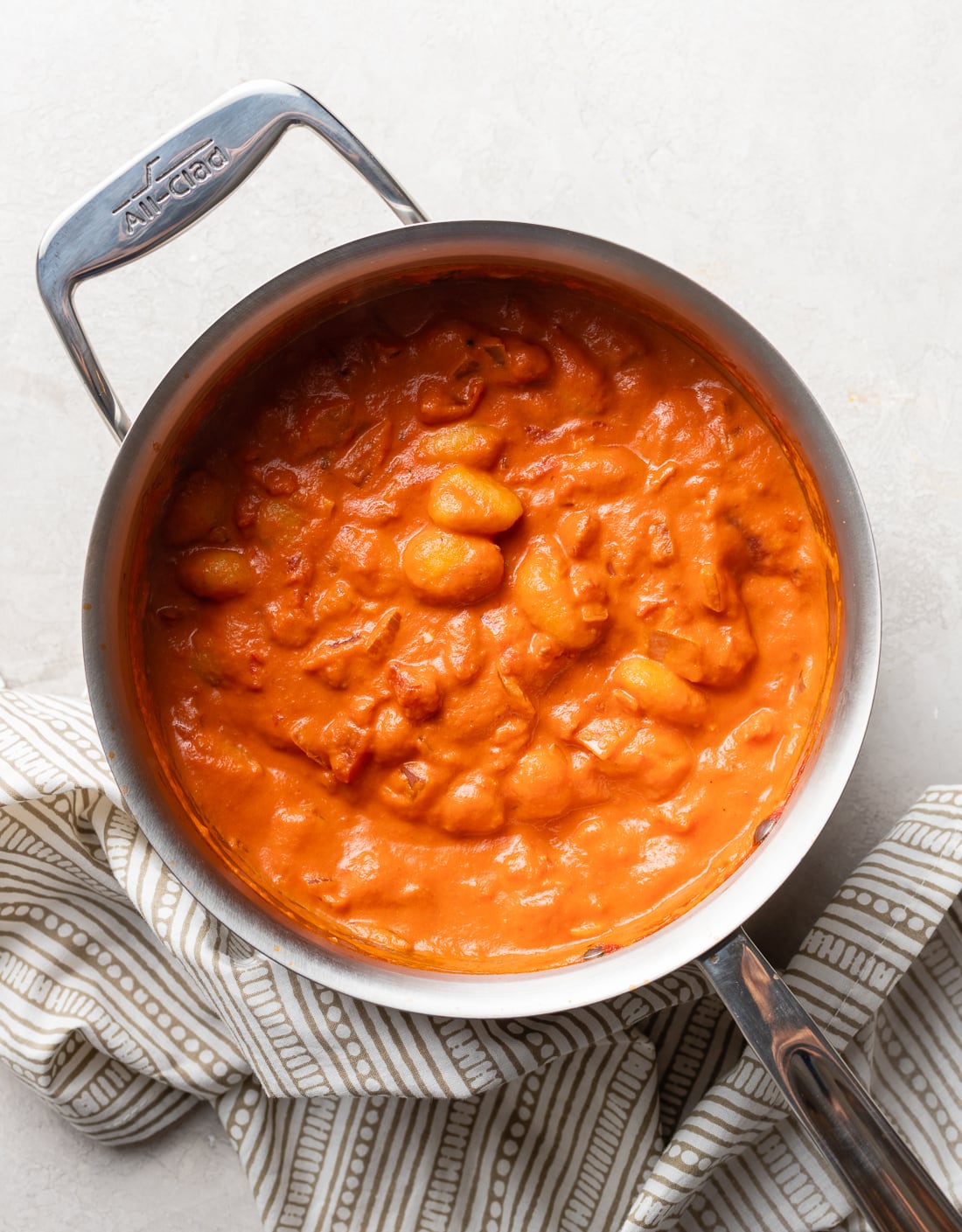 What to make with gnocchi alla vodka
Gnocchi can be amazing comfort food or a luscious date night meal. Serve this recipe with a simple salad–you know we love arugula or spinach, or mixed greens with a quick drizzle of Italian dressing–and some crusty bread to mop up the extra sauce from your plate. Garlic bread for bonus points.
Gnocchi alla vodka also makes a nice side to accompany a larger meal. Serve it with steak, grilled or baked chicken, or seared pork chops. Keep the green salad and bread, or swap for crispy oven-roasted broccolini.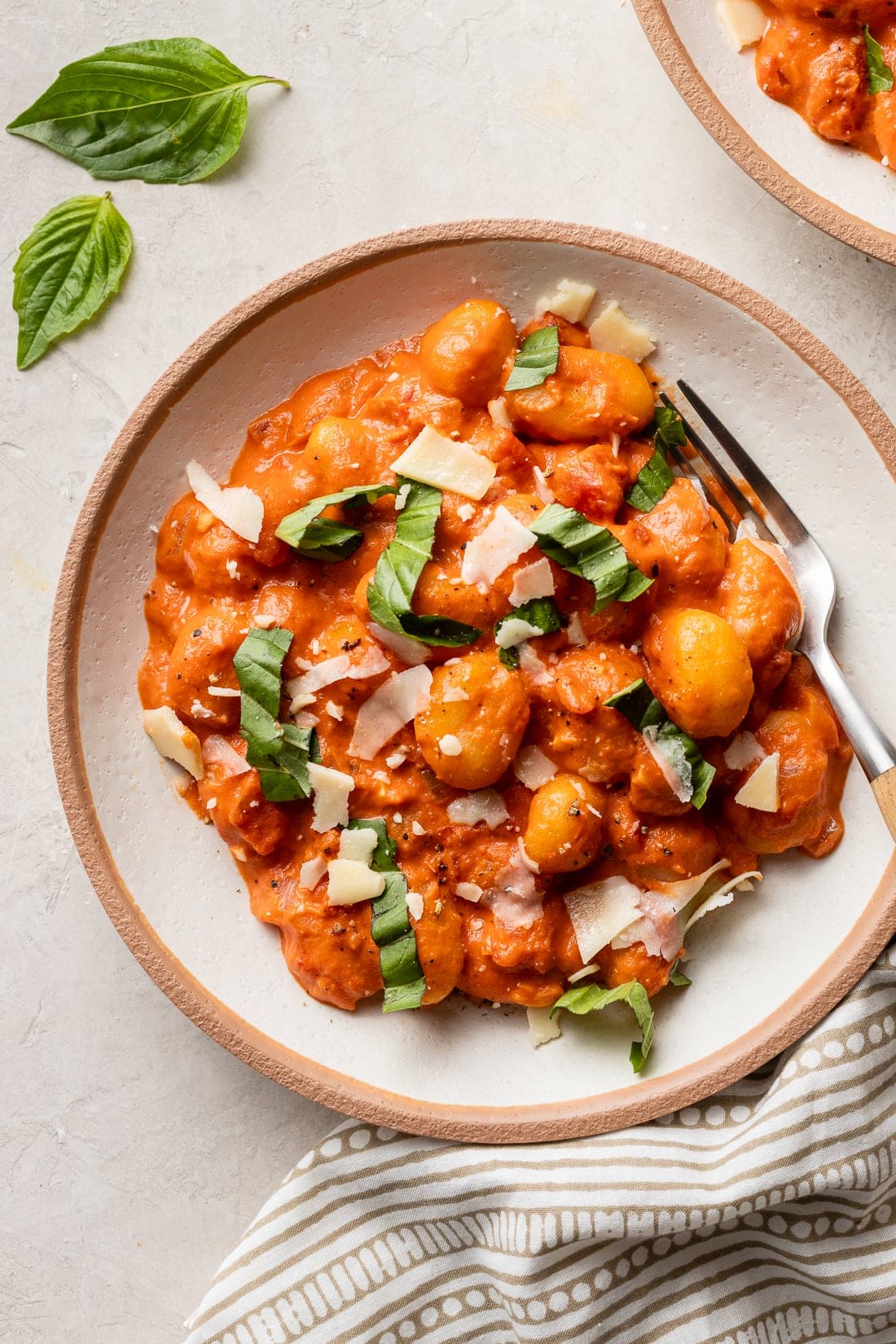 More Gnocchi Recipes
Can't get enough of those tender little bites? Me neither! For a simple variation, try this gnocchi with pesto, mushrooms, and charred cherry tomatoes. Love a velvety sauce? Tuscan gnocchi or creamy pesto gnocchi can't be beat. And if you're craving a comforting soup, this crockpot creamy chicken gnocchi soup is a ringer.
Enjoy! If you make this Gnocchi Alla Vodka or any other recipe from Nourish and Fete, please rate it and leave a comment below. We love hearing from you, and other readers will benefit from your experience!
You can also FOLLOW me on PINTEREST, INSTAGRAM, FACEBOOK, and TWITTER for more great recipes and ideas!
Gnocchi Alla Vodka
The best recipe for gnocchi with rich, velvety vodka sauce! It's easy to make in one pan using simple, unprocessed ingredients. Serve it as comfort food, date night dinner, or a crowd-pleasing side.
Ingredients
1 tablespoon olive oil
1/2 medium yellow onion finely chopped
3 cloves garlic minced
1 tablespoon tomato paste
1/4 teaspoon red pepper flakes
28 ounce can crushed tomatoes
3 tablespoons vodka
salt and pepper to taste
1 pound potato gnocchi
1/2 cup heavy cream
Parmesan
fresh basil for serving
Instructions
Warm olive oil in a medium saucepan over medium-high heat. Add onion and sauté about 5 minutes, stirring occasionally, just until softened. Stir in the garlic, tomato paste, and red pepper flakes and cook about 1 minute more, just until fragrant.

Stir in the crushed tomatoes and the vodka, and season with salt and pepper to taste. Bring the mixture to a boil, let it bubble for about 1 minute, then lower the heat to medium. It should settle at a gentle simmer. Stir in the gnocchi.

Cover and cook for 5-6 minutes, then remove the lid and stir in heavy cream. Cook for 1 minute more, until the cream is just warmed through. (Take care not to cook for too long at this point, or the sauce may separate.) Serve with shaved Parmesan and slivered fresh basil.
Notes
This keeps and reheats very well; store any leftovers in the fridge and reheat in the microwave or in a saucepan over medium heat.
Nutrition Estimate
Calories: 419 kcal, Carbohydrates: 58 g, Protein: 9 g, Fat: 16 g, Saturated Fat: 8 g, Cholesterol: 41 mg, Sodium: 692 mg, Potassium: 673 mg, Fiber: 7 g, Sugar: 10 g, Vitamin A: 962 IU, Vitamin C: 21 mg, Calcium: 117 mg, Iron: 7 mg
Did you make this recipe?
Leave a review below, then snap a quick picture and tag @nourishandfete on Instagram so I can see it!
More quick and easy pasta recipes
If you like this recipe, you might also enjoy these popular pasta recipes:
This post may contain affiliate (*) links. See my full disclosures page.