Sheet Pan Shrimp and Veggies
This easy recipe for Sheet Pan Shrimp and Veggies is flavorful and super quick. With tender garlic shrimp and a rainbow of oven-roasted veggies tossed in Italian herbs, this is a breezy dinner or meal prep you'll love to cook and to eat.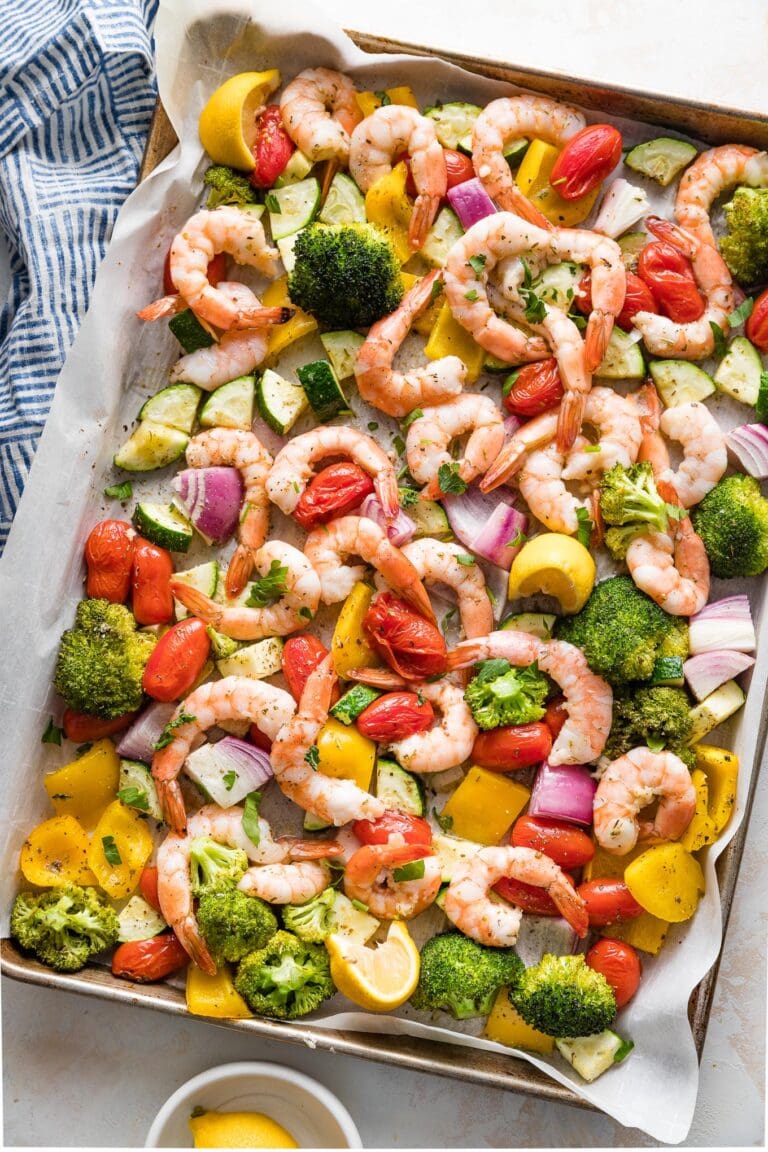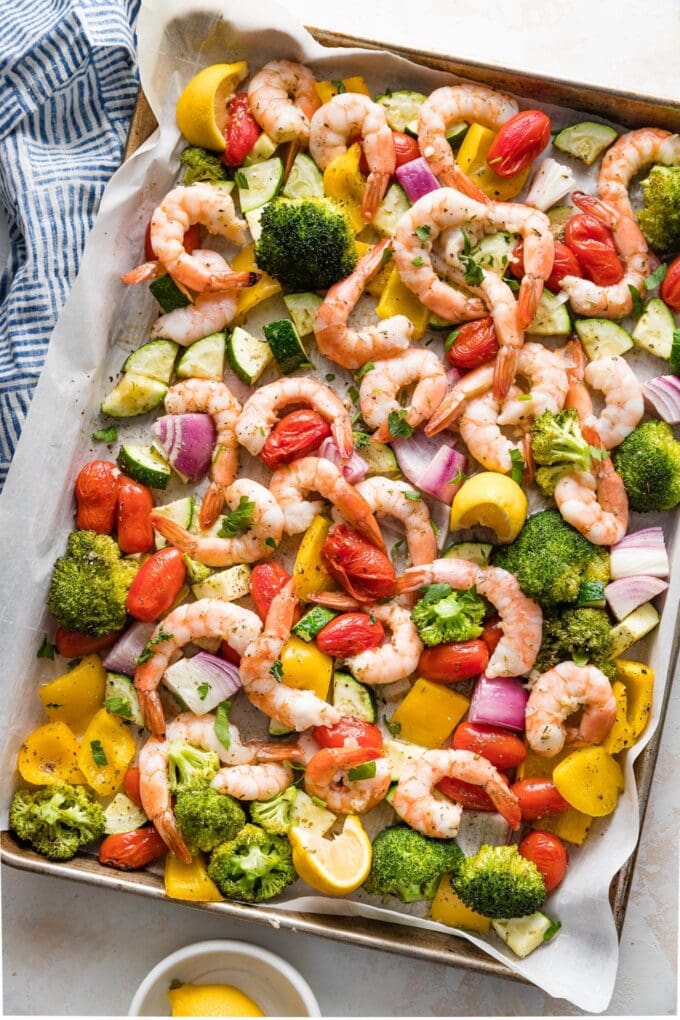 Healthy Sheet Pan Shrimp Recipe
Sheet pan shrimp dinners are one of my favorite ways to get a meal on the table with the least possible fuss. Shrimp are so easy to season and so quick-cooking, plus you can defrost them in about 5 minutes. Perfect for last-minute planners like me! Combine this with the hands-off ease of a sheet pan supper, and you have dinner nirvana for the tapped-out home cook.
This particular combination of sheet pan shrimp and veggies checks lots of boxes. It's:
Quick and hands-off, no stove-minding required.
Packed with flavor. Fresh minced garlic plus generous dashes of Italian herbs, salt, and pepper make simple ingredients shine.
Healthy and great for meal prep, with protein and nutrient-rich vegetables.
Serve this with rice or garlic bread for a family dinner, and save any extra for a low-carb lunch you'll love the next day.
Ingredients & Common Substitutions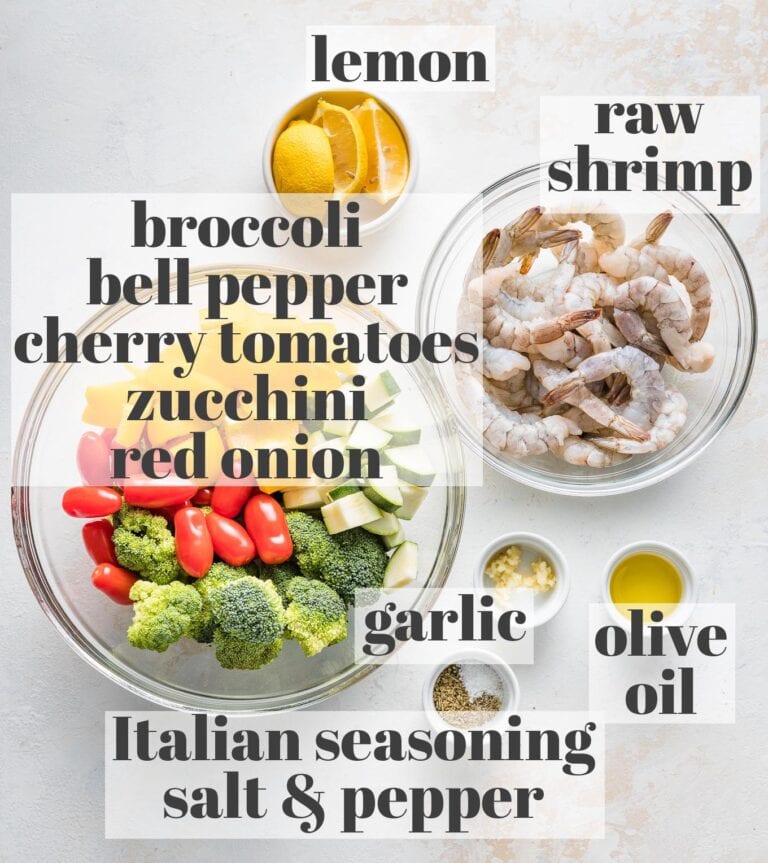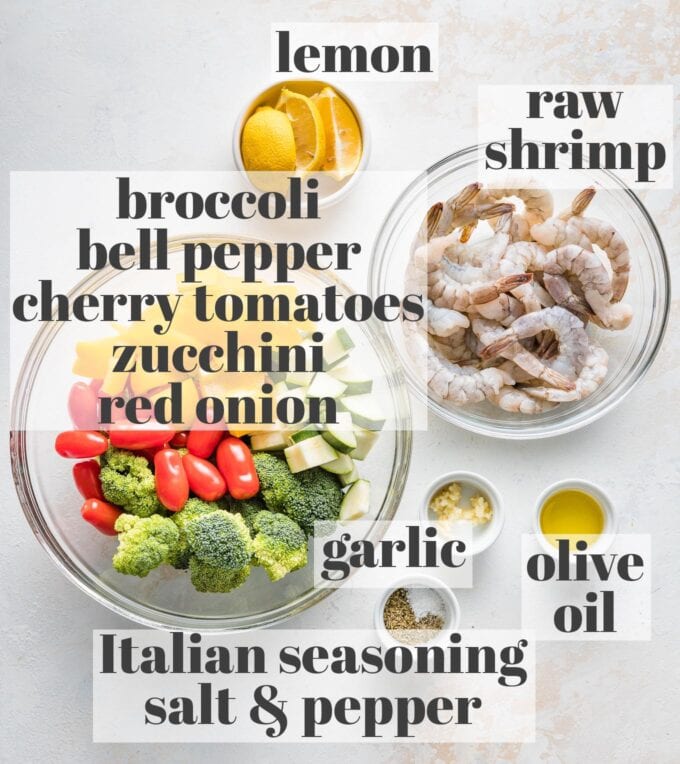 Here are a few notes and shopping tips about the ingredients you'll need to make this, as well as possible substitutions.
Shrimp: Be sure to buy raw shrimp, already peeled and deveined if possible, to save time.
Veggies: A terrific combination is broccoli, zucchini, red onion, bell pepper, and cherry tomatoes. You can make a wide variety of substitutions here, depending on your tastes and availability, and there's no need to be super precise with the amounts. Leave out anything you don't care for, and double something else.
Fresh minced garlic: This adds so much flavor to the shrimp that I don't recommend substituting with garlic powder except in a major pinch.
Olive oil, Italian seasoning, kosher salt, and fresh-cracked black pepper.
Lemon wedges and fresh parsley or another herb for garnish. These definitely help add a zing to the final dish, so although technically optional they are highly encouraged.
This sheet pan shrimp dinner is naturally gluten-free and pescatarian.
What vegetables are good with shrimp?
Shrimp are so versatile, nearly any vegetable can go well with it. For a simple sheet pan shrimp recipe like this, stick to quick-cooking vegetables. In addition to the broccoli, zucchini, onion, peppers, and cherry tomatoes noted here, yellow squash, canned artichoke hearts, thin green beans, asparagus, snap peas, or edamame would all be good choices.
For this recipe, avoid butternut squash, carrots, sweet potatoes, or other root vegetables that have a significantly longer roasting time. If you do include them, they will require at least an extra 10-15 minutes in the oven.
Craving more side dishes? Erin from Platings and Pairings has compiled 37+ options.
How To Make Sheet Pan Shrimp & Veggies
This is strictly a mix, toss, and roast situation, perfect for those nights when you genuinely cannot deal with extra dishes or steps.
Season and roast veggies. They need about a 15 minute head start on the shrimp.
Season shrimp. While veggies start roasting, toss the shrimp in the same bowl you used for the veggies and generously add minced garlic, olive oil, and seasonings.
Add shrimp to the pan and bake for another 5 minutes or so. Sprinkle with lemon juice (or lemon zest) and fresh herbs.
Pro Tip: Line your rimmed baking sheet with parchment paper for the most healthy and environmentally-friendly way to reduce clean-up.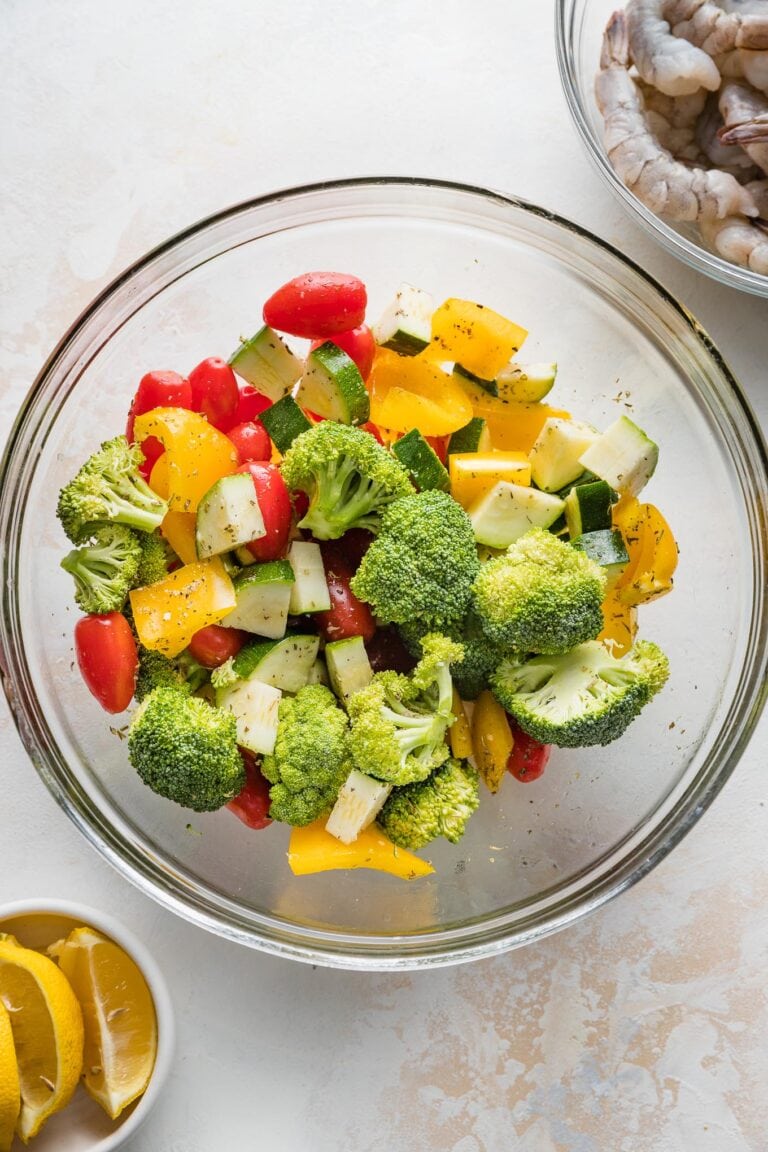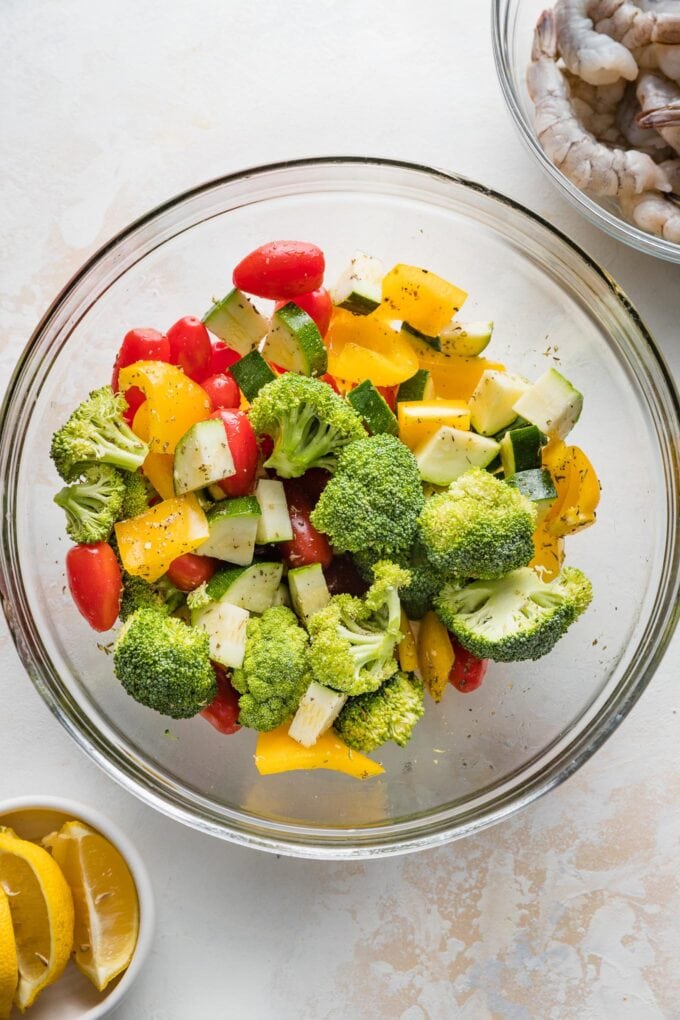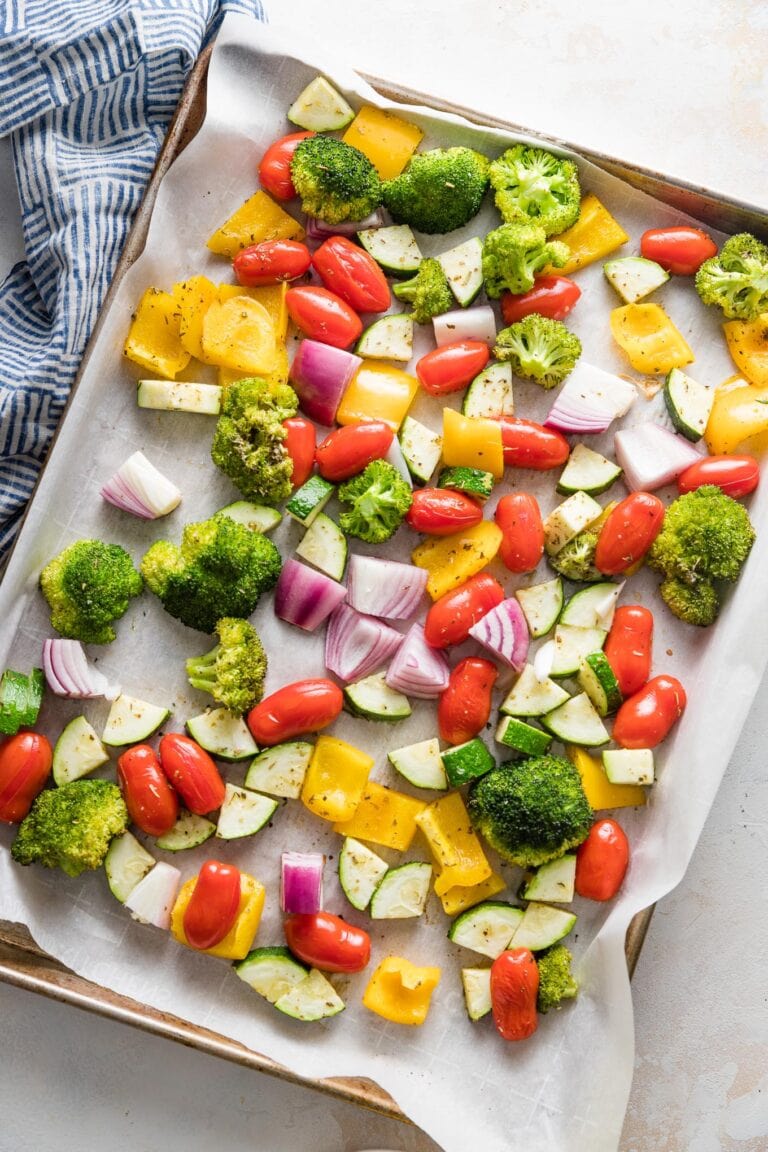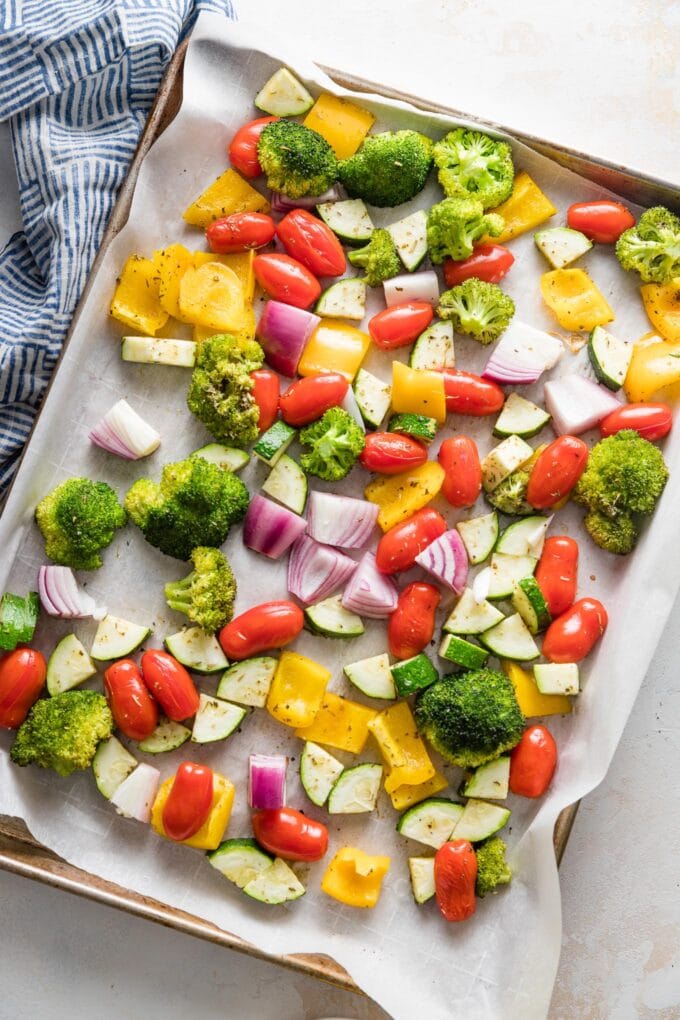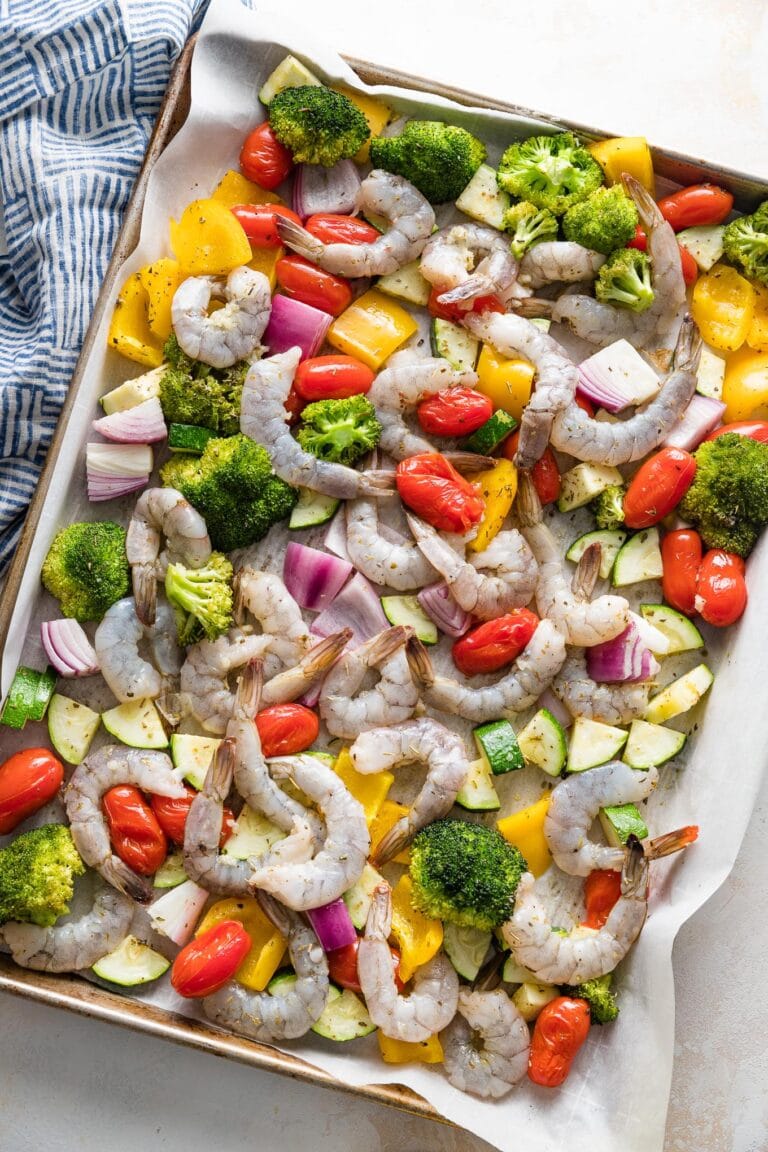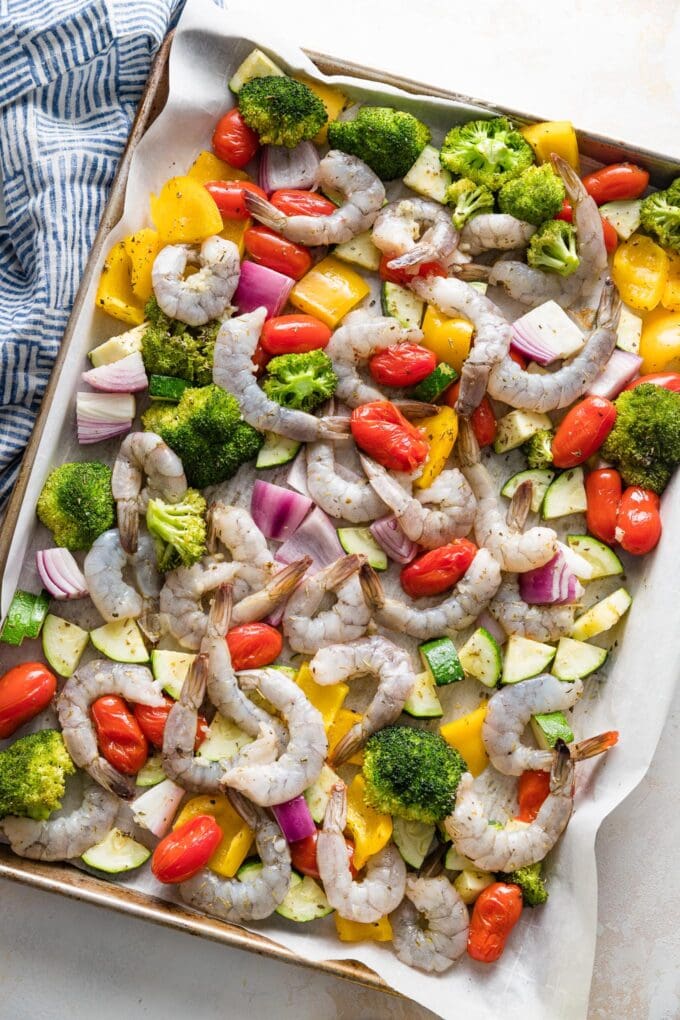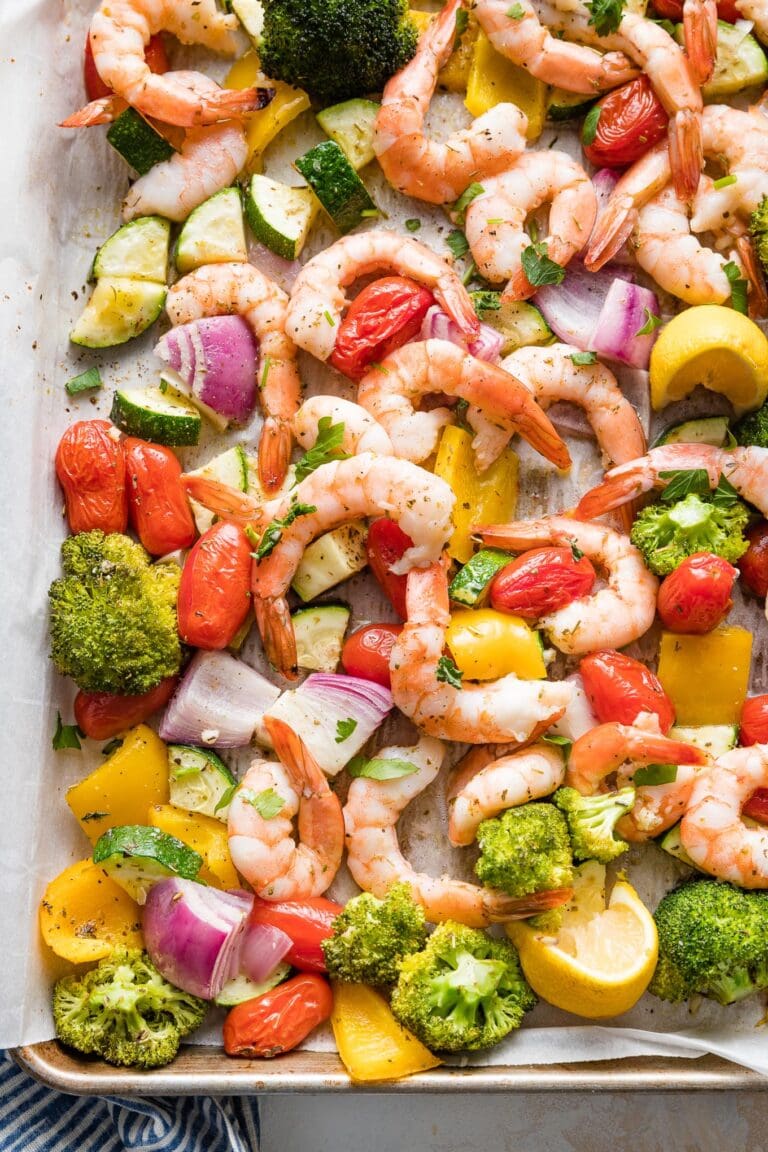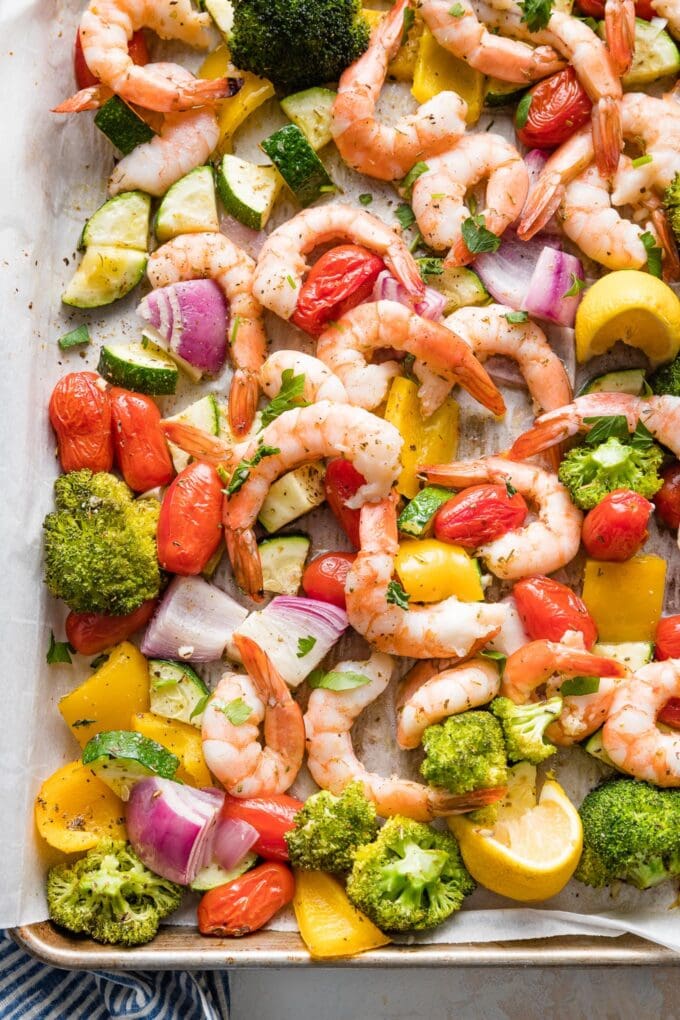 Serving Suggestions
When serving this for dinner, we love it with white rice, brown rice, or cauliflower rice, over quinoa or couscous in bowls, or plated alongside some buttery garlic bread.
Craving an equally colorful side dish? This goes wonderfully with my lemon orzo salad with feta.
Storage & Reheating
I love having extras of this easy sheet pan shrimp! I usually eat salads for lunch, but this is just as healthy.
Store individual portions or a larger amount in an airtight container in the refrigerator for 3-4 days, then reheat on 50% power in the microwave until warmed through. These are our favorite containers!
More Frequently Asked Questions
How long to cook shrimp in the oven?
Shrimp cook very quickly and typically take just 5 minutes to cook in a 425 degree F oven. Of course this may vary depending on your exact oven temperature. (My brand-new oven typically runs at least 25 degrees hot!) Grab an oven thermometer if you want to test yours and adjust accordingly. I consider mine $6 well-spent!
How to tell when shrimp are done?
Shrimp are fully cooked when the flesh is no longer translucent or gray at all, but instead a mix of pink and white, with red tails. You can also test the internal temperature with an instant-read thermometer. It should hit 145 degrees F, according to the USDA. Remove it as soon as you see this temperature, however, or even slightly before, because it will continue to rise in temperature for a few minutes, and no one enjoys eating over-cooked shrimp.
Do you remove the tails from shrimp before cooking?
Removing shrimp tails prior to cooking is completely optional. I often leave them on for looks only; it is honestly easier to eat shrimp when the tails are already removed. If you want to encourage kids or other picky eaters to dig in, take off the tails to remove a barrier to dinner consumption. 🙂 You can toss the tails or freeze them in a tightly-sealed zip-top bag to use in shrimp stock.
What's the fastest way to defrost shrimp?
Place frozen shrimp in a large colander, place in the sink, and run them under cold water for about 5 minutes. Why cold water? Shrimp are so easy to cook that hot water can start doing so prematurely!
You also can defrost shrimp in the refrigerator overnight or during the day. They are truly so easy to defrost right before cooking, though. This makes them a perfect protein to keep in the freezer for last-minute meals.
What seasonings are good for shrimp?
Shrimp go well with countless pairings, from Asian-inspired sauces and stir fry combinations to classic Mediterranean flavors such as Greek or Italian seasoning. They're also delicious with just a little butter and garlic or lemon pepper seasoning.
More Sheet Pan Recipes
A one-and-done sheet pan dinner like this is a go-to move for keeping home cooks sane on the busiest weeknights. Our other favorites include sheet pan shrimp or chicken fajitas, sheet pan rosemary garlic salmon, sheet pan chicken sausage and veggies, and sheet pan honey garlic shrimp broccoli.
If you try this recipe for Sheet Pan Shrimp and Veggies, don't forget to rate it and leave a comment below. I love hearing how recipes turn out in your kitchen, and it helps other readers, too.
You can also FOLLOW me on PINTEREST, INSTAGRAM, FACEBOOK, and TWITTER for more great recipes and ideas!
Sheet Pan Shrimp and Veggies
Flavorful and super quick. With tender garlic shrimp and a rainbow of oven-roasted veggies tossed in Italian herbs, this is a breezy dinner or meal prep you'll love to cook and to eat.
Ingredients
2 cups broccoli florets chopped into bite-sized pieces
1 small zucchini chopped
1/2 red onion cut into chunks
1 bell pepper any color, cut into chunks
2 Tablespoons olive oil divided
2 teaspoons Italian seasoning divided
kosher salt and black pepper
1 pound raw medium shrimp
1-2 cups cherry or grape tomatoes
2 cloves garlic minced
lemon wedges and fresh herbs optional for serving
Instructions
Preheat oven to 425 degrees F. Line a large rimmed baking sheet with parchment paper.

Combine the chopped broccoli, zucchini, onion, and pepper in a large bowl. Add 1 Tablespoon olive oil, 1 teaspoon Italian seasoning, 1/2 teaspoon salt, and a few cracks of pepper. Toss to coat, then spread veggies in a single layer on the baking sheet. Roast for 12-15 minutes.

While the veggies start roasting, add shrimp and tomatoes to the same bowl you used for the veggies. Add the remaining 1 Tablespoon olive oil, 2 cloves minced garlic, 1 teaspoon Italian seasoning, 1/2 teaspoon salt, and a few more cracks of black pepper. Toss well.

After the veggies have been in for at least 12 minutes, take out the pan and add the shrimp and tomatoes. Use a spatula to mix everything and return it to one even layer as best you can. Return to the oven and roast for another 5-7 minutes, until the shrimp are cooked through and the veggies are tender.

Sprinkle with lemon juice and chopped parsley, rosemary, or other herbs as desired. Serve and enjoy!
Notes
The amounts of veggies listed here are suggestions to get you started–there's no need to be super precise.
You can also use any size shrimp that you have or like. Just keep in mind that larger shrimp will take longer to cook.
If you prefer your tomatoes to be extra tender and almost saucy, you can add them in during the first step with the other veggies so they roast longer. This is actually the way this recipe is photographed, but I've since decided I prefer them with the shorter roasting time.
Nutrition Estimate
Calories: 191 kcal, Carbohydrates: 11 g, Protein: 18 g, Fat: 9 g, Saturated Fat: 1 g, Polyunsaturated Fat: 1 g, Monounsaturated Fat: 5 g, Trans Fat: 0.01 g, Cholesterol: 143 mg, Sodium: 667 mg, Potassium: 583 mg, Fiber: 3 g, Sugar: 5 g, Vitamin A: 1717 IU, Vitamin C: 97 mg, Calcium: 119 mg, Iron: 2 mg
Did you make this recipe?
Leave a review below, then snap a quick picture and tag @nourishandfete on Instagram so I can see it!