Pan-Roasted Winter Caprese Salad
This simple recipe for a winter Caprese gives you a flavorful salad with roasted tomatoes, fresh mozzarella, and sprigs of thyme. A perfect side or appetizer to share!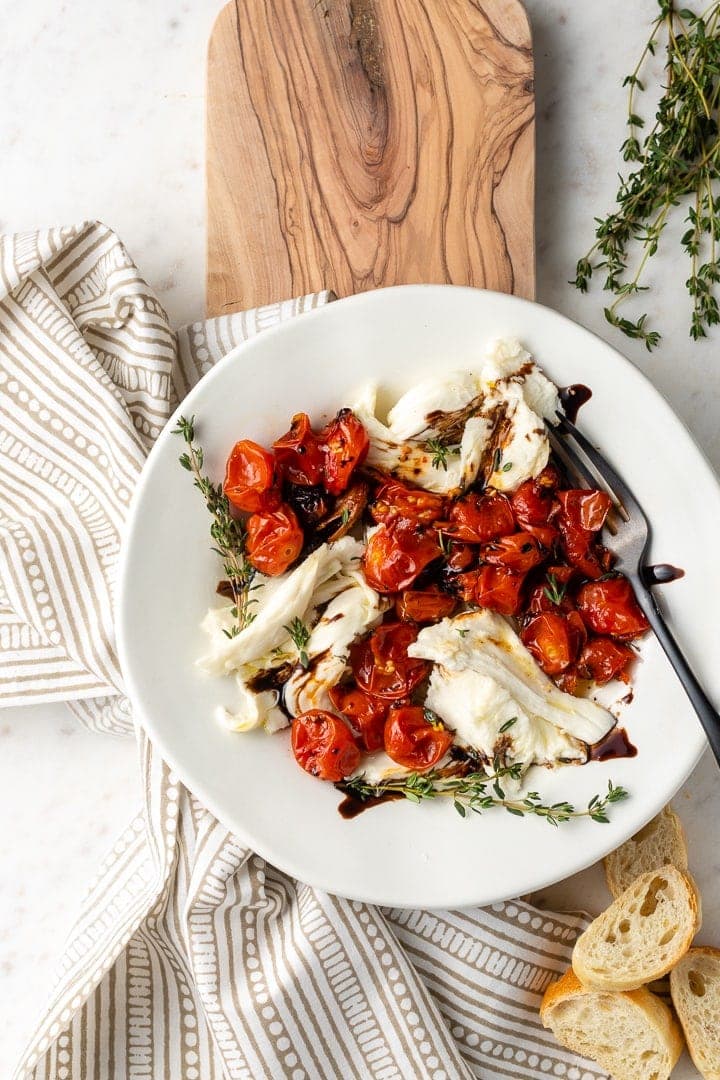 Craving that tomato-mozzarella classic in the dead of winter, with no ripe tomatoes in sight? This recipe has you covered!
I'm a little embarrassed to admit it, but I really only began to think about eating seasonally when we moved to Belgium in 2015. I didn't grow up cooking very much. And even once I did begin to cook as an adult, I continued to frequent typical US grocery stores, where you can buy pretty much anything, any time of year. At least it can feel that way!
But it's not like that in Belgium. Out of season foods are often just not available, and I don't mean that you can only buy a low-quality version. In a lot of cases, I mean not available at all. While this was frustrating at first, I grew to like it. I love that it forced me to learn about what's in season when.
Tomatoes all the time
However, one thing I just can't go without in the "off season" are tomatoes! If I were in a competition to make a tasty meal from just a few ingredients, I'd really hope some perfect, ripe, flavorful tomatoes were on my shopping list!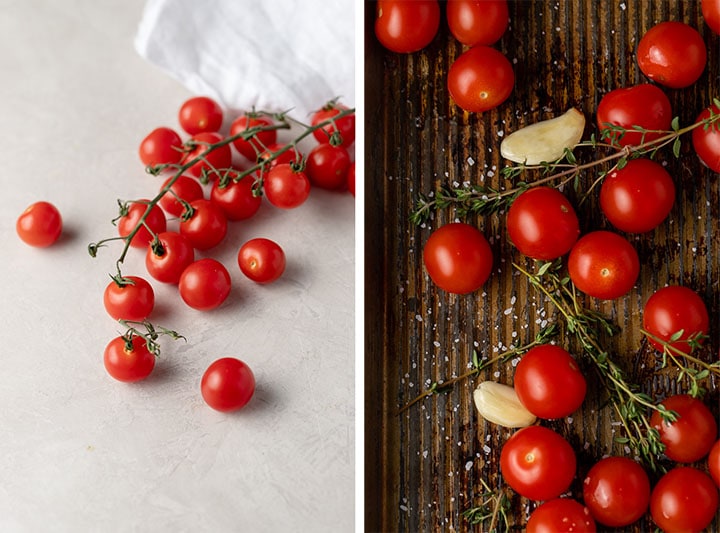 I know hothouse tomatoes are usually considered inferior to the real garden variety, but I love them all the same, especially in little cherry or grape on-the-vine form. If you're curious to read more about hothouse (greenhouse) tomatoes, this page has some basic info.
Caprese salad with roasted tomatoes
So, cherry tomatoes, hothouse grown if you're like me and just still need tomatoes in the dead of winter. Now for a little pan roasting! Toss the tomatoes on a baking sheet with some smashed garlic cloves, a few sprigs of thyme, a drizzle of olive oil, and a sprinkle of salt. Let roast for about 30 minutes on high heat – they'll get blistered and crackled and extra delicious!
Now for that winter Caprese action.
Pile the roasted tomatoes onto a small plate with fresh mozzarella. Add more olive oil plus a bit of balsamic – vinegar is fine, or try a balsamic glaze! And more thyme, as much because it looks pretty as anything else.
Serve with some crusty bread and two forks! A perfect side, snack, or appetizer to share! And if you really want to impress with no fuss, serve this alongside whipped ricotta with herbs and honey, one of our favorite recipes from Fork in the Kitchen. Heaven!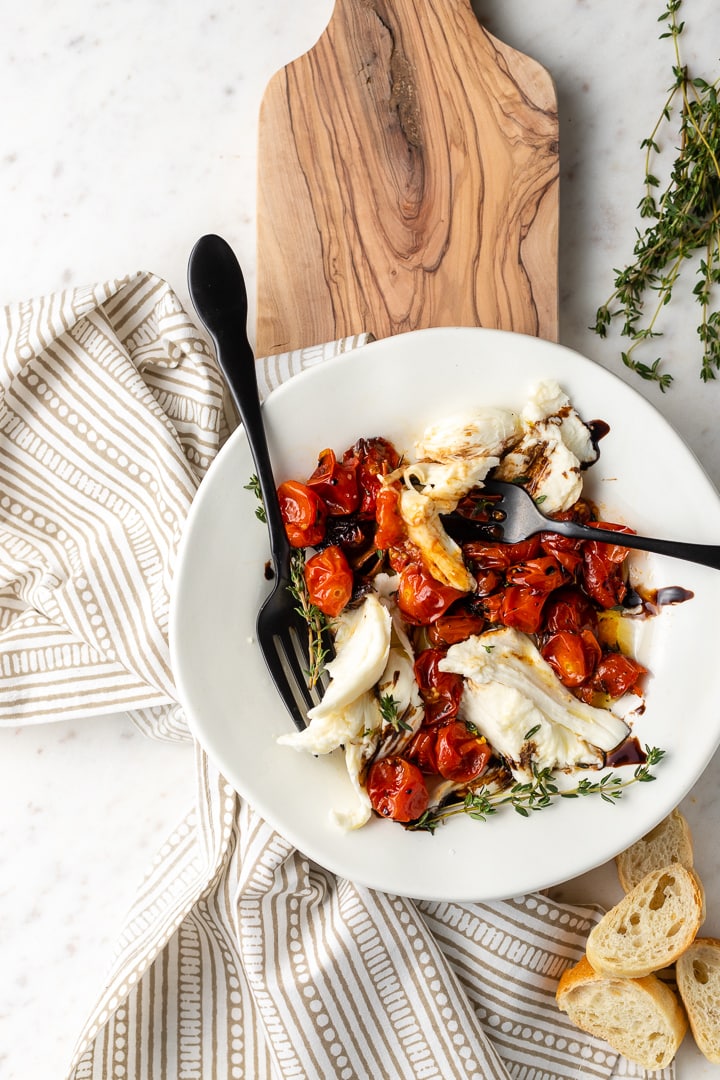 If you try this Pan-Roasted Winter Caprese or any other recipe on Nourish and Fete, please rate the recipe and leave a comment below. We love hearing from you, and other readers will benefit from your experience!
Pan-Roasted Winter Caprese Salad
A simple recipe for a winter Caprese, a flavorful salad with roasted tomatoes, fresh mozzarella, and sprigs of thyme. A perfect side or appetizer to share!
Ingredients
1 pint cherry tomatoes
3 garlic cloves , smashed
4-6 sprigs fresh thyme
1-2 tablespoons extra-virgin olive oil
flaky sea salt
4-6 ounces fresh mozzarella (about 1 ball), at room temperature
balsamic vinegar or glaze
Instructions
Preheat oven to 400 degrees F. Arrange tomatoes, garlic, and thyme on a small, rimmed baking sheet. Drizzle with olive oil and sprinkle lightly with salt. Roast for 25-30 minutes, just until tomatoes are blistered and starting to burst.

After removing the tomatoes, tear the mozzarella into large, rough pieces, and arrange on a plate. Spoon the tomato mixture over and around the mozzarella. Drizzle with a bit more olive oil and balsamic vinegar, and sprinkle with a bit more sea salt, if desired. Dig in!
Nutrition Estimate
Calories: 281 kcal, Carbohydrates: 12 g, Protein: 15 g, Fat: 19 g, Saturated Fat: 8 g, Cholesterol: 44 mg, Sodium: 382 mg, Potassium: 576 mg, Fiber: 1 g, Sugar: 6 g, Vitamin A: 1540 IU, Vitamin C: 55.4 mg, Calcium: 321 mg, Iron: 1.9 mg
Did you make this recipe?
Leave a review below, then snap a quick picture and tag @nourishandfete on Instagram so I can see it!