One-Bowl Red Velvet Cupcakes
These easy one-bowl red velvet cupcakes are the most delicious you'll find. And you won't believe how fast and simple they are to make!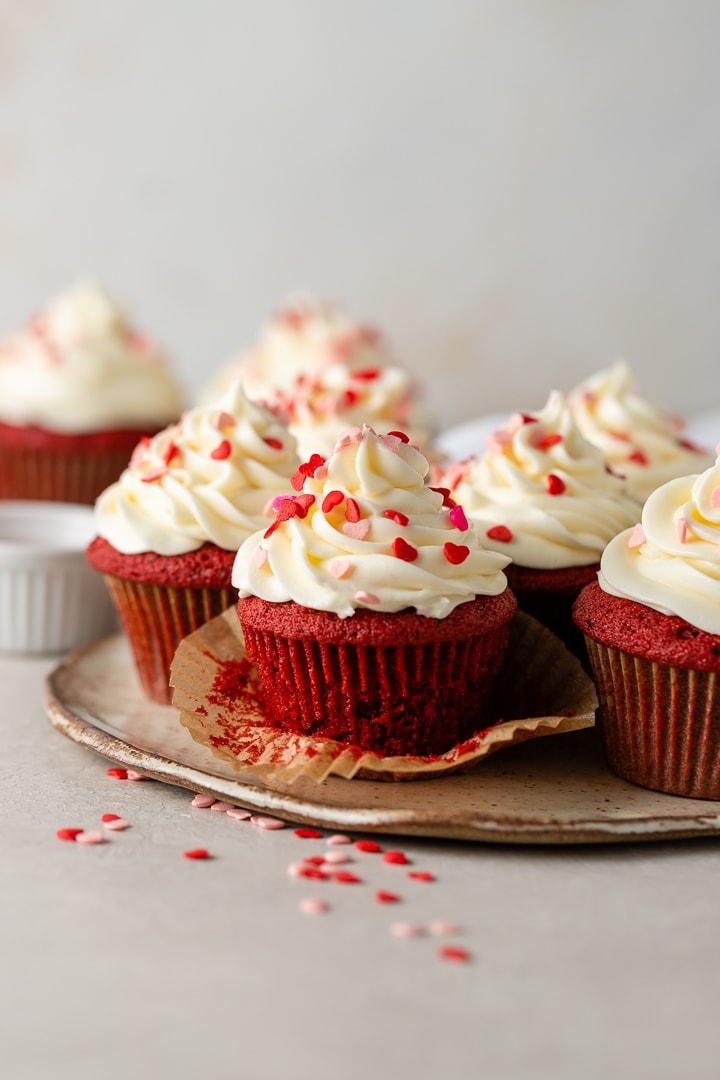 It's no secret that I love cupcakes – they are cute, pre-portioned, easy to transport, and a great vehicle for frosting. Sometimes sprinkles! What's not to like?
I'm also a big fan of red velvet. To be honest, I'd jump at a red velvet cupcake year-round, but they do have a special pull right around Valentine's Day. I think I bake a batch every year, at least now that I've found this amazing one-bowl method.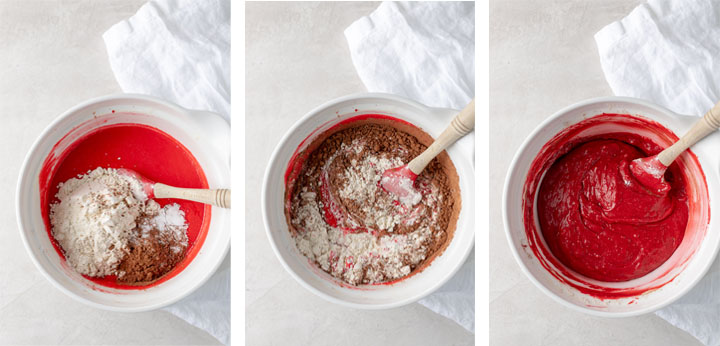 The one-bowl baking bible
As long-time readers know, I take zero credit for this innovation. If you like baking, and don't love washing dishes, you must pick up a copy of One-Bowl Baking by Yvonne Ruperti (affiliate link). I adapted her red velvet recipe into this easy red velvet layer cake last year, and this year went straight for the cupcakes.
Easy and delicious! The recipe yields a perfect 12.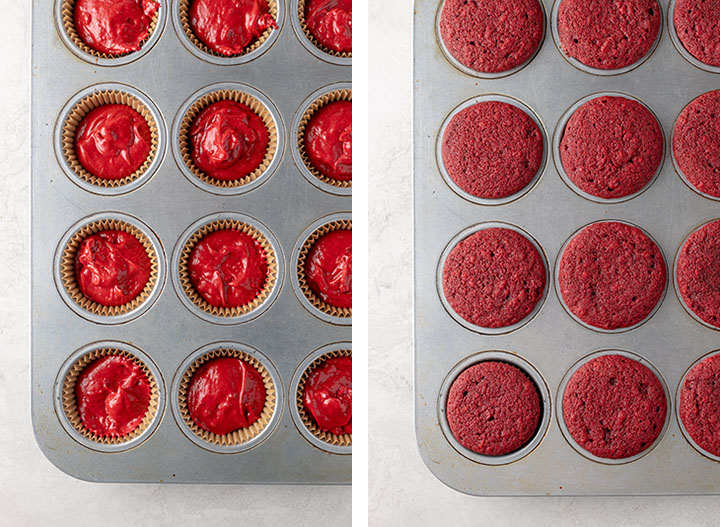 Sweet cream cheese frosting
When it comes to the frosting, I use a different ratio than you'll find in Ruperti's book, only because I don't love my cream cheese frosting quite that… cream cheese-y. I need more powdered sugar! And big swirls. What can I say? I like my frosting like I like my people – sweet and generous. 🙂
Heart sprinkles optional!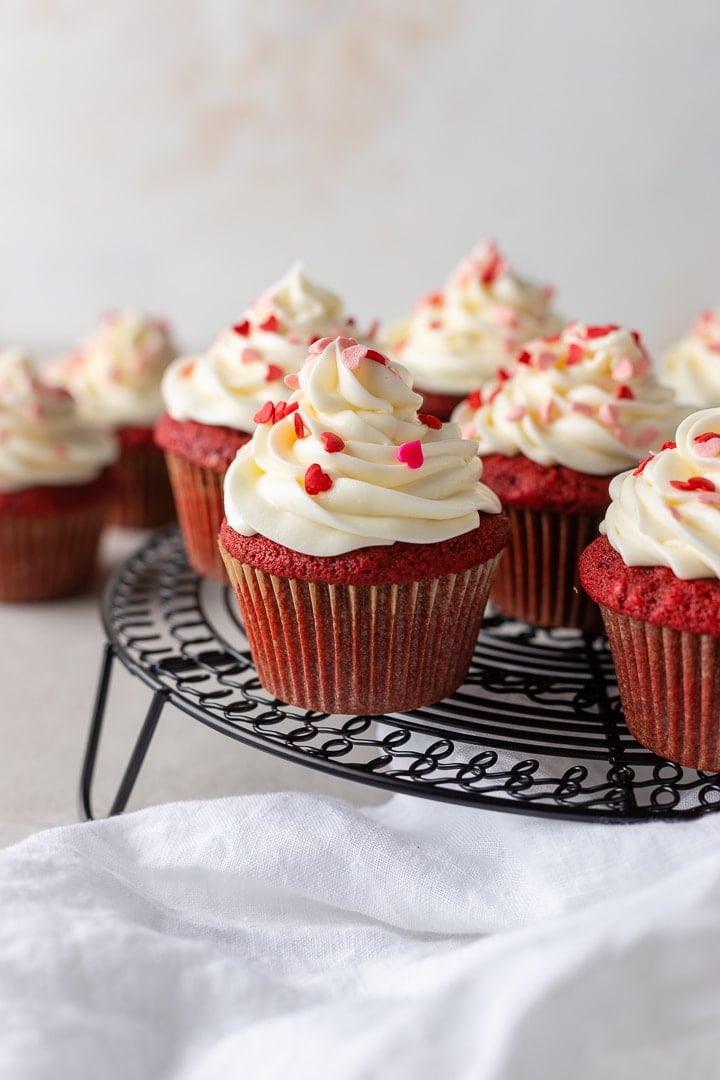 Then again, my husband explicitly does not like cream cheese frosting. He only ate one of these because I set it aside without any frosting for him. On the plus side, he affirms the cake itself is delicious. I guess he'd know!
More cupcake recipes:
If you try these one-bowl red velvet cupcakes or any other recipe on the blog, please rate the recipe and leave a comment below. I love hearing from you, and other readers will benefit from your experience!
One-Bowl Red Velvet Cupcakes
These easy one-bowl red velvet cupcakes are the most delicious you'll find, and you won't believe how fast and simple they are to make!
Ingredients
Cupcakes:
6 tablespoons 85 grams unsalted butter , very soft
1 cup 200 grams granulated sugar
1/2 teaspoon salt
4 teaspoons canola oil (melted coconut oil works, as well)
1 large egg
1 large egg yolk
2/3 cup buttermilk , at room temperature
1 1/2 teaspoons vanilla extract
2 tablespoons red food coloring
1 1/2 cups 190 grams all-purpose flour
2 tablespoons cocoa powder
1/2 teaspoon baking soda
Frosting:
8 ounces cream cheese , chilled
5 tablespoons 72 grams unsalted butter , at room temperature
2 1/4 cups powdered sugar
3 teaspoons vanilla extract*
sprinkles , optional
Instructions
Preheat the oven to 350 degrees F. Prepare a 12-cup muffin pan with cupcake liners and set aside.

In a large bowl, combine the butter, sugar, and salt. Stir vigorously until thoroughly and evenly mixed. Whisk in the oil, followed by the egg, egg yolk, buttermilk, vanilla, and food coloring. Keep whisking until the mixture is all one color and consistency.

Sprinkle the flour, cocoa powder, and baking soda over the batter, and whisk gently, just to incorporate. Divide batter evenly among the cupcake liners and bake for 18-20 minutes, just until a toothpick inserted into the middle comes out clean.

Cool cupcakes in the pan for about 10 minutes, then remove to a wire rack to cool completely.

To make the frosting, beat the cream cheese and butter with an electric mixer on medium-high for 2-3 minutes, until light and fluffy. Add powdered sugar and mix on low speed just until incorporated, then increase the speed to medium-high and beat 3-4 minutes, until mixture is smooth and light. Add the vanilla and beat again 1-2 minutes. Frost cupcakes as desired.
Notes
I like using clear imitation vanilla extract in cream cheese frosting. Regular vanilla definitely works, but the clear imitation keeps it bright white and also seems to help the frosting hold its shape even better.
Cupcakes adapted from One-Bowl Baking by Yvonne Ruperti.
Nutrition Estimate
Calories: 401 kcal, Carbohydrates: 53 g, Protein: 4 g, Fat: 19 g, Saturated Fat: 10 g, Cholesterol: 79 mg, Sodium: 225 mg, Potassium: 78 mg, Sugar: 40 g, Vitamin A: 640 IU, Calcium: 44 mg, Iron: 1 mg
Did you make this recipe?
Leave a review below, then snap a quick picture and tag @nourishandfete on Instagram so I can see it!